Many people often ask us, how can we attract users to our most visited posts and products?
Showing your best content helps people easily find new blog posts, increases user engagement, and improves the visibility of your posts. It also boosts SEO by providing an opportunity to create internal links to your pages.
In this article, we'll show you how to display your most popular posts in WordPress. Let's begin.
Why Display Popular Posts in WordPress?
Sometimes, visitors have a hard time finding your best content. Even when highly optimized, popular content could get lost if you have thousands of blog posts. And it at times, it won't even show up on search engines.
That's why showing popular posts allows you to display your top articles anywhere on your entire website. You don't have to worry about your content being buried out of sight.
Since popular posts are the content pieces that are most successful, they can help boost user engagement and keep people on your site. And with more people reading your blog posts, there's a higher chance they'll convert.
That said, are you ready to learn how to display popular posts in WordPress?
How to Set Up Popular Posts in WordPress
There are many popular post plugins for WordPress that you can use to display your best content. But the easiest way is through MonsterInsights.
It's the best Google Analytics plugin for WordPress and, using its Popular Post feature, showing your most successful articles is a breeze.
The plugin offers pre-built templates and lots of customization options, so you can make sure the popular posts match the layout and design of your website.
Just follow these steps to get started.
Step 1 – Install MonsterInsights WordPress Plugin
The first step you'll need to perform is to install and activate the MonsterInsights plugin on your WordPress website. Using the plugin, you can set up Google Analytics without coding and get data to make important business decisions.
Do remember that you'll need MonsterInsights Plus or a higher license to use its Popular Posts feature.
You also get advanced tracking with MonsterInsights. In just a few clicks, the plugin helps track your visitors' behavior on the website. For instance, you can find out which content they like, where are they from, which links they click, and a lot more.
And if you're looking to get to know your audience even better, then MonsterInsights offers powerful addons. It helps to track your online store's performance, see how WordPress forms are converting, conduct experiments, and set up custom dimensions.
Step 2 – Add Google Analytics to Your Site
Once the plugin is active, you'll now need to connect Google Analytics with your website.
Usually, you'd have to manually enter a tracking code in the header of your website. This means going through the website code. Many beginners might find this tricky as it requires editing code, and you might need a developer to help you out.
But with the MonsterInsights setup wizard, all you have to do is follow the steps and the plugin will take care of the rest. No need to edit code or hire a professional.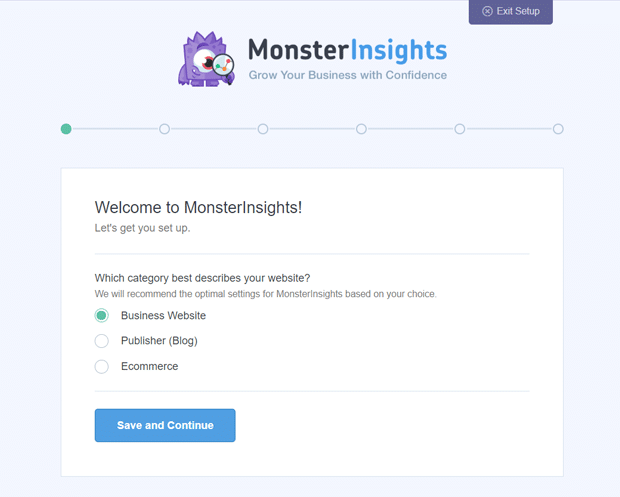 For more details, follow our guide on how to add Google Analytics to WordPress.
Step 3 – Select Popular Posts Type
After you've added Google Analytics to your site, the next step is to select your popular post type.
MonsterInsights offers 3 ways you can display the best content on your site. These include:
Inline Popular Posts – Automatically display posts within the text of your post or page.
Popular Post Widget – Show up to 10 blog posts anywhere on your site in a widget, like a sidebar, end of an article, or the footer.
Popular Products – Display 10 of your top-selling products on your eCommerce store.
You can choose from any of these 3 ways to show your top blog posts by going to Insights » Popular Posts.
Step 4 – Choose a Theme
Next, you can select a theme for your popular posts. MonsterInsights provides pre-built themes, so you don't have to worry about the design and style of your popular posts.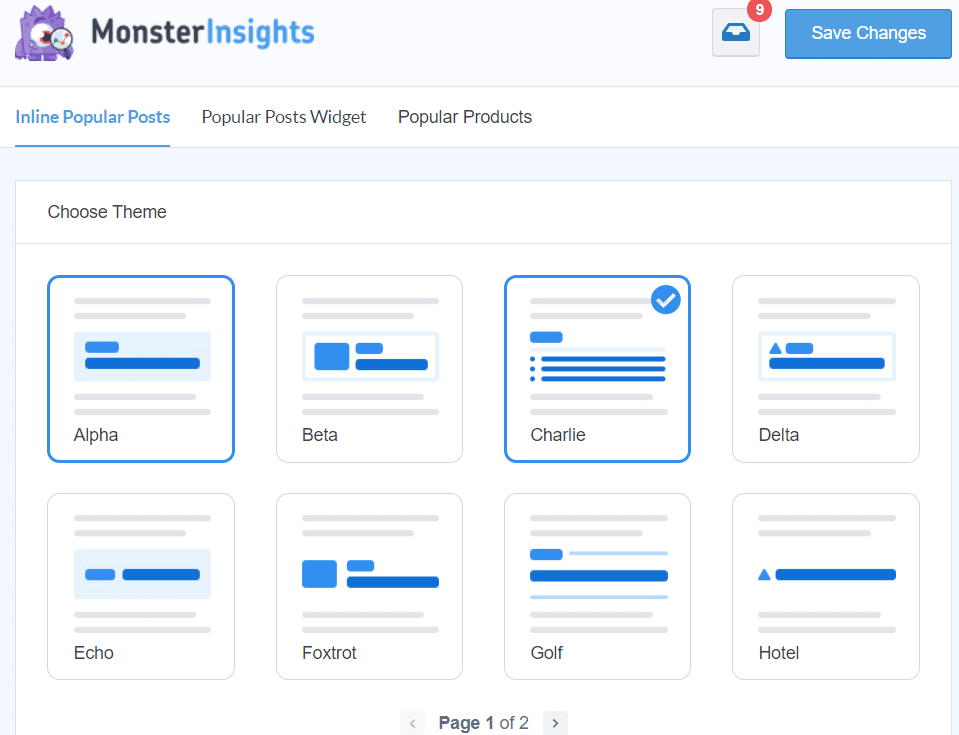 And the best part, the plugin shows a preview of each theme. This way, you can see how a theme looks before selecting one for your website.

Step 5 – Customize the Design
Once you've selected a theme, MonsterInsights offers more options for customizing its design. For instance, you can change the color and size of the title, label, icon, and background.
And if you want, there's also an option to use your own styling. Just select the option of No Styles under Widget Styling and you can use your own CSS.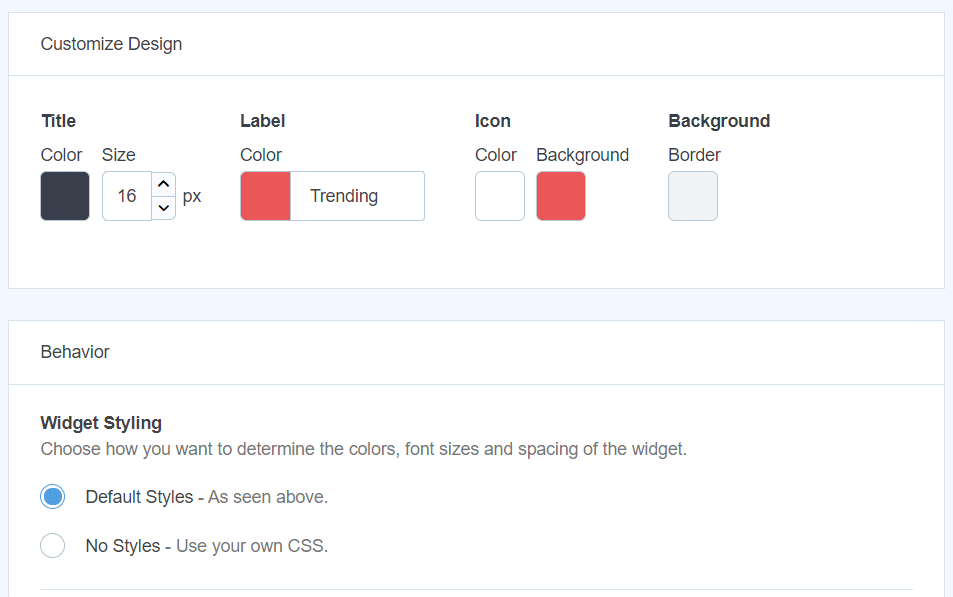 Do note that the customize design options may vary depending on which theme you select.
Step 6 – Sort Your Popular Posts
Next, you can select different options to sort your popular posts. Let's go over each one.
How to Display Most Commented on Posts
When you choose the "Comments" option, MonsterInsights will randomly rotate the most commented on posts from the last 30 days.
What's great about this option is that it's always showing your most recently popular content. If you're a publisher that gets comments on a daily basis, this is an awesome option. It can show a mixture of older posts and newer ones, depending on what people are commenting on.
How to Display Most Shared Content
Hey, Pinterest users! This is a very cool option for you, although it works for all social media shares on other networks, too.
If you use SharedCount, you can display your posts based on share count. So for example, if you're a food blogger, you could share your top most shared recipes.
How to Display Curated Content as Top Posts
Want to choose your own top posts? You can do that, too! Just start typing post titles to choose which ones you'd like to display (like in the screenshot below).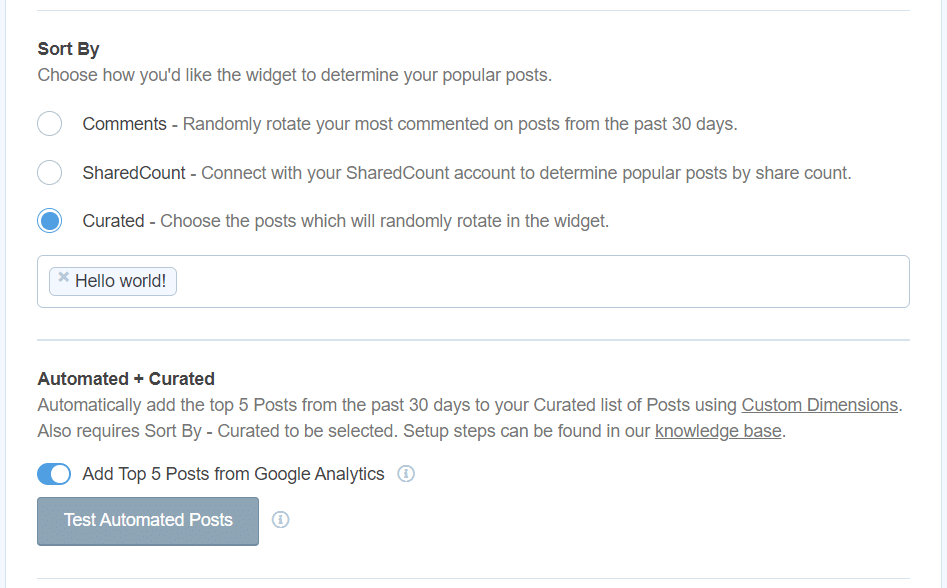 How to Display Top Posts by Views
There's also an option to automatically curate the list of blog posts to show in the popular post widget.
By setting up Post Type custom dimension in Google Analytics, MonsterInsights will display the top 5 articles from the past 30 days as popular posts. You can also make sure if the curated list is working properly by clicking the Test Automated Posts button.
If you don't have a post type dimension setup on your site, then follow our beginner's guide to custom dimensions in Google Analytics.
It's very easy to set up custom dimensions using MonsterInsights. The plugin offers a Dimensions addon, which helps you add custom dimensions in just a few clicks and you won't have to edit the tracking code on your site.
Step 7 – Place Your Popular Post Widget
The next step is to place your popular posts anywhere on your website.
MonsterInsights offers 2 ways to place the widget. You can either select automatic placement or manual placement.
If you choose Automatic, the plugin will add the widget within the post body. It provides options to insert the widget after a certain number of words. And you can include and exclude post types to show the popular post widget.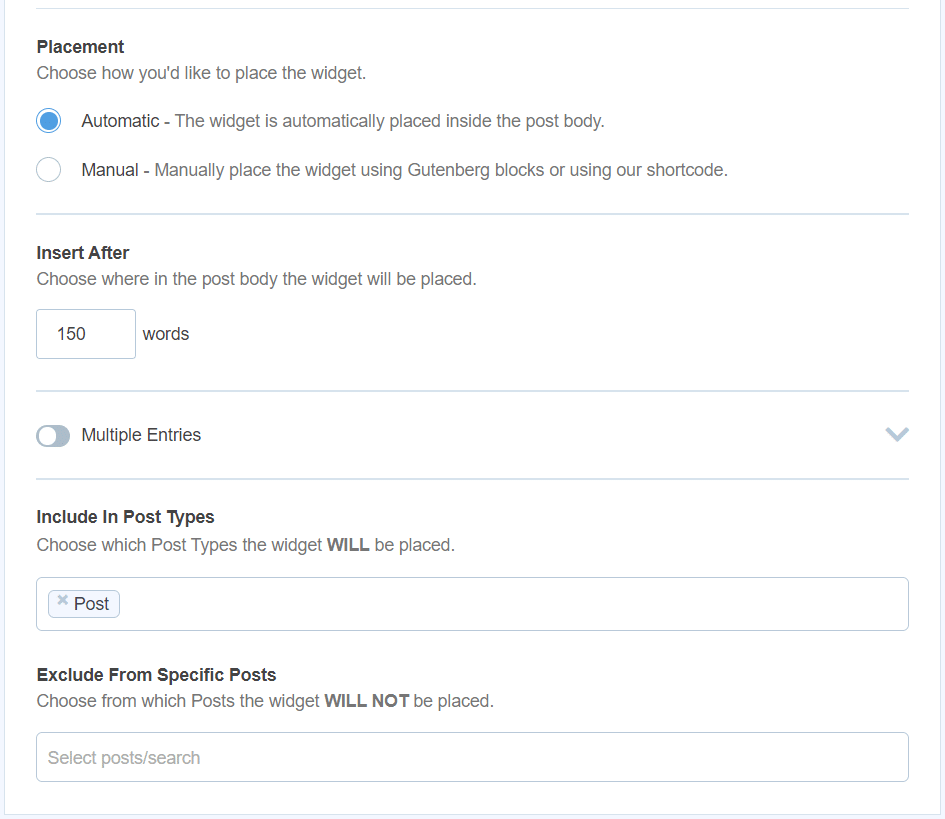 Now, if you select the Manual option, MonsterInsights lets you add the popular post widget using a Gutenberg block or a shortcode.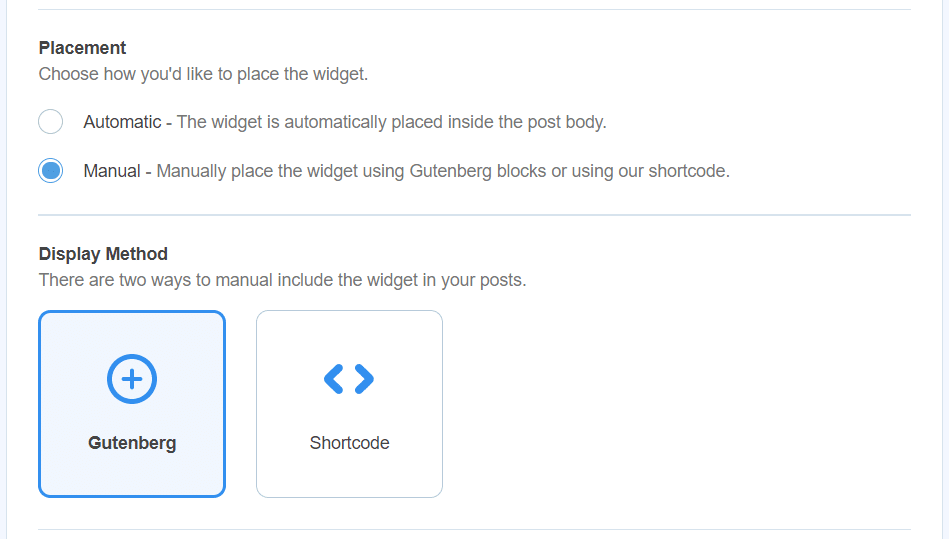 Let's see how you can manually add your most successful article to your website.
Step 8 – Add Popular Posts to Your Website
After selecting the placement option, you can now add popular posts to your content.
First, go to any page or post and open the editor. Next, click the plus sign at the top left corner and select the Popular Posts block or the Shortcode block.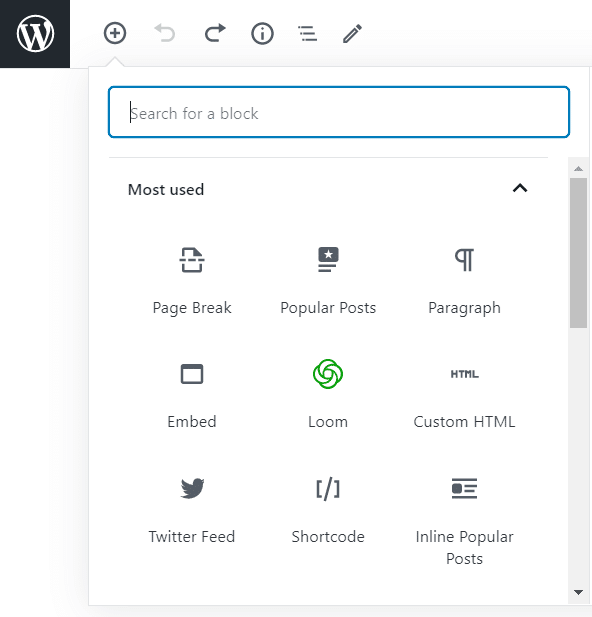 Popular Posts block will automatically add your top content to the page. And if you select the shortcode, then enter the code shown in MonsterInsights.
Once that's done, preview your page and hit publish.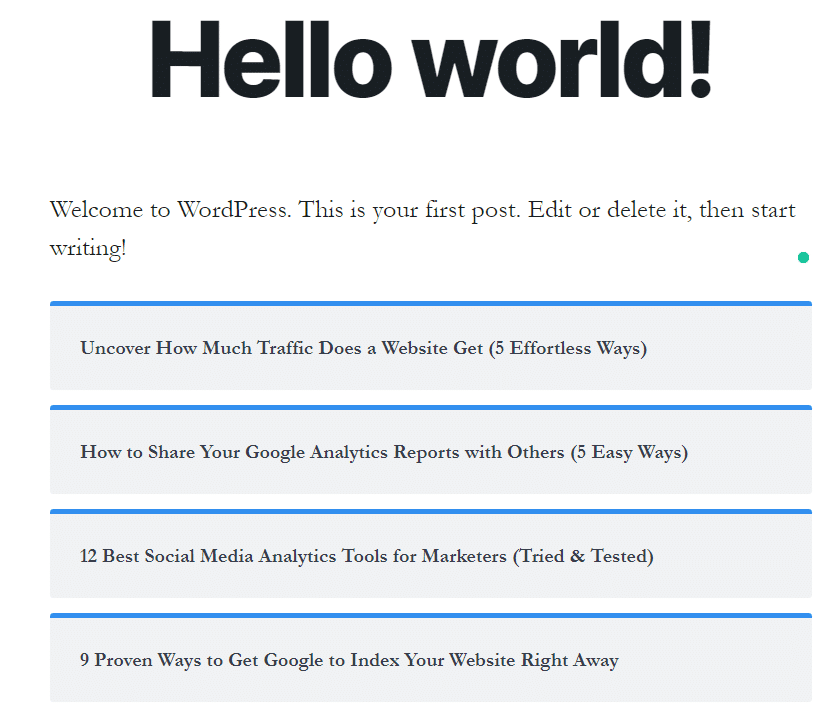 If you want to display the popular posts widget in the sidebar or in the footer of your website, go to your WordPress admin area and navigate to Appearance » Widgets.
Next, drag and drop the Popular Posts – MonsterInsights widget under the Sidebar menu (or footer).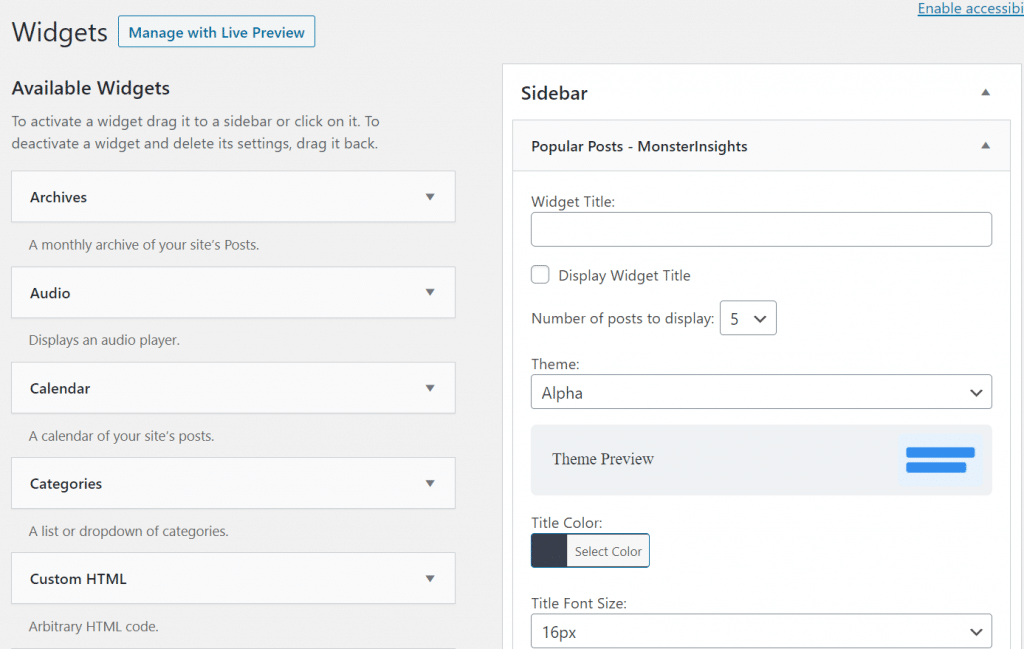 You can enter a widget title, select a theme, edit the title color and font size, change the background color, and select categories to show posts.

And that's it!
The popular posts feature in MonsterInsights is the perfect way to enhance your visitor's online experience, increase user engagement, and prevent your best content from getting buried.
We hope you liked our article on how to display your most popular posts in WordPress. You can also go through our ultimate guide to MonsterInsights dashboard reports.
And don't forget to follow us on Twitter and Facebook for more Google Analytics tutorials.