If you have a WordPress website and videos on YouTube, chances are you're hoping to find a handful of awesome WordPress YouTube plugins to help you make the most of those two platforms.
Whether you're looking for a plugin that will embed your videos onto your site or one that will help you track your videos, we've got the top WordPress YouTube plugins for you here!
Let's dive in.
Best YouTube Plugins: Video Walkthrough
Top 6 YouTube Plugins for WordPress
To kick off our list, let's talk about tracking the embedded YouTube videos on your site. Having videos on your site is awesome and can lead to better user engagement. However, after you add videos to your site, how do you know if they're actually helping?
Here's how: the MonsterInsights Media Addon!
MonsterInsights is the best Google Analytics plugin for WordPress. It allows you to easily connect your WordPress site with Google Analytics so you can view all the data that matters most right in your WordPress dashboard.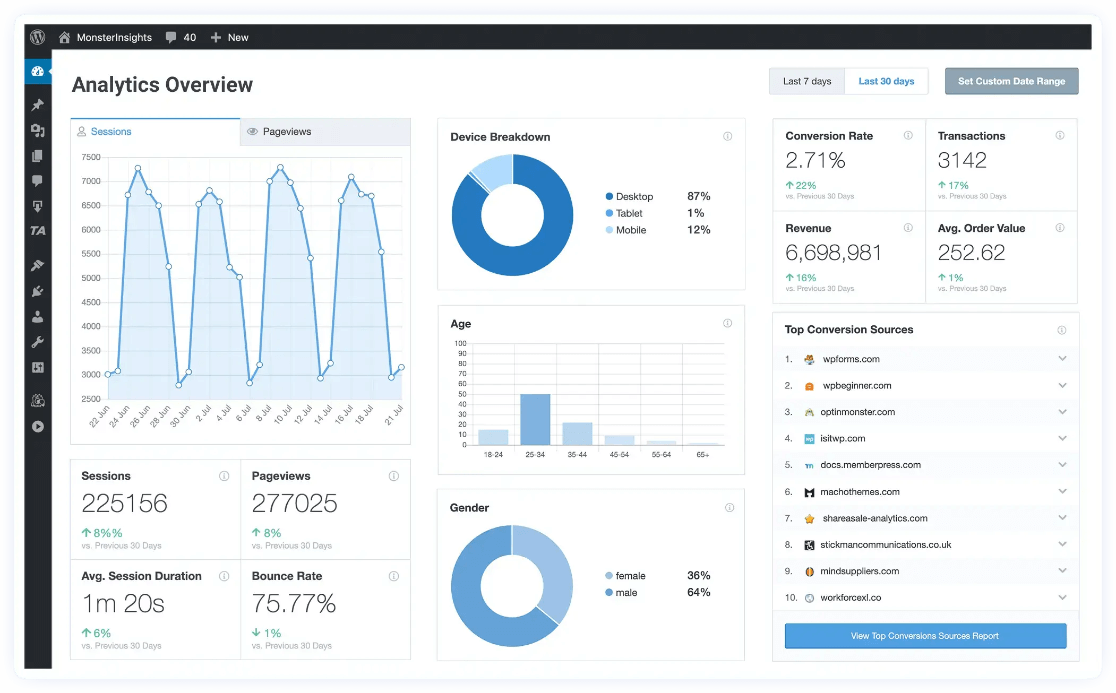 Plus, with the click of a button, you can set up sophisticated tracking features such as media tracking, event tracking, eCommerce tracking, form tracking, custom dimension tracking, outbound link tracking, and more.
To track views, plays, and watch progress on your YouTube videos embedded in WordPress, you just flip a switch in your MonsterInsights settings. BOOM, videos tracked!

Now, you'll have your video stats right inside your WordPress dashboard, including total video plays, average watch time, and more.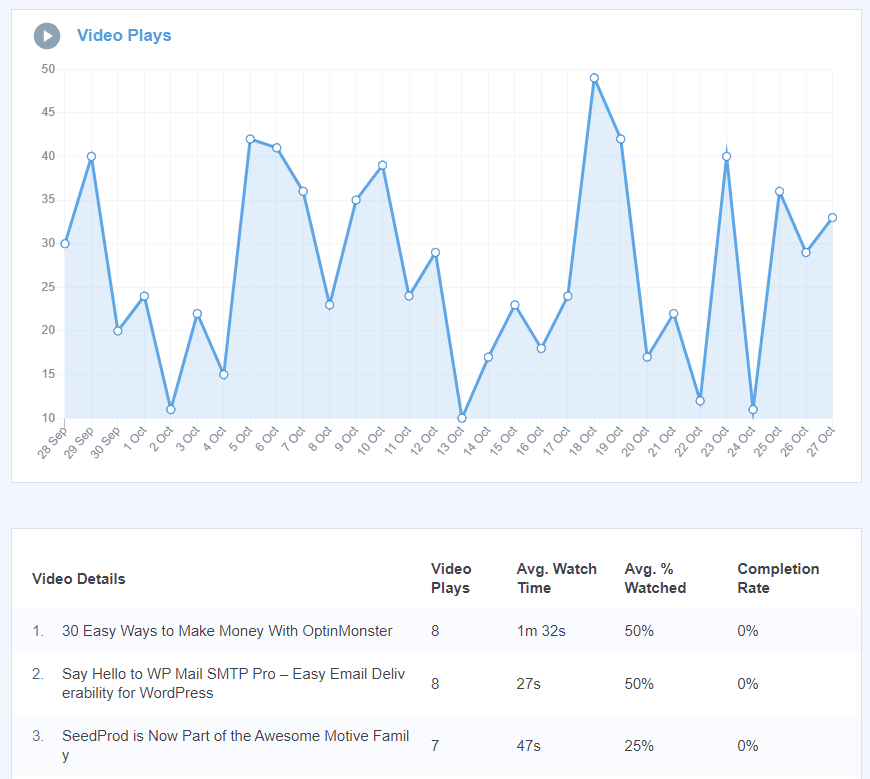 For the full instructions on setting this up, read How to Track Video Plays in Google Analytics (Easiest Way).
Want your YouTube videos to not only be displayed on your WordPress site, but also look awesome?
Smash Balloon's YouTube Feed Pro is the best YouTube feed plugin for WordPress. Choose from a number of different responsive layouts and options, let your newly uploaded videos display automatically, create as many feeds as you'd like, and make sure to check out all the other features and customization options and try out the demo.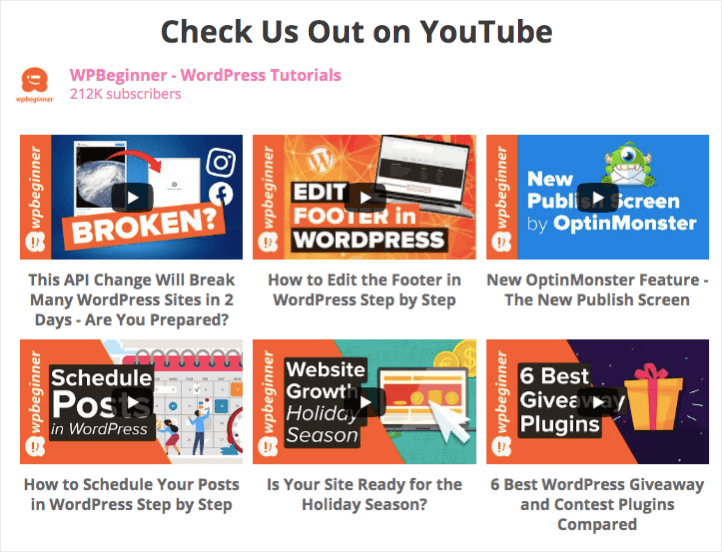 Also, if you're using other social media platforms in addition to YouTube, make sure to check out Smash Balloon's Social Wall plugin, too.
Get started with YouTube Feed Pro now!
Envira Gallery is next on our list of awesome WordPress YouTube plugins. It's one of the best gallery plugins for creating beautiful image and video galleries quickly and easily.
A few of Envira Gallery's features for YouTube video galleries include:
A drag and drop builder
Responsive templates
Social media integration for sharing your videos
Fullscreen mode
And more!
Get started with Envira Gallery now!
YouTube Gallery by Elfsight is both a well rated free widget and paid plugin. To use the free widget, simply head to their website, choose a layout and a few other options, then embed the YouTube gallery or feed onto your WordPress site.
The widget has flexible, responsive layouts, 5 color theme options, live updates, and more. That said, since it's just a widget and not a plugin, it can be a little limited compared to the others on our list.
The plugin, on the other hand, is available via CodeCanyon. It's basically a way to take the widget settings and put them in your WordPress admin instead of going to the Elfsight website to set it up. The plugin has a 4.87 out of 5 rating with 264 ratings.
Embed Plus for YouTube is another YouTube plugin for WordPress with some great reviews. It has many of the same features as some of the other plugins on our list, including all the different customization options for which videos to display and how to display them.
Beyond that, this plugin is a good one for those concerned about site speed. Embed Plus's developers have added some features to keep their plugin from slowing down your site. It also works with the Gutenberg editor and can be inserted right into a page by adding a YouTube block.
Try Embed Plus for YouTube now!
YouTube Showcase is the last plugin on our list. It's a little bit more simple than the others. The free version creates a page for each video on your site, and you can display them in either gallery format or one per page. The pro version adds some extra features to customize the layout and add more customization.
This plugin has a nice demo site that you can play around with.
You've made it to the end of our list. We hope you found a YouTube plugin (or two) for your WordPress site that will help you on your quest to make your site more awesome.
If you liked this list, you might also like 45 Best WordPress Plugins (Most are FREE).
And don't forget to follow us on Twitter, Facebook and YouTube for more helpful Google Analytics tips.