If you use Vimeo and you have a WordPress website, you're probably wondering what the best Vimeo WordPress plugins are. The truth is, there are several that do different things that could be really helpful for Vimeo and WordPress users!
Whether you're just looking for a way to embed your videos and show them off on your site, or if you're looking for a way to track your Vimeo video views, or you want an easy way for visitors to share your videos, there's a plugin in our list for you.
Let's dive right in.
Our Favorite Vimeo WordPress Plugins
Our list includes Vimeo plugins for embedding, sharing, and tracking. Check them out!

Before you embed your Vimeo videos on your site, have you thought about how you'll know if your visitors are actually watching them?
If you look up how to track video views in Google Analytics, you'll probably be overwhelmed by the complicated setup of Google Tag Manager. Thankfully, with MonsterInsights, you can skip all of that.
MonsterInsights is the best Google Analytics plugin for WordPress. Not only does it give you tons of metrics and data about your site's traffic right in your WordPress dashboard, but it can also track eCommerce metrics, video views, and more with a couple clicks!
Simply install MonsterInsights at the Plus license level or above, activate the Media addon, and that's it! You'll get a media report right inside your WordPress dashboard with metrics like how many times your videos were watched, how much users watched, and more.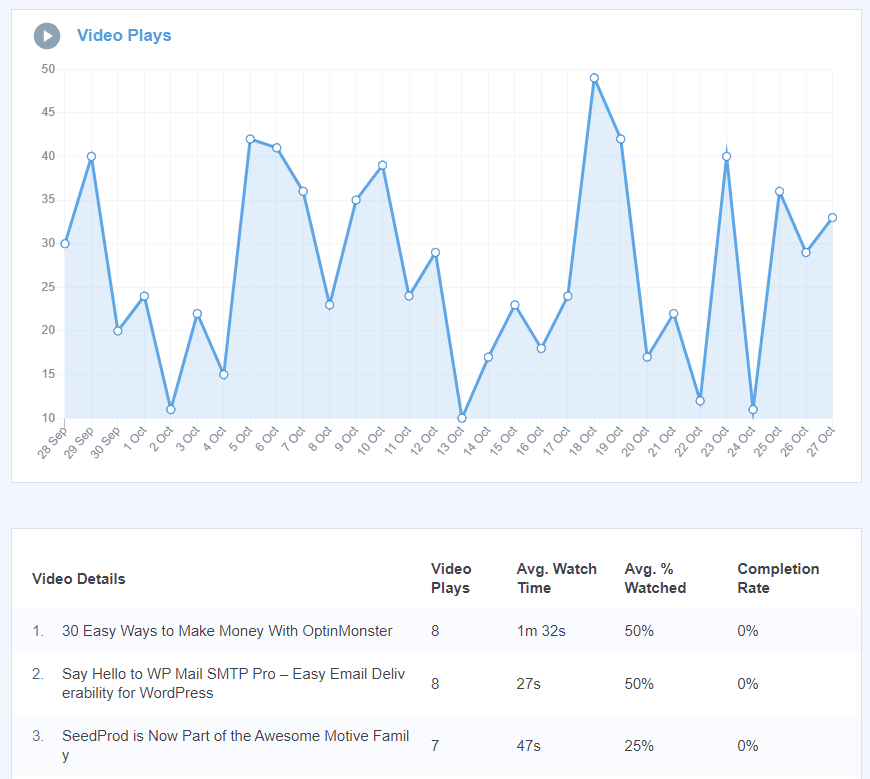 Plus, MonsterInsights can:
Get started with MonsterInsights now.
Vimeography is a free Vimeo video gallery WordPress plugin. If you want to display your Vimeo videos on your website, this plugin is specific to Vimeo!
Vimeography is a plugin you can use to create a "Netflix-style" gallery page with all of your Vimeo videos displayed. According to the WordPress listing, this plugin is used to power over 10,000 video membership, course, and portfolio websites.
Some of the features that make Vimeography a good Vimeo WordPress plugin:
You can choose to add videos automatically that are uploaded to your Vimeo account
It's super easy to insert your gallery into any page or post
Choose a featured video for the top
Apply custom themes to make the plugin match your website
Built-in caching
Get started with Vimeography now.
All in One SEO is the best WordPress SEO plugin. Yes, an SEO plugin is helpful for videos! While this plugin won't help you embed your Vimeo videos, it will create and maintain a video XML sitemap.
A video XML sitemap is essential for video creators with videos embedded on their sites! When Google's bots are shown right to your videos, they can easily index them and start showing them in search results.
Videos in search results means more traffic!
All in One SEO includes a lot more than video sitemaps. A few of their essential SEO features are:
Get started with All in Ones SEO now.
EmbedPress is another free Vimeo video embedding plugin for WordPress. In fact, the plugin can embed just about any type of media, such as videos, PDF documents, maps, and more.
So, if you want to embed your Vimeo videos on your website in a way that's easy and looks nice, this might be a plugin to try. If you have other things you want to embed or videos from other sites, that would make this plugin even more handy.
Some of the features that make EmbedPress a good Vimeo WordPress plugin:
The plugin can embed content from over 150 other websites
As long as you can grab the URL of the content you want to embed, EmbedPress will be able to automatically embed it, code free
Works with any WordPress page builder, Gutenberg, or even the Classic editor
Supports PowerPoint presentations, docs, Excel files, and more
Get started with EmbedPress now.
All-in-One Video Gallery is another free plugin that can help you create a Vimeo video gallery website quickly and easily. Instead of creating a gallery of videos, though, this plugin adds each video as a post on your site. So, videos can then be categorized and tagged like posts on your site.
With more than 20,000 active installs, this plugin is a popular one that's used to create video sites.
Some of the features that make All-in-One Video Gallery a good Vimeo WordPress plugin:
Uses a custom video player
Create unlimited categories, subcategories, and tags
Lots of settings to help you customize the plugin
The ability for users to sort your videos by video posted date, title, views count, or random
Works with Gutenberg blocks
Widgets to list categories, list videos, display a single video player, and search videos
Get started with All-in-One Video Gallery now.
SimpLy Gallery Blocks is another free plugin that can help you create a gallery of Vimeo videos. The galleries are responsive, so they work well on any device. Easily put your gallery together and insert it with Gutenberg blocks.
Some of the features that make SimpLy Gallery Blocks a good Vimeo WordPress plugin:
Easy to use
Works with videos, images, or audio
Combine multiple galleries into albums
The videos can be in lightboxes
Thumbnail support
Fully responsive
Unlimited colors
Get started with SimpLy Gallery Blocks now.
Presto Player is a free video player plugin for WordPress that works with Vimeo. It was made specifically for the block editor and works with all page builder plugins. It's a popular plugin with over 70,000 active installations.
Some of the features that make Presto Player a good Vimeo WordPress plugin:
Multiple video presets
LMS Learner controls
LearnDash video progression
Multilingual branding
Player branding
Get started with Presto Player now.
Social Media Share Buttons is a great social sharing plugin for helping your site visitors share your awesome videos with their followers, or give you a follow on Vimeo.
What's coolest about this plugin is that you can customize the actions that your button does. The plugin is free, but if you want the Vimeo icon, you'll have to grab the Premium plugin for $30 or $40, depending on if your site is commercial or not.
Some of the features that make Social Media Share Buttons a good Vimeo WordPress plugin:
Pick from 16 different designs for your icons
Give several actions to one icon
Give icons an animation
Make the icons float or stick
Add counts to your icons
Allow visitors to sign up to your blog with their email address
Get started with Social Media Share Buttons now.
That's our list! We hope you found a great plugin or a few that'll help you with Vimeo and WordPress.
If you liked this article, you'd probably also like How to Track Video Plays in Google Analytics (No GTM!).
Not using MonsterInsights yet? What are you waiting for?
And don't forget to follow us on Twitter, Facebook and YouTube for more helpful Google Analytics tips.