When it comes to online performance tracking, Google Analytics stands out as the top tool, offering insights into website performance and user behavior. But, do Google Analytics cookies raise privacy issues?
Many website owners wonder if their site is GDPR compliant if they use Google Analytics. Do you need to ask users for consent before tracking them and using that data to improve your digital marketing strategy?
In this article, we'll go over what Google Analytics cookies are, whether you need to ask visitors for consent, and how to get data analytics within the bounds of privacy policy compliance.
First, let's go over the basics…
Legal Disclaimer: Due to the dynamic nature of websites, no single plugin can offer 100% legal compliance. Please consult a specialist or internet law attorney to determine if you are in compliance with all applicable laws for your jurisdictions and your use cases. Nothing on this website should be considered legal advice.
What Is a Web Cookie?
A web cookie, also known as an HTTP cookie, browser cookie, or internet cookie, is a small piece of data that a website sends to a user's browser. It's then stored there and can be accessed at a later time. Think of it like a little note that websites leave on a device to remember certain information about a user's interactions.
Now, ready to learn how cookies work with Google Analytics and privacy laws?
Does Google Analytics Use Cookies?
The short answer is yes. To provide tracking and measurement data, Google Analytics uses cookies. These tiny pieces of data (cookies) are stored when users visit a site that has Google Analytics tracking code installed.
They help Google Analytics recognize unique users, trace interactions, and collect data such as pageviews, session duration, and engagement.
Hold on, isn't GA4 supposed to be cookieless?
Is Google Analytics 4 Cookieless?
Yes, Google Analytics 4 (GA4) is "cookieless," but that can be a little confusing because cookieless doesn't actually mean no cookies. It means that Google Analytics 4 doesn't use or accept third-party cookies. Instead, the service relies on first-party cookies and other methods of data collection.
For example, Google Analytics stores the client ID (made up of a unique ID and timestamp) in a first-party GA cookie. That way, Google can tell if someone is a returning user or not, accurately attribute actions taken by unique visitors, and provide metrics about the number of first visits, first-time customers, and more.
Do You Need Cookie Consent for Google Analytics?
Whether you need cookie consent for Google Analytics depends on where your website visitors and business are located, the data you collect, and what you do with that data. Google Analytics is neither compliant nor non-compliant with data privacy policies. Instead, it's up to you to make sure you're using the service in a way that aligns with applicable regulations.
Cookie consent laws vary by country (even within the EU). Some require notice and consent for specific cookies while others may require you to create a cookie banner for any cookies on your site.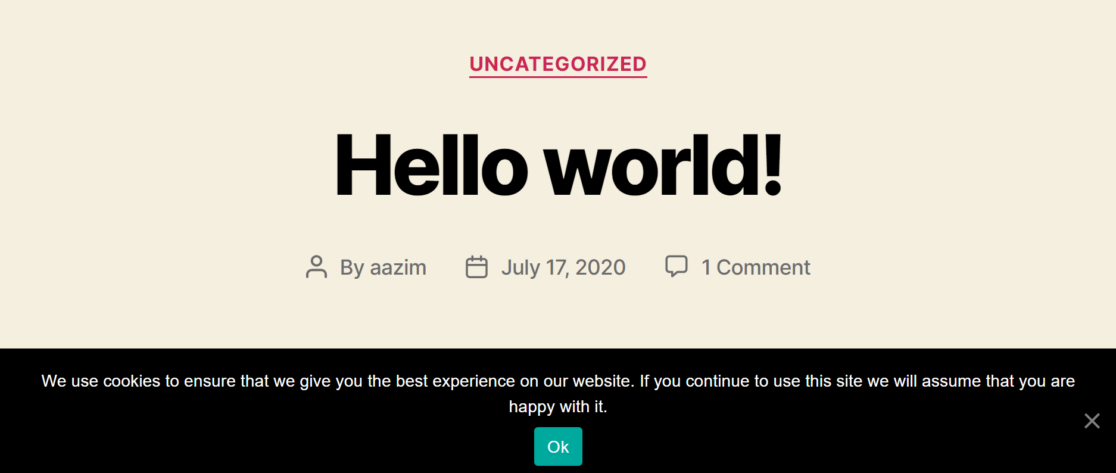 Google Analytics 4 took some major strides to become more privacy-friendly and help websites comply. Most notably – unlike the previous version (Universal Analytics), GA4 doesn't store the IP addresses of users or allow websites to collect personally identifiable information (PII).
That said, it doesn't mean you're totally in the clear to use GA4 without a cookie notice. The specific data you collect, what you do with it, and if you connect Google Analytics to other products like Google Ads can all increase the risk of a privacy violation.
That's because if you collect or process personal data from EU residents, you must be compliant with GDPR (General Data Protection Regulation). Aside from that, if your business meets certain conditions and collects or processes any personal data from residents of California, CCPA (California Consumer Privacy Act) compliance is required.
With hefty penalties for violations, we recommend a "better safe than sorry approach," ensuring compliance with the full scope of regulations your website currently falls under or could potentially fall under.
Google Analytics Cookies + GDPR Compliance
GDPR is pretty clear when it comes to cookies: You must obtain explicit consent from visitors before using Google Analytics cookies to collect personal information. 
Keep in mind that one general cookie consent notice won't cut it. To collect any identifying information, you need specific consent for analytical cookies before you can run the tracking code. And, your cookie notice needs to follow certain GDPR standards.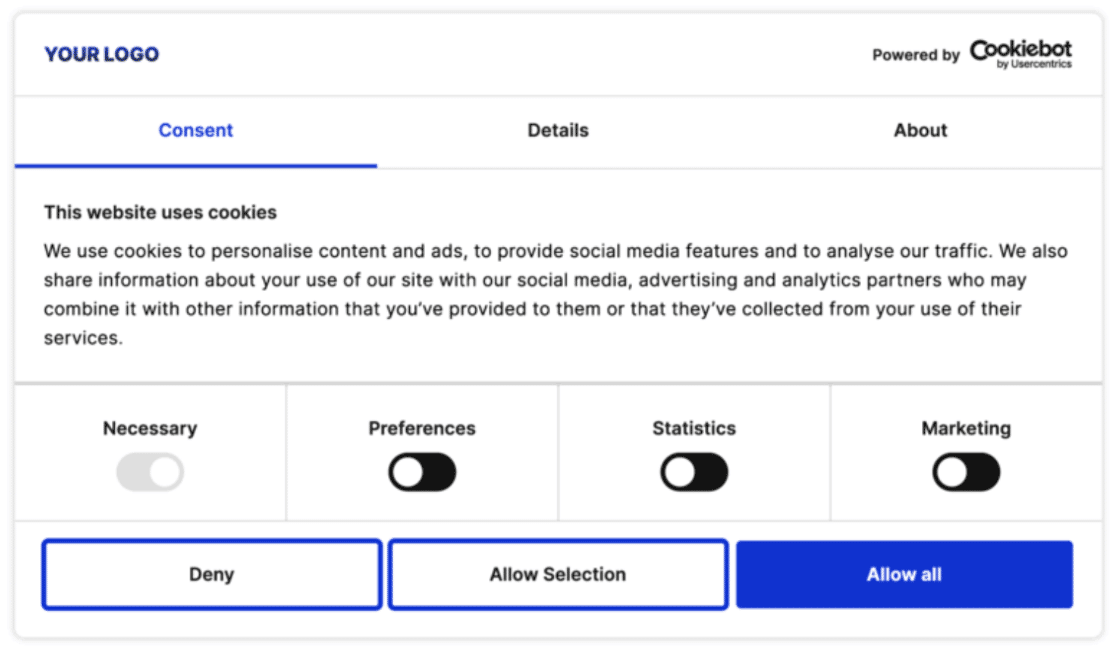 So, you can anonymize or disable all potentially personal identifying data. Or, you can get explicit consent before loading the Google Analytics tracking code. We'll go over this more below.
To learn more about GDPR, check out our guide to making your site GDPR-compliant.
Google Analytics Cookies + CCPA Compliance
CCPA is a bit more lenient when it comes to cookie consent: You don't need to get explicit consent prior to storing cookies on visitors' devices, but businesses need to inform visitors of the type of cookies used and provide a Google Analytics opt-out option.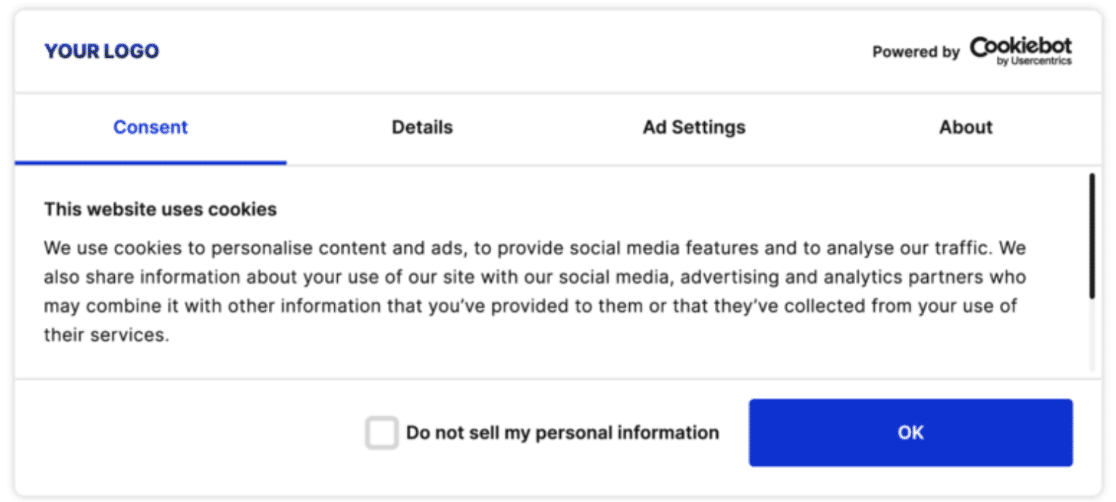 To ensure compliance with CCPA regulations, you'll also need to follow other policies concerning data retention, user requests, etc. You can learn more about CCPA compliance in this article.
How to Add Cookie Consent to Google Analytics
Because websites are dynamic in nature, no single plugin or tool is able to guarantee 100% compliance with all privacy laws. But, as the best GDPR plugin and Google Analytics tool for WordPress, MonsterInsights can help.
MonsterInsights is the best Google Analytics plugin for WordPress. You can connect your Google Analytics account to your site and set up advanced tracking without editing any code or hiring a developer. You'll get the insights that matter, right inside your WordPress dashboard.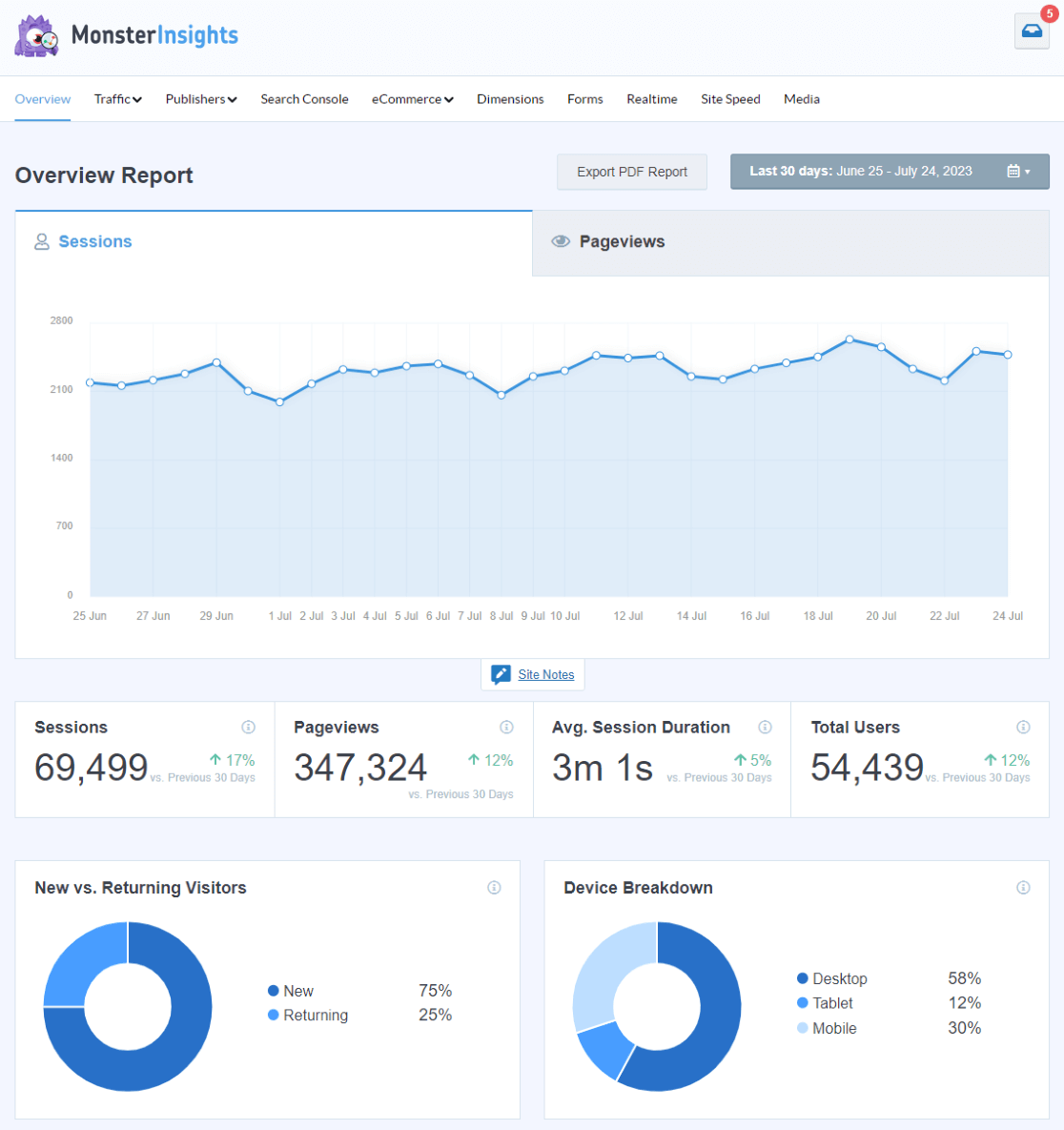 With MonsterInsights, you also get access to tons of other Google Analytics features and sophisticated tracking in only a few clicks, such as:
Using MonsterInsights for Privacy Compliance
The EU Compliance addon is available on all premium licenses and automates some of the Google Analytics GDPR compliance factors including: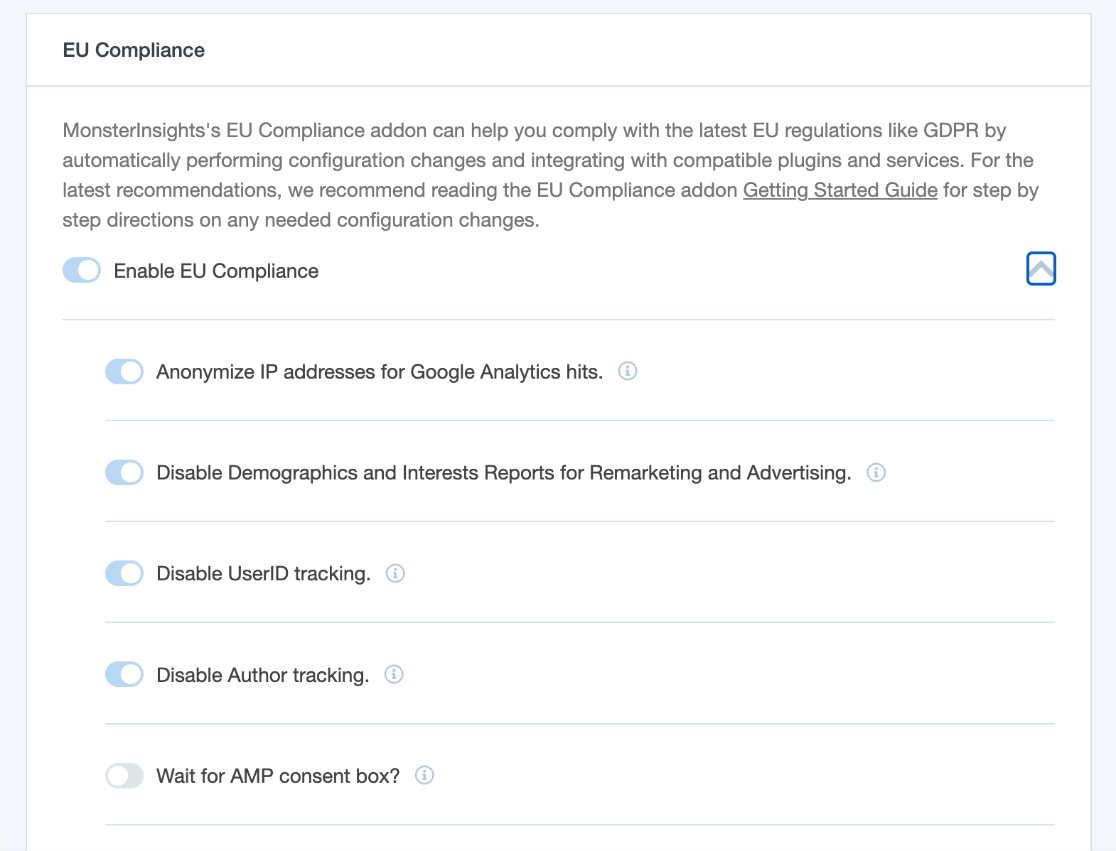 As for Google cookies settings, MonsterInsights offers automatic integration with popular cookie plugins:
If your website uses any of these plugins to get analytics data tracking consent, MonsterInsights will automatically configure everything to make sure the JavaScript tracking code for Analytics (gtag.js) only loads based on users' selected preferences.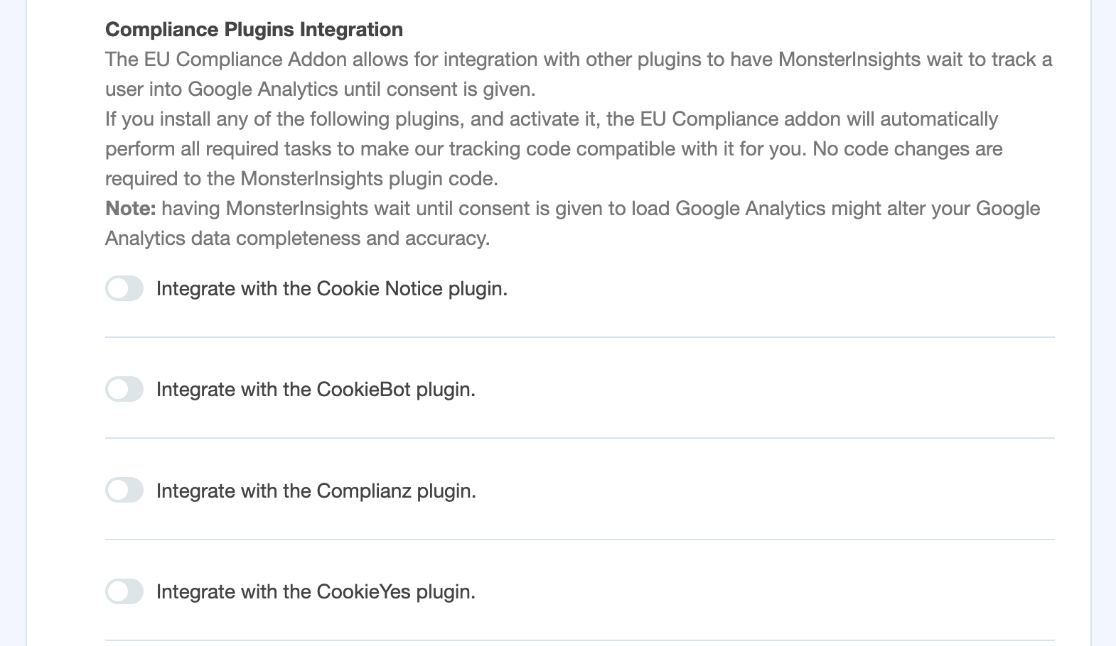 How to Add a Google Analytics Opt-Out Option
Only need to provide an opt-out option? If you're complying with CCPA, but don't need to get explicit consent for GDPR, you can easily set up an opt-out cookie consent box on your WordPress site with a free plugin like CookieBot.
For example, CookieBot conducts a scan of your website and generates a link for users. Plus, it provides a Do Not Sell My Personal Information document that you can link to. MonsterInsights will integrate in the same way to exclude users who opt-out from being tracked, and you can customize the addons settings.
Cookie and Data Collection FAQs
What Is a First-Party Cookie?
A first-party cookie is served directly by the website visited. It's used to remember things like preferences, login status, active shopping carts, etc. Most people don't have an issue with these cookies as they primarily help websites provide a smoother experience when a user returns.
What Is a Third-Party Cookie?
A third-party cookie is served by a third-party site that's usually linked through an ad. It's used to pass information about your browsing between websites, usually to display more relevant advertisements. Unlike first-party cookies, third-party cookies often raise a red flag with users.
Although they're not necessarily bad by nature, if you've ever seen a timely ad pop up and sworn your phone is reading your mind, third-party cookies may be to blame. They also have the potential to be used for not-so-above-board practices like recording contact info for spam targeting.
What is Google Analytics Consent Mode?
Google Analytics Consent Mode is a feature that helps websites gather user data while respecting privacy regulations. It's a setting that adjusts how Google Analytics operates based on the user's consent status. If a user gives permission to track data, Consent Mode ensures that Google Analytics functions as usual. However, if a user denies consent, it modifies the tracking process to maintain privacy.
MonsterInsights takes care of this with one simple click, but you can learn more about configuring consent mode using Google Tag Manager (GTM) in Google's resources.
When Does a Cookie Expire?
How long a cookie stays in the browser varies and largely has to do with what it's used for. Session cookies last as long as the browser is open and are then automatically deleted. However, persistent cookies can stay after the browser is closed and are typically used for remembering user preferences.
Browsers can also set limits on how long a cookie can last. For instance, Google Chrome requires that a cookie can't expire more than 400 days from the time it was set.
How Long Does Google Analytics Retain Data
By default, Google Analytics 4 retains data associated with cookies and user or advertising identifiers for only 2 months. However, you can change this setting to 14 months in the data settings area of your Google Analytics account.
Although it doesn't affect most standard reporting, this time frame does affect your ability to use historical data in custom reports. So, we recommend changing it to 14 months immediately after setting up Google Analytics.
Is Google Analytics Legal in Europe?
Google Analytics 4 is now legal in Europe. The news came in July 2023 following the official transition to GA4. The European Commission accepted the EU-U.S. Data Privacy Framework and confirms that personal data transferred from the EU to the United States is equally safeguarded.
This eliminates the need for additional data protection measures in Google Analytics, but companies are still responsible for complying with standards and privacy policies.
That's it!
We hope this article has helped clear up the mystery around Google Analytics cookies, whether you need consent, and how to use MonsterInsights with a Google Analytics opt-out box to get your site compliant.
If you enjoyed this article, you may want to also check out How to Make Google Analytics PIPEDA Compliant.
Not using MonsterInsights yet? What are you waiting for?
Don't forget to follow us on Twitter, Facebook, and YouTube for the best WordPress tutorials and Google Analytics updates.