Are you looking for an easy way to show a cookie notice bar on your WordPress website?
With different regulations like GDPR and CCPA, it's more important than ever to make your site transparent and get user's consent before using cookies.
And if you don't meet the requirements of these data protection laws, then your site could face severe penalties and fines.
So, in this article, we'll show you how to set up a WordPress cookie consent notice bar in WordPress.
What are Cookies?
To understand cookie consent, you should first know what cookies are. Unlike your deliciously baked goodies, these are HTLM files that help web browsers and websites to provide a faster experience by collecting and storing user data.
For example, let's say login to Gmail to view your emails. Your browser will use a cookie to save your email address and password, so the next time you open Gmail, it instantly loads on your browser.
Likewise, tools like Google Analytics also use cookies to track your website visitors. They collect information like their device type, browser, location, operating system, and more.
Check out our guide on how Google Analytics works for more details.
So, if cookies help improve the user experience, why do need consent to use them?
Why Do You Need a Cookie Consent on Your Site?
While cookies don't sound harmful on paper and are useful for your site, they collect personal information of users.
And under privacy protection laws in different countries, like GDPR (General Data Protection Regulation) and PECR in the EU, you need to let users know about the use of cookies on your website.
Not only that, but you'll also need to show a cookie notice bar on your website and get permission from your visitors before you can track their data. That's why it's important to set up a cookie consent notification.
Now, are you wondering how do I set cookie notifications? Let's find out…
How to Add a Cookie Notice Bar in WordPress?
To set up a WordPress cookie consent notice bar, you'll need a plugin. It makes it super easy to show popup notifications on your website and get user's permission to use cookies.
But if you think you can add a cookie consent without a plugin, then do remember that you'll need to edit code. This can be tricky for someone who doesn't know coding and a small mistake can stop it from working properly.
That said, here are the steps you can follow to create a cookie consent notice bar in just a few clicks and without coding.
Step 1: Install and Activate Cookie Notice WordPress Plugin
The first step is to install the Cookie Notice WordPress plugin. It's free to use and has a simple user interface.
While there are many WordPress plugins, Cookie Notice works smoothly without hampering your site's performance. And it's also one of the best WordPress GDPR plugins, as you can easily comply with the regulations by showing a cookie consent bar.
To install the plugin, go to your dashboard and then click on Plugins » Add New. Now search Cookie Notice in the search bar and then click Install.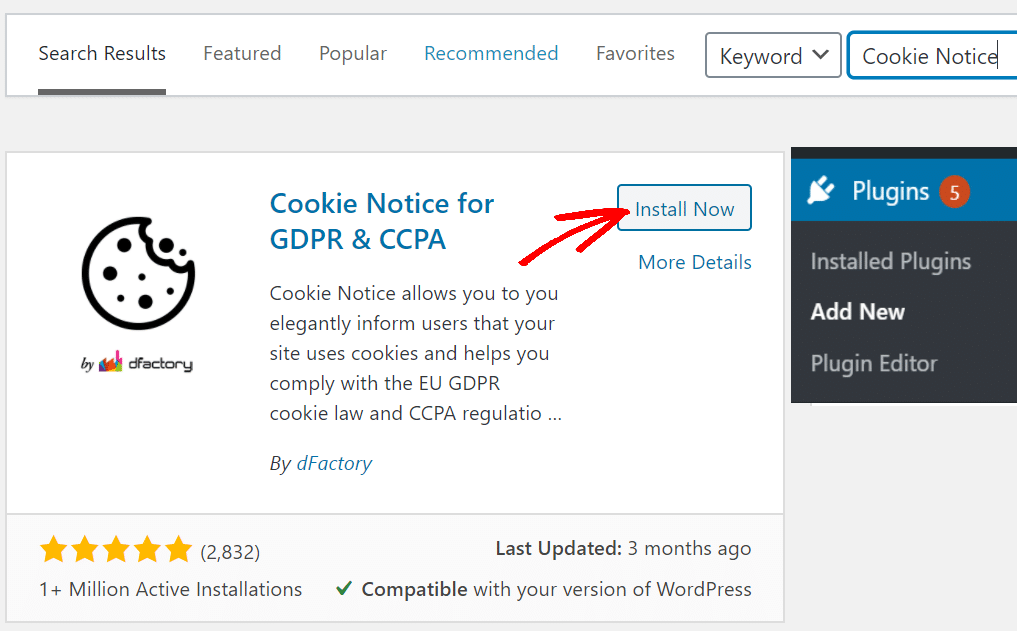 Then wait for a few seconds to let the plugin install and then click on Activate to use the plugin.
Step 2: Edit Settings for Your Cookie Consent Notice
Now that the plugin is active on your site, it's time to add a consent notice to your WordPress website.
You can start by going to Settings » Cookie Notice. Here you can edit the message that will show up in the notification bar along with the button text.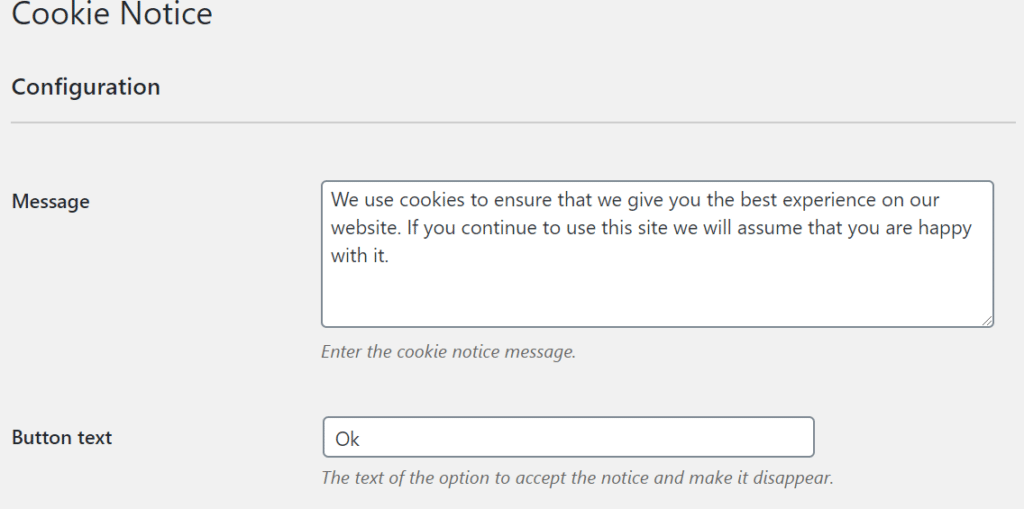 You can also link your cookie consent with your privacy policy. Simply check the box for Enable privacy policy link.
Then select a page link or enter a custom link for your privacy policy.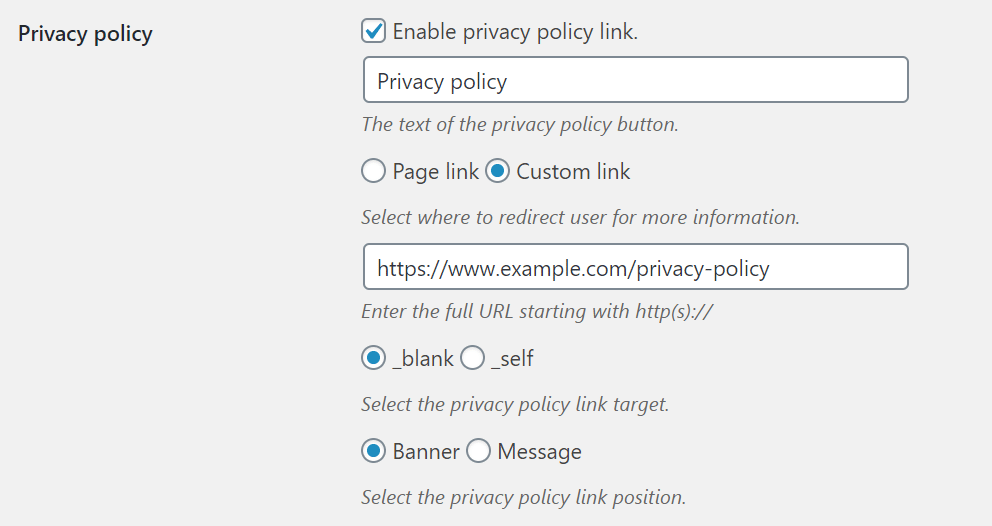 Cookie Notice offers more options to customize your notice bar. For instance, it gives you an option to let users refuse third party cookies, add script blocking, accept cookies if a user scrolls or clicks. And you can set the expiry date for your cookies.
Lastly, you can edit the design on your consent notice and change its position, animation, button style, text and bar color, and more.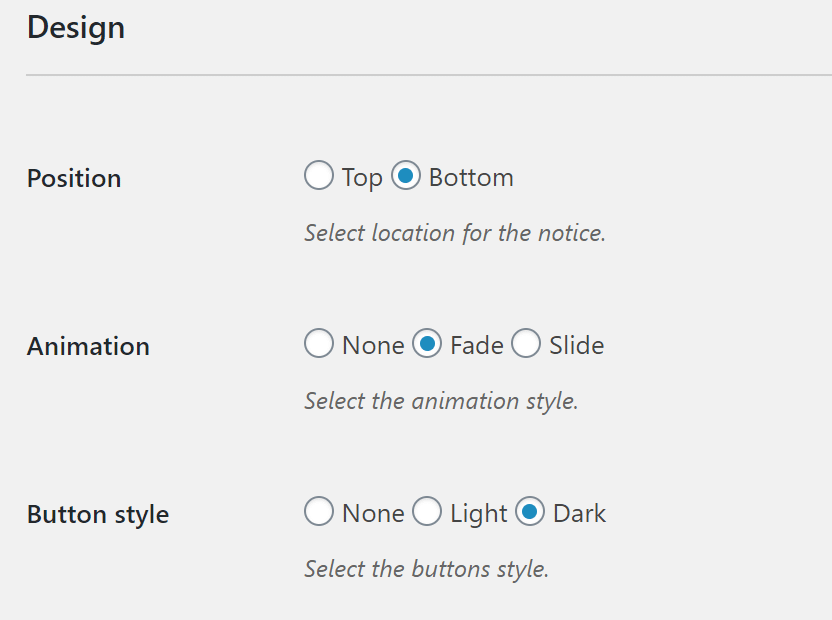 When you're satisfied with the changes, click Save Changes.
Step 3: Publish Your Cookie Consent Notice Bar
After saving the changes, your WordPress cookie consent bar will automatically appear on your website. You can always revisit the settings to change anything at any time.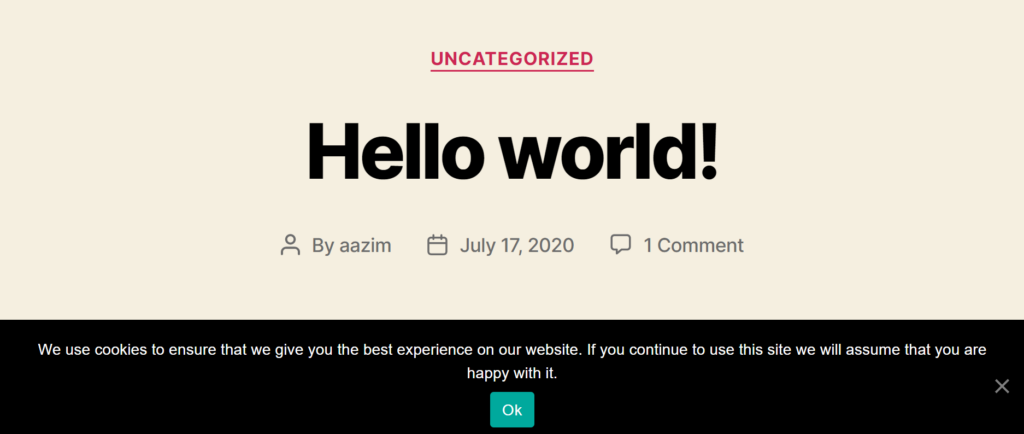 Integrate Cookie Notice with MonsterInsights
Now that a cookie consent notification bar is set up on your site, you can go a step further and make sure Google Analytics complies with CCPA, GDPR, and other data protection regulations.
Google Analytics is a powerful tool that helps you run your business successfully. It tracks important data that you need to better understand your visitors. For instance, you get to know which posts they like, where they're coming from, which device they use, and much more.
But since Google Analytics records personal details of users, you need their consent before tracking them.
This is where MonsterInsights comes in handy. It's the best WordPress plugin for Google Analytics. You can easily add Google Analytics to your website, set up advanced tracking with a click of a button, and get reports inside your dashboard.
Using it's EU Compliance addon, you can make site GDPR and CCPA compliant in just a few clicks.
You can anonymize IP addresses, disable demographics and interest reports, disable USerID tracking, author tracking, and more using the addon.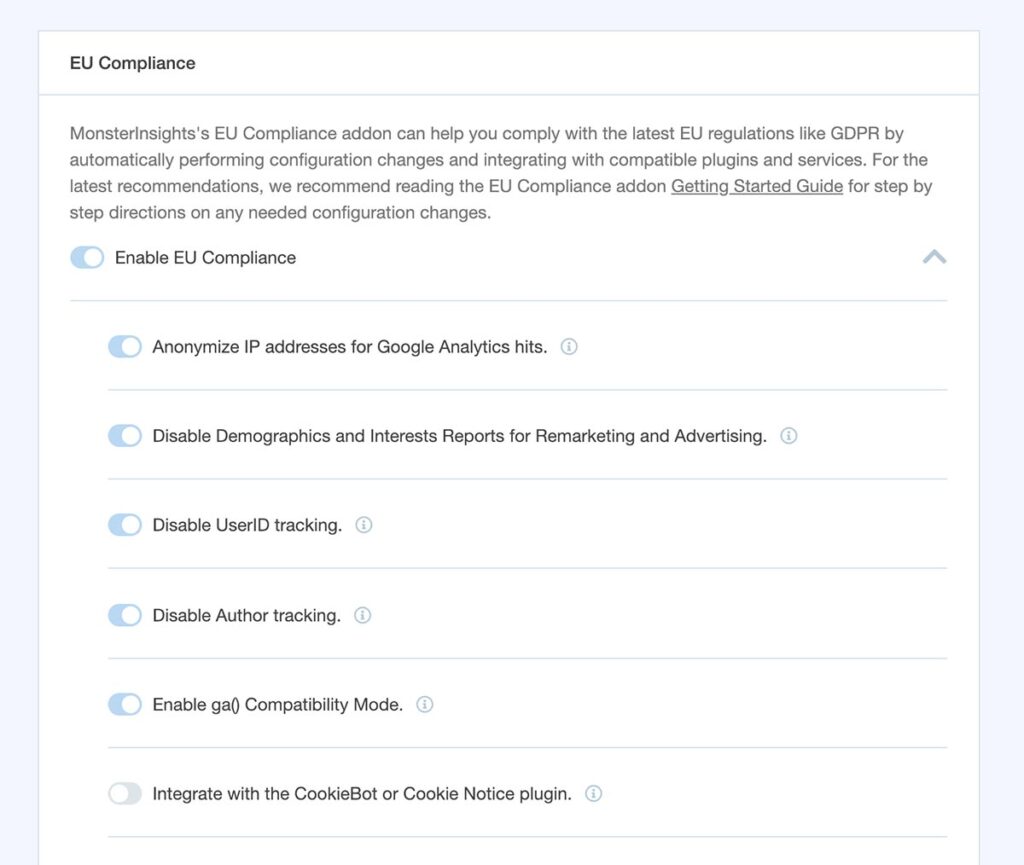 Not only that, but it seamlessly integrates with the Cookie Notice WordPress plugin. When you have Cookie Notice running on your site, MonsterInsights automatically detects it and will wait to load Google Analytics until the user gives consent.
MonsterInsights performs all the changes to the tracking code on its own. You don't have to worry about editing code or performing any additional configuration.
And that's it!
You've made it to the end of the guide. Using the steps in this post, you can get consent from your visitors about using cookies and comply with different regulations.
We hope that you liked our article on how to set up a WordPress cookie consent notice bar. If you want, you can also go through our guide on how to properly set up Google Analytics in WordPress.
Don't forget to subscribe to our newsletter and follow us on Twitter and Facebook for more helpful Google Analytics tutorials.