Do you want to track user activity of your logged-in users? If you offer online courses or require people to register on your website, then you can see how your visitors interact with your website.
By enabling individual user tracking, you can accurately track your logged-in users across multiple devices and create a personalized experience.
In this article, we'll take a look at how to set up WordPress user activity tracking in Google Analytics.
What is User Activity Tracking in Google Analytics?
If you run a community-powered site in which you want your users to register an account, like eCommerce, membership, forum site, BuddyPress sites, etc., you'll need to enable user activity tracking on your site.
Enabling user activity tracking on your site provides you with lots of benefits. Let's take a look at some use cases of how user activity tracking can help you boost your site's performance.
1. Accurately Track Unique Users
User activity tracking allows you to accurately track your individual users even if they logged in from different devices.
When you enabled WordPress user activity tracking, instead of a Client ID, Google Analytics will start using WordPress user ID to identify registered users.
The Client ID represents the unique device from which users engage with your content. That means if a unique user browses through your website from two different devices, it will be counted as two different users, not a single user.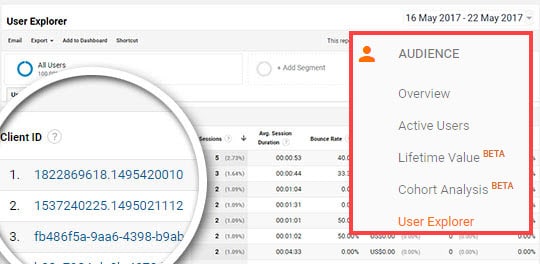 By enabling WordPress user activity tracking, you can track logged-in users more accurately even if they visit your site from different devices.
For example, if a person arrives at your site through a particular campaign from their phone and then completes a conversion from a desktop, you can link that conversion back to the campaign and better understand the user journey.
Not only will you be able to track the engagement data of each unique user, but you can discover what devices they use and track multiple sessions over an extended period of time.
2. Create a Personalized User Experience
By tracking individual users on your WordPress site, you can identify what each customer has done on your site.
For example, if you find that a particular user with a user id #26 has added some items to the shopping cart and later abandoned the cart, you can find the name and other details of that person by looking at your WordPress admin panel.
You can even provide a personalized user experience on your site tailoring to their interests and preferences to boost conversions.
With that, are you ready to learn how to set up user activity tracking in WordPress?
How to Track WordPress User Activity Tracking
The easiest way to track WordPress user activity is by using MonsterInsights. It's the best Google Analytics plugin for WordPress.
Using the plugin, you can easily set up activity tracking and other advanced features. For instance, you can track affiliate links, file downloads, set up custom dimensions, track eCommerce performance, and more.
For tracking your logged-in users, MonsterInsights replaces the anonymous Client ID with the WordPress User ID with just a few clicks.
To get started, just follow these 3 simple steps…
Step 1: Install MonsterInsights
The first thing you'll need to do is to install and activate MonsterInsights on your site.
Once the plugin is active on your site, the next thing you'll need to do is properly connect Google Analytics with MonsterInsights.
The setup wizard will guide you every step of the way. And you don't have to edit a single line of code.
Step 2: Enable User Tracking in MonsterInsights
After installing the plugin, you will have to install the MonsterInsights eCommerce addon, so you can activate user ID tracking.
To start, navigate to Insights » Addons and then go to eCommerce. Next, click Install and wait for a few minutes for the addon to automatically install and activate.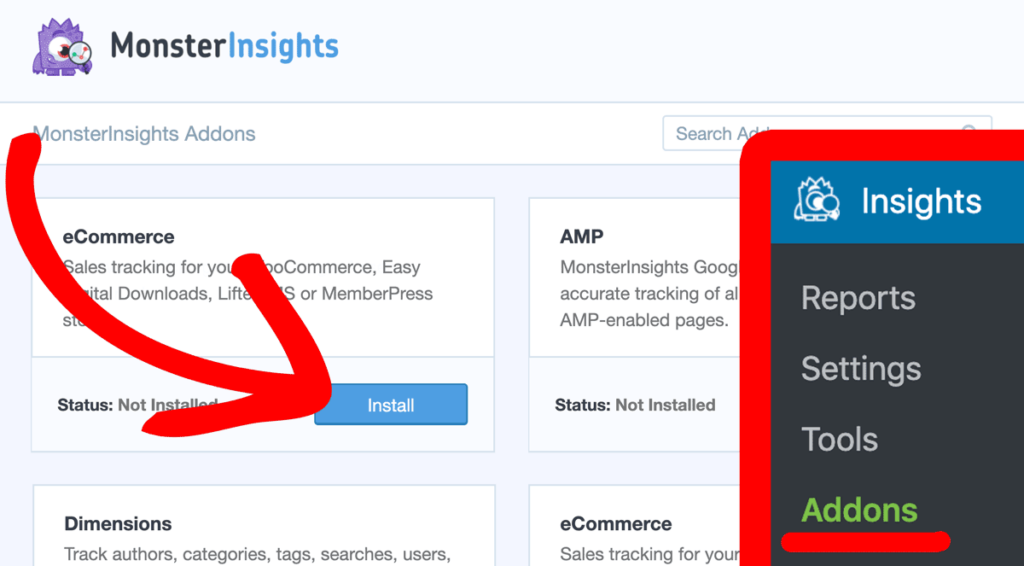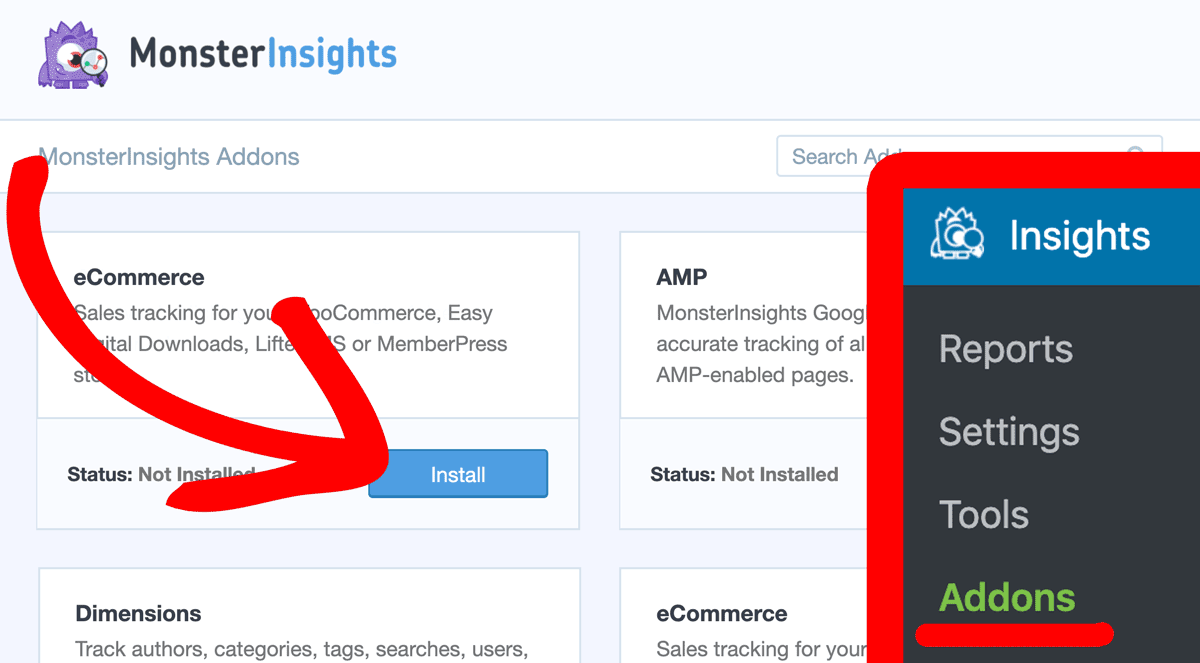 Once the addon is active, you go Insights » Settings » eCommerce. 
Now scroll down to User ID Tracking and click on the option that says Enable User ID tracking.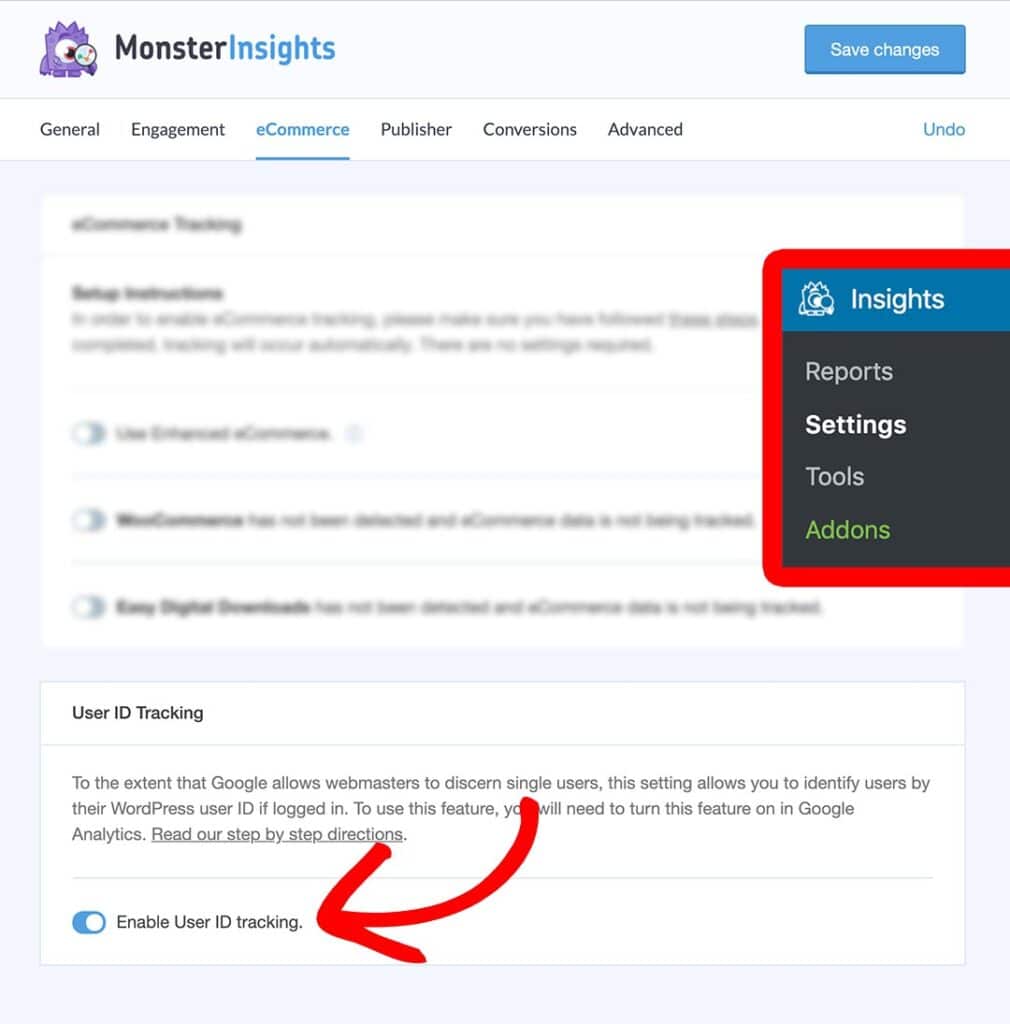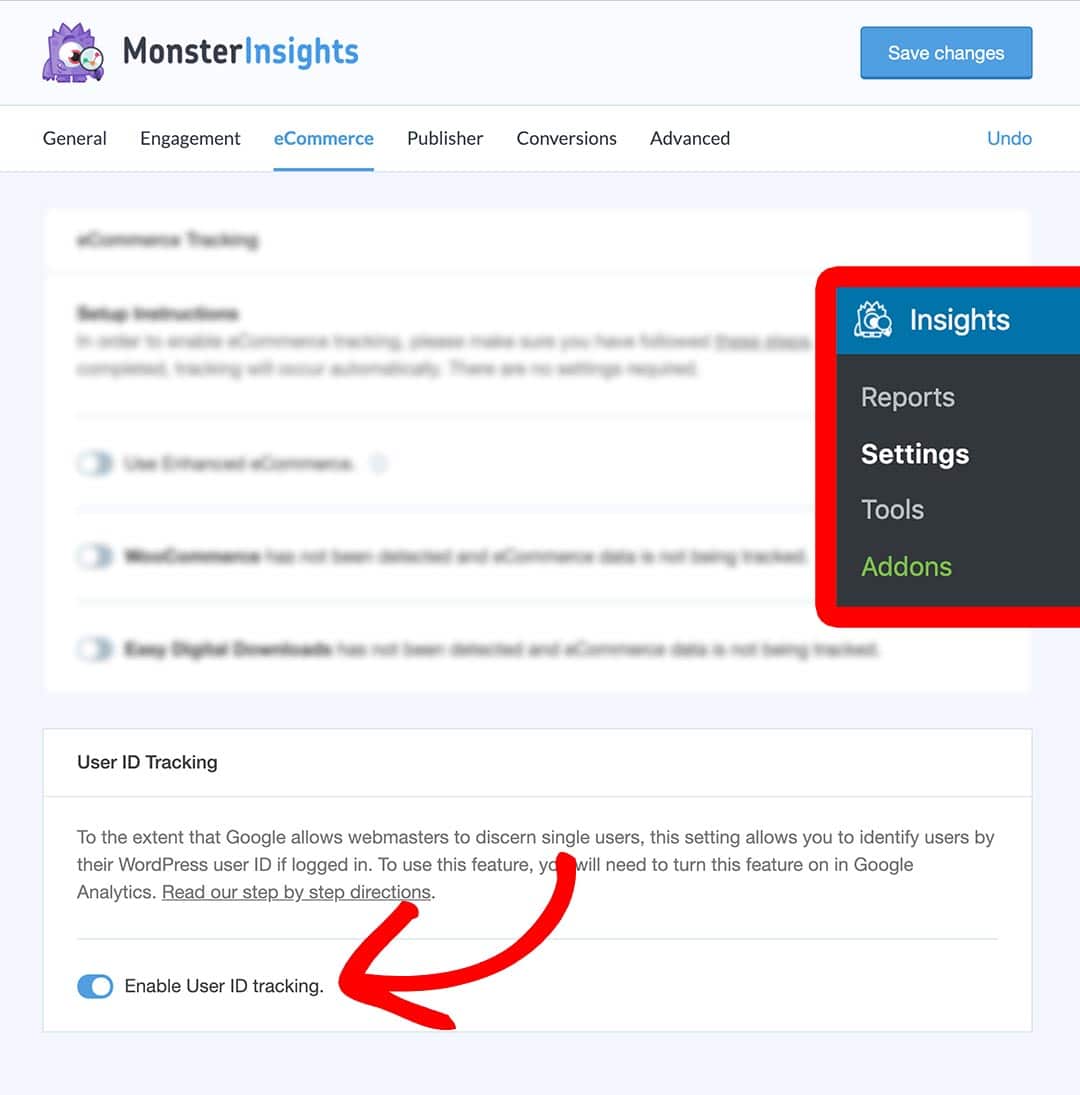 Step 3: Enable User Tracking in Google Analytics
Now you'll need to enable user tracking in Google Analytics and create a new UserID view.
You'll need to log in to your Google Analytics account and select the website you'd like to enable user tracking for.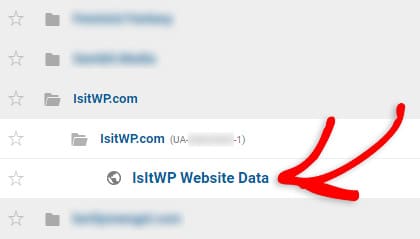 Then, click Admin.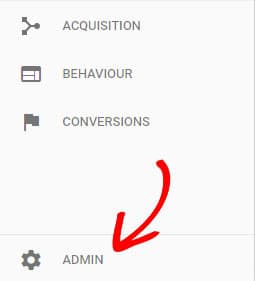 Now click the Tracking Info link in the center column to expand the submenu, and click the User-ID link that appears below.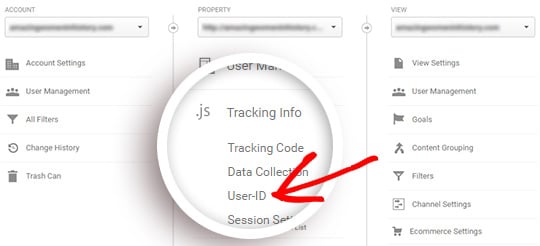 On the next page, you'll have to click the Off switch to On and click the Next Step button to agree to the User-ID policy.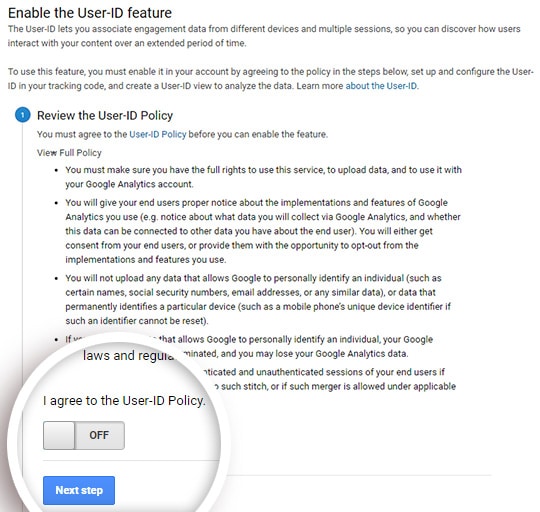 In step 2, you don't need to do anything but click Next Step again.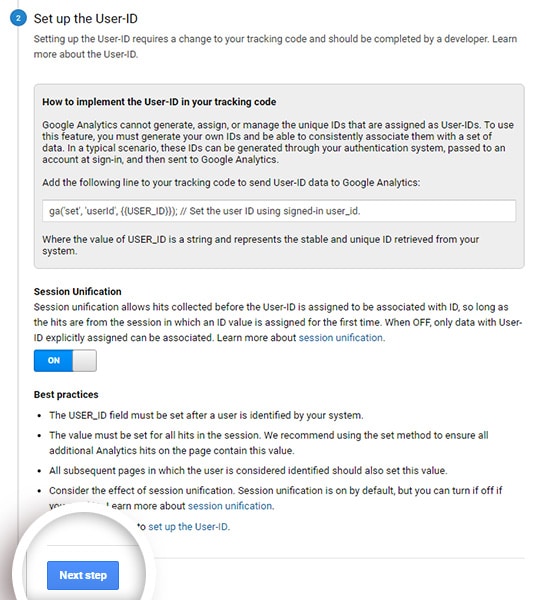 In step 3, just click the Create button to create the UserID view.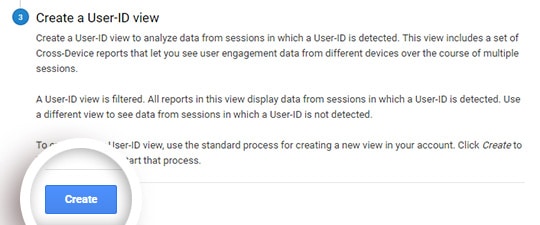 Next, you will be taken to this screen where you will have to enter a Reporting View Name (we recommend including UserID in the name so it's easy to remember which view has UserID tracking enabled).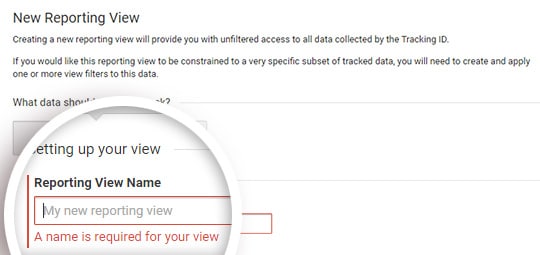 Finally, you can scroll down and click the Create View button.

You'll see a brief success message. Then, click the Google Analytics logo at the top of the page.
How to Find the User Activity Tracking Report in Google Analytics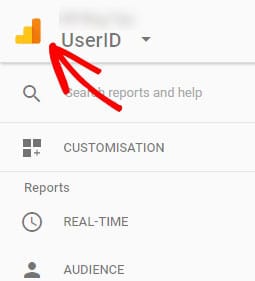 You can now access your new User-ID view.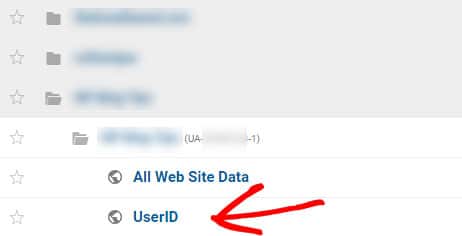 Then, just click on Audience » User Explorer in the left menu to see your user data. You'll see that each user is now listed by their user ID in WordPress.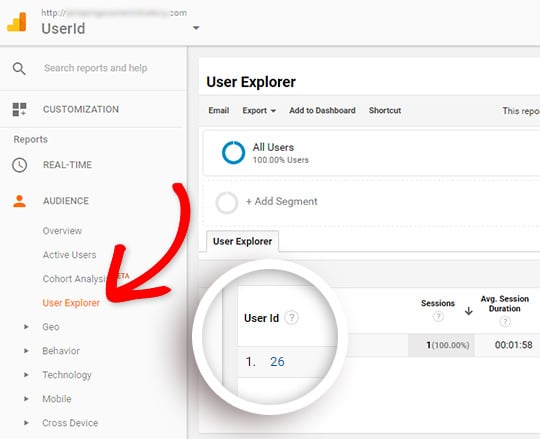 You can click on the User ID to see more detailed info on each user.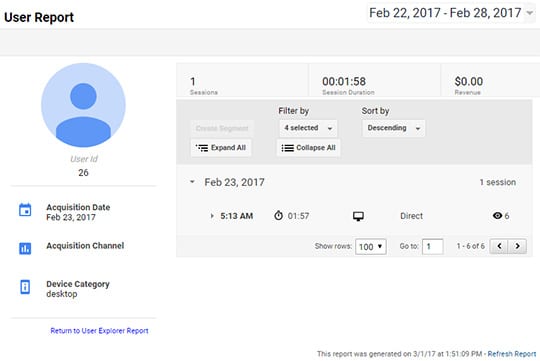 Wondering how to tell which WordPress user belongs to which ID? To find out, just go to your WordPress dashboard and click on Users » All Users.
Then hover your cursor over the user you want to find the ID for. You'll see a URL appear in the bottom of your browser. In the middle of the URL, it will say "user_id=". The number after that is the user's ID number.

You can click the Edit link under the username to make sure. You'll see the user ID in the web address on the edit page.

That's it!
We hope this article helped you learn how to set up WordPress user activity tracking. If you enjoyed this article, you might also want to read the beginners' guide to custom dimensions in Google Analytics.
And don't forget to follow us on Twitter and Facebook for more Google Analytics tutorials.