Want to set up Google Ads retargeting (or running retargeting ads already) and need to know how to optimize your campaigns?
By following a few Google retargeting ads best practices, you can make sure that your ads are optimized and they're the best use of your time and money.
In this article, we'll show you the top Google Ads remarketing best practices to skyrocket your conversions and boost your ad revenue.
What Are Google Retargeting Ads?
Retargeting (also known as remarketing) is the practice of showing your ads to those people who've already shown an interest in your products or services by visiting your website.
With remarketing, since you're showing highly customized ads to people who have previously visited your website, they're more likely to click on your ads, making the entire campaign super cost effective.
How Do You Set Up Google Ads Retargeting?
Google makes setting up remarketing campaigns pretty easy. There are just a couple steps to follow, then you can start showing ads to people who've already visited your website.
You'll just need to:
Turn on Google Signals in Google Analytics
Create Audiences in Google Analytics
Once you've completed those four steps and you're ready to run retargeting ads, go ahead and get started using the best practices we've outlined below.
We've organized our best practices into three different sections. Let's dive in!
Google Analytics Best Practices for Remarketing
In this section, you'll find tips to increase the engagement of your remarketing campaigns using your Google Analytics account.
1. Use Marketing Campaign Tracking
It's highly recommended to use UTM parameters to better track your ad campaigns in Google Analytics. UTM parameters, also known as UTM codes, are little snippets of text added to the end of your URL for better tracking in Google Analytics.

By creating campaign URLs with UTM codes, you can analyze which campaigns are high performing, and which ads and paid keywords are triggering the most clicks.
If you're using WordPress, install MonsterInsights to get a handy tool to build your URLs with UTM parameters right inside your WordPress dashboard (along with tons of other Google Analytics perks, including installing your Google Ads conversion code without touching any code).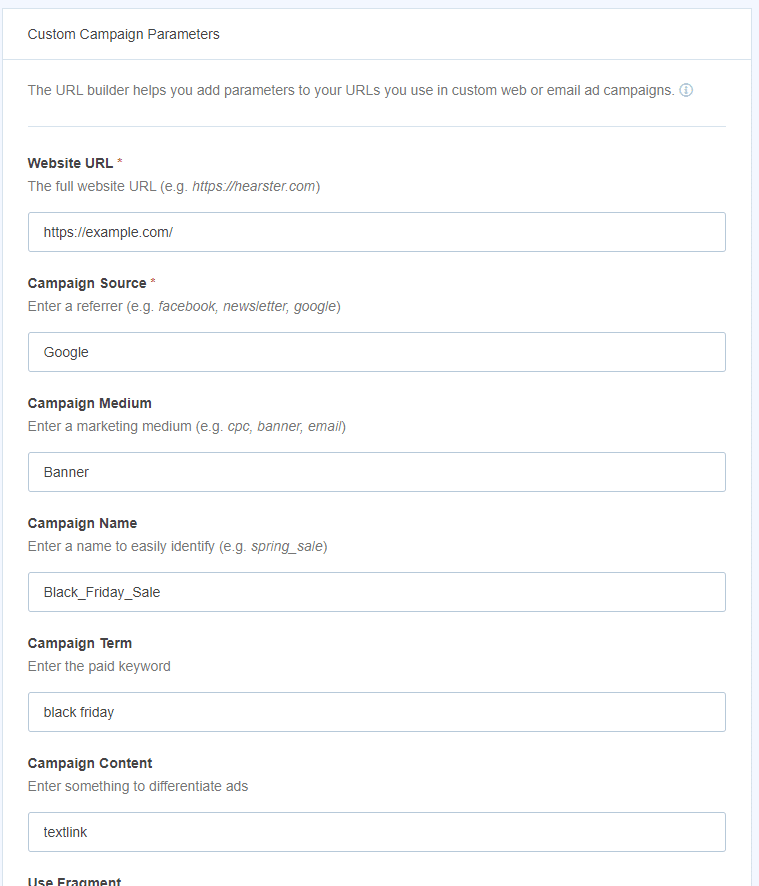 To learn more about building campaign URLs with UTM codes, check out A Beginners Guide to UTM Parameters (And How to Use Them).
2. Create Multiple Audiences
An audience is a set of visitors that you've identified using Google Analytics dimensions and metrics. That might sound complicated, but Google makes setting up audiences pretty easy by creating a handful of suggested ones for you that you can leave as-is or modify to fit your needs.
Once your audiences are built in Google Analytics, they'll start collecting visitors and automatically send them to your Google Ads account to use in remarketing campaigns.
For example, you might want to target:
Cart abandoners
People in a certain demographics group
Registered users
People who filled out a form
People who watched a video
Learn more about how to create audiences in Google Analytics 4.
3. Target High-Value Customers
Do you want to retarget your high-value customers based on their age, gender, and interests? Remarketing allows you to target your high-value customers based on various customer demographics to boost your ROAS (return on advertising spend).
For instance, if you're an eCommerce merchant, you can identify the age group, gender and interests of your highest spending customers. Based on the data, you can retarget your ideal audience who are more likely to spend more on your site.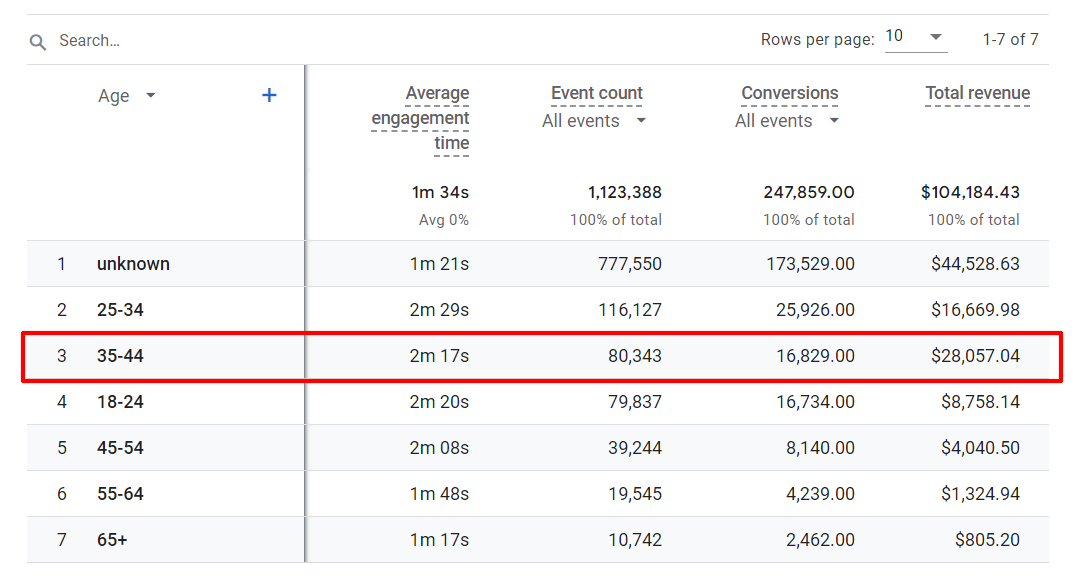 In this example, the Age report shows that the ages 35-44 segment contributes the most revenue.
To be able to find your high-value customers, you need to enable demographics and interests by turning on Google Signals in Google Analytics. Once you've identified the customer segments that are more likely to spend more on your site or spend more money, you can retarget only those specific segments to increase your ROAS.
4. Use Conversion Tracking
The best way to understand if your ads are really working or not is to use Google Ads conversion tracking in Google Analytics.
By connecting Google Ads to Google Analytics and setting up conversion tracking, you can collect a lot of information about how users interacted with your site after clicking a retargeting ad. Answer questions like:
How long did those users spend on your site?
What pages did those users visit?
How much revenue did you make from your retargeting ads?
By finding the answers to those questions and many more, you can get a much better idea if your ads are really working and tweak them to increase conversions and decrease your ad spend.
If you have a WordPress website, you're in luck: You can quickly and easily set up Google Ads conversion tracking with a few clicks with MonsterInsights!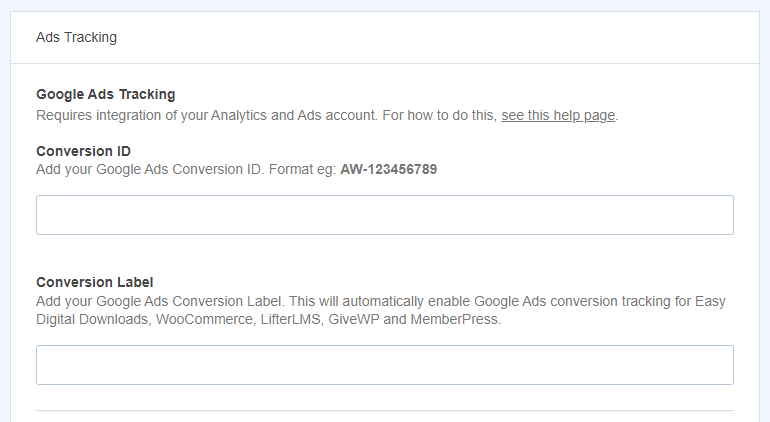 MonsterInsights is the best Google Analytics plugin for WordPress. It allows you to easily connect your WordPress site with Google Analytics so you can view all the data that matters most right in your WordPress dashboard.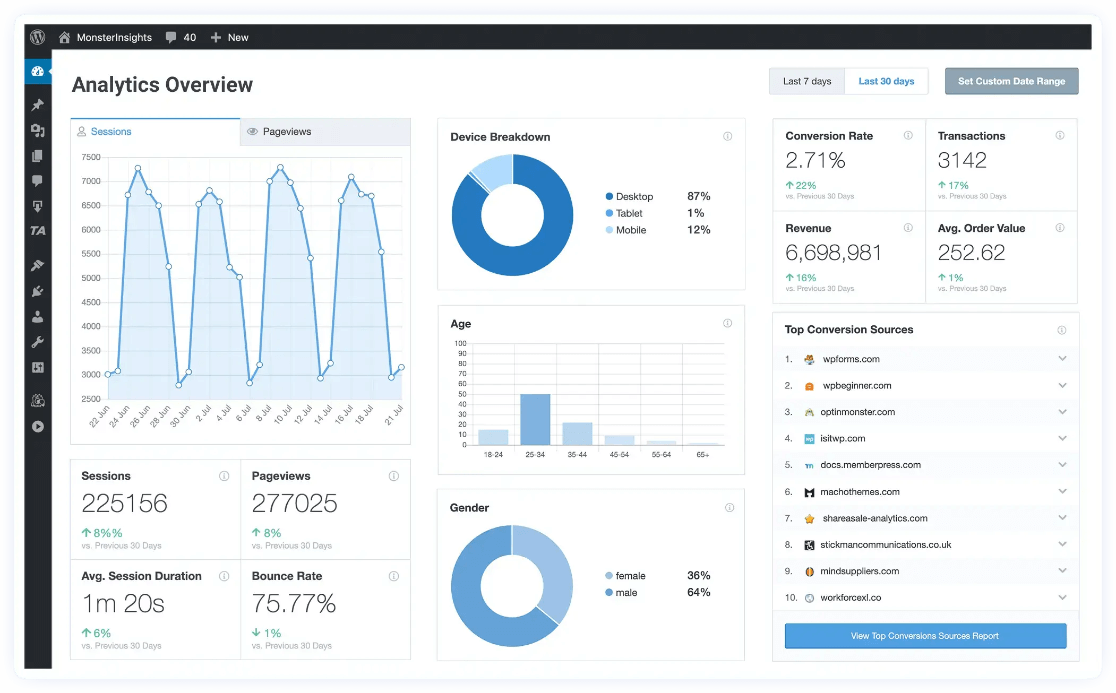 Plus, with the click of a button, you can set up sophisticated tracking features such as event tracking, eCommerce tracking, form tracking, custom dimension tracking, outbound link tracking, and more.
Learn more about MonsterInsights now.
Google Ads Configuration Best Practices
Let's take a look at how to optimize your Google Ads campaigns to boost your return on advertising spend (ROAS).
5. Set a Bidding Strategy
While you can retarget all visitors who happen to visit your site, it's highly recommended to bid higher for those who've visited your key pages and bid lower for other visitors.
This is because people who've visited your key pages such as pricing, products or other landing pages are more likely to turn into your paying customers. Visiting those key pages means they're probably more engaged and interested in your company or products than someone who visited a non-critical blog post and your home page, for example.
Check out Google's instructions for how to edit your bids.
6. Set a Frequency Cap
Frequency capping is a really handy Google Ads feature that lets you put a limit on how many times a single person can be shown your display ad.
Choosing a frequency cap for your remarketing campaign ensures that you're not wasting your advertising budget by targeting people who clearly don't want to be your customer.
You can choose frequency caps to limit the number of impressions for a day, week, or month.
Check out Google's instructions on how to use frequency capping.
7. Use Optimized Images for Dynamic Remarketing Ads
Dynamic remarketing takes remarketing a step further. While remarketing allows you to show ads to people who have previously visited your website, dynamic remarketing shows ads that contain the exact products and services they viewed on your site.
You've probably seen these types of ads before. If you've been shopping for a pair of shoes and then saw the exact pair of shoes you looked at in an ad on another site later, that's a dynamic remarketing ad.
Here's an example with books:

Dynamic remarketing is a fantastic retargeting strategy for eCommerce merchants to retarget their potential customers on the Google Display Network. While creating a dynamic remarketing campaign, make sure that your ads can display product-specific images from your product feed.
To ensure a high-quality product view, you need to optimize your store's library of product images so that your images look good when appearing in dynamic remarketing ads. If they're missing, pixelated, or blurry, that won't help your potential customers want to purchase your product.
For a full tutorial on dynamic remarketing, check out Google's help center.
8. Use Remarketing Lists for Search Ads (RLSA)
Remarketing Lists for Search Ads (RLSA) is a feature of Google Ads that lets you target users who've visited your site on Google.com instead of just the display network.
What really makes RLSA perform well is the fact that you can target people who've already visited your site using different ads and keywords than the rest of your campaigns. This gives you the ability to create super specific ads using choice keywords to really laser focus on getting those people back to your site to convert.
Check out Google's instructions for using RLSA.
9. Exclude Your Recent Customers
Have you ever made a purchase online only to find you're being inundated with remarketing ads? Remarketing to existing customers is a great strategy to increase repeat purchases, but this can also annoy your existing customer base. That negatively affects your customers' overall perception of your company or brand!
It's much safer to wait for a period of time before showing remarketing ads to your recent purchasers or people who've completed a conversion.
How long you wait depends on your company and what you're offering, so there's no magic number. Make sure to experiment to find what works best for your unique audience.
Check out Google's instructions on creating a recent purchasers audience.
10. Use Audience Segmentation to Laser-Target
Segmenting your audience based on their interaction with your site is a great strategy to show highly customized ads to your potential customers. By using audience segmentation, you can address the concerns of your customers in their buyer journey and increase the click-through rate of your ads.
For example, when a visitor comes to your homepage, you can target them with general ads that are geared towards increasing your brand awareness. If they're engaged with your pricing or products page, you can convince them to become a paying customer with a more targeted ad.
In a nutshell, audience segmentation helps you to create a highly engaging remarketing campaign by reaching your customers with the right message at the right moment in their buyer journey.
Check out Google's instructions for creating custom segments.
Bonus Tip: Onsite Retargeting
On average, it takes about 3-4 visits to your website for your prospective customers to make a purchase.
While bringing those potential customers back through a retargeting campaign is great, wouldn't it be awesome if you could help them convert right away instead? Not only would that speed up the process, but you'd save advertising spend.
To help make that happen, you can use onsite retargeting.
Onsite retargeting is something completely different from Google Ads remarketing. Instead of waiting for your customer to return, you attempt to save the conversion before they leave the first time. You do that using an exit-intent popup.
The popup will be triggered by detecting the mouse movement at the precise moment your customers are about to leave. This way, you have the opportunity to convert an additional 2 – 4% of your visitors into leads and customers.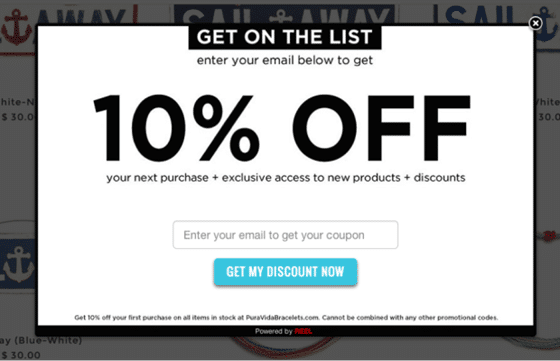 The easiest way to create an onsite retargeting campaign is by using OptinMonster. You can use OptinMonster on any type of website, and they also have a WordPress popup plugin. Read more about exit intent campaign ideas to grow your revenue.
That's it!
We hope this guide helped you understand the best remarketing practices to boost your conversions.
Need help with Google Ads reporting? Check out How to Find Google Ads Reports in Google Analytics (GA4).
Not using MonsterInsights yet? What are you waiting for?
Don't forget to follow us on Twitter, Facebook and YouTube for more helpful Google Analytics and Google Ads tips and tutorials.