Are you a WordPress, MonsterInsights, and/or Google Analytics user wondering what changes are happening with GA4, and if you need to worry about them?
Although there are a lot of changes happening with Google Analytics 4, MonsterInsights users can rest assured that they're still getting all the data they need to grow their businesses, and they won't need to learn a new interface.
MonsterInsights reports will continue to be the easy-to-read reports our users rely on (more on that later).
In this article, we'll take a look at what's new with GA4 and WordPress, and dig further into how those changes affect you.
What's Different About GA4?
If you've logged into GA4, you've probably noticed that a lot of it is very different compared to the old version (Universal Analytics).
In addition to a whole new interface, behind the scenes, the way data is stored and processed (data architecture) is completely different from past versions of Google Analytics.
In Google Analytics 3, page hits were measured in combination with event tracking. In GA4, everything is measured with events…even a pageview is an event!
To track conversions, you simply mark an event as a conversion. Goals are no longer used in GA4 — only events and conversions.
Another new feature in GA4 is the super powerful report builder. It can do a whole lot more than the report builder in Universal Analytics could, so users can really dig into their numbers by creating different types of reports, including funnels, with whatever dimensions and metrics they want.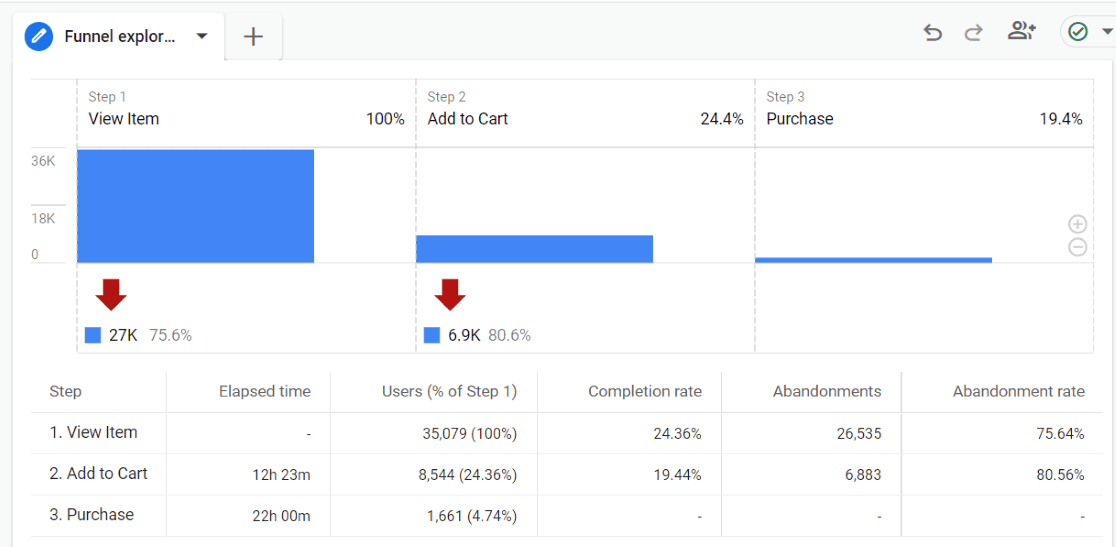 Yet another new feature in GA4 is something called "enhanced measurement". Basically, Google wants to automatically measure some events for you, such as form submissions, how far a user scrolls down a page, video engagement, and more. However, many of these don't work the way you'd think they should and are really difficult to find the data for.
To recap, the biggest changes in GA4 are:
The interface is totally new and some standard UA reports are no longer available
GA4 is event-based, and goals are gone
There's a new exploration report builder that can build just about any report you need
Some core reports, like the Events report, are brand new
Google Analytics is trying to measure some events for you so that you don't have to set them up, but they don't work as you'd expect them to.
How Does GA4 Affect MonsterInsights?
If you created your Google Analytics account after October of 2020, you probably already have a Google Analytics 4 property, which means you don't have to do anything! (Use our tool below to make sure.)
If you're using an older version of Google Analytics, and have been using our Dual Tracking feature, we've continuously worked to make the transition seamless for you. We'll automatically swap the profiles for you.
If you're not dual tracking, and only using Google Analytics 3, MonsterInsights has proactively created a new profile and set this up for you in our latest release, 8.16.
In other words, if you're using an up to date version of MonsterInsights, you should be good to go. If you have any questions, you can always reach out to our team to help.
Pro Tip: Use our tool to see if you have Google Analytics installed.
What will happen to my UA data in MonsterInsights?
Since MonsterInsights does not store any of your data, you won't be able to access any Universal Analytics data inside MonsterInsights. That data will be available in your Universal Analytics property for one year after sunset.
Will my reports look different in MonsterInsights?
While your standard reports look quite different in the GA4 interface, they'll remain the same easy-to-read reports in MonsterInsights.
We even worked very closely with the Google Analytics team to ensure we could continue serving you the reports you're used to.
Fighting For Our Customers' Success
One of our guiding principles is fighting for our customers' success. So, when GA4 first came out, we knew we had to work to make the transition as easy (and hands-off) as possible for our users and fight for their success.
To do that, we made the new GA4 data fit into our existing report interface to keep it simple, added new features (hey media tracking and Site Notes), and will continue adding the features you need to grow without needing to be an analytics expert.
For example, when we saw that many of our users (and us, too!) used annotations in Universal Analytics, we decided to create our own version of the tool to take GA4 annotations inside MonsterInsights.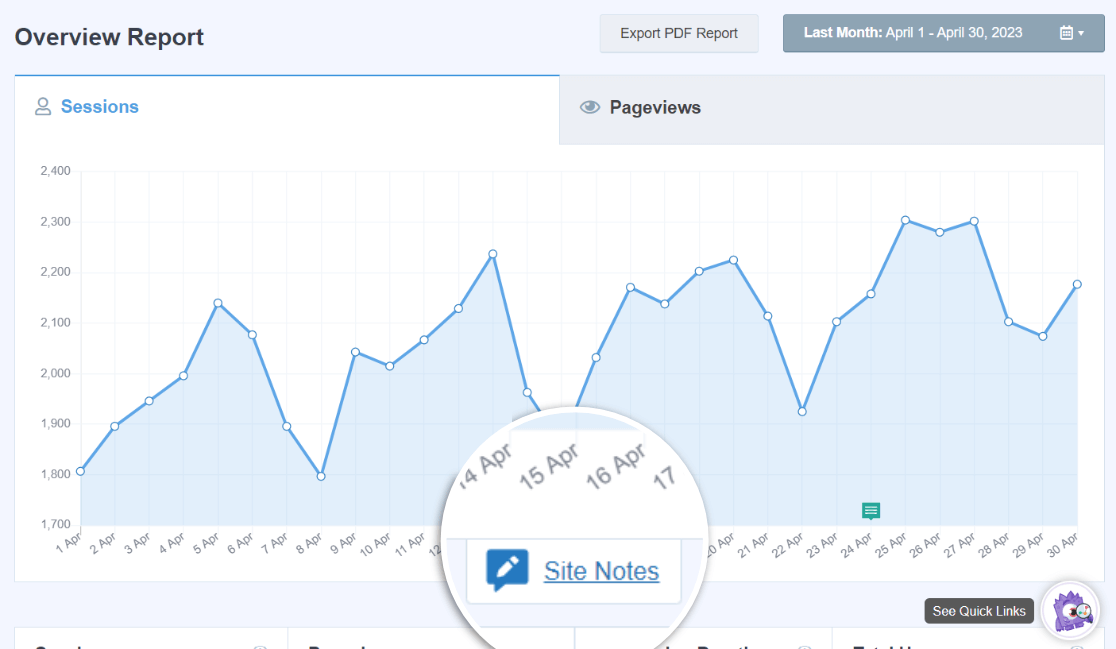 Now, you can keep your notes about what you're working on right on your traffic graph, and make them accessible to your team.
Our Thoughts on Google Analytics 4
While GA4 might be new and different and difficult to learn, it's super powerful and we're excited about the new innovations that lie ahead.
If you're using MonsterInsights, there's no need to fear the transition. Yes, your historical data will not be accessible outside of your old UA property, but beyond that, moving to GA4 will be pretty easy. We take care of all of the hard parts for you!
If you have questions, don't hesitate to reach out via regular support or lite support.
Cheers,
The MonsterInsights Team