Looking for a beginner's guide to Google Analytics? Do you want to know how Google Analytics works? Google Analytics 4 (GA4) offers powerful insights about your website visitors. But using it isn't straightforward, and many beginners find it complex and difficult to learn.
So, in this beginner's guide to Google Analytics, we'll break down the basics of how Google Analytics works. We'll also help you navigate to different reports and explain what they mean.
By the time we're done, Google Analytics 4 will no longer feel like a complicated mystery to you!
Google Analytics 4 Tutorial Video
What is Google Analytics?
In simple words, Google Analytics is a free tracking tool offered by Google, and it shows you how visitors use your website.
For instance, let's say you own an eCommerce store and want to know how many users visit your website. With the help of Google Analytics, you can see the number of visitors on your store, where they're coming from, which device they're using, and much more.
What Does Google Analytics Do?
Google Analytics offers information about user behavior that can be critical for your business. There are many reasons why you should be using Google Analytics.
Here are some of its benefits:
Measure your website's performance
See if your marketing efforts are working
Get inspiration for which type of content to create or products to list on your website
Divide users into different segments (like age, gender, country, device, etc.) to see which ones are more engaged
Figure out which website pages to optimize to boost conversions
Alright, let's dive into our tutorial.
How to Use Google Analytics 4
Google Analytics is intimidating at first glance, but with this tutorial and some practice, you'll be using it to read and understand your website's data in no time.
Step 1: Create a Google Analytics Account and Add The Tracking Code
The first thing you'll need to do is create a Google Analytics account and add a tracking code to your website.
If you need help with these two steps, you can follow our easy guides on setting up a Google Analytics account and how to add the tracking code to your WordPress website to get started. If your website isn't on WordPress, find out how to add Google Analytics to your CMS.
So, what is a tracking code?
Your Google Analytics tracking code is a snippet of code that allows Google Analytics to track the visits on your website and the actions that your website visitors perform. It's made up of a programming language called JavaScript and looks something like this:

You don't need to understand the contents of the code, but you might like to know how it all works.
When a user visits your website, Google Analytics will drop a cookie on the user's browser. Cookies are small files that contain information about the user's activities.
Using these cookies, Google Analytics will be able to see how the user behaves on your website and collects this information to show you in different reports.
Step 2: Set up Conversions
If you want Google Analytics to tell you how many of your visitors completed a conversion, like signing up for your newsletter, filling out a form, watching a video, viewing a certain page, or buying a product, you'll have to set up conversions.
Google Analytics 4 can automatically track some events on its own with its Enhanced Measurement tracking, like file downloads, video views, form submissions, and a few more. However, keep in mind that there are a few constraints with GA4's built-in enhanced tracking. For instance, the video tracking only works with YouTube videos, form tracking has some reported issues if you're also using a Facebook Pixel, and scroll tracking only fires if a user scrolls to the bottom of your pages.
To set up enhanced measurement, head to the Admin cog, then Data Streams, and click into your data stream: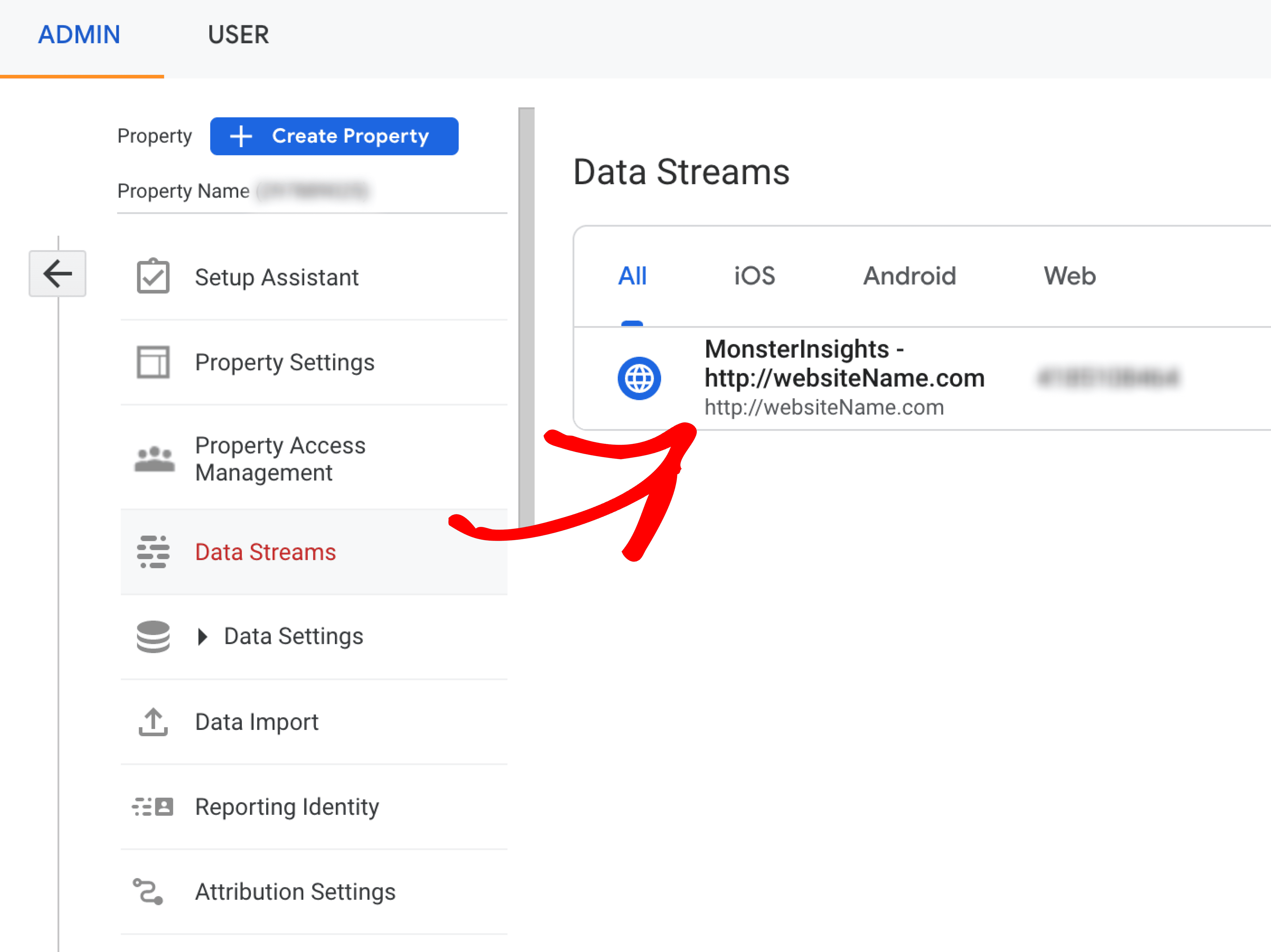 Now, you'll see an Enhanced Measurement section. If you want Google Analytics to attempt to track events on its own, make sure this is flipped on.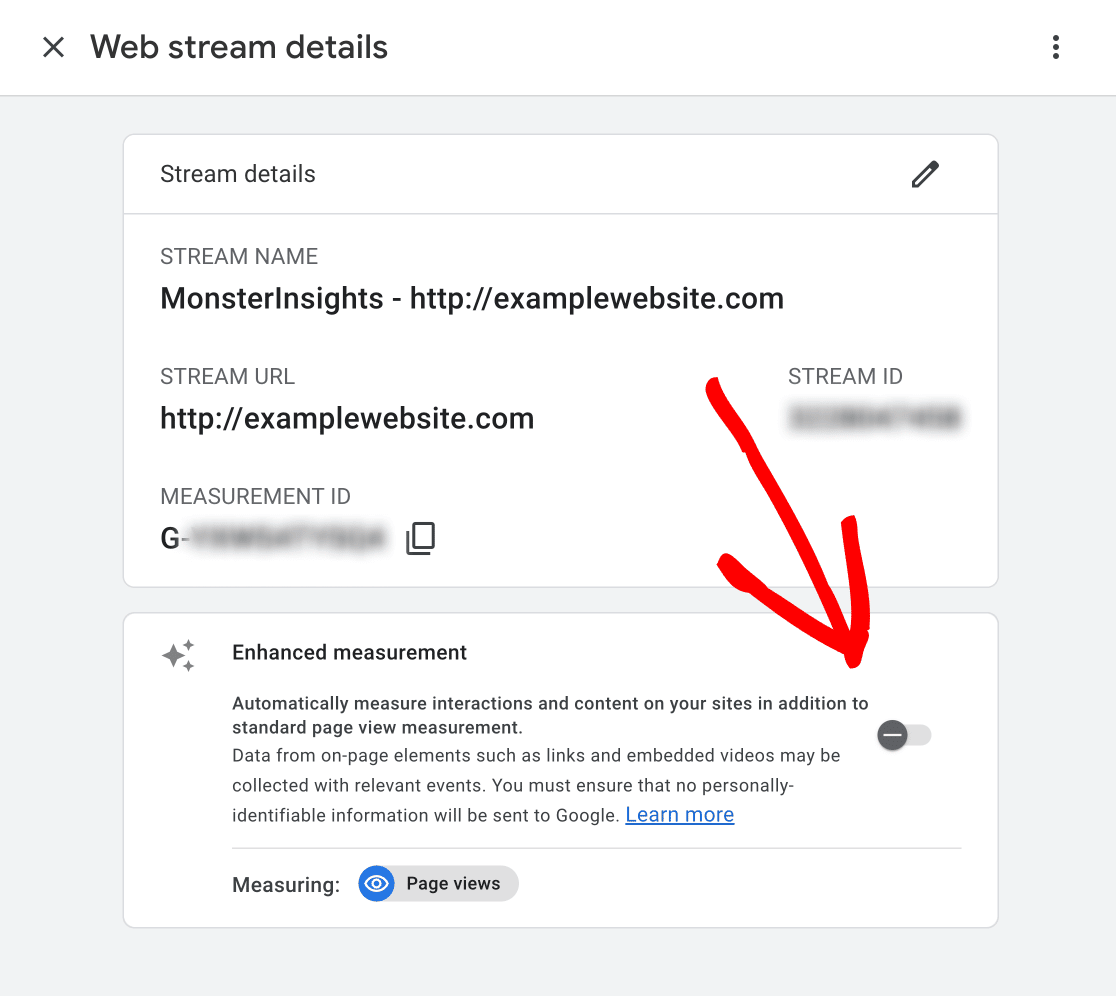 Once it's switched on, you can click on the cog icon to choose what's automatically tracked: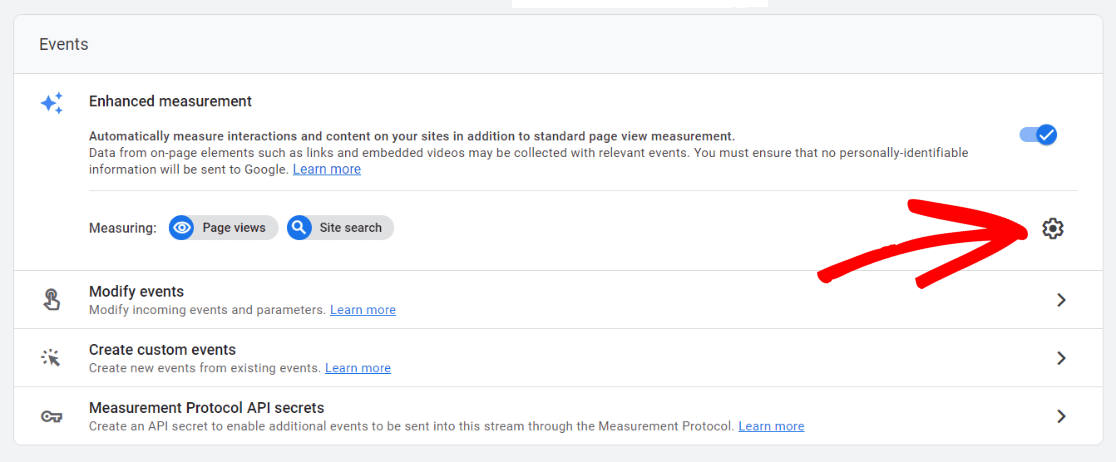 NOTE: There's a better way to track events if you're a WordPress user! Make sure to check out MonsterInsights, the easiest way to set up event and conversion tracking in GA4. MonsterInsights users, please make sure your enhanced measurement is turned off (except for Site search if you'd like to automatically track site searches).
Now, you can mark whichever events you want tracked as conversions. So, when someone completes an event of your choice (downloading a file, submitting a form, etc.) it'll count as a conversion in Google Analytics.
To do this, head to the Admin cog » Conversions. Then, you'll be able to click the switch to mark an event as a conversion.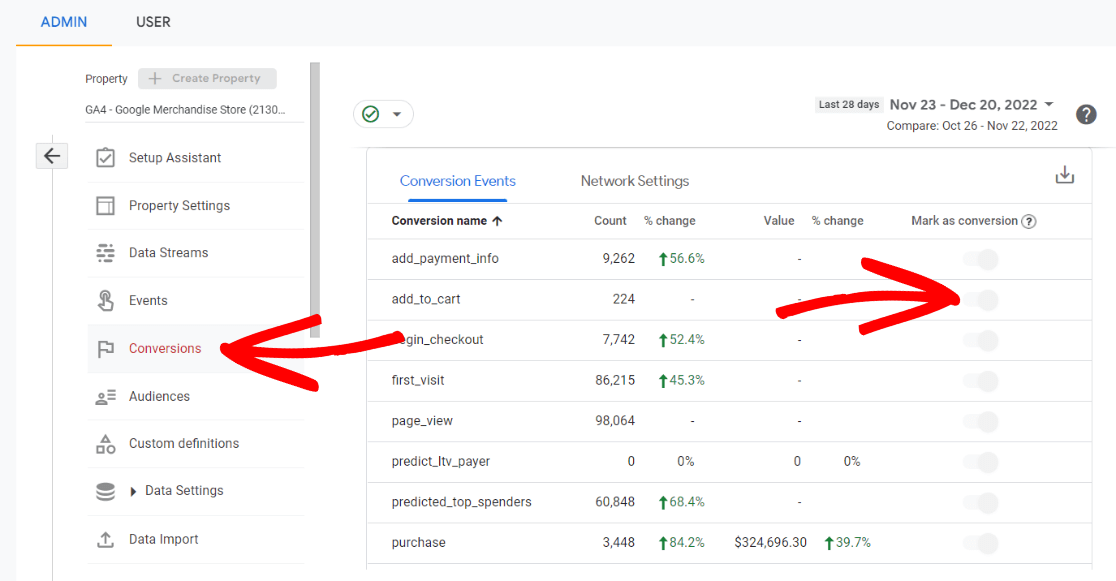 Looking to set up eCommerce tracking? That's a bit more complicated, but you can check out how easy it is with MonsterInsights and WordPress.
Google Analytics Beginner's Guide: Reports
Once you've created an account and added the tracking code, it's time to see what can you do with Google Analytics.
As you start, you'll arrive at Google Analytics home. It gives you a quick overview of how your website is performing.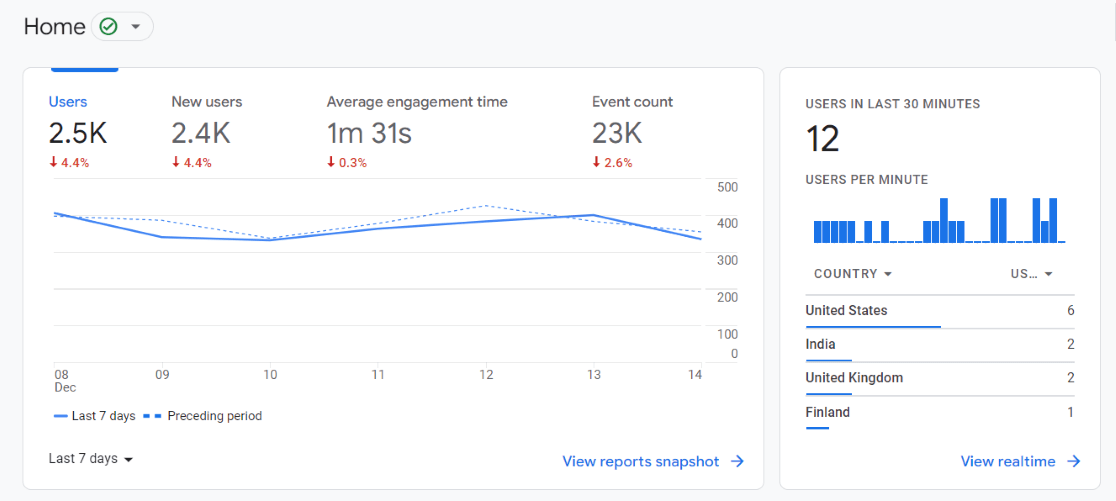 For instance, you can see:
Users: How many visitors came to your website (in the past 7 days or whatever date period you have selected)
New users: Of the users who visited your site, how many of them hadn't visited your website before
Average engagement time: How much average time a visitor spends on the website
Event count: How many events (clicks, form submissions, etc.) were completed
On the left-hand side panel, you'll see a navigation sidebar that expands when you mouse over it: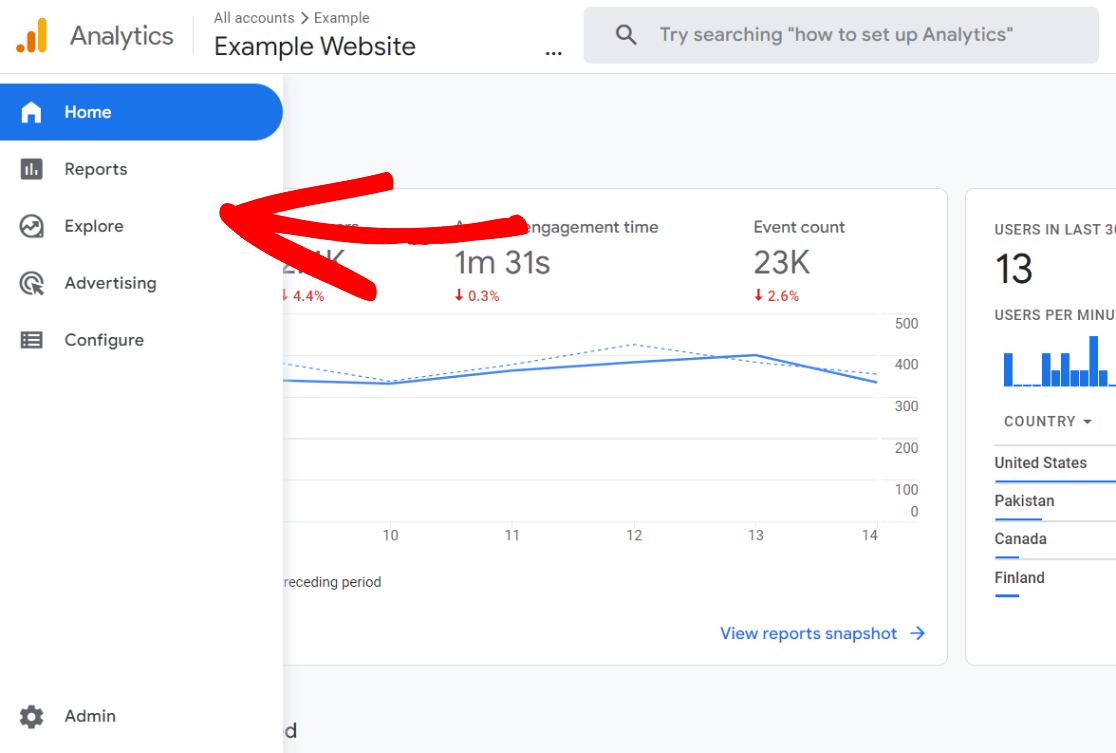 To access your reports, head to the Reports tab.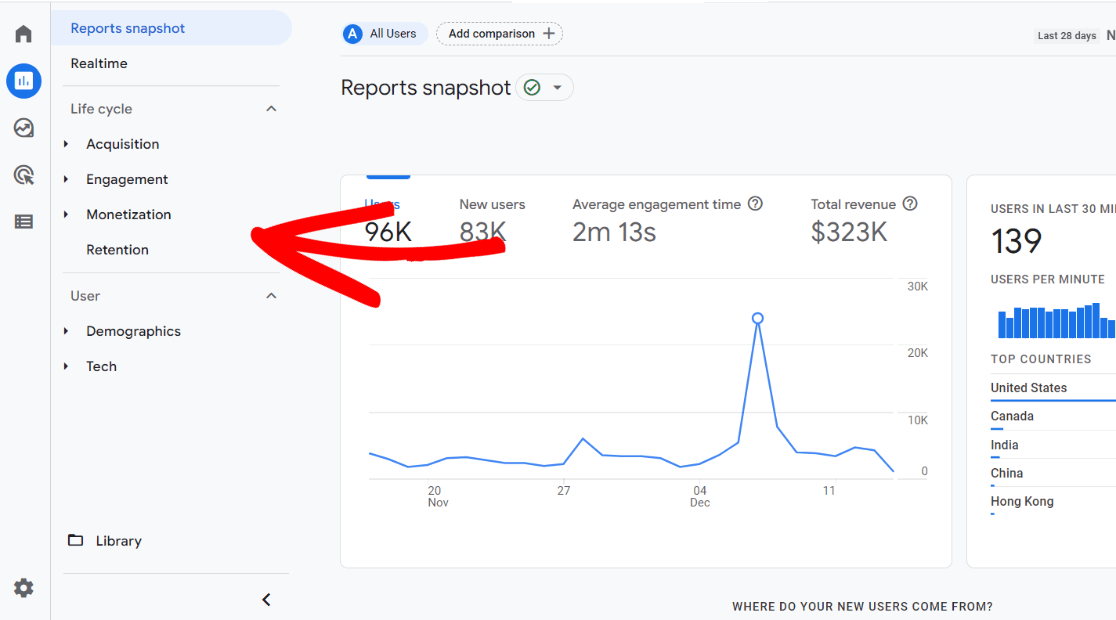 You'll see a new navigation with Google Analytics reports:
Reports snapshot
Realtime
Acquisition
Engagement
Monetization
Retention
Demographics
Tech
Let's take a look at each of these reports, what they track, and how you can use them.
Realtime Report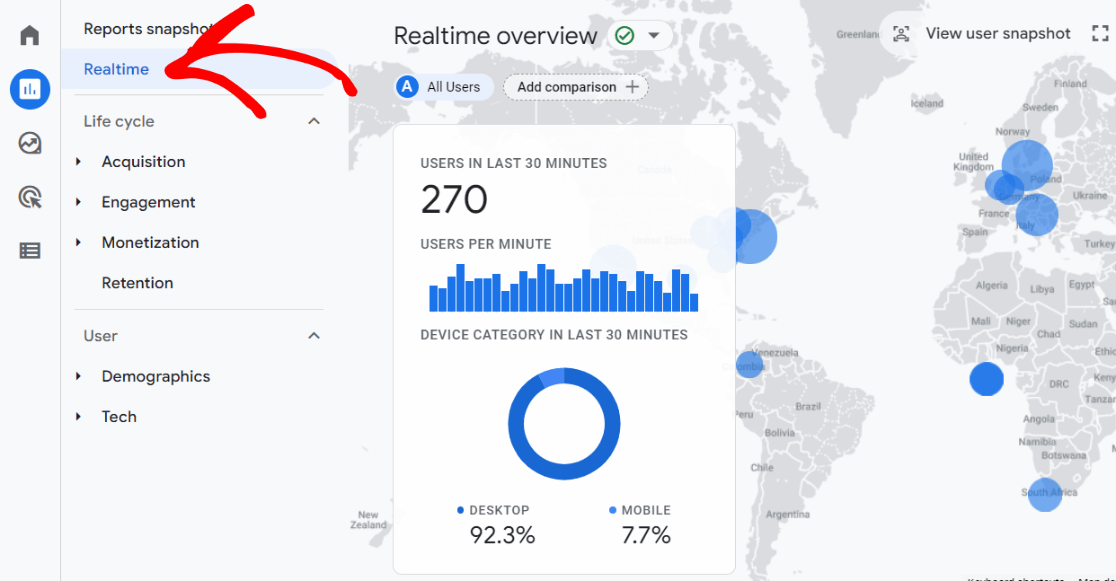 The Realtime report shows the number of users on your website right now. This is where you go to see real-time activity on your website.
The main card overlaid on the world map shows how many users have visited your site in the last 30 minutes, plus what percentage of them were on desktop, mobile, or tablet-type devices.
When you scroll down the page, you'll see cards with different real-time data to check out: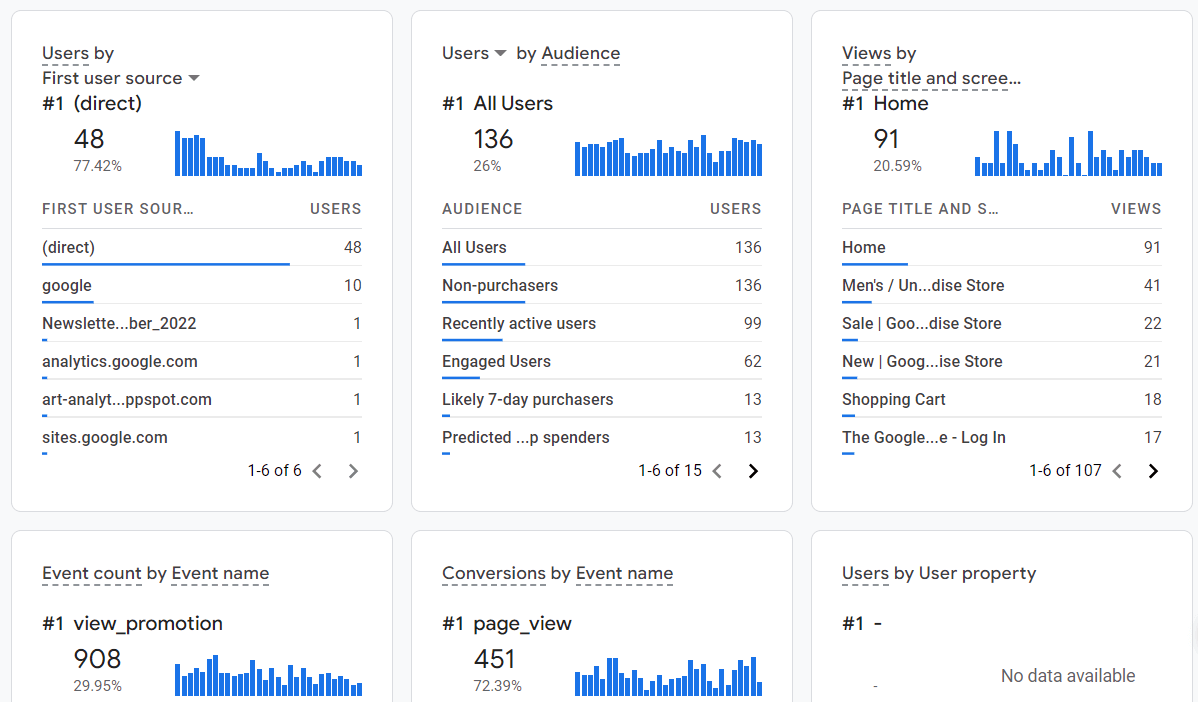 Realtime reports are great for measuring the performance of a recent campaign that you're running, like a sale, free giveaway, or promoting content on social media.
Acquisition Report
The Acquisition report in Google Analytics breaks down your website traffic. If you want to figure out how you acquired your traffic, this is the report to find that data. We recommend starting with the Traffic Acquisition report to see the channels your visitors used to find your website: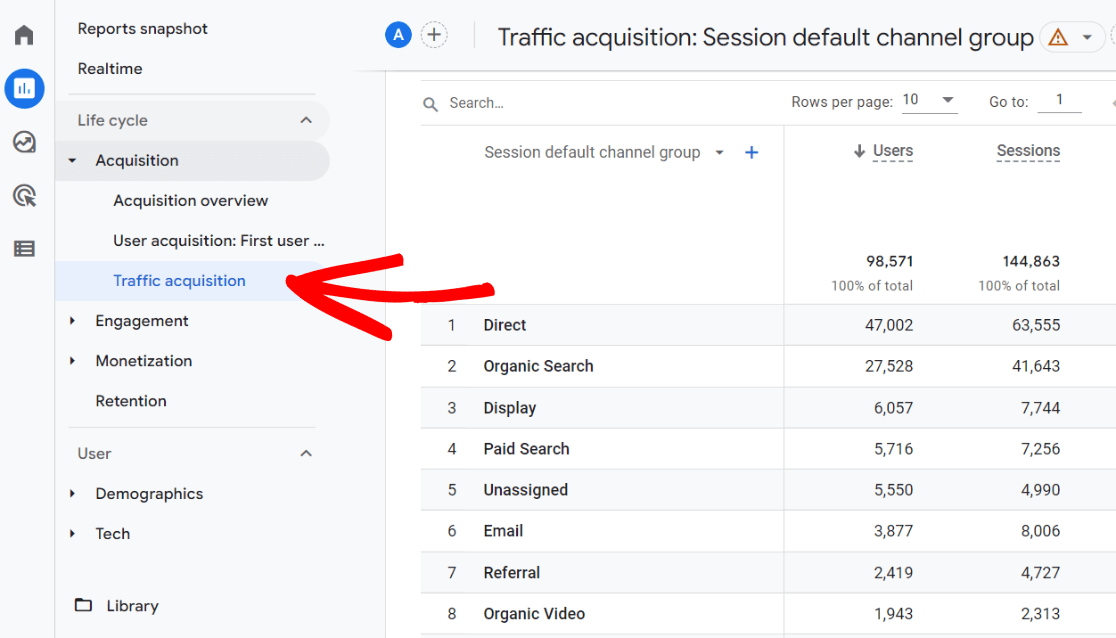 As you are getting started with Google Analytics, acquisition reports are extremely useful. They'll tell you how your traffic reaches your website.
Google Analytics will divide your web traffic into traffic categories such as:
If you want more detail, you can dig deep in Acquisition report to find traffic sources.
For instance, to see more exact channels, click the Session default channel group dropdown:
From the dropdown, choose Session source/medium. Then, you'll be able to see more detail about exactly which traffic sources sent traffic to your site.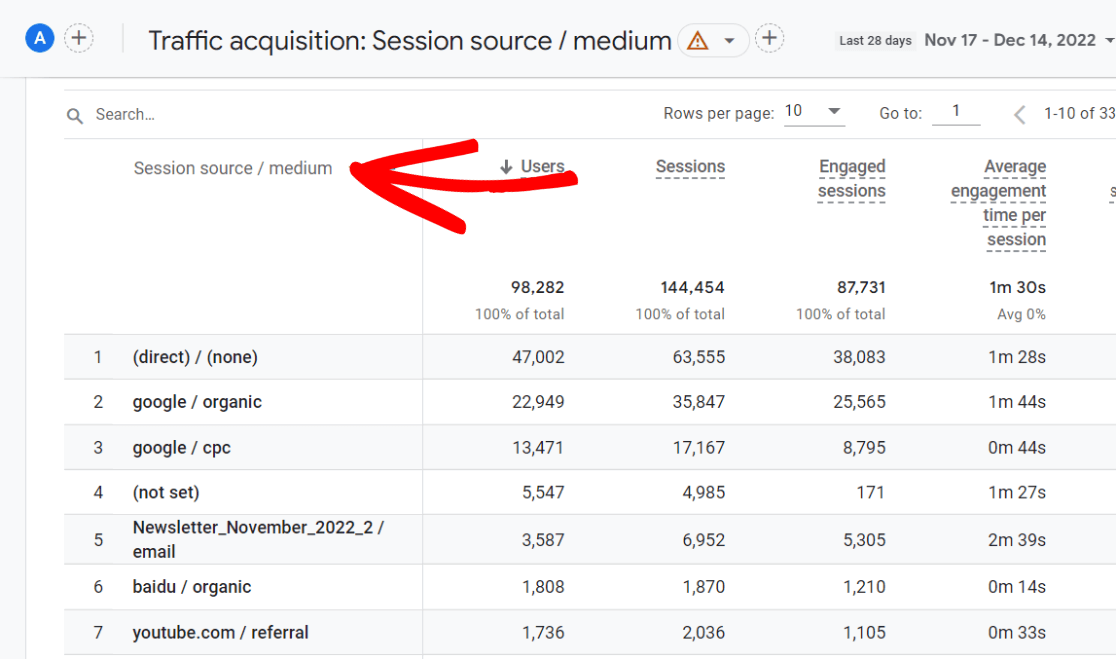 With this information, you will know where to invest your time and money. For instance, if you're lacking organic traffic, you need to focus more on search engine optimization.
Engagement Report
When it comes to finding out what your visitors are doing while they're on your website, you need to look at the Engagement report in Google Analytics. This is where you can see events your visitors trigger, conversions they completed, and pages they visited.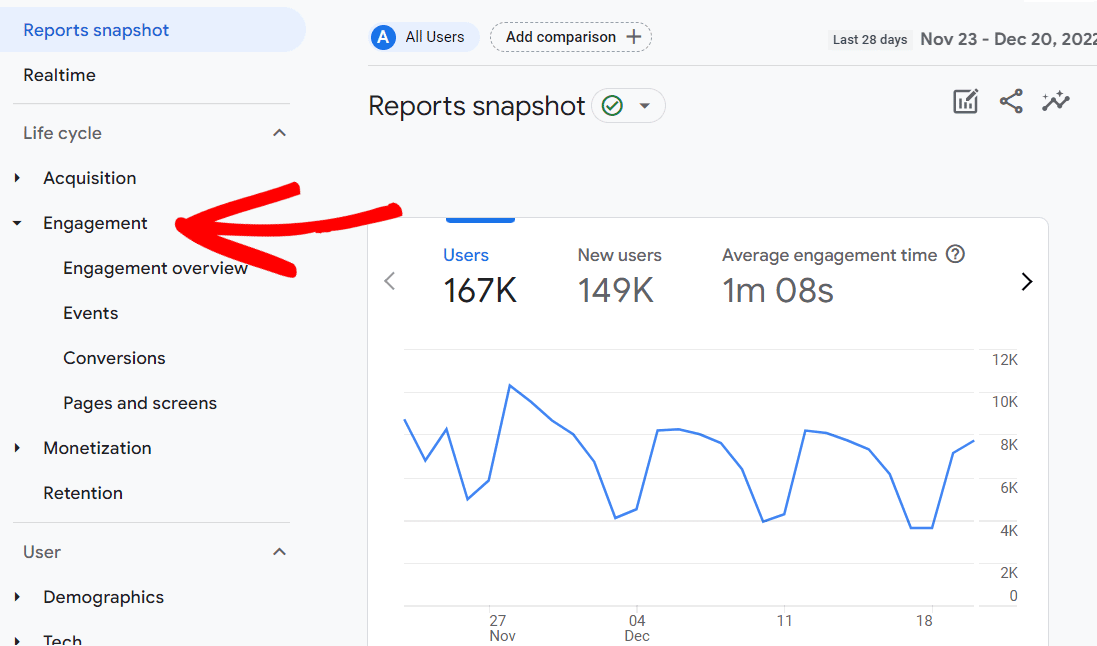 In this section, the most helpful report for beginners is Pages and screens. It includes both events and conversions for each page. Let's take a look.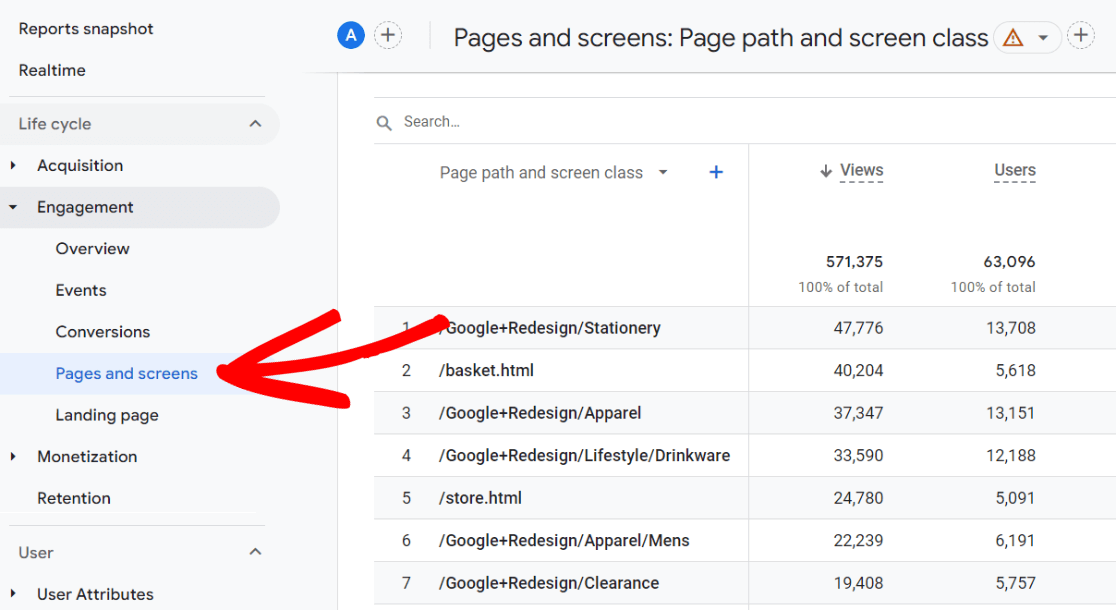 In this report, you'll see all your pages that were visited in the time period you have selected. For each page, you'll see:
Views
Users
Views per user
Average engagement time
Event count
Conversions
Total revenue
With all of this data, you can see which of your pages are getting the most views, how much time visitors are spending on them, and whether any conversions occurred on each page. This gives you an overview of how each of your pages is performing.
In the same Engagement section, you'll find a Landing page report. This report has many of the same metrics as the Pages and screens report, but is landing pages (pages your visitors landed on when they visited your site) instead of all pages.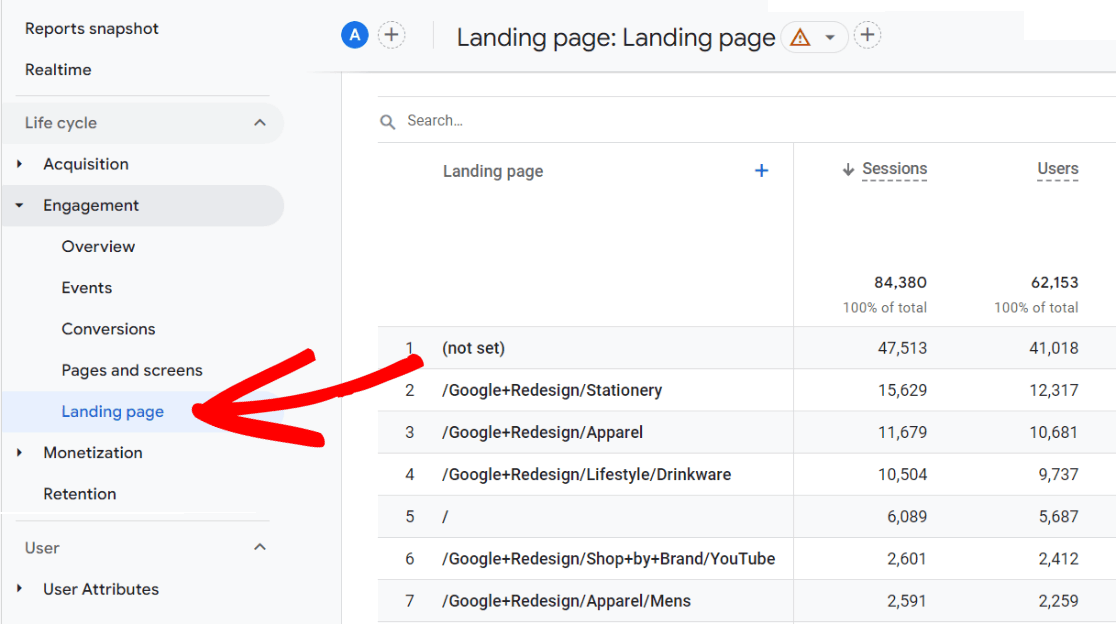 Monetization Report
The monetization report is a report for eCommerce websites who sell products (whether they're physical or digital). If you do sell through your website, you'll have to set up eCommerce tracking in order to track those sales.
If you have WordPress, you can learn more about setting up eCommerce tracking with MonsterInsights. If you don't have WordPress, you'll want to look into setting it up using Google Tag Manager.
Once you've got eCommerce running, the Monetization report will show you eCommerce metrics for each of your products:

Demographics Report
The demographics report tells you more about your audience, like where they're from, gender, age, and language. This can help you understand your audience and tailor your content for them.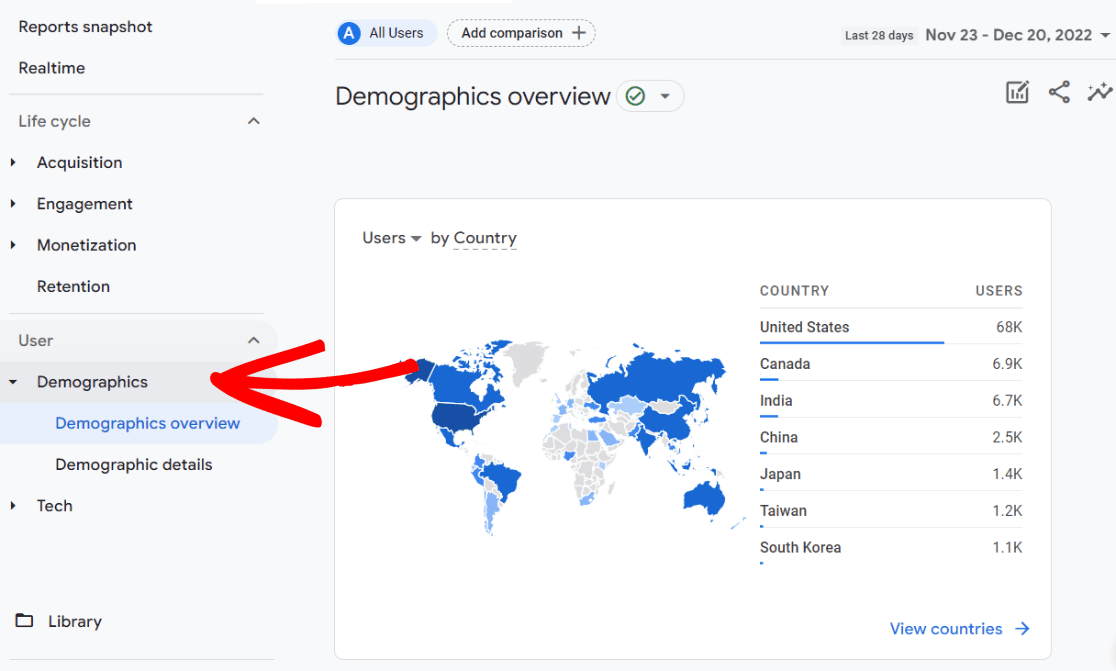 Tech Report
The tech report tells you what technology your users used to visit your site, whether they were on desktop, mobile, or a tablet. You can also learn their operating system, browser, and screen resolution.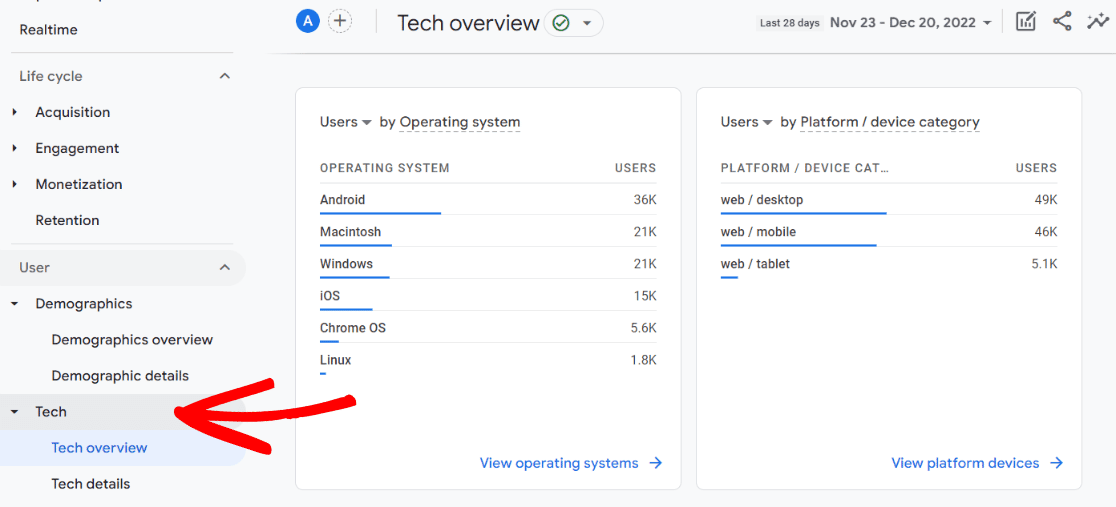 That's our rundown of the reports in Google Analytics 4. The more time you spend looking at them and playing around with them, the better you'll get at finding meaningful data.
Once you've got the hang of the basic reports, you can try creating custom Explore reports.
Now, let's take a look at a much easier way to use Google Analytics for WordPress users.
MonsterInsights Makes Google Analytics Easier
MonsterInsights is the most user-friendly Google Analytics plugin for WordPress.
It enables anyone, including the beginners, to install, set up and use Google Analytics in WordPress easily, without having to touch any code.
MonsterInsights offers different reports that make finding meaningful data in Google Analytics very easy.
Overview Report
First, it's the website overview report. You can see a graphical presentation of the sessions and pageviews for your site. Then, below that, you'll see the total number of sessions, total page views, average duration per session, and total users.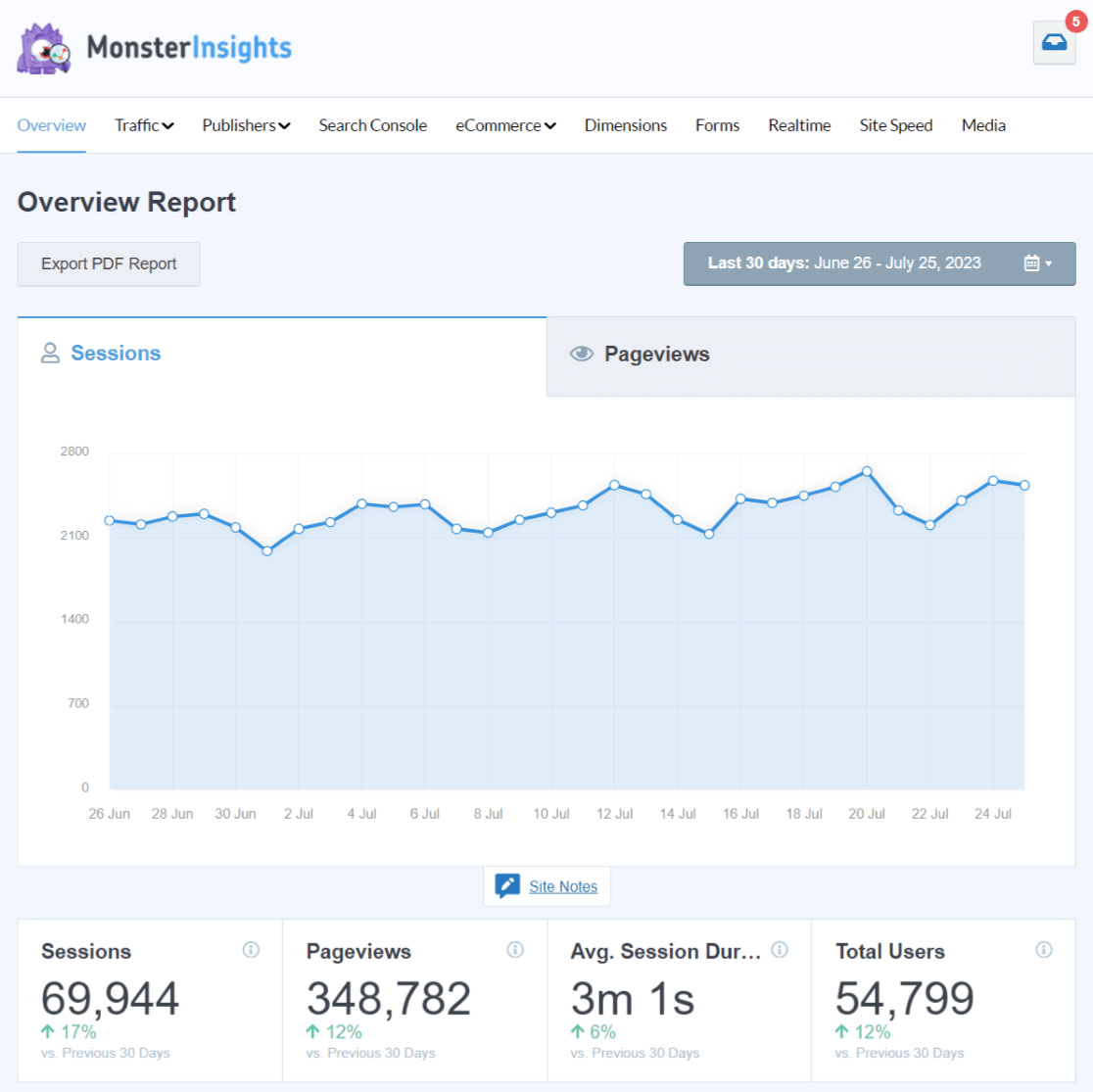 Below the top graph, you'll also see these metrics in the overview report:
New vs. returning users
Device breakdown – Proportion of users on desktop, tablet, and mobile
Top 10 countries your visitors are from
Top 10 referral websites sending you traffic
Top posts/pages
Traffic Report
The second MonsterInsights report section is Traffic. Within this section, you'll be able to access five different reports with vital information about your traffic, including what channels they used to find your website, what devices they were using, what landing pages they landed on and whether or not they converted, and more.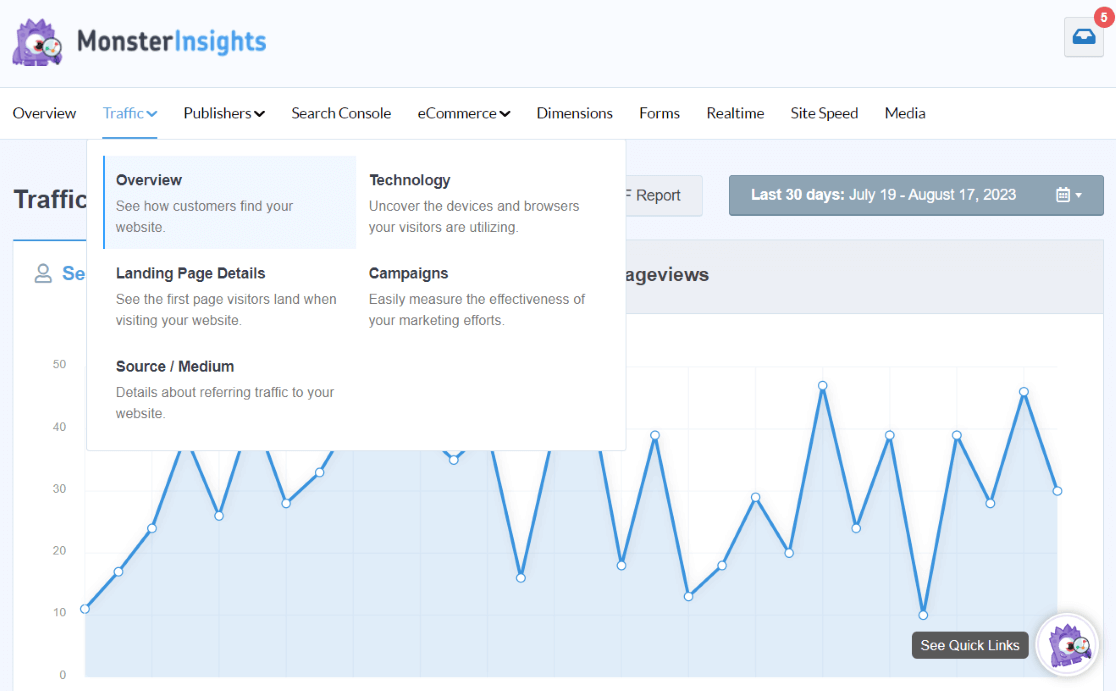 Publishers Report
The next report you can view in the MonsterInsights dashboard is the Publishers Report. There you'll find your top landing pages, top outbound links, top affiliate links, top download links, demographics, scroll depth, and interest categories in this report.

There's also a pages report in this section, where you'll get more details about all of your top most visited pages.
Search Console Report
The fourth report tab is the Search Console report where you can view the top search queries your users use on search engines to find your site.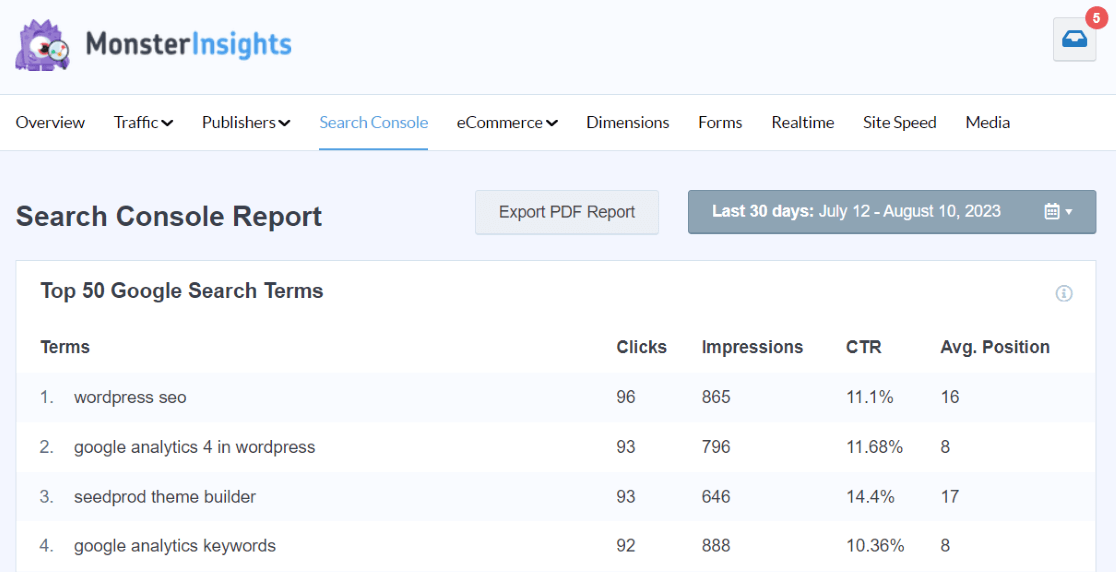 Learn more about connecting MonsterInsights and Google Search Console.
eCommerce Report
Also in MonsterInsights is the eCommerce report, which provides a great overview of your online shop's performance. You can view your shop's conversion rate, the number of transactions, how much revenue you've generated, and your average order value.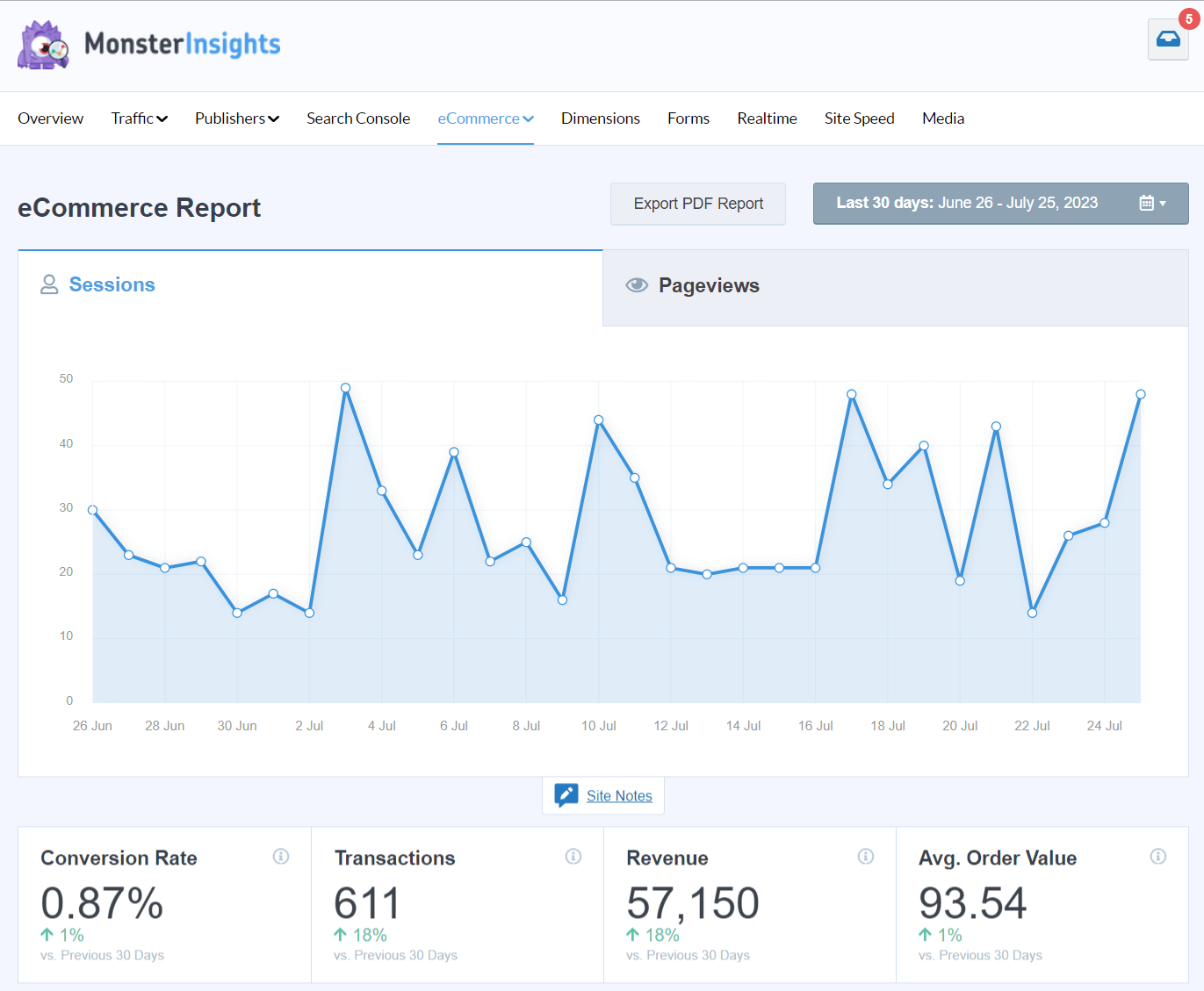 Plus, you can see the list of your top products and many more useful metrics about your online shop.
Custom Dimensions Report
The next report is Custom Dimensions Report. This is where you can set up and track helpful data that Google Analytics doesn't track out of the box on its own, including: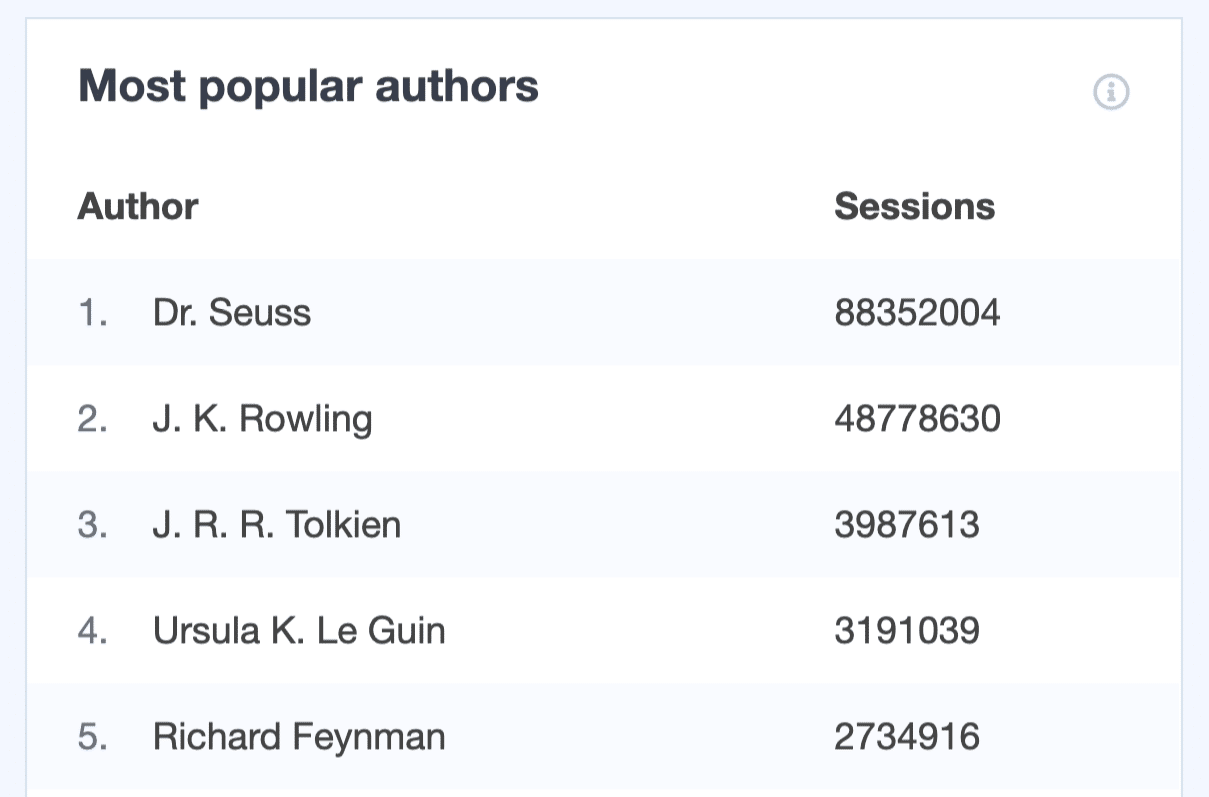 For more on MonsterInsights custom dimensions, check out The Beginner's Guide to Google Analytics Custom Dimensions.
Forms Report
Next in MonsterInsights is the Forms Report. It automatically tracks all the forms on your site without any setup (beyond installing our addon) and gives you data on their conversion rate and submissions.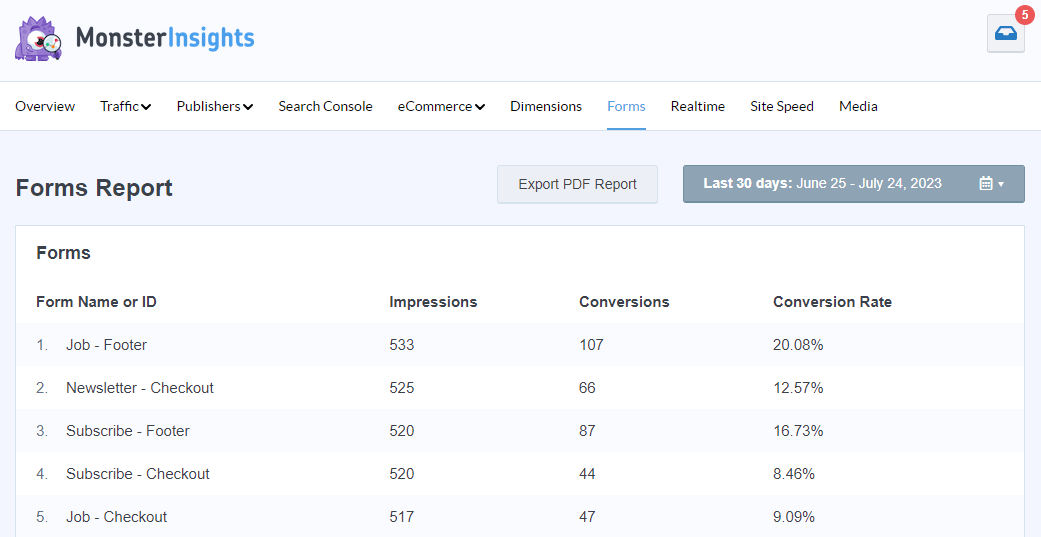 Realtime Report
Do you like following your traffic immediately after sending out email or social media campaigns? Open the MonsterInsights Realtime report to see how many people are currently on your site, what pages they're on, and where they're from.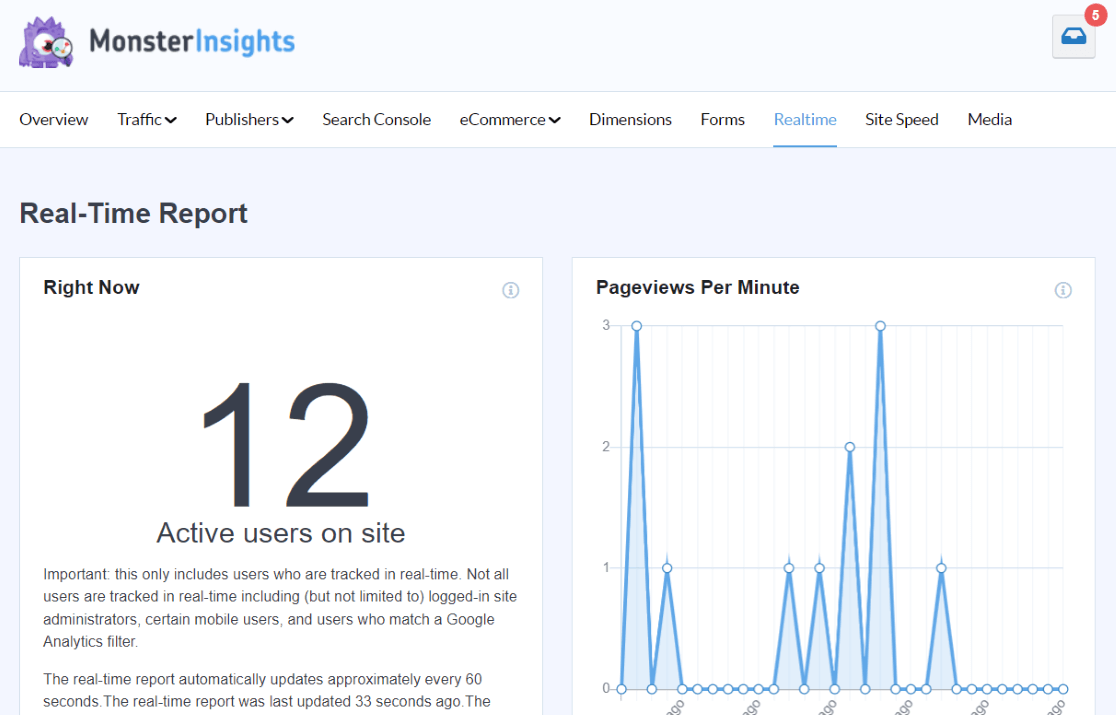 Site Speed Report
The speed of your website can impact a lot of things, including how you rank in search and how much organic traffic you get. That's really important! So, you can access your up-to-the-minute site speed report inside MonsterInsights any time.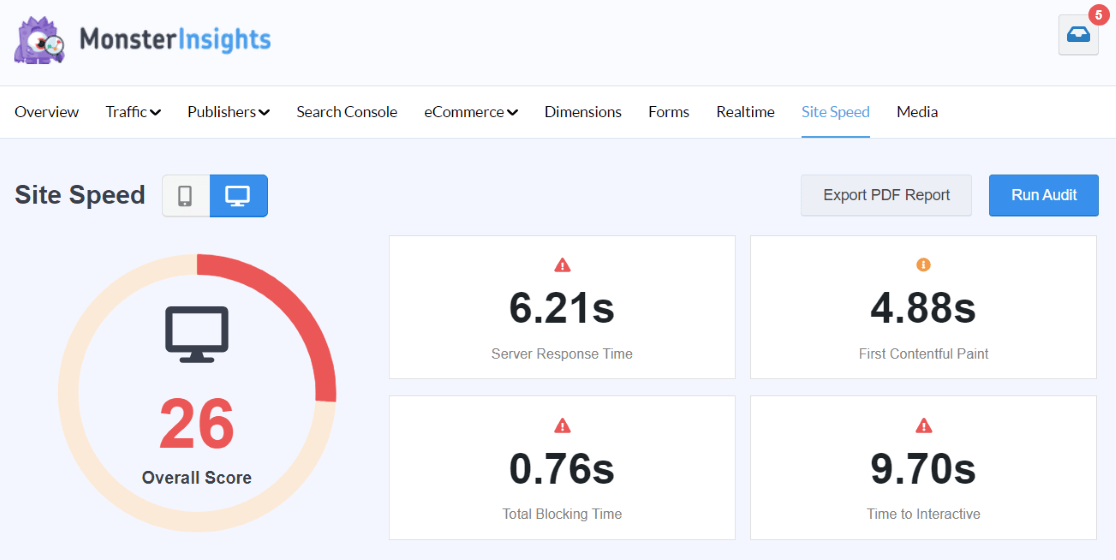 Media
Do you have videos embedded on your website? If so, you can see how many times they're getting watched with the MonsterInsights media report.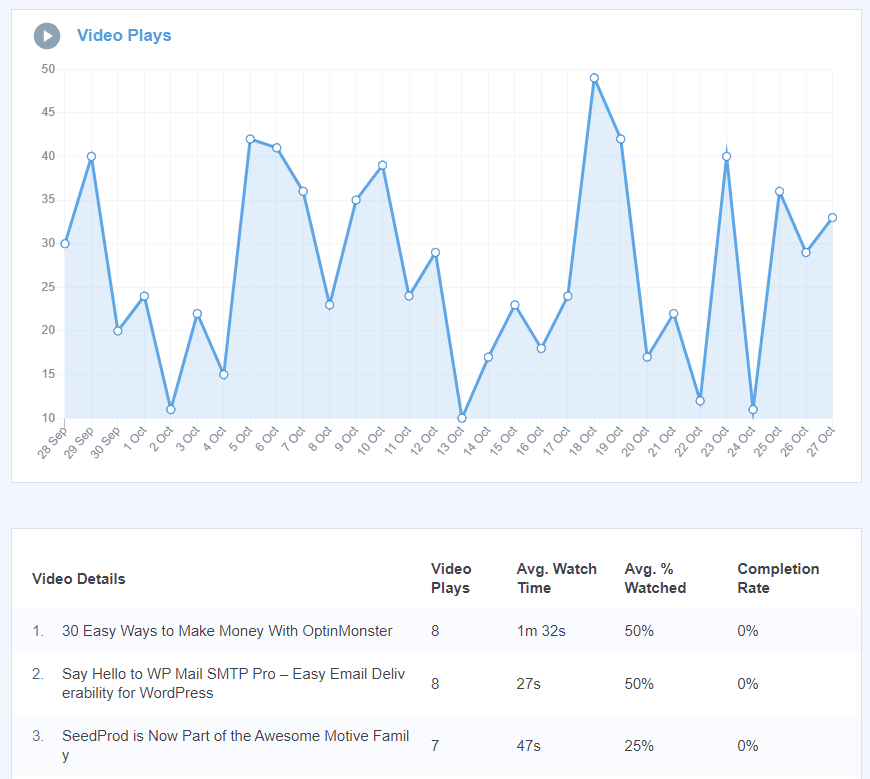 That's it!
Get started with MonsterInsights now!
All these metrics are really important to learn about your users so you can improve your marketing strategies and SEO, and boost your conversions.
We hope this article helped you understand how Google Analytics works.
You might also like to check out our article on the Top 11 Important Google Analytics Metrics to Track.
And don't forget to follow us on Twitter, Facebook and YouTube for more helpful Google Analytics tips.