When it comes to privacy laws like GDPR (General Data Protection Regulation), it's really important to be careful. Luckily, for WordPress website users, cookie consent plugins can make privacy law compliance much easier and more straightforward.
But there are a lot of cookie plugins out there! Which ones provide the right consent management and personal data management features that you can trust?
In this article, we'll give you our list of the best cookie consent plugins and cookie notification plugins for WordPress to help you get compliant.
Legal Disclaimer: Due to the dynamic nature of websites, no single plugin can offer 100% legal compliance. Please consult a specialist internet law attorney to determine if you are in compliance with all applicable laws for your jurisdictions and your use cases. Nothing on this website should be considered legal advice.
Best WordPress Cookie Plugins
What are the best plugins WordPress website owners can use to comply with EU cookie laws? Let's find out.
Our top WordPress cookie plugin is MonsterInsights, thanks to its EU Compliance addon and integrations with four of the most popular WordPress cookie compliance plugins.
MonsterInsights is the best Google Analytics plugin for WordPress. It allows you to easily connect your WordPress site with Google Analytics (both Universal Analytics and GA4), so you can view all the data that matters most right in your WordPress dashboard.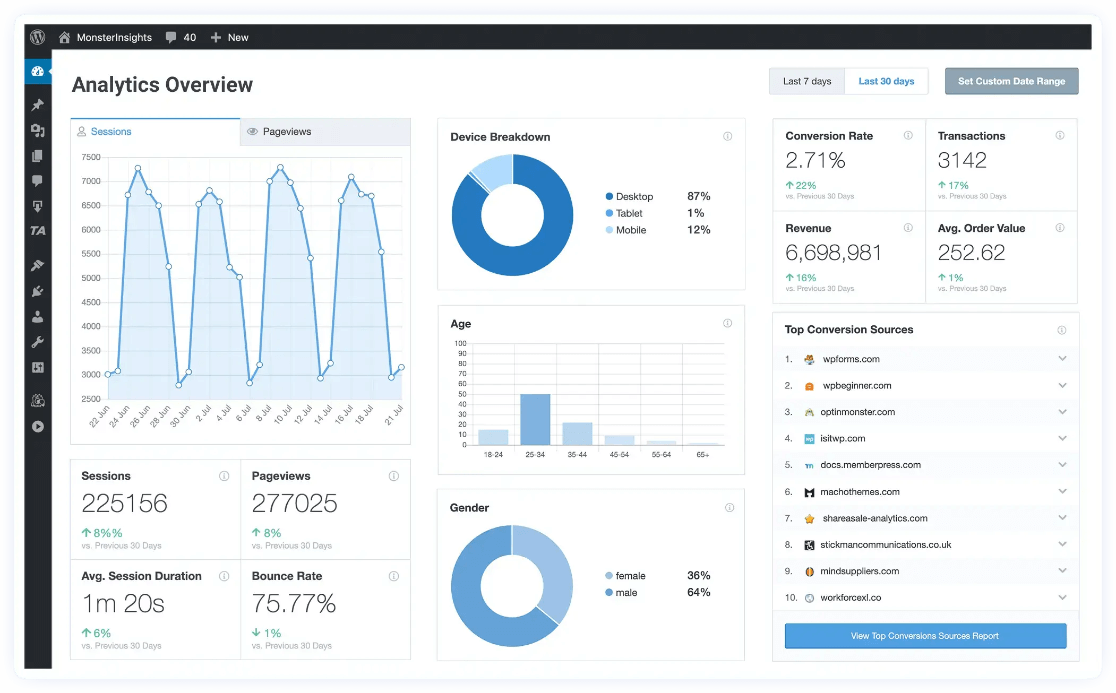 Plus, with the click of a button, you can set up sophisticated tracking features such as event tracking, eCommerce tracking, form tracking, custom dimension tracking, outbound link tracking, and more.
You can also turn on the EU Compliance addon, which can instantly help make your use of Google Analytics compliant with GDPR by:
Anonymizing IP Addresses
Limiting Demographic Collection
Limiting Interest Reporting
Disabling UserID Tracking
And more!
Then, in order to add a cookie acceptance popup, MonsterInsights integrates with the next four cookie plugins on our list. Just pick the one you want to use, then MonsterInsights will integrate with it to turn off tracking if a user opts out.
WordPress.org Rating: 4.6 out of 5
Cost: If you want to use the European Union Compliance addon plus lots of other features, you'll need the Plus license or higher to at $99.50 per year.
Learn more about the MonsterInsights EU Compliance Addon or get started with MonsterInsights now!
Cookie Notice is a cookie law plugin for WordPress that creates a simple, customizable cookie notification website banner to help your website comply with certain cookie consent requirements.
Cookie Notice integrates with MonsterInsights, so you can be sure that a person clicking the opt-out button blocks your Google Analytics tracking code from running.
Cookie Notice on its own doesn't make your site fully compliant, but paired with Cookie Compliance, you'd be compliant.
Cookie Compliance is a web application offered by Cookie Notice to take your compliance a step further, and can be purchased/activated from within the plugin after you've installed and activated it.
Some top Cookie Notice features:
Customizable cookie notification message on your cookie consent banner
Consent on click, scroll or close
Multiple cookie expiry options
Link to Privacy Policy page
WordPress Privacy Policy page synchronization
Some top Cookie Compliance features:
Intentional Consent
Consent duration selector
Cookie purpose categories
Consent metrics
WordPress.org Rating: 4.9 out of 5
Cost: Cookie Notice is free. Cookie Compliance has a free version up until 1,000 visits a month. Then it's $14.95 per month.
Get started with Cookie Notice today!
Cookiebot is a cookie compliance plugin that automatically controls cookies and trackers, enabling full GDPR/ePR and CCPA compliance. Cookiebot enables full compliance with the prior consent requirement of the European Union's GDPR and other privacy laws for WordPress websites.
Cookiebot integrates with MonsterInsights, so users of both plugins can be sure that MonsterInsights recognizes when a user opts out of tracking.
Some top features:
A highly customizable cookie notification banner
An automatically generated and updated cookie policy and cookie declaration
A Do Not Sell My Personal Information link on the cookie law declaration for end-users to opt out of having their data sold to third parties
Monthly website cookie scanner, detecting all first- and third-party cookies and similar tracking on your site
Supports 45 languages in cookie consent banner and cookie declaration
WordPress.org Rating: 4.4 out of 5
Cost: Cookiebot is free up to 100 subpages. If you have more than 100, you'll need a premium subscription starting at $10 per month.
Complianz is a WordPress cookie consent plugin with a conditional cookie notice and customized cookie policy based on the results of their built-in cookie scan feature.
Compianz integrates with MonsterInsights, so users of both plugins can be sure that MonsterInsights recognizes when a user opts out of tracking.
Some top features:
The ability to configure a cookie notification for your specific region
Create an opt-in cookie consent and conditional cookie notice with custom CSS and customizable templates
Blocks 3rd party cookies like Google Maps, Facebook, Instagram, AdSense, Hubspot, Recaptcha, Twitter, ActiveCampaign, and many more
Blocks iFrames, shows placeholders for blocked iFrames
A script center to control scripts, iFrames and plugins per category or service, with dependency functionality and placeholders.
WordPress.org Rating: 4.9 out of 5
Cost: Complianz has a free version, but you can upgrade to the premium version starting at $45 per month if you want more features, such as A/B testing and records of consent.
CookieYes is another cookie compliance and consent management plugin for WordPress. In addition to compliance with GDPR, CookieYes also supports cookie compliance in accordance with the LGPD of Brazil, CNIL of France, and the California Consumer Privacy Act (CCPA).
CookieYes integrates with MonsterInsights, so users of both plugins can be sure that MonsterInsights recognizes when a user chooses to opt in or out of tracking.
Some top features:
CookieYes will enable a WordPress cookie notification with Accept and Reject options. The cookies are not rendered by default and only upon user consent.
Allows a single click automatic cookie scanner and categorization of cookies
Lets you display the list of cookies on your cookie policy page by using a shortcode
You can fully customize the cookie notice style so it blends with your existing website
Includes a Cookie Audit module so you can easily show what cookies your site uses and display them neatly in a table on your Privacy & Cookies Policy page
WordPress.org Rating: 4.9 out of 5
Cost: CookieYes is free. There's also a premium version with more features, such as scan and auto block scripts and a location based exclusion of cookie notice for EU countries, for $69 per year and up.
WP Cookie Notice helps you comply with both GDPR and CCPA. This plugin is advertised as being lightweight and fast, and easy to use.
Some top features:
Provides an easy-to-use admin area in the WordPress dashboard, where you can add details of cookies used on your website.
Give your users granular control on cookies or Option to refuse the consent or for particular non-essential cookie categories only (like marketing or analytics)
Show cookie consent notice as a banner, popup, or widget
Completely customizable look and feel
WordPress Multisite compatible
WordPress.org Rating: 4.8 out of 5
Cost: WP Cookie Notice is free. There's also a premium version with added features, such as a one-click cookie scan and geo-coding to detect visitor's location & optionally show/hide the cookie notice bar, starting at $17 per year.
What is the best cookie plugin for WordPress?
We recommend using MonsterInsights plus one of the other plugins on our list, such as Cookie Notice, to make sure your WordPress website is compliant. That way, you can be sure that tracking is turned off if a user opts out. The two plugins work together to make sure your website is as compliant as possible while still having Google Analytics running.
That's our list!
We hope you found a GDPR cookie consent plugin or cookie notification plugin that's going to work the best for your website.
Interested in more plugins to help you grow your business? Check out 45 Best WordPress Plugins for 2022 (Most are FREE). For more plugins that can help you with GDPR compliance, check out 9 Best WordPress GDPR Plugins to Ensure Your Site is Compliant.
Not using MonsterInsights yet? What are you waiting for?
And don't forget to follow us on Twitter, Facebook and YouTube for more helpful reviews, tutorials, and Google Analytics tips.