Have you ever wanted a simple but effective marketing tracker tool where you can easily keep track of your marketing activities and see at a glance if they increased your website traffic?
If you're a WordPress user, you're in luck! In this article, we're going to introduce you to the best new marketing campaign tracker for WordPress and Google Analytics 4: Site Notes.
Site Notes is a new marketing tracker tool by MonsterInsights that allows you to take notes right inside WordPress to keep tabs on whether or not your marketing activities are successful.
Let's take a look!
What Is MonsterInsights Site Notes?
Site Notes gives you a way to quickly record and view comments, notes, and team communications right in WordPress right on top of your Google Analytics traffic graph.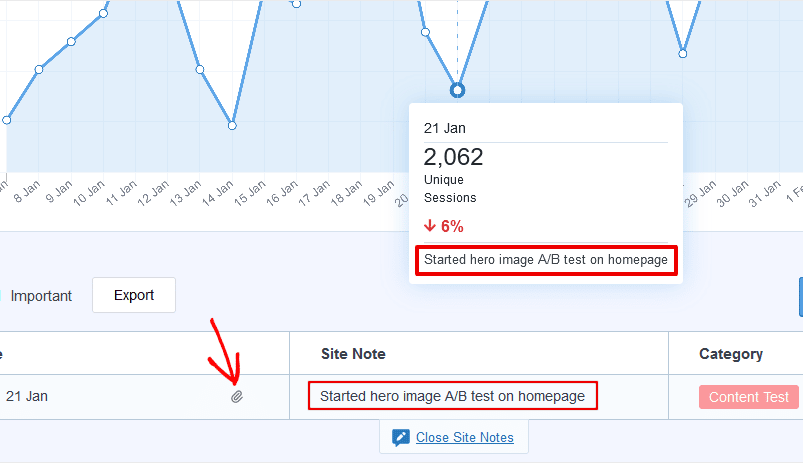 You can make notes about anything you want in WordPress, and they'll show up right in your MonsterInsights overview report. You can even add an image file or other attachment to your note.
You'll never lose your notes, or forget what you did or when you did it, with Site Notes.
How to Use Site Notes as a Marketing Tracker Tool
Go ahead and add a note or reminder:
When you send a marketing email
After you make significant changes to your site design
At the beginning of a new sales campaign
When you publish a new blog post or other content
When you take action to improve your site's SEO
For anything that enhances marketing team communications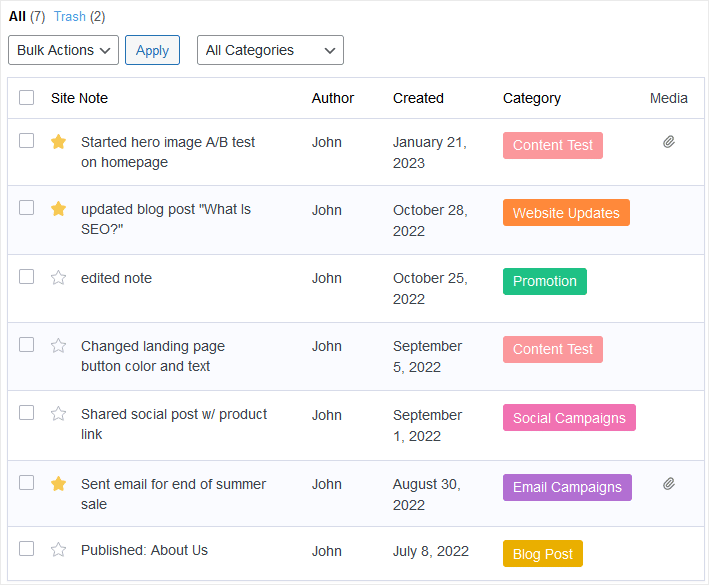 When you add notes in your WordPress dashboard, you won't have to go searching through other documents, chats, emails, or project management tools. You'll have one source where you can share critical changes to your site and track marketing activities.
Anyone with access to MonsterInsights can create notes and view your all of your team's notes.
When you have access to all of your important updates right on your traffic graph, you (and anyone else on your team) can see at-a-glance what's happening, and whether it's contributing to a traffic increase.
How to Set Up the Site Notes Marketing Tracker Tool
Site Notes is a feature of MonsterInsights, the best Google Analytics plugin for WordPress.
MonsterInsights connects with Google Analytics 4 to give you all the Google Analytics data that matters, right in your WordPress dashboard.
To get it, simply follow these easy instructions to install MonsterInsights on WordPress.
If you're already using MonsterInsights, make sure you've updated to the latest version if you don't see Site Notes.
How to View and Create Annotations in WordPress
To get to Site Notes, you have two options:
First, simply go to MonsterInsights » Reports to get to the main Overview report. Then, click on the Site Notes icon under the graph.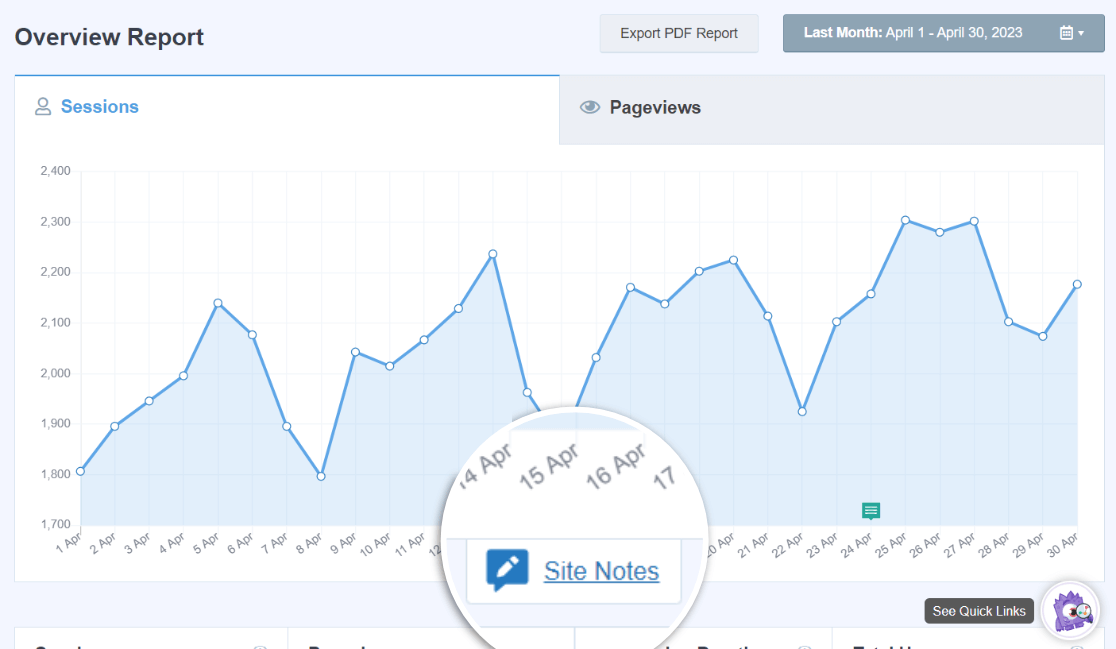 There, you'll see your list of notes underneath the Sessions / Pageviews graph.

In this list, you can view, edit, and create new notes. One thing to keep in mind is that the list only contains the notes related to the time period in the graph.
You can also see individual notes when you scroll over the data points in the graph that correspond to the date a note is recorded.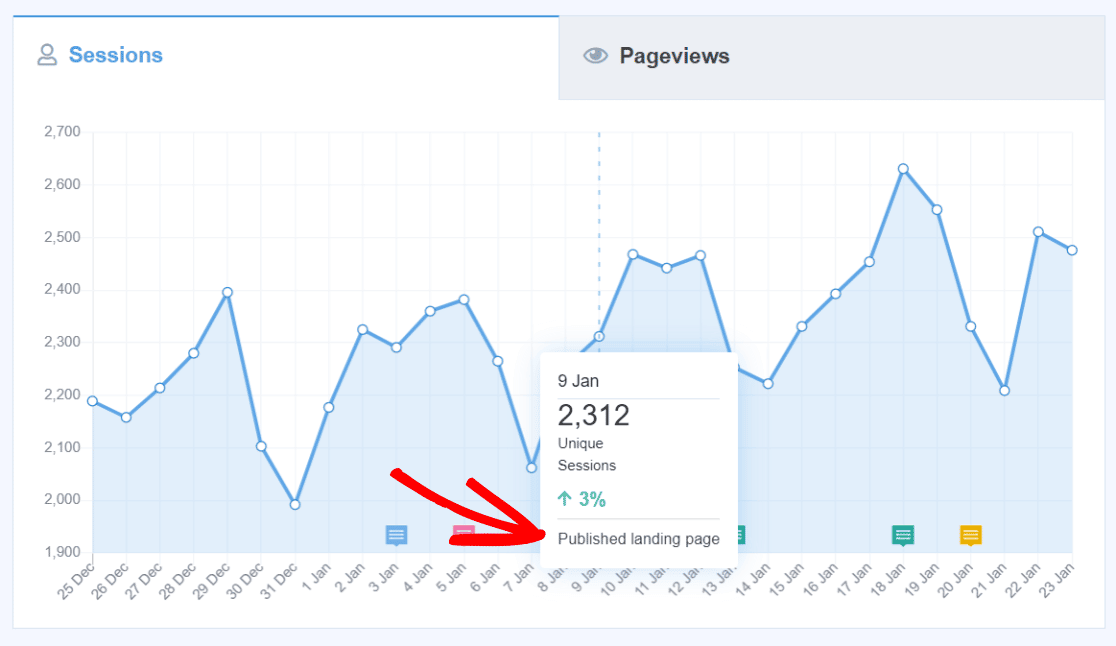 How to View Your Full Site Notes History
The second way to see your Site Notes is to click MonsterInsights » Site Notes in the main menu.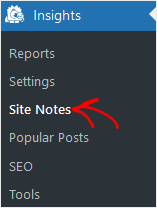 Here you can see every site note you've created over all time. Create a new site note by clicking the Add Site Note button.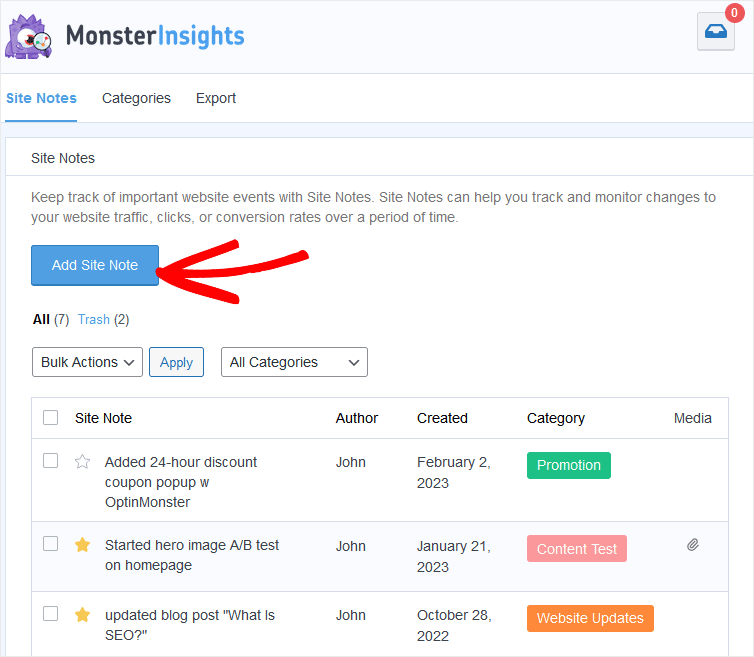 In this Site Notes list view, you can edit, delete, and sort notes by category.
To create and manage categories, click on the Categories tab. MonsterInsights Pro users can make an unlimited number of custom, color-coded categories. This is also where you edit category names and delete unwanted categories.
To export your notes in CSV format, click on the Export tab. A file with all your notes will download to your computer. You can open the CSV file to manage your notes in most spreadsheet and text editing apps.
How to Create a New Site Note
When you click the Add New Site Note or Add Site Note button in the views shown above, it's quick and easy to create a new note.

Simply add a title, select a category from the drop-down, and click Add Site Note to save your new note. If you want, you can revise the time stamp date or add an attachment, but those are optional.
With Site Notes you can easily keep track of marketing activities and website changes, use fewer tools, and keep your team better informed of site changes and other marketing activities.
Take those sticky notes off of your monitor and keep them safe in Site Notes.
What Else Can You Track in MonsterInsights?
Along with our new marketing tracker tool, Site Notes, you can use MonsterInsights to track other important events and milestones, too. Like when you make technical upgrades to your website, or install a new plugin.
Web developers and designers can use Site Notes to document and comment on their site changes, too. It's easy to categorize and sort notes from different groups in Site Notes.
And, when it comes to Google Analytics data for WordPress sites, MonsterInsights has you covered. From basic traffic stats to advanced user behavior tracking, you can get the data that matters to you right in WordPress.

Whether you use analytics for eCommerce tracking, form submissions, referral traffic reports, search engine optimization, and more, you get the numbers you need with MonsterInsights.
MonsterInsights is easy to install and automates the process of connecting your WordPress site to Google Analytics. It makes analytics easy for everyone!
Still not using MonsterInsights? What are you waiting for?
If you enjoyed this post, you may want to read more about how to set up marketing campaign tracking with Google Analytics.
And don't forget to follow us on Twitter, Facebook and YouTube for more free tutorials, reviews, and Google Analytics tips.