Are you looking at MonsterInsights and Google Tag Manager for your WordPress website, but you're not sure what the difference is?
In this article, we'll discuss what they are, how they're different, and how to use them both correctly.
To understand the differences between MonsterInsights and Google Tag Manager, let's first go over what these two tools are.
What is Google Tag Manager?
Google Tag Manager (GTM) is a tool that you can use to insert little snippets of code, called "tags," into your website to track different actions and events (like clicks) on elements of your website.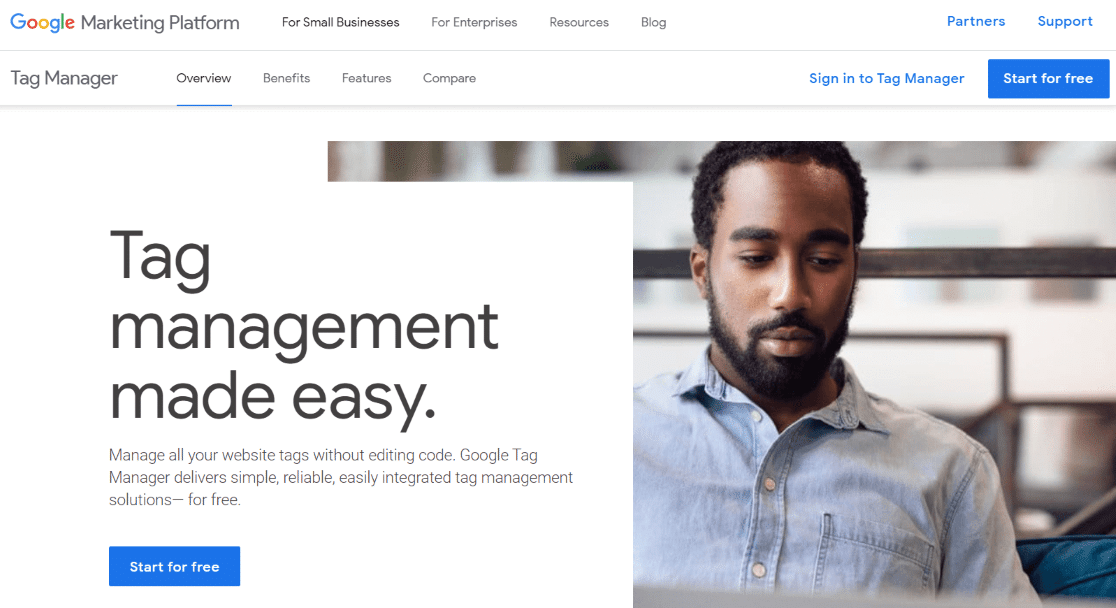 GTM is an incredibly useful tool for somebody wanting to do some slightly more advanced tracking with Google Analytics, because it provides access to your website's code without you having to actually write and insert it.
When you're using Google Tag Manager, you install their code snippet, called a container, onto your website. You can then set up all your "tags" (tracking code snippets) in GTM, mostly without having to do more updating of your site's code.
A few examples of the most popular tags people use GTM for:
Google Analytics tracking code
Remarketing pixel (Google Ads or Facebook)
YouTube video click tracking (play, pause, amount watched)
Download tracking
Form tracking
Scroll depth tracking
Chat client and/or help desk installation
Google Tag Manager can be a great solution for anyone wanting a powerful tool to track everything possible on their website.
The downside to Google Tag Manager is that is has a steep learning curve. It will take some time to figure out how to set up all the tags, and you may find yourself spending too much time trying to understand it and get it set up and working correctly.
What is MonsterInsights?
MonsterInsights is a WordPress plugin that seamlessly integrates your Google Analytics data into your WordPress dashboard. It can also tackle multiple of the most common Google Tag Manager tracking needs, without writing code OR using Google Tag Manager.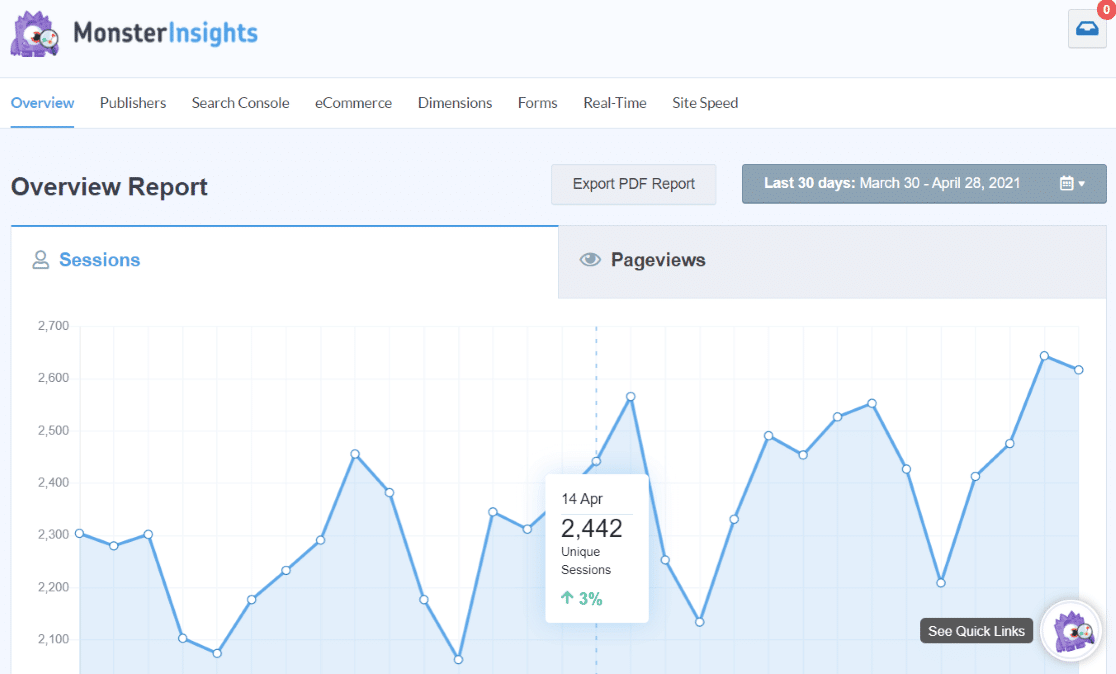 MonsterInsights makes installing Google Analytics code-free. Just connect to Analytics through the MonsterInsights settings to install the code on your website without actually touching your website's code.
Use the free MonsterInsights plugin to see your basic metrics, or upgrade to add things like form tracking, eCommerce reports, scroll tracking, and link click tracking.
Video Guide
Watch our video to see why MonsterInsights is better for beginners than Google Tag Manager, or keep reading below.
6 Reasons People Choose MonsterInsights Over GTM
At MonsterInsights, our goal is to help you grow your business with confidence by making data-driven decisions from the stats that matter.
MonsterInsights is designed to be easy for you to use. This is the main difference between MonsterInsights and Google Tag Manager. It does some of the same things that Google Tag Manager can, except it takes no coding and very few technical skills on your part.
MonsterInsights tools make it as easy as possible for you to set up the tracking that's going to give you the most valuable insights into your website traffic.
Google Tag Manager, on the other hand, is not as easy as possible. Yes, it can track just about anything, but there's a learning curve.
Here are 6 advantages of using MonsterInsights instead of setting up Google Tag Manager.
1. MonsterInsights analytics live inside your WordPress dashboard
If you're signed into your website, you'll see your reports right there on your dashboard.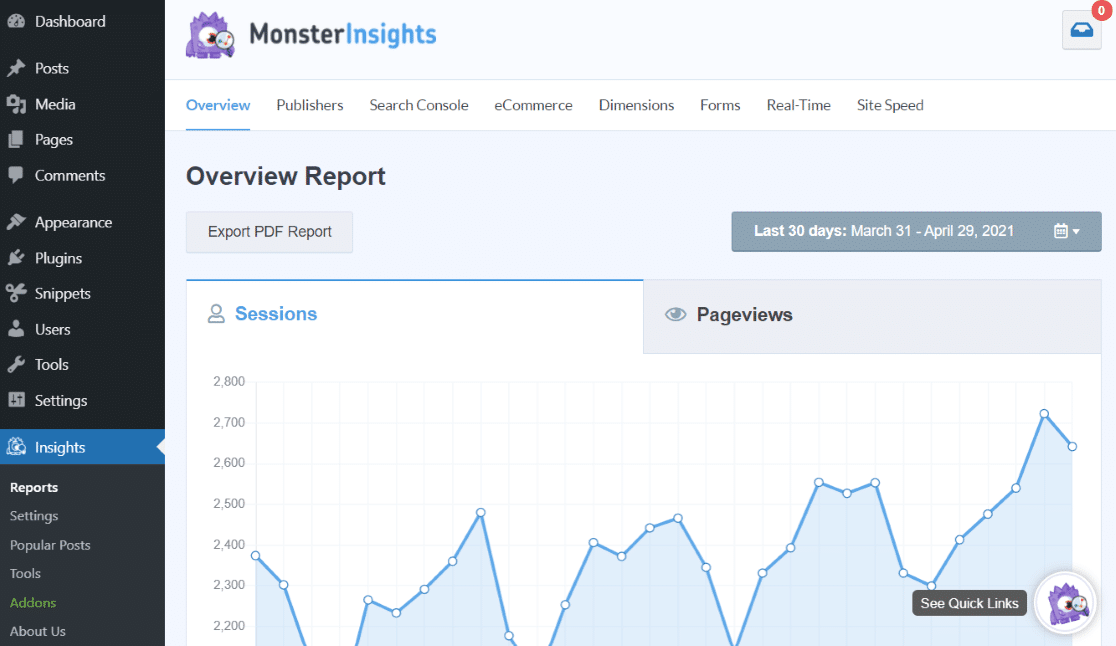 You can also easily access data on a page-by-page basis in your WordPress toolbar, as long as you're signed in, while browsing your site.

2. MonsterInsights tracks form conversions with a few simple clicks
If you were to use Google Tag Manager to track form conversions, you'd set up your tag for each form separately, plus create the Goals in Google Analytics to go with them.
In MonsterInsights, you click to activate the Forms addon. That's it! Your form data will now show up in your MonsterInsights dashboard, and in your Google Analytics account.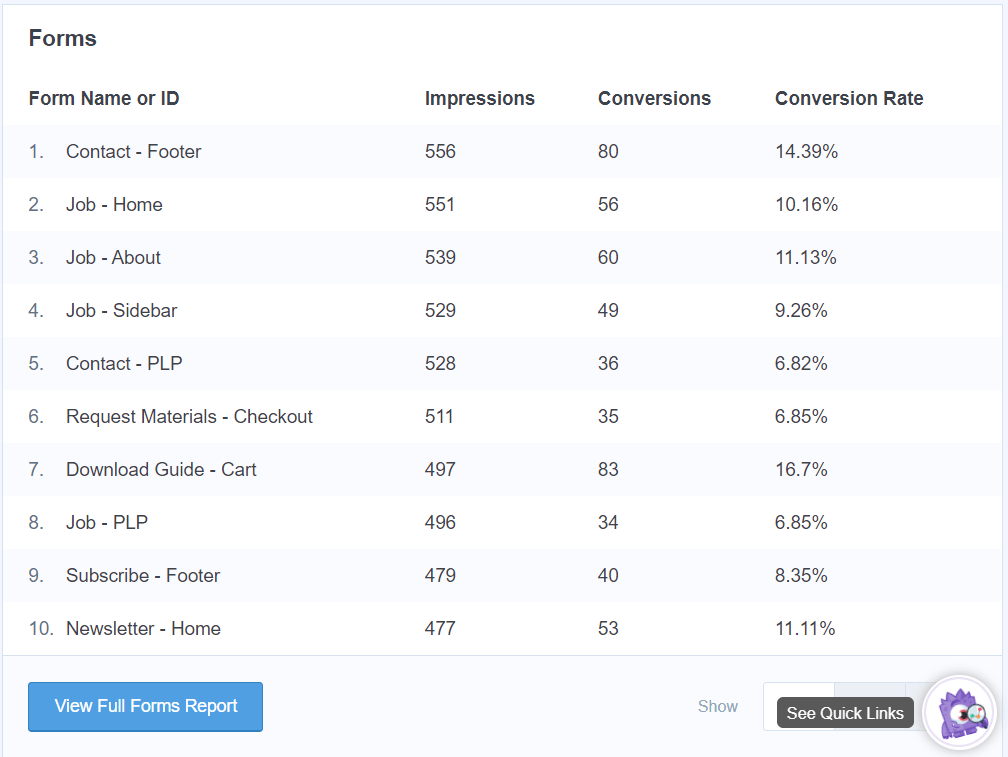 3. MonsterInsights tracks scroll depth with no coding
Want to know how far down the page your visitors are scrolling? If you have MonsterInsights Plus or higher, scroll tracking will be automatically enabled without you having to lift a finger.
See your average scroll depth right in your MonsterInsights Publishers report, or see our step-by-step guide to finding your scroll depth numbers for each of your pages in Google Analytics (after enabling it with MonsterInsights).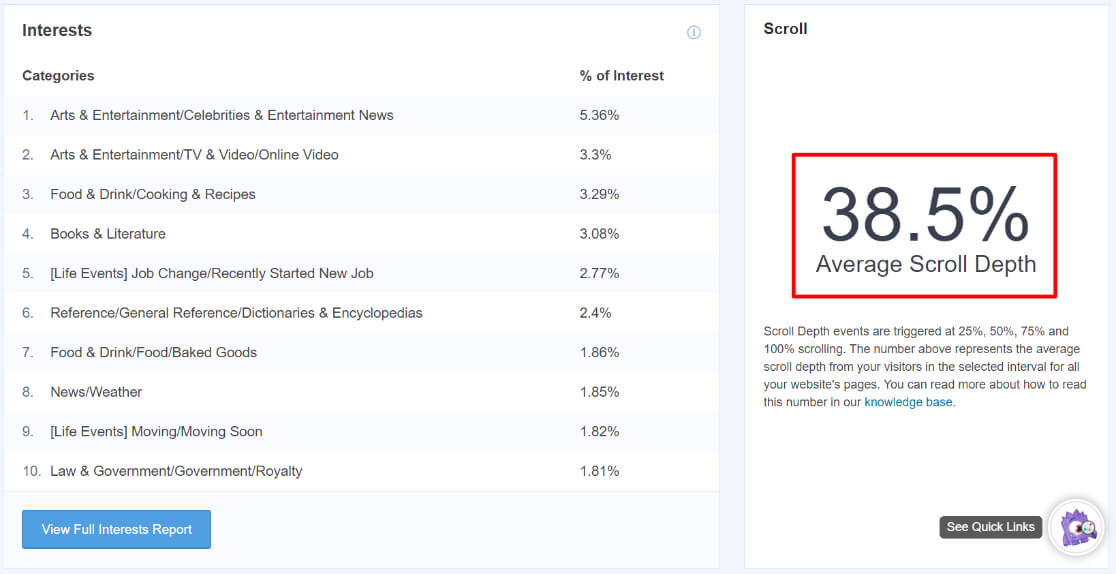 4. MonsterInsights tracks all downloads from your site with a quick click
Have ebooks, whitepapers, product comparisons, or other downloads on your site for your visitors to grab? Track all your available downloads easily in MonsterInsights in the Publishers report.

5. Track all outbound link clicks automatically with MonsterInsights
Want to know where your visitors are clicking when they leave your site? If they're clicking an outbound link, that'll be tracked in MonsterInsights in your Publishers report. This is an automatic function of MonsterInsights – it's enabled right out of the box.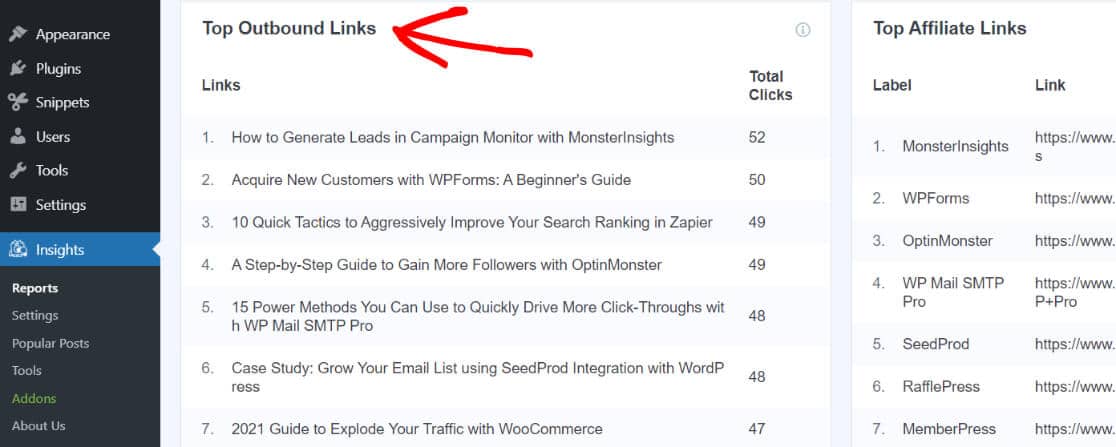 6. Easily set up and track eCommerce metrics with MonsterInsights
Do you run an online store? Are you intimidated by the setup for Enhanced Ecommerce? Click a setting and forget about it with MonsterInsights, while it does all the work for you and gives you access to the valuable data you need to increase sales and revenue.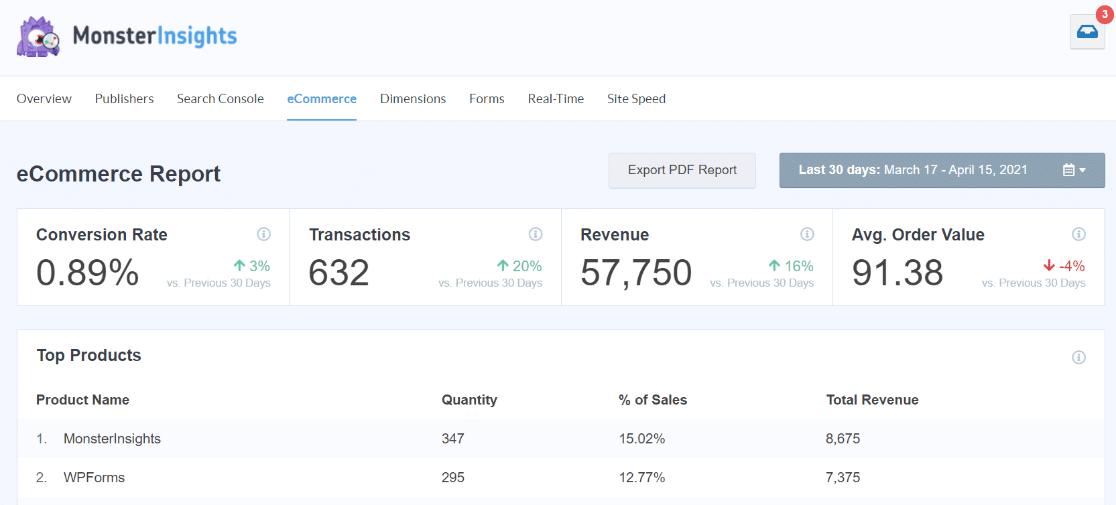 MonsterInsights vs Google Tag Manager: Which one is better?
The answer: It depends on your needs. If you've got experience working with Google Tag Manager and you want to create and install custom tags, you'll probably want to use GTM.
If, on the other hand, you have little to no experience with GTM and you want a quick and easy solution to tracking the most common and valuable metrics and events, MonsterInsights is an easy choice.
Now that you know the difference between MonsterInsights and Google Tag Manager, learn more about the differences between MonsterInsights and Google Analytics.
For more guides and other helpful Analytics tips, follow MonsterInsights on Facebook, Twitter and YouTube.