Do want to learn how to add annotations in GA4? Google Analytics annotations allow you to add context to your web analytics data and see how minor site activities, or major changes, may affect your site performance.
By adding annotations in GA4, you can keep track of website changes, important events, marketing campaigns, seasonal promotions, publishing milestones, and more. Then, easily see how these activities impact your website's traffic and performance.
Using GA4 annotations is a powerful tool for gathering context data, making data-driven decisions, and growing your business faster!
In this article, we'll show you the best and easiest way to add annotations to Google Analytics for your WordPress site. Before we get started, let's learn more about Google Analytics 4 annotations.
GA4 Annotations: Video Overview
What Are GA4 Annotations?
In the previous version of Google Analytics (Universal Analytics) annotations were included in your Google Analytics property. From your GA reports, you could annotate Google Analytics data with short notes on specific dates and share GA annotations with other team members who had access to the GA (UA) account.
This was an incredibly useful tool for businesses to see how activities were impacting their websites, such as new email campaigns, design changes, new content, promotions, new affiliate links, offline advertising, real-world events, or anything else they wanted to document.
Can You Add Annotations in GA4?
Unfortunately, when the end of Universal Analytics and GA4 news was announced, we also found out there are no annotations in GA4 built into your Google Analytics view or reports.
Does that mean there's really no way to configure Google Analytics to add annotations in GA4? Not exactly. We have good news for WordPress users!
We'll show you step-by-step the best way to access Google Analytics annotations and add them for GA4. Ready to dive in?
How to Add Google Analytics Annotations in GA4
Ready for the best news? Adding GA4 annotations is totally free, doesn't require a GA annotations extension for your browser, and doesn't require editing code or using Google Tag Manager. You'll be able to use and see GA4 annotations right inside WordPress.
Here are the steps we'll cover:
Step 1: Install MonsterInsights
Step 2: Three Ways to Add a New Google Analytics Annotation

Add Annotations in Site Notes
Add GA4 Annotations on Your Dashboard Page
Add Annotations from the WordPress Editor

Step 3: Use Google Analytics Annotations in GA4 to Optimize
With our easy-to-follow method, you'll be ready to use annotations in GA4 in only a few steps. Let's get started!
Step 1: Install MonsterInsights

MonsterInsights is the best Google Analytics plugin for WordPress. You can connect your Google Analytics account to your site and set up advanced tracking without editing any code or hiring a developer. You'll get the insights that matter, right inside your WordPress dashboard.
Adding GA4 annotations to your digital analytics data is a breeze with MonsterInsights' built-in annotations feature, Site Notes. Site Notes gives you enhanced Google Analytics annotations in GA4 and lets you visibly see how activity impacts your website.
With Site Notes' unlimited GA4 annotations and no limit on users, it's easy to keep your whole team on the same page.
Plus, with MonsterInsights, you also get access to tons of other Google Analytics features and sophisticated tracking in only a few clicks, such as custom dimension tracking, event tracking, form tracking, eCommerce tracking, outbound link tracking, and more.
Site Notes is included with every MonsterInsights download, meaning you can easily use Google Analytics annotations in GA4 even if you're using the free version.
That said, MonsterInsights Pro definitely unlocks more Google Analytics features and some pretty cool Site Notes features to make your GA4 annotations even more powerful:
Attach files and images to your Google Analytics annotations
Create unlimited custom categories to organize and manage your notes
Color code your categories for fast sorting and tracking
Export any or all of your GA4 annotations
Before we show you how to add your GA4 annotations, you'll need to download and install MonsterInsights. Head to the pricing page to get started!
For a full walkthrough of how to set up MonsterInsights, check out our guide on How to Add Google Analytics to WordPress the Right Way, or see our Lite instructions to try it out first.
Step 2: Three Ways to Add a New Google Analytics Annotation
Once you have the MonsterInsights plugin installed and set up on your website, we'll show you 3 ways to create new annotations and how to see them in Google Analytics.
No matter where in WordPress you create annotations with Site Notes, they will always be visible on your traffic graph in MonsterInsights Reports and in the Site Notes section.
Here are the 3 convenient ways to add Google Analytics annotations in GA4 using MonsterInsights' Site Notes.
1. Add Google Analytics Annotations in Site Notes
The first way to add a new site note and manage your annotation settings is in the Site Notes section. From your WordPress admin, click Insights » Site Notes. Here you'll see all the annotations you've created.
Press the Add Site Note button to create a new one: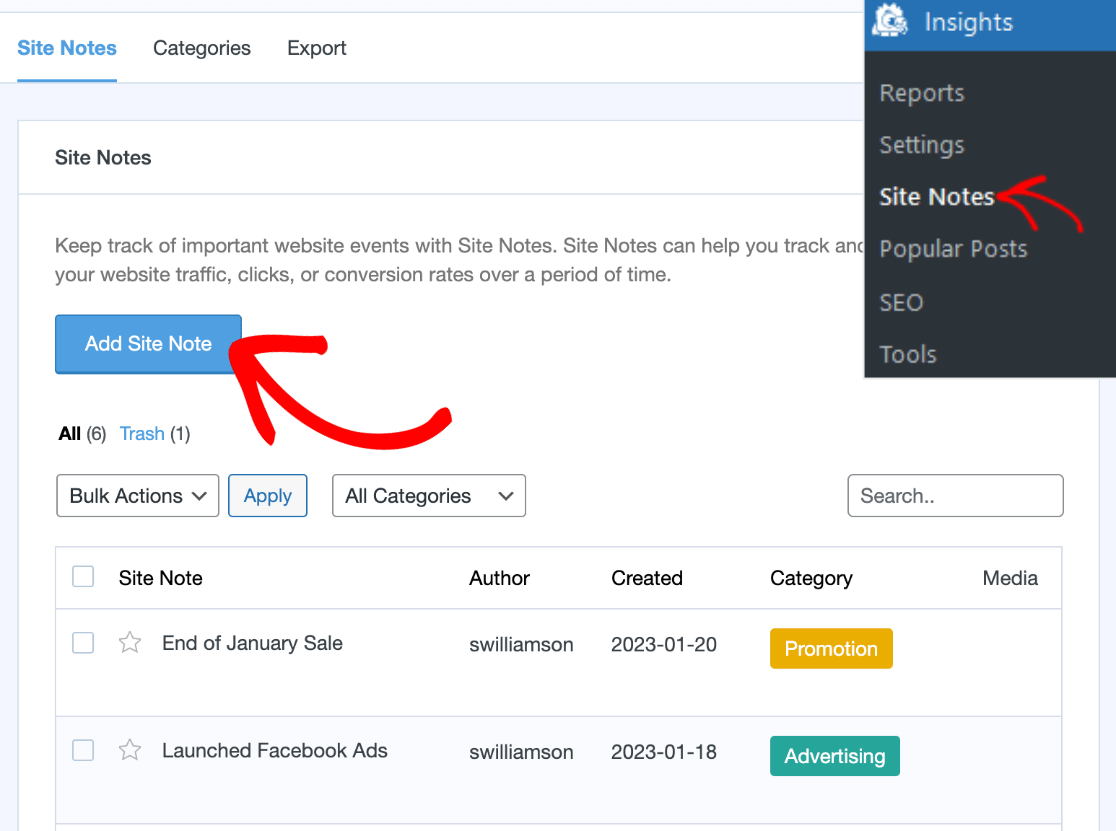 Fill in the Title of your Site Note, select a Date, which can be anytime in the past or future, and choose a category. If you're using MonsterInsights Pro, you can also add Media to your note.
Note: If you want the Site Note to be starred as "Important," just click the star under Title to highlight it.
When you're finished, make sure to click Add Site Note at the bottom to save your annotation: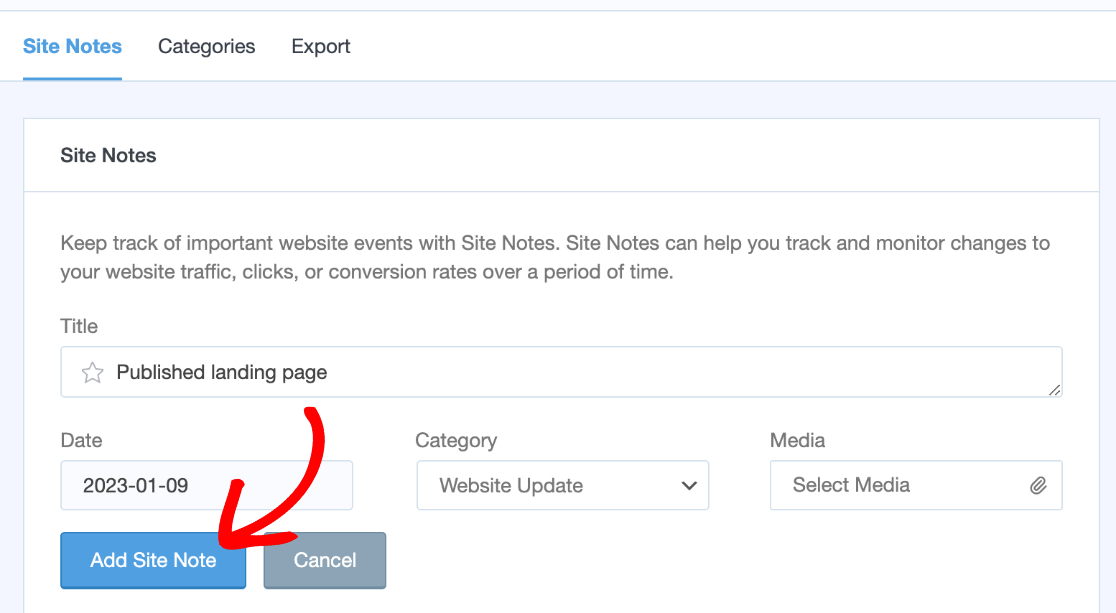 If you're using the Pro license or above, you'll have the option to click the Categories tab or Export tab at the top.
Categories are super helpful for organizing your Google Analytics annotations with custom categories and colors. To create or edit a category, just click the Categories tab, and press the Add New Category button.
Fill in Category Name and Select Color. Then, click Add New Category again to save it.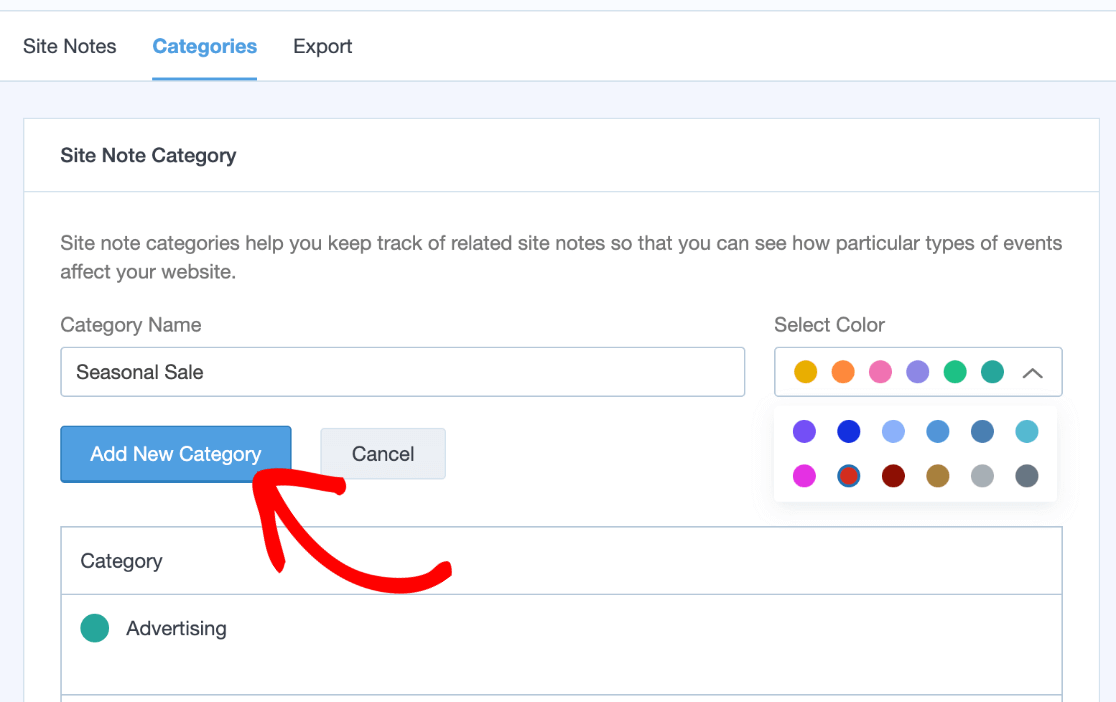 You'll immediately see your new annotation category in the drop-down list when you make or edit a site note.
If you're using Pro, you can also click the Export tab at the top, and a CSV of your site notes will immediately download. This is a really helpful tool if you want to add your Google Analytics annotations to Looker Studio (Data Studio) or another platform that accepts CSV data.
Now, we'll show you another Site Notes option where you can add GA4 annotations from your Google Analytics traffic report.
2. Add GA4 Annotations on Your Dashboard Page
Another way to add Site Notes is from your MonsterInsights' dashboard page. Click on Insights from your WP admin. Here, you'll see your traffic graph displayed, along with other Google Analytics reports for your site.
Just below your traffic graph, click Site Notes:

Now the section will expand. If you had entered any annotations for the Google Analytics date range shown in the graph, they would show here. To add one, click the blue button +Add New Site Note on the right-hand side: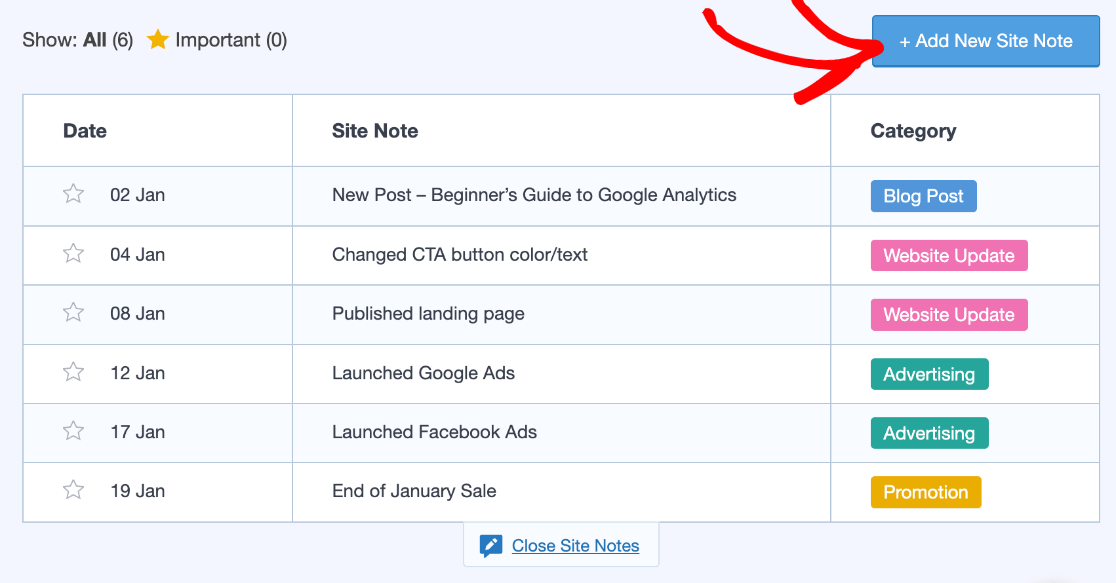 Next, you'll fill out the details of your GA4 annotation and choose a category. You can also click the star on the left-hand side to add the annotation to Important.
For Pro users, you can click Select Media to add an attachment to the note from here. When you're finished, click the Add Site Note button at the top to save your Google Analytics annotation.

Your new Site Note will immediately show up on the traffic graph above as well as in the Site Notes section that we visited in the last step.
If you want to see the details of a Google Analytics annotation on your traffic report, just click the Note icon: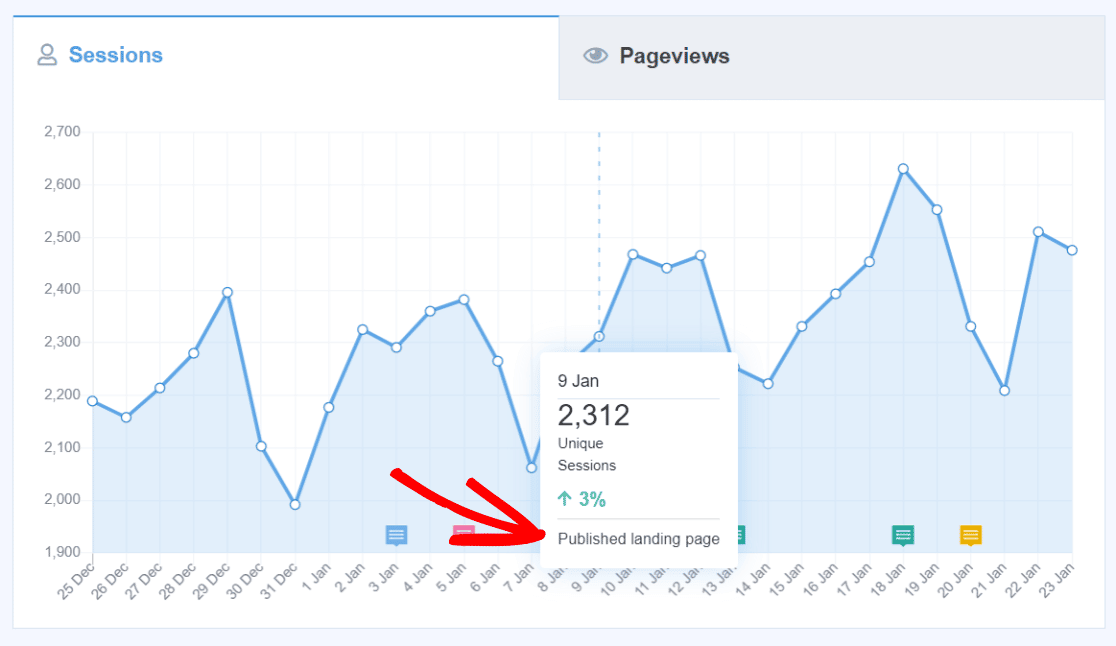 All your notes are shown right here on your graph, which easily lets you see how website changes or activities are impacting traffic.
Next, let's take a look at the third way of adding Google Analytics annotations with Site Notes.
3. Add Annotations from the WordPress Editor
One of the best things about Site Notes is that it can add a new annotation when you publish a new post, page, or product. So, you don't have to remember to manually go add one in order to see how your content affects traffic later.
You can edit the details of your annotation right inside the post editor. From your WordPress editor, look at the side menu under Post on the right. You'll automatically see the Site Note section already there.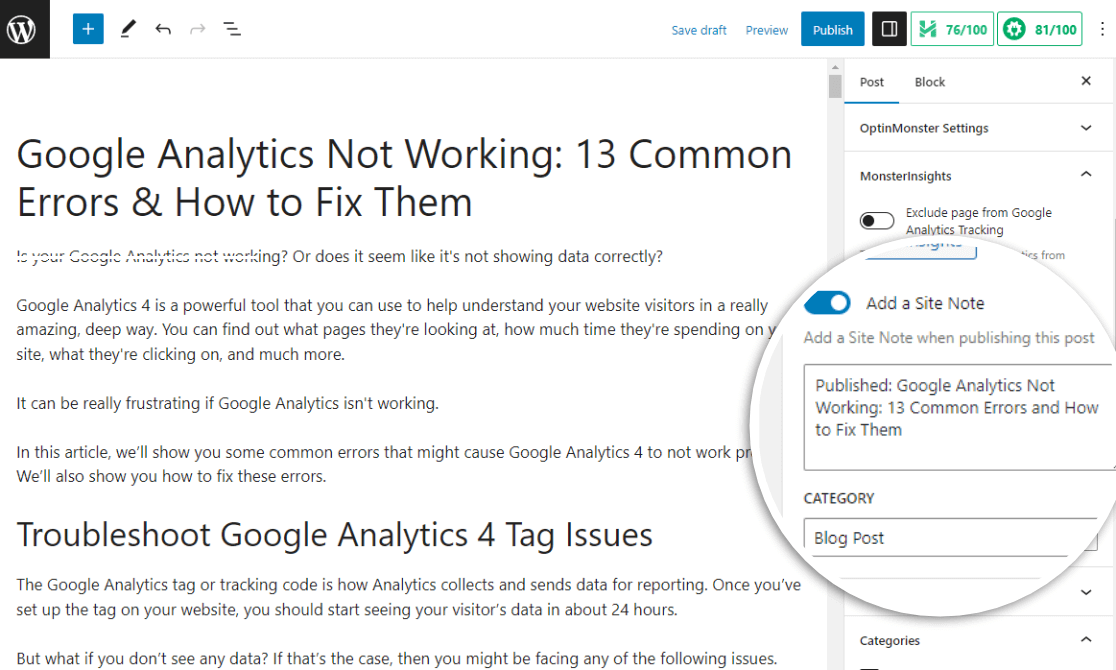 Find the option for Add a Site Note and toggle it on. It automatically includes the new post's title as the annotation. If you don't want to create a Site Note for the new content, just leave it toggled off. You can also edit the name of your annotation and change which category it's assigned to.
If you want to change the date for annotations that are created in the WP editor, you can always do that in the Site Notes section of MonsterInsights.
Step 3: Use Google Analytics Annotations in GA4 to Optimize
You did it! You learned how to use Google Analytics annotations in GA4.
Now, use annotations to see what changes were made on your website and how they affect things like how many people bought things or visited your website.
Plus, it's easy to keep your whole team updated and on the same page with shared annotations. Site Notes has no limit on the number of notes or users.
The visibility of the annotations and whether a team member can use Site Notes is determined by their overall access to MonsterInsights. You can find permissions and user roles in Insights » Settings » Advanced.
You won't need to search through old emails or project calendars to find out what happened on your website, track publishing events, and keep tabs on your marketing campaigns.
Easily track your digital marketing, website activity, and anything else right inside WordPress: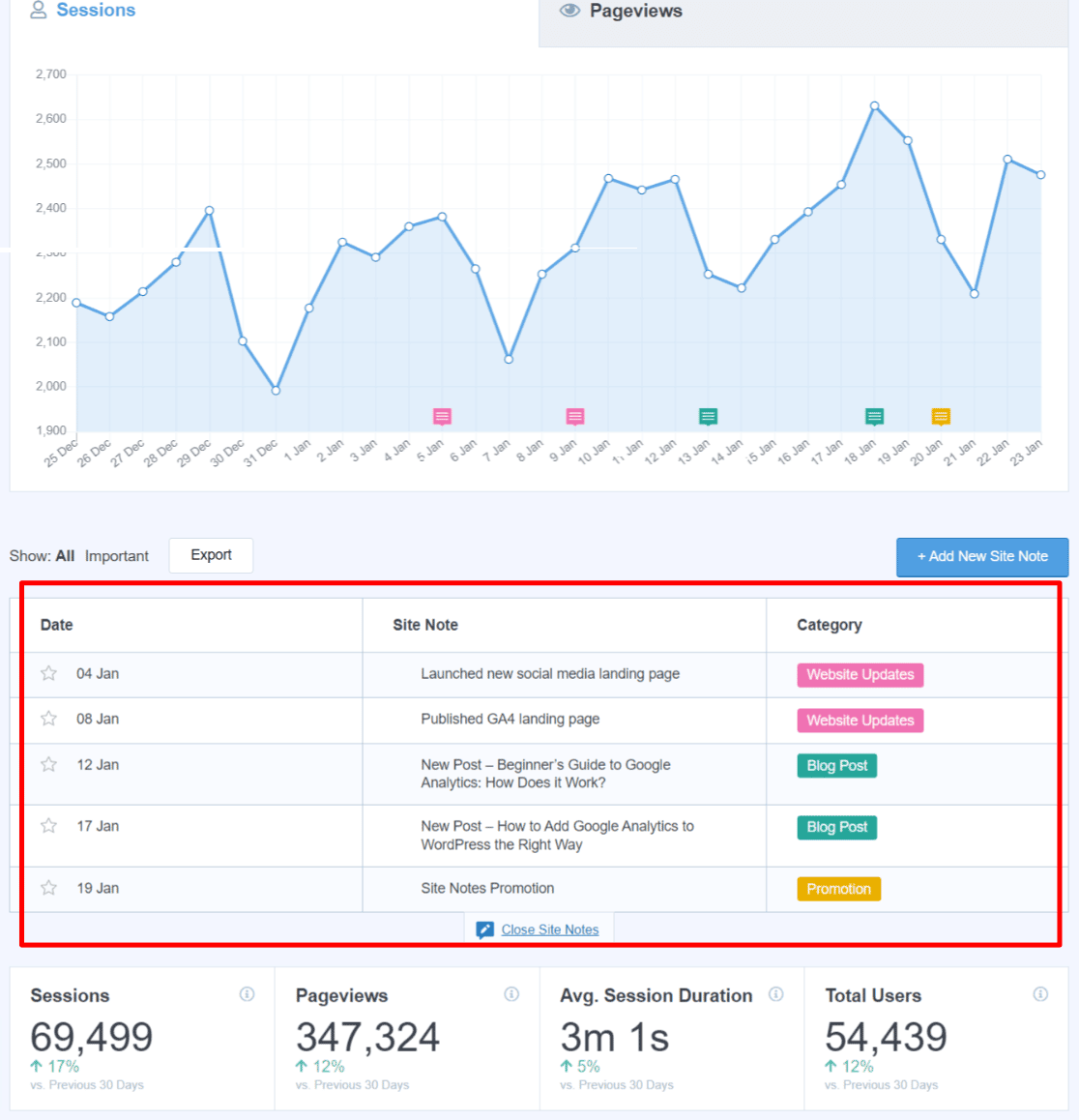 Look back and see if a previous promotion performed well enough to do it again, see how your website performance dipped right after you changed your landing page design, see how your traffic improved after launching a Google Ads campaign, or add a future annotation for a team deadline. The possibilities are endless!
Using Google Analytics annotations with Site Notes' new blog post publishing feature is also an awesome tool for optimizing your content and SEO.
For example, if you're using MonsterInsights Pro, you could have separate categories for your different types of posts (Tutorials, Reviews, Announcements, etc.). When you publish a new post, just assign it to the right category.
Then, use Google Analytics on your MonsterInsights traffic report to easily see which post types are generating more traffic, and use that information to optimize your content!
Well, that's it for this tutorial! We hope you enjoyed learning how to add GA4 annotations to your WordPress site with Site Notes.
Be sure to check out How to Reveal Your Conversion Paths in Google Analytics.
Not using MonsterInsights yet? What are you waiting for?
Don't forget to follow us on Twitter, Facebook, and Youtube for the best WordPress tutorials and Google Analytics updates.