Looking to add ready-made advanced segments to your Google Analytics account? Even though you can create your own advanced segments to isolate traffic sources and see how people from those sources behave on your website, sometimes using ready-made segments can give you a different view of the same data you've been analyzing this whole time to help your business grow.
In this article, we'll show you some of the best ready-made advanced segments you can import into your Google Analytics account to save time and gain better insights into your website's data.
1. Mobile Traffic (Excluding Tablets)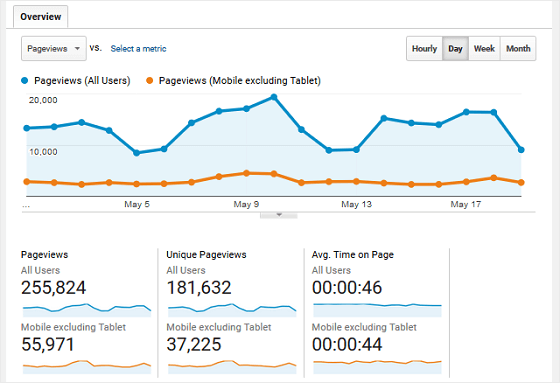 Knowing how your mobile users behave once on your website is important since mobile internet traffic continues to increase. In fact, just last year, mobile devices, excluding tablets, accounted for 49.73% of all web page views across the globe.
That's why using this advanced segment to monitor the page views of your mobile audience can help you better better understand what people on the go are looking for once they're on your website.
You can also see whether they bounce once they arrive, if they tend to read more content or make more purchases, and which site terms they tend to look for using your site's search bar.
In addition to using this ready-made advanced segment, you can use MonsterInsights, the best Google Analytics plugin on the market today, to better analyze your mobile traffic.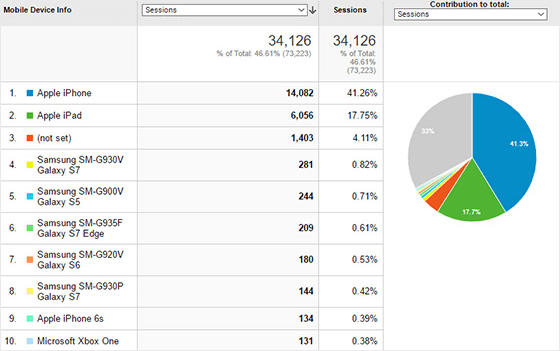 Paired with the Google AMP addon, you can easily detect when someone switches from your Google AMP pages to your normal website, and see data that isn't skewed because of the switch.
If you're interested in creating a better mobile experience for your site visitors, but don't want to sacrifice your Google Analytics data, check out how to set up Google AMP on your WordPress site and use the Google AMP addon to get the most accurate data results.
Import the Mobile Traffic (Excluding Tablets) Segment Here
2. Organic Converting Traffic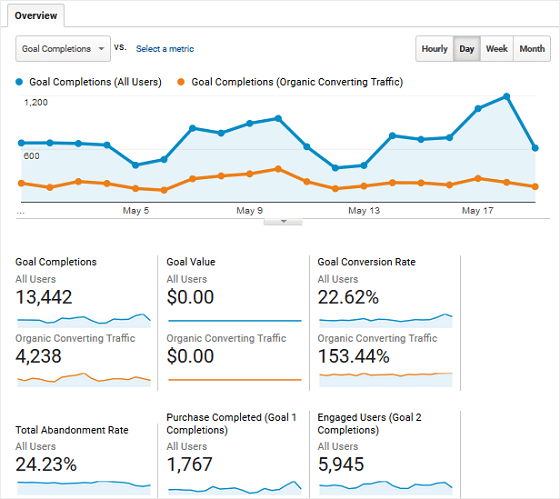 Everyone knows the importance of things like value propositions and SEO ranking factors for driving organic traffic to your website. In fact, your business may rely heavily on the purchases made by organic traffic that comes to your website.
Using the Organic Converting Traffic advanced segment reveals how much of your total revenue is because of organic traffic.
For instance, compare data like:
Goal completions
Percentage of converting traffic
Engaged users
Number of users that enter checkout
Knowing how well your organic traffic is converting can help your make improvements to your eCommerce shop and your SEO efforts, and build your business to be bigger than it already is.
Not to mention, MonsterInsights helps by providing you the top 50 Google Search Terms that bring people to your website in an effort to help you make adjustments to your keyword strategies and drive more organic traffic to your site.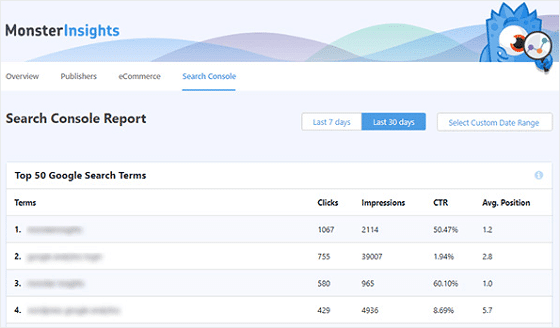 You can also see clicks, impressions, CTR, and average search position. This is to get a better idea how well your content marketing efforts are working.
Import the Organic Converting Traffic Segment Here
3. Unique Visitors from Blog to Website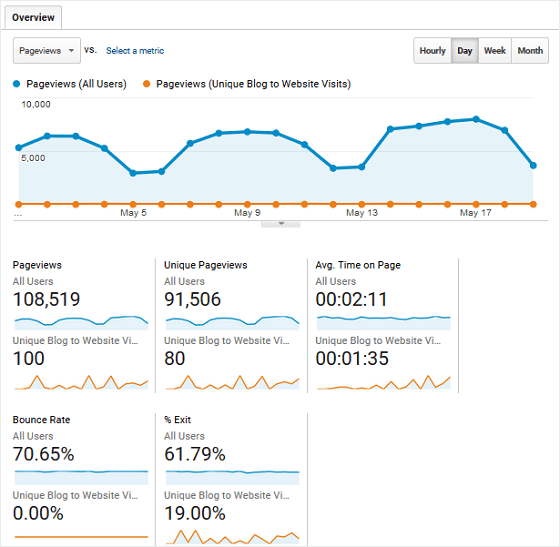 Are you curious to know how engaging your blog content is? Using this ready-made advanced segment, you can see how many people are going from your blog to other parts of your website.
This not only signals whether you are moving people down the sales funnel you have set up, but whether people want to see more of what you have to offer.
Check out things like:
You can also use MonsterInsights, and the Publishers Report in your WordPress dashboard, to see which landing pages are the most popular among site visitors.
See data like number of visits, average duration, and bounce rate to improve your content marketing efforts.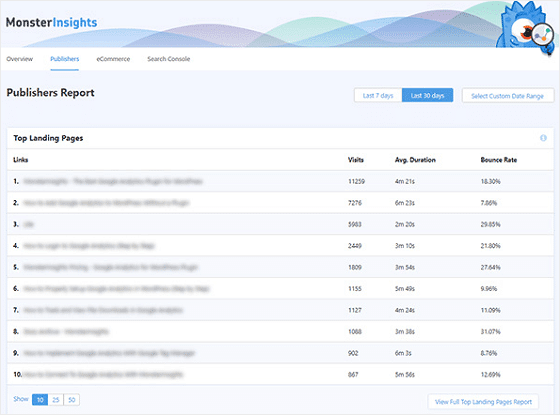 Import the Unique Visitors from Blog to Website Segment Here
And there you have it! Three great ready-made advanced segments you can easily import into your Google Analytics account. Keep in mind, there are plenty more to be found in the Google Analytics Solutions Gallery.
If you want to learn more about advanced Google Analytics segments, be sure to check out our tutorial on how to create an advanced segment in Google Analytics.
And don't forget to follow us on Twitter and Facebook for more helpful Google Analytics tips.