Do you want to track form abandonment on your WordPress site?
As forms are major points of interaction on a website, tracking form abandonment on your site lets you know how well users are engaged with your forms and other content.
In this article, we'll show you how to easily track form abandonment in WordPress (The Easy Way).
Tracking Form Abandonment in WordPress (The Easy Way)
Google Analytics is the most widely used web analytics tool for tracking website traffic, conversions, and more.
It lets you track a wide variety of metrics including eCommerce transactions, form conversions, form abandonment, and more, however using it is a bit tricky.
If you're a beginner, then you'll need to invest lots of your time to understand how Google Analytics works. Not only that you also need to spend money to hire a developer for configuring advanced metrics.
But thankfully, MonsterInsights plugin makes it super easy for WordPress users.
It lets you configure form abandonment tracking and other important metrics in WordPress with just a few steps.
To get started, you need to install and activate the MonsterInsights plugin and then connect it with your Google Analytics account. For detailed instructions, see our step by step guide on how to install Google Analytics in WordPress with MonsterInsights.
After that, you need to install the MonsterInsights Forms addon for tracking your forms. Go to MonsterInsights » Addons page from your dashboard and then install the Forms addon.

That's all! Now MonsterInsights will automatically start tracking your WordPress forms.
If you want to reconfirm that, then you need to visit the MonsterInsights » Settings page and click on the Conversions tab.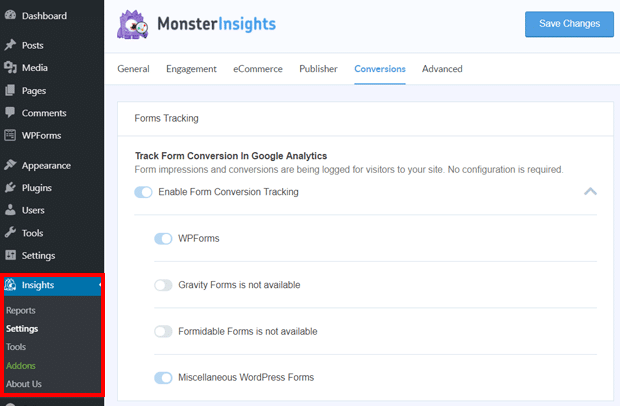 As shown in the screenshot above, the plugin will automatically detect your form plugin, and enable forms tracking. It supports all the major WordPress form plugins like WPForms, Formidable Forms, and more.
After that, you may need to wait sometime to view your reports. It can take a few hours to 48 hours for Google Analytics to collect fresh data.
Viewing Your WordPress Form Tracking Stats
You can view your WordPress form tracking reports by going to MonsterInsights » Reports » Forms from your dashboard.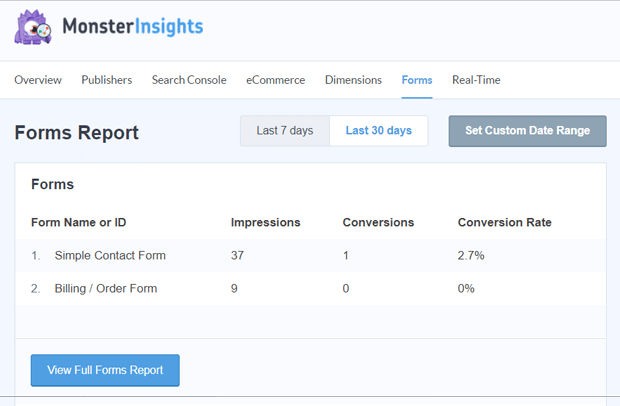 The MonsterInsights Forms report shows the total number of impressions, conversions, and conversion rate for each WordPress form.
Now you can easily find out the number of people who abandoned your form. Wouldn't it be great if more people who viewed your form fill it out?
You can view this report also in your Google Analytics account. Simply click on the 'View Full Forms Report' button in your MonsterInsights forms report, and it will redirect you to the top events page in Google Analytics.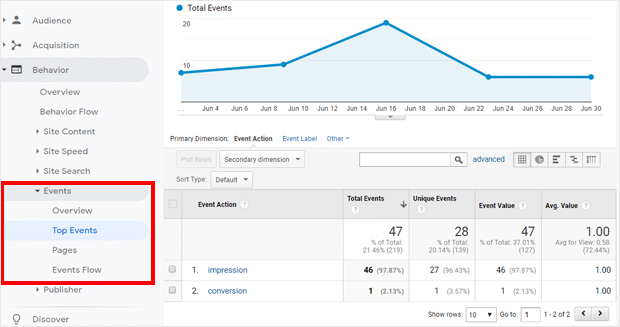 As Google Analytics treats forms related actions as events, forms tracking reports are shown under the Events category.
By default, you can see the stats for event action. You can click on the 'Event Label' link to see the performance of your individual forms.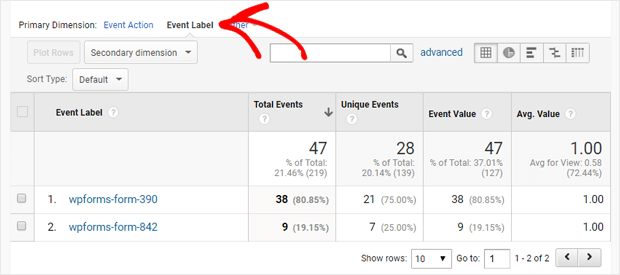 Recovering the Leads from the Abandoned Forms Using WPForms
Form abandonment is the real problem that you will miss your potential leads/ customers at the last point. But WPForms users can now solve that problem and turn those abandoning users into loyal customers.
WPForms is the most user-friendly as well as the most powerful WordPress form plugin in the market.
It allows you to easily create simple contact forms to advanced forms like surveys, order forms, multi-page forms, and more in your WordPress blog.
WPForms comes with an exclusive Form Abandonment addon to help you recover leads from the abandoned forms. The addon saves partial entries and lets you follow up with the interested prospects.
This feature is especially useful for support request forms, order forms, request quote forms, etc. For any reason, the users may have abandoned your form, but you can follow up and build new relationships with them.
To use the addon, go to WPForms » Addons page and then install the Form Abandonment Addon.

After that, you need to enable this option in your WordPress forms. If you've existing forms, then you need to edit them and enable this option.
For example, we'll edit Billing / Order Form in our demo website.
In your form editor screen, click on the 'Settings' menu. After that, click the 'Form Abandonment' option and check the box next to 'Enable form abandonment lead capture.'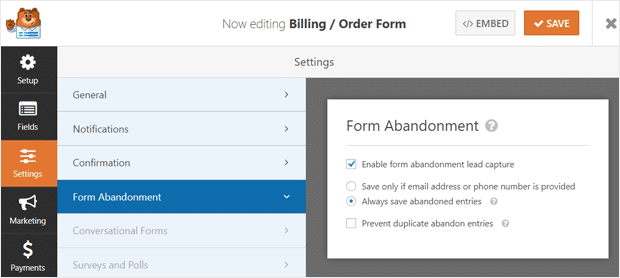 That's all! Now WPForms will record the entries for the abandoned forms and lets you optimize them.
Like all the other entries, you can find the abandoned form entries as well in the Entries menu.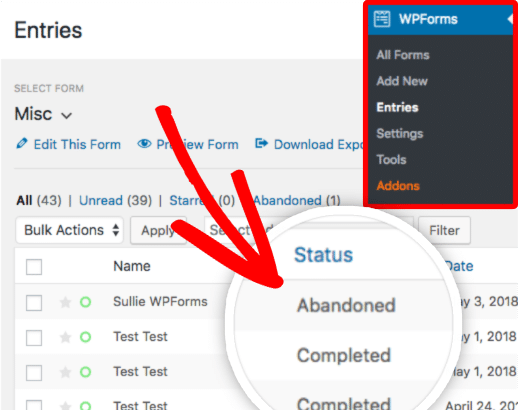 Now you can contact these users and offer them the products they may be interested in.
We hope this article helped you to learn how to track form abandonment in WordPress – the easy way. And also to learn to how to recover leads from the abandoned forms using WPForms.
You may also want to see our step by step guide on how to track your AMP traffic using Google Analytics.
And don't forget to follow us on Twitter and Facebook for more helpful Google Analytics tips.