Looking to create custom reports for easier data analysis? Even though you can create your own custom reports from scratch, and include the data that means the most to you, you can also save time by importing ready-made custom reports into Google Analytics.
In this article, we'll show you some of the best ready-made custom reports you can use to make better business decisions, improve conversions, and gain a larger following.
Why Use Ready-Made Custom Reports?
In the past, we've discussed what a custom report is and why you might need one for your eCommerce shop. However, it's good to know that there're more custom reports available to you, from a variety of sources, that can help you analyze your site's data easier.
Creating a custom report in Google Analytics from scratch is the best way to make sure the exact data you want to monitor is readily available for you at all times.
For step-by-step instructions, be sure to check out our tutorial on how to create custom reports in Google Analytics.
But, for those interested in saving time, let's take a quick look at why using ready-made custom reports is a good idea:
Ready-made reports include data you might not have considered adding to your custom report
For those new to Google Analytics, using ready-made custom reports is easier than configuring your own
You can get ideas for custom dashboards and segments
So now that you know why you might want to use a pre-made custom report, let's check out some of the best ones.
1. Browser Report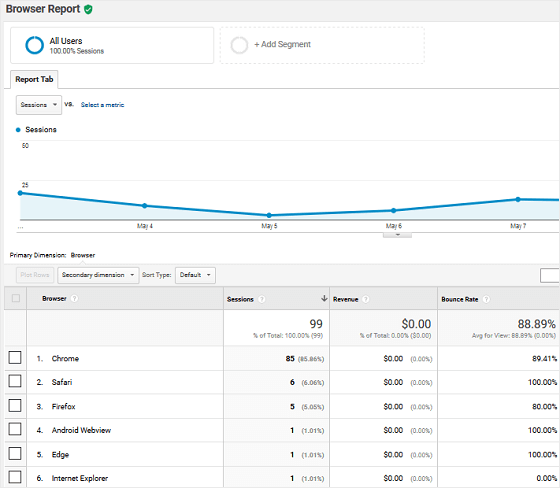 Cross browser issues can wreak havoc on your website's traffic. After all, if a certain browser doesn't work right with your website, you risk losing out on a large portion of your target audience.
That's why using a custom report that shows conversions per browser, and further breaks down data into device type – mobile, desktop, and tablet – can help you see where the breakdown is if cross browser compatibility is an issue you think you might be having.
See how each browser is performing when it comes to your website. If you see a jump in bounce rate for one browser, such as Internet Explorer, Chrome, or Firefox, you'll know that something is not working right with that browser.
Import the Browser Report Here
2. Social Media Report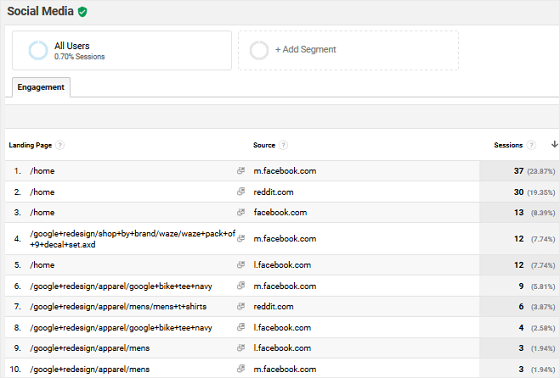 Find out how popular social media platforms are performing for you and your landing pages. If you notice a lot of activity on a certain social media network, you might want to consider investing more time and effort in that platform. This could include more content posting, interaction with followers, and even advertising.
The same is true for social media networks you don't see experiencing a lot of traffic. After all, there's no sense in wasting time and effort on a platform that doesn't drive traffic to your site or generate sales.
Import the Social Media Report Here
3. Content Efficiency Analysis Report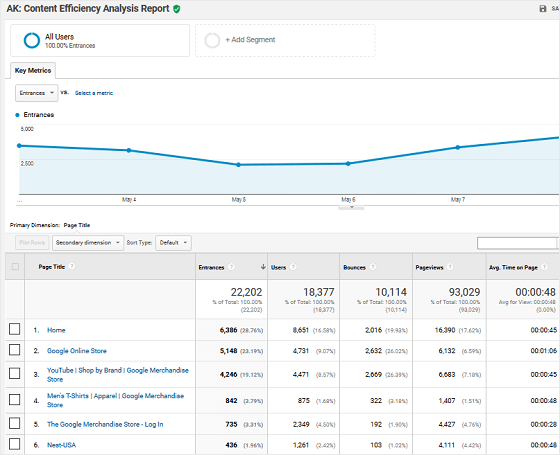 As the competition increases across the internet to be the best, draw the most people in, and generate the most revenue, it's no wonder a ready-made custom report as comprehensive as the Content Efficiency Analysis are available for website owners.
Take a look at some of the data you can get from this ready-made custom report:
Number of entrances
Users
Bounces
Pageviews
Average time on page
Per session goal value
Goal Completions
The great thing about this Google Analytics report is that it takes a bunch of key data, that you may not think to combine, and puts it all in one place for you.
Import the Content Efficiency Analysis Report Here
4. Keyword Analysis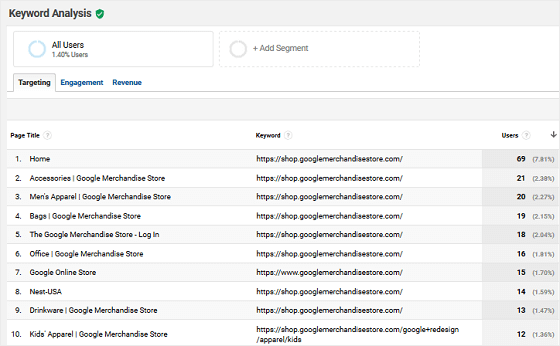 There's no denying the importance of keywords on your website. In fact, in order to boost search engine rankings you need to focus on using the right keywords that will draw organic traffic to your website and convince people to convert as subscribers or customers.
This report comes with three separate tabs with specific data for you to analyze:
Targeting. Here you'll see the page title of your website, the keyword that relates to it, users, goal completions, goal conversion rate, and average page load time in seconds. This will help you see where you need to make changes in your campaigns.
Engagement. Here you'll see your web pages followed by its performance in terms of unique pageviews, pages/session, average time on page, bounce rate, % exit, and goal conversion rate. This will help you see how individual pages are performing on your site.
Revenue. Here you'll see how your keywords are performing as they relate to transactions, revenue, per session value, and eCommerce conversion rate. This is helpful for seeing how much money your keywords are bringing in.
Import the Keyword Analysis Report Here
5. Referring Sites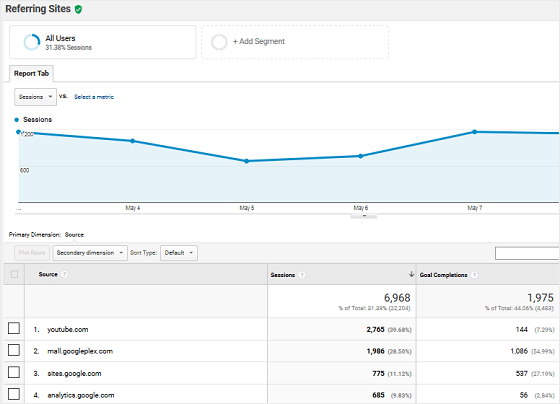 This simple pre-made report helps you identify which sites are referring the most traffic to your site. It also shows you goal completion and goal conversion rates.
By knowing which sites bring yours the most traffic, you can learn more about your target audience.
You can also see the external sites you have the most authority on, and ways you might be able tap into the target audience of other websites for your benefit.
Import the Referring Sites Report Here
6. Hours and Days Report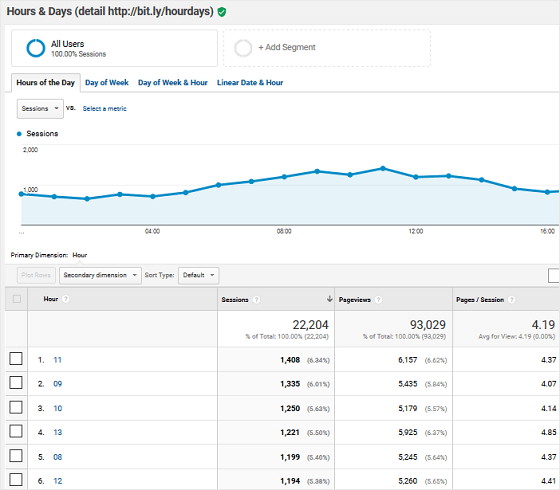 This custom-made report is great for showing you which day of the week and what time of the day your website gets the most traffic. It breaks down the number of sessions, pageviews, pages/session, bounce rate, and % of new sessions you site sees.
You have the option to view the following tabs:
Hours of the Day
Day of Week
Day of Week and Hour
Linear Date and Hour
The neat thing about this report is if you set the timeframe to reflect a longer period of time, for instance a few months, you can identify patterns regarding when your site sees the most traffic and work your content marketing strategy around it.
Import the Hours and Days Report Here
And there you have it! Six ready-made custom reports you can easily import into your Google Analytics account for easier data analysis.
If you're curious to know other ways to save time when it comes to your site's data, check out our Google Analytics quick tips for maximizing data analysis.
And don't forget to follow us on Twitter and Facebook for more helpful Google Analytics tips.