Are you looking for a way to set up Google Analytics on your WordPress site but don't know which plugin to use between Analytify vs. MonsterInsights?
MonsterInsights and Analytify are both plugins that will help you connect Google Analytics with your site. Both also provide different tracking features. But there's a huge difference in how they work.
In this article, we'll compare Analytify vs. MonsterInsights and put both the plugins head to head to see which one is the best.
Let's begin…
1. General Overview: MonsterInsights vs Analytify
What is MonsterInsights?
MonsterInsights is the best Google Analytics plugin for WordPress. It offers a user-friendly interface and is loaded with features.
With MonsterInsights, you can add Google Analytics to your website without any coding. It offers a step by step wizard that will help you properly set up tracking.
Not only that, but the plugin helps you set up advanced tracking. You can track file downloads, affiliate link clicks, outbound link clicks, telephone number clicks, mailto links, and much more right out of the box.
Besides that, you can use different addon and track eCommerce conversions, form conversions, and set up Google Ads tracking with a click of a button.
And using MonsterInsights dashboard reports, you can view reports insides your WordPress website. The reports are simple and easy to understand. It brings all your important information in one place, so you can make data-backed decisions and grow your business.
What is Analytify?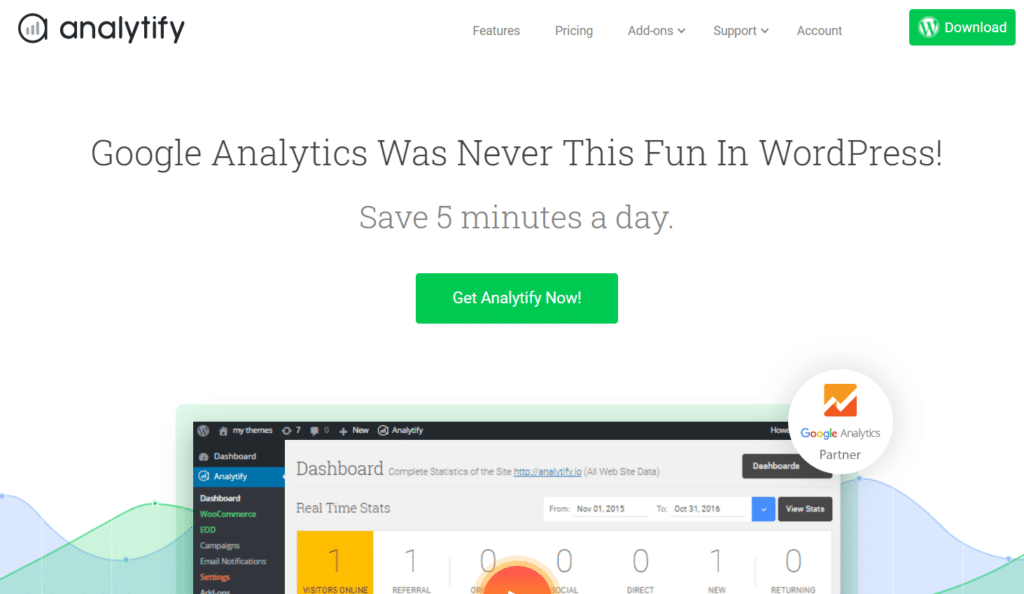 Analytify is another popular WordPress plugin for Google Analytics. It also helps you set up Analytics on your WordPress website without having to edit code.
The plugin comes with addons for WooCommerce and Easy Digital Downloads. Plus, it also offers reports that you can view in your WordPress dashboard. The reports are clean, and you get basic stats about how your website is performing.
It even lets you publish stats in the frontend. So, let's say you want to showcase the number of visits for advertising purposes, then using this feature you can easily show statistics without having to give access to your site.
But how does Analytify compare to MonsterInsights in terms of features? Let's take a closer look…
2. Reporting: Basic Reports vs. Advanced Reports
When it comes to reporting, MonsterInsights and Analytify both offer a Google Analytics dashboard for WordPress. You can easily view your reports in the backend and don't have to switch between tabs or windows.
But there are major differences between the plugins' reporting features. Analytify shows basic stats from Google Analytics and displays them neatly. MonsterInsights takes reporting one step further and shows stats that aren't possible by default in Google Analytics.
With Analytifiy, you'd have to manually set up advanced tracking, such as creating goals or setting up events, to view additional data. But with MonsterInsights, you get several advanced event reports out of the box and can view them in your WordPress dashboard.
Here's what Analytify reports look like: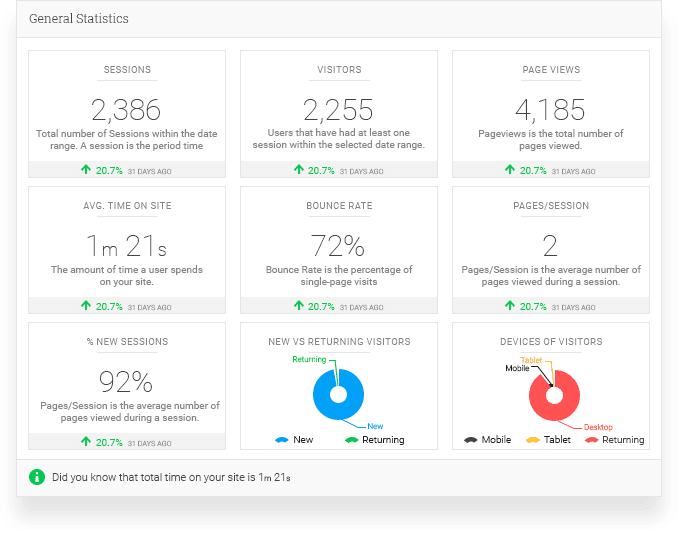 As you can see, you get basic stats about your website. You can see the number of visitors, their average time on site, bounce rate, and more.
In MonsterInsights, you get more details about your site's performance. Let's look at the different MonsterInsights reports.
Overview Report
The Overview report shows all the basic yet important stats for your website, just like Analytify. But in addition to basic stats, you get more information that you need to make marketing decisions.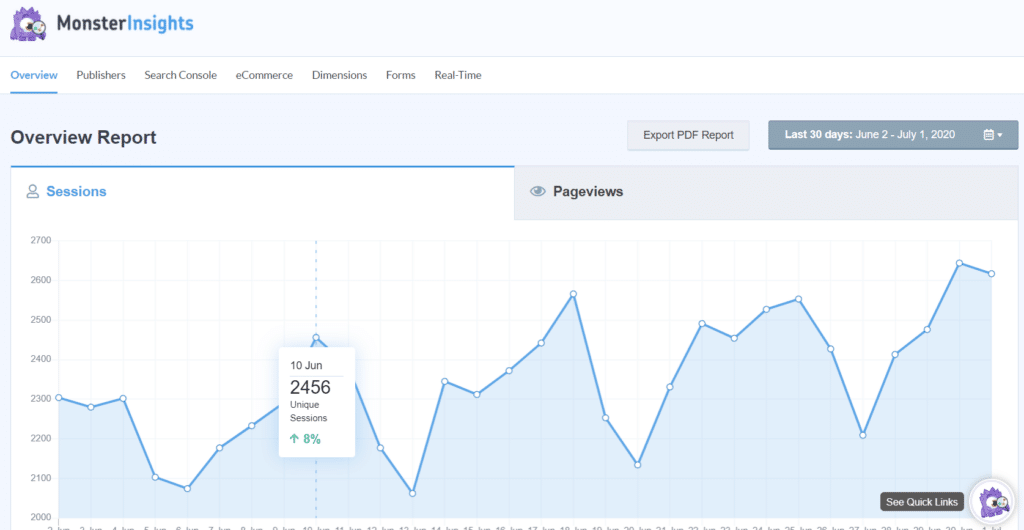 For instance, you can view the top referrals that send traffic to your website. This helps you measure your marketing efforts and open new opportunities to form partnerships or submit a guest post.

And you can also view your top posts and pages that get the most visits. Using this information, you can see which content people like, so you can create more posts on similar topics.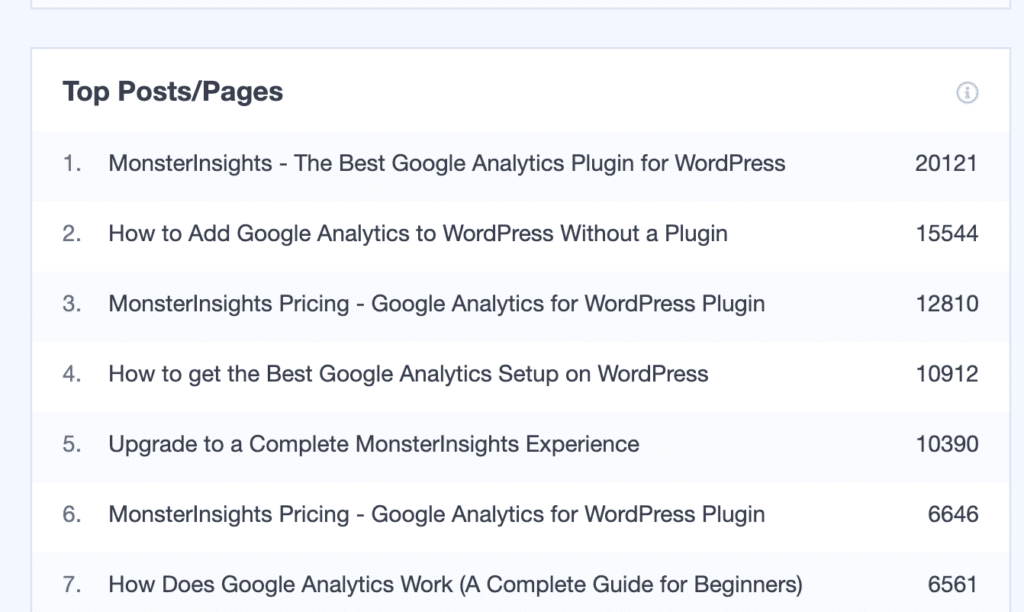 Publishers Report
If you have a blog website, then MonsterInsights offers more insights to grow your business. With its Publishers report, you can see your top-performing landing pages along with their total visits, average visit duration, and bounce rate.
But what sets MonsterInsights further apart from Analytify is its reporting capabilities to show your top outbound links, top affiliate links, and top download links.
MonsterInsights automatically tracks these metrics for you, so you don't have to spend several hours trying to manually set up tracking. In Analytify, you don't get these features or their reporting.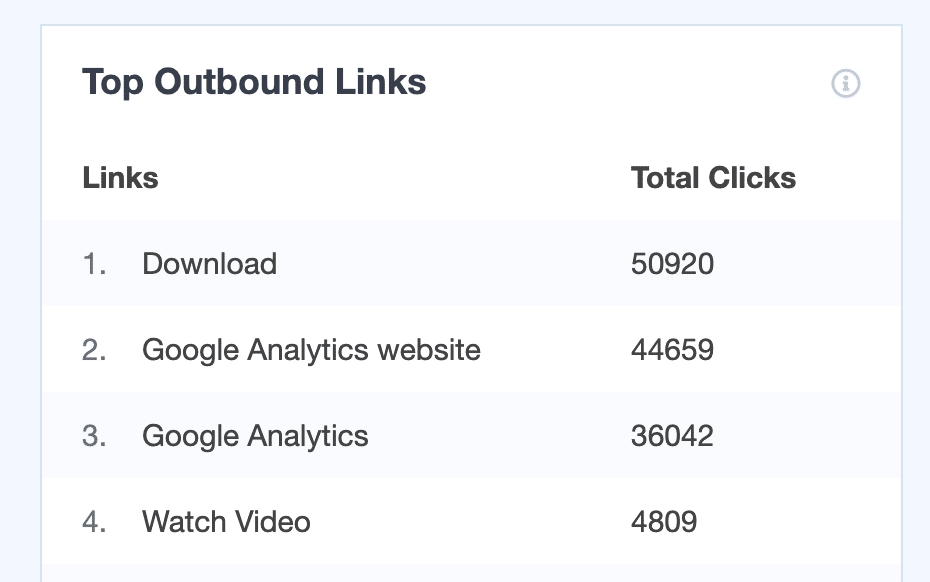 Besides that, you also get demographic data, interests, and scroll depth tracking in the MonsterInsights Publishers report.
Demographic data shows the average age of your visitors and their gender. Interest reports tell you what your visitors are interested in.
And as for scroll tracking, you get to know how far down the page people are reading your content before they exit your website. This information is important for placing CTAs (calls to action) and other marketing messages, so you get more clicks and conversions.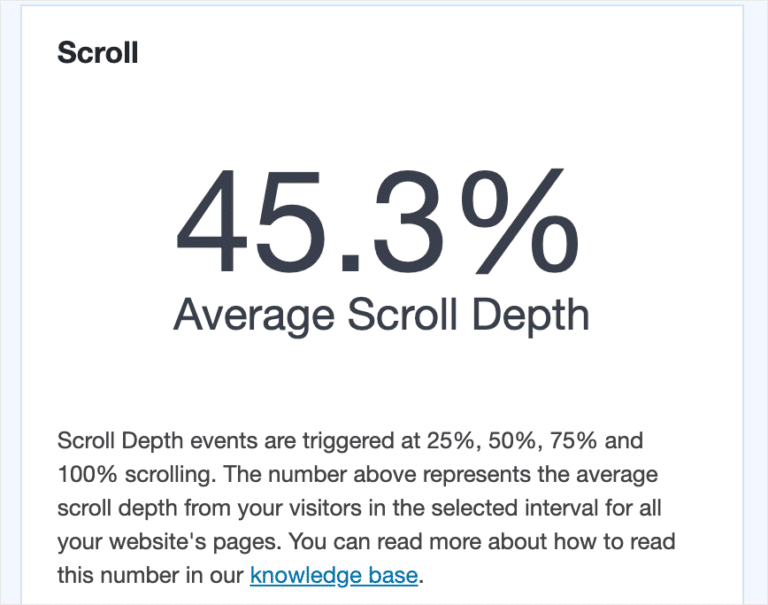 Search Console Report
Another report that you won't find in Analytify is your Search Console report. It shows your site's top 50 search terms on Google. For each keyword, you can view the number of clicks, impressions, CTR (click-through-rate), and average position.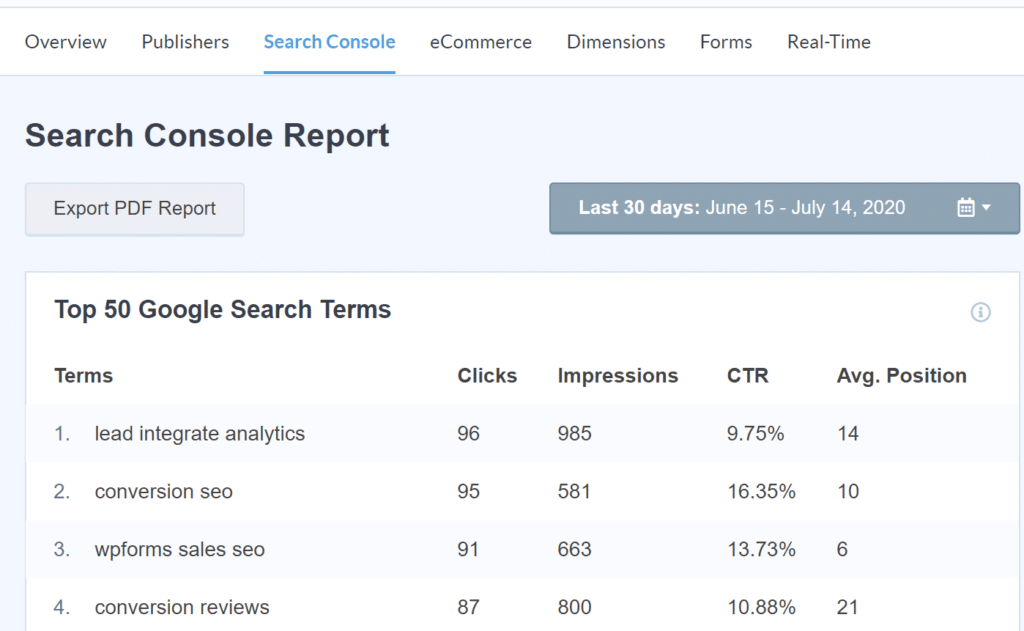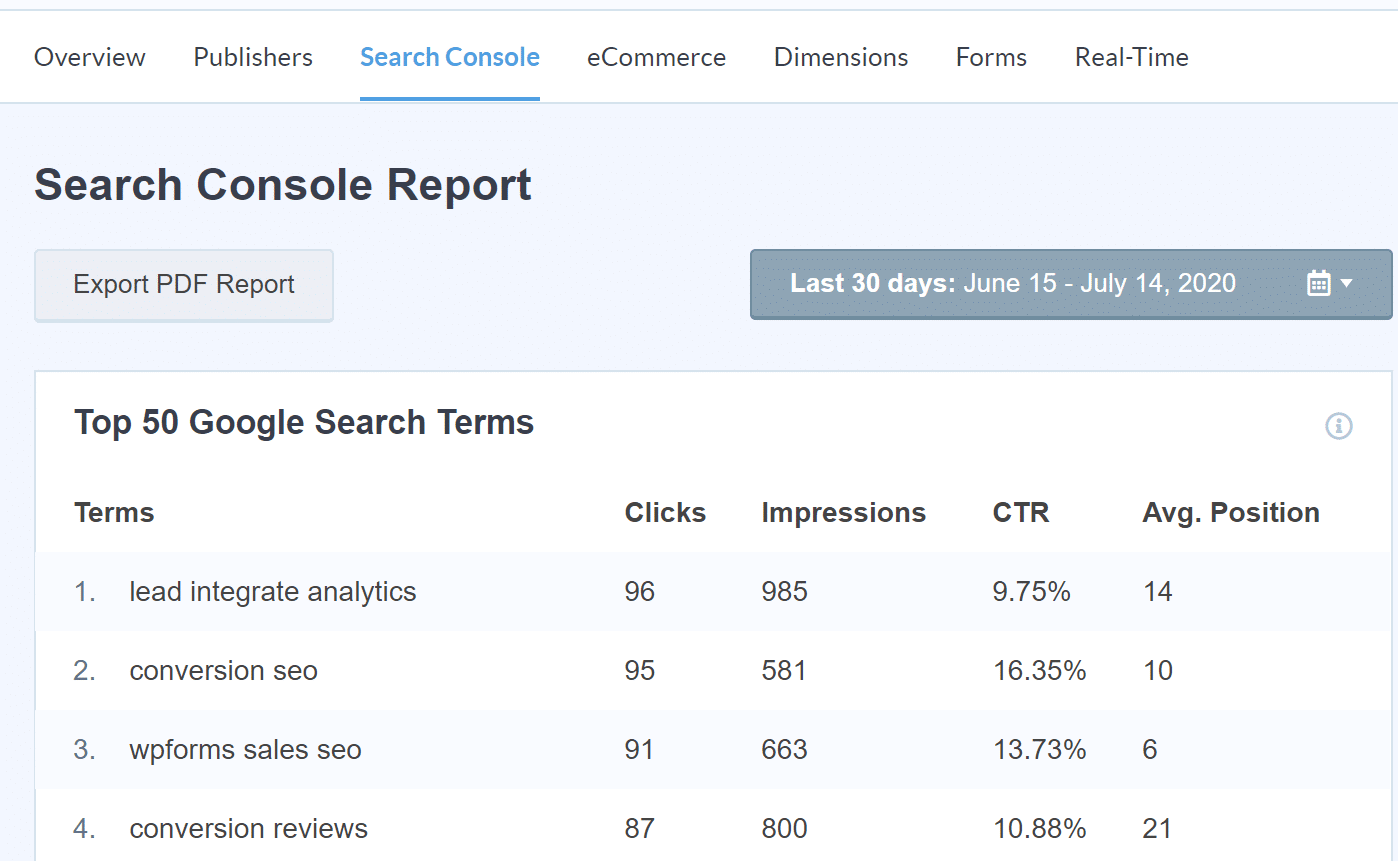 It helps you identify keywords to target on your website and increase your organic traffic. You can also optimize your current keywords that are on Google's 2nd page and are close to moving to the top 10.
eCommerce Report
Now, Analytify also offers an eCommerce report that you can view in your WordPress dashboard. But you get basic stats about the performance of your eCommerce store.
That's not the case with MonsterInsights. Thanks to its eCommerce addon, it automatically detects eCommerce stores on your WordPress website and provides detailed insights.
For instance, you can view which products are popular and driving a lot of revenue on your online store.

And you can also see top conversion sources. These are websites that are sending traffic to your store and generating revenue.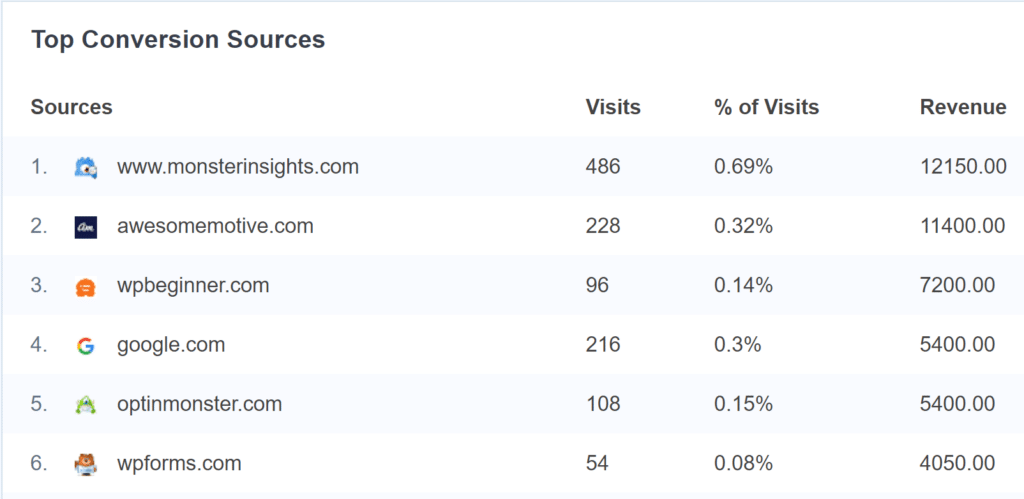 Dimensions Report
If you want to track additional information in Google Analytics, then you can easily create custom dimensions through MonsterInsights.
And to view their stats, you can use the Dimensions report. So let's say you want to know which author drives the most traffic. Through custom dimensions, you can track each individual author.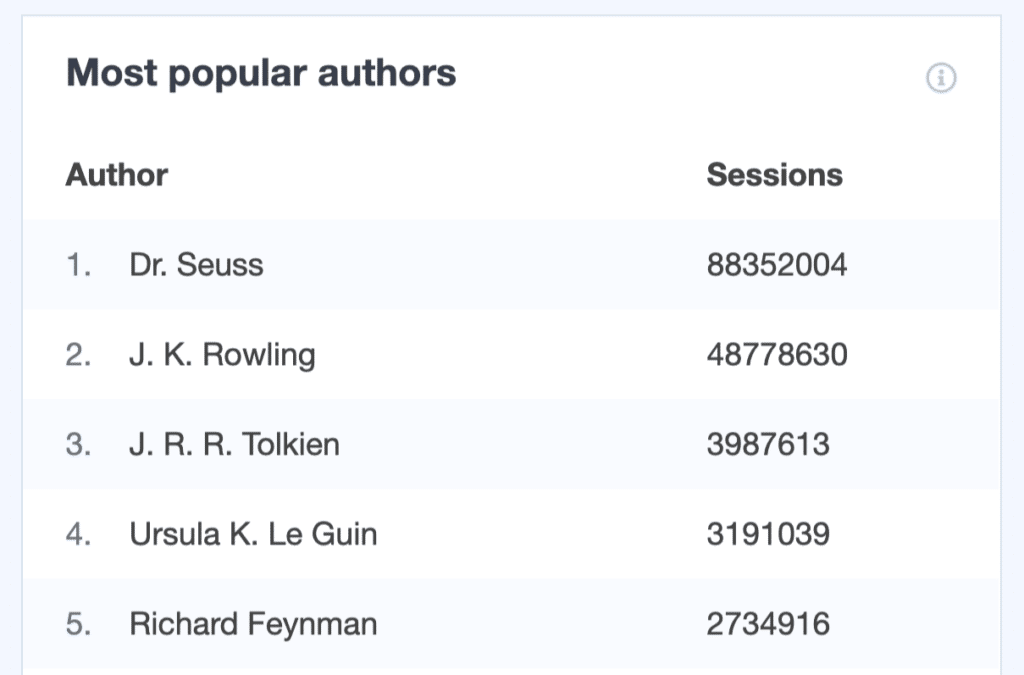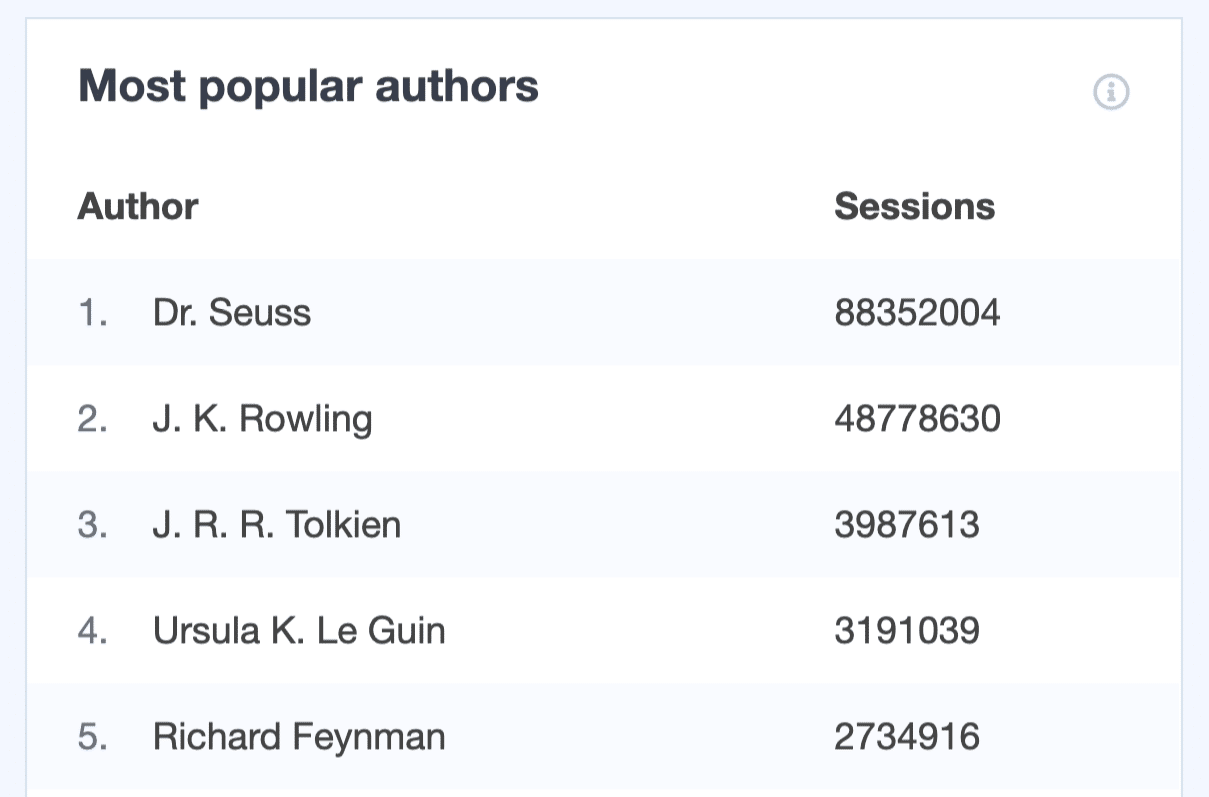 Or if you want to understand which post type is most popular, then you can track them via custom dimensions.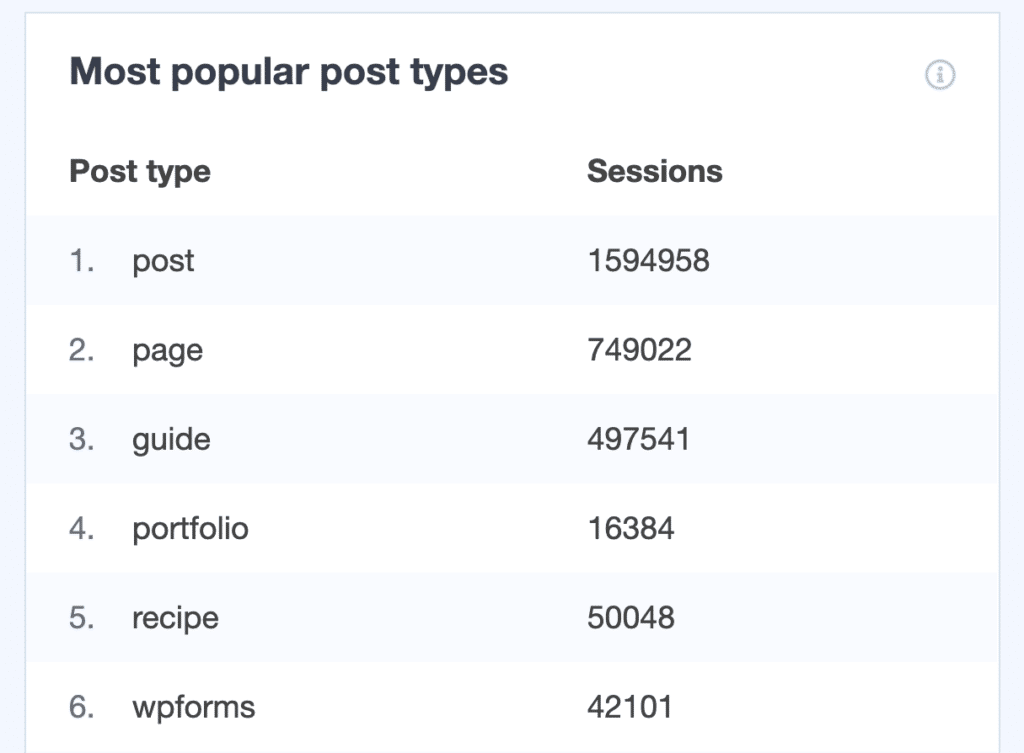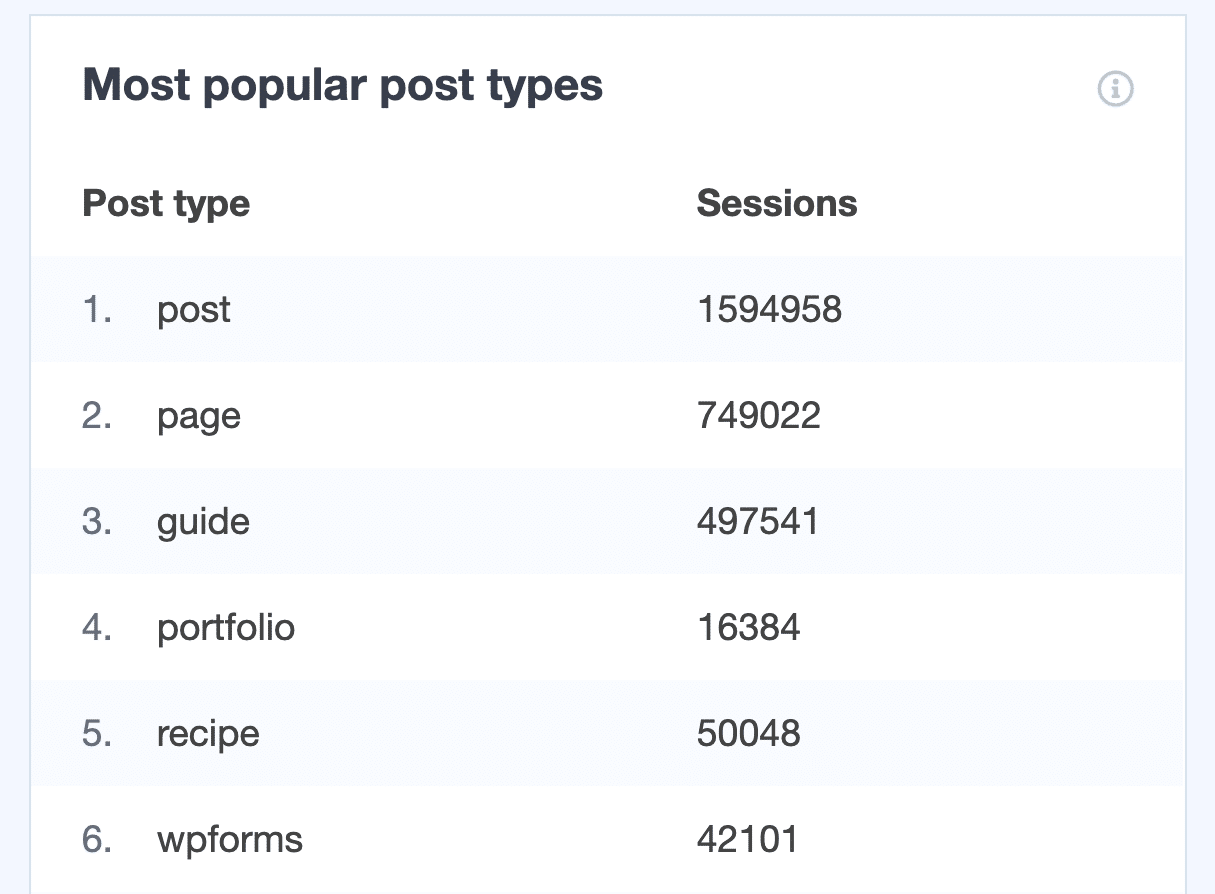 Forms Report
Now, do you have forms on your website and want to know how they're performing? MonsterInsights automatically tracks them through its Forms addon.
With a click of a button, you get to track form conversions in WordPress. And it works seamlessly with popular form plugins like WPForms, Gravity Forms, Formidable Forms, and more.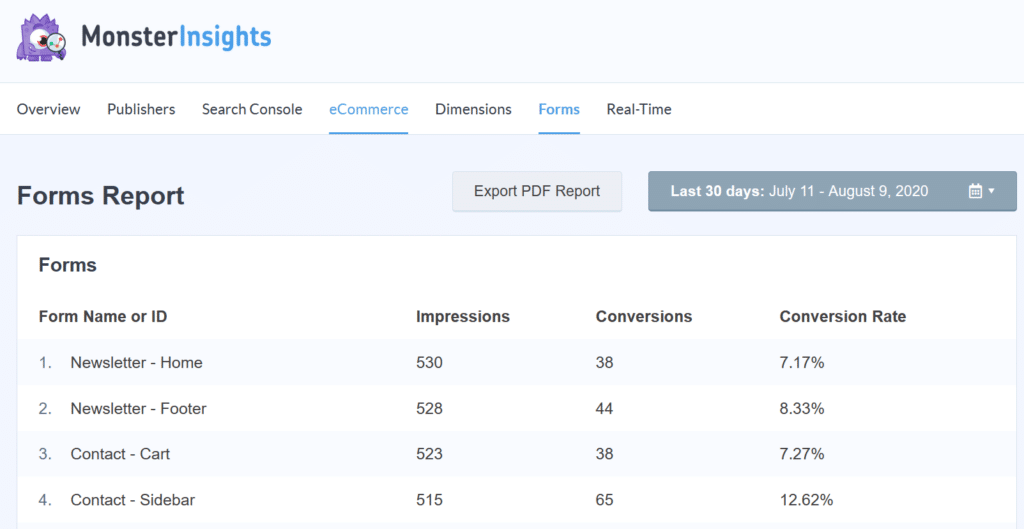 For each form, you can see its number of impressions, conversions, and conversion rates. Then using this data, you can optimize forms that aren't performing while replicating forms that are doing well.
3. Data Accuracy: Which Plugin is More Accurate?
When we compare MonsterInsights vs. Analytify, you might be wondering which plugin offers the most accurate tracking and reporting.
MonsterInsights comes out on top with features that ensure you get accurate data at all times. For starters, you can select from its settings to exclude user roles from tracking.
You can specify Google Analytics not to track administrators, editors, writers, and other roles. This way your data is not skewed and remains accurate.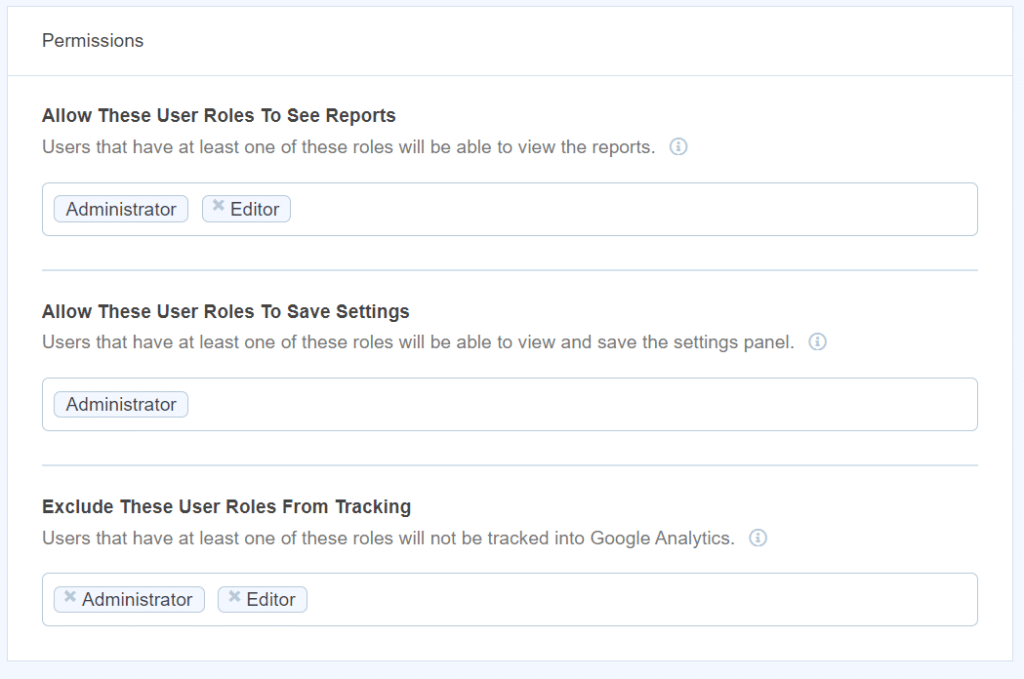 And if you have Google AMP (accelerated mobile pages) enabled on your website, Google Analytics would often count those visitors twice and mess up the accuracy of your data. But with MonsterInsights AMP addon, you can make sure your traffic stats are correct and visitors aren't tracked twice.
Besides that, if you have a website that gets tons of traffic and exceeds Google Analytics processing limits, then using MonsterInsights Performance addon, you can adjust the sample rate and site speed sample rate.
4. GDPR and CCPA Compliance: MonsterInsights vs. Analytify
Another area where you would want to look at MonsterInsights and Analytify is which plugin can help you make your WordPress site GDPR and CCPA compliant.
Since Google Analytics records personal information like IP addresses, age, gender, device, and more about users, it's important to comply with different data protection laws around the world.
And if you're going to use a Google Analytics WordPress plugin, then you'd want to make sure you meet all the requirements. In Analytify, you have an option to anonymize IP addresses and disable User ID tracking. But that's it.
In MonsterInsights, you get more options to make sure Google Analytics is GDPR compliant on your website. Using its EU Compliance addon, you can not only anonymize IP addresses, but also disable author name tracking, demographics and interest reports, and much more.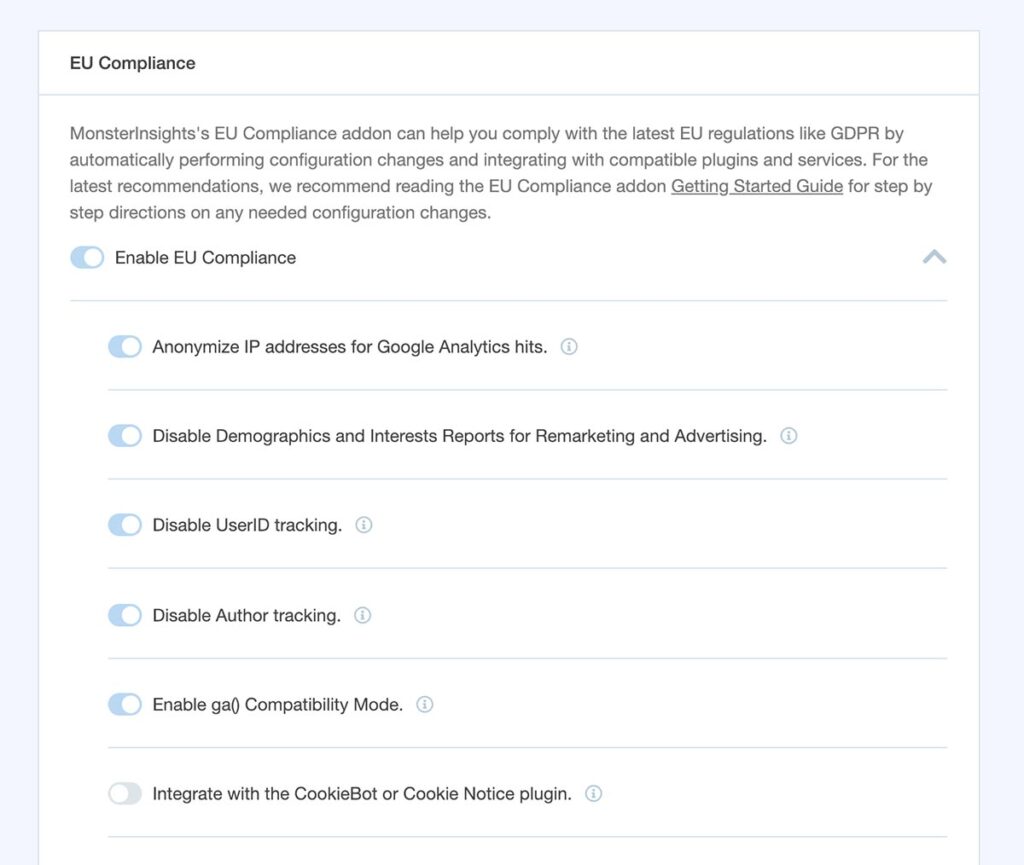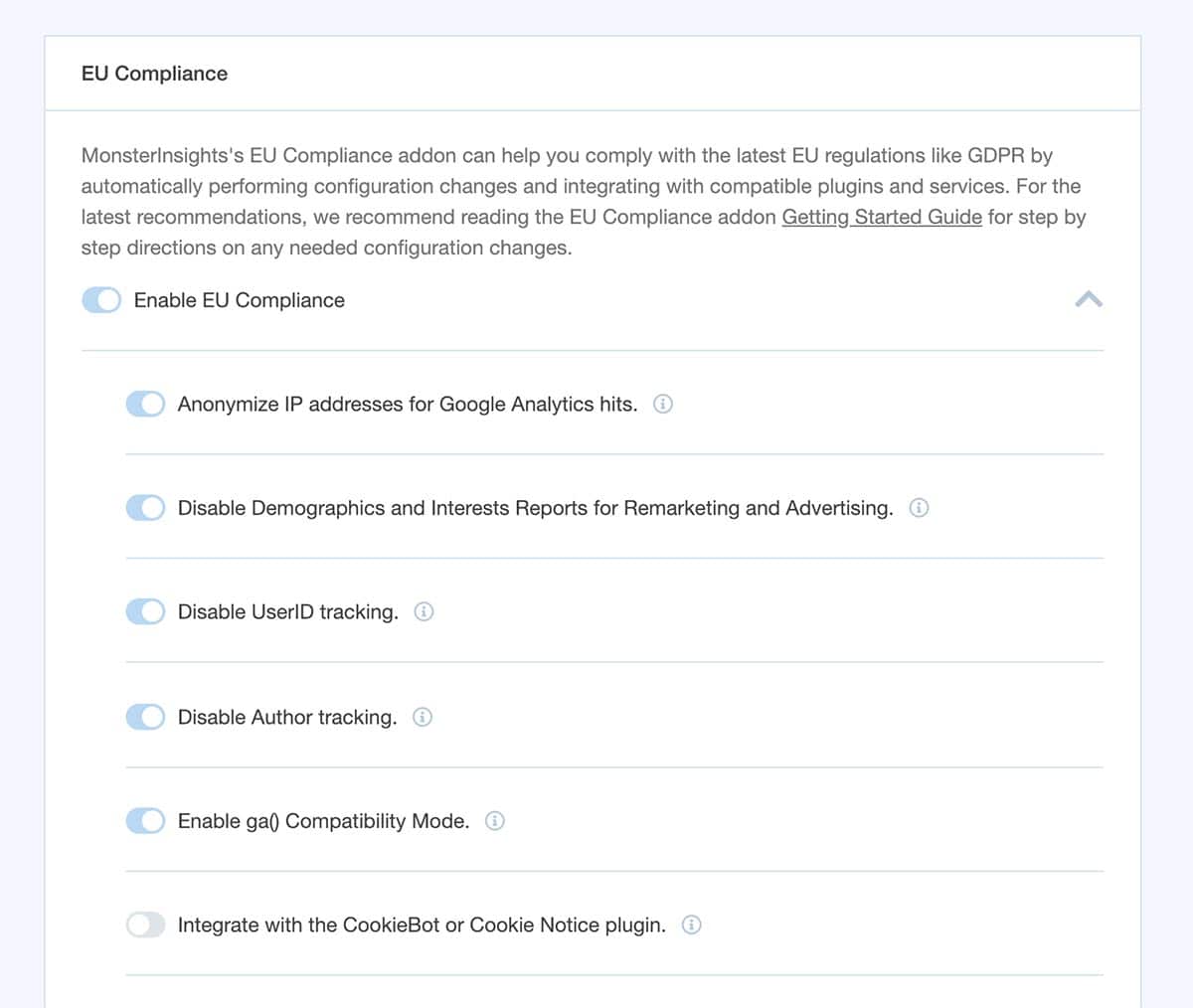 The addon also integrates with other plugins like CookieBot and Cookie Notice. So, it will run Google Analytics tracking script only when a user gives consent.
You can also go through our post on how to make sure your Google Analytics complies with CCPA.
5. Export and Share Reports with Others
Now, what if you want to export your dashboard reports or share them with others? In MonsterInsights, you get the option to export any report (except real-time report) as a PDF file and save it on your device.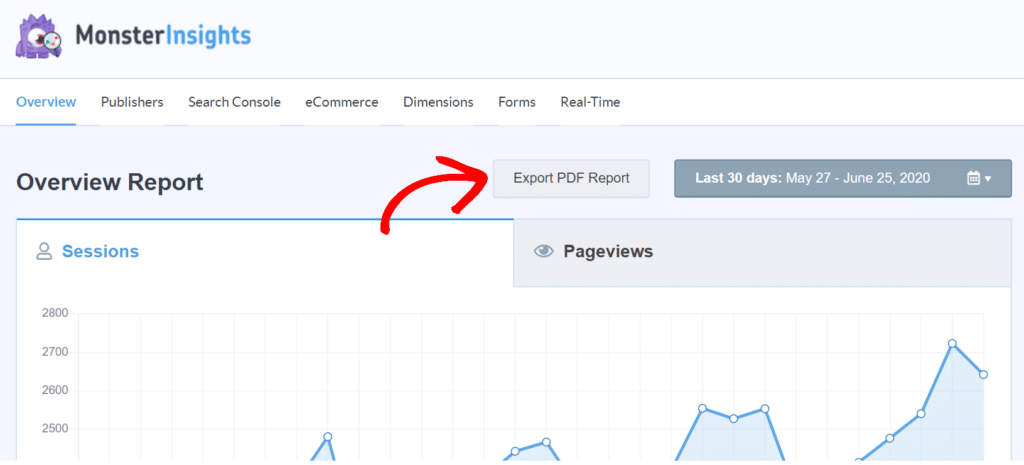 Besides that, you can send weekly analytics reports using MonsterInsights Email Summaries. You can send email summaries to up to 5 addresses.
It helps you save time by keeping you on top of your site's performance. And if you're running websites for your clients, then you can use email summaries to inform them about how their websites are progressing.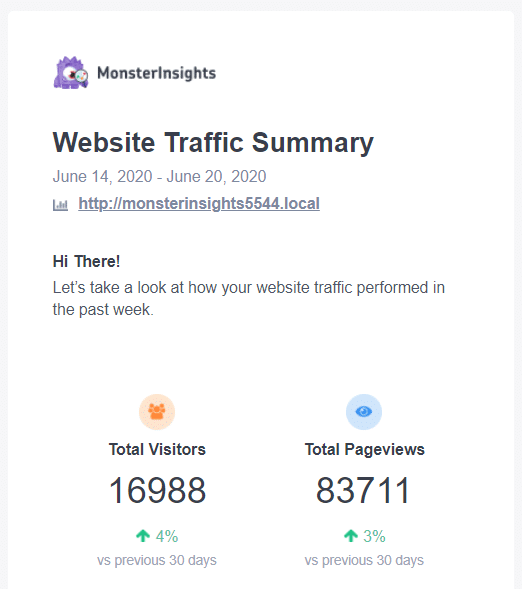 Check out our detailed guide on how to share Google Analytics reports with others.
Analytify vs. MonsterInsights: Which One is Better?
MonsterInsights is better than Analytify. It has more reports, more tracking options, and features that make owning and running a website easier.
And that's it!
We hope you liked our post on MonsterInsights vs. Analytify – which one is the best. You can also go through our comparison of MonsterInsights vs. Google Analytics – what's the real difference.
Don't forget to follow us on Twitter and Facebook for more helpful Google Analytics tips.