Do you want to view the traffic stats of your WordPress site? WordPress doesn't come with built-in analytics, so you'll need to install Google Analytics on your WordPress site.
But that can be tricky, especially for beginners. An easier way of connecting Google Analytics with WordPress is through a plugin like MonsterInsights.
In this article, we'll take a look at how to see the analytics on your WordPress site with an analytics plugin.
What is Google Analytics?
Google Analytics is a free tracking tool that gives you detailed reports of your website.
It's the most comprehensive analytics tool in the market and gives you several easy to understand reports about how visitors use your website.
With Google Analytics, you get detailed insights into your site traffic so you can make data-driven marketing decisions to boost sales and revenue.
A few features of Google Analytics are:
Now let's see how you can connect Google Analytics with your website.
How to Connect Your WordPress Site with Google Analytics
The easiest way to connect Google Analytics with WordPress is by using a WordPress analytics plugin like MonsterInsights. Without a plugin, you'd have to add code to your website manually.
MonsterInsights is the best Google Analytics WordPress plugin that makes analytics setup easy and also allows you to take the full advantage of various powerful Google Analytics features.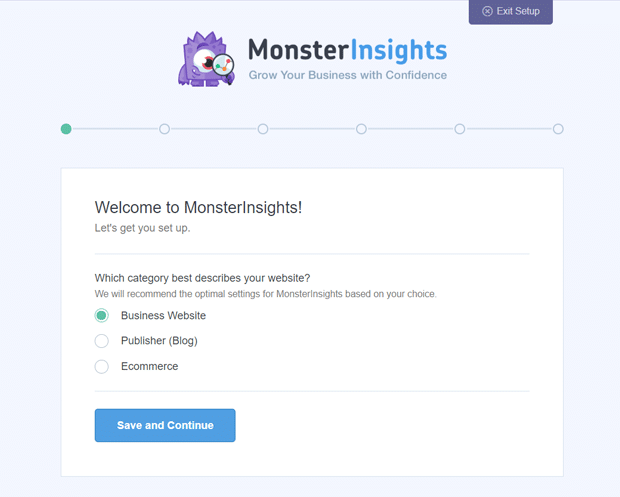 With MonsterInsights, you can connect your WordPress site with Google Analytics in just a few clicks, without even having to touch the tracking code.
Its setup wizard will guide you step by step, and within minutes you'll be able to see Google Analytics on WordPress.
You can follow this guide to learn how to connect your WordPress site with Google Analytics.
How to Use MonsterInsights to Find Stats on WordPress?
Once you've connected your site with Google Analytics using the plugin, you can see your analytics on your WordPress site.
MonsterInsights lets you see all the important information right in your dashboard screen. You can view the number of sessions, page views, bounce rate, and average session duration.
You can also navigate to other quick reports like top posts/pages, new vs. returning visitors, and device break downs.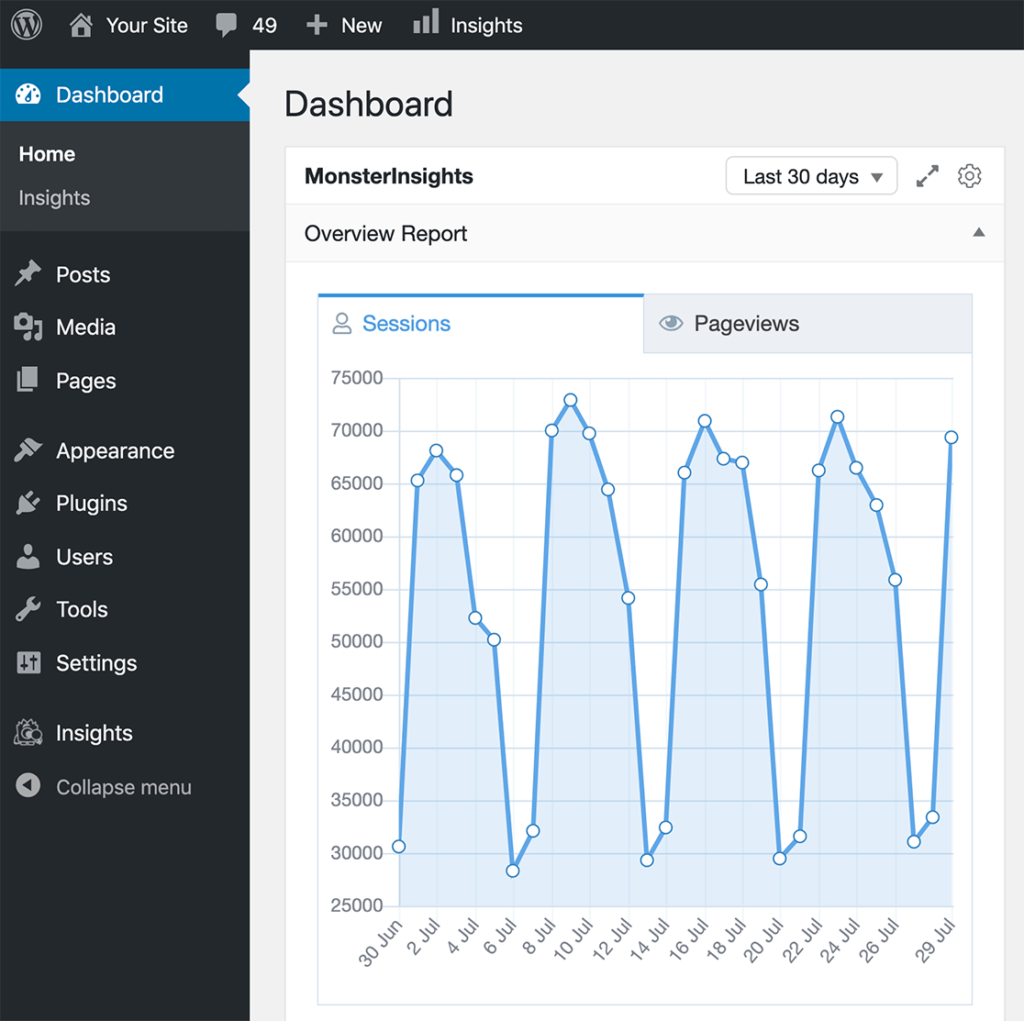 For more detailed reports, you head over to Insights » Reports menu from your WordPress dashboard. You'll see different reports offered by the WordPress analytics plugin.
Let's take a look at each of these reports and what benefits they provide.
Overview Report
The Overview report by MonsterInsights lets you see how your website is performing at a glance. It shows a more detail picture of reports you'd see on your dashboard home.
The report provides you with key information that can help in making an informed decision to boost your website's growth.
For instance, you find how many visitors visited your website or how much time do they spend on your site.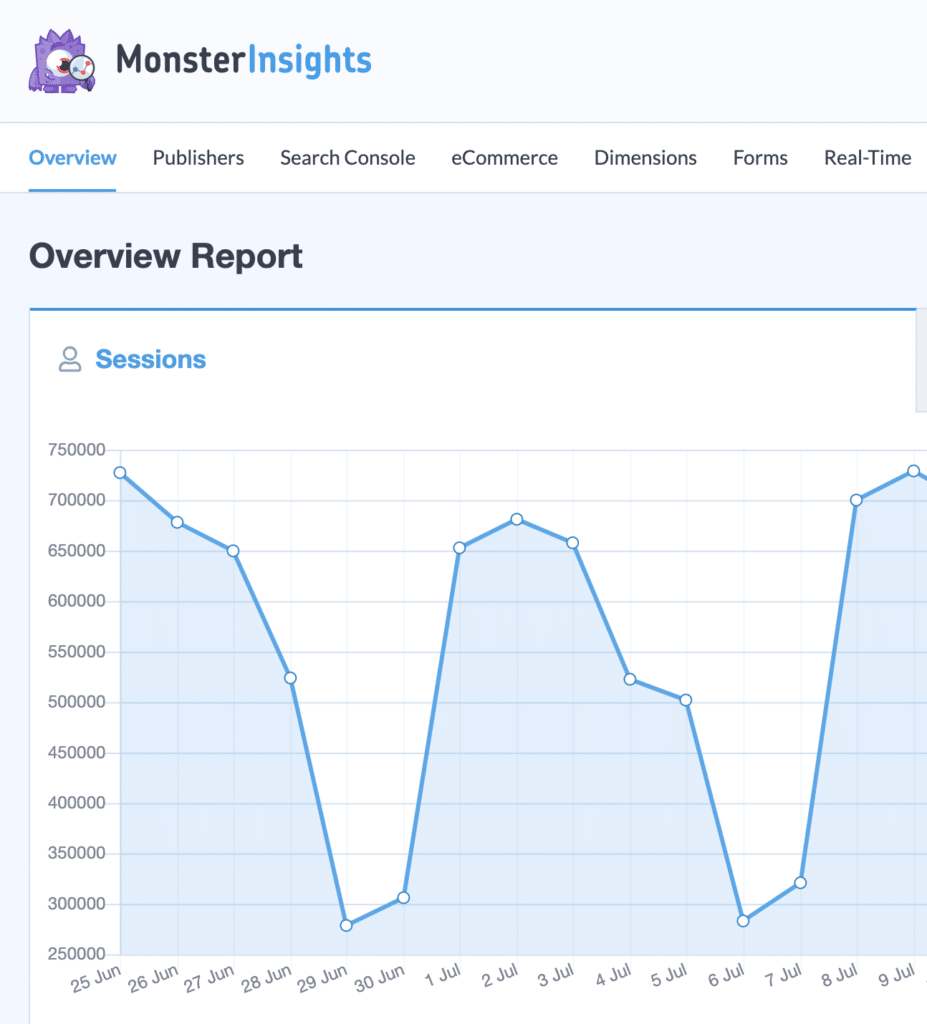 It will even show you which country your visitors are viewing your site, and which websites (referrals) send you the most traffic.

Additionally, it will show you pageviews, sessions, average session duration, and bounce rate. You can also see how many new and returning visitors came to your website and which device they used.

If you scroll to the bottom, the last report you'll see in Overview will be of top pages and posts. Using this report, you can find out which landing page or blog post is performing the best.
Publishers Report
If you navigate to the Publishers report tab, you will find more details about which content gets the most visits, along with their average duration, and bounce rate.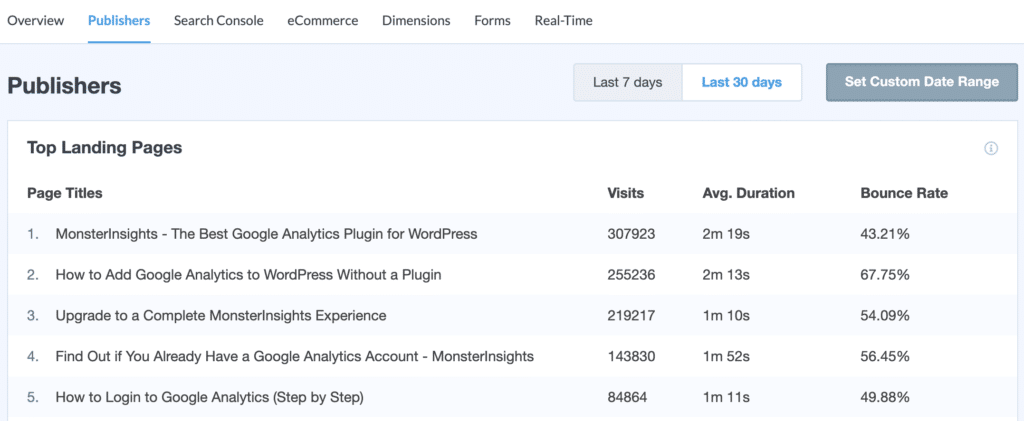 Not only that, but you can also see the top exit pages of your website. Using the information about exit pages, you can see where your visitors leave your website and optimize those pages to boost conversions.
MonsterInsights publishers report also helps you find new partnership opportunities with its outbound link tracking report. You can exactly see where you're sending users.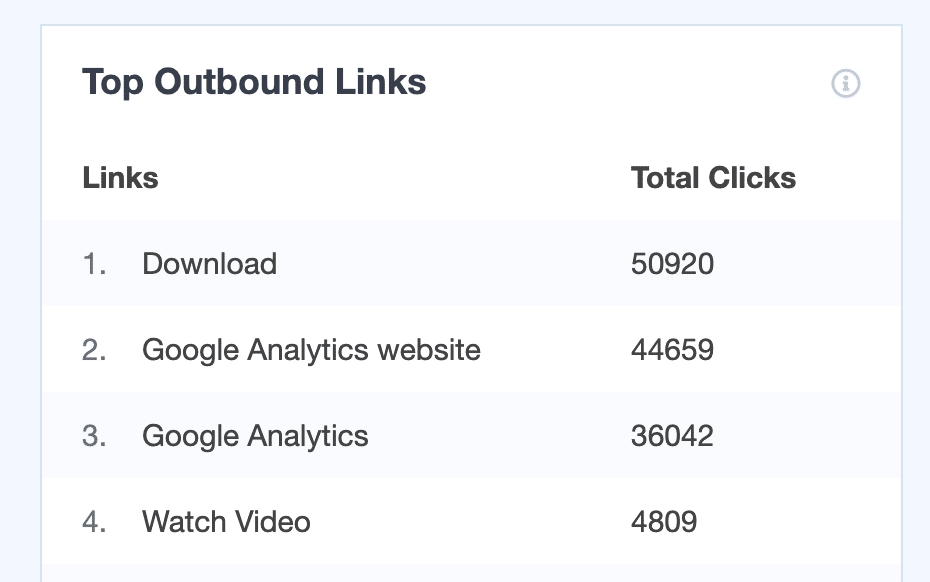 And with top affiliate links report, you can view your best-performing affiliates.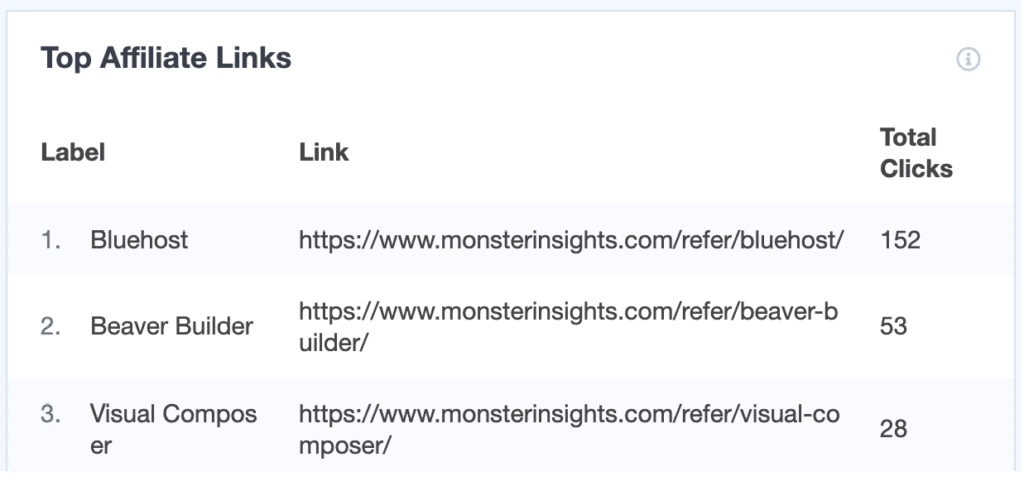 There are more reports under the Publishers tab. For instance, if you have multiple videos or eBooks on your website, you can see which one gets the most downloads.
And in other reports, you can see the age and gender of your visitors, their interests, and the average scroll depth of your website.
Search Console Report
With MonsterInsights WordPress plugin, you can view Search Console reports and see which search terms your website is ranking on Google.
For each search term, you can also view the clicks and impressions it received, its click-through-rate (CTR), and average position on Google.
Using this report, you can optimize your SEO efforts and improve your website's rankings.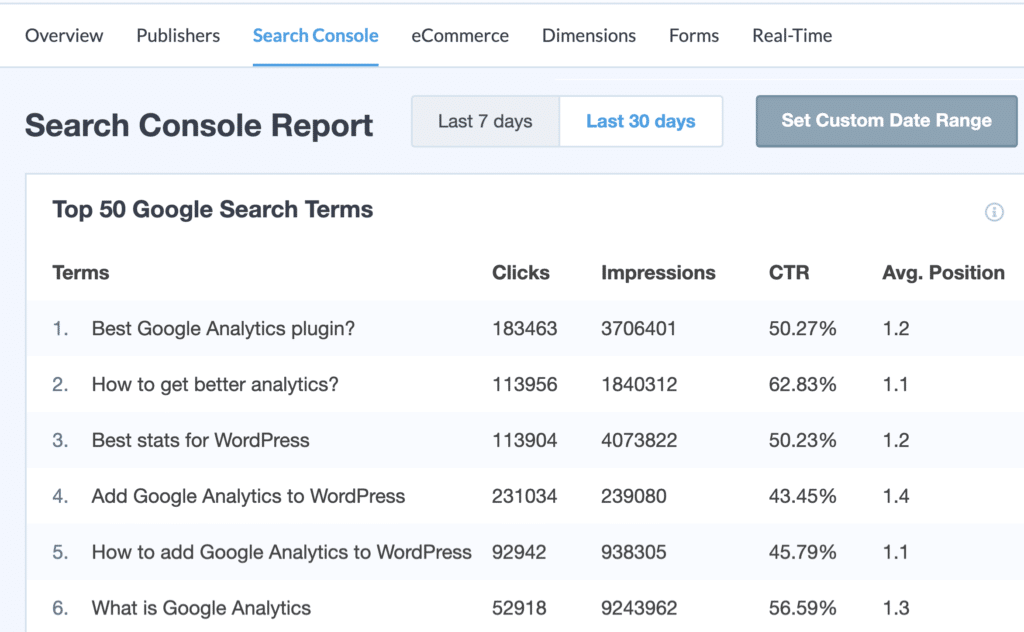 Ecommerce Report
MonsterInsights offers an exciting Enhanced Ecommerce addon that lets you view your online store's performance with a single click in WordPress.
Do note that you'll need MonsterInsights Pro plan to use the addon.
Once installed, you use eCommerce report to track your conversion rate, transactions, revenue, and average order size. And see which products perform the best on your store.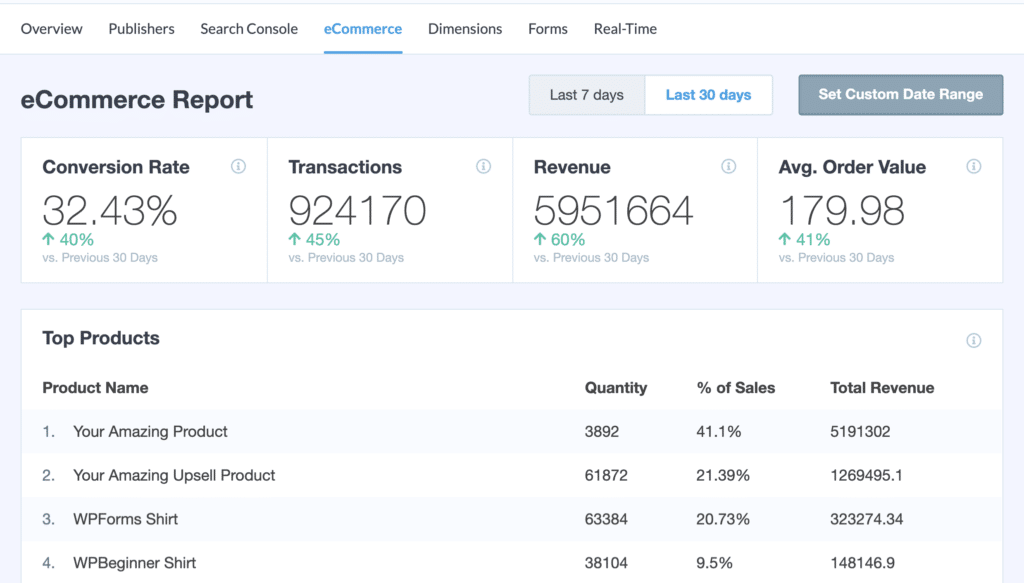 The report also gives you information about the website from where your visitors convert the best.
It also helps you find the best time to purchase and session to purchase, so you can optimize your store to boost sales.
Forms Report
Another amazing addon offered by MonsterInsights is its Form tracking reports, which is available in the Pro plan.
With Forms tracking, you get analytics about how well different forms are performing on your WordPress website.
You can view each forms impressions and conversion rates, and optimize the forms that aren't doing so well.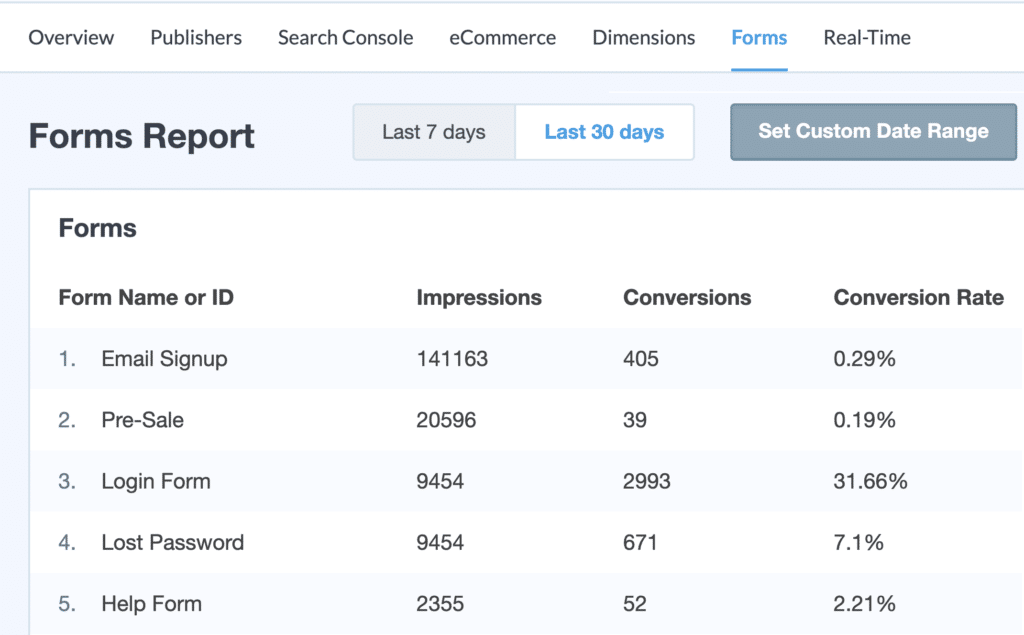 Dimensions Report
If you are looking to dig deeper to get useful insights, then you can track custom dimensions using the MonsterInsights Dimensions report.
With custom dimensions, you can track your most popular authors, blog categories, tags, and much more. See our guide on how to set up custom dimensions to get started.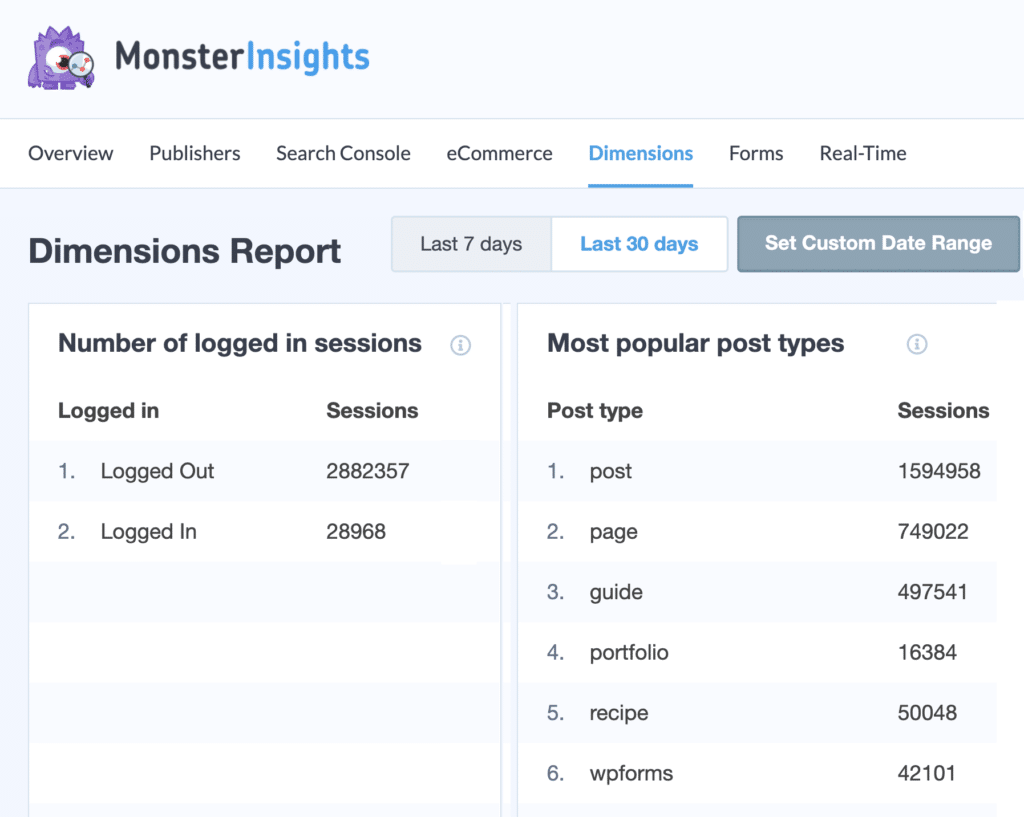 Real-Time Report
Using MonsterInsights WordPress analytics dashboard, you can track visitors in real-time.
The Real-Time report shows how many active users are on your site at that very moment.
You can also view the pages they are on, which referral source they are coming from and which country and city they belong to.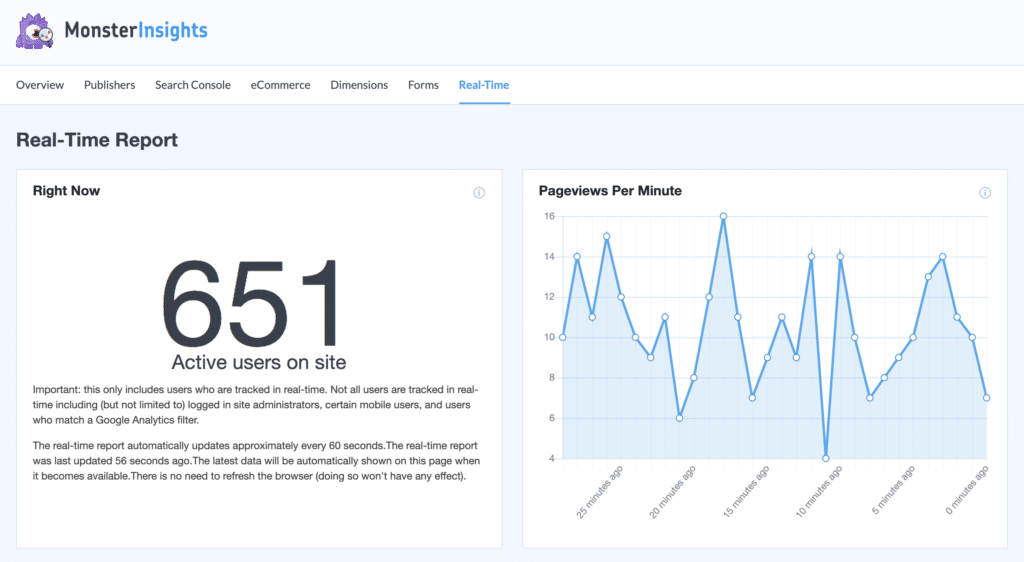 And that's it!
We hope this post helped you learn how to see the analytics on your WordPress site.
With MonsterInsights, the best WordPress analytics plugin, you can view reports and get amazing insights about your website right in your dashboard.
If you liked this article, then you might also want to check out how to add Google Analytics to WordPress without a plugin and how Google Analytics works.
And don't forget to follow us on Twitter and Facebook for more Google Analytics tutorials.