Want to track how many times visitors download your ebook or any other files on your website?
MonsterInsights lets you accurately track your file downloads with Google Analytics.
In this post, we'll show you how to track file downloads in Google Analytics. By the end of the guide, you'll know which type of content your users like, so you can increase the number of downloads.
Why Should You Track File Downloads?
If you're offering downloadable resources to your visitors, you'll need to know if they're actually downloading them.
Out of the box, Google Analytics doesn't support file downloads tracking automatically. That's because files can't request a tracking pixel, which is a short code snippet needed to track users' behavior.
As a result, nothing is recorded in Google Analytics and downloads aren't tracked.
But with MonsterInsights, you can easily enable file downloads tracking in Google Analytics without having to touch a single line of code.
A few benefits of file downloads tracking are:
Discover how popular your downloadable resources are
Find out which content type you should offer more and which one is a waste of your time
Save your time and money by only producing the downloads your audience actually wants
Now let's take a look at how you can start to track file downloads on your WordPress website.
Video Tutorial
You can also go through the written tutorial if you don't watch the video.
How to Track File Downloads on Your Website
To enable file downloads tracking, the first thing you need to do is to properly set up Google Analytics in WordPress using MonsterInsights.
After the setup, file downloads tracking will be enabled automatically and they will be tracked as events. But the good part is that you don't have to do any further configuration, as MonsterInsights will take care of it.
In Google Analytics, events tracking are used to measure user interactions with content like downloads, mobile ad clicks, video plays, etc.
Add More File Extensions to Track as Downloads
By default, MonsterInsights lets you track downloads of the following file extensions: doc, pdf, ppt, zip, xls, docx, pptx, and xlsx. But you can add more extensions that you want to track.
To add file extensions in MonsterInsights, go to Insights and then click Settings. Then select Engagement from the top menu and scroll down to File Downloads.

Here you can see the default extensions of files that the plugin will track. Add more extensions that you want to track on your website (separated by commas).
How to View File Downloads in WordPress
Now that you're tracking is set up, you can view your Top Downloads report by following these steps:
Step 1: Navigate to Insights » Report » Publishers Report.
Step 2: Scroll down to see your downloads.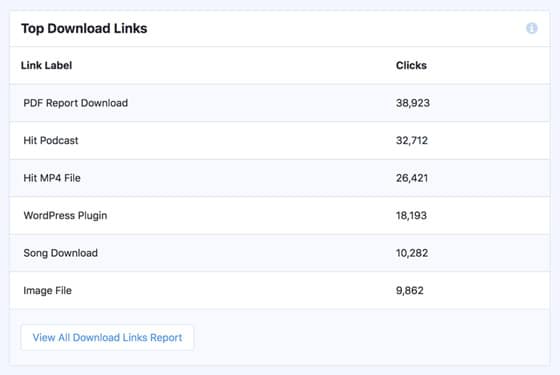 The report will then show you the top download links on your site. You can then use the data to create similar content that gets you the most downloads.
It also helps you plug gaps in your content as you can create or repurpose the type of content.
How to View File Downloads in Google Analytics
To view file downloads, log in to your Google Analytics account and select the website where you'd like to track file downloads.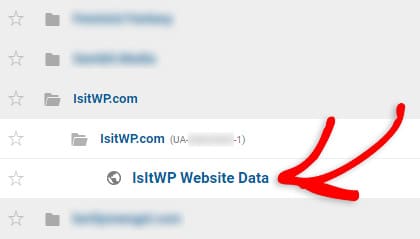 If you've enabled downloads tracking as pageviews, you can find out the downloads report in the All Pages report along with other blog posts and pages.
This report can be accessed by navigating to Behaviour » Site Content » All Pages.
If you've enabled downloads tracking as events, you can see the downloads data in your events report.
In your event reports, navigate to Behavior » Events in the left panel. You'll now see four different options.
Overview: It gives you a summary of top events data of your site
Top Events: It shows you a list of events that keep your visitors engaged on your site
Pages: It shows you a list of pages in which your downloadable resource is hosted. In other words, it is a list of posts and pages where the events occur on your site.
Events Flow: The events flow report helps you discover which events keep your visitors engaged with your site. It also visualizes the path users take from one popular event to another.
To get a detailed report, click on Top Events.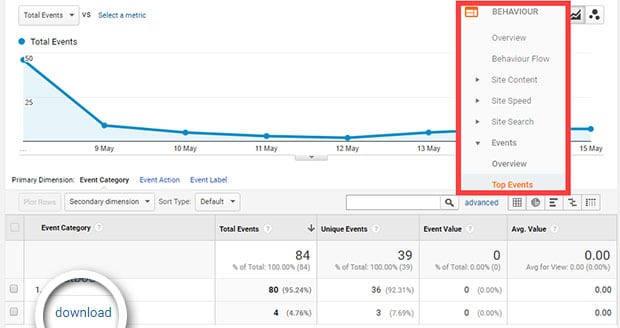 Then, click downloads to get a detailed report.

The Anatomy of File Downloads Tracking With MonsterInsights
In your events report, you can see that all file downloads are being categorized as download.
For example, take a look at the file downloads tracking report in Google Analytics below.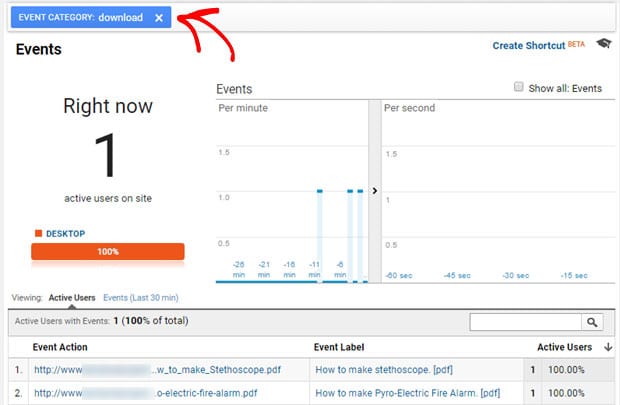 It is a screenshot of real-time Analytics stats, so you can figure out how downloads data are being shown in Google Analytics.
There are several important components in every event report whether it be downloads, ad clicks, video play or any other. They are:
Event category: As mentioned, every file download is categorized as downloads.
Event action: It is the full URL of the file you'd like to track. For example:
<a href="http://example.com/my-ebook.pdf">Download My Ebook</a>
Here, the event action is: http://example.com/my-ebook.pdf
Event label: It is the label of a href attribute. In the above example, the event label is Download My Ebook.
That's it!
We hope that you liked our guide on how to track file downloads in Google Analytics. If you want, you can also check out our article on how to track links and button clicks in Google Analytics.
And don't forget to follow us on Twitter and Facebook for more Google Analytics tutorials.