Want to track how many times visitors download your eBook, PDF, or any other files on your WordPress website in Google Analytics? The MonsterInsights plugin lets you easily and accurately set up Google Analytics download tracking in just a couple clicks.
In this post, we'll show you how to track file downloads on your WordPress website with MonsterInsights and Google Analytics. Then, you can use that data to improve your marketing campaigns and your website.
Start Tracking File Downloads Today!
Can Google Analytics Track Downloads?
Google Analytics 4 does now have built-in download tracking. However, even though you can turn on download tracking, it's difficult for many users to figure out how those downloads are reported, and where to find that data.
If you do turn on file download tracking, Google Analytics will report those numbers for you in their Events report, which looks something like this: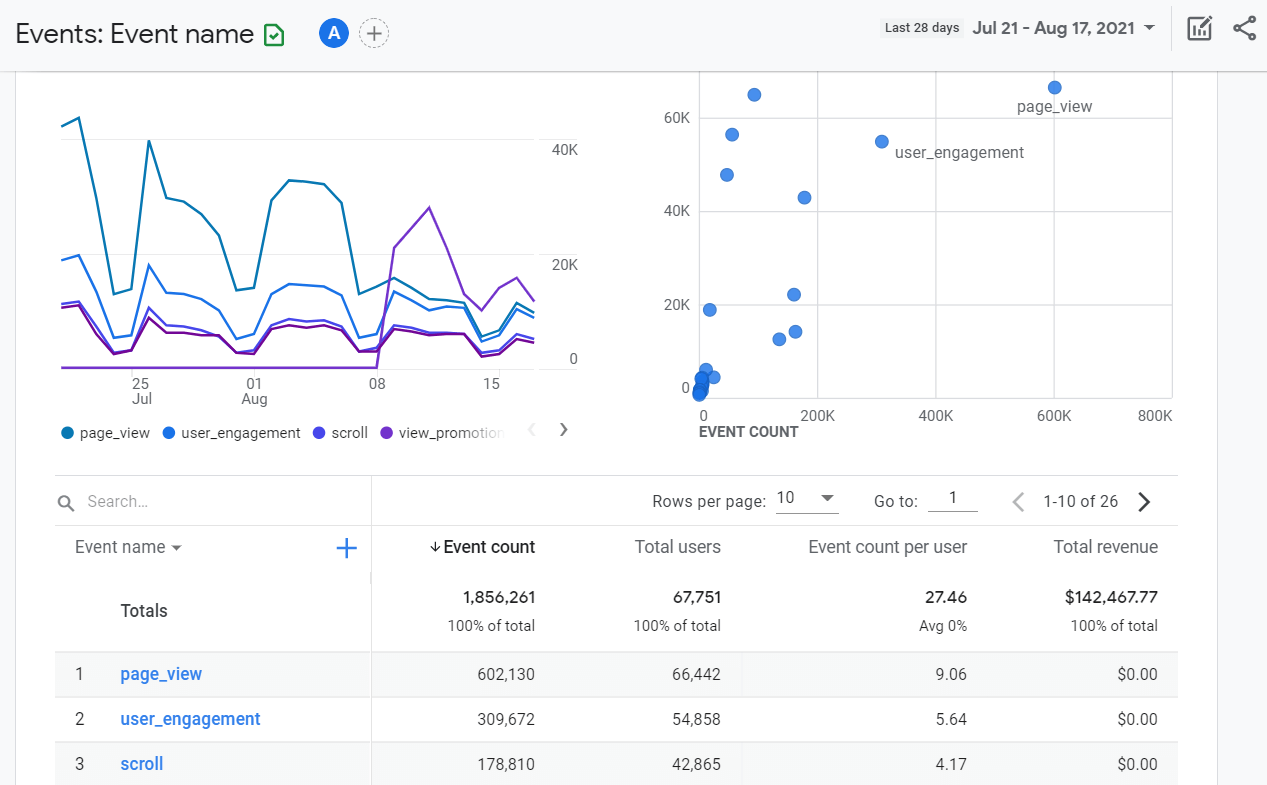 Looking for an easier, faster, better way to see how many users are clicking the download links on your WordPress site?
With MonsterInsights, you can easily start tracking downloads in Google Analytics without having to touch a single line of code.
A few benefits tracking file downloads are:
Discover how popular your downloadable resources are
Find out which content type you should offer for download more often and which one is a waste of your time
Save your time and money by only producing the downloads your audience actually wants
Now let's take a look at how you can start to track file downloads.
Download Tracking Video Tutorial
How to Track WordPress File Downloads in Google Analytics
The easiest way of tracking file downloads in Google Analytics is by using a WordPress plugin. MonsterInsights is the best Google Analytics WordPress plugin, and it makes it very easy to see which files people like to download the most.
Step 1: Install and Activate MonsterInsights
First, you need to download and install MonsterInsights on your WordPress website. You can find the setup file in your account area under the Downloads tab.


Next, you'll have to upload the plugin to your WordPress website. To do that, go to your WordPress admin area and navigate to Plugins » Add New » Upload Plugin.
After that, choose the MonsterInsights file you just downloaded and click the Install Now button.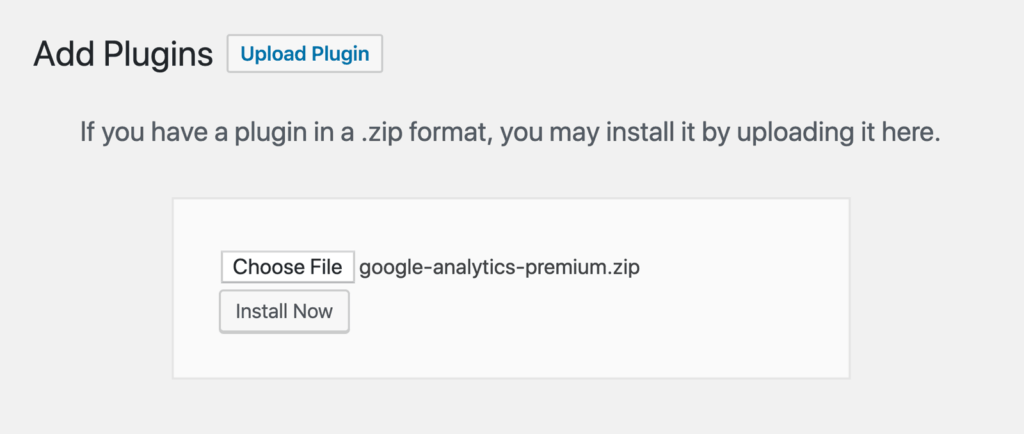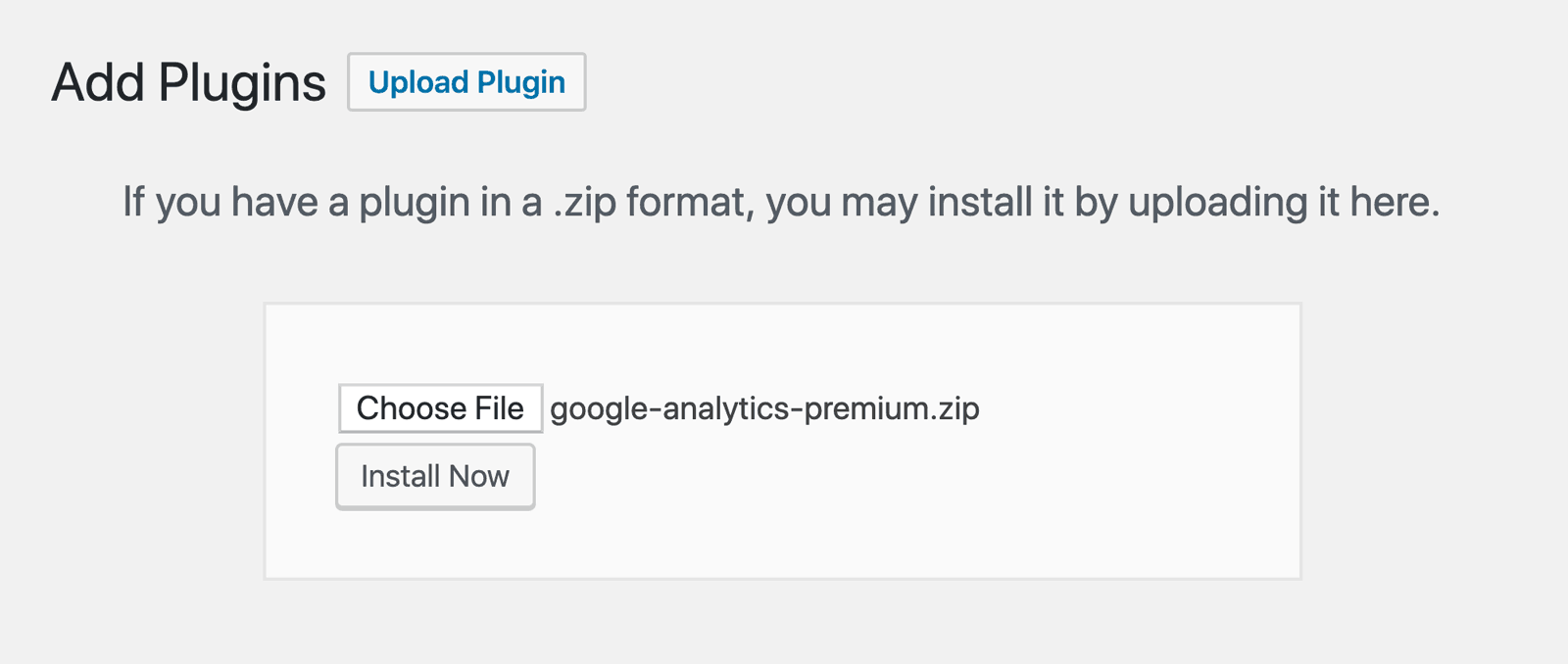 Now activate MonsterInsights by clicking the Activate Plugin button.

Step 2: Sign Up for Google Analytics & Connect to MonsterInsights
Next, you will have to connect Google Analytics to your WordPress website using MonsterInsights.
Before you do that, you'll need to sign up for a Google Analytics account if you don't have one already.
After creating an analytics account, you can use MonsterInsights to add the tracking code to your website. The plugin makes it super easy to set up Google Analytics, and you don't have to touch a single line of code.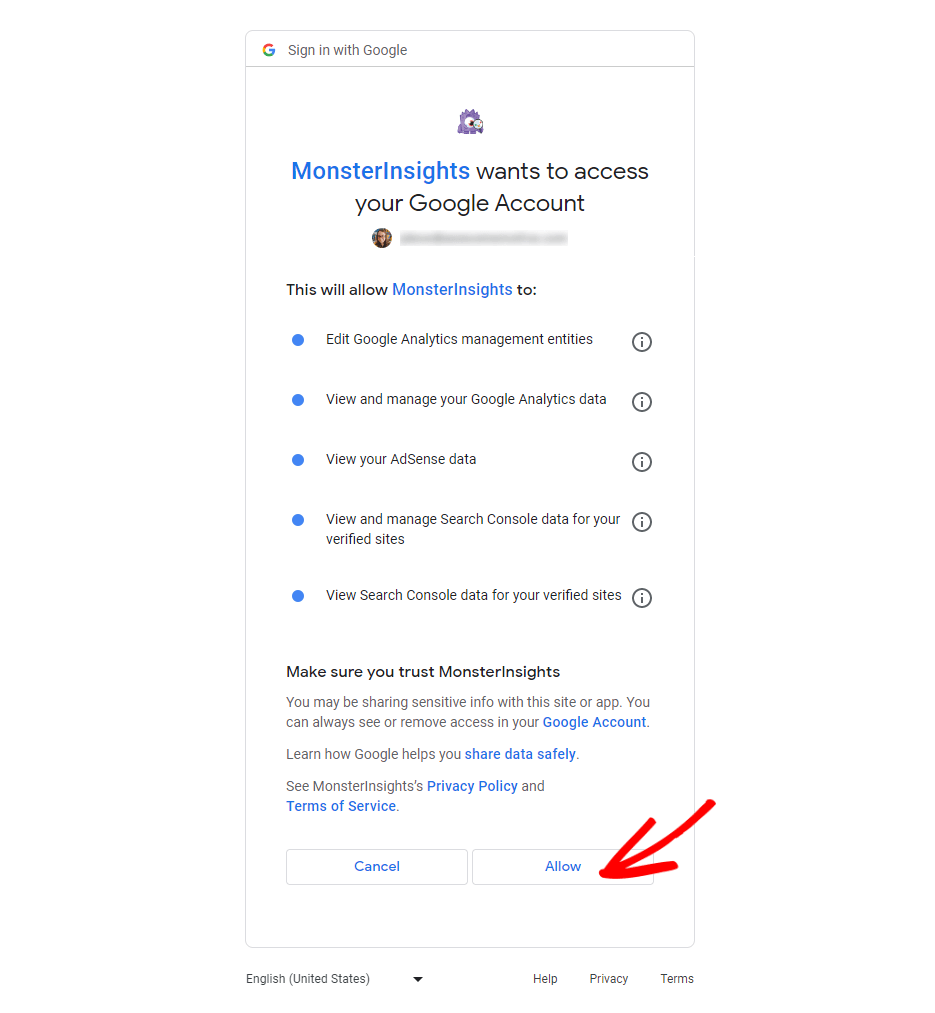 For more details, refer to our guide on how to set up Google Analytics in WordPress using MonsterInsights.
After the setup, MonsterInsights will enable file download tracking automatically, and downloads will be tracked as events. The best part is that you don't have to do any further configuration, as MonsterInsights will take care of it.
Step 3: Add More File Extensions to Track as Downloads
If you'd like, you can add more file extensions to track in MonsterInsights.
By default, MonsterInsights tracks downloads of the following file extensions: doc, pdf, ppt, zip, xls, docx, pptx, and xlsx. But you can add more extensions if there are more that you want to track.
To add file extensions in MonsterInsights, go to Insights and then click Settings. Then select Engagement from the top menu and scroll down to File Downloads.

Here you can see the default extensions of files that the plugin will track. Add more extensions that you want to track on your website (separated by commas).
Step 4: View File Downloads in WordPress
Now that your tracking is set up, you'll be able to start seeing file download reports in WordPress.
To see the report, navigate to Insights » Reports » Publishers and scroll down to see the Top Download Links.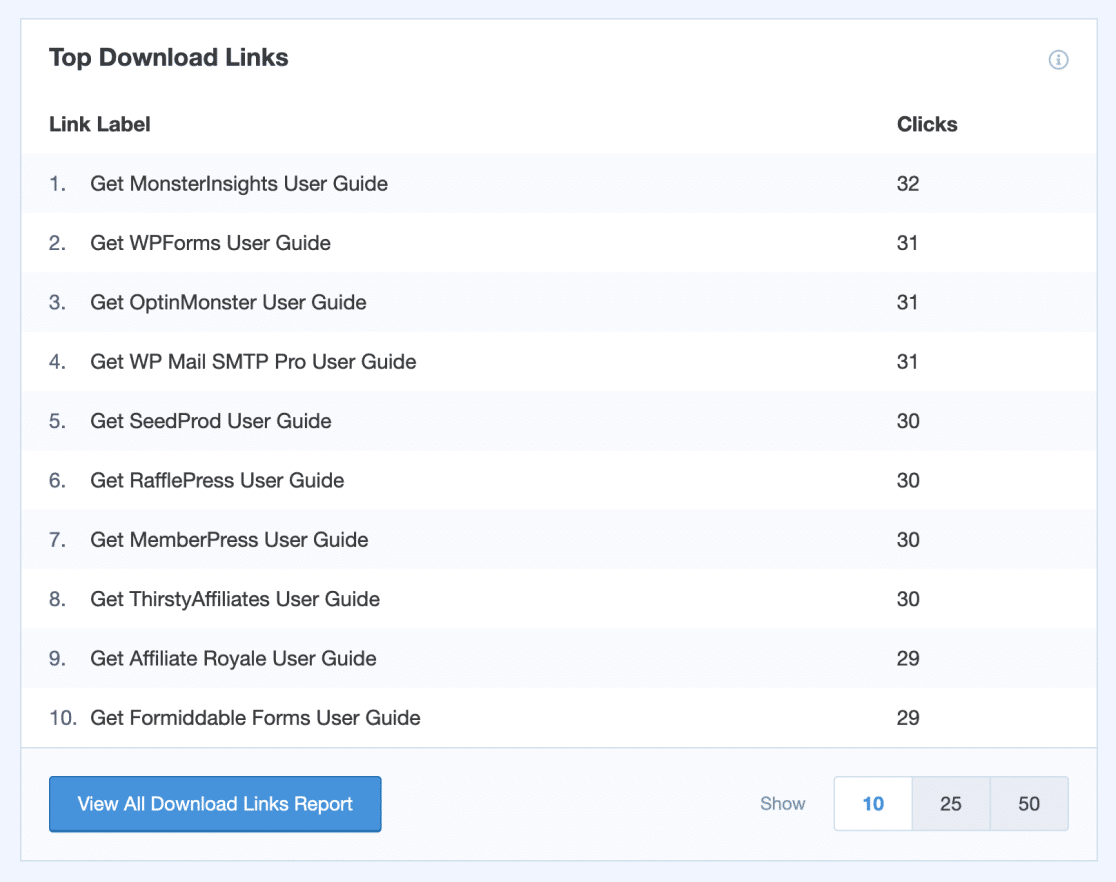 The report will then show you the top download links on your site. You can then use the data to create similar content that gets you the most downloads.
It also helps you plug gaps in your content to create or repurpose content.
How to View File Downloads in Google Analytics
To view your file download data in Google Analytics 4, you can start by clicking the View All Download Links Report button at the bottom of your MonsterInsights downloads report, or by navigating to Reports » Engagement » Events, then scrolling down to the table and clicking on the file_download event.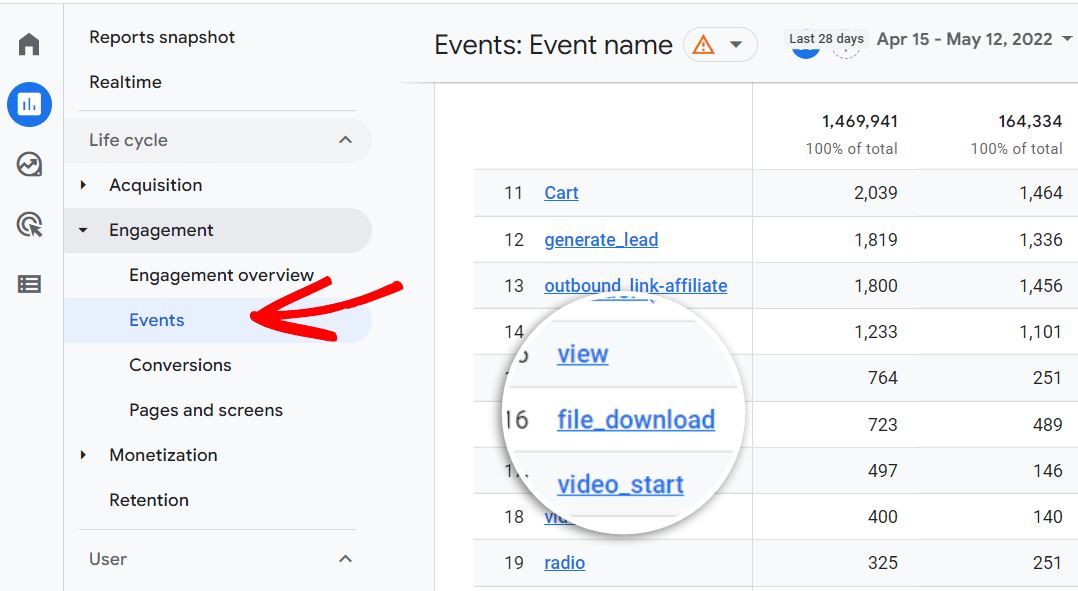 Now, you'll have a report with several "cards" with more information. Which cards you get will depend somewhat on other custom dimensions you have set up, but you'll always get cards on this page that tell you:
How many times your download links were clicked
How many downloads have occurred in the last 30 minutes
Which countries users were from who clicked your download links
What link text was clicked (e.g. Download Now or April Report)
How to Track Downloads in Google Analytics FAQ
Do I need Google Tag Manager to track downloads?
Nope. Just install MonsterInsights to avoid any confusing download tracking setup in Google Tag Manager.
How do I track PDF downloads in Analytics?
Simply install MonsterInsights! It will track PDF downloads automatically.
Can you track link clicks in PDF documents?
Yes. You'll just need to use campaigns.
Can I use event tracking to track downloads in Google Analytics?
Yes you can, although it's more complicated than installing MonsterInsights. For instructions, read How to Set Up Google Analytics Event Tracking in WordPress.
Start Tracking File Downloads Today!
That's it!
We hope that you liked our guide on how to track file downloads in WordPress and Google Analytics. If you want, you can also check out our article on how to track links and button clicks in Google Analytics.
Not using MonsterInsights yet? What are you waiting for?
And don't forget to follow us on Twitter, Facebook and YouTube for more helpful reviews, tutorials, and Google Analytics tips.