Do you want to get automated Google Analytics reports every week in your email inbox?
Setting up weekly reports in Google Analytics can help save a lot of time, as you don't have to check the stats of your site's performance every day. Besides that, it also helps in sharing analytics reports with others.
That said, not many people know how to set up email reports.
In this article, we'll show you how to get a simple weekly Google Analytics report by email. Let's start…
Why Set Up Google Analytics Email Reports?
Keeping track of your website's visitors can feel like a daunting task that takes too much time and energy. It doesn't have to be.
There's always a lot to do in a day, and weeks fill up fast. You've got calendars to update, projects to juggle, training to do, and probably many other things that fill the schedule. But Google Analytics email reports will help simplify your days.
Weekly summaries reduce the time you spend hunting down website data. Just set up email reports once and automatically get daily, weekly, monthly, or quarterly reports delivered straight to your inbox.
It also helps in sharing important information with your marketing team, management, clients, and stakeholders about your website's performance.
Now, are you ready to learn how to get weekly Google Analytics reports?
How to Set Up Weekly Google Analytics Email Reports?
When it comes to getting Google Analytics reports, you have 2 options:
Let's go through each of these methods.
Video Tutorial
If you're not interested in watching the video, then check out our written tutorial for both the methods.
Method 1: Get Email Summaries using MonsterInsights
MonsterInsights is the best Google Analytics plugin for WordPress. It lets you set up Analytics without editing code or hiring a developer.
Not only that, but you also get advanced tracking features like eCommerce tracking, form conversions, affiliate link tracking, file downloads, outbound links, popular authors, SEO score, post type, and much more.
With the MonsterInsights, you'll find valuable insights right there on the dashboard. Instantly view the reports that'll help you work more efficiently on your website's content each week.
To get weekly analytics reports, you can use its Email Summaries feature. The weekly summary not only saves you time in reviewing important data, but it serves as an early-warning system if something isn't quite right.
Further, MonsterInsights email summaries centralize and streamline the most critical information from Google Analytics, so you have a well-rounded solution for analyzing your website data.
With the plugin by your side, you won't have to manually set up email reports for each individual Google Analytics reports. To start, just follow these steps:
Step 1: The first step is to install MonsterInsights on your WordPress site.
Step 2: Once the plugin is active, you'll have to add Google Analytics to your website. Simply follow the steps provided by the MonsterInsights Setup Wizard and you'll be ready to track your visitors in no time.

Step 3: After that, go to Insights » Settings. Then, in the Settings section, click on Advanced in the top navigation menu. Scroll down and toggle Enable Email Summaries to turn on this option.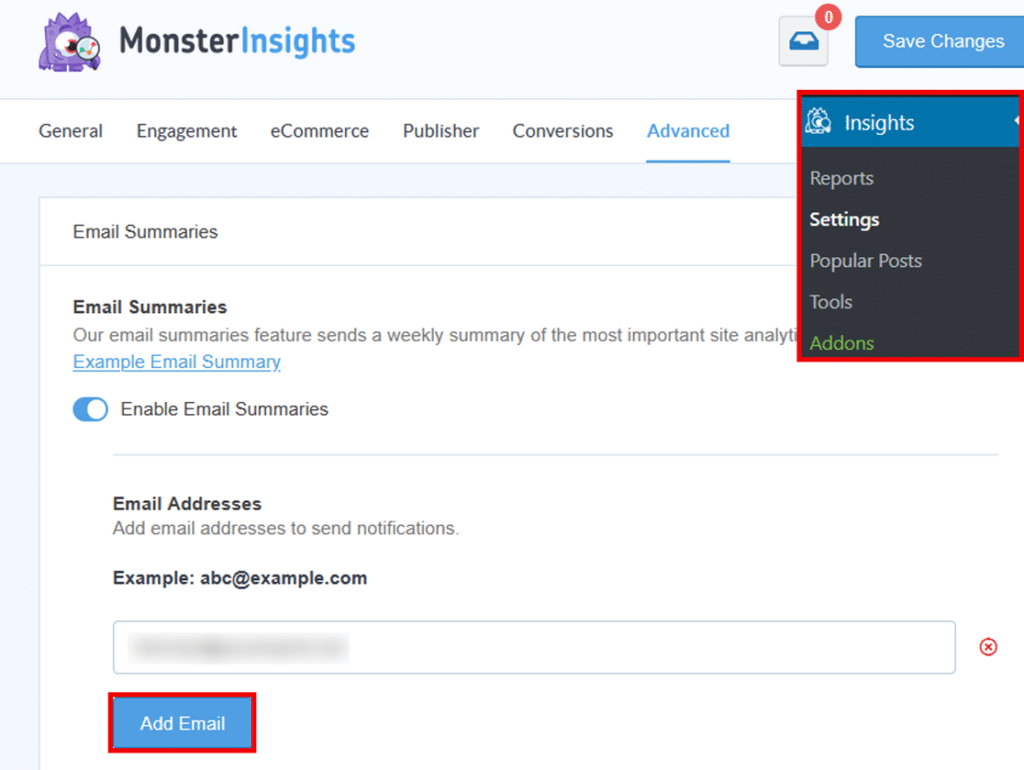 Step 4: The next step is to add email addresses to whom you'd like to send email summaries. These could be your team members, management, clients, or anyone else.
Simply enter an address and click the Add Email button. Do note that you can now add up to 5 email addresses to receive the summaries.
Step 5: Once your emails are set up, send a Test Email to ensure everything is working smoothly. You can also install WP Mail SMTP to ensure users get emails from your WordPress website.

Step 6: Next, below the Test Email section, toggle the option to Enable HTML email templates for the best experience.
Step 7: MonsterInsights even lets you customize the header image of your email summaries. You can add your company's logo to personalize the email report for your clients and team members.
Click on the Use Custom Header button and upload an image or select one from your WordPress Media Library.

You've successfully set up Email Summaries using MonsterInsights. Now, you can get weekly Google Analytics email reports and stay on top of how your site is performing.
Here's a preview of how email summaries would look like: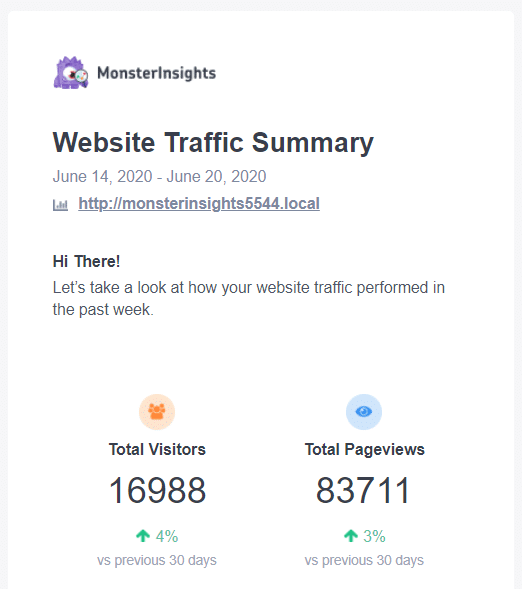 Method 2: Manually Set Up Email Reports in Google Analytics
Now, do you want to manually create email reports in Google Analytics?
Do note that it can be tedious to go to different Analytics reports and then share them through emails. Not to mention, it can be tricky for beginners who aren't familiar with the Google Analytics interface.
But you can get started by following these steps:
First, log in to Google Analytics and choose your property and view.

Then, go to any report you want to share.
If you want, you can choose a date range and compare it to the previous period or the same period last year. Click Apply to filter the data.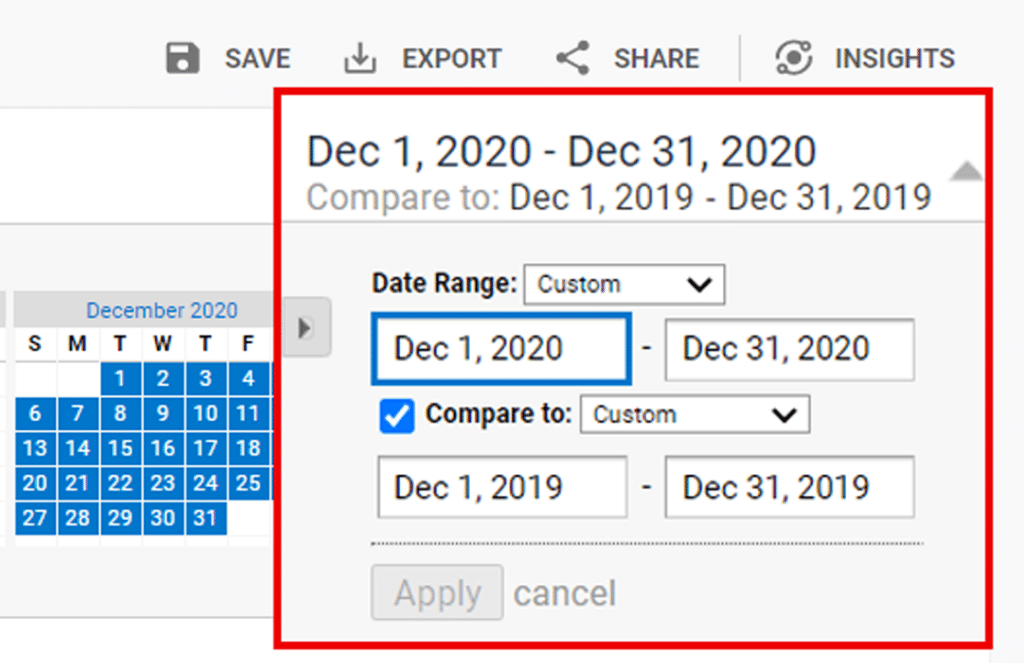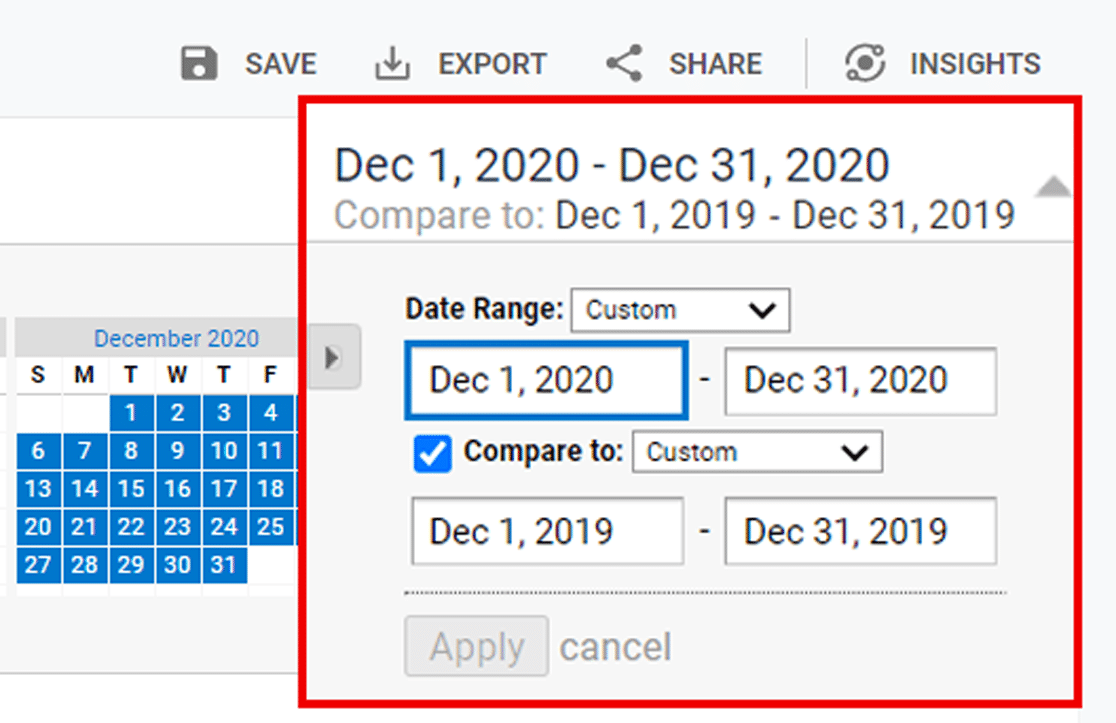 Next, click the Share option at the top right corner of the Google Analytics report.

After that, a small window will open. You can now enter the email addresses to send reports. Make sure to separate each email with a comma if you're sending the report to more than 1 recipient.
Google Analytics also lets you select the type of attachment. Choose from PDF, Excel, or CSV files.
Next, you'll want to change the frequency to the preferred option of weekly and select the day on which you want to receive the report.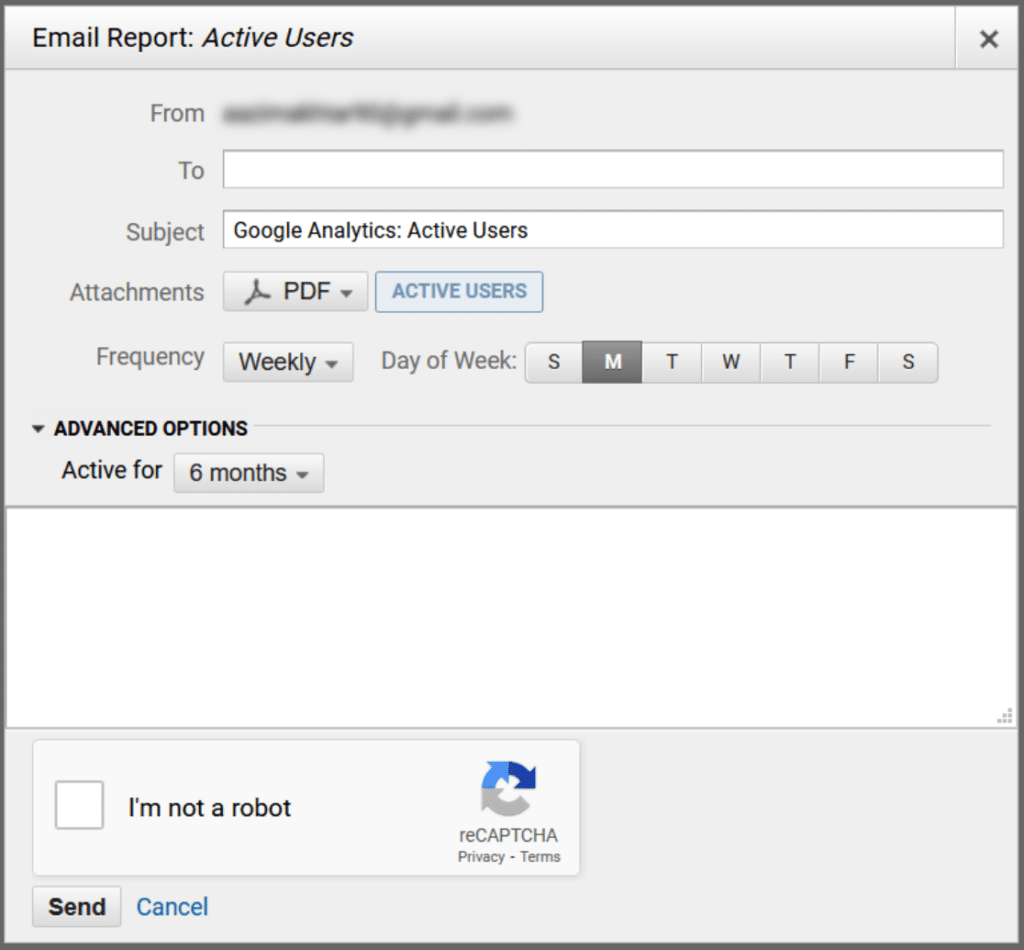 In the Advanced Options, choose how long you'd like this automation to be active. Six months is probably a good place to start. That way, you can adjust your reporting to your midyear goals.
Be sure to add text to the message box, or the system will give you an error when you send it.
Now click the reCAPTCHA box to indicate you're not a robot and then hit Send. Repeat those steps for any other reports you'd like to automate and share.
And that's it!
You now know both the methods to get weekly reports by email.
MonsterInsights weekly email summaries are excellent if you're looking to get all the critical data to understand your visitors and get an overall picture of your site's performance.
But using Google Analytics manual method makes sense if you want to share a specific report every week via email with your clients or team members.
And it's all in one place: on your WordPress dashboard. No coding. No hassle. No problem!
We hope you liked our article on how to get a simple weekly Google Analytics report by email. You can also go through our post on why every business needs Google Analytics.
Don't forget to follow us on Twitter and Facebook for more helpful Google Analytics tips.