Are you looking for a way to set up GiveWP Google Analytics tracking on your website to see how's it performing?
By setting up tracking in Google Analytics, you can find out how many donations you're getting, where your donors are coming from, and get insights to grow your website.
In this article, we'll show you how to set up GiveWP Google Analytics tracking using a very simple way. Let's kick things off…
Why Track GiveWP in Google Analytics?
GiveWP is the best donations plugin for WordPress. It's a complete platform for collecting donations, managing donors, adding donation forms, and so much more.
But when it comes to finding out how your donation website is performing, the best way is to set up tracking in Google Analytics. Just like any other eCommerce store, your nonprofit donation website can also take advantage of Google Analytics.
Here are some of the benefits of tracking a GiveWP site:
Track Donation Website Performance – Get an overview of how your donation site is performing, which strategies are working, and if you need to tweak things to improve conversions.
Find Your Most Valuable Traffic Source – You can discover where your donors are coming from and which channels lead to more donations. For example, find out whether you are getting more donations from Facebook, or if another website is sending more visitors to your donation site.
Better Understand Your Donors' Behavior – Tracking your GiveWP website helps you get more insights about your donors' behavior. It shows information about which pages they view, where they click, how much time they spend on a page, and more.
Identify Top Converting Donation Forms – Find out which donation form converts the best, so you can replicate it across your website.
How to Set Up GiveWP Google Analytics Tracking
The best way to set up GiveWP tracking is through MonsterInsights. It's the best Google Analytics WordPress plugin, as it makes it very easy to use Analytics and get the stats that matter for your business.
With MonsterInsights, you don't have to edit code or hire a developer to set up eCommerce tracking in Google Analytics.
It allows you to enable eCommerce tracking in just a few clicks and see the performance of your GiveWP site inside your WordPress dashboard.
Just follow these steps to get started.
Step 1: Install MonsterInsights
First, you'll need to install MonsterInsights on your WordPress website. You can start by grabbing MonsterInsights at the Pro level and then download the setup files from your account area.


Next, upload the ZIP file to your WordPress website and install the plugin.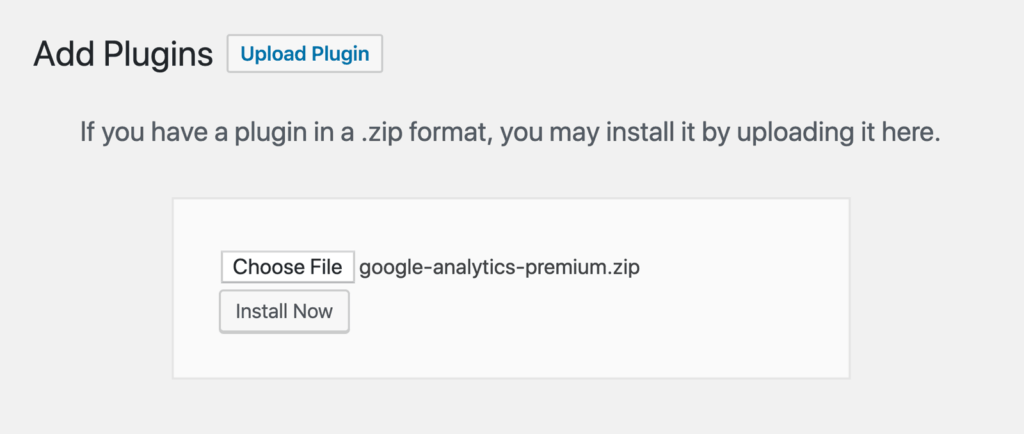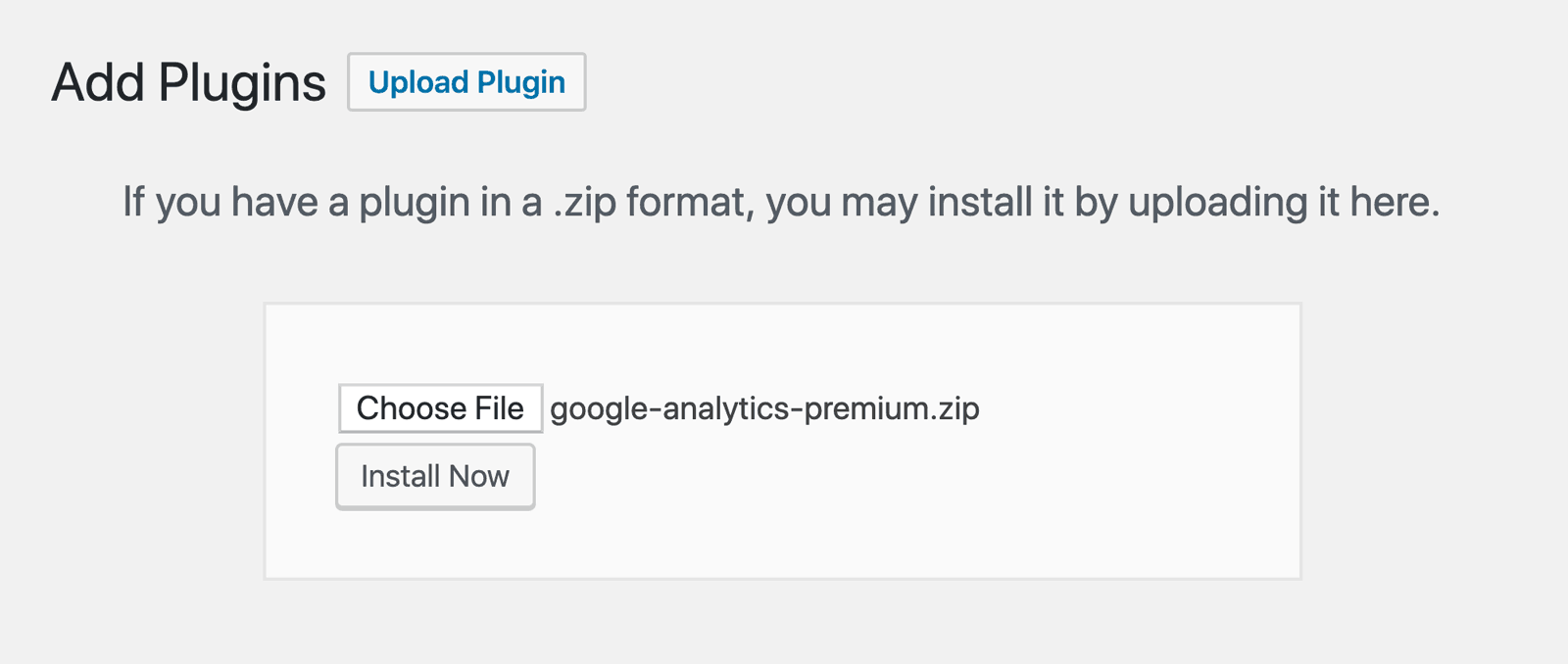 Once it's installed, activate the plugin.

For more on installing and setting up MonsterInsights, read How to Add Google Analytics to WordPress the Right Way.
Step 2: Connect Google Analytics to MonsterInsights
Now that MonsterInsights is up and running on your WordPress site, the next thing to do is connect Google Analytics.
You can create a new Analytics account or use an existing account to track the performance of your GiveWP site.
And thanks to MonsterInsights, you can add the Google Analytics tracking code without having to touch a single line of code. Just follow its setup wizard, and you'll be done in no time.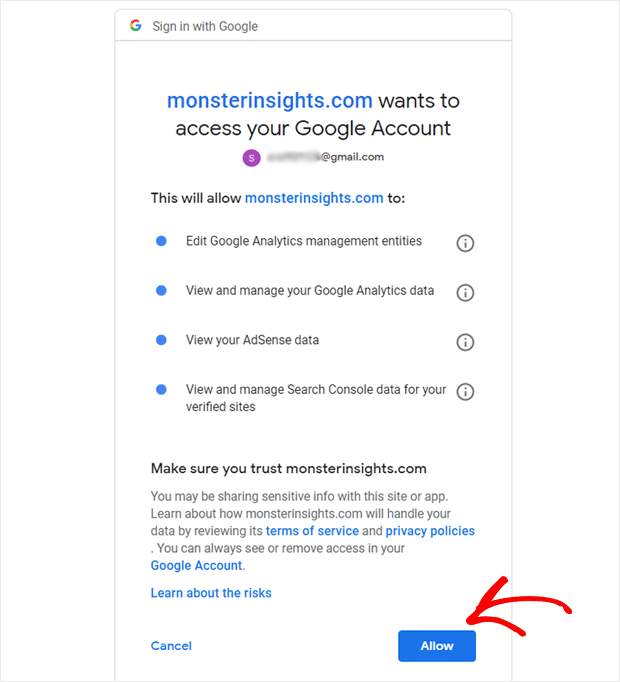 For more details, you can refer to our guide on how to add Google Analytics to WordPress.
Step 3: Install and Activate eCommerce Addon
After that, you'll need to install and activate the MonsterInsights eCommerce addon.
This way, you can set up eCommerce tracking for your GiveWP website and allow MonsterInsights to track its performance.
Just go to Insights » Addons and then navigate to eCommerce. Now click the Install button, and in just a few seconds, the addon will activate.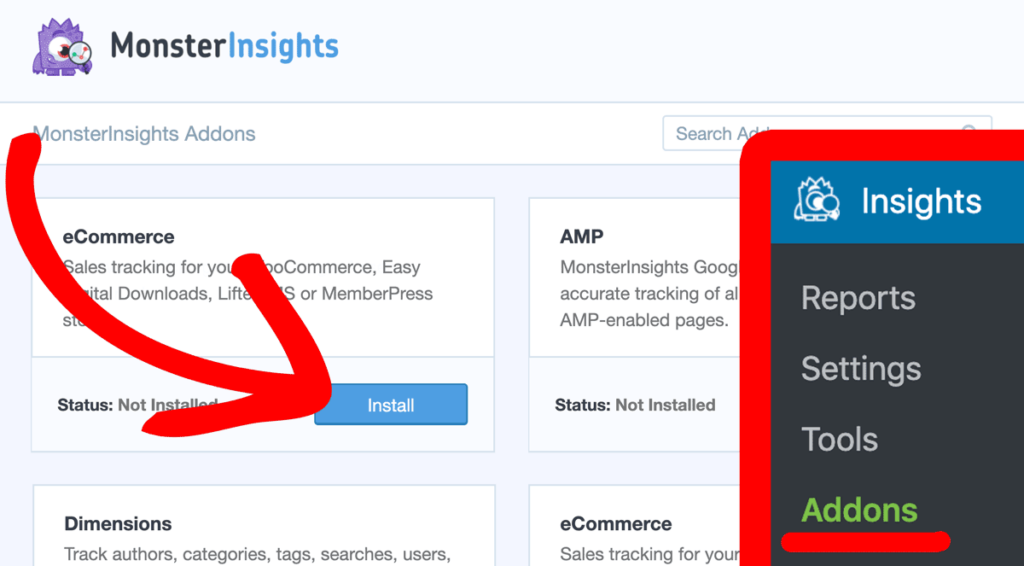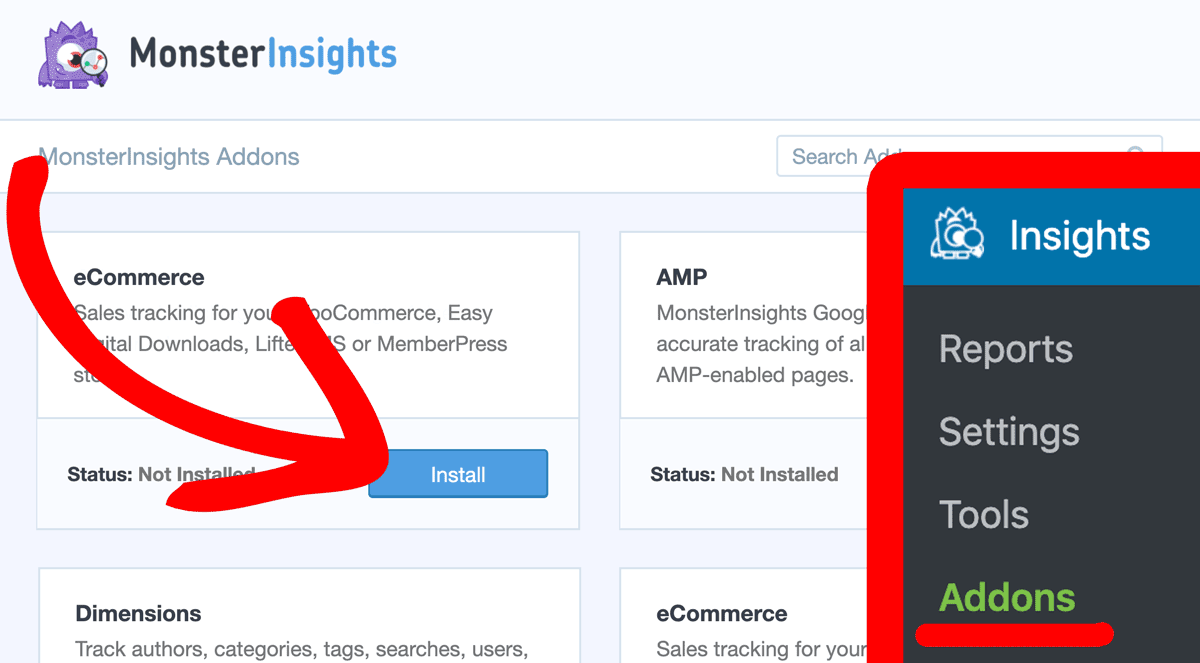 MonsterInsights will automatically detect GiveWP and start tracking your donations in Google Analytics.
With that, you're all set to see the performance reports of your GiveWP site.
How to View GiveWP Google Analytics Reports
The best part about using MonsterInsights is that you can view eCommerce reports inside your WordPress admin area.
Its dashboard reports are designed to bring all your important data from Google Analytics in one place so that you can see your site's performance at a glance.
To start, go to Insights » Reports » eCommerce. You can see the conversion rate, number of transactions, revenue, and average order value of your donation website.

Now, if you scroll down, you'll see the Top Conversion Sources. These are websites from where you get the most donors.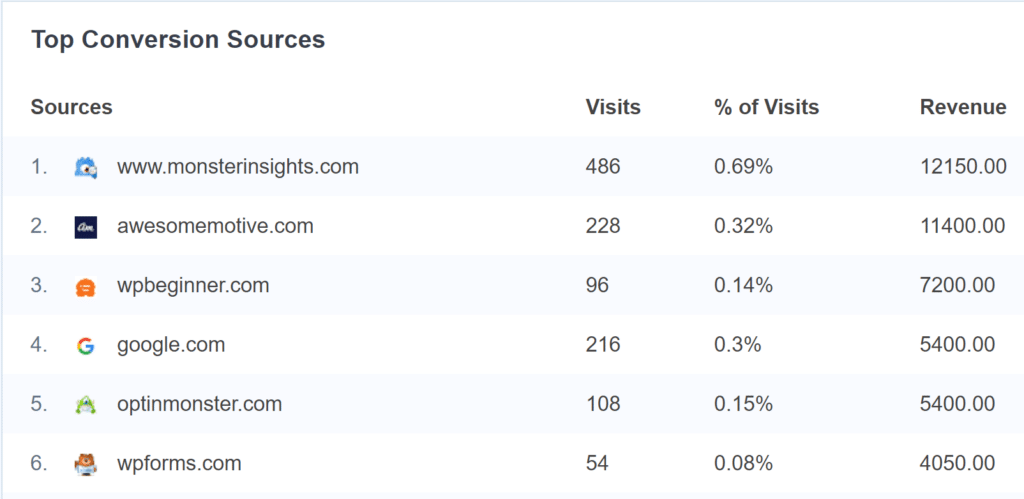 Using the data from the report, you can focus on investing in channels the drive a lot of donations. For example, let's say a partner website sends visitors to your site, who then generously donate. You can work with such partners and create more collaborations.
Or if you notice that a lot of people come from Google search, you can find out which keywords they're searching and optimize your site for similar search terms.
Besides tracking donations, you can also find out how your donation forms perform using the MonsterInsights Forms addon.
All you have to do is install the addon, and it will automatically detect your donation forms on your WordPress website.
You can view the forms report by going to Insights » Reports » Forms. Find out the total number of impressions, conversions, and conversion rates of your donation forms in the report.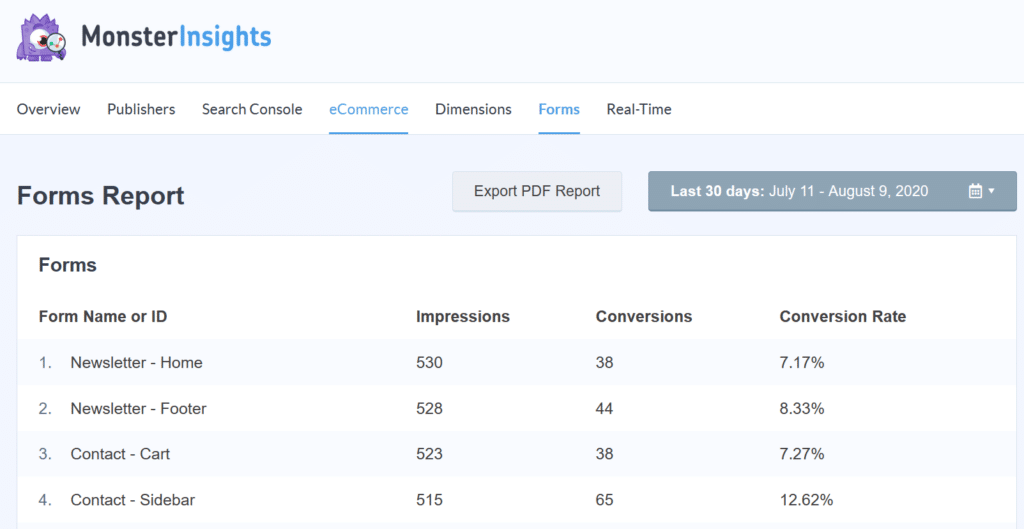 And that's it!
We hope you liked our article on how to set up GiveWP Google Analytics tracking. We think you might also like to read Blog Post SEO Checklist: How to Write & Optimize Blog Posts.
Don't forget to follow MonsterInsights on Facebook, Twitter, and YouTube for more guides and helpful Analytics tips.