Are you having trouble setting up Google Analytics on your MemberPress website? As powerful as Analytics is, it can be tricky for beginners to get the hang of it right away.
And things do get any easier when you're trying to track the performance of your membership website in Google Analytics. That's because you would have to know how to code to correctly add the tracking code on your WordPress website.
This is where plugins like MonsterInsights come in handy. It makes the setup process simple and you only need a few clicks to get useful data about your business.
So, in this article, we'll show you how to set up Google Analytics for a MemberPress site. And we'll also explain different Google Analytics metrics you should be tracking on your website. Let's start…
Setting Up MemberPress Tracking in Google Analytics
With MonsterInsights, the best WordPress plugin for Google Analytics, you can set up Google Analytics on your WordPress website. And you don't need to edit a single line of code or have to hire a professional.
Its setup wizard will guide you every step of the way and you can start to track your visitor's behavior in no time. And using its eCommerce addon, you can track your MemberPress conversions and view reports inside your WordPress dashboard.
Now before we start the tutorial, make sure to sign up for a MonsterInsights Pro license or higher to use the addons.
Once you've subscribed and installed MonsterInsights on your WordPress website, just follow these steps…
Step 1: Install MonsterInsights eCommerce Addon
To start, go to Insights in your WordPress dashboard and then click in Addons. Now, navigate to eCommerce addon and click Install.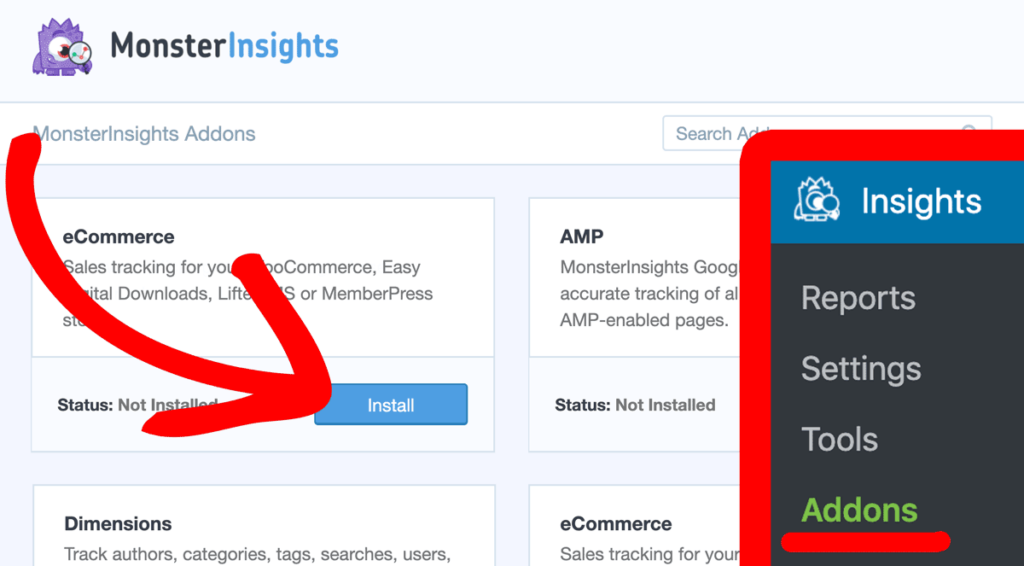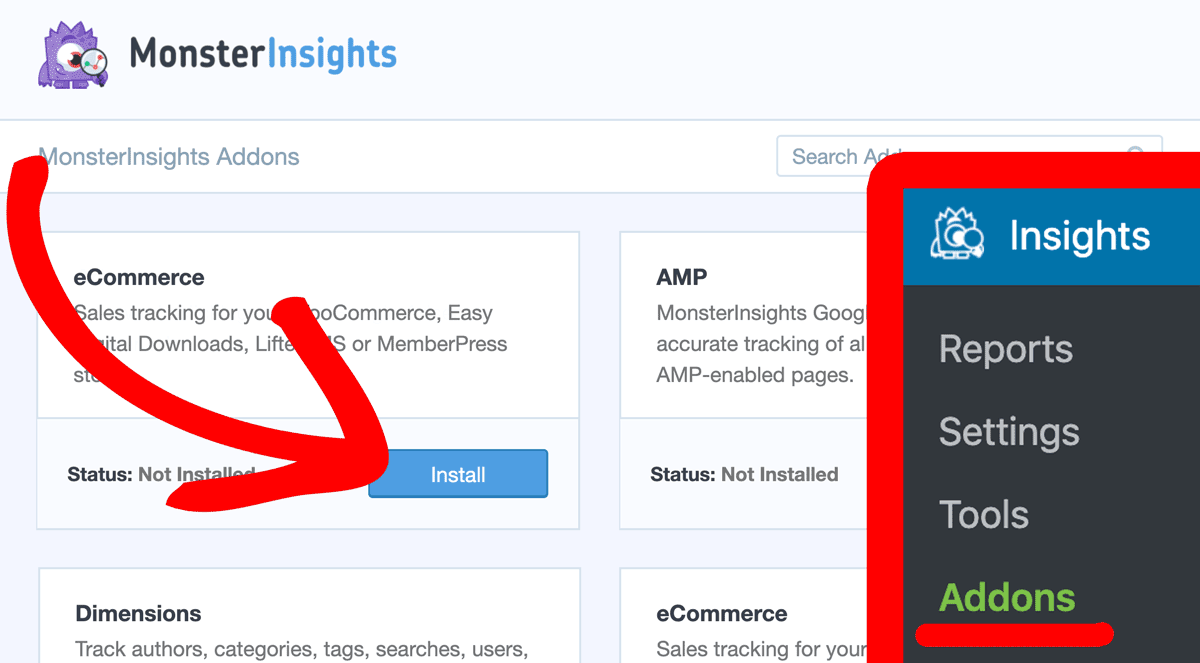 The addon will then automatically install and activate it on your website. To check if it's ready to use, you can see the addon status shift from Inactive to Active.
Step 2: Activate Enhanced Ecommerce in Google Analytics
Next up, go to your Google Analytics account to enable enhanced eCommerce.
Once you've logged in, select your website on which you want to set up MemberPress tracking. Then click on Admin.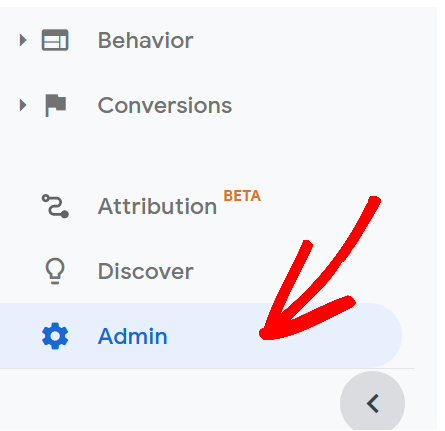 Now, click on Ecommerce Settings, which is located under the View column.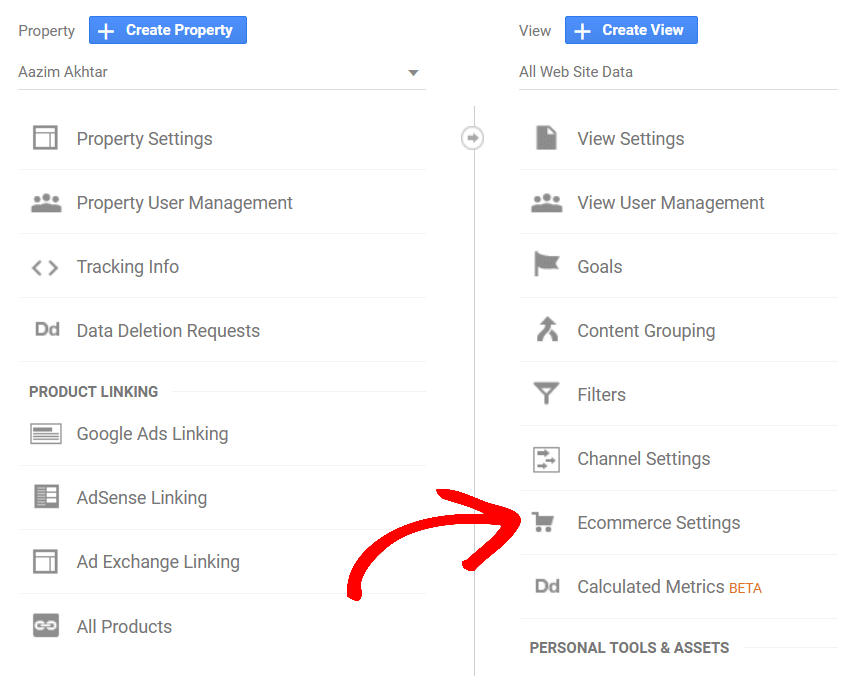 You will then see different settings. Click on the switch to toggle it to Enable Ecommerce and Enable Enhanced Ecommerce Reporting.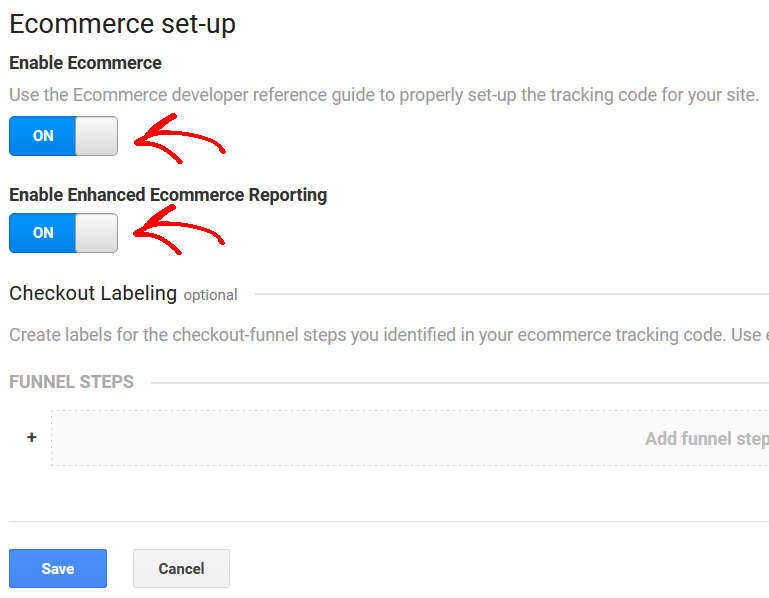 Google Analytics also gives you the option to set up labels for your checkout funnel. You can click Add funnel step if you want. Then hit Save after you're done with the settings.
Step 3: Enable Enhanced Ecommerce Tracking in MonsterInsights
Now that Google Analytics is ready for eCommerce tracking, go back to your WordPress dashboard.
Then go to Insights » Settings and click on the eCommerce tab. Now scroll down and under eCommerce Tracking, toggle the switch for Use Enhanced eCommerce.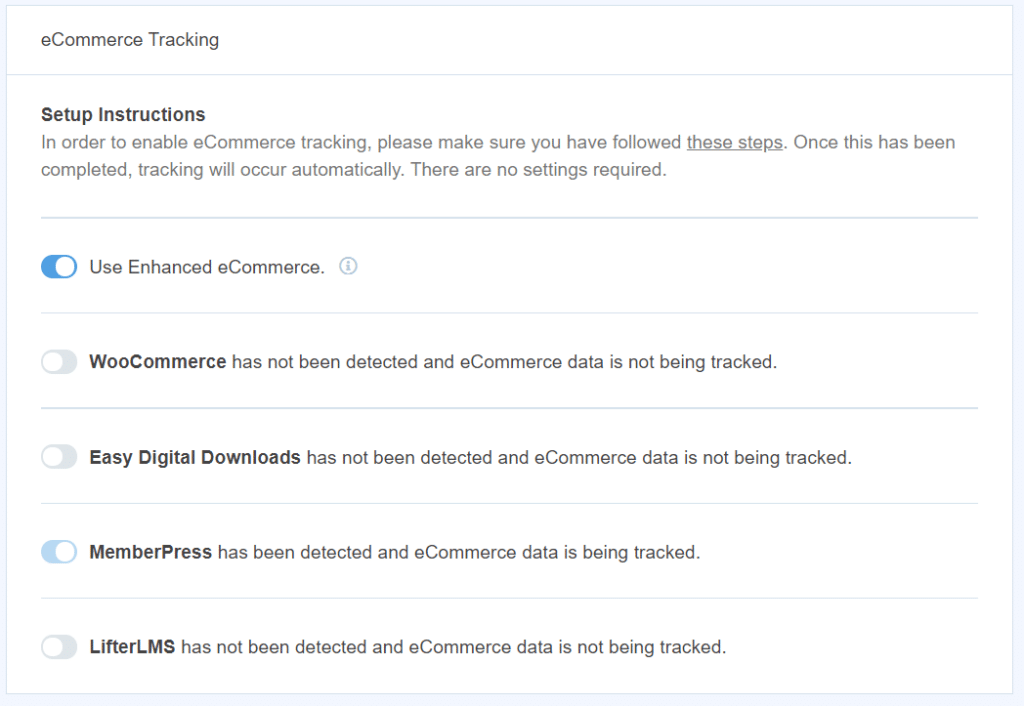 If you have MemberPress already installed on your WordPress website, MonsterInsights will automatically start to track its performance.
Congratulations!
You have successfully set up Google Analytics for a MemberPress website. Now, are you ready to learn which metrics you should be tracking? Let's find out…
4 Analytics Metrics to Track for Your MemberPress Site
After you're done setting up MemberPress tracking in Google Analytics, you'd want to keep an eye on some important metrics that can help you scale your business.
And with MonsterInsights, you can view these stats in your WordPress dashboard without having to worry about navigating through Google Analytics.
1. Bounce Rate
A bounce rate shows how many people visit your MemberPress site but leave without interacting. For example, if a visitor arrives on your website but then hits the back button or closes the window without viewing any other page or clicking on any link, then that visitor will count as a bounce.
A high bounce rate is bad for your website. You want people to engage with your website, read different content, signup for your newsletter, or subscribe to your membership plan.
To view your site's bounce rate, just go to Insights and click on Reports. The first report you'll see will be the Overview report. Here you can see your site's number of sessions, pageviews, average session duration, and bounce rate.

Check out these 6 quick and easy methods to reduce bounce rate.
2. Top Download Links
Since different members have access to downloadable content on your MemberPress website, it's important to track which files get the most downloads.
Now, Google Analytics doesn't track file downloads by default. But with MonsterInsights, you can track them right out of the box. No additional set up required.
To view your most popular downloads, go to Insights » Reports » Publisher and then scroll down to the Top Download Links report.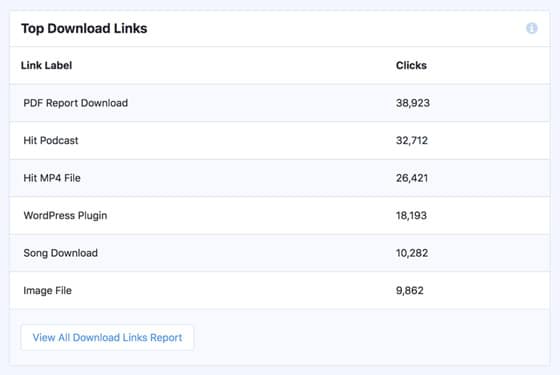 3. Conversion Rate
The conversion rate tells you the number of visitors that result in a transaction on your website. The higher the number, the better it is for your site. You'd want more people to convert into paying members on your MemberPress site.
In MonsterInsights eCommerce report, you can view the conversion rate for the selected date range. Not only that, but you can also view the number of transactions, revenue, and average order value.

You can use these 24 eCommerce hacks to double your conversions.
4. Top Conversion Sources
Another important metric to track is to find the source of your web traffic. And with MonsterInsights eCommerce report, you can see your top conversions sources.
This shows you where your visitors are coming from and converting into members. Since these websites are sending highly converting users, you can partner with these sites and offer exclusive discounts to get more sales. Or you can find similar sources to promote your website and attract visitors.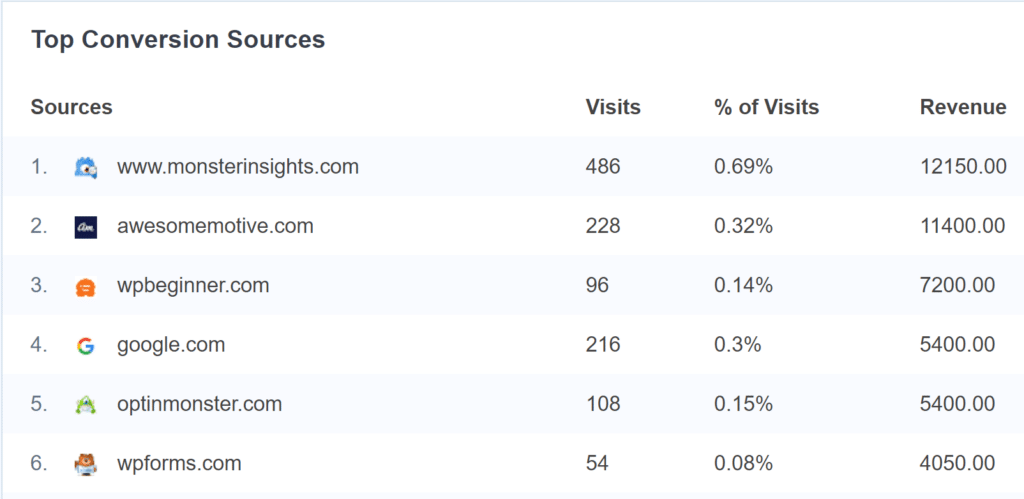 While these were a few important metrics to track, you can use MonsterInsights other reports to get key insights about your visitors. And then use the information to skyrocket your MemberPress site's conversions.
That's it!
We hope you liked our post on how to set up Google Analytics for a MemberPress site. You can also take a look at our ultimate guide to MonsterInsights dashboard reports and best membership plugin WordPress.
And don't forget to follow us on Twitter and Facebook for more Google Analytics tutorials.