Are you looking to get more visitors to return to your website, instead of visiting once and forgetting all about you?
Many website owners focus on bringing new visitors to their site. But they often forget that returning visitors have exposure to your brand and are easier to convert.
In this article, we'll show you 7 proven ways to increase your returning visitor rate. Let's kick things off by looking at the benefits of boosting the number of returning visitors.
Why Increase Your Returning Visitor Rate?
For any website, returning visitors are important because they tell how successful your marketing campaigns are, who are your loyal customers, and how powerful is your brand.
If you have set up Google Analytics on your WordPress site with MonsterInsights, you can find your returning visitor rate in your reports overview.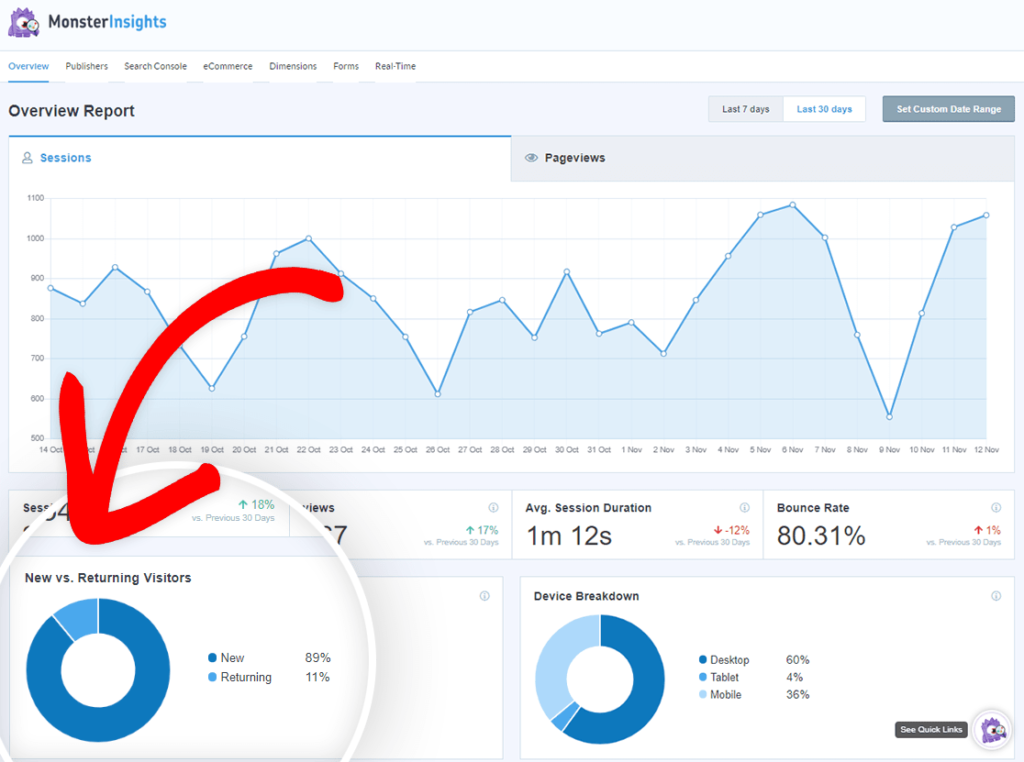 Google Analytics defines returning visitor rate as the number of users who have visited your website before using the same device and within the last 2 years.
So, if someone visited MonsterInsights using their iPhone and then revisits our site within two years using the same device (iPhone), they'll be counted under returning visitors.
According to a study by Barilliance, returning visitors add 65.16% more items to cart than first-time visitors. And that's not all, the conversion rate of returning visitors was significantly higher than new visitors.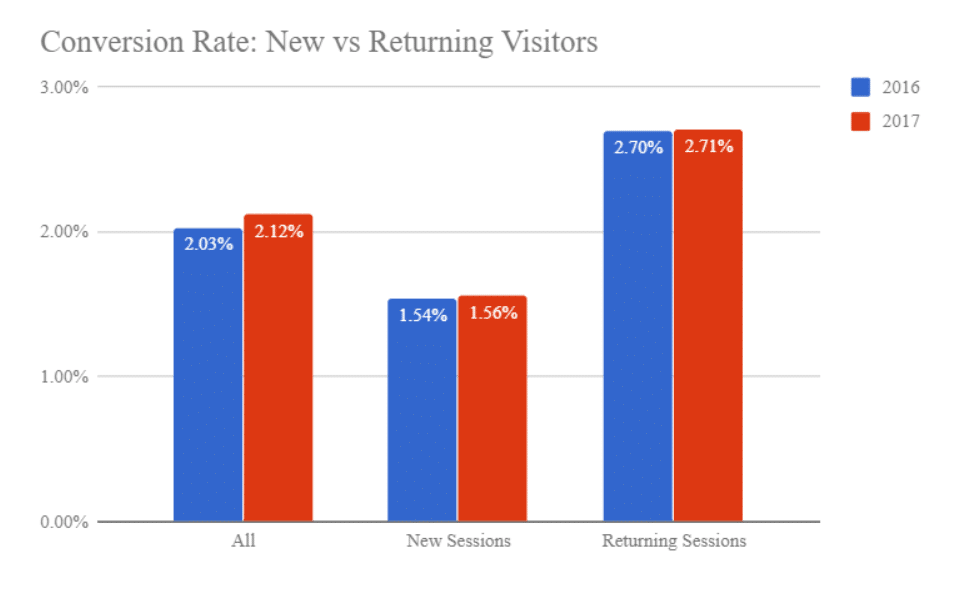 The statistic shows that returning visitors will have a 75% higher chance of making a purchase than a new visitor. As a result, you can expect a higher ROI on your marketing campaigns.
At this point, you may ask: What is a good returning visitor rate?
It usually depends on the industry you're in, but a good returning visitor rate is 30% on average. And if you can balance your new and returning visitors with 50% each, then you're in the perfect situation.
With that, are you ready to increase your returning visitor rate?
How to Get Returning Visitors to Your Website
Subscribe to our YouTube Channel
Here are 7 proven ways to get returning visitors to your website.
1. Start an Email Newsletter
Emails are a great way of connecting with your audience and bringing them back to your site. By starting a newsletter, you can engage with users, help them remember your brand, and then promote offers to boost sales.
With email marketing tools like Constant Contact, it's very easy to start a newsletter and automate workflows. You can check out our in-depth guide on how to create an email newsletter.
Once your newsletter is up and running, how can you get visitors to join your email list and turn them into returning visitors?
The best way to get visitors to sign up for your email list is by offering a free gift in return.
You can easily do this by adding "content upgrades" to your most popular posts. A content upgrade is a bonus download, like a PDF, that's related to the blog post.
For example, this post on power words to boost your conversions has a content upgrade that's a PDF cheatsheet listing all the words in the post.
By adding them to your top converting pages, you have a higher chance of collecting leads.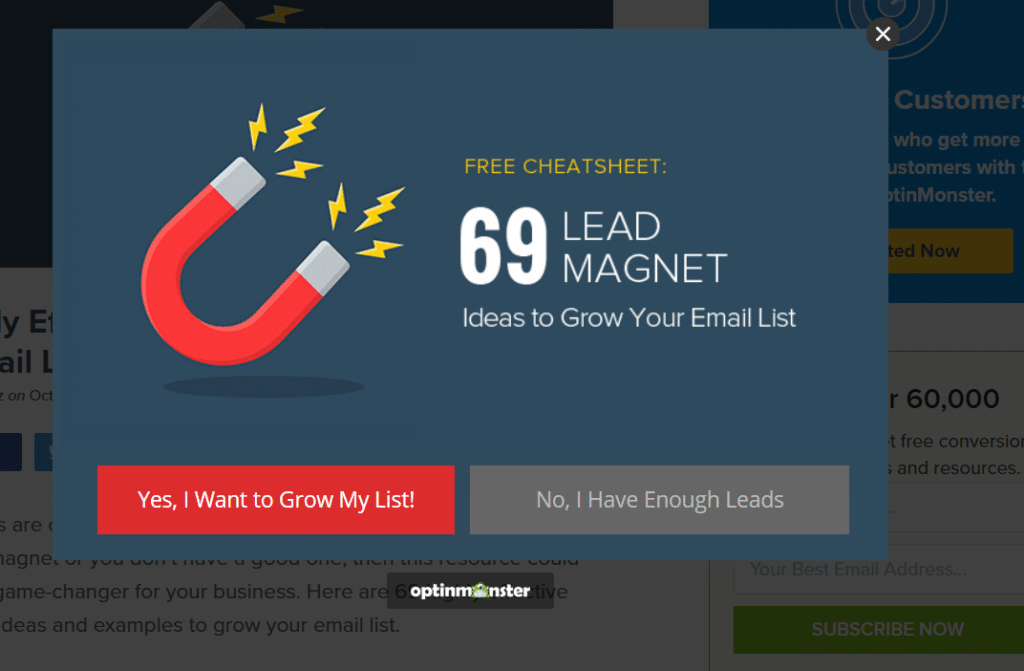 Here are 30 different types of content upgrades you can create for your posts. They include PDF files, checklists, videos, resource lists, reports, and more.
The best tool for converting visitors to subscribers and delivering your content upgrade is OptinMonster. Using its drag and drop builder along with different templates, you can set up an optin campaign in no time. Here's a detailed tutorial on how to trigger a popup with a click, and how to deliver your content upgrade.
Here are a few more ways to grow your email list.
2. Get People to Follow You on Social Media
Did you know that social media drives 31.24% of traffic to websites? So, to increase your returning visitor rate, you can use the power of social media.
By getting your visitors to follow you on different social channels, you can stay in touch with them and easily bring them back to your site.
There are many ways you can get your website traffic to follow you on social media and turn them into returning visitors. One way is to create a Facebook or LinkedIn group and ask your visitors to join.
To promote your social media groups, you can use slide-in popups to grab your website visitors' attention after they scroll to a certain percentage or spend some time on the page. WPBeginner has a clever way of showing its readers a scroll box optin to boost its Facebook group members.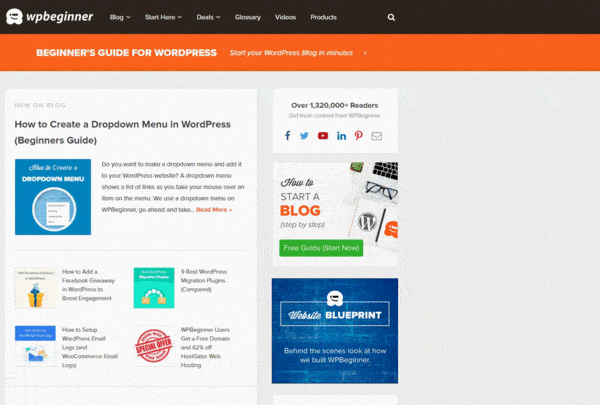 How else can you get more followers on social media?
If you're looking for an instant surge in followers, you can run a viral giveaway. They're great at generating engagement, increasing likes and follows, boosting your email list, and driving traffic to your site.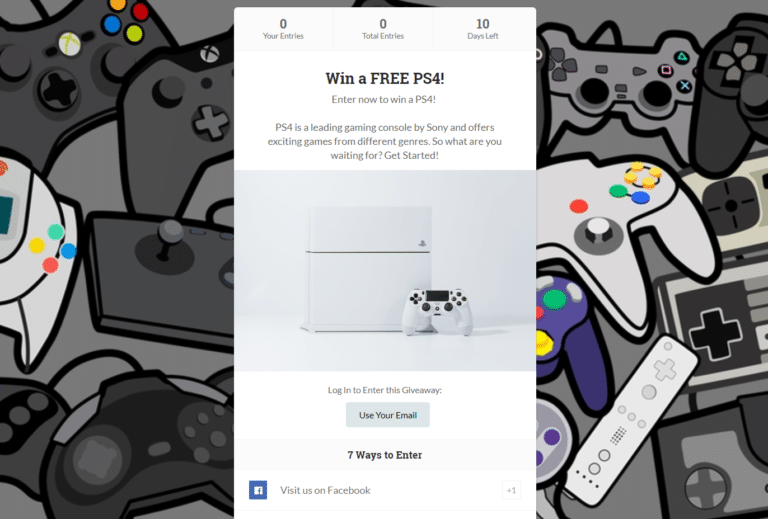 RafflePress is the best WordPress giveaway plugin for growing your social media followers. That's because they let people enter your giveaway with actions like following you on social media, sharing a tweet, getting social referrals, and more.
It's super easy to use and offers a drag and drop builder with a wide range of customization options. You can follow our detailed guide on how to run a successful giveaway on your WordPress website.
One more tip for growing your following is to add a social media feed to your site using a plugin like Smash Balloon.
With Smash Balloon, you can easily embed an Instagram, Facebook, Twitter, or YouTube feed anywhere on your WordPress website.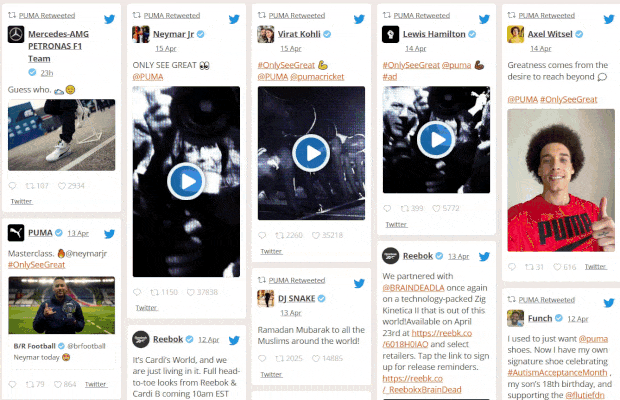 This is a great way to introduce your social media content to your website visitors and encourage them to interact and follow.
3. Create a Push Notification List
Do you have a push notification list? If not, then you should start building one, as push notifications are a great way of increasing your returning visitor rate.
Push notifications are messages that appear on your users' desktops and mobile. A visitor has to give permission to send them messages through push notifications. And when they click on the message, they land on your website. It's that simple!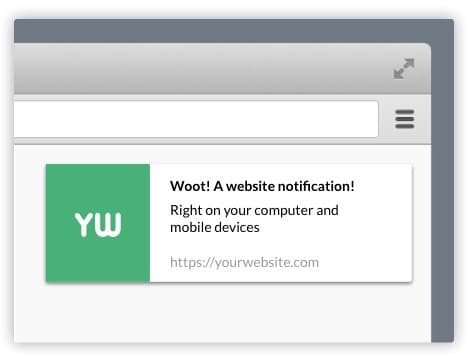 And the best part, since push notifications require user consent, you have a high chance of engaging your audience as they'll be interested in your site.
To create a push notification list, you can use tools like PushEngage. It is the best push notification plugin for WordPress and lets you send messages with ease. Using the tool, you can collect subscribers and then turn them into returning visitors.
4. Publish New Content Regularly
One of the best ways to get visitors to keep coming back to your website is by regularly publishing amazing content. If people start to like your content, they will come back for more. As a result, you'll start to increase your returning visitor rate.
You may ask at this point, how often should I publish content? It depends on your content production timeline and capacity.
But companies that publish more than 16 posts a month get 3.5 times more traffic than those that publish less than 4 posts a month.  This shows that content marketing is a powerful strategy you should adopt.
To help you find new content ideas that your visitors might like, you can look at the Demographics and Interests report of MonsterInsights. It helps you identify what your users like and then start creating content based on their interests.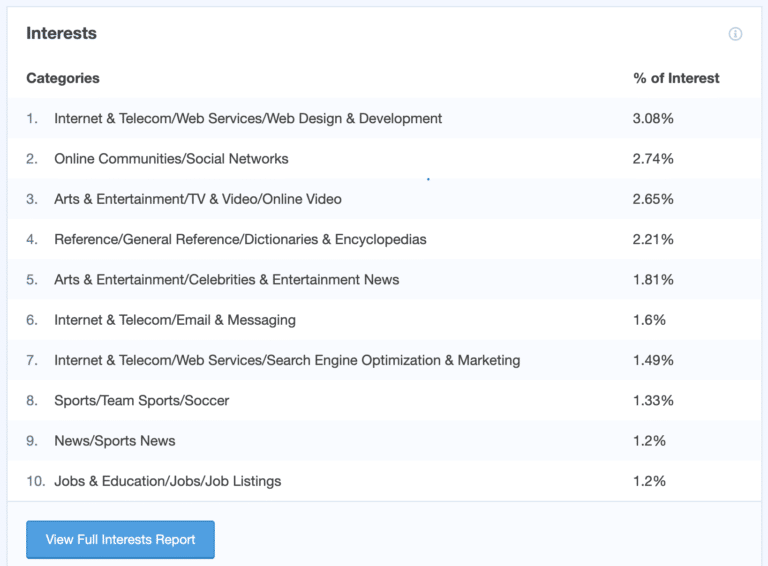 That said, there are other various ways of finding content ideas to bring visitors to your website. For instance, you can spy on your competitors to generate content ideas.
You can also use MonsterInsights to create content for specific locations by looking at the Top 10 Countries report. For more content ideas, follow our guide on marketing hacks to grow your traffic.
And once you've created your content, you can use the earlier mentioned ways for promotion and bringing visitors. For example, you can send out a push notification, share it on your social channels, and send an email newsletter informing subscribers of your new content pieces.
5. Repurpose Existing Content into Micro Content Across Platforms
Along with creating new posts, you can also boost your returning visitors by repurposing your existing content into micro-content pieces. Repurposing is converting any content into different types of content for different platforms.
Repurposing content helps you repackage it for different channels. It increases your reach, gets you more traffic, and you don't have to worry about finding new content topics each time.
The first step in repurposing is to identify which content pieces to select. You can do that by looking at your most popular posts. With the help of MonsterInsights, you can easily track your top-performing posts and pages.
Simply install the plugin and then go to Insight » Reports » Overview. Now scroll down to see the Top Posts/Pages report.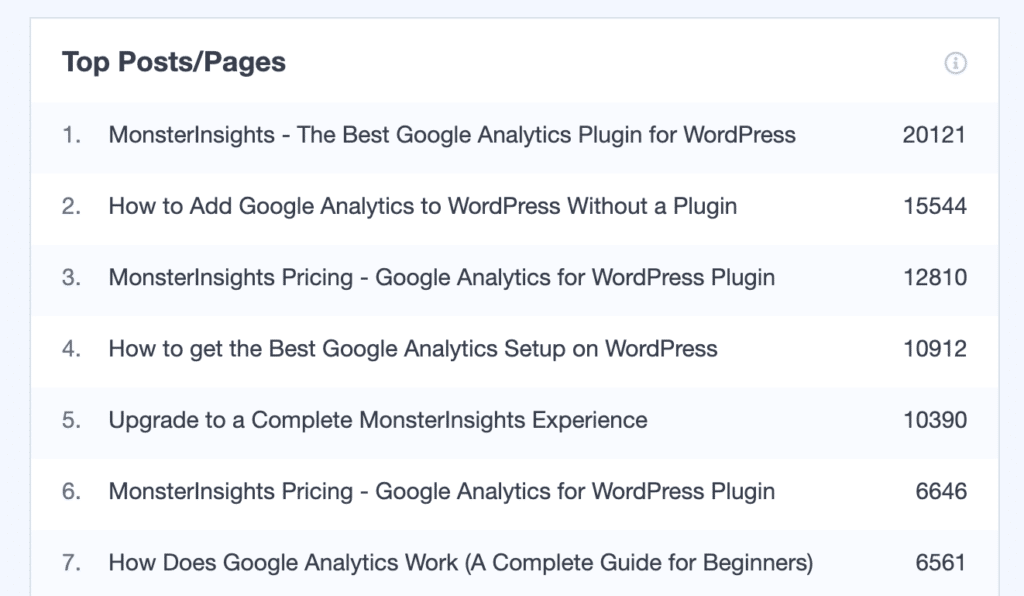 Once you know which posts perform the best, you can then repurpose them into micro-content for different platforms. For instance, let's say you wrote a lengthy guide of 10,000 words on Google Analytics.
You can then turn this guide into a video for YouTube, an audio recording for a podcast, create slides for SlideShare, develop an infographic, or create visuals to promote it on social media.
To find ideas for repurposing, you can go through these awesome ways to repurpose blog content.
6. Start a Customer Loyalty Program
If you want visitors to keep revisiting your site, you can start a loyalty program. By offering exclusive deals and rewards to loyal users, your visitors will have something in it for them to keep coming to your website.
For instance, WPBeginner offers deals and discount exclusively for its readers. There are over 100 different coupons you can use and enjoy discounts on different WordPress plugins.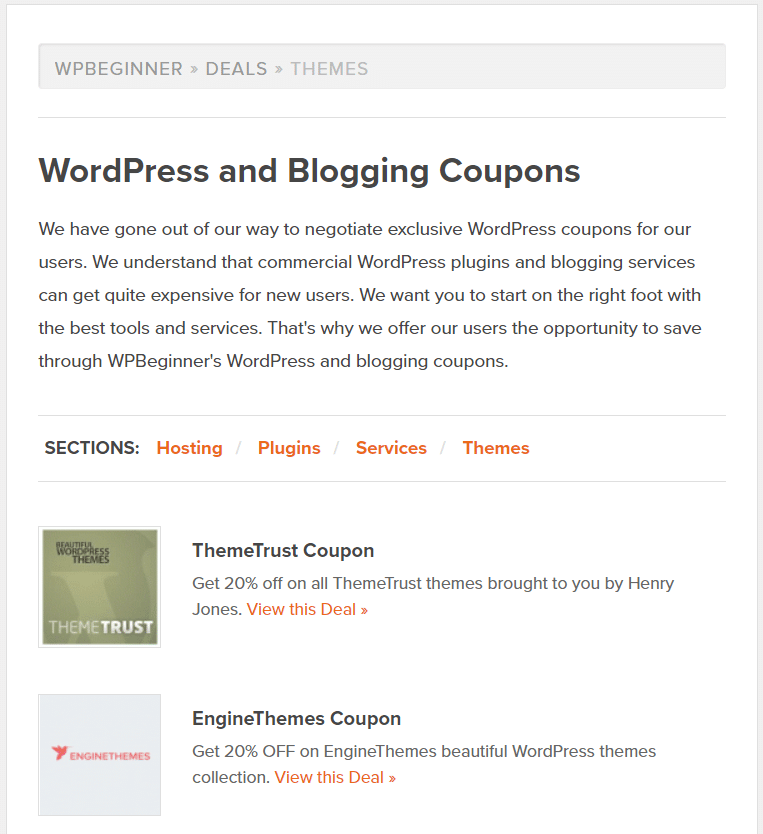 Loyalty programs are also a great way of appreciating your visitors and thanking them for their continuous support. It shows how much they mean to your business.
7. Strategic Retargeting Ads
The last trick we have for you to increase your returning visitor rate is by running retargeting ads.
Retargeting is when you display ads to someone who has visited your website, interacted with your social media pages, watched a video, or interacted with your brand at some point in time.
Using retargeting ads, you can keep your site in front of your visitors and brings them back to your site. You can run strategic retargeting ads through Google Display Retargeting or Facebook Retargeting Ads.
They work by using tracking cookies to display ads. When a user visits your site, a cookie is placed in their browser. And based on their behavior, the tracking code shows visitors ads that are meant for retargeting.
By running retargeting ads, you are basically sending a reminder to your visitors to return to your website. If you have an eCommerce store, then retargeting is great at converting abandoned customers, increasing returning visitor rate and boost your sales.
In Conclusion
You've made it to the end of our guide. Using any of these simple tricks, you can get people to keep returning to your website, and you can enjoy high engagement along with conversions.
And that's it.
We hope you liked our article on 7 proven ways to increase returning visitor rate. If you want, you can also check out our guide on the most important Google Analytics metrics every business should track.
Don't forget to follow us on Twitter and Facebook for more helpful Google Analytics and WordPress tutorials.