Looking for the best ways to increase user engagement on your website?
There are quite a few different tools you can use and tactics you can try in order to increase user engagement on your website, from publishing more content to using interactive elements and making design changes.
In this article, we'll break down 8 different ways that you can quickly and effectively kick off a website user engagement strategy and increase your user engagement numbers.
What is Website User Engagement?
Website user engagement is a measure of how long visitors to your website are involved in actively browsing and clicking on elements on your pages. In Google Analytics 4 (GA4), Google measures user engagement as "the amount of time someone spends with your web page in focus or app screen in the foreground."
Also in GA4, you can find the Engaged Sessions metric. Google counts a session as "engaged" if the user spent more than 10 seconds on your site, completed a conversion, or visited more than one page.
User engagement metrics are a set of metrics that are important to keep an eye on, as it's one of the best ways to determine how effective your website and content are.
Make sure to scroll to the bottom of our post to find a quick tutorial on measuring user engagement!
Other User Engagement Metrics
Google has its official way of measuring user engagement, but there are also some other metrics you can look at to determine how engaged your users are with your site.
To really get a good measure of how engaged users are with your website, keep an eye on:
Now that you know what metrics you can watch to keep an eye on your website's user engagement, let's take a look at the best ways to increase them!
The Best Ways to Increase User Engagement
Ready to create a user engagement strategy that'll improve your website? Let's dive in.
1. Write Really Good Content
Writing really good content is the number one way to boost user engagement on your website. You can be the absolute best at SEO and get people to your website by optimizing it to the fullest, but if your content isn't what they're looking for, they're just not going to stick around.
Make sure your content:
Fully answers the users' questions they'll have about that topic
Is well-written without grammatical errors
Uses headings and lists to organize thoughts
Is kept up-to-date
For more content writing tips, check out 10 Best SEO Copywriting Tips for Crafting Content that Converts.
2. Target the Right Audience
Before you choose a topic to write about on your website, think critically about whether it's going to bring in the right kind of visitors. You need to write about topics that are super relevant to your business, otherwise it'll be pretty easy for someone to leave without viewing any other pages on your site.
To target the right audience, make sure to do some keyword research, and make sure the search intent is right for your focus keyword. Run a search for your focus keyword and see what results show up. Think to yourself, "what is the searcher really looking for here?" If the top articles are mostly beginner's guides or listicles, for example, your searcher probably expects to find that type of result and won't click on yours if you don't meet that intent.
For more on keyword research and search intent, check out How to Do Keyword Research for SEO: Quick-Start Guide.
3. Make Sure Your Website is Fast & Error-Free
If your website isn't fast enough to keep your users engaged, they're much more likely to click the back button or navigate away to another site. Test your site's speed on both desktop and mobile and make improvements to speed it up.
If your website is on WordPress, make sure to check out How to Check Website Speed in WordPress in 2 Minutes or Less.
The same thing applies for errors. If there are errors on your site, your users are much more likely to leave!
Read How to Find 404 Errors & Broken Links in Google Analytics 4.
4. Gather Feedback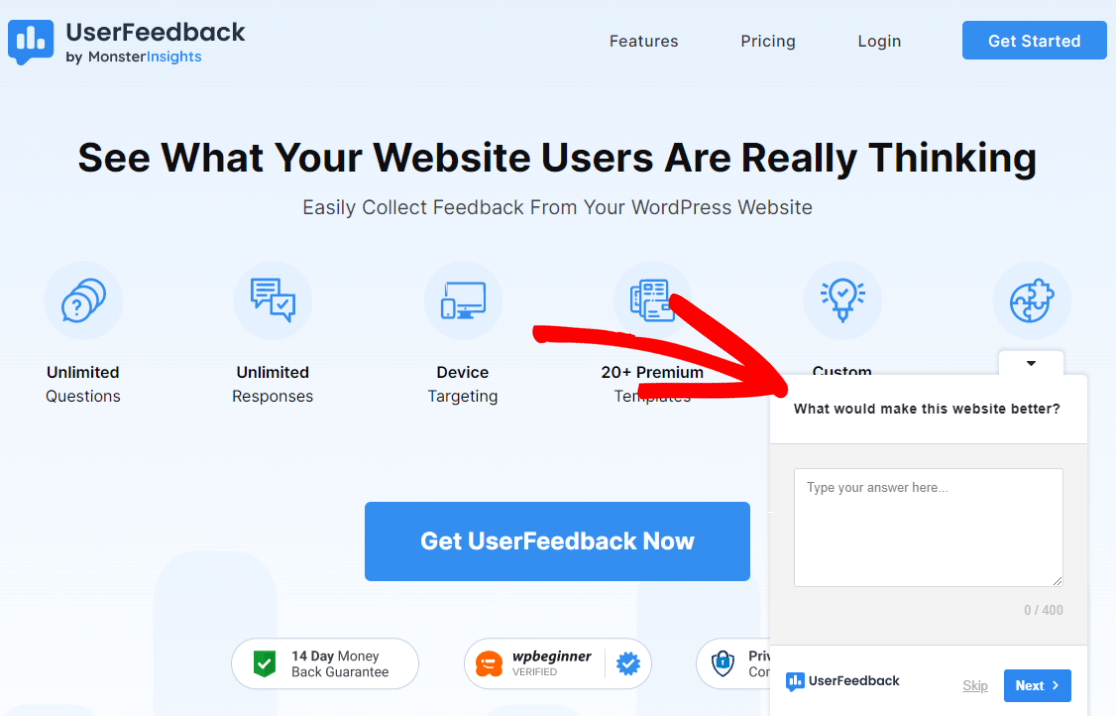 This is a part of a website user engagement strategy that people often miss! The best way to find out what else your users need from your website is to ask them.
With a survey and feedback tool like UserFeedback, the sky's the limit on what you can ask your visitors. Ask them any questions you want that'll help you improve your website and your content to increase user engagement.
For example, ask:
What topics your users would love to see on your blog
If your pricing page is confusing
If there's anything you could do to improve your website
How your users would rate your content
For more user feedback ideas, check out 44 Customer Survey Questions + Guide to Meaningful Feedback.
5. Add Exit-Intent Popups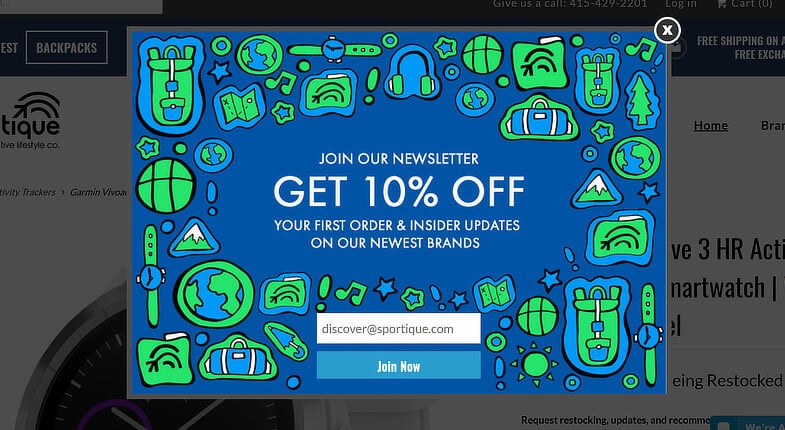 When a user has decided to click the back button or navigate away from your site, there's one really cool way you can turn that quick exit into an engagement instead: exit-intent popups.
Exit-intent popups are popups intended to offer something that'll make your visitor convert instead of leave. If you run an eCommerce website, you could offer a coupon. If you run a blog, use an eye-catching design to ask the user to join your email list or offer a downloadable guide.
Learn more about exit-intent popups.
6. Add Live Chat
When a user can't find something on your website or has another question, being right there in the corner of your website to help instantly them can majorly help increase user engagement.
With our favorite plugin for live chat, LiveChat, you can engage those users that otherwise would have left.
LiveChat is excellent for generating leads and, using its wide range of reports, you can easily highlight customer pain points and areas for improvement. You can also measure the chat duration, queued customers, and response times of your agents.
For a longer list of chat plugins and tools we recommend, check out 9 Best Live Chat Plugins for WordPress Compared.
7. Add Related Internal Links and Popular Posts
To encourage users to view more than one page, you want to make sure to link to other content on your site. If you give your users a logical way to flow to other content, they're much more likely to turn into engaged users.
So, insert internal links to other pages on your site wherever it makes sense! Of course, you don't want to overdo it so much that it makes your content look cluttered or confusing.
For more information on internal linking, check out How to Add WordPress Internal Links to Improve Your SEO.
It's also a great idea to add popular post lists to your site to showcase popular content and entice your visitors to click.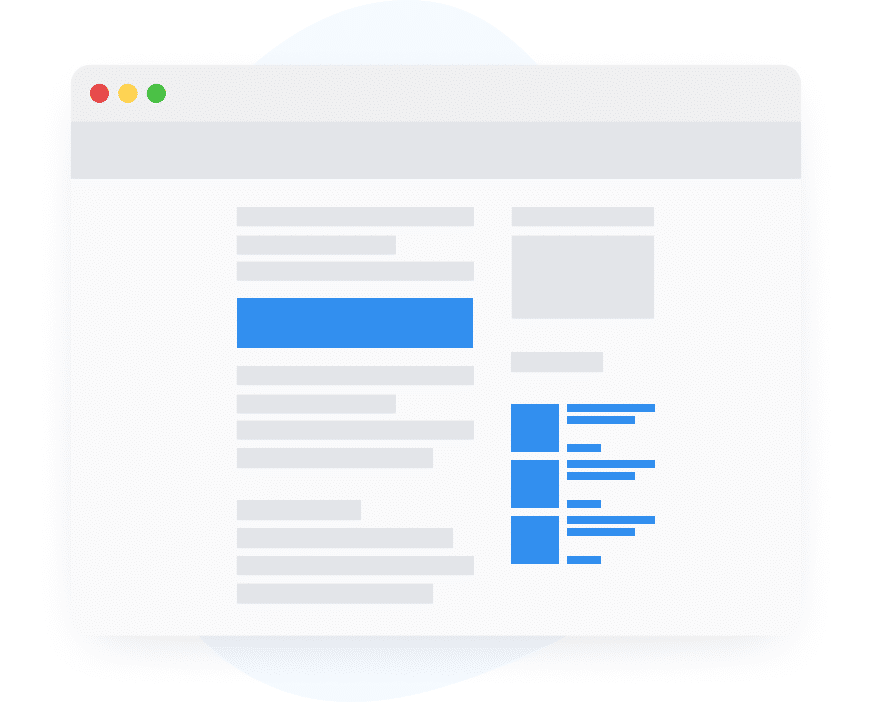 If you're using WordPress and want to add popular post lists to your pages, check out How to Display Your Most Popular Posts in WordPress (Step-by-Step).
8. Add Videos to Your Pages

Another great way to increase user engagement on your website (and boost your SEO) is to add interactive elements like videos to your pages. Not only to videos encourage your visitors to stick around longer and engage with your website, but they can also appear in search results and win you some additional search engine results page rankings.
That's our list of advice for increasing website user engagement! We hope you found some great tips to help you grow your business.
How to Measure User Engagement in WordPress
Now you know how to increase your user engagement, but what's the best way to measure it?
WordPress users, you can keep an eye on your user engagement metrics without even logging into Google Analytics! With MonsterInsights, you can get user engagement metrics (and WAY more data) right inside your WordPress dashboard.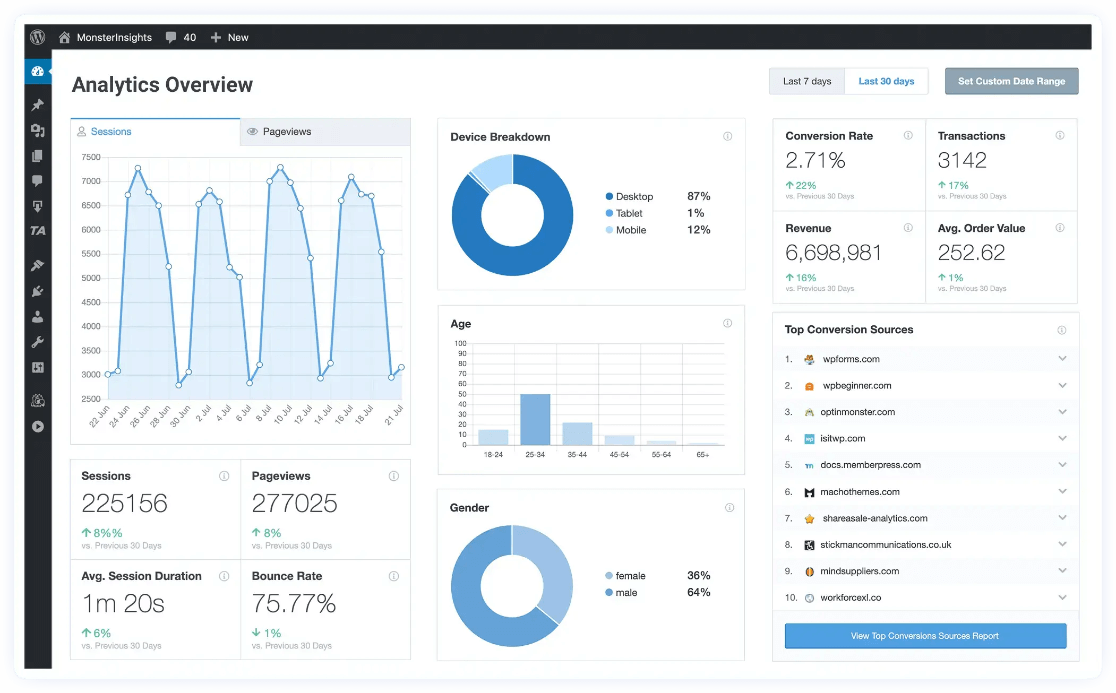 Plus, installing MonsterInsights gives you the ability to automatically track a whole bunch of extra data, clicks, and events with just a click or two. Quickly and easily switch on:
Video engagement tracking
Scroll depth tracking
Author tracking
Outbound and affiliate link click tracking
And a lot more!
Then, find all the data and reports you need to make the changes that'll grow your business right inside your WordPress dashboard.
For example, find some engagement metrics in the Landing Page Details report: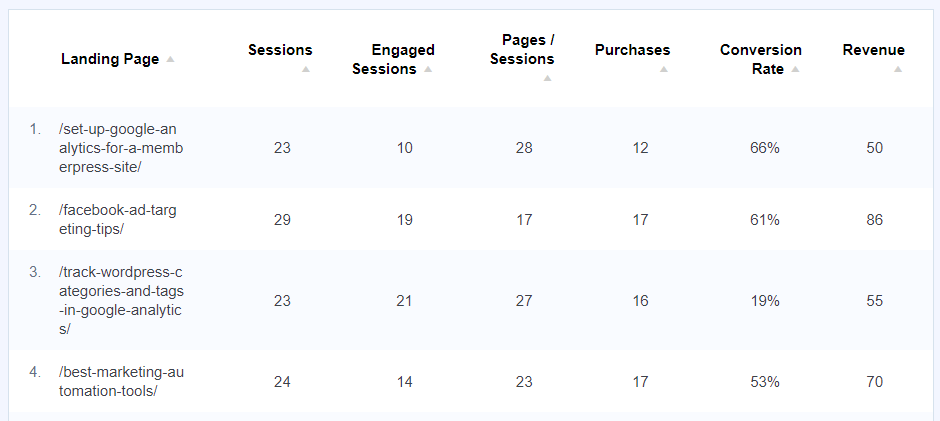 See which videos your users engaged with: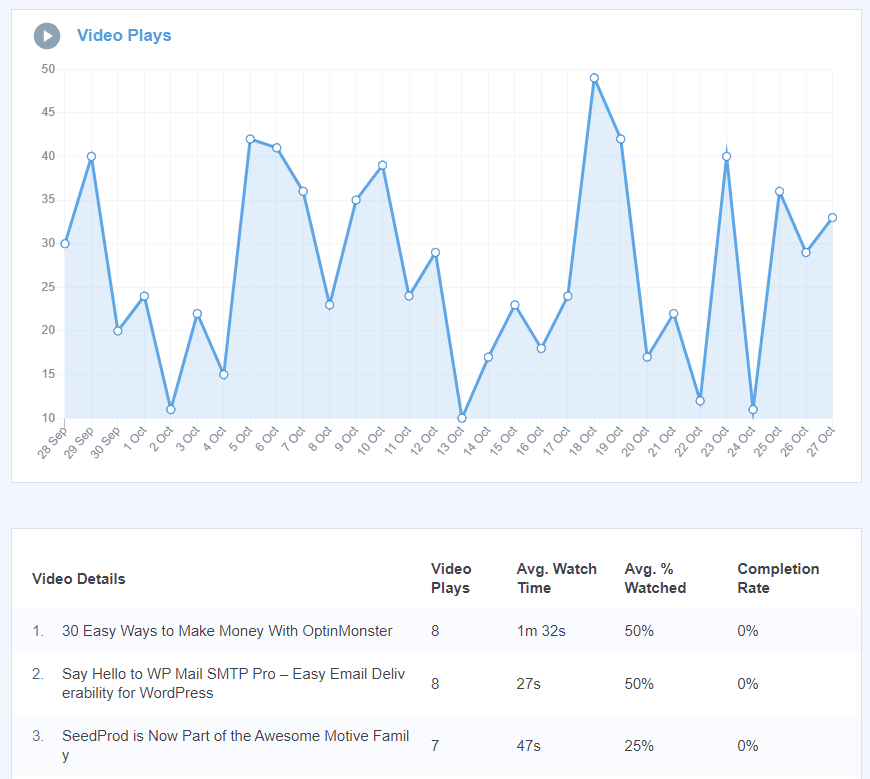 Find engagement by channel: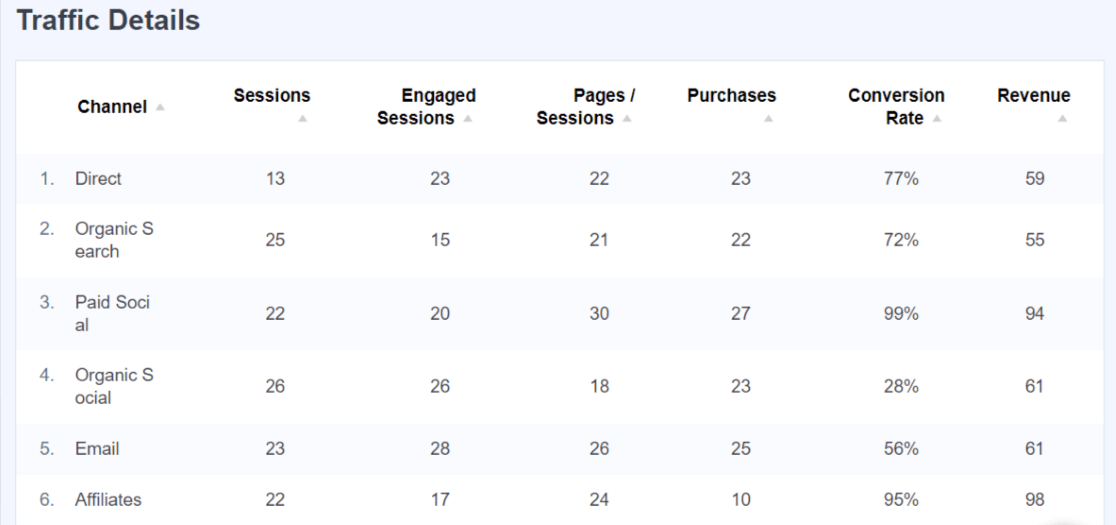 And much more.
For a full tour of MonsterInsights, check out Your Ultimate Guide to MonsterInsights Dashboard Reports.
If you liked this post, you might also want to check out:
Top 5 User Engagement Metrics for Your Website Explained
How to Track Link Clicks in Google Analytics 4 and WordPress
A Complete Guide to GA4 Conversion Tracking for WordPress
Not using MonsterInsights yet? What are you waiting for?
And don't forget to follow us on Twitter, Facebook and YouTube for more helpful Google Analytics tips.