Are you wondering which Google Analytics types of reports you should be looking at often to get the most important insights into how you're doing online?
Google Analytics can be really overwhelming, so you're doing the right thing by looking into which types of reports you can look at to gain big insights.
In this article, we'll go over 7 of the top Google Analytics reports that will give you the insights you need to grow.
But first, let's take a look at the easiest way to access Google Analytics reports on your WordPress website.
MonsterInsights: The Ideal Way to See Google Analytics
MonsterInsights is the best Google Analytics plugin for WordPress because it allows you to easily connect your WordPress site with Google Analytics (without hiring a developer or writing any code).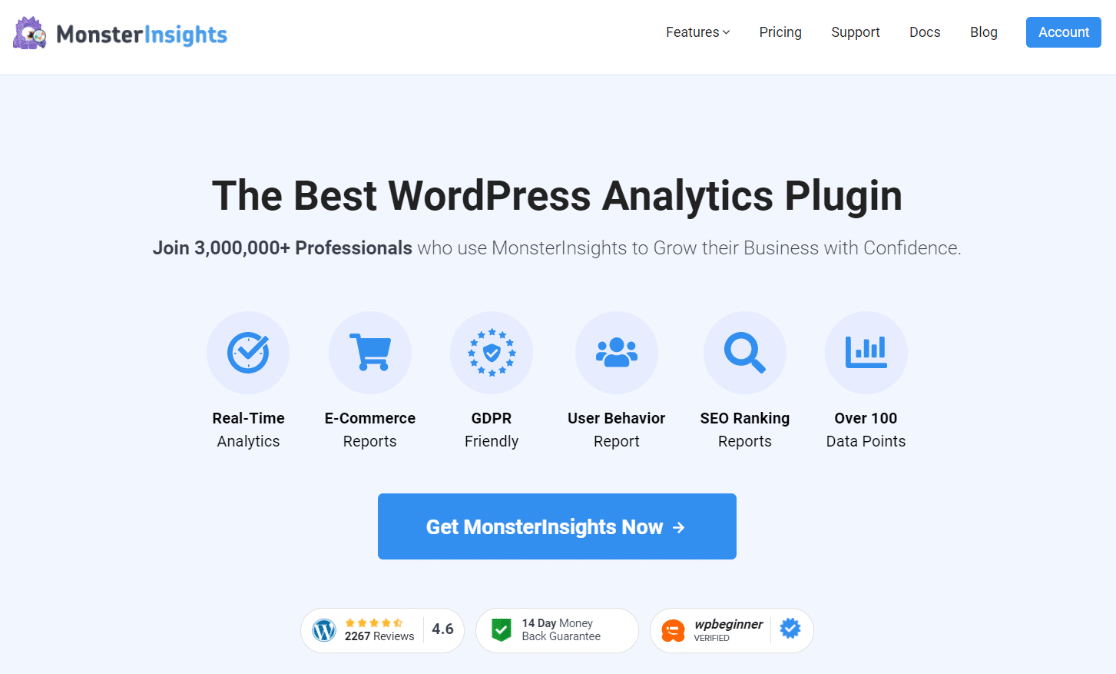 With MonsterInsights installed, many of the important Google Analytics reports we're about to go over will be available right in your WordPress dashboard.
Plus, with the click of a button, you can set up sophisticated tracking features such as event tracking, eCommerce tracking, form tracking, custom dimension tracking, outbound link tracking, and more.
Get Started with MonsterInsights Today!
Video Guide
Watch our video about the 7 types of Google Analytics reports, or read on below.
Top Google Analytics Types of Reports
The list of Google Analytics reports is very long. Especially if you're just getting started with it, it's a really good idea to start looking at just a few of the most helpful reports. Here's a list of important report types to start with!
Overview
The Overview report in MonsterInsights is the quickest, easiest way to see at-a-glance how your traffic is doing. It gives you a quick breakdown of some of your most valuable, everyday metrics like sessions, pageviews, devices, referral sources and more.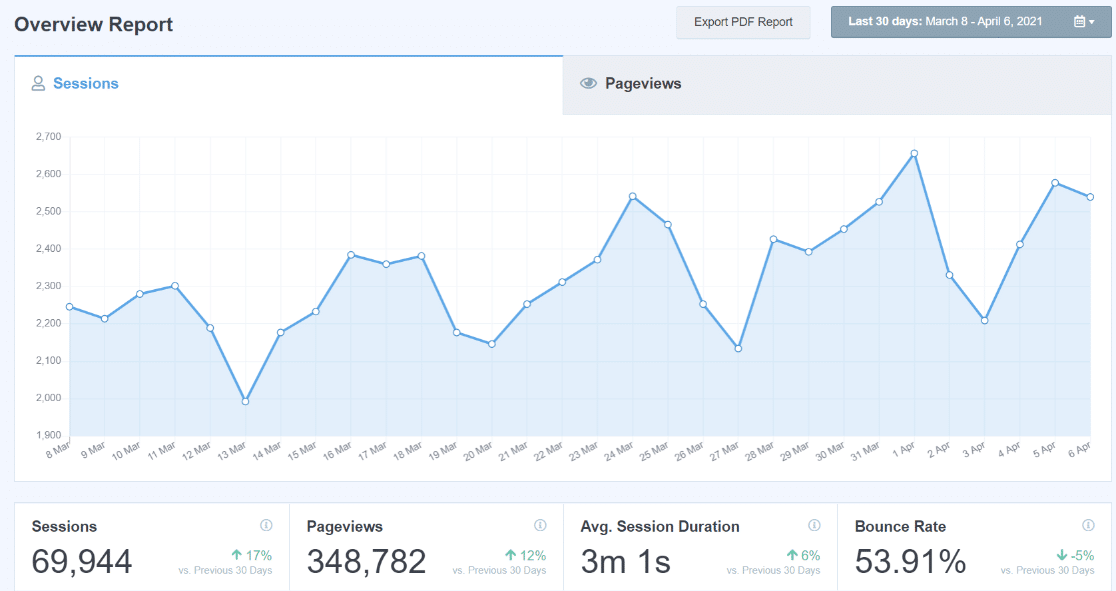 In Google Analytics, you have the Home screen. On the Home screen, you can scroll down to see stats like users, channels, users by time of day, top pages, and more.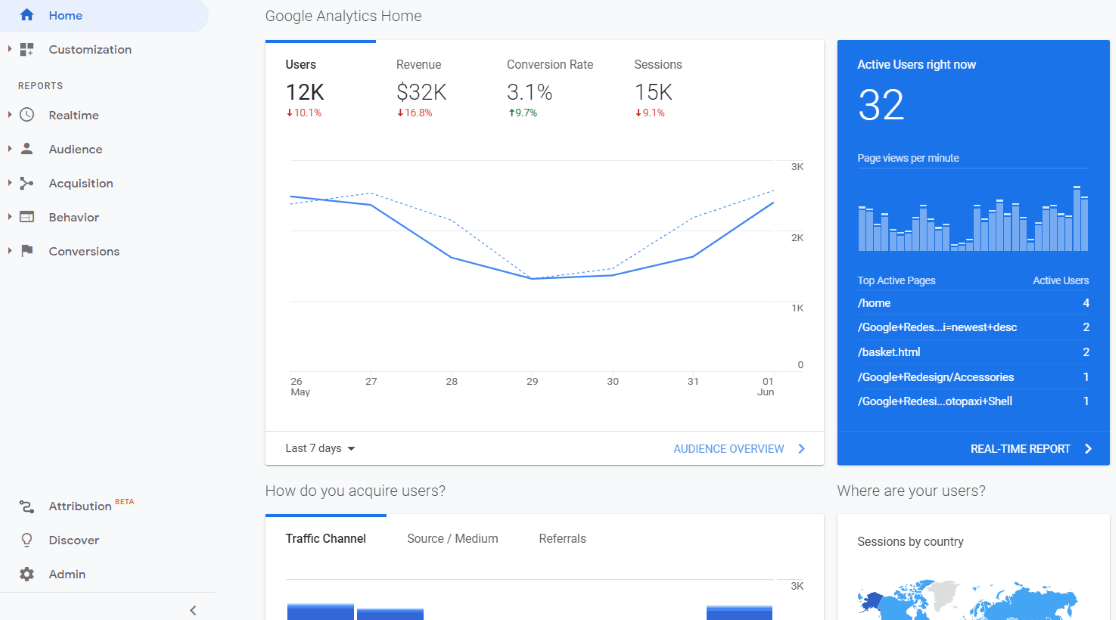 Device Breakdown
The device breakdown report is important because you can gain a lot of insight based on how your traffic is doing on different devices. You can also use the report to look for any usability issues with your website on certain devices.
On your MonsterInsights dashboard, you'll find the basic overview of how many visits you had on each device type (desktop, mobile, tablet). This is great for keeping an eye on things overall.
To dig in further, let's take a look at the Mobile Devices report in Google Analytics. You'll find it under Audience » Mobile » Overview.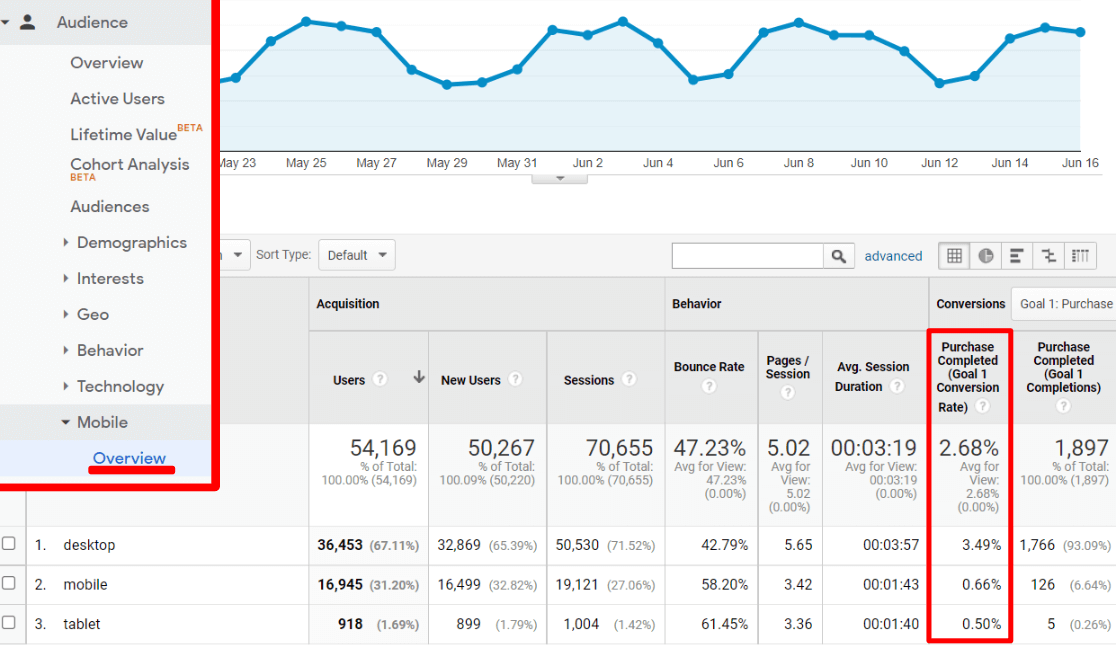 In this example, they have a much lower conversion rate on mobile than they do on desktop. The owners of this store may want to think about what they can do to make shopping easier in their store on mobile.
Top Landing Pages
Which pages are your users landing on when they find your site? This data can give you insight into how people are finding you in search or in other channels.
In MonsterInsights, you can find a quick list of your top pages in your WordPress dashboard with our Publishers reports. You'll see how many visits each page had, average visit duration, and bounce rate.
For instance, does one page have a low average duration and a high bounce rate? That page might need to be reconfigured or updated.
These reports are available when you use MonsterInsights at the Plus level or higher.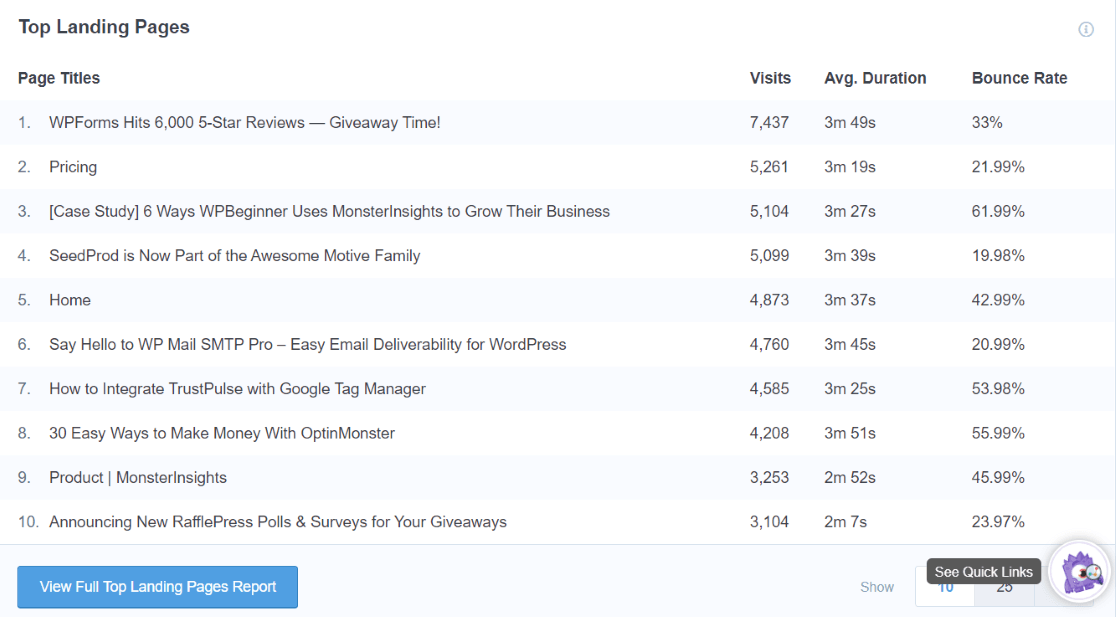 To find the top landing pages report in Google Analytics, all you have to do is click that blue button at the bottom of the MonsterInsights report to open the full report. Or, open Behavior » Site Content » Landing Pages.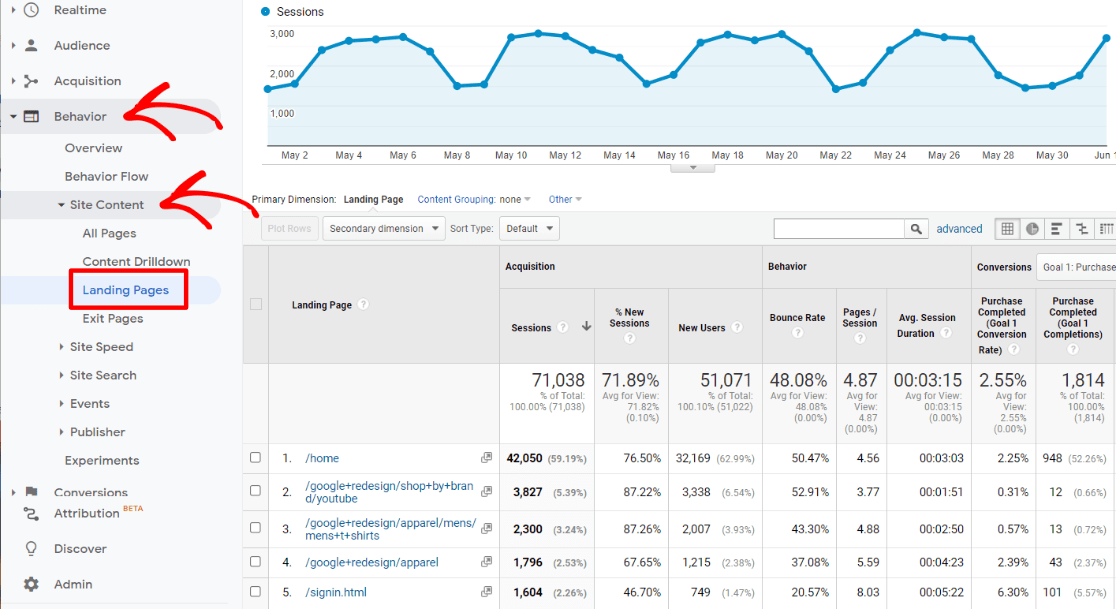 Top Outbound Links
Especially if you're a publisher, you probably have quite a few links that leave your site. Maybe you recommend or cite other websites often, or use affiliate links, or like to see how many people are clicking over to your social media profiles.
This information can help you understand what your users are interested in learning more about. For instance, are a lot of people clicking on a specific tool you recommended? Maybe your readers are interested in a longer post about it, an interview with their founder, or a comparison of that tool to another.
With MonsterInsights, you'll automatically get an outbound links report, without even having to set it up. This is not a report that exists out of the box in Google Analytics. You'd have to do some custom coding to track your outbound link clicks.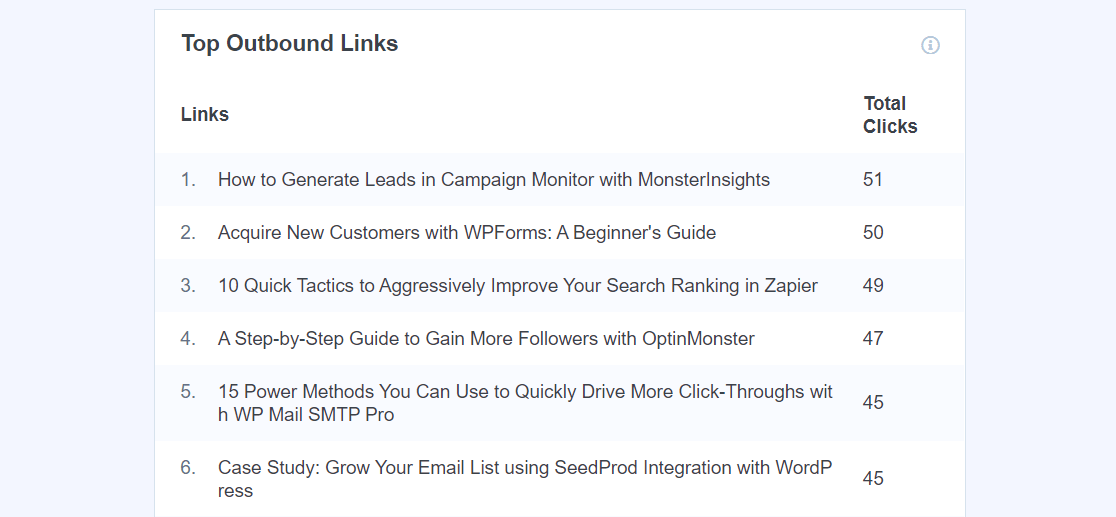 Search Terms
What Google search keywords is your website ranking for? How are users finding your website in search? See what they're typing into the search bar and clicking on you for in the search terms report.
The search terms report, available through Google Search Console, gets pulled into your WordPress dashboard with MonsterInsights. Just open your reports and head to the Search Console tab.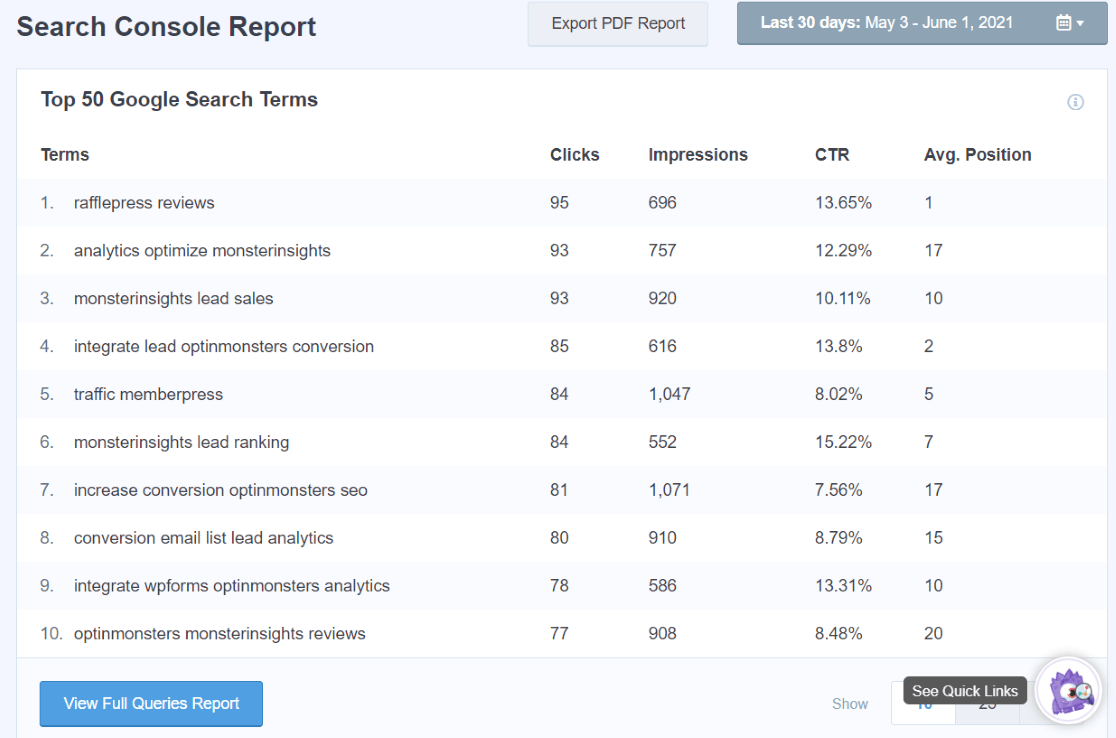 To find this data in Google Analytics, click the blue button at the bottom of the MonsterInsights report to open the full report. Or, you'll need to make sure your Search Console is linked to Google Analytics, then go to Acquisition » Search Console » Queries.
Form Conversions
When users get to your website, are they filling out your forms? What percentage of your visitors are making it to that conversion? With MonsterInsights, you'll get a forms conversion report without having to go through any setup. It'll just immediately start tracking how many people are submitting your forms!
You'll be able to see impressions (how many times the form was in view on your page), number of conversions, and conversion rate.

Google Analytics does not track this info out of the box. In fact, there are quite a few steps to set this up, especially if your form doesn't land on a Thank You page once submitted.
Site Speed
With Google's Page Experience update, website speed is something you have to be on top of. Google will give you a boost in search rankings if your site is faster than the others you're competing against. Also, landing page speed has been a general ranking factor since 2018.
Although site speed is an important metric, it's not reported in Google Analytics. Instead, you have to use a separate tool to get that information.
With MonsterInsights, though, you can see your up-to-date site speed right in WordPress. Plus, you can check the dropdowns for some helpful, tailored tips about how to improve your site speed.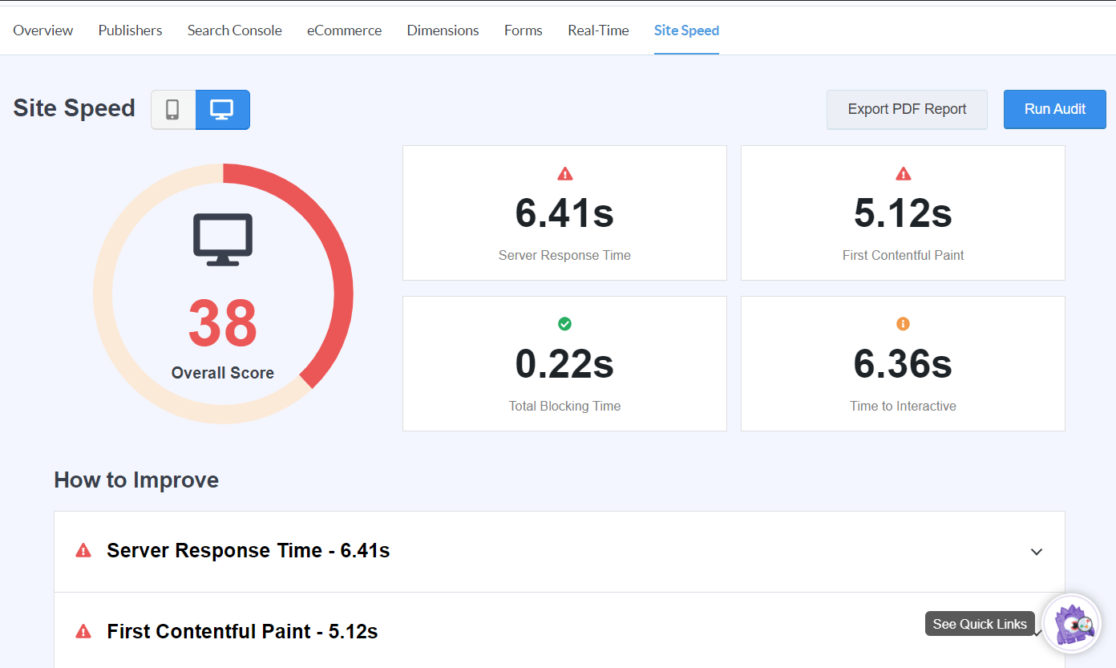 That's it, our top 7! Of course, there are many other useful types of reports, but these few will give you a great look at how your site is doing at a glance.
Ready to learn more about Google Analytics in WordPress? Read The Complete Beginner's Guide to Google Analytics for WordPress.
And don't forget to follow us on Twitter, Facebook and YouTube for more helpful Google Analytics tips.