Do you want to find the right keyword that can boost your website traffic? Keywords are the foundation of your organic strategy and an important ranking factor for Google. To uncover the right keywords, you need the best keyword research tools.
In this article, we'll show you the best keyword research tools to skyrocket your SEO. The list will include free and premium options, so you can decide which is best for your website.
Let's dive right in…
Our Favorite Keyword Research Tools for SEO
Semrush is the best keyword research tool you can use today and is highly popular among SEO experts.
With Semrush, you don't just get a list of search terms. Instead, you get a world of information about organic and paid keywords that you can use to propel your marketing strategy.
For starters, it gives a complete overview of any keyword you enter in the tool. You get to know about its organic volume, number of results, trend, other keyword suggestions, and lots more.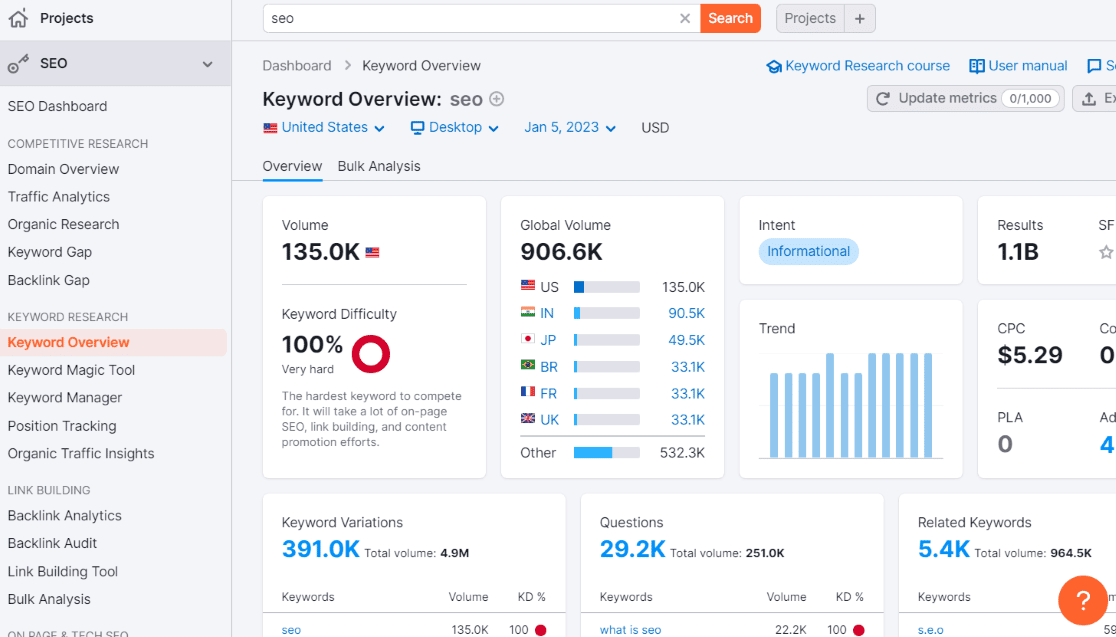 And if you want more details, then the keyword research tool gives a comprehensive competitive map of the keyword. You can view the top 100 Google search results for any keyword and see which websites are ranking in the top 10.
Another important feature of the tool is that you can view the Phrase Match Keywords and Related Keywords. These reports help you optimize your content for search terms you might have known before.
Plus, if you're using All in One SEO on your site, it integrates with Semrush so you can discover additional keywords, see their performance, and add them straight into your content with the click of a button.
But where Semrush excels away from other SEO tools is that you can enter any URL of your competitor, view their keywords, and spy on their organic strategy. It lets you identify keyword gaps that you might not have covered on your site.
Pricing: Semrush prices start from $99.95 per month and you get access to all its features along with a free trial.
Why should you use Semrush?
Discover short-tail and long-tail keywords
Export keyword reports for further analysis
Get instant data about paid keywords and their cost-per-click (CPC)
View traffic information for each keyword
Track keyword positions across websites
Identify the backlinks of your competitors
Complete website audit
Research topics and use SEO Content Template to include keywords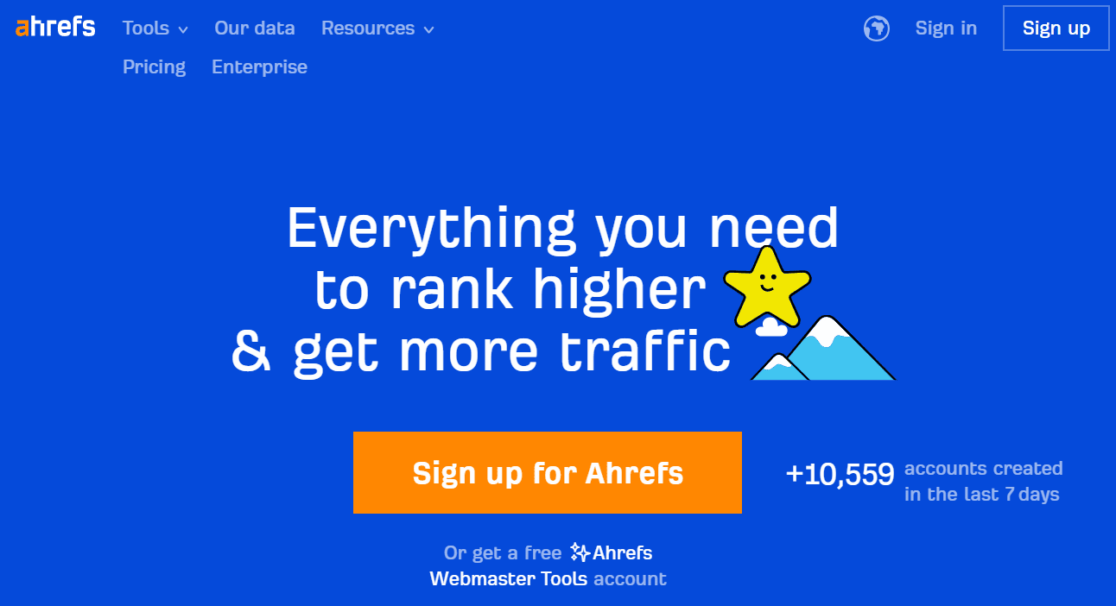 Ahrefs is the swiss army knife of keywords research tools. And like SEMrush, it's more than just software for finding search queries.
You can use it as a complete SEO tool to conduct competitor analysis, get new keyword ideas, and perform advanced organic research.
Using Ahrefs, you can track the SEO performance of your website and then compare it with others in the industry.
To get started with keyword research, you can use the Keywords Explorer feature.
Now enter any search term, select the search engine you want to target and choose a location. Then hit search and you'll get all the details for your keyword.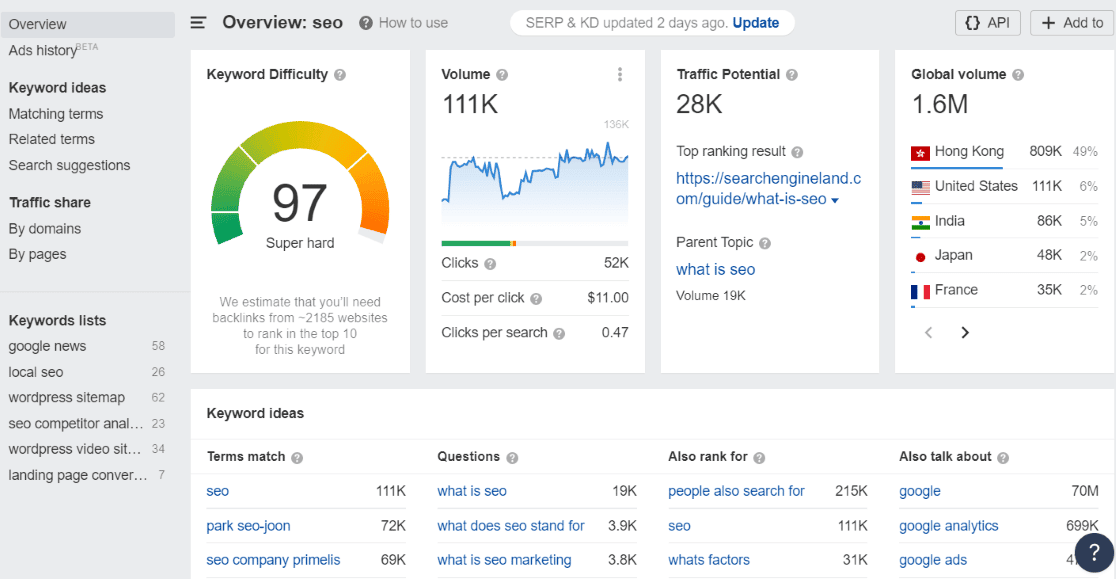 Ahrefs will show you an overview of the keyword. The most impressive feature is its keyword difficulty report. It shows how hard is it to rank for a search query.
In addition, you can also view the search volume, clicks, CPC, and global search volume.
And if you scroll down, you can see more keyword ideas and top search results along with featured snippets, people also ask, AdWords results, and Top stories.
Another feature you might want to check out when doing your keyword research is to look at the Questions option. Ahrefs shows different questions that you can use long-tail keywords in your content.
You can also use the tool for more advanced SEO analysis. For instance, you can enter a competing website URL in its Site Explorer feature and view top keywords, content gap, backlinks, top pages, and more.
Pricing: Ahrefs prices start from $99 per month and you get to track 500 keywords. It also offers a paid trial period where you can use all its features.
Why should you use Ahrefs?
Detailed keyword ideas
Shows keyword difficulty, volume, click, CPC, SERPs, Parent topic, and more for each search term
Conduct a site audit to find gaps
Track ranking positions of your keywords
Use the domain comparison feature for detail competitive analysis
Link intersect options shows backlink opportunities
Discover content ideas with Content Explorer
MonsterInsights is the best keyword research tool you can use for WordPress websites. It lets you add Google Analytics to WordPress without any coding and then you can view reports from the website dashboard.
Using the plugin, you can track your site's performance, get actionable insights, and make decisions to grow your business.
That said, MonsterInsights is a powerful tool for conducting keyword research and finding opportunities to increase your organic traffic.
There are 3 reports that the plugin offers that are highly useful for discovering keywords.
The first one is the Search Console report, which shows the top-performing keywords of your website. For each keyword, you can view the number of clicks, impressions, CTR, and its average position.
This report shows the search terms that bring in a lot of traffic and are ranking high on search results. Using this data, you can then cover more topics around these keywords and find similar search terms to target.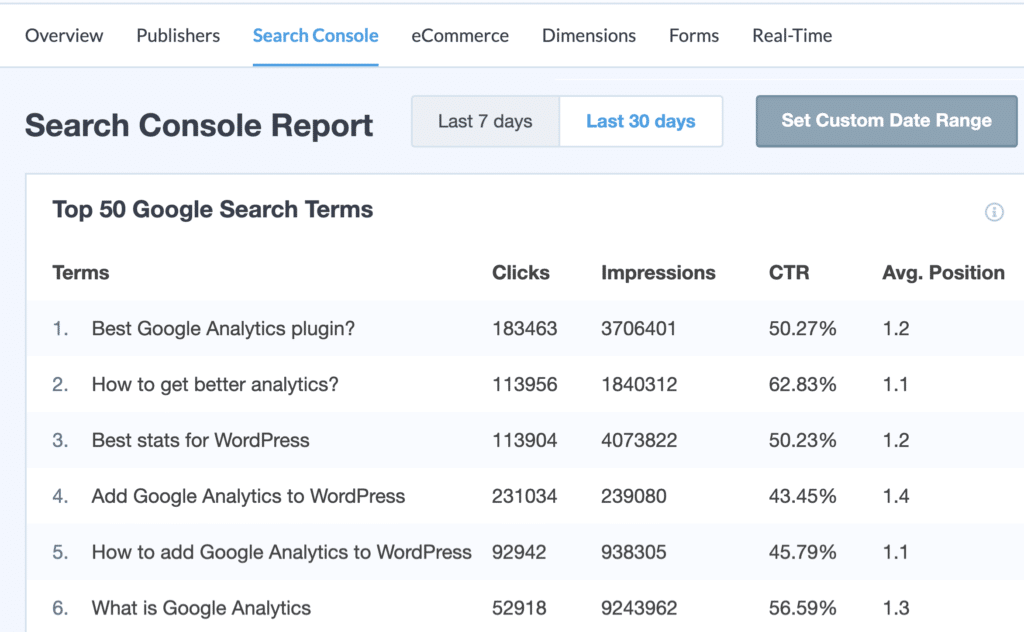 The second report is Top Landing Pages, which can be found under Publisher reports.
These are content pieces that do well on your site and attract a lot of visitors. You can use the report to identify keywords for these high traffic pages and then create similar landing pages.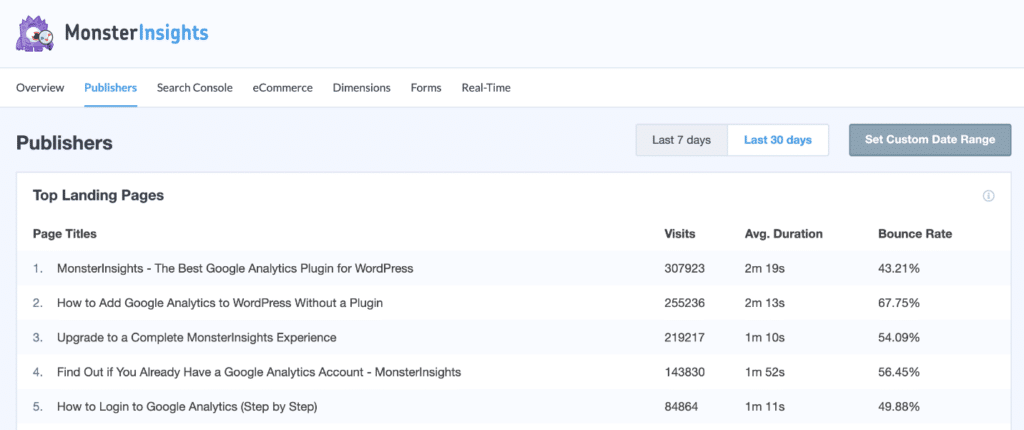 And the third report you can use for researching keywords is MonsterInsights Custom Dimension report on Most Popular Focus Keyword.
If you're using All in One SEO for your WordPress website and enter a focus keyword for all your posts, then using MonsterInsights you can set up a custom dimension to track which of these keywords generates the most traffic.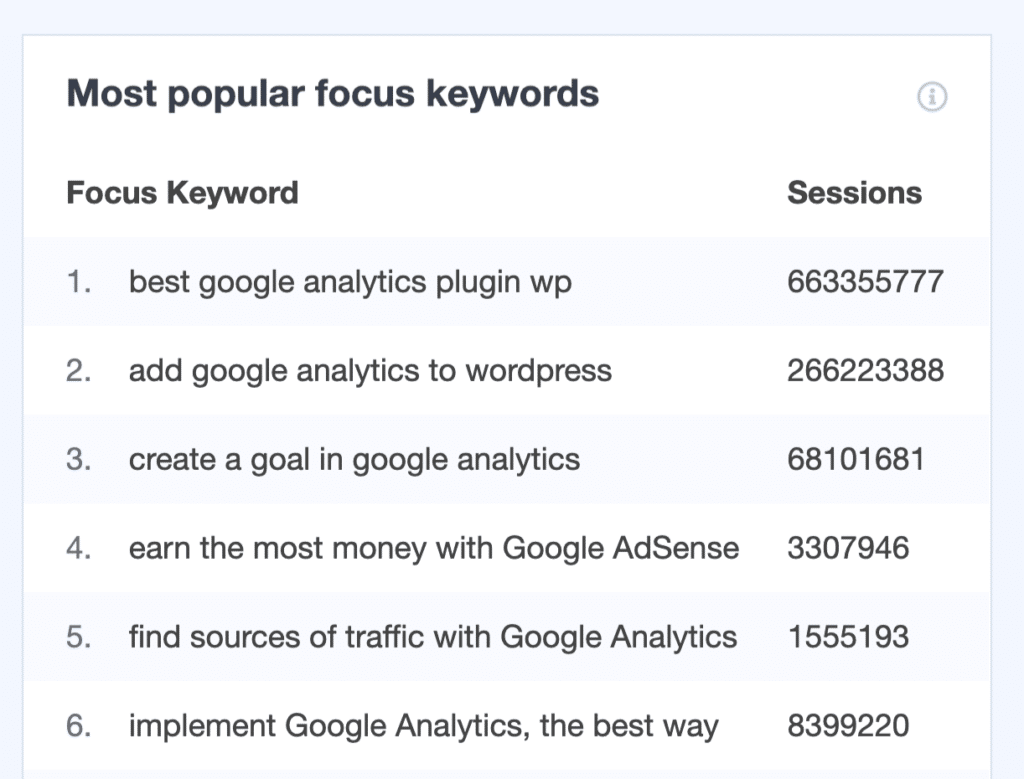 The report helps you see which keyword is performing better than others in terms of traffic and provides new keyword ideas you can use for your website.
Pricing: MonsterInsights prices start from $99.50 per year and you get a 14-day money-back guarantee. But if you want to unlock all the advanced features, then we recommend upgrading to the MonsterInsights Pro plan.
Why should you use MonsterInsights?
Easy Google Analytics set up on WordPress
Get instant insights about your WordPress website's performance
Track online store performance with eCommerce addon
Identify keywords for your site and scale your organic growth
Automatically track forms across the website
Work on your GDPR compliance with the EU Compliance addon
Easy integration with other WordPress plugins like WPForms
Get started with MonsterInsights now.
Google Keyword Planner is a free keyword research tool by Google and is part of Google Ads, formerly known as Google AdWords.
You may be thinking at this point, isn't Google Keyword Planner useful for running pay-per-click (PPC) or online advertisements?
Yes, that's true but it can be a great tool for researching keywords for your organic strategy.
By using the tool, you can create a list of keywords for your campaign. And the best thing about Google Keyword Planner is that it shows you historical data for each keyword.
You can also see the forecasts for keywords in terms of clicks and conversions. However, this is not 100% accurate but it does give you an idea when picking search terms and finding out how much ROI can you generate from them.
When you use Google Keyword Planner, you can view monthly searches, competition, and bid levels for keywords.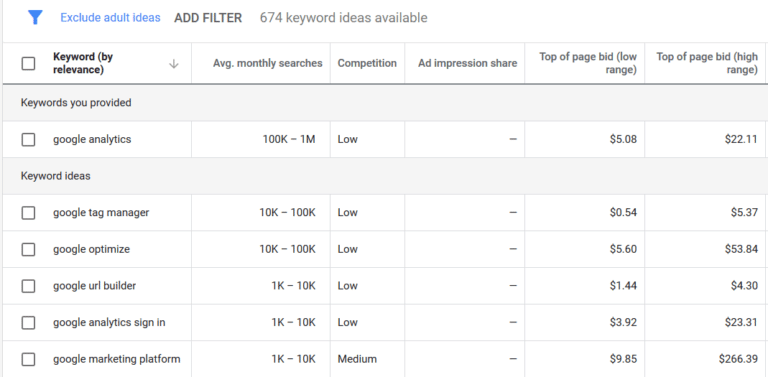 Pricing: Google Keyword Planner is a free tool, all you need to do is sign up for Google Ads with your email address.
Why should you use Google Keyword Planner?
Get keyword ideas quickly and for free
Find out competition level for each keyword
Keyword forecasts can help filter search terms
Identify new content topics by exploring keywords
Plan your paid and search campaigns together
Get started with Google Keyword Planner now.
AnswerThePublic is also one of the best keyword research tools. Precisely because it's very handy when you want to get a bunch of content topics and new keyword ideas, especially long-tail keywords.
The tool is very easy to use and all you have to do is enter a broad keyword. The tool will then present you with keyword suggestions in terms of questions, prepositions, comparisons, and alphabetical order.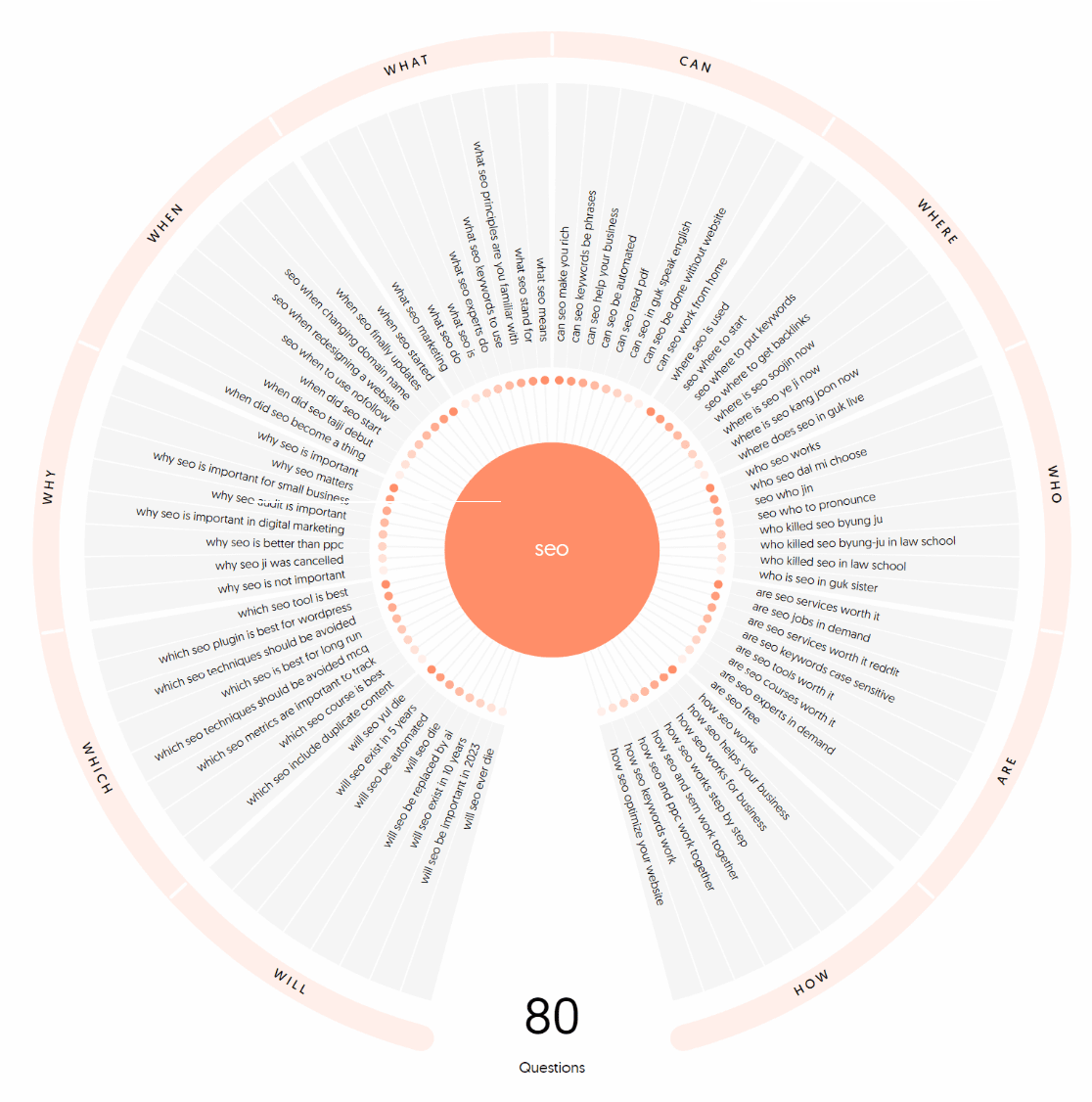 Another advantage of using the keyword research tool is that you get to know what questions your users might be searching for.
And with voice search playing an important role, finding these questions can give an advantage over your competition.
Pricing: AnswerThePublic offers both free and paid plans. In the free plan, you get limited daily searches. While the Pro plan will cost you $99 per month but you'll get more features.
Why should you use AnswerThePublic?
Get amazing blog post ideas
Uncover long-tail keywords
Download the keyword suggestions as a CSV file
Helps understand what questions your users might be asking
Get started with AnswerThePublic now.
Moz is an all in one SEO tool that you can use to research keywords. In its Keyword Explorer, you can enter the main search term and it will give you a list of suggestions, like most other tools on our list.
But one area where Moz is different from the rest is that it will give you keyword ideas that you might not find it anywhere else.
It also shows organic CTR for a keyword, which is useful since you want to target search terms that get the maximum clicks.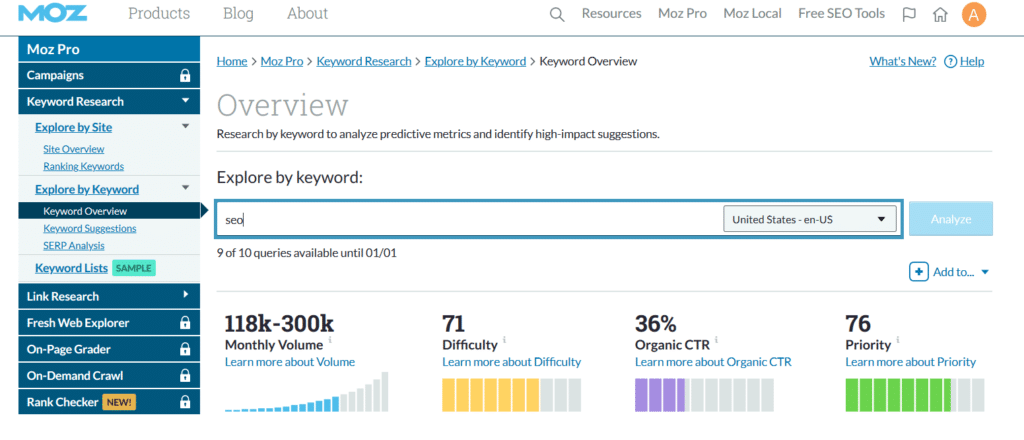 Pricing: Moz Keyword Explorer tool is free to use but if you want more SEO options then you can use Moz Pro. That will cost you $99 per month in its Standard plan.
Why you should be using Moz?
Find out of the box keyword ideas
Detailed insights about keywords with organic CTR
Set up tracking of your site and competitors
Uncover backlink opportunities
Track mobile keyword rankings
Verdict: What's the Best Keyword Research Tool?
If you're looking for a complete SEO tool that provides detailed keyword research and helps you understand your competitors, then we recommend Semrush.
It will help you find organic and paid keywords for your website. And with other features like SEO content template, you can write SEO based articles with the right keywords.
We hope you like our article on the best keyword research tool to skyrocket your SEO. You can also go through our list of the best SEO plugins and complete beginner's guide to Google Analytics for WordPress.
And don't forget to follow us on Twitter, Facebook and YouTube for more helpful reviews, tutorials, and Google Analytics tips.