Are you looking for a free trial of MonsterInsights?
There are two versions of MonsterInsights: MonsterInsights Lite is free, whereas MonsterInsights Plus/Pro/Elite is paid.
With MonsterInsights Lite, you can use the plugin for free. And you won't be bound by any time limit, as the trial is free forever.
In this article, we'll show you how to get an unlimited MonsterInsights free trial by using MonsterInsights Lite.
What is MonsterInsights Lite?
MonsterInsights Lite is a free version of MonsterInsights, the best WordPress plugin for Google Analytics.
Using the plugin, you can easily set up Google Analytics on your WordPress site without having to edit any code. And you don't have to hire an analytics expert to set up Google Analytics tracking.
MonsterInsights works right out of the box by automatically setting up advanced tracking, which isn't possible by default in Google Analytics.
But what features does it offer? Let's take a look.
MonsterInsights Lite Features
MonsterInsights is more than just a plugin to add Google Analytics to WordPress. You can track your website performance with a click of a button.
And you get to see simple and easy to understand reports right inside your WordPress dashboard. So, you don't have to worry about finding meaningful data in Google Analytics.
Here are some key features you get in MonsterInsights Lite:
Step-by-step Google Analytics installation wizard
Find out which outbound links get the most clicks
Automatically track phone number clicks
Better understand your audience with demographics data
Easily manage user role permissions
Enhanced Link Attribution
Track file downloads on your website
Write irresistible SEO titles with headline analyzer
Track demographics and interest reports for remarketing
That said, how does the free version compare to the premium version in terms of features?
MonsterInsights Free Version vs Pro
While the Lite version offers a lot of features, you can easily upgrade to MonsterInsights Plus or Pro to unlock more actionable insights.
For instance, you can view your top landing pages, so you can see which content performs the best. Then using the data, you can come up with similar topics. And you get to track and see reports of your top affiliate links, outbound links, top downloads, video plays and more.

Besides that, the Pro version comes with different addons that allow deeper understanding of your audience. With the eCommerce addon, you can automatically track your online store's performance.
In just a few clicks, you can see how many conversions you're getting, find out your most popular products, track different conversion sources, get insight into your user journey, and more.

And if you have different forms on your website, then you can track their conversions using the MonsterInsights Forms addon.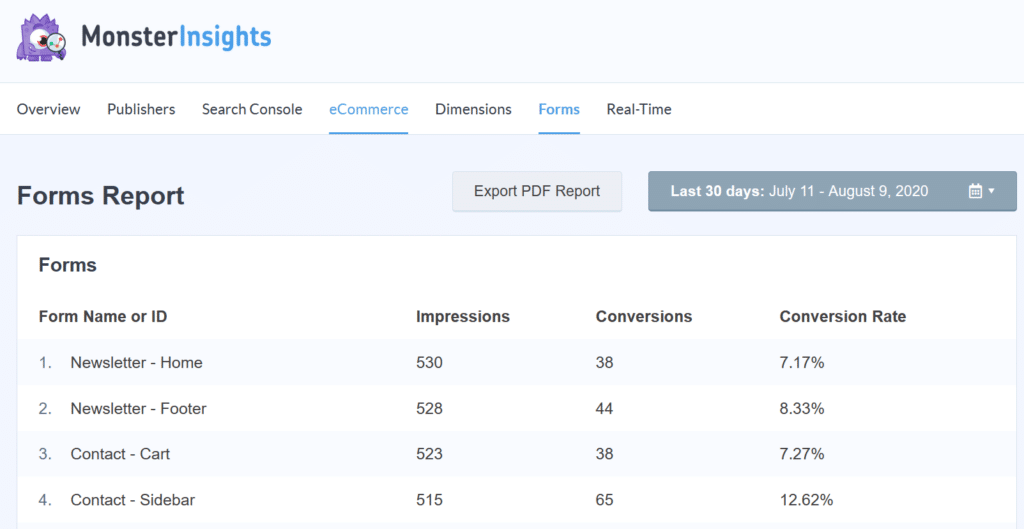 For more on what you can get with a MonsterInsights license, check out our post on is MonsterInsights worth it.
How to Get a MonsterInsights Free Trial
Now that you know the features you get from MonsterInsights Lite, you might be wondering, how can you start a free trial?
Well, just follow these steps and you can enjoy the unlimited free trial of the best Google Analytics WordPress plugin in no time.
Step 1: Download & Install MonsterInsights Lite Plugin
The first step is to download and install MonsterInsights on your WordPress website.
To do that, go to your dashboard and then navigate to Plugins » Add New. Now, search MonsterInsights in the search bar. Then go ahead and click the Install Now button.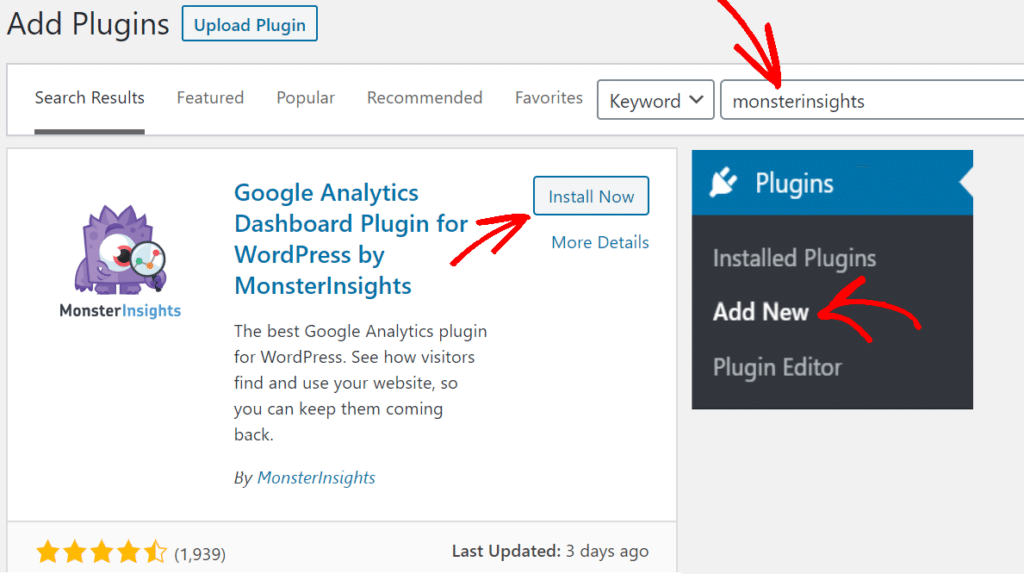 Step 2: Activate MonsterInsights Lite
Once you've hit the Install Now button, wait for a few seconds and then click the Activate button. MonsterInsights Lite should now be ready to use on your WordPress website.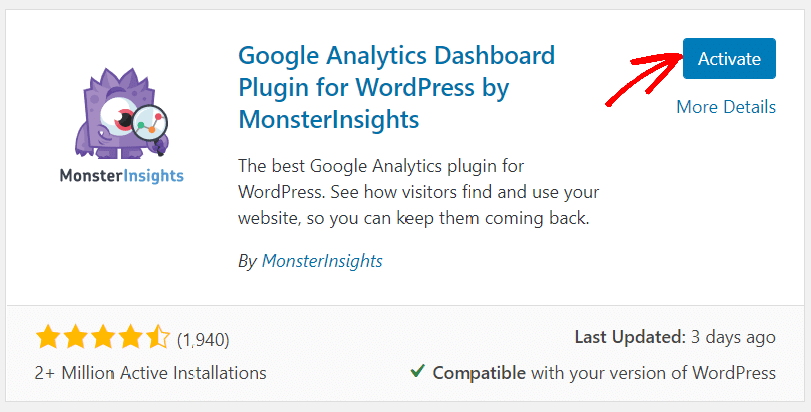 Step 3: Connect Google Analytics with WordPress
Next, you'll have to connect your Google Analytics with your WordPress site. And you can do that by following the MonsterInsights setup wizard.
But make sure that you have a Google Analytics account first. If not, you'll need to sign up for one.
You can follow our video tutorial on how to properly set up Google Analytics on WordPress. It will show you how to create an account on Analytics and walk you through the setup wizard.
And that's it!
You've successfully installed MonsterInsights Lite on your WordPress website. You can now get insights about your visitors and make decisions based on data to grow your business.
We hope you liked our article on how to get an unlimited free trial of MonsterInsights. If you found this post helpful, then do check out our ultimate guide to MonsterInsights dashboard reports.
Not using MonsterInsights yet? What are you waiting for?
And don't forget to follow us on Twitter, Facebook and YouTube for more helpful reviews, tutorials, and Google Analytics tips.