Do you want to find search terms that are easy to rank, bring in traffic, and have a high conversion rate?
If yes, then we've got the perfect solution for you – long tail keywords.
These are longer phrases that users are searching for, often when they're about to make a purchase or looking for very specific information. And the best part is, it's often easy to rank for these keywords.
In this article, we'll explain long tail keywords, and how you can use them to skyrocket your traffic and conversion.
What are Long Tail Keywords?
Long-tail keywords are phrases people enter in search engines when they're looking for something specific.
And if you're wondering how many words is a long tail keyword? These are phrases that can be 3 or more words.
There is no set cut off for the number of words, but they tend to be longer when compared to short-tail keywords, which are usually 1 to 2 words.
Here's an illustration from OptinMonster explaining long-tail keywords: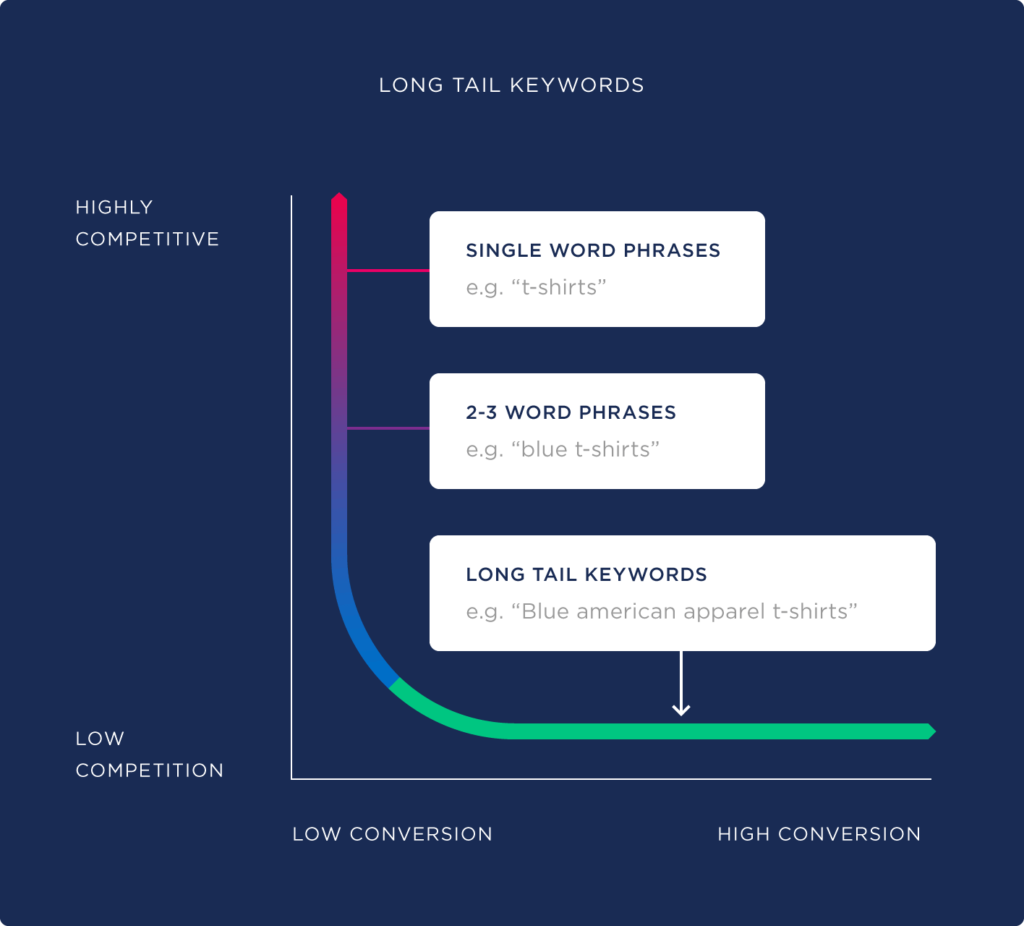 Let's say a user wants to purchase running shoes. An example of a long tail keyword would be: buy running shoes for flat feet. On the other hand, a short tail keyword would be: buy shoes.
Did you see the difference?
Long tail search terms are highly targeted and answer a very specific query. Short tail keywords are broader and provide information to a user when they're in the early stages of purchasing a product.
With that, why should you use long tail keywords?
Why are Long Tail Keywords Important for Your Site?
Long tail keywords provide many benefits and form the backbone of your content marketing efforts and SEO strategy. By using them, you can increase your website's traffic, dominate search rankings, and boost your conversions.
Here's a detailed look at why you should be using long tail keywords…
1. Long Tail Keywords are Easy to Rank
Given the vastness of the internet and high competition on common keywords, long tail keywords are easier to rank.
That's because they are so specific that not many businesses would be competing to grab the top spot on the search results of Google.
For instance, if you enter a head term such as SEO in any keyword research tool like Ahrefs, you'll see that the keyword word difficulty is super hard.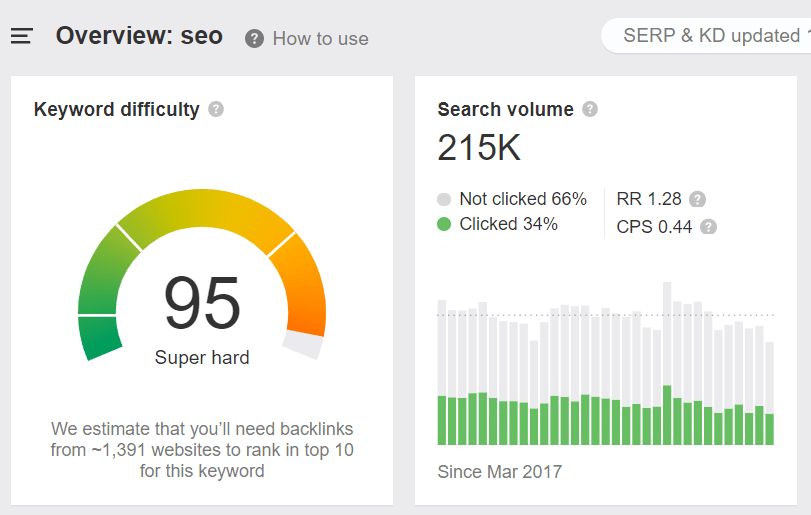 But if you search for a long tail keyword like what does SEO stand for, then you'll see that the difficulty is medium and it's not highly competitive.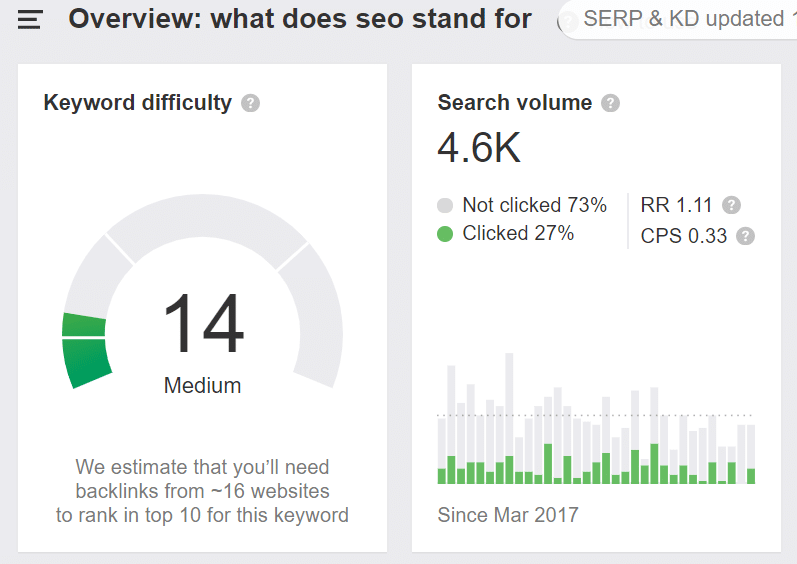 While common keywords have a high search volume, but you'll have put in a lot of effort and time to rank on those queries.
That's why an easier option is to target long search phrases and if you can at the top on Google, chances are you'll get 30% of all the clicks on the first page.
Another reason for using broad search terms is that they can help you generate sales, as we'll explain next.
2. Conversion Rate of Long Tail Keywords is High
When a user is in the final stages of the buying cycle, it's more likely that they'll use a long tail keyword to find something specific and then make a purchase.
Short tail keywords provide the initial information to a buyer when they're researching a product or a service and making comparisons. Because these are informational keywords, you are less likely to get a conversion.
However, if buyers have made up their mind, then they'll search where to buy the item from, making the long tail keywords as your transactional keywords.
Speaking of transactions, long-tail keywords have 2.5X higher chance of converting than a head term. This means that long tail search terms help boost CTR in search results.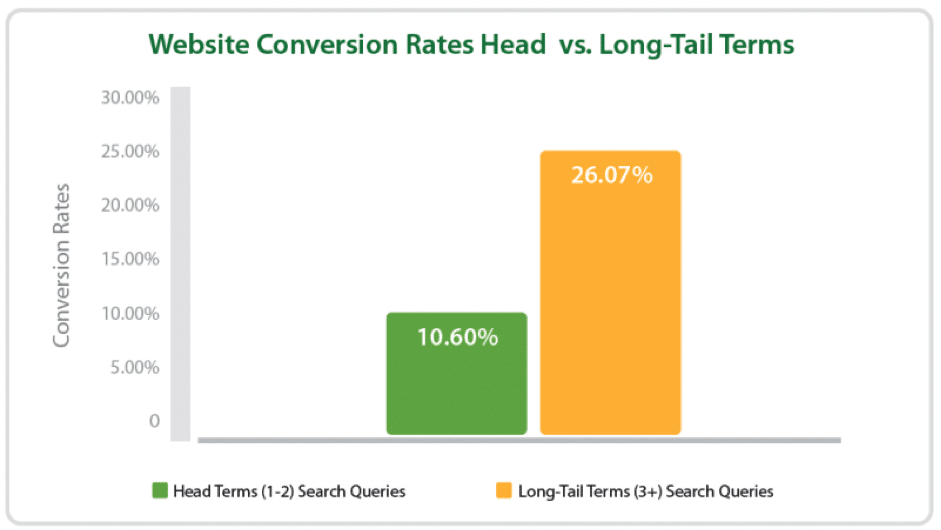 So, if you're looking to make more money, you should definitely target long-tail keywords as they provide a better conversion rate.
3. Majority of Your Site's Keywords will be Long Tail
Did you know that long tail keywords make up for 70% of search traffic?
That's because they are the actual search phrases people enter in search engines. One of the reasons is that they are specific and helps users find what they're looking for.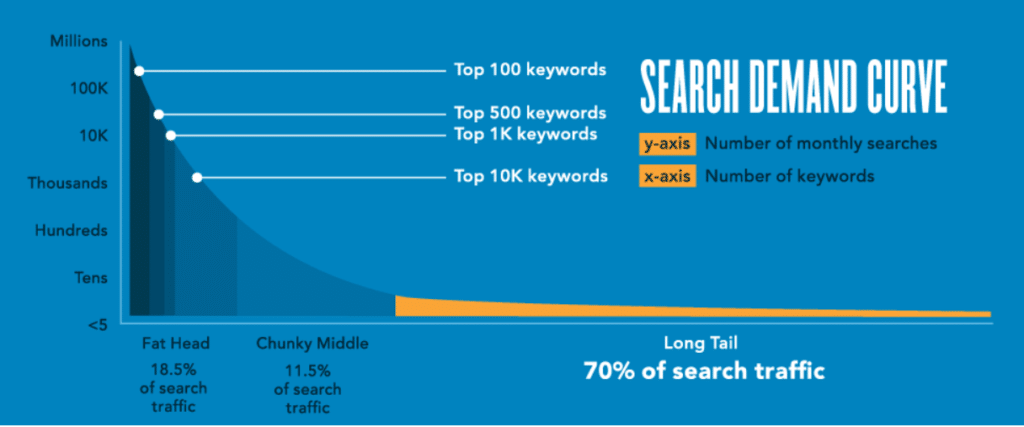 If you take a look at the keywords your visitors use to find your website, you'll notice that the majority of them are long-tail keywords.
This shows that if you want to grow your organic traffic, then long tail search terms should be part of your SEO strategy.
4. Long Tail Keywords Provide Endless Content Ideas
Another reason why long tail keywords are important for your WordPress site is that you get a lot of content ideas to cover.
Because they have a highly focused search query, you can create unique content types for each keyword, resolving that specific need of the user.
Not only that, by covering multiple targeted topics, you're also boosting the rankings for your head term.
For instance, if you're planning on ranking on a short tail keyword like keto diet, you won't be able to cover all the topics in a single blog.
A better strategy would be to support the head term with other supporting blogs. In this case, there are many long tail keywords for keto diet that you can use and turn them into individual posts.
And the more pages you create, the better is it for your rankings. That's because Google prefers websites that have a lot of pages, as it shows the website is authentic.
With that, are you ready to uncover long tail keywords for your website?
How to Find Long Tail Keywords?
Here are some quick and easy ways to find long tail keywords:
1. Look at Your Search Console Report
You can start by looking at the long tail keywords that already bring traffic to your site. This will help you find similar search queries that you can target and then create new content.
To look for long tail keywords, you can use MonsterInsights WordPress plugin. It lets you view your Google Search Console reports inside your WordPress dashboard.
Using the Search Console report, you can see the top keywords that get the most clicks, impressions, CTR, and their average position.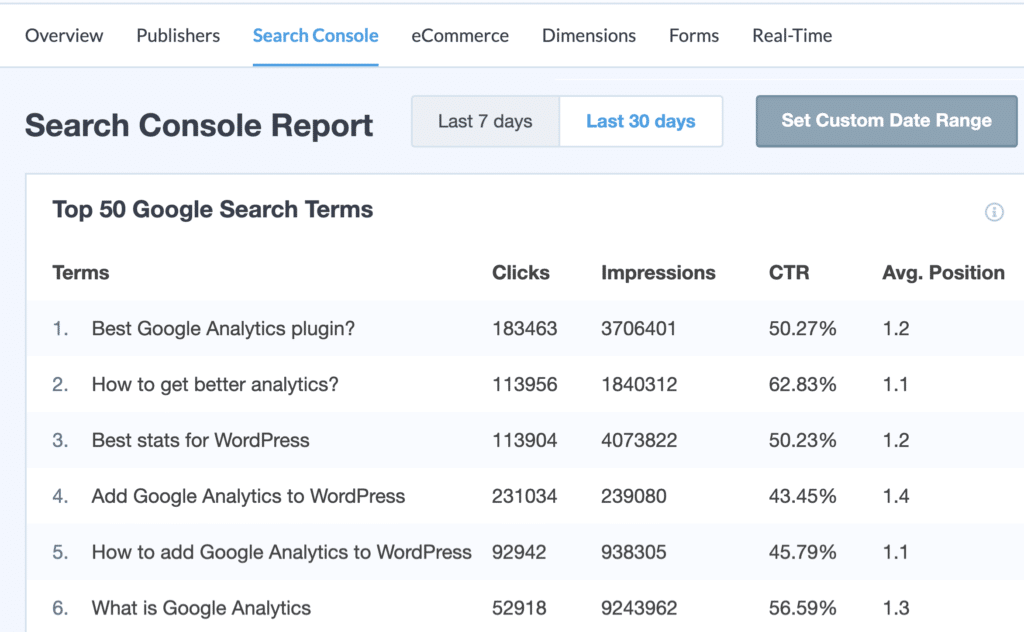 As you can see from the image, almost all the top keywords are long tail keywords. These are the search terms that bring the majority of organic traffic and improve the CTR of your website.
The next step is to find more long tail keywords like these and then try to optimize them on your existing pages or create new ones.
2. Use Google Autocomplete, People Also Ask & Related Searches
Another simple way of finding long tail keywords is by typing a short tail keyword or your head term in Google (don't hit enter) and then look at the autocomplete suggestions.
These are more specific search queries that people look for and are related to your overall topic. For instance, if you wrote keto diet in Google, here are the autocomplete suggestions you'll see: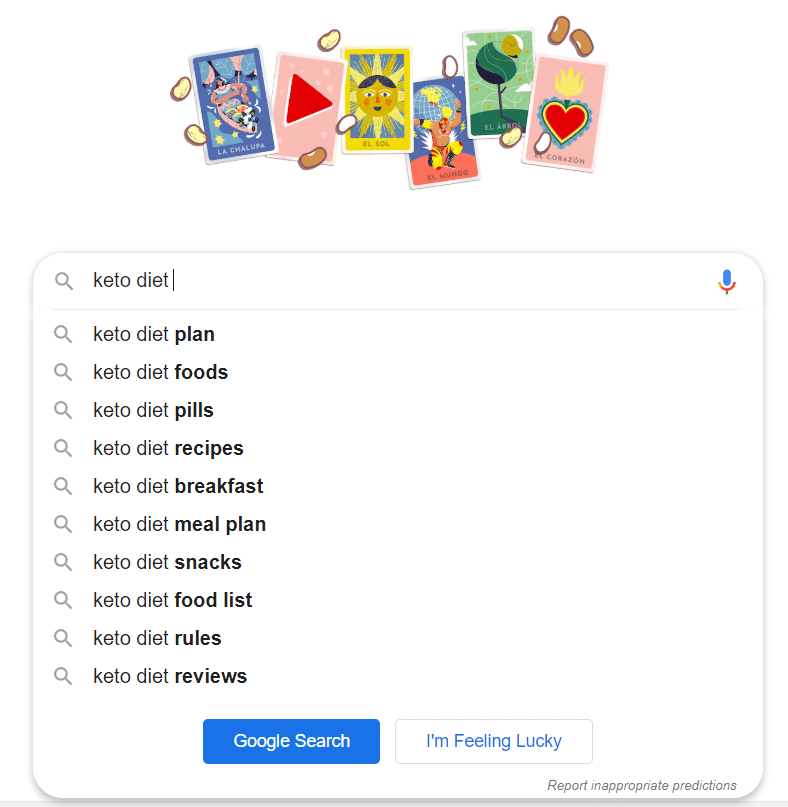 While you're searching on Google, other cool ways of discovering long tail keywords are by looking at People also ask questions about the search results and related suggestions.
When you enter a search term on Google, you'll notice a set of questions under a box called People also ask. These are long tail keywords that you can add to your content.

And if you scroll to the bottom of the page, you notice more suggestions by Google around your focus keyword.

Each of these are long tail keywords that you can use as separate individual posts to drive traffic to your website.
3. Find Long Tail Keywords Using Keyword Research Tools
You can also use different keyword research and SEO tools to find long tail keywords to boost your site's traffic.
To start, you can use the Google Keyword Planner. It's a free tool by Google and is primarily for advertisers. But you can use it to find long tail keywords for your site. Enter the search term in Keyword Ideas tab and then go through the list based on competition.

Another tool that you can use for keyword research is Answer the Public. Its free version will give you a list of questions and other long tail search queries.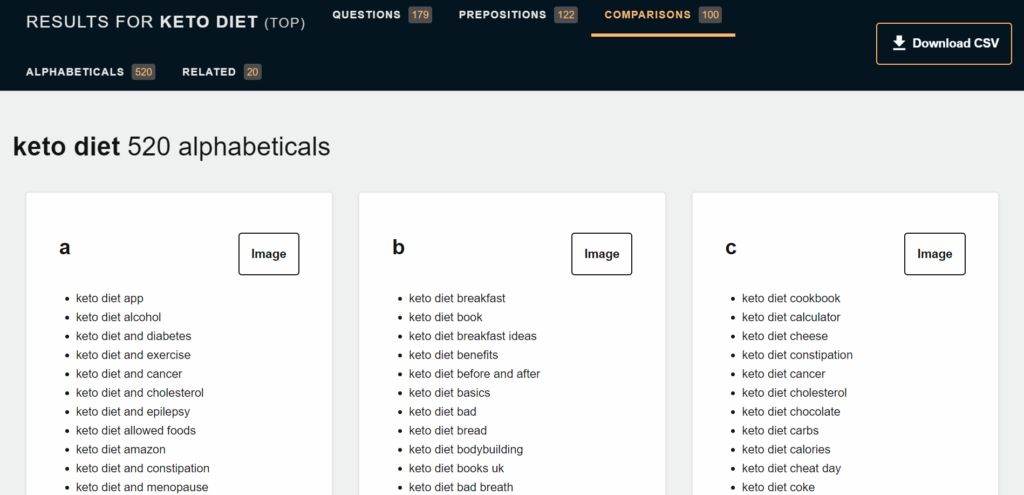 Other tools include powerful premium options likes SEMrush. It's one of the best marketing tools to find keywords, top-performing pages, content gaps, audit your site, spy on your competitors, and more.
SEMrush offers advanced filters so you can sort your list of keywords based on word count, volume, keyword difficulty, CPC (cost per click), competitive density, and SERP features.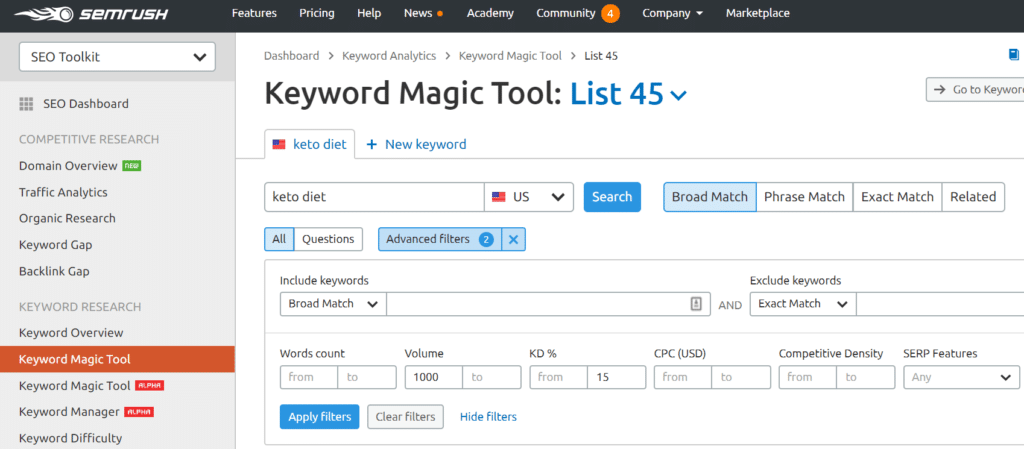 In this case, you can look up keywords that have a minimum of 3 words, at least 1000 search volume, and low keyword difficulty.
Final Words: What's the Next Step?
Once you've got your long tail keywords, the next step is to create content and optimize them on your pages to get organic traffic.
It's also important to pick the right keywords for your strategy. Remember, the two key reasons for using long tail keywords are: they're easy to rank and are more likely to convert visitors.
So, look for search terms that match your business objectives and are relevant to your audience.
To optimize your content with the right long tail keywords, we recommend using a plugin like All in One SEO.
All in One SEO will score your posts and pages on how well they're optimized for your keywords and give you actionable steps you can take to improve.
Plus, it's easy to find additional long tail keywords you can rank for thanks to All in One SEO's SEMrush integration.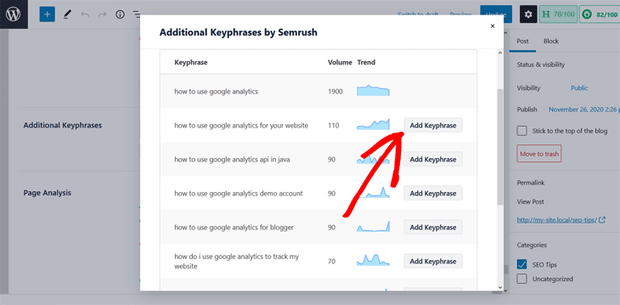 Simply click the Get Additional Keyphrases button at the bottom of your page or post, and SEMrush will show you a list of related keywords and their performance. Then, you can add them straight to your content with 1 click!
And there you have it!
We hope you liked our article on long tail keywords – a simple way to skyrocket your traffic. If you want, you can also go through our complete beginners guide to Google Analytics.
And don't forget to follow us on Twitter and Facebook for more in-depth tutorials and guides.