Do you want to use Google Analytics to track your YouTube videos?
When you embed YouTube videos onto your website, Google Analytics can tell you a bunch of things about them.
In this article, we'll go over what Google Analytics can track when it comes to YouTube videos. Plus, we'll go over how to set up that tracking.
Google Analytics + YouTube Tracking
When you embed a YouTube video onto your website, what can Google Analytics tell you about how your visitors are interacting with it?
Depending on your website and what tools you're using, there are a few different things Google Analytics can track. Let's take a look.
How Many Visitors You Get from YouTube
The first thing Google Analytics can track is how many visitors you're getting from YouTube. You probably have the link to your website on your profile page, and hopefully you have it on each video, too. With Google Analytics, you can see how much traffic your website is getting from your YouTube channel.
What Pages Your YouTube Visitors Are Landing On
Which pages on your website are your YouTube visitors landing on? You can see this data with Google Analytics! Find out which landing pages are the most popular with your YouTube audience, and make connections about which videos are sending the most traffic to your website.
More YouTube Website Traffic Data
Beyond landing pages, you'll get a whole bunch of data about what your YouTube visitors are doing on your site. How much time are they spending there? Are they viewing more pages than just the landing page? Are they completing any conversions? You can find out all of these things with Google Analytics.
Embedded YouTube Video Engagement
How many of your users are seeing your videos, pressing play, and watching all the way to the end? Videos are an awesome way to increase the engagement on your site, so it's a great idea to track it. There are a few different ways you can set up this kind of tracking with Google Analytics.
Now, let's take a look at how to set up all these reports and tracking.
How to Set Up Google Analytics YouTube Tracking
If you're just wanting to track referral visits to your website from YouTube, there's not much setup to do. We'll go over how to find the reports in a minute. If you want to track embedded video impressions, plays, and watch progress, however, that takes some more doing.
If you're on WordPress, there's a really easy way to set up YouTube video tracking: with MonsterInsights.
MonsterInsights is the best Google Analytics plugin for WordPress. It allows you to easily connect your WordPress site with Google Analytics so you can view all the data that matters most right in your WordPress dashboard.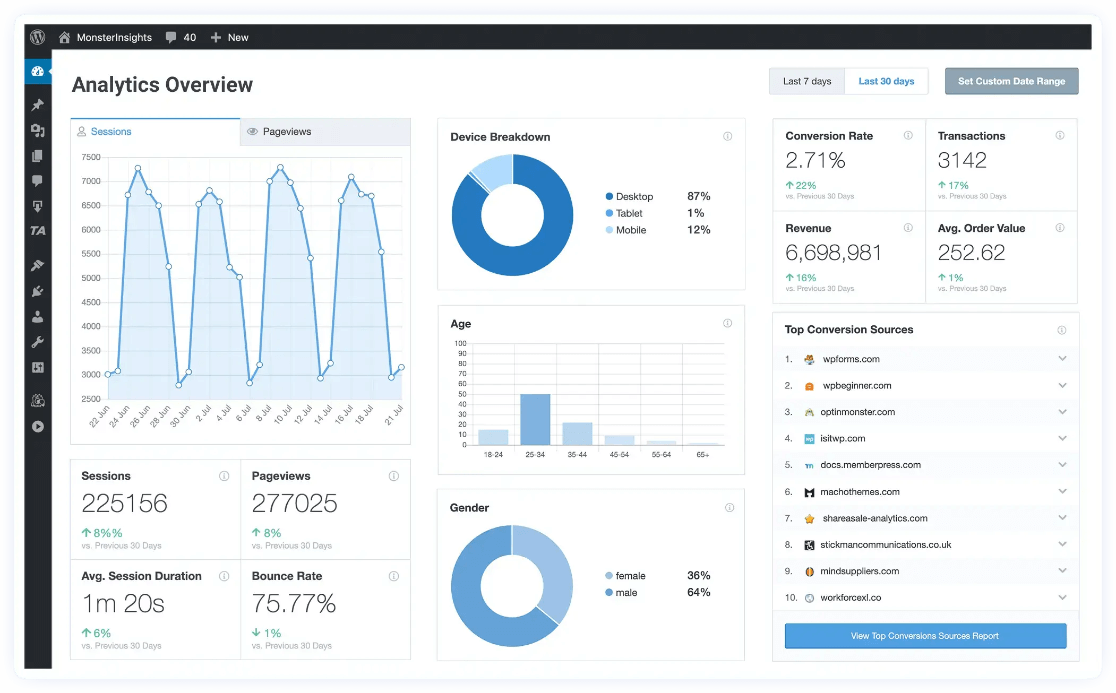 Plus, with the click of a button, you can set up sophisticated tracking features such as event tracking, eCommerce tracking, form tracking, custom dimension tracking, outbound link tracking, and more.
For this step-by-step tutorial to setting up embedded YouTube video tracking with Google Analytics, we'll be using MonsterInsights.
Already have MonsterInsights installed at the Plus license level or above? Skip to Step 2.
Step 1: Install and Activate MonsterInsights
First, you'll need to install MonsterInsights on your WordPress website. MonsterInsights allows you to set up video tracking in WordPress with just a few clicks – no need to modify your Google Analytics code.
To get video analytics, grab MonsterInsights at the Plus level or above, then download the plugin from your Account page.
Next, upload the plugin on your WordPress website by going to Plugins » Add New » Upload Plugin and then click the Install Now button.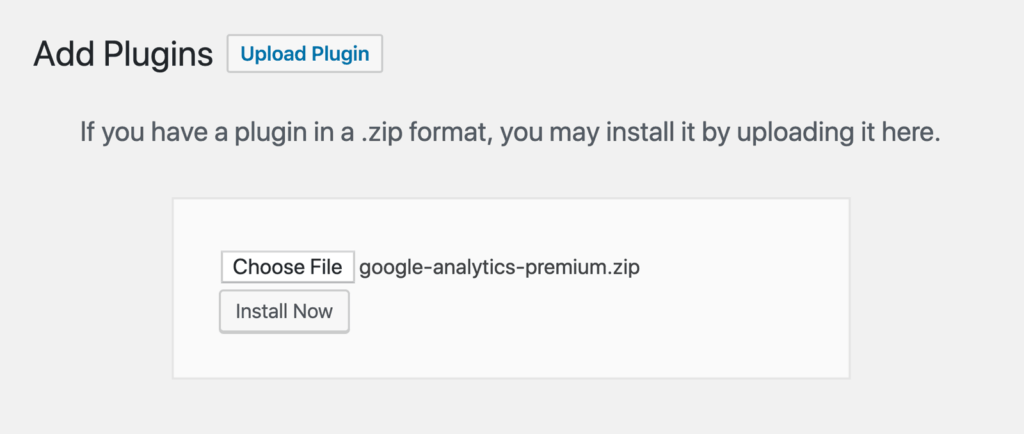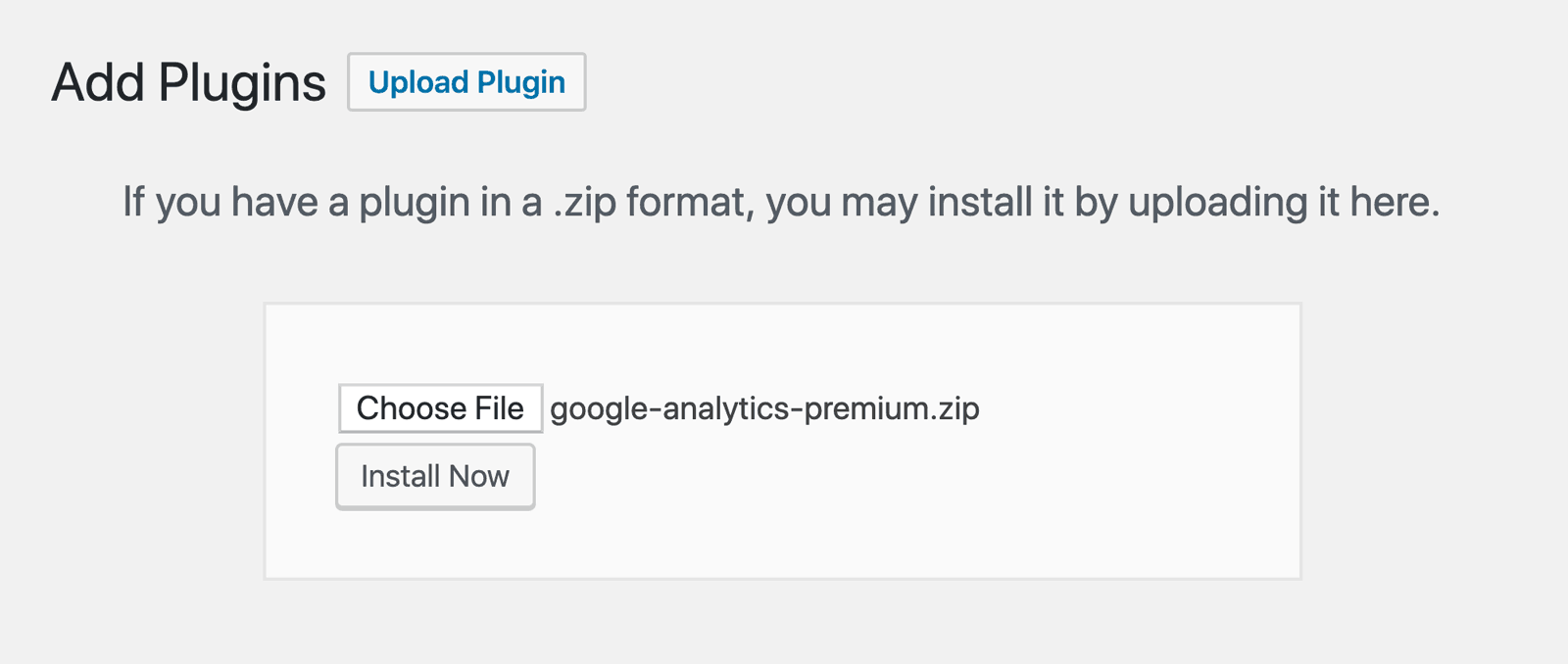 Now, activate MonsterInsights by clicking the Activate Plugin button.

After installing and activating the plugin, you'll need to connect it with Google Analytics. The MonsterInsights setup wizard makes it super simple to add Google Analytics tracking code to your website.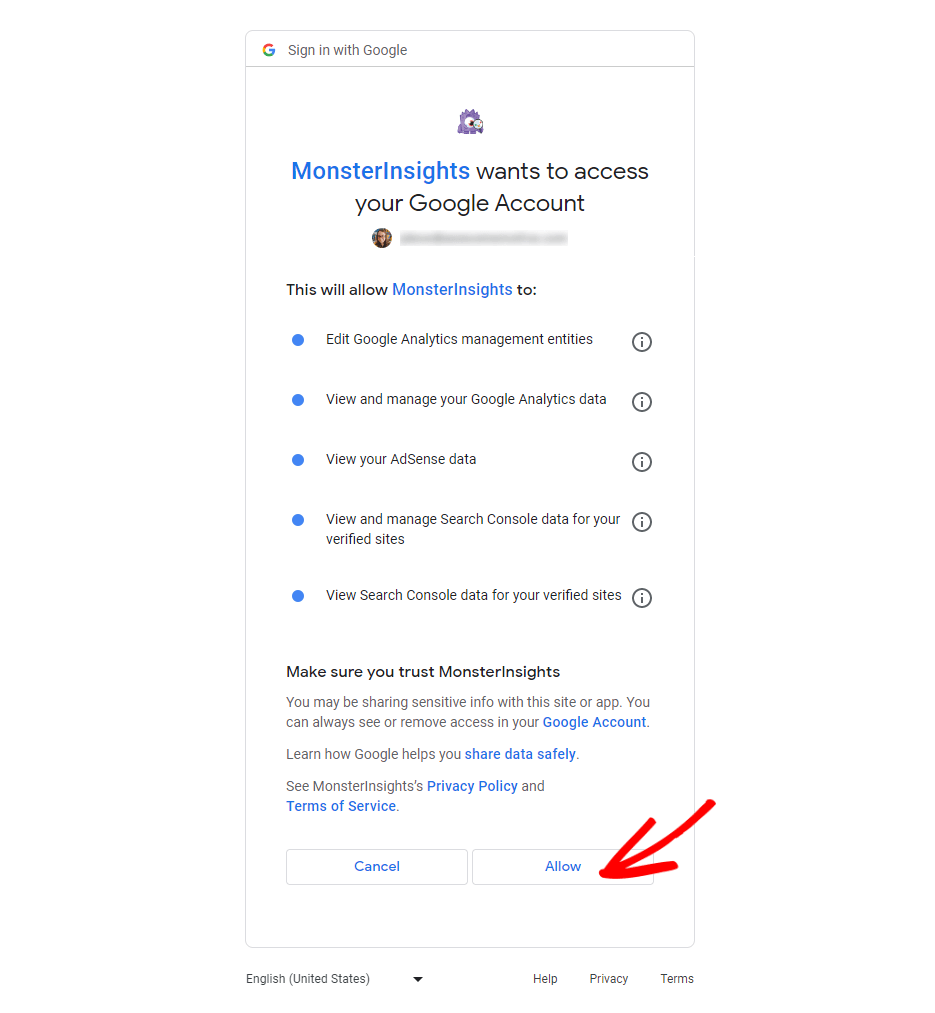 For more details on how to get set up, read our step-by-step guide on how to set up Google Analytics on your WordPress website properly.
Step 2: Install the Media Addon
To install the addon, visit the Insights » Addons page in your WordPress dashboard. Then, click Install under the Media addon.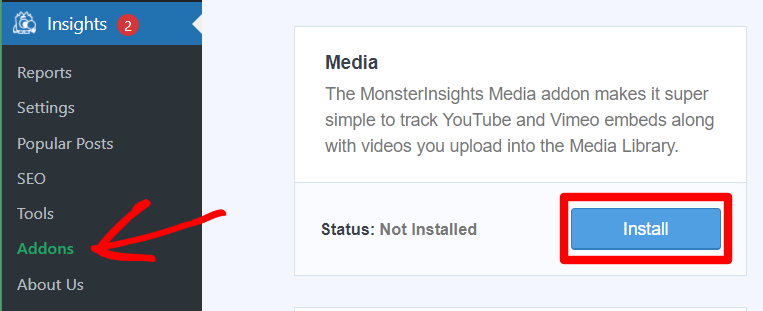 Step 3: Turn on Video Tracking
Now, it's time to turn on video tracking for the type of videos you have on your site. To do that, navigate to Insights » Settings » Publisher. Scroll down to the Media Tracking box.

Now, click the button next to the type(s) of videos you want to track. In our case for this tutorial, we'd want to enable tracking for embedded YouTube videos.
Step 4: See Your YouTube Video Stats
Now, you'll have your video stats right inside your WordPress dashboard! Access your embedded YouTube video stats including total video plays, average watch time, and more.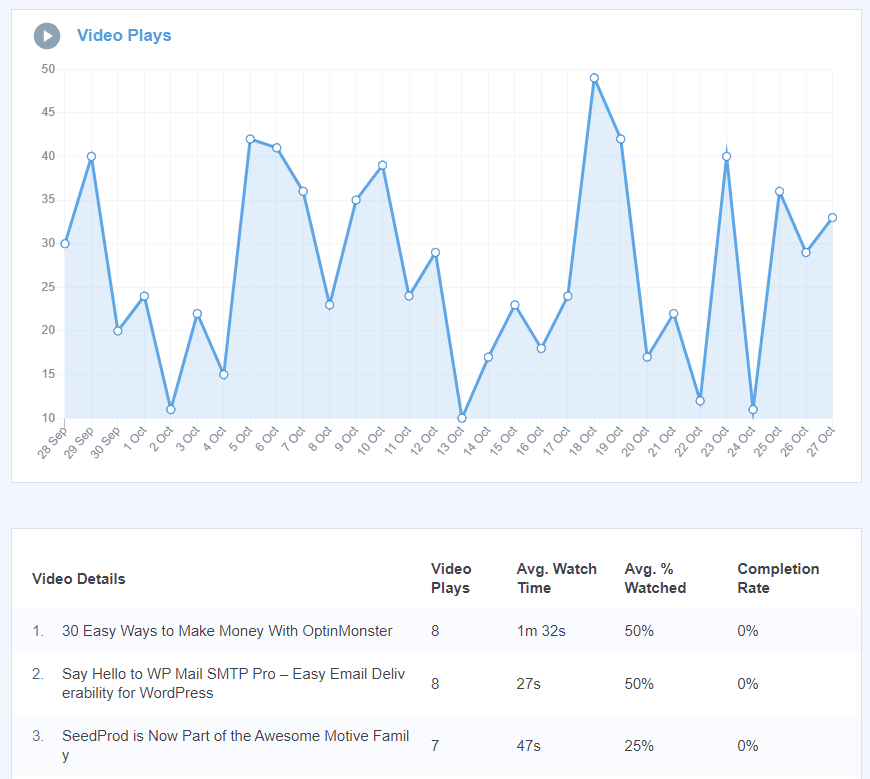 The data will also be sent to Google Analytics as events.
While you can get most of the data you need right in MonsterInsights, here are a few other video reports you can find in Google Analytics.
How many visitors do you get from YouTube?
To find out how many visitors you're getting from YouTube, go to Acquisition » Traffic acquisition and find youtube.com / referral in the list: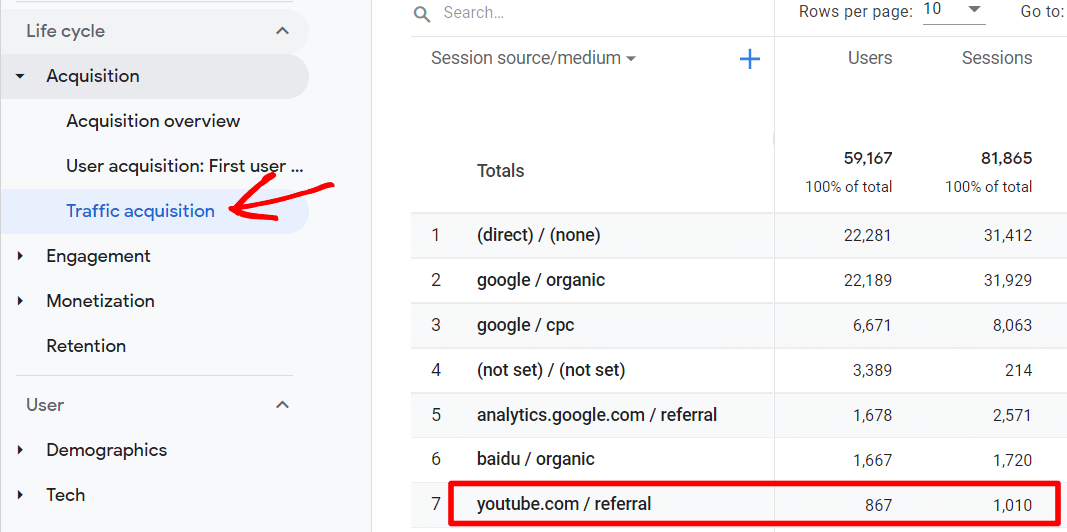 Which pages are your YouTube visitors landing on?
In order to see the pages your YouTube visitors are visiting, we're going to create a comparison. First, go to Engagement » Pages and screens. Then, click on the Add comparison + button at the top: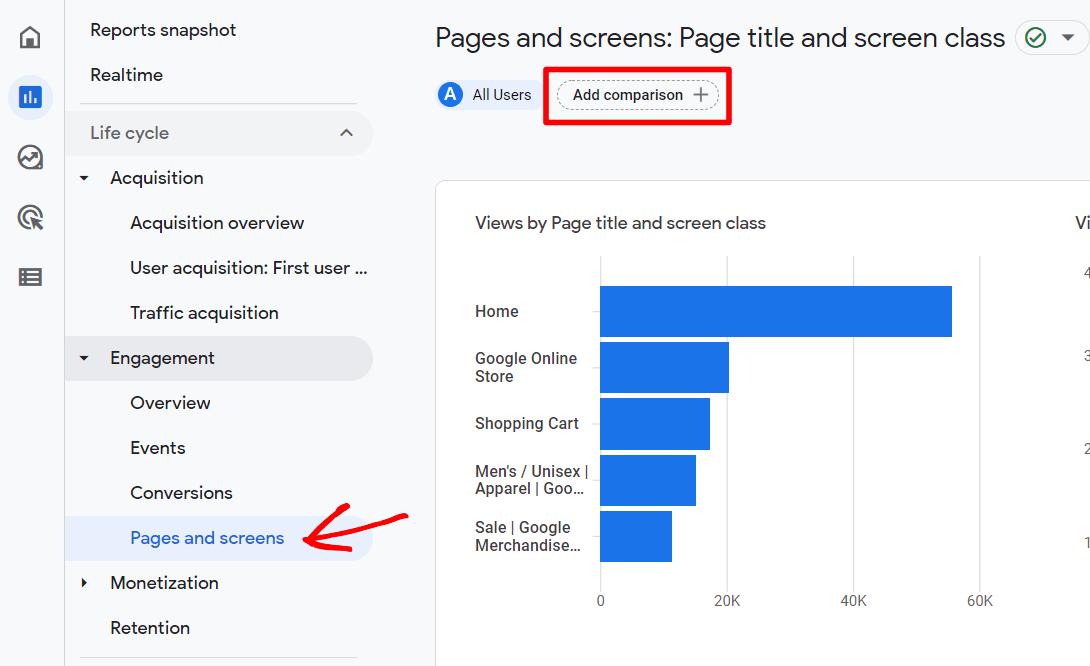 Now, begin typing "session source" in the box until you see Session source / medium.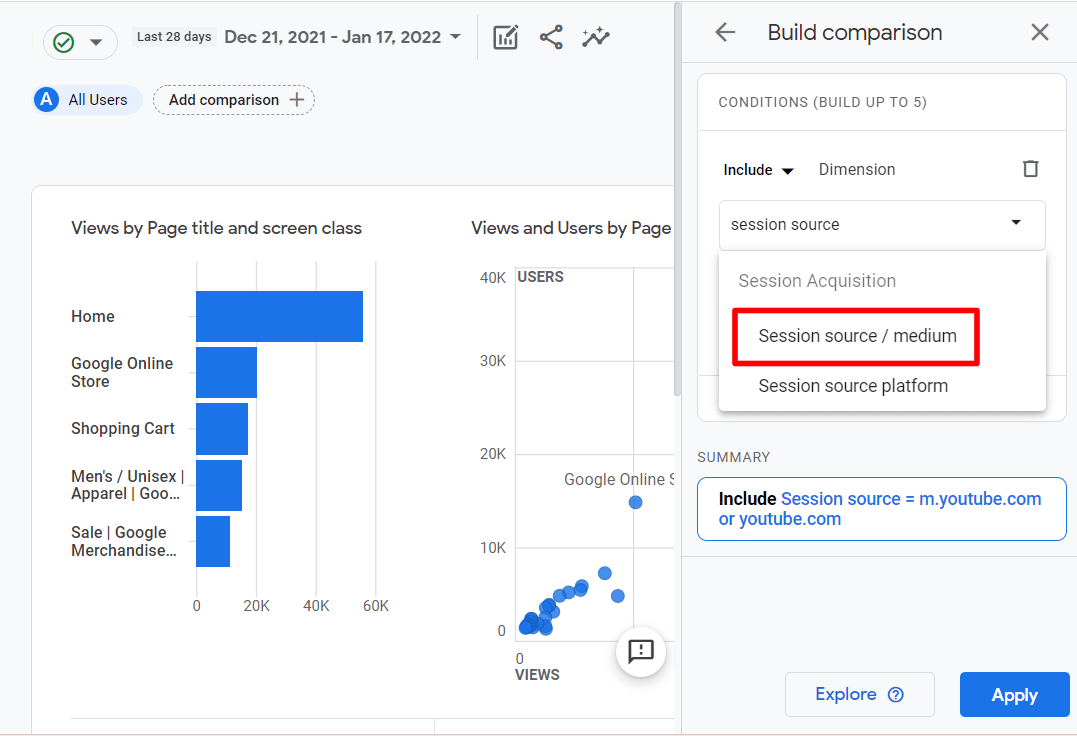 When you select it, another box will appear. In this box, start typing "youtube" until you see one or both YouTube sources (desktop and mobile). Check it/them.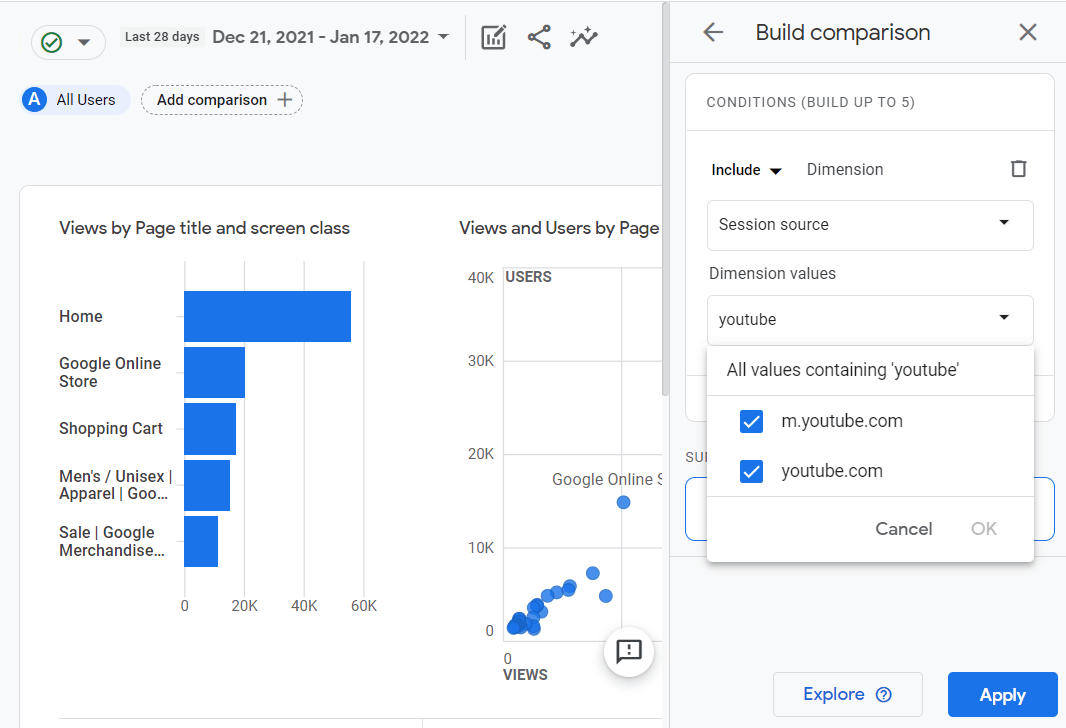 Click the blue Apply button.
Now, click the three dots next to All Users and choose Remove comparison: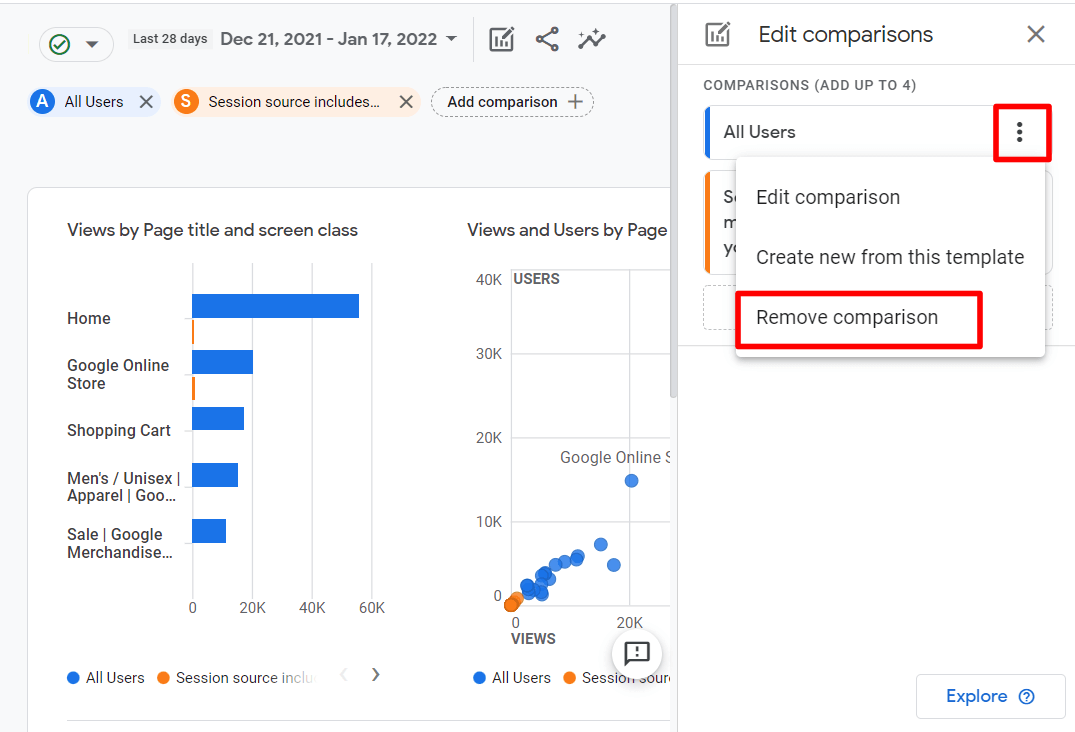 You can now click the X to collapse the comparison building window and scroll down to the table. You're now looking at the pages seen by just your YouTube traffic: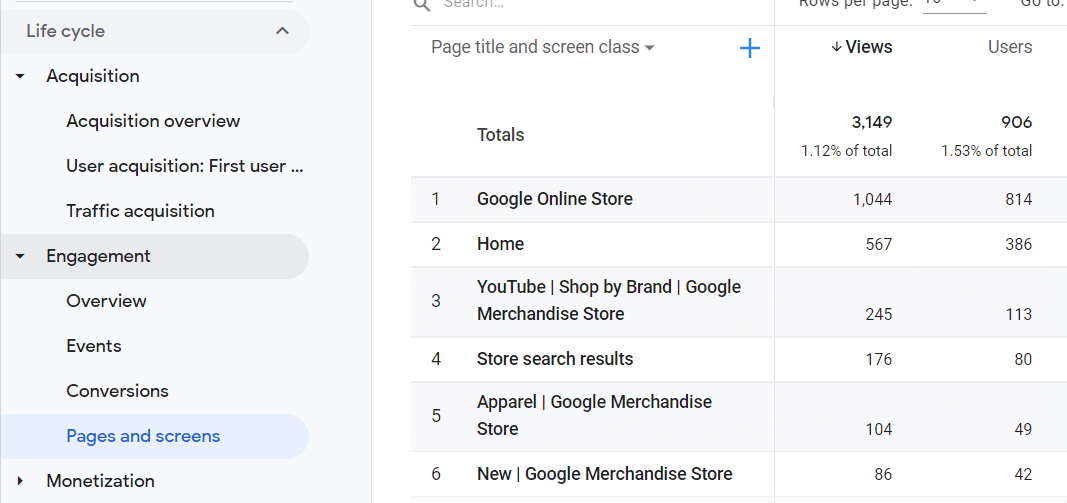 Looking for the best way to showcase your videos on your site? Check out 6 Best WordPress YouTube Plugins (Expert Pick).
Not using MonsterInsights yet? What are you waiting for?
And don't forget to follow us on Twitter, Facebook and YouTube for more helpful tutorials and Google Analytics tips.