Are you looking for a Google Analytics alternative to use for your website?
With the rollout of Google Analytics 4, there quite a few users are thinking about looking for Google Analytics alternatives to try instead of learning the new version. We're not surprised – Google Analytics 4 can appear intimidating!
Before we jump into our list of alternatives, we're going to take a quick look at one way you can stay with Google Analytics, but make it much easier to use.
WordPress Users: How to Simplify Google Analytics
If your site is built on WordPress.com, we have a way for you to make using Google Analytics 4 a whole lot easier: MonsterInsights.
MonsterInsights is the best Google Analytics plugin for WordPress. It allows you to easily connect your WordPress site with Google Analytics so you can view all the data that matters most right in your WordPress dashboard.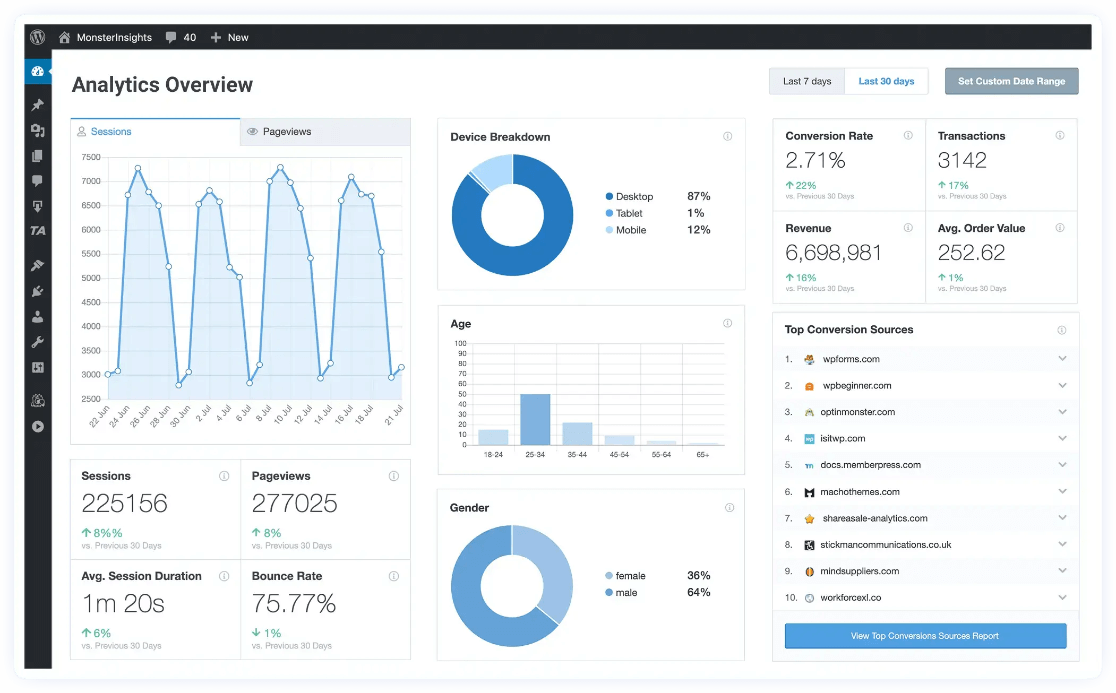 Plus, with the click of a button, you can set up sophisticated tracking features such as event tracking, eCommerce tracking, media tracking, form tracking, custom dimension tracking, outbound link tracking, and more.
MonsterInsights is updated to connect with Google Analytics 4, but our reports remain just as easy to navigate and use as ever. And with so much extra tracking you can set up with a couple clicks, using Google Analytics is actually simple when you have MonsterInsights installed.
Get started with MonsterInsights now!
8 Top Alternatives to Google Analytics
HubSpot is a set of marketing, sales, customer service and CRM tools for your website that help you monitor your traffic, keep track of your contacts, and stay engaged with your audience. Their analytics focus more on individual users and can tell you how visitors are using your site.
HubSpot starts with their free CRM and basic tools (including analytics), and you can add on or upgrade from there. They group their tools into Hubs, such as the Marketing Hub or Sales Hub.
With the Marketing Hub, for instance, you'll get additional analytics reports/dashboards, email marketing, live chat, landing pages, and more.
HubSpot would be best for companies with sales teams, and companies looking for a one-stop-shop solution for marketing and sales tools. HubSpot would not be good for a site where you're not tracking specific users.

Matomo is a Google Analytics alternative that's focused on privacy protection and data ownership, in order to make sure you're GDPR compliant. With 100% data ownership, you get the power to protect your users' privacy. You know where your data is stored and what's happening to it, without external influence.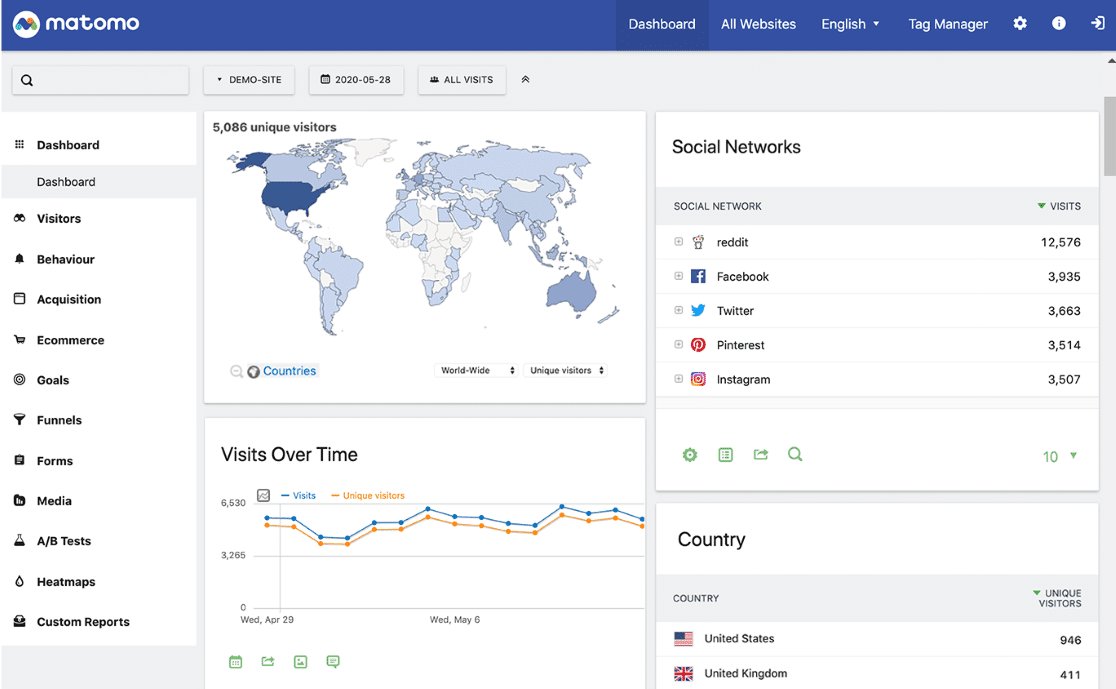 Matomo is a pretty full-featured alternative to Google Analytics. It has many of the same reports, plus heatmaps and A/B testing.
Matomo's pricing model is based on how many visits your site gets per month, and also how you choose to host Matomo. If you're looking for simple setup, the monthly price starts at $23. If you're familiar with hosting and you want to host Matomo yourself, you can download it for free.
Matomo is best for someone looking for a tool that's similar to Google Analytics, but easier to navigate.
Heap is an analytics platform that's focused on helping users find and interpret their data in a meaningful way. So instead of just looking at numbers and wondering what to do with them, you'd get real insights from your data.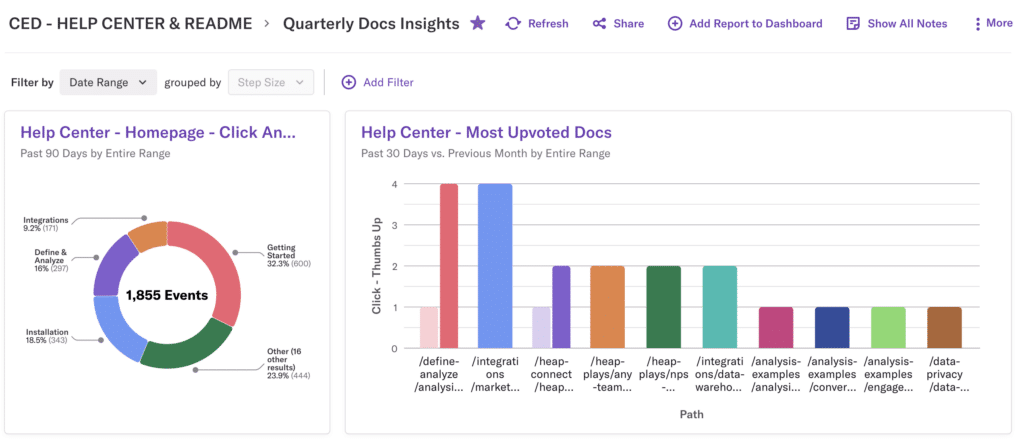 Heap also claims to be easier to set up than other analytics platforms (including Google Analytics). You're able to track all your visitors and all events by just installing the tracking snippet.
Heap is free up to 10,000 sessions per month. If you get more than that, their next plan is $3,600 per year.
Heap is best for a larger company or start-up with budget to spend on Analytics, but not a lot of time to spend setting it up and figuring out how to gather insights.
Mixpanel is a product-focused analytics solution, built specifically for eCommerce websites. With Mixpanel, you can go beneath the surface to learn which features are popular, who your power users are, and the behaviors tied to long-term retention.
You can also build funnels with a few clicks and easily analyze conversion rates.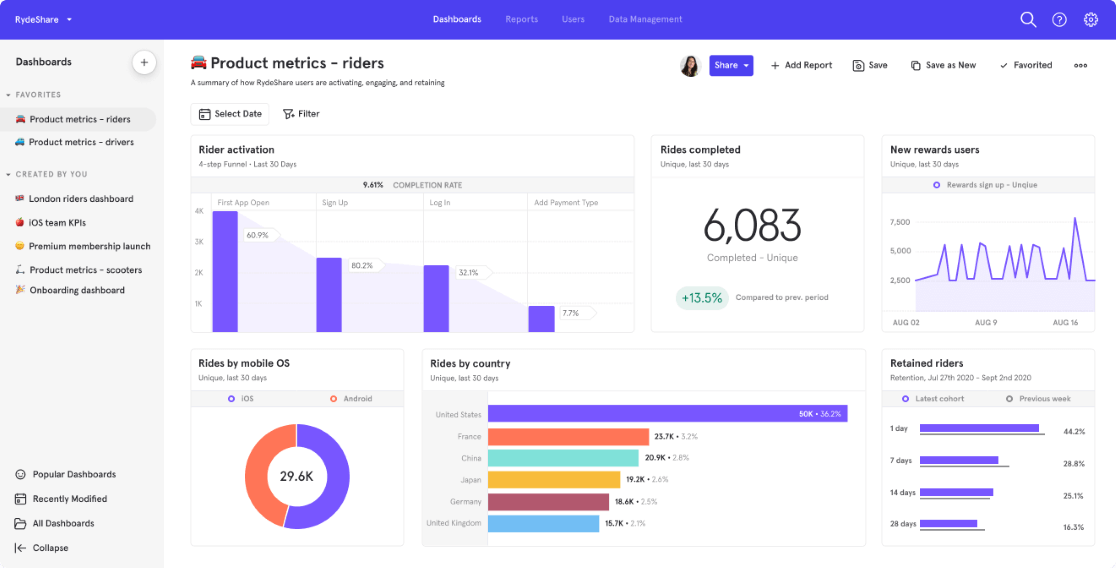 With Mixpanel, interactive reports let you query your data with only a few clicks, then see visualizations in seconds. This makes it easy to answer questions about how your product is used, who sticks around, and much more.
Mixpanel does have a free version to get you started. Then, plans start at $20/month.
Mixpanel is best for pretty much any eCommerce company looking for product-focused analytics.
Woopra is a product analytics platform that's built for product, marketing, sales, and support teams. It's very full-featured solution for anyone in need of product analytics.
Woopra is similar to HubSpot in that it has a lot of tools for teams outside of marketing. It's focused on tracking the customer journey, analyzing trends, and retention.
Woopra is free up to 500,000 actions per month, then will cost $999 per month. It's best for larger teams that need a really comprehensive analytics solution.
Plausible is a simple, privacy-focused Google Analytics alternative. It doesn't use any cookies, so you know it's compliant with all the different privacy laws.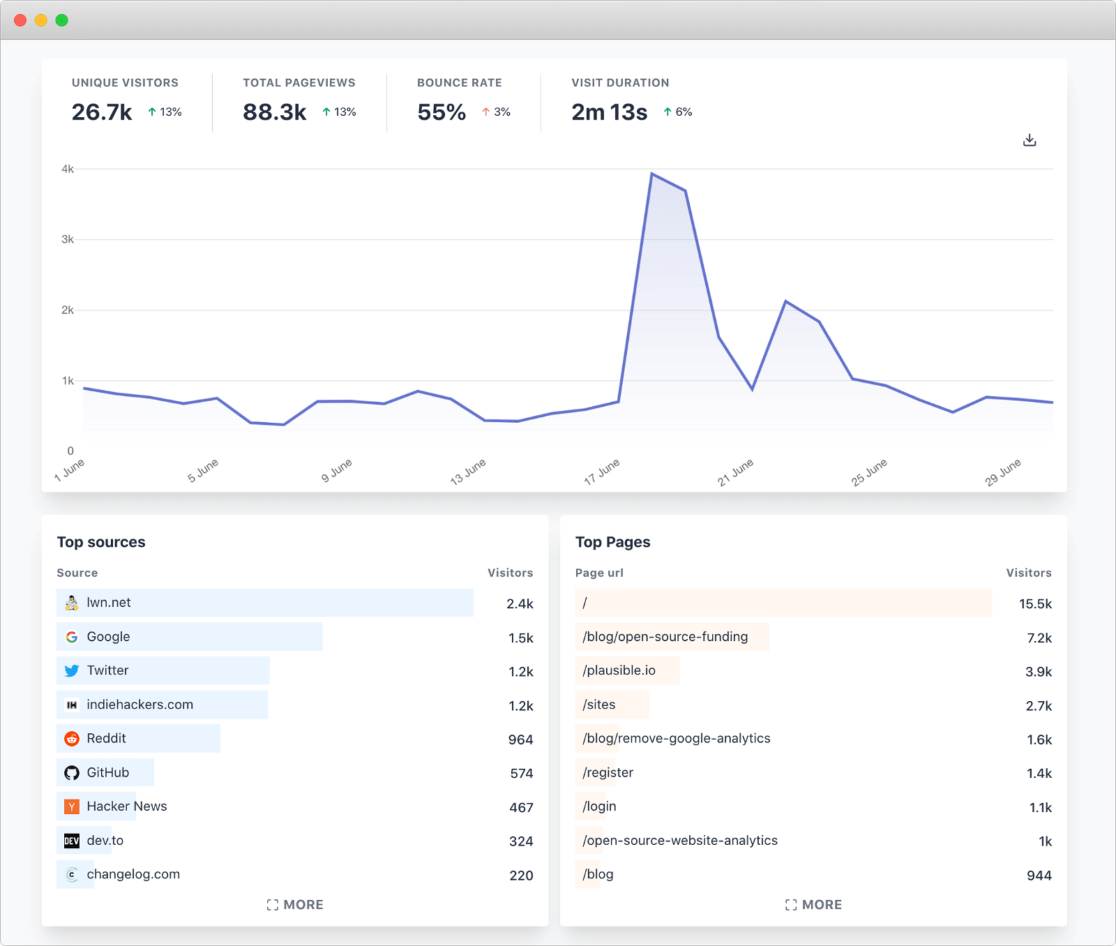 The drawback with Plausible is that it really is very simplistic. You're not going to get any advanced analytics here. However, it does track goals, conversions and campaigns, so you still get those basic metrics that you need to draw conclusions about how people are using your site.
Plausible is best for a fairly simple site where basic analytics are all that's needed. It starts at $9 per month, and is based on how many sessions you get per month.
Kissmetrics is a product and marketing analytics tool for SAAS and eCommerce companies that focuses on users and their interactions with your site instead of anonymous visits.
This tool is focused on SAAS and eCommerce companies, helping them gain insights into how their customers use their websites to make purchases. The platform does have some great behavioral analytics reports.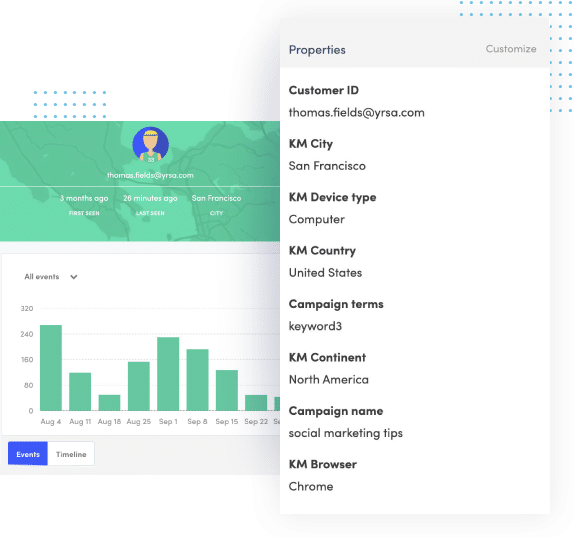 Kissmetrics costs $299 per month and up, and is best for SAAS and eCommerce teams looking for in-depth analysis.
Fathom is a privacy-focused, cookie-free alternative to Google Analytics. It simple, clean, easy-to-use interface makes it a great choice for someone in need of privacy-law-compliant analytics.
Fathom works for both simpler websites and eCommerce sellers. It gives you all your basic metrics about how your traffic is finding your website, and how they're interacting with it.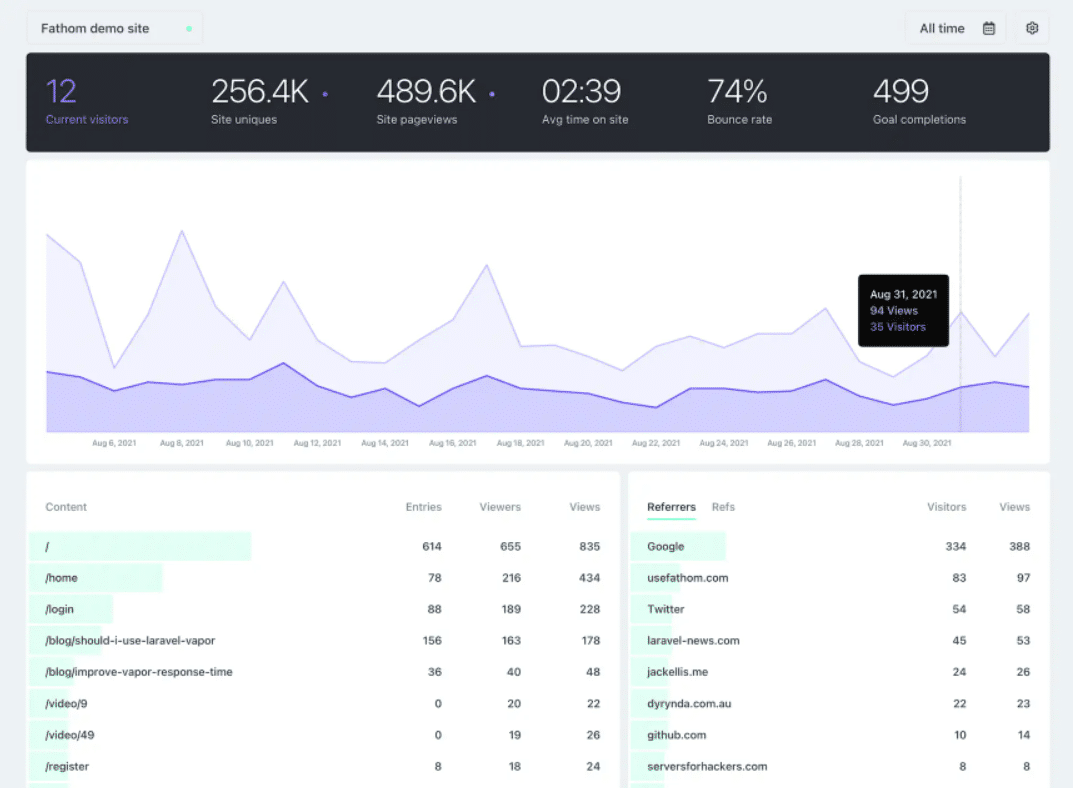 Fathom is best for those wanting a privacy-focused, simple analytics solution, who also don't need super advanced reporting. You also get unlimited email reports.
Fathom starts at $14/month for up to 100,000 pageviews.
That's our list!
While some of the Google Analytics alternatives on the list are definitely nice solutions, if you're on WordPress, you can't beat using Google Analytics with MonsterInsights. Get started today!
For more about what kinds of reports you can get with MonsterInsights, check out our Ultimate Guide to MonsterInsights Dashboard Reports.
And don't forget to follow us on Twitter, Facebook and YouTube for more helpful Google Analytics tips.