Building an optimized sales funnel on your WordPress website is a great way to convert more of your traffic. With a WordPress sales funnel builder plugin, you can lay out and design each step in your sales process, plus add upsells, optimized checkout pages, related products, and more.
However, when you're looking for the best WordPress sales funnel builder plugin, it can be hard to choose the right one (or several) for your website! There are many plugins that could be helpful in your sales funnel, and multiple that can build the whole thing.
So, in this article, we'll take a look at the top WordPress sales funnel builder plugins to help make your choice an easier one.
Sales Funnel Plugins Video Walkthrough
What is a WordPress Sales Funnel?
A WordPress sales funnel is a set of pages (and marketing tactics) that are meant to funnel your leads through the purchase process.
For example, a typical sales funnel might be landing page » cart page with related products » checkout page with order bump offer » thank you page.
The purpose of your sales funnel is to increase your profits and create customers who will return.
Why Use a WordPress Sales Funnel Plugin?
Wondering why you really need a WordPress sales funnel plugin? Technically, you don't! If you use WooCommerce or another common WordPress eCommerce plugin, chances are your checkout works okay.
However, with a sales funnel plugin, you could easily increase your sales and revenue. With the right offers in place and fantastic landing pages, you can make many more (and bigger) sales.
Our Favorite WordPress Sales Funnel Plugins
For this list, we broke down some plugins into two different categories: traditional sales funnel plugins with full funnel-building capabilities, and add-ons to your sales funnel that can help you increase sales even further.
Let's dive in.
The Best Full WordPress Funnel Builder Plugins
On our list of the best full WordPress sales funnel builder plugins, we have:
SeedProd
FunnelKit
WPFunnels
CartFlows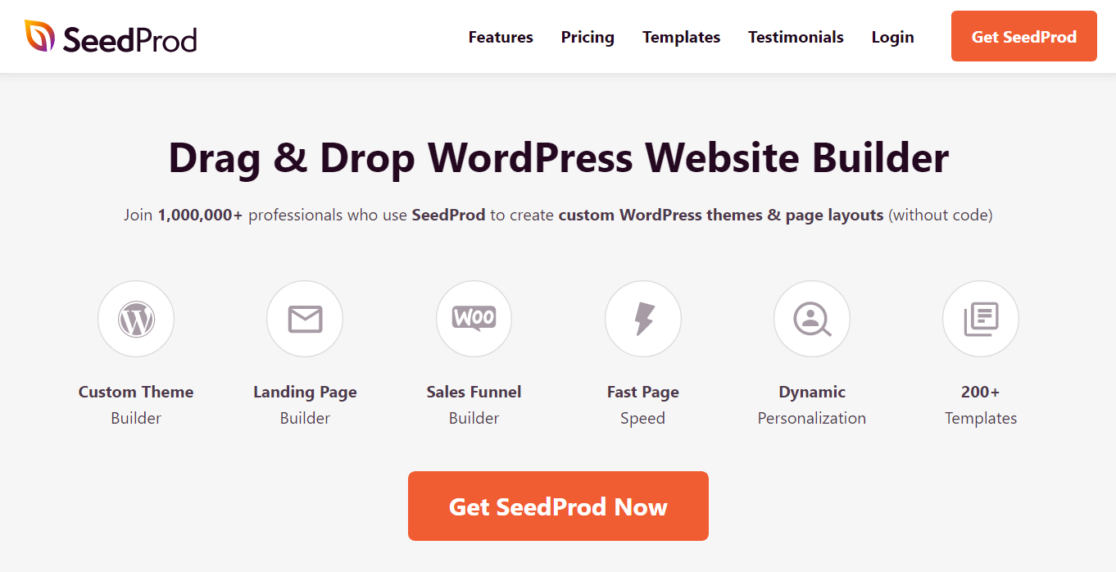 SeedProd is a powerful WordPress theme builder and landing page plugin. Use it to design landing pages and page layouts, or even an entire WordPress theme from the top down. SeedProd is used by over 1,000,000 website owners to create WordPress themes and page layouts.
What makes SeedProd the best WordPress sales funnel builder plugin?
SeedProd is our top pick for a sales funnel builder plugin because it integrates directly with WooCommerce and Easy Digital Downloads and provides design blocks for both eCommerce plugins that you can use to create a high-converting sales funnel.
Not only can you design and optimize your sales funnel pages, but you can then use SeedProd to create a 1-of-a-kind website design that matches your unique business aesthetic and is optimized to sell.
With SeedProd, you'll get:
Full website kits to jump-start your website design with a click
Create headers, footers, sidebars, page layouts, and everything you need for a full website design
Design your custom WooCommerce or EDD checkout and cart pages
150+ templates
90+ page blocks
100+ section templates
Email marketing integrations
And much more
Ready to create your custom WordPress and WooCommerce or EDD sales funnel, and control the design of your entire website?
Get started with SeedProd today!
FunnelKit is a sales funnel plugin for WooCommerce. It includes a bunch of features to help you convert more of your shoppers to customers on your website. Use it to build a custom-designed sales funnel, collect email addresses, upsell, and more.
FunnelKit works with popular page builders, like Elementor and Divi, or you can use any page builder along with FunnelKit's shortcodes.
What makes FunnelKit a great sales funnel plugin?
What's really cool about FunnelKit are their order bump and upsell features.
Order bumps appear inside your users' cart pages and can be triggered based on 17+ rules that you create. Rules you can create can be based on coupons used, items in the cart, cart total, purchases made in the past, and more. For instance, if someone has a certain product in their cart, you could offer a BOGO 50% off. Or, if a shopper has a certain product in their cart, you can give them a deal on a product that goes with the one they have.
Upsells happen after a sale is made. They show offers from you that that particular shopper is most likely to accept based on a bunch of different rules, very similar to the order bump rules.
FunnelKit is a great choice for anyone wanting to build a custom sales funnel that'll increase sales.
Get started with FunnelKit today!
WPFunnels is a drag and drop sales funnel builder for WordPress that you can use to create landing pages and sales funnels. It's similar to FunnelKit, but it allows you to plan out your whole sales funnel on a drag-and-drop canvas to help you plan and visualize it.
What makes WPFunnels such a good WordPress sales funnel plugin?
Besides the drag-and-drop funnel builder, WPFunnels has a list of really nice features that stands out. They include:
Pre-made funnel templates
Order bump offers and one-click upsells
Conditional funnel steps
Opt-in forms
Integrates with popular page builders
Custom one-time discounts
Get started with WPFunnels today!

CartFlows is another WordPress sales funnel builder plugin that will help you sell more and make more revenue. It has over 200,000 users and was founded in 2018, so they have a lot of experience with sales funnels, WordPress, and WooCommerce.
What makes CartFlows a fantastic choice for a sales funnel plugin?
CartFlows is an all-in-one funnel builder plugin with a lot of features to help you make more revenue. This includes a cart abandonment feature that you can use to draw more of your visitors back to your site after they've abandoned their cart.
With CartFlows, you can design your own checkout pages and replace the default WooCommerce ones with a checkout flow that converts better.
Some more of CartFlows' features include:
Canvas mode to visualize your checkout workflows
One-click order bumps and upsells
A/B split testing
Display dynamic offers that your customer is most likely to accept
Conversion-optimized templates
Integration with popular page builders
Landing page builder with opt-ins
Get started with CartFlows today!
The Best Add-on Sales Funnel Plugins for WordPress
On our list of the best add-on sales funnel plugins, we have:
MonsterInsights
OptinMonster
TrustPulse
PushEngage
UserFeedback
Constant Contact
LiveChat
MonsterInsights is the best Google Analytics plugin for WordPress. You'll want to track your new sales funnel in Google Analytics to get the most helpful data about your visitors. With MonsterInsights, you can set up eCommerce tracking correctly with just a couple clicks and no stress!
Besides being able to track each step of your new funnel, MonsterInsights will show you your eCommerce metrics right inside your WordPress dashboard: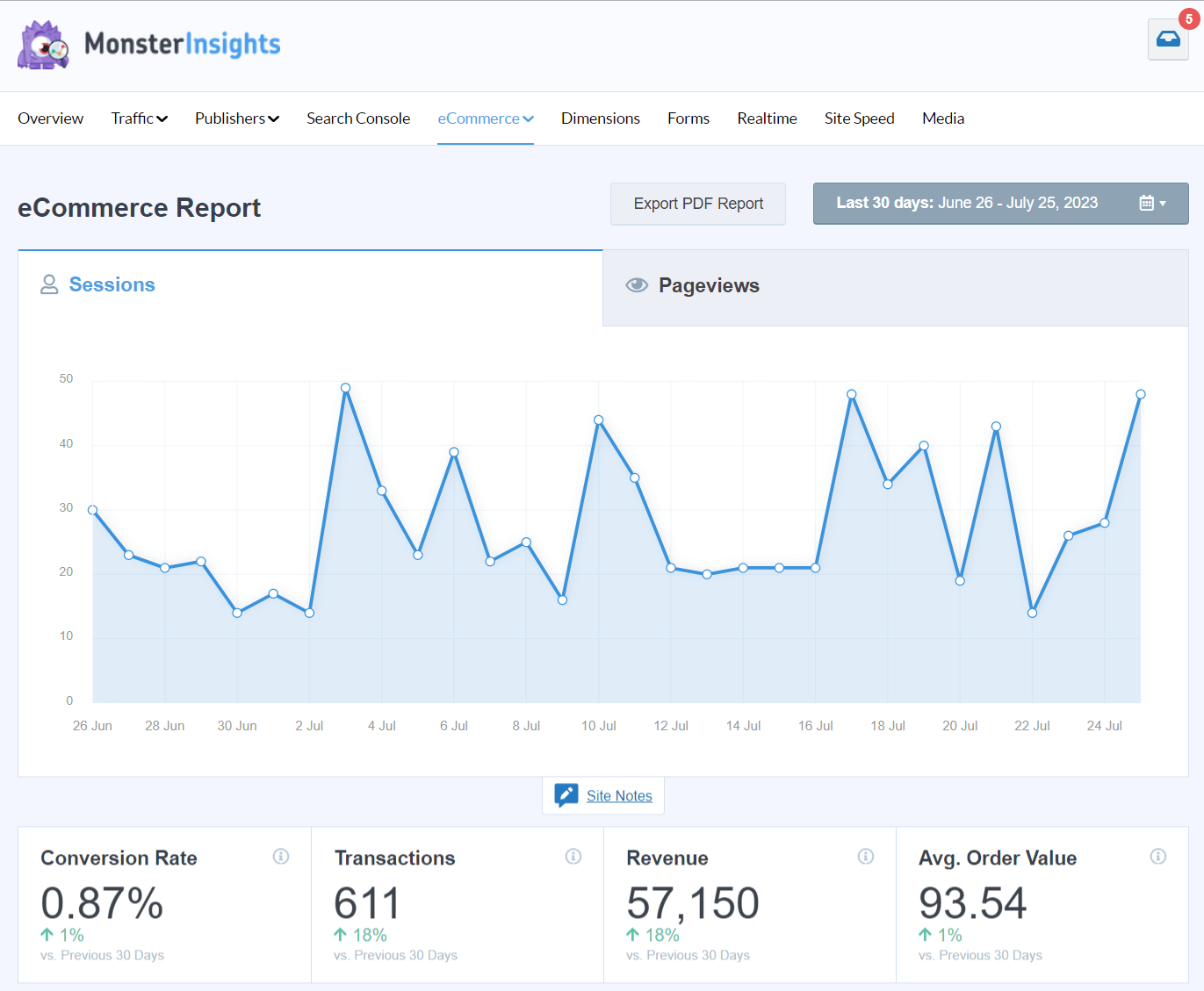 Right at your fingertips, you'll have an overview report, a top products report, a coupons report, and more.
You'll also be able to use the MonsterInsights User Journey addon to track and see how your users are making it through your new sales funnel: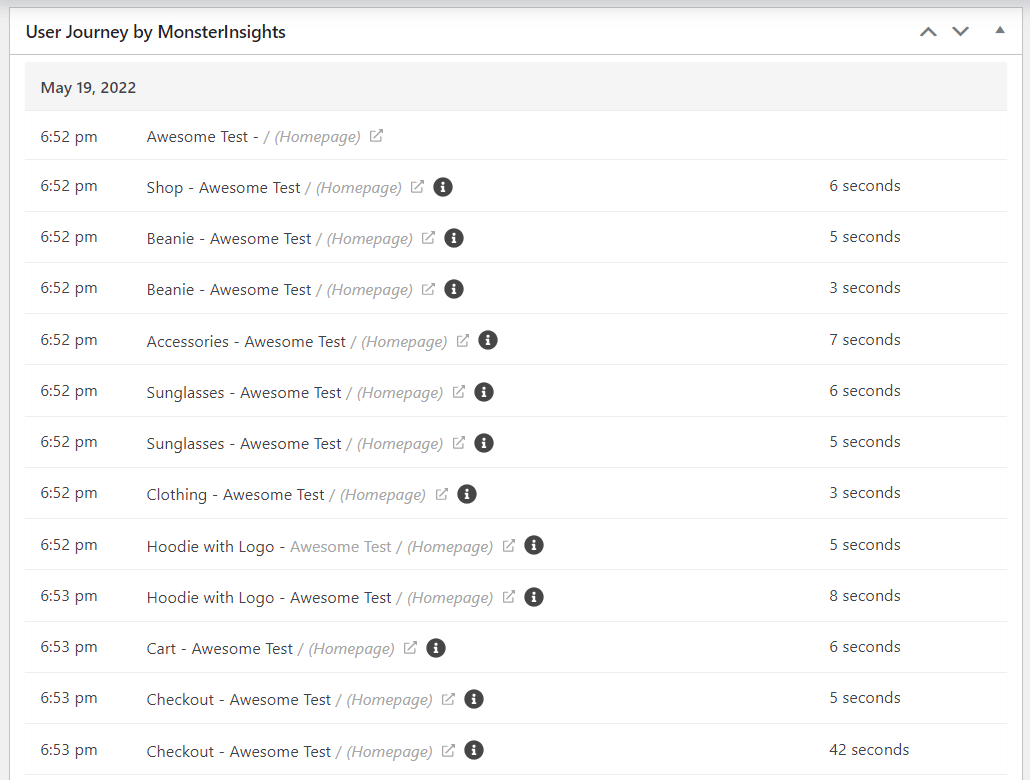 Plus, MonsterInsights will seamlessly set up a full set of other reports and tracking features, including:
Outbound link tracking
Affiliate link tracking
Popular products widget
Campaigns report and URL builder
Landing page conversions report
Search Console integration and dashboard report
Channels and source/medium reports with conversions and revenue metrics
And much more!
When you're tracking all of the interactions your users are having with your site, you can make better decisions about what's working and what should be tweaked. That leads to more revenue!
Get started with MonsterInsights today!
OptinMonster is the best WordPress plugin for lead generation, conversion optimization, and popups. With OptinMonster, you can set up multiple opt-in campaigns to capture leads and convert your traffic into subscribers and customers.
OptinMonster is an amazing tool for eCommerce stores and sales funnels because of their many features for capturing leads, reducing abandoned carts, and driving more revenue.
Use their automated popups in slide-ins, fullscreen takeovers, inline forms, lightbox popups, scroll boxes, and more.
Or, use their exit-intent technology to stop shoppers from abandoning their carts. Right when they're about to leave, give them a personalized offer to stay and check out.
More of OptinMonster's features include:
Geo-location targeting
Drag-and-drop popup and form builder
Coupon wheels
Inactivity sensor
Page-level targeting
Tons of integrations with email providers and other apps
A/B testing
OptinMonster can take your new sales funnel and make it even more successful with popups and offers in all the right places.
Get started with OptinMonster today!
TrustPulse is a social proof plugin for WordPress that leverages the power of FOMO (fear of missing out) to increase conversions on your site. To increase the number of people going through your sales funnel and converting, you can show them unintrusive purchase notification popups.
For example, when you're shopping online, you're probably reading online reviews. A popup showing that someone just purchased the product you're planning to purchase is like another vote or positive review of that product.

TrustPulse can also help with cart abandonment. When someone is on the edge about purchasing but sees that a bunch of other people are doing it, that might just be the last little push he or she needs to finish the transaction.
Get started with TrustPulse today!
PushEngage is a web push notification tool with tons of smart features to help you get in touch with and stay in front of your customers. Show them personalized, relevant messages about your sales, product announcements, new content, and more.
Plus, you can use PushEngage to send reminders about abandoned carts. You can even populate the notification with the product that was left in the cart, and send a personalized coupon for it. For more ideas using PushEngage, check out Push Notification Marketing for WordPress: Quick-Start Guide.
Keep visitors coming back to your site and back to their carts in your sales funnel with push notifications!
Get started with PushEngage today!
UserFeedback is a fantastic WordPress plugin to use to gather feedback from your customers. That feedback can be incredibly useful for your sales funnel!
For instance, you could have surveys pop up on various product pages to ask how you could improve the product. Or, create a survey that pops up after a set time of inactivity on your cart page to ask what's keeping the user from completing their purchase.
There are tons of questions you can ask your audience in order to improve your store and your sales funnel. For more ideas, check out 44 Customer Survey Questions + Guide to Meaningful Feedback.
Get started with UserFeedback today!
HubSpot is our go-to CRM and email marketing combo tool. With Hubspot's WordPress plugin, you can easily integrate the tool with your site to capture your leads and customers automatically in the CRM, then email them using the same toolset.
We love HubSpot for gathering data from the users in your sales funnel, sending automated emails, and reaching out with their live chat feature if a potential customer is seemingly stuck on one of the steps in your funnel.
Another cool perk: You can start using HubSpot for free!
Get started with HubSpot today!
LiveChat is one of the best live chat plugins around, and it's one of the best plugins you can add to your sales funnel! When a user can ask any questions they may have, or you can reach out to users who seem stuck, you can really amp up your sales.
You can make LiveChat designed to fit your website with colors and layout, it provides a free ticketing system, can be programmed to pop up whenever a user takes an action (or is inactive), and more.
When LiveChat is a part of your sales funnel, you'll certainly see more sales.
Get started with LiveChat today!
That's our list!
If you liked this article, you should also make sure to check out:
How to Set Up Google Analytics eCommerce Tracking on WordPress
9 Top eCommerce Metrics & KPIs to Track in Google Analytics 4
29 Best WooCommerce Plugins to Upgrade Your Store
WooCommerce Conversion Tracking: Complete Guide (2023)
Not using MonsterInsights yet? What are you waiting for?
And don't forget to follow us on Twitter, Facebook and YouTube for more helpful Google Analytics tips.