Are you looking for a way to add a recent sales popup to your website? Popups are a great way of generating leads, boosting conversions, and increasing sales.
That said, adding a sales popup notification on your website can be tricky, especially for someone starting a new website. It may require coding, designing, or hiring a professional.
But using a plugin like TrustPulse, you can easily create a recent sales popup for your website without any coding. In this article, we will show you how to add a recent sales notification popup to your WordPress site.
Why Use TrustPulse for Recent Sales Popup?
TrustPulse is one of the best WordPress plugins for adding a recent sales notification popup or FOMO (fear of missing out) to your site. It uses social proof to attract your website visitors and helps to increase conversions. TrustPulse is super easy to use, and best of all, it's 100% free.
In the free version, you can create different types of campaigns, and you get 500 sessions per month. But if you want more sessions per month, consider upgrading to its premium plans.
Here are some amazing features offered by TrustPulse:
Create urgency by using real-time event tracking
Works brilliantly for FOMO with On-Fire notification feature
Use advanced targeting rules to show notifications to the right people
Get analytics to boost your conversions
Offers flexible design options
Integrate with platforms like WordPress, Shopify, and WooCommerce
Now that you know the benefits of using TrustPulse, let's see how to add a recent sales popup to your WordPress site.
Create a Recent Sales Notification Popup for Your WordPress Site
With the help of TrustPulse, creating a recent sales popup is quick and easy. You can add a popup in just 9 simple steps.
Step 1: Install and Activate TrustPulse WordPress Plugin
The first thing you'll need to do is add TrustPulse WordPress plugin to your website. To do this, go to Plugins and click Add New.
Now lookup TrustPulse plugin in the search bar and click Install Now.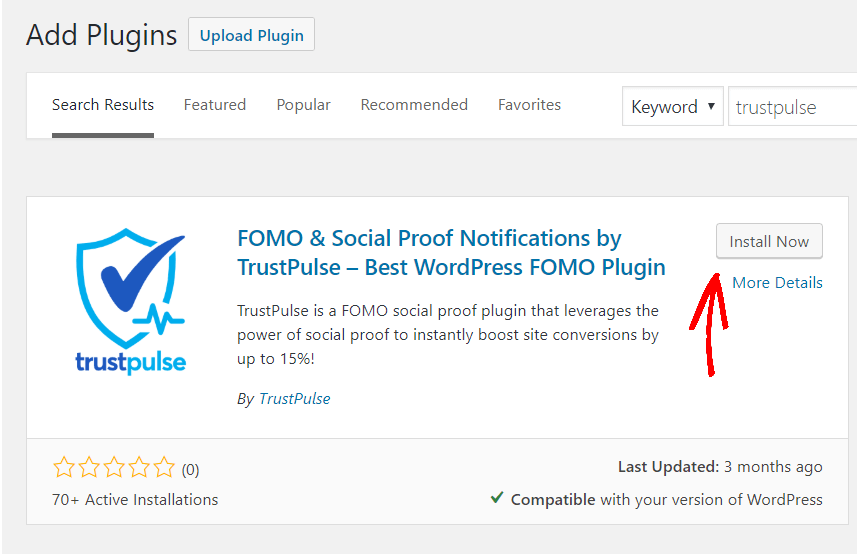 For our set up guide, we will be using the free version. However, you can also check out their paid plans for more advanced features and sessions per month.
Step 2: Get Started with TrustPulse
Once the plugin is installed, activate it so that it appears in your WordPress dashboard. Then go to TrustPulse and select Get Started for Free to create an account.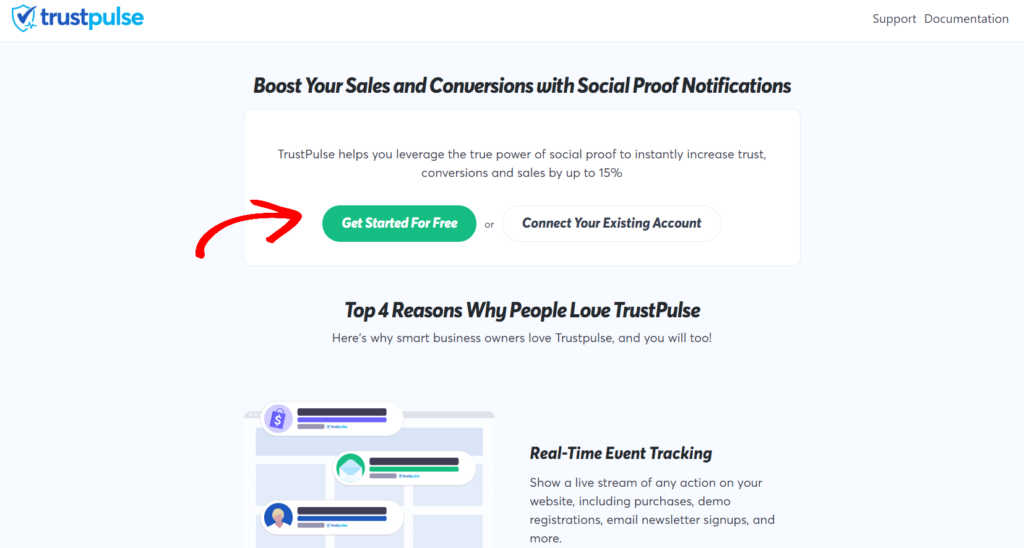 Step 3: Create a TrustPulse Account
Next, create an account by selecting the free plan, entering your name, email, and setting a password. Once you've entered these details, click Start My Risk-Free Trial Now.
Step 4: Create a Campaign for Sales Popup Notification
After creating an account, you'll have to create a new campaign to add a recent sales popup notification to your WordPress website.
For that, click on View My Campaigns.

Next, select Create Campaign to get started.

Step 5: Select a Campaign Type
When it comes to creating a campaign in TrustPulse, start by giving it a name and then select your website where you want the sales notification to appear.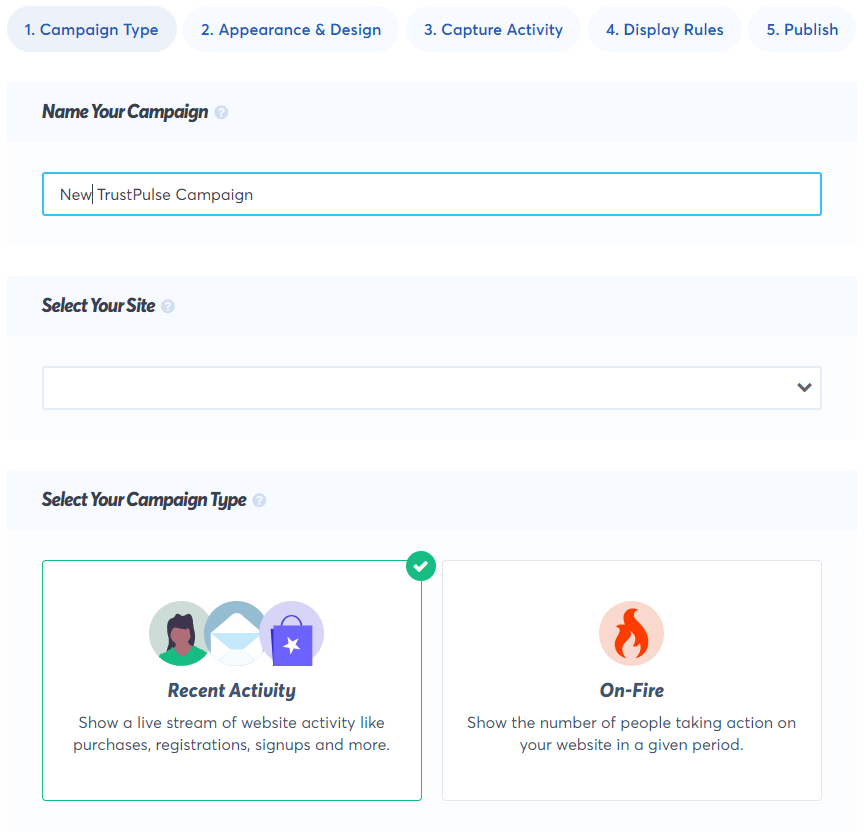 Now you'll have to select the campaign type, Recent Activity or On-Fire.
Recent Activity – you can show a live stream of your website's activity like signups and purchases.
On-Fire – this campaign type helps to show the number of people taking a particular action on your site.
Step 6: Change the Appearance and Design of the Sales Popup
One of the best things about TrustPulse is its wide range of customization. You can change the design and appearance of your recent sales popup notification as per your needs.
For instance, you can change the language of your popup and how do you want to refer your visitors (example: Someone).
It even lets you add a message to you want to show (example: just purchased some new shoes!), change the notification image, position, corner style, size, and choose the style of animation you want for your popup.
Step 7: Capture Activity of Users
Now that you've carefully created customized your popup, it's time to capture your users' activities on your website.
TrustPulse offers you two ways of capturing the activities of users. The first is AutoMagic, which automatically tracks and records users' activities and submissions on your WordPress website. The second method is through Zapier that lets you capture user interaction across 1,000+ sources.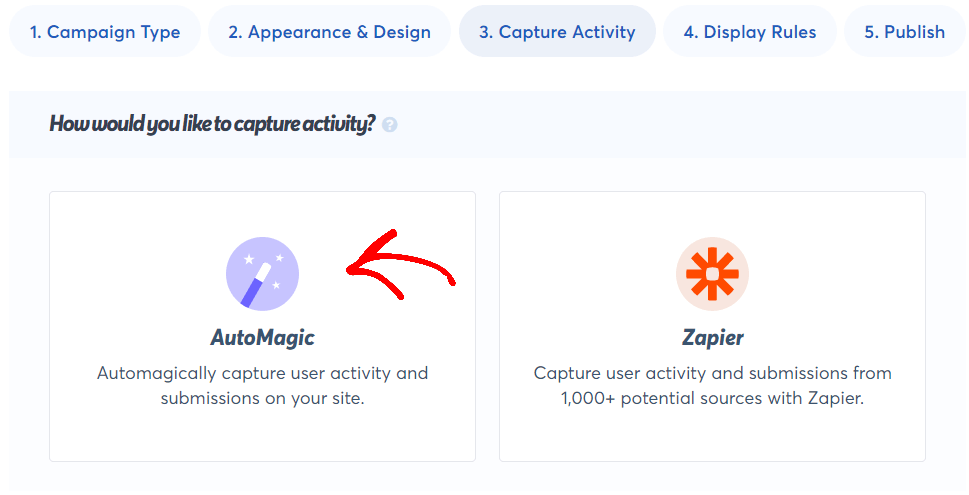 For our tutorial, we selected the AutoMagic option, as it's easier to use and perfect for beginners. But if you have a Zapier account, TrustPulse offers one-click connections.
Now if you scroll down, you'll see more options. You can select a specific website activity you want to track, like form submissions from an exact web page. TrustPulse also allows you to track the same activity across multiple URLs. Simply enter the URLs you want to track.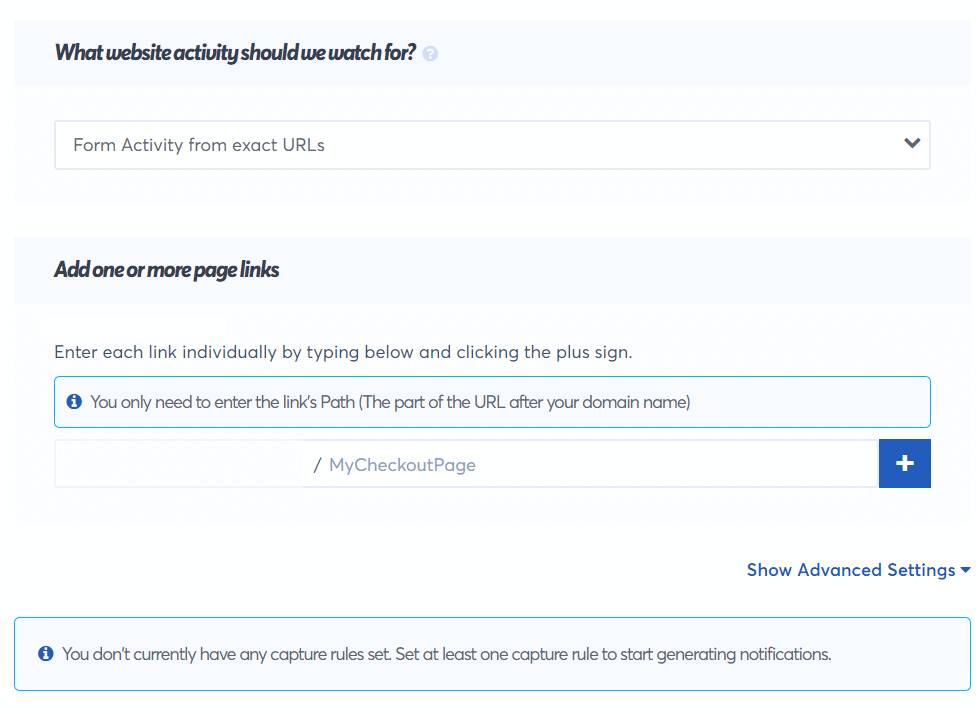 Step 8: Set Display Rules for Your Recent Sales Popup
The last step before taking your recent sales notification popup live is to set the display rules. Thanks to TrustPulse, you can easily set up where and when you want your popup to appear on your website.
You can select if you want your popup to appear on the entire site, some URLs, or any page containing a specific text. It also lets you choose the delay time when your first notification will appear and its display duration.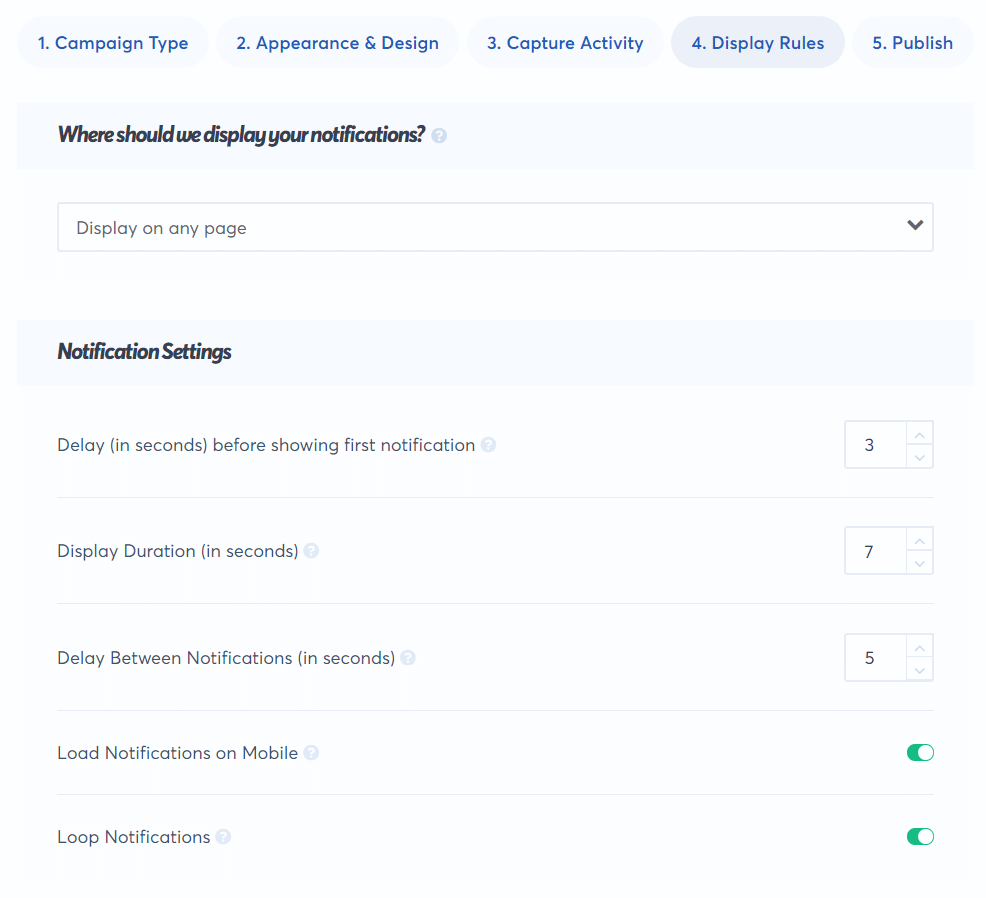 If you're running multiple popups, then you can set the delay time in between notifications. TrustPulse also lets you load notifications on mobile devices, which makes the plugin even more attractive.
Once you've set the display rules, click Save and move on to the next step.
Step 9: Publish Your Recent Sales Notification Popup in WordPress
Now it's time to publish your recent sales popup on your WordPress website. TrustPulse automatically connects your website, and with a single click, you can see your newly created sales popup in action.
That said, you can also use the embed code provided by TrustPulse to add the recent sales popup anywhere on your WordPress site.
Congratulations!
You've now added a recent sales popup on your website using TrustPulse. Now let your conversions increase as you leverage social proof to attract your visitors.
We hope that you liked our article on how to add a recent sales notification popup to your WordPress site. You might also want to check out our guide on the most important Google Analytics metrics businesses should use.
And don't forget to follow us on Facebook and Twitter for useful guides about WordPress and tutorials about Google Analytics.