Are you working on ranking your website in Google search for the keywords that'll bring in the right traffic? If you're wondering how to add SEO keywords to WordPress, you're in the right place.
In this article, we'll take a look at the importance of focusing your pages and posts on a specific SEO keywords, go over how to add those keywords, and review an option for tracking them.
Let's go.
What Are SEO Keywords?
SEO keywords are keywords that you decide to use on your website in order to rank for them in search results. They're very important aspects of SEO, as without them, you wouldn't have a solid plan for how and where to rank in search results.
Ideally, each page or post on your site focuses on one keyword phrase (along with a couple supporting keywords) to give it the best chance of ranking. That way, Google and any other search engines can immediately see what the post is about, and rank it accordingly.
Before adding keywords to your site, you'll need to do some keyword research to discover what the best keywords are for your site.
For more on keyword research, check out Best Keyword Research Tools to Skyrocket Your SEO.
7 Places to Add SEO Keywords in WordPress
When you're working on a piece of content in WordPress, there are a few really important places where you should be adding your keywords.
Before we dive into our list, we're going to be using a plugin here that you should know about: All in One SEO (AIOSEO).
All in One SEO is the best WordPress SEO plugin and toolkit. It makes creating an SEO-friendly site much simpler and more straightforward with its smart features that help you optimize every page, post, product, and more.
This plugin helps with:
Local SEO
WooCommerce SEO
On-page SEO
XML sitemaps
Rich snippets schema
And more
We'll be using All in One SEO to make sure we put SEO keywords in all the right places.
Let's move onto our list of where to put SEO keywords in WordPress.
1. The Title
The first place your keyword needs to appear is in the title of your post. Your title should always contain your focus keyword! There are a lot of guidelines out there for how to write your title, but it should at least always have that keyword. For help with title writing, make sure to check out our free Headline Analyzer tool.
2. The URL
WordPress automatically generates your URL for you based off of your title, but you can tweak it, too. In general, make sure it includes your main SEO keyword but remove any reference to dates or other numbers that might change (if your post is a listicle, for instance, or includes the year).
For example, "7 Places to Add SEO Keywords in WordPress" would become yoursite.com/places-to-add-seo-keywords-in-wordpress, with the 7 removed.
3. Article Headings
Headings within your article are a great place to include your focus keyword and supporting keywords. However, make sure not to over-optimize. If you use your keywords too many times, your article becomes unpleasant to read, and you may even get pushed down in search results if Google deems your content keyword stuffed.
4. In Paragraphs
Just like article headings, you should include SEO keywords within your paragraph text, but be careful not to keyword stuff.
5. Image Name, Title and Alt Text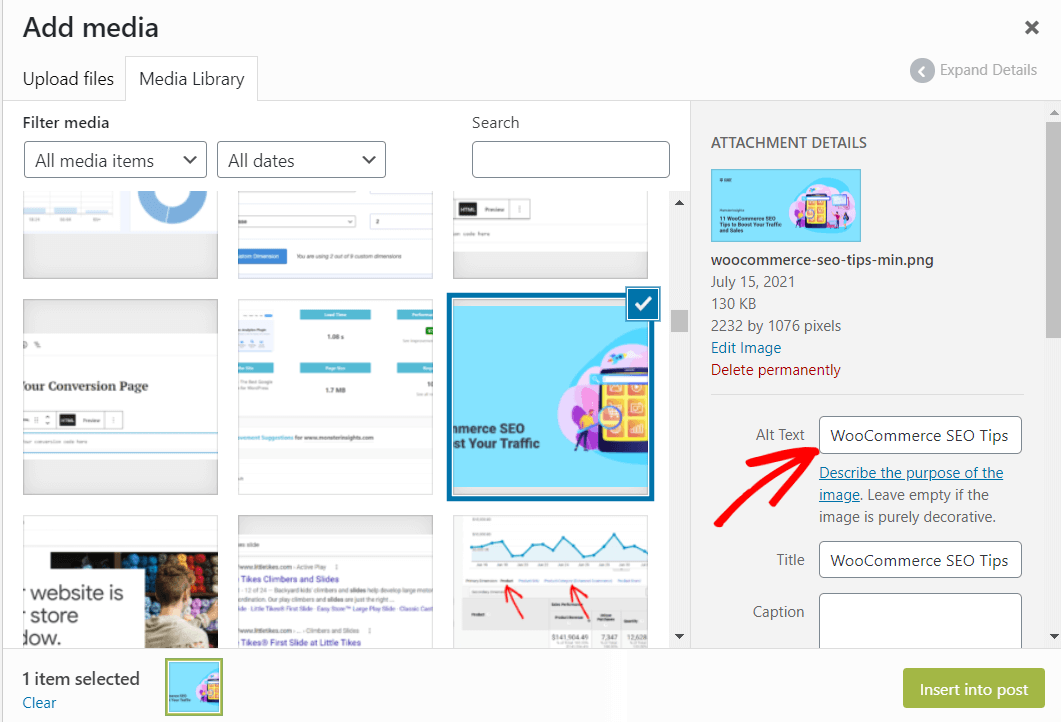 When you're naming an image you're going to be using in your article, go ahead and add your focus keyword or phrase. You can also add it within the image title and alt text.
6. Meta Title and Meta Description

With the AIOSEO plugin installed, you'll be able to edit the title and description of your post as they will appear in search results. Google does sometimes rewrite them to make your result more exactly match the searcher's query, but you should definitely still make sure your title and description are awesome. Include your main SEO keyword and make sure it's compelling to click on in search results.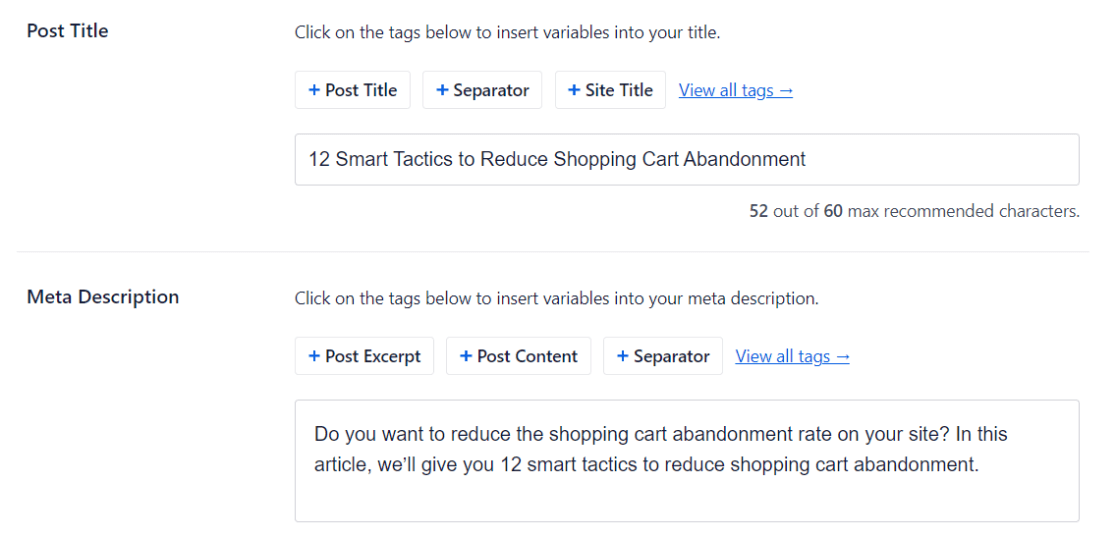 7. AIOSEO's Focus Keyword Box
Ready for the best part of optimizing your articles using AIOSEO? Put your focus keyword (the top keyword you want your article to rank for) in the box and watch the plugin work its magic to tell you how you can improve your article's optimization: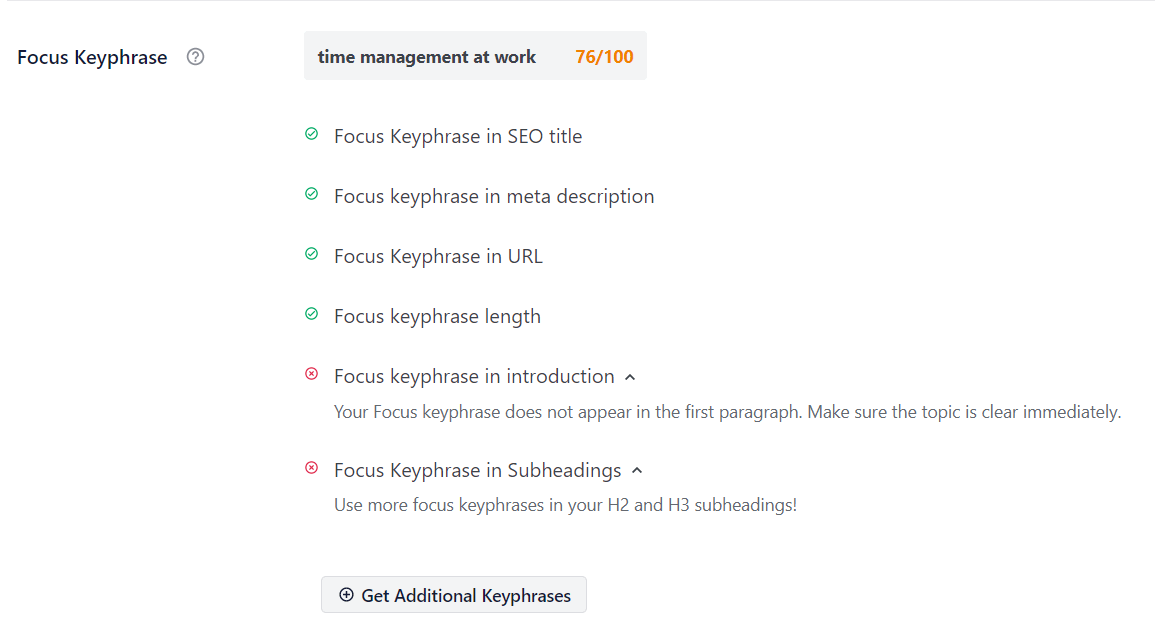 You can also scroll down further to see even more overall page optimization suggestions: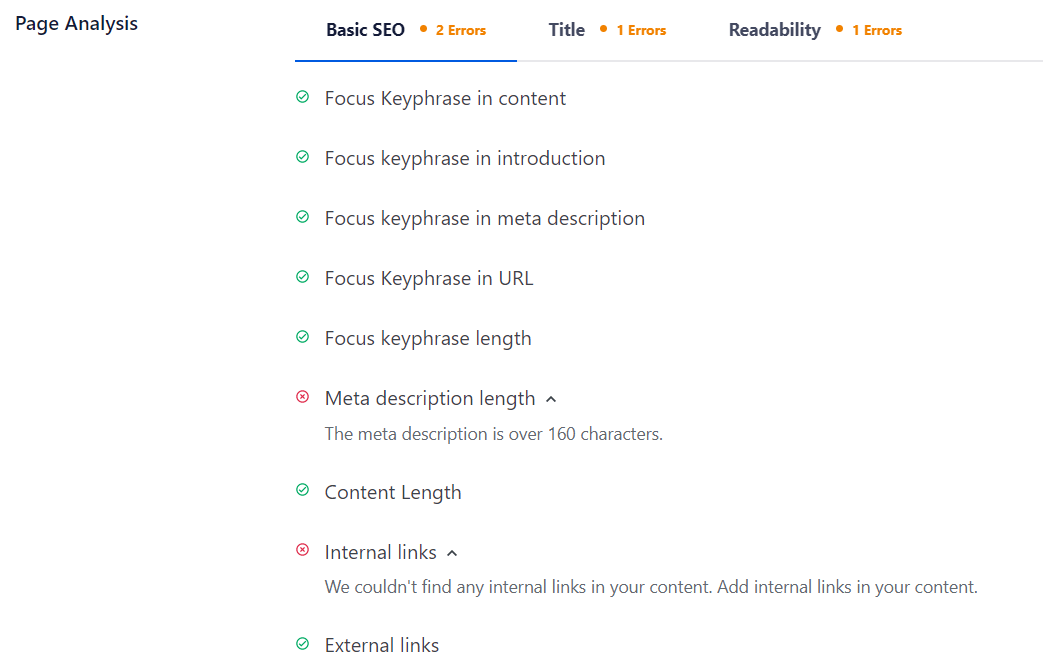 If you've gone through each of the locations on our list to add keywords, your post is very well optimized. Great job!
Now, do you want to track how your keywords are performing with Google Analytics?
How to Track SEO Keywords in Google Analytics
Now that you know where to add SEO keywords in WordPress, you can take another step toward SEO awesomeness by tracking your AIOSEO focus keyphrases in Google Analytics.
To get the AIOSEO focus keyphrase data into Google Analytics, you can use the MonsterInsights plugin.
MonsterInsights is the best Google Analytics plugin for WordPress. It allows you to easily connect your WordPress site with Google Analytics, so you can view all the data that matters most right in your WordPress dashboard.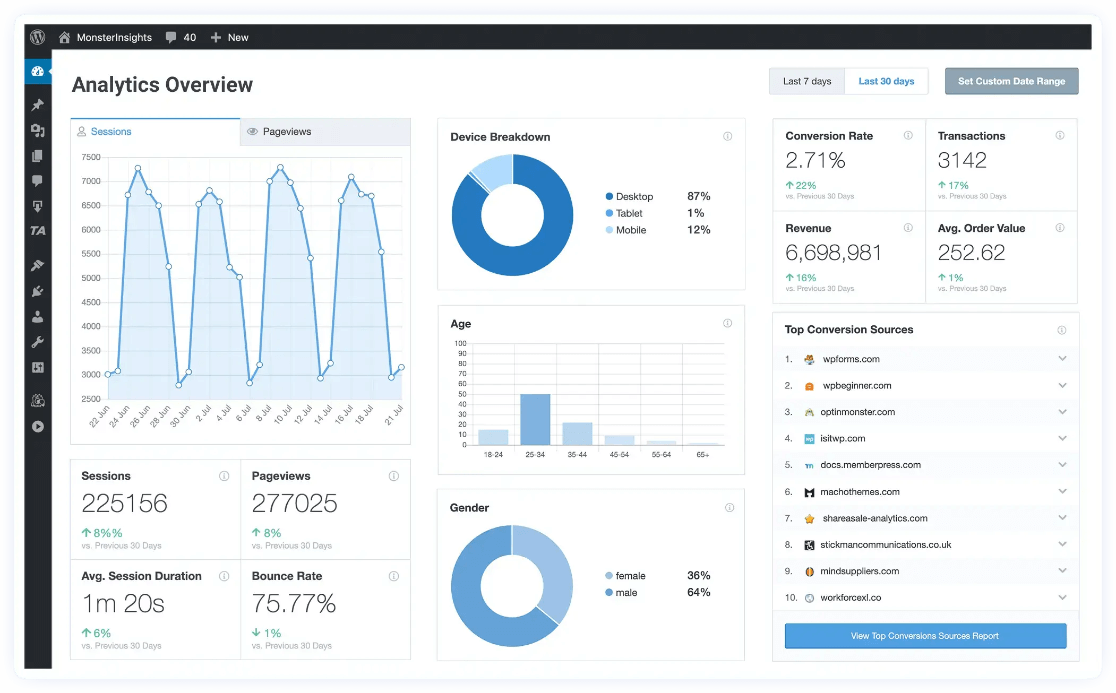 Plus, with the click of a button, you can set up sophisticated tracking features such as event tracking, eCommerce tracking, form tracking, custom dimension tracking, outbound link tracking, and more.
Speaking of custom dimensions, one of the dimensions you can set up to track in Google Analytics and WordPress is the All in One SEO Focus Keyphrase. By setting it up this way, you'll be able to see how your content is performing in another report in Google Analytics and WordPress.
You'll be able to see:
Which focus keyphrases are bringing in the most traffic to your site
Which focus keyphrases aren't performing as well, so you can work on other ranking measures (like backlinks and sharing)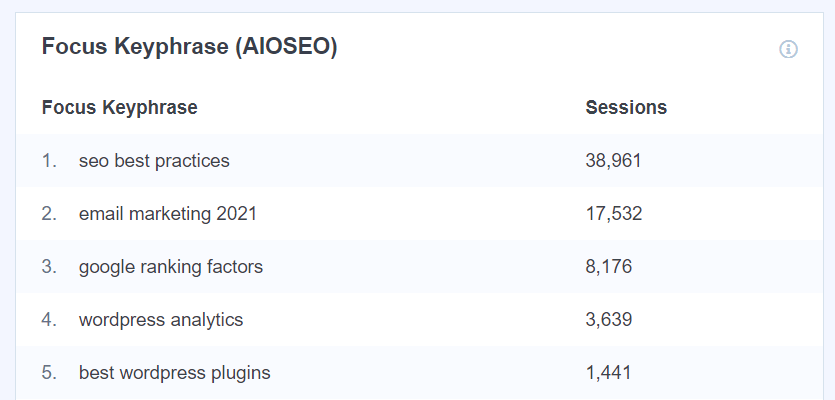 To set up Focus Keyphrase tracking, grab MonsterInsights at the Pro level. Then, follow our Guide to Custom Dimensions.
We hope you were able to learn about adding SEO keywords to WordPress from our article. Now, want to see which keywords your site is ranking for in Google Analytics? Check out How to See the Google Analytics Keywords for Your Website.
For more on blog post SEO, read Blog Post SEO Checklist: How to Write & Optimize Blog Posts. To make sure you're avoiding SEO mistakes, check out The Biggest WordPress SEO Mistakes + How to Avoid Them.
And don't forget to follow us on Twitter, Facebook and YouTube for more helpful Google Analytics tips.