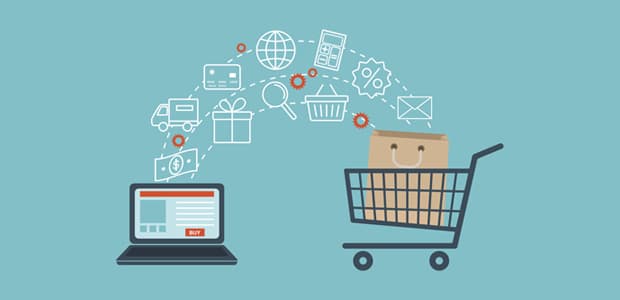 How to Find Your Average Ecommerce Order Value in Google Analytics
Do you want to know the average value of each ecommerce transaction in your online store? You can easily find it out by looking at the Average Order Value metrics in Google Analytics. In this article, we'll show you how to find your average ecommerce order value in Google Analytics.
What is Average Order Value?
Average order value (AOV) is a metric that tells you the average value of an ecommerce transaction in your online store. In other words, it tells you on average how much revenue each order brings in.
It can be calculated as follows:
Average Order Value = Product Revenue / Total Transactions
Why is Calculating Average Order Value Important?
Just like conversion rate, average order value is also an important key performance indicator (KPI) that is vital to your online business.
For instance, by improving conversion rate, you're encouraging more users to buy from your store. Similarly, by improving average order value, you're enticing your customers to spend more whenever they make a purchase.
That means aside from conversion rate, you'll have to focus on average order value as well in order to increase sales and revenue from your ecommerce store.
How to Find Average Order Value of Your Store
Before we get started, we are assuming that you've already enabled ecommerce tracking in Google Analytics.
Now sign into your Google Analytics account and select the website for which you'd like to see the average order value.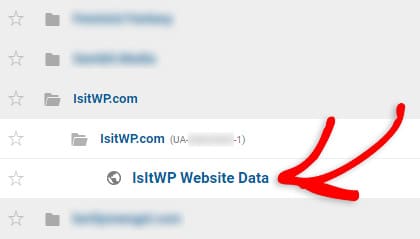 To view AOV of the entire site, navigate to Conversions » Ecommerce » Overview. You can see the metric Avg. Order Value along with many other metrics.

Finding Average Ecommerce Order Value by Traffic Source
To view AOV by traffic sources, navigate to Acquisition » All Traffic » Source/Medium.
Then click on E-commerce under the Explorer tab. In the table, you can see the Avg. Order Value column.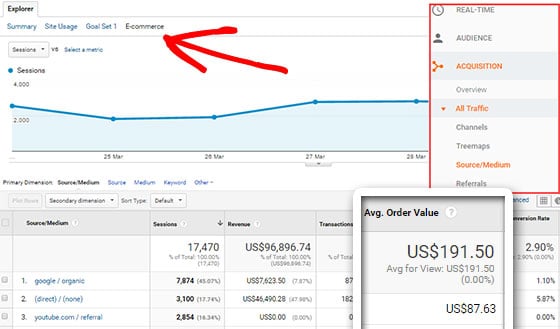 When you know which traffic sources are bringing in higher average order values, you can focus your marketing efforts on what works, and find out how to optimize your other traffic sources.
That's it!
We hope this guide helped you to find the average ecommerce order value of your store.
If you're looking to boost sales and revenue from your store, you'll enjoy reading this guide on mistakes that are hurting your ecommerce conversion rate (and how to fix them).