Did you know that Google Analytics offers artificial intelligence (AI) based quick insights on your website data?
If you're a beginner, then finding even a simple answer in Google Analytics can be overwhelming. You may not know where to look at to find your answer.
But Google Analytics Intelligence solves that problem by allowing you to ask questions to the machine in plain English and get fast answers. It also provides a bunch of insights that it thinks are useful to you.
In this article, we will explain what Google Analytics Intelligence is and how you can use it to get useful insights for your website growth.
What is Google Analytics Intelligence? – Introduction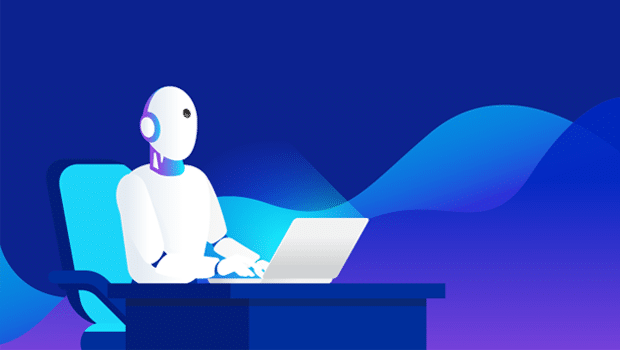 Google Analytics Intelligence is a machine learning tool used by Google to help users better understand the analytics data.
It includes a set of artificial intelligence (AI) based features which let you quickly find the insights you need without manually digging into the data. It enables anyone, including beginners, to discover their important website stats rapidly.
The Google Analytics Intelligence provides data insights mainly in two ways. They're:
1. Ask Questions
You can ask Analytics Intelligence a wide range of questions about your data in simple everyday language. It answers to your questions fast and in an easy to understand manner.
The answers are usually a quick overview of a report and a link to view the full report. This means that you can easily navigate through different reports without being a data expert.
For example, you can ask a basic question 'How many users did we have last month?'. Intelligence will answer this with the total number of users, a graph showing user trend over a month, and a 'Go to report' button.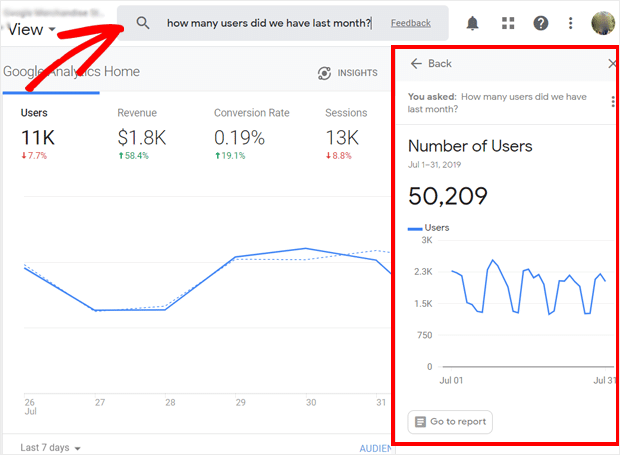 2. Insights
Intelligence also provides auto-generated insights on significant changes and opportunities that can impact your business. Unlike Ask Questions option above, these are automatic insights offered by intelligence without asking any question.
The Insights serve as alerts or notifications about the big changes happening on your website. They include anomalies like sudden increase and decrease in traffic, users, conversion rate, revenue, etc. and a lot more.
For example, an insight provided for the Google Analytics demo account reads 'Your ecommerce conversion rate decreased on some landing pages.'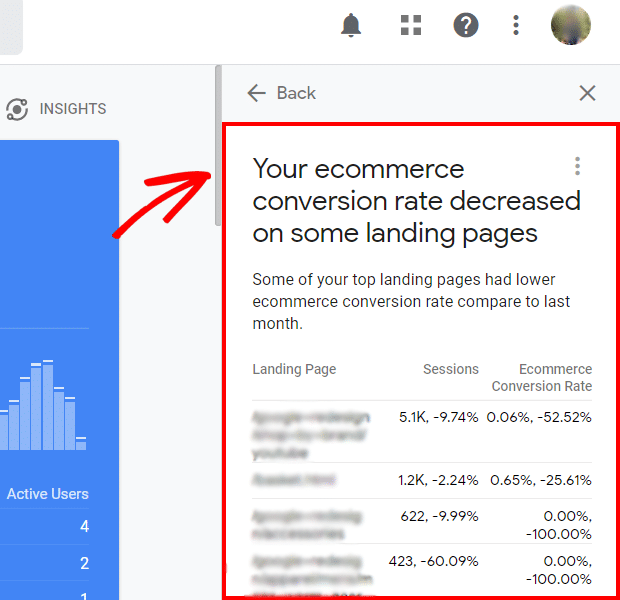 This insight provides you an opportunity to optimize your low-performing landing pages for more conversions.
Besides, Google Analytics Intelligence is also used for user and conversion modeling features like smart goals, smart lists, session quality, and conversion probability.
In short, it's the Google Analytics artificial intelligence.
Using Analytics Intelligence – How to Ask Intelligence Questions?
Google Analytics Intelligence is user-friendly and straightforward. You can easily ask questions or use the auto-generated insights.
If you need a step by step guide, here it is.
First, you need to sign in to your Google Analytics account. Once done, choose a website property whose insights you want to see.
On your Google Analytics Home page, you can see a search box at the top with a search icon and 'Try searching "your question"' placeholder text. It's where you can ask Intelligence questions.

Now you can click on the search field and type your question. For example, you can ask 'Which are the top pages on my site?'. Enter your question in the search field and press the Enter key on your keyboard.

After that, Intelligence will display your answer on the right-side column, as shown below.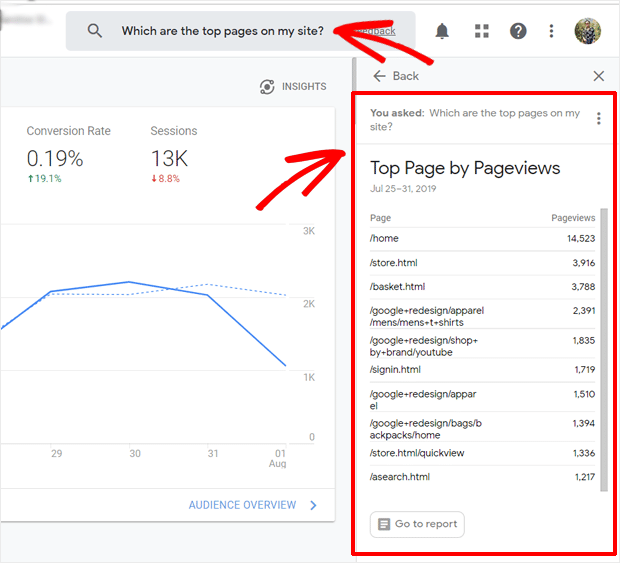 It shows a quick overview of your top pages by pageviews, and 'Go to report' button. If you click on the 'Go to report' button, then it will open the full report on the middle column, the column on the left of the answer column.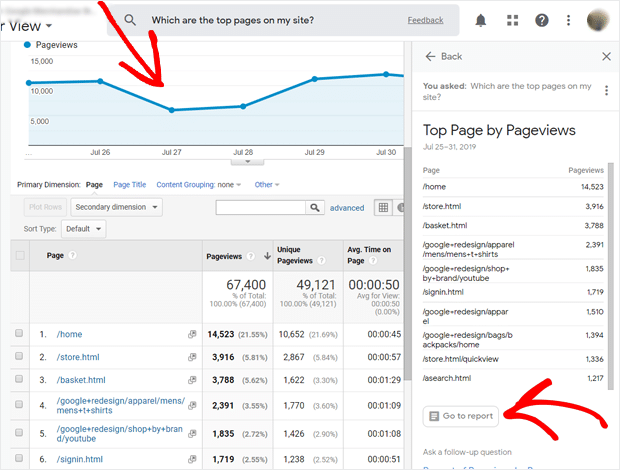 Below your answer, you can also find some follow-up question suggestions from Intelligence. You can simply click on them to see those reports.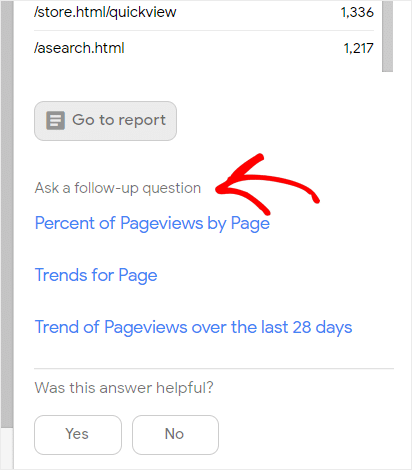 Not sure what type of questions to ask the Intelligence? Don't worry because it also has a list of questions you can ask.
Go to the search box at the top and click on the search field. Once done, you'll see a popup with recently browsed reports, insights, and recent searches. On the Insights section, you can see 'What questions can I ask?' link.
Click on the link to find questions you can ask the Intelligence.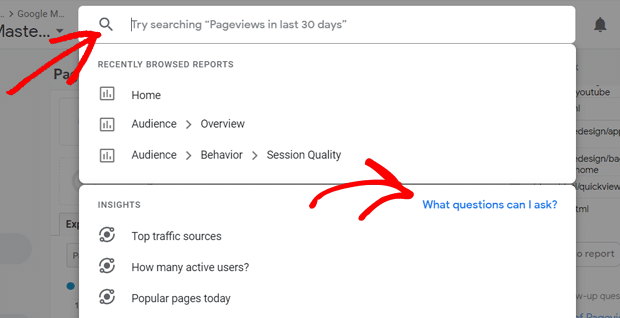 Once done, Google Analytics artificial intelligence will show you a list of questions.
There're tons of questions under different sections like basic performance, where you get your users from, understanding trends, content analysis, understanding user behavior, and more.
Now you can click on any question you're interested in.
Using Analytics Intelligence – How to View Analytics Auto Insights?
Using Intelligence Insights is even easier. On your Google Analytics home page and most of the other report pages, you can find 'Insights' option on the top right side of the screen.

Click on the Insights option, and then it will open the Analytics Intelligence Insights column on the right side of your screen.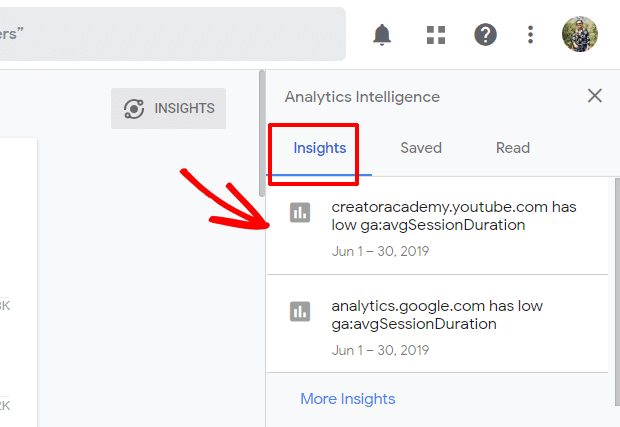 As you can see in the screenshot above, it has some crucial insights ready for you. You can view each report by clicking on it.
Once you view an Insight, it will be saved under the Read section. You can also save the insights by clicking on the three-dots icon next to the insights.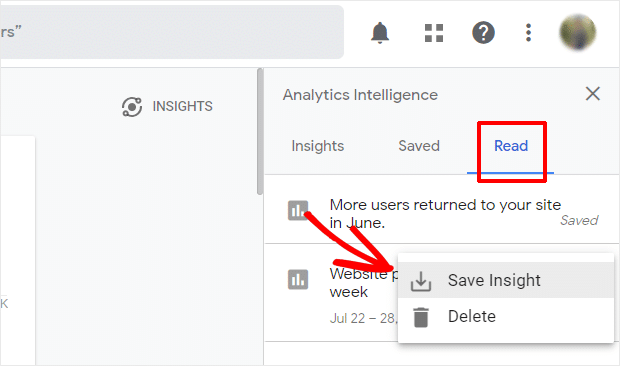 Once you start using it often, the Intelligence learns which insights you're most interested in and creates a new row of Insights for you. Hence insights in one account can differ from the insights in another account.
Detecting Anomalies using Google Analytics Intelligence
The Analytics Intelligence often checks your data for anomalies like a sudden spike or fall in traffic, conversion rate, or revenue, and it presents the data in the Insights column. However, you can also ask the Intelligence about data anomalies.
You can use the questions like this for anomaly detection in your data:
Show me an anomaly in traffic this week.
Did anything unusual happen this month?
Pros and Cons of Google Analytics Intelligence
Google Analytics Intelligence is beneficial mainly for beginner-level users with less or no experience in data analysis. It makes finding insights in Google Analytics simple.
The auto-generated Insights are helpful for all types of users. They scan for the major changes, anomalies, opportunities, etc. and show them to you at one place.
You may never see these reports and miss big opportunities unless the Insights show.
However, Analytics Intelligence has many limitations. Here're some of them:
First, it accepts questions only in plain English and doesn't have support for other languages. Sometimes, it doesn't understand questions even if they're in English.
It cannot provide answers to questions seeking strategic advice. If you ask a question like 'Which marketing campaign should I use?', then it cannot provide an answer.
Intelligence also doesn't answer general support related questions. For example, if you ask 'how do I create custom reports?', it won't provide an answer.
We hope this article helped you to understand what is Google Analytics Intelligence and how to use it to get better insights. You may also want to see our guide on custom dimensions in Google Analytics.
And don't forget to follow us on Twitter and Facebook for more helpful Google Analytics tips.