Need to add a website to Google Analytics? To do that, you must create a new Google Analytics property. If you have multiple websites or apps, then you can add them each as a property within the same Google Analytics account.
Google Analytics allows you to have up to 50 properties in a single account. In this article, we'll walk you through how to add a website property in Google Analytics – both in Google Analytics 4 and Universal Analytics.
Understanding Account, Property, and View in Google Analytics
Your Google Analytics profile consists of 3 different components. They are account, property, and view (if you're using Universal Analytics).
Here's a closer look at each of them:
Account: The account is the highest level. You need a Google Analytics account first and foremost to set up a website or app.
Property: A property can be a website or a mobile app (or both if you're using GA4). Your account can consist of up to 100 properties. So if you're a business with a website and an app, you'd have a property for each of those within your business's account.
View: A view is the access point for your reports if you're using Universal Analytics. For example, within a property you can have different views for viewing all the data for your website, viewing only a specific subdomain, like blog.example.com, or viewing only Google Ads traffic. Views do not exist in Google Analytics 4.
Now let's take a look at how to add a website and property to Google Analytics.
Add a Website/Property to Google Analytics in 4 Steps
Just follow these steps and you can add your website to Google Analytics in no time:
Step 1: Sign in and Choose an Account
First, log in to your Google Analytics account and select the website in which you'd like to add a new property. If you have a GA4 property, you'll select the property. If you have Universal Analytics, you'll select a view.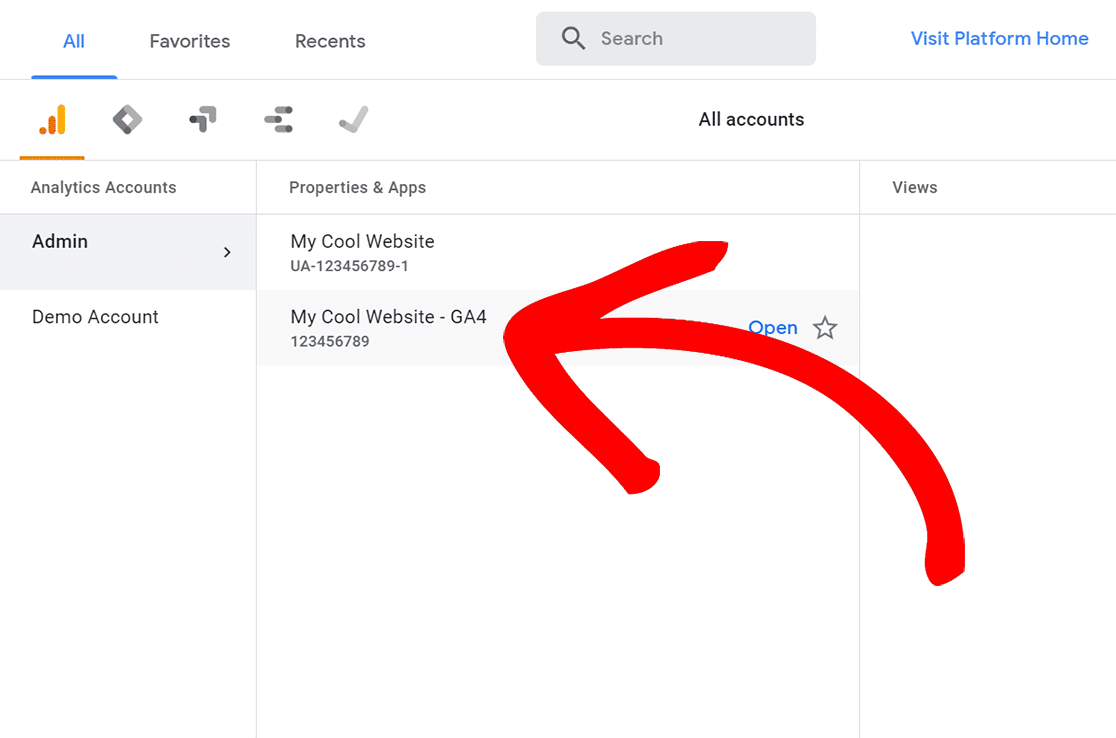 Now click on Admin in the left taskbar. It's on the bottom left in both Universal and Google Analytics 4.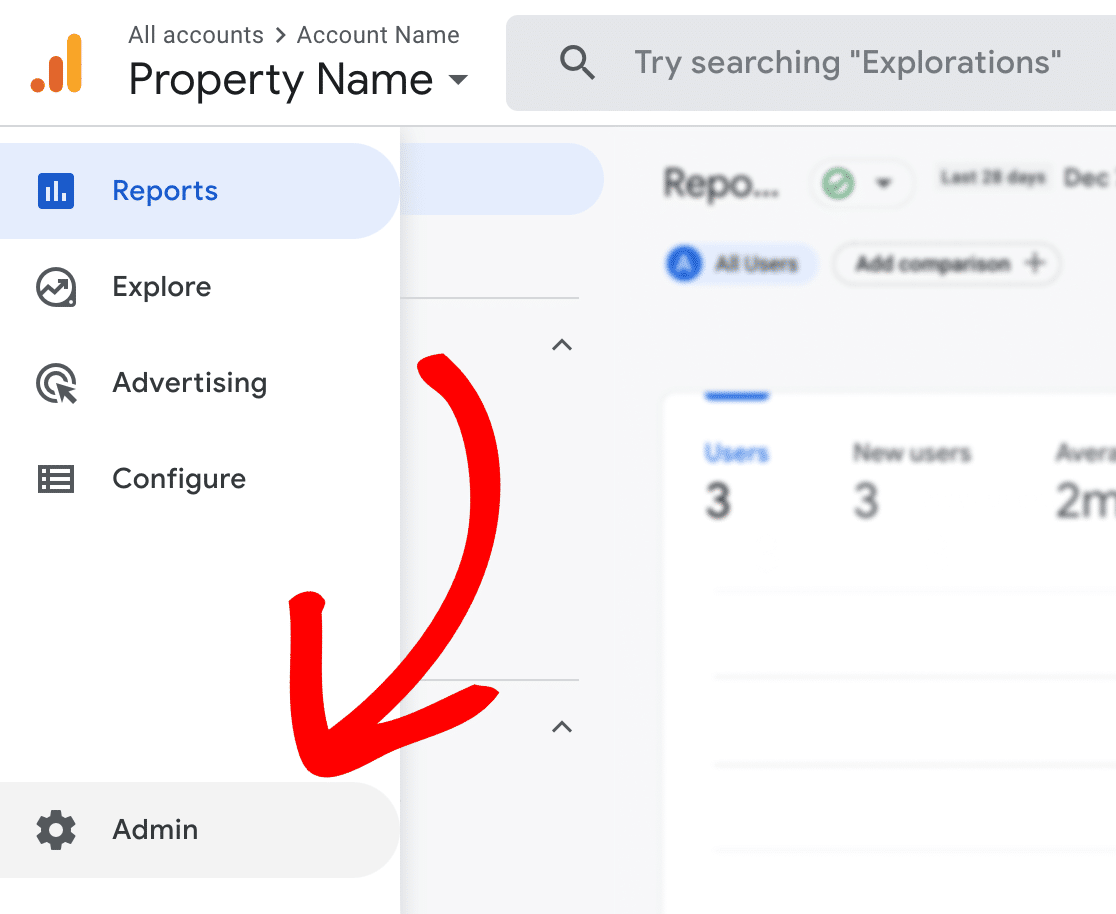 Step 2: Set New Property Settings
In the Property column, click Create Property.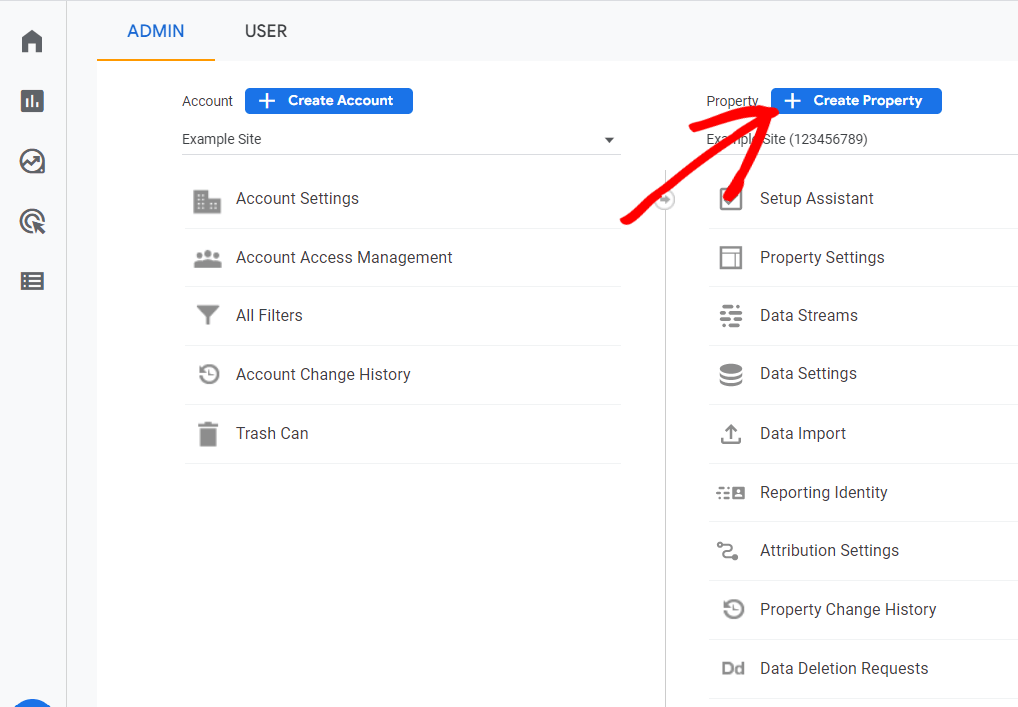 Now, you'll have to enter the property details of your website. Start by entering a name, selecting a reporting time zone, and choosing your currency.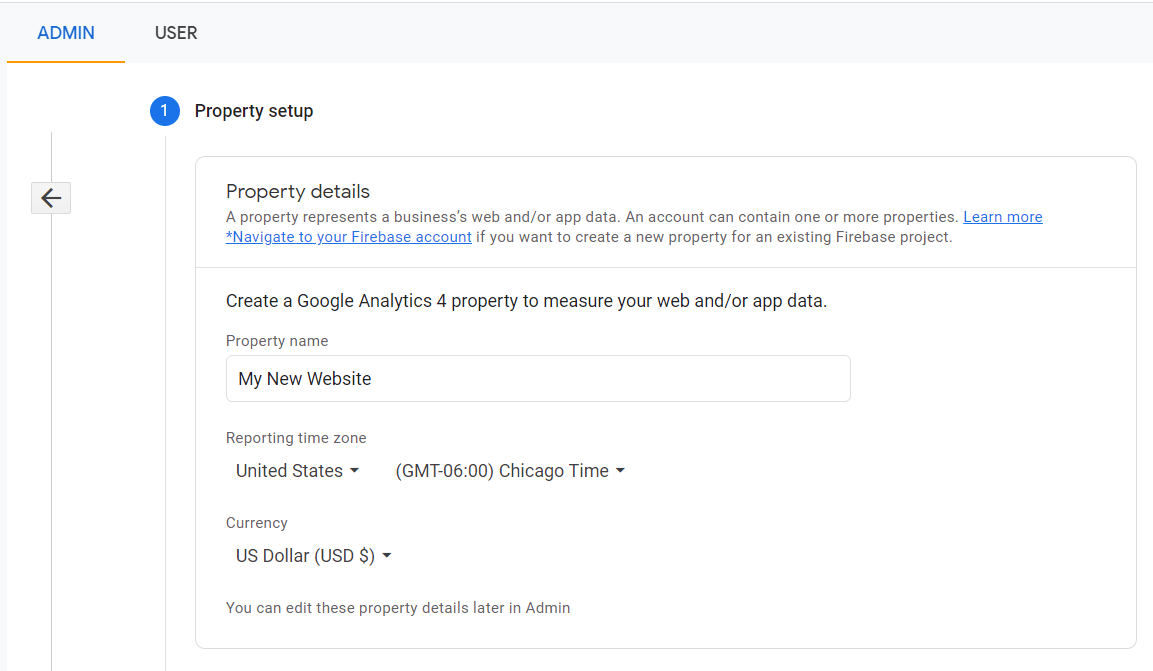 Step 3: Choose a Property Type
Next, you can choose from three property options. We recommend the third options of setting up both a Universal Analytics property and a GA4 property at the same time.
To set up a GA4 property, enter your property name, then choose your time zone and currency. Click Next.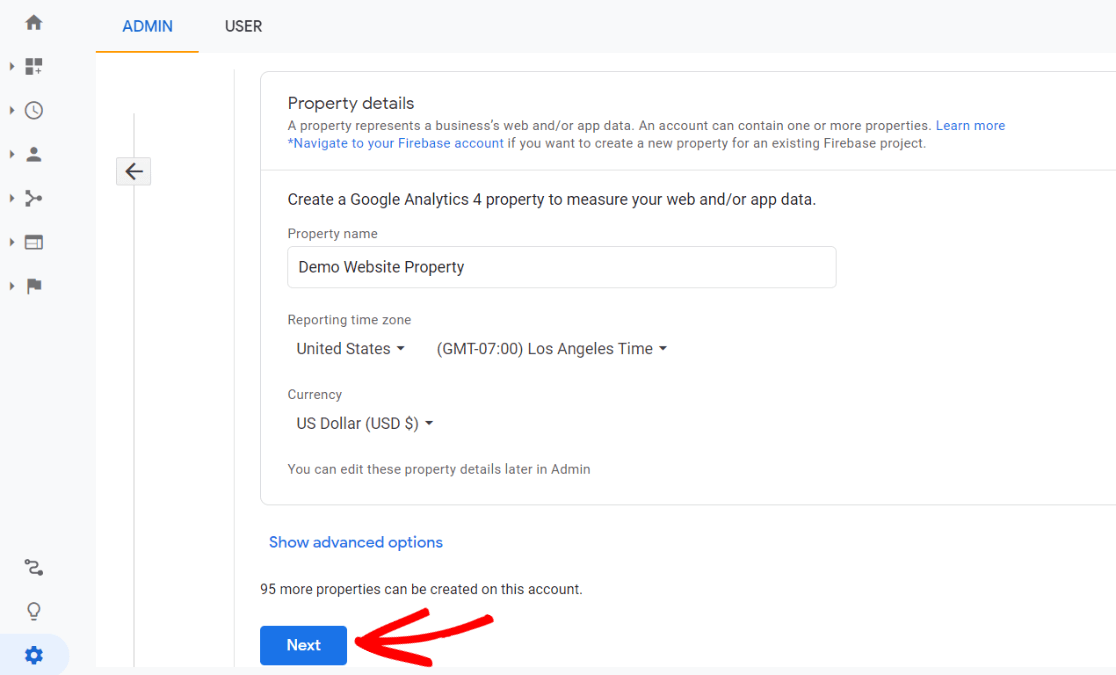 Fill in the rest of the business information, then scroll down and click Create.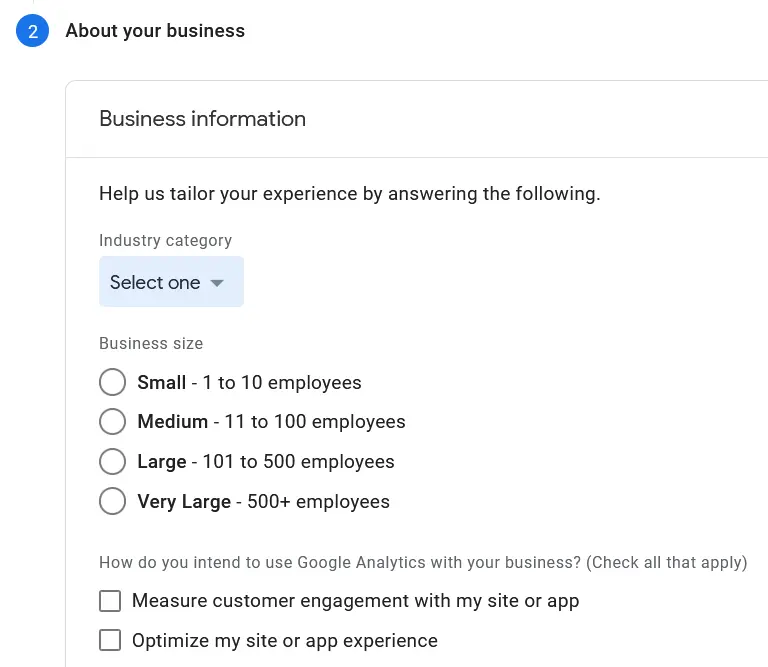 You may see a popup at this point to accept the Google Analytics Terms of Service. Go ahead and check the checkbox and click I Accept.
That's it! Move on to Step 4.
To set up both GA4 and Universal properties at the same time, enter your property name and choose your time zone and currency. Then, click the Show advanced options link.
Toggle on the switch to create a Universal Analytics property. Then, fill in your website's URL and select the checkbox to create both properties. Click Next.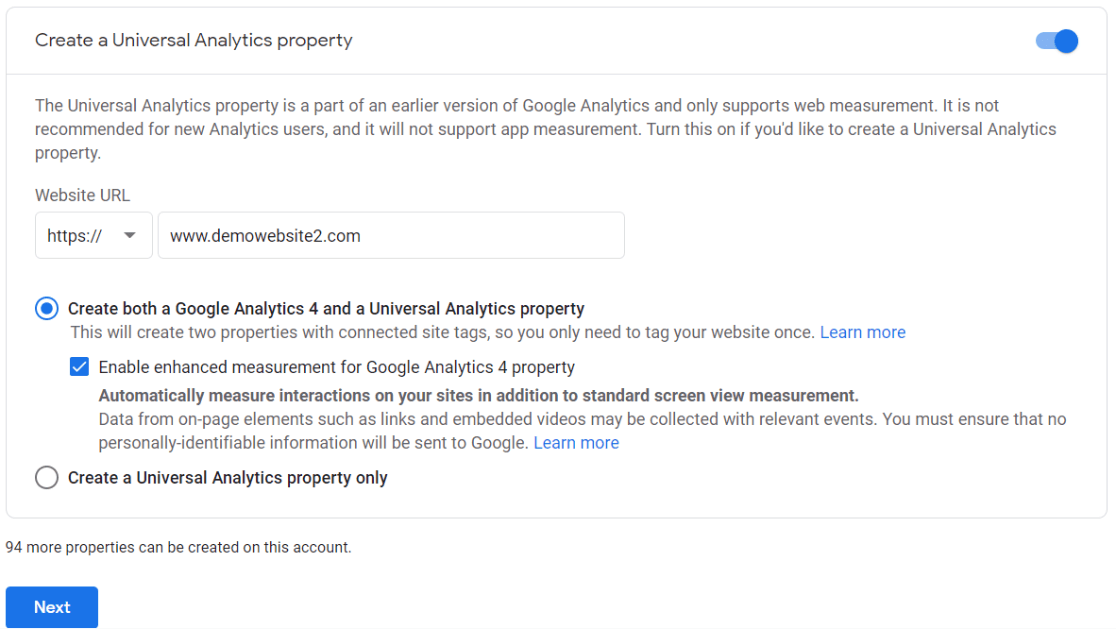 Fill in your business details and click Create. You may see a popup at this point to accept the Google Analytics Terms of Service. Go ahead and check the checkbox and click I Accept.
That's it! Move on to step 4.
Step 4: Install Your Tracking Code
If you're using a website platform other than WordPress, please refer to instructions for installing Google Analytics.
To install Google Analytics tracking on your WordPress website, your best option is to use MonsterInsights.
MonsterInsights the best Google Analytics plugin for WordPress, as you don't have to do coding to enter the tracking code or have to hire a developer to do the job.
You can start by downloading and installing the plugin. Just go to your WordPress admin area and navigate to Plugins » Add New. Next, search MonsterInsights in the search bar and click Install Now.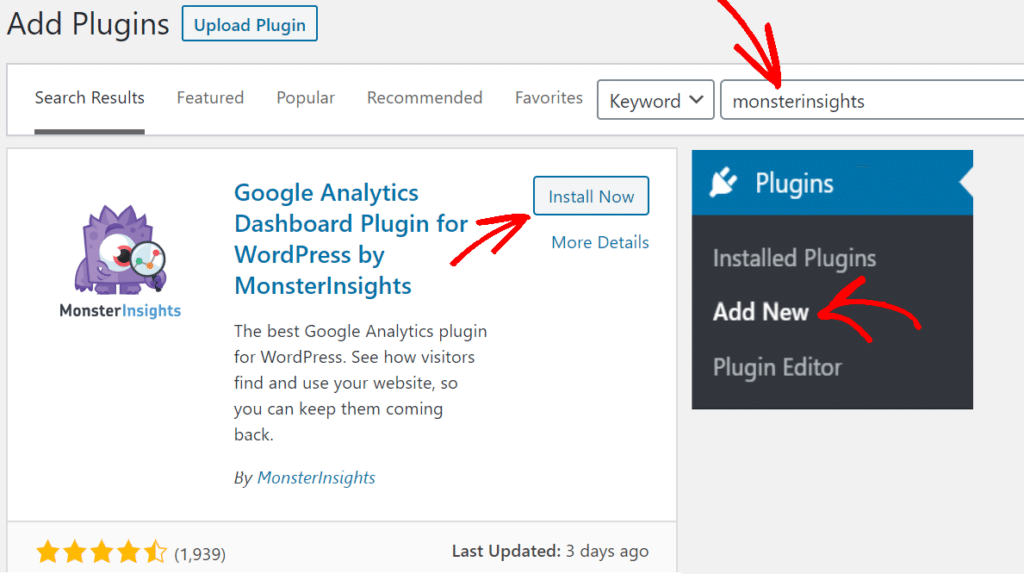 Once the plugin installs, click Activate.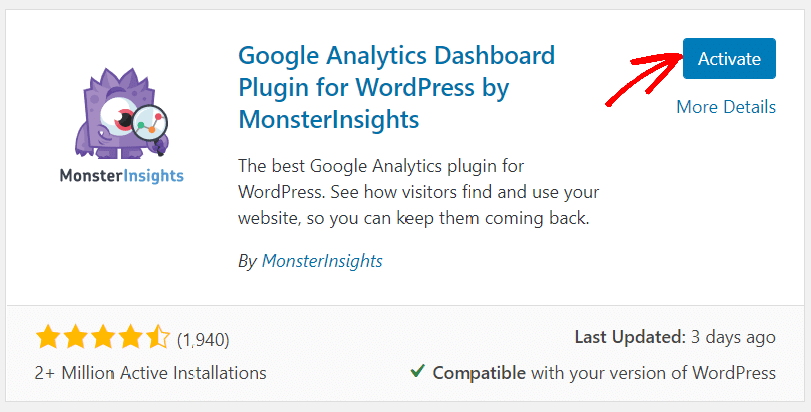 Upon activating the plugin, you will be taken to MonsterInsights welcome screen. Click on Launch the Wizard! button.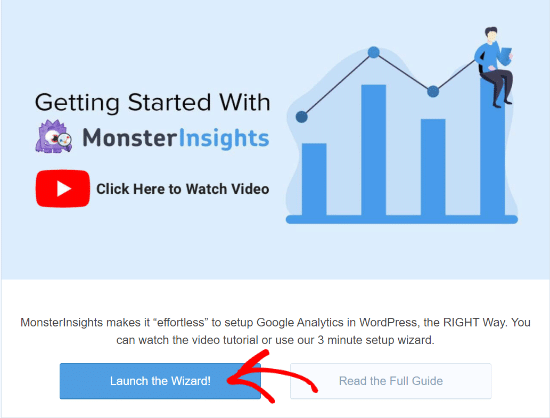 Now select the category that describes your website and then click Save and Continue.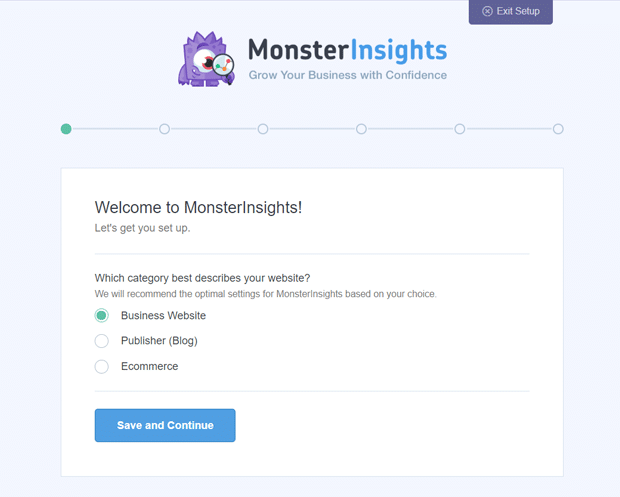 Next, you'll have to connect MonsterInsights to your website. To do that, click Connect MonsterInsights button.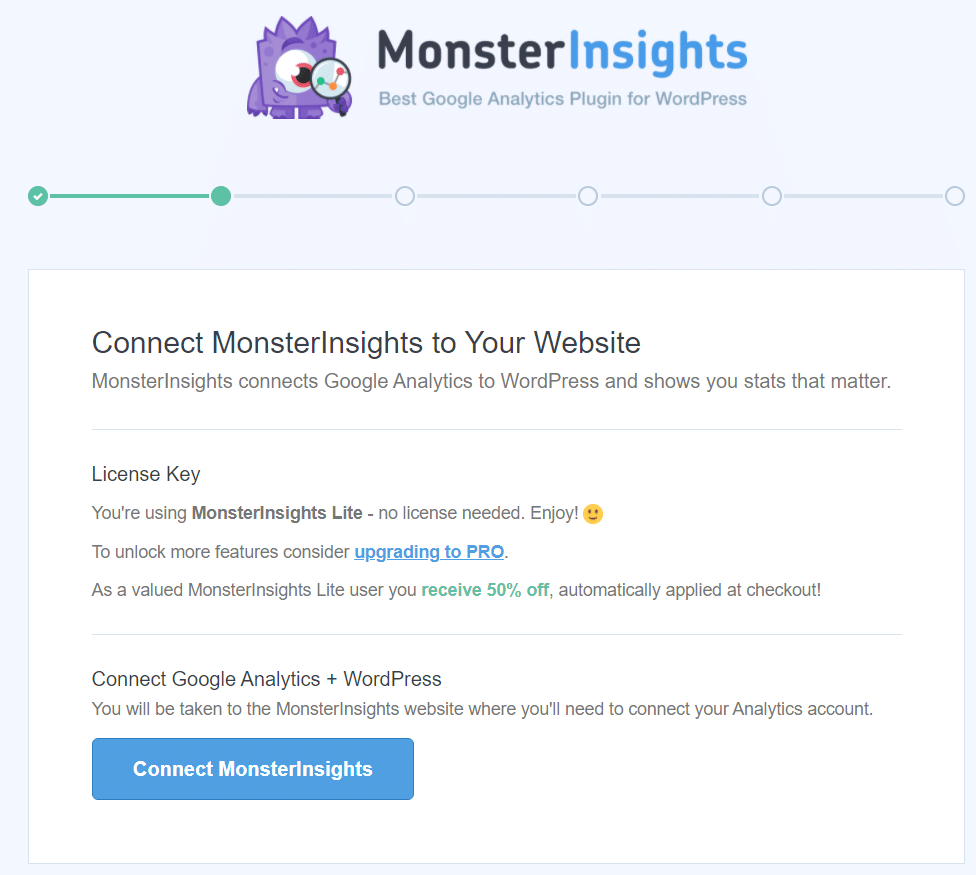 After that, choose your Google account. Make sure you select the account you used to create a new property in the first step.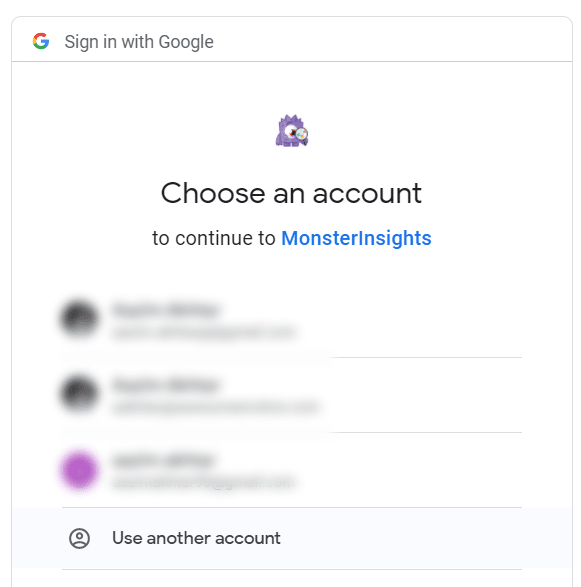 Next, click Allow to give MonsterInsights access to your Google Account.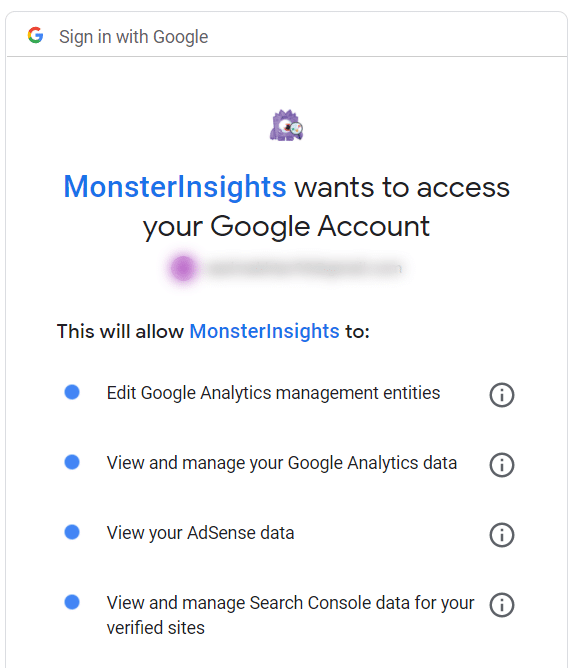 Now select your newly created property and click the Complete Connection button.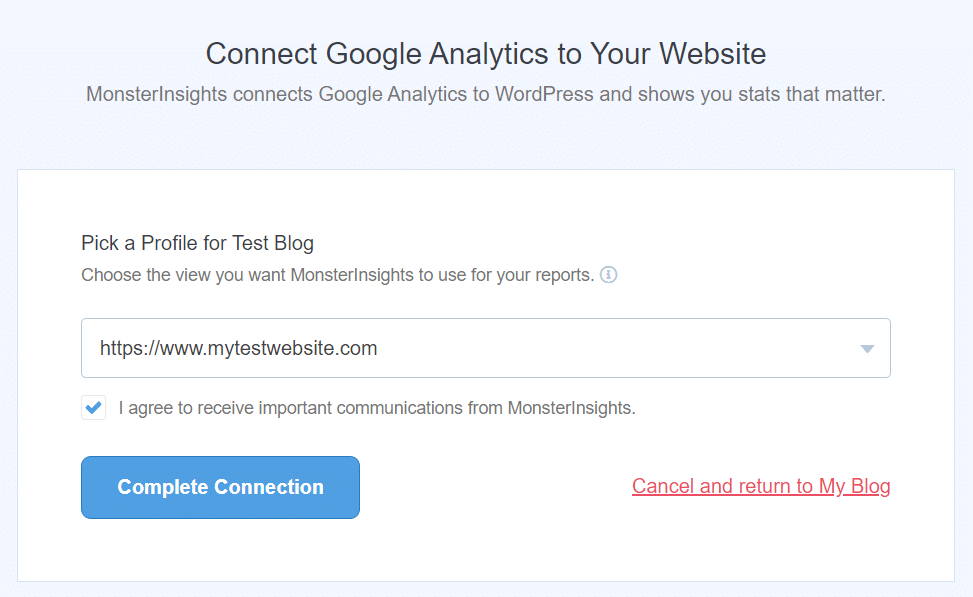 MonsterInsights will show you some recommended settings. For instance, you can select the file download tracking extensions, set up affiliate link tracking, and choose which user roles can see the reports.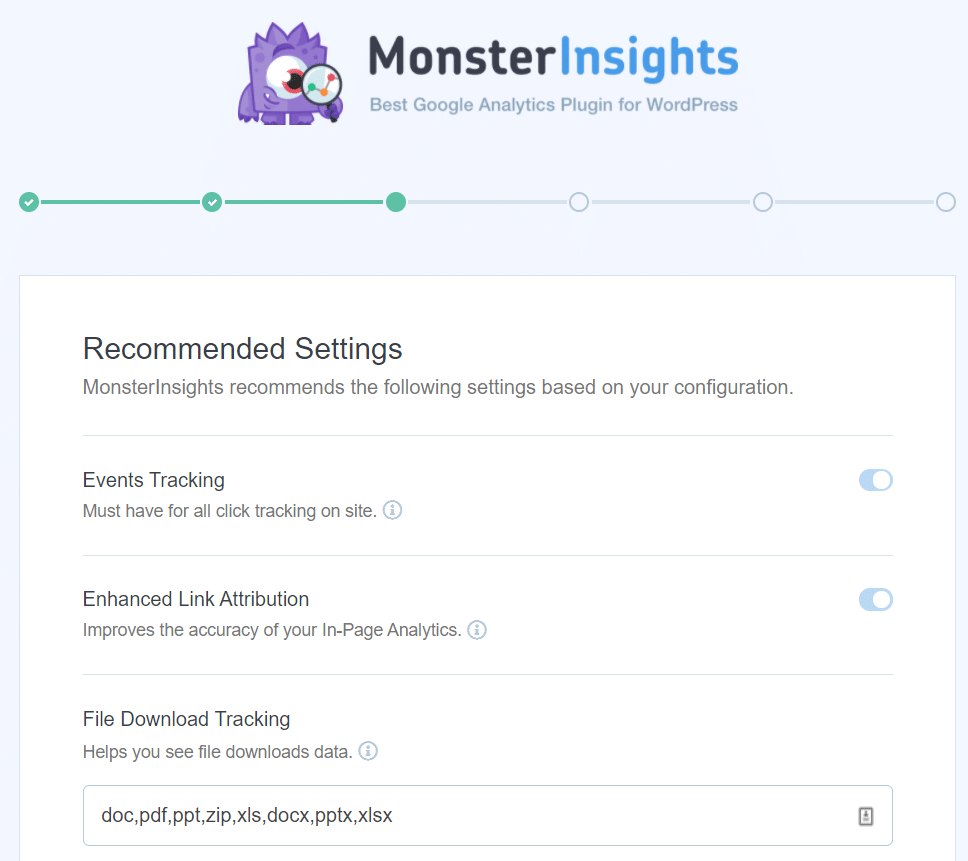 As you scroll down, you'll see more settings.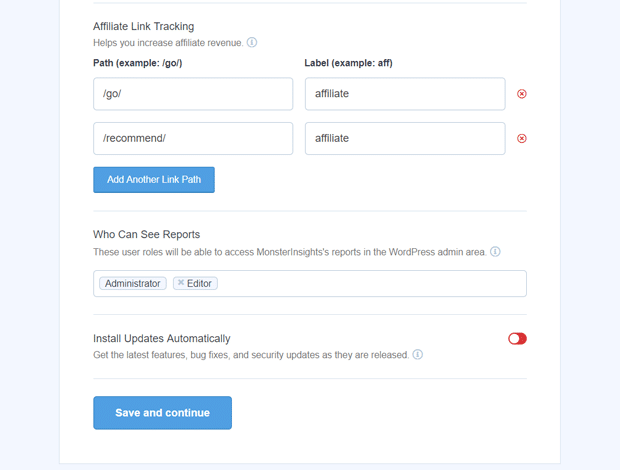 Affiliate Link Tracking – It has 2 affiliate link paths added by default, and lets you add more affiliate link paths.
Access to MonsterInsights Reports – You can choose who can see the MonsterInsights reports.
Automatic Plugin Updates – You can enable or disable the option to install updates automatically.
Review and configure these recommended settings, and then click the 'Save and Continue' button at the end.
On the next screen, you'll see options for even more tracking options, addons, and helpful plugins.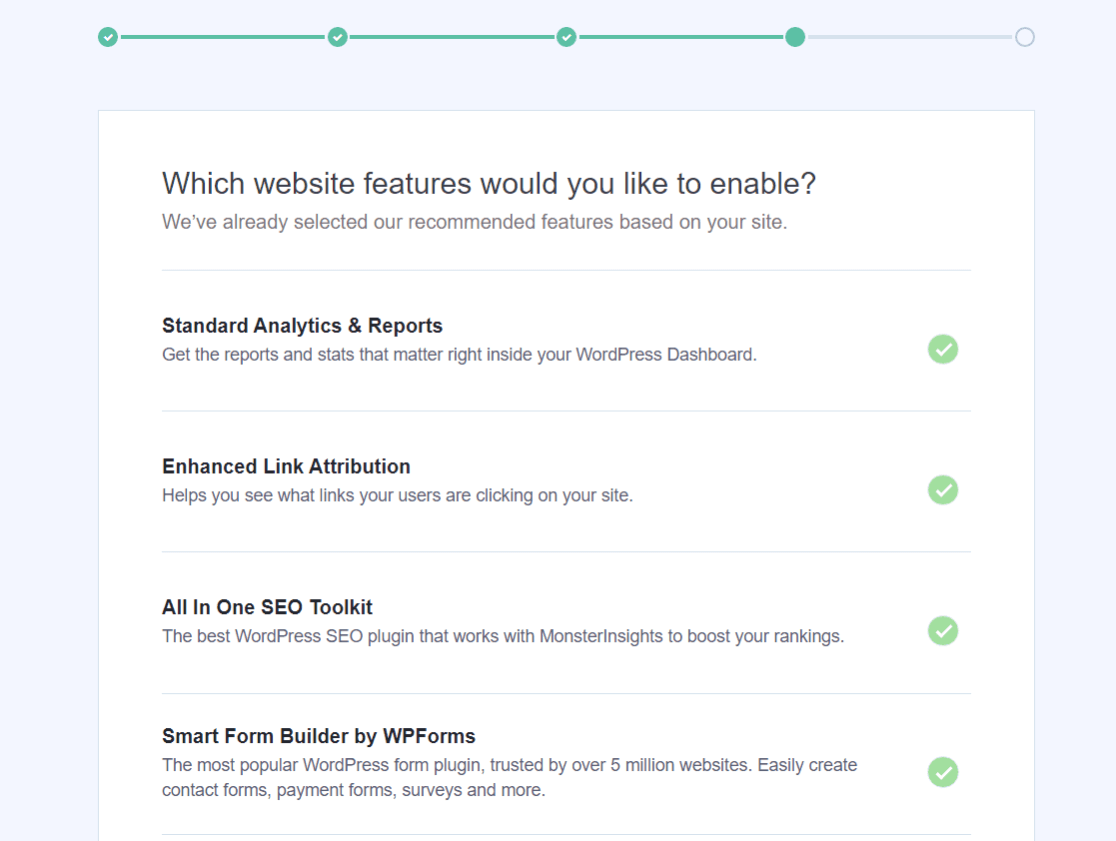 The first four items are:
Standard Analytics & Reports – The standard MonsterInsights reports you'll get in your WordPress dashboard.
Enhanced Link Attribution – Can help you see where users are clicking on your site.
All in One SEO Toolkit – The best WordPress SEO plugin that integrates with MonsterInsights
Smart Form Builder by WPForms – The most popular WordPress form builder plugin
When you scroll down, you'll find even more options:
Privacy Compliance Addon – Helps Google Analytics become compliant for GDPR, CCPA, and more
Advanced Reports – Get access to advanced reports inside MonsterInsights, such as search keywords, a real-time report, publishers and eCommerce reports, and more
eCommerce Tracking – Instantly enable Enhanced eCommerce tracking
20+ Advanced Tracking – Even more advanced tracking, such as author tracking, form conversion tracking, scroll tracking, and more
Advanced Growth Tools – Get access to our campaign URL builder, popular posts addon, and A/B testing integration.
After that, you'll see a new screen with this message 'Awesome, You're All Set!'. It means the setup process is complete, and you've successfully installed Google Analytics in your WordPress site.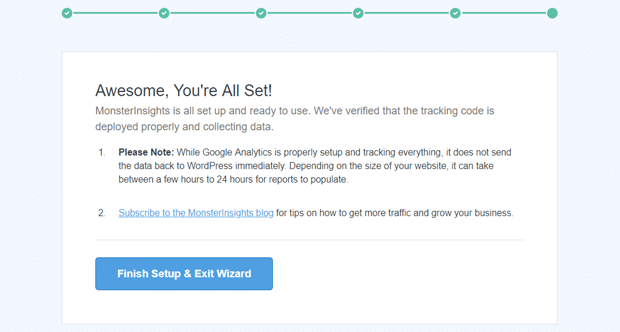 This screen also notifies you about when you can start seeing your website reports. Depending on the size of your website, it can take between a few hours to 24 hours.
Don't forget to click on the 'Finish Setup & Exit Wizard' button.
Now, you'll be able to set up dual tracking if you have both a Universal Analytics property and a GA4 property. Setting up dual tracking will bring in all your historical data from Universal Analytics, while giving you the benefits of Google Analytics 4.
On the main Settings page, scroll down to Google Authentication and find the Dual Tracking Profile box. Here, you can input either your Universal Analytics Tracking ID or your GA4 Measurement ID, whichever one you didn't authenticate with in the setup wizard.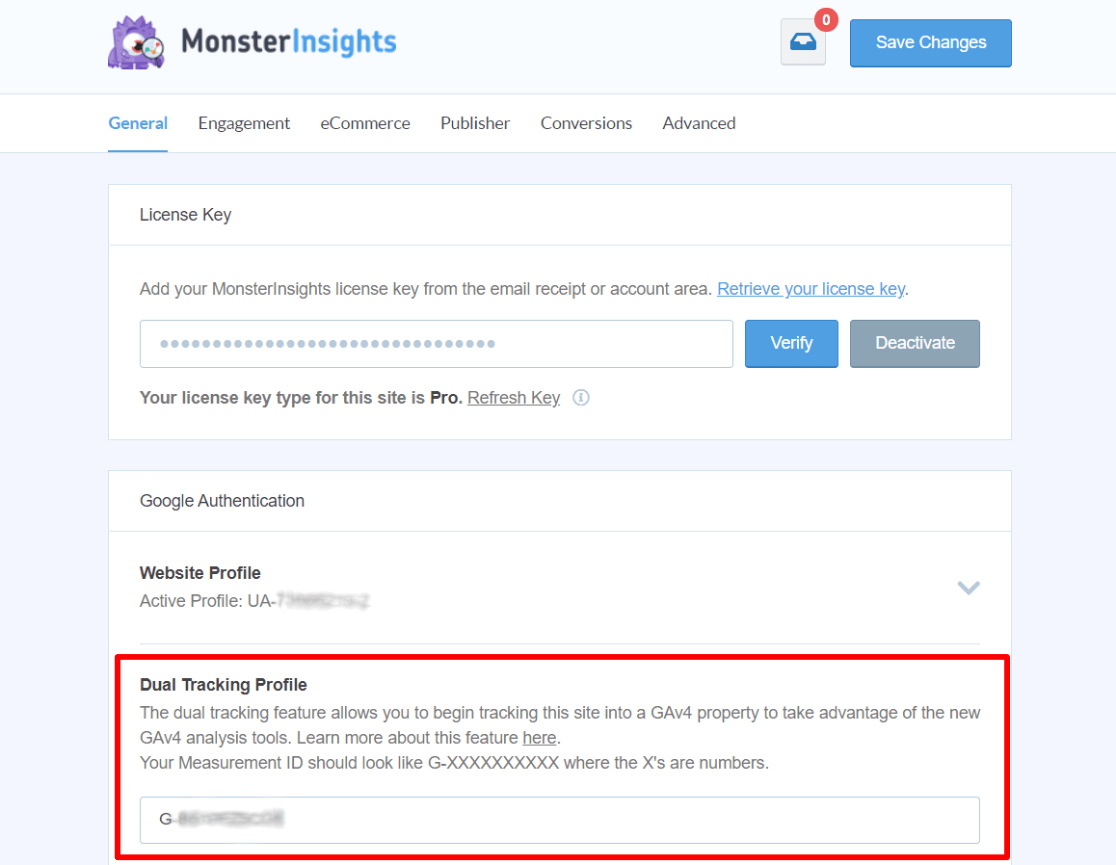 That's it! You're all set.
It can take a few hours for Google Analytics to start collecting data and show it in the reports.
Besides setting up Google Analytics, MonsterInsights offers lots of other benefits. It automatically sets up advanced tracking right out of the box. For example, it will set up affiliate link tracking, outbound link tracking, file download tracking, and much more.
And with the help of its addons, you can track your eCommerce store, make your site GDPR compliant, and track form conversions. Check out our detailed article on is MonsterInsights Pro worth it.
We hope this tutorial helped you to add a website to Google Analytics. You can also check our guide on how to add Google Analytics to WordPress without a plugin.
And don't forget to follow us on Twitter, Facebook and YouTube for more helpful Google Analytics tips.