Do you want to view AdWords reports in Google Analytics? By linking your AdWords account to Google Analytics, you'll be able to better measure how your advertising campaigns are doing. In this article, we'll show you how to find AdWord reports in Google Analytics so you can see what is happening after someone clicks on your Adwords ads.
Don't make the mistake of thinking that you are reaching your goal of more subscribers or sales just because people are clicking on your ads.
Instead, use AdWords reports in Google Analytics to see:
which of your ad campaigns are working
where people are getting stuck on your site
why people are leaving before converting
Plus, you can measure your ROI and make sure the money being invested in advertising is giving you the conversions you want.
Finding AdWord Reports in Google Analytics
Before you check out the AdWords reports in Google Analytics, make sure your AdWords account is linked to your Google Analytics account.
For detailed instructions on how to do that, check out our tutorial on how to use Google Analytics for AdWords conversion tracking and scroll down to the section titled How to Link AdWords with Analytics.
Once your accounts are linked, log in to your Google Analytics account.
When logged in, you'll see the Google Analytics homepage, which gives you a good overview of what is going on with your website.
The section you want to pay attention to is the Reports section.
Here you'll find menu items labeled Real-Time, Audience, Acquisition, Behavior, and Conversions.
Click on Acquisition.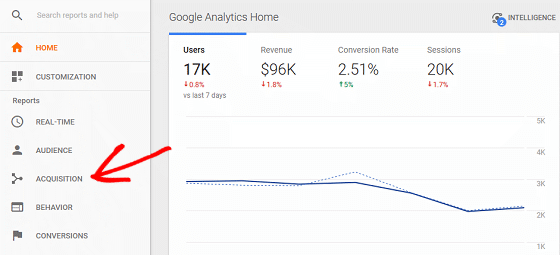 Next, click on AdWords.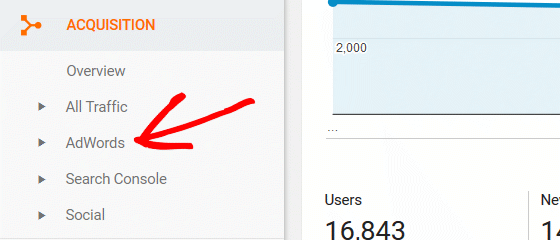 When you click on AdWords, you'll see a bunch of reports that relate to your ad campaigns. For example, Accounts, Keywords, and Video Campaigns.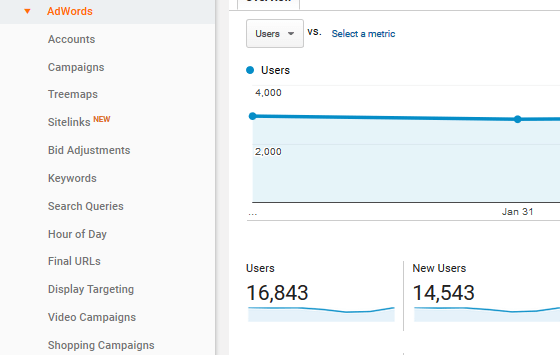 You have now successfully found AdWords reports in your Google Analytics account.
The Best AdWords Reports
Now that you know how to find your AdWords reports, let's take a look at the best ones to analyze.
1. Campaigns
The Campaign report is great for seeing how each ad you have is doing. You can see things like how many times each ad has been clicked, the total amount you have paid for each ad, and even the cost per click for each individual ad.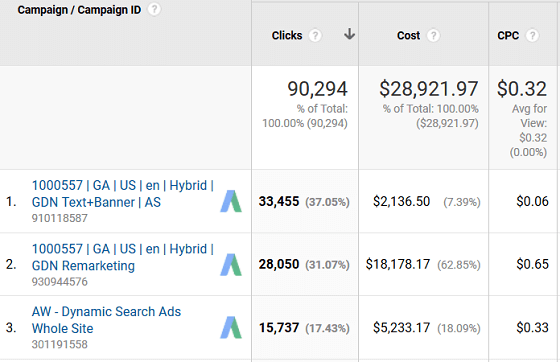 You can also view other helpful information like:
The number of users and sessions initiated
The bounce rate once a visitor clicks your ad and enters your site
The average number of pages/sessions
How many sessions resulted in eCommerce activity
How many transactions occurred after clicking on your ad
The total revenue generated from ad clicks
The best part about this report is that you can quickly see which ads are doing well, and which ones are costing you more money than you want to spend.
2. Keywords
The Keywords report shows you how your ad's keywords are doing.
There are many ways to analyze your ad's keywords. We will share some of the best ways.
To start, find out how your AdWords ads are performing when they have certain keywords in them. Learn how many clicks each receive, the cost of each ad that has a specific keyword in it, and the price you are paying each time someone clicks on an ad with a relevant keyword.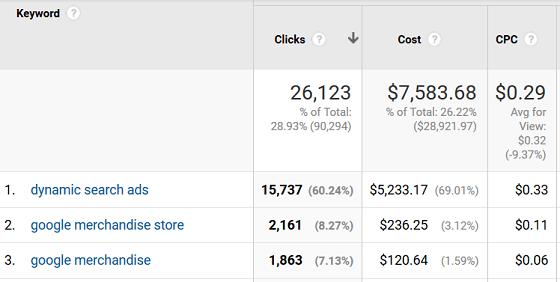 Next, take a look at different Google Analytic metrics available and what they mean for your conversion rates:
Bounce Rate. A high bounce rate means your keyword may not relate to what searchers are looking for.
Pages/Session. If there are a high number of pages/session, your visitors might either be lost navigating your website, or find themselves fully engaged with your content. It's up to you to decide which and make adjustments from there.
eCommerce Conversion Rate and Transactions. This number will let you know how much eCommerce activity is occurring as a result of ad clicks. You can also enable WooCommerce conversion tracking in your WooCommerce store using MonsterInsights to make sure you fully understand what your customers are doing once on your website.
Revenue. If the revenue you are collecting is high, you can bet your AdWords ads are doing their job.
If you want to look at your data in a more visual way, click on the percentage icon.

Here you can pick which metric you would like to view.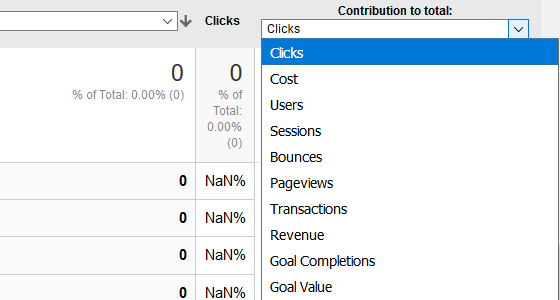 You'll then see the metric data you chose in one column, without all of the other data crowding it.
It's nice because you can compare all of your keywords against each other. You'll also see a pie chart representing the data in a more visual way.

Looking at the Keywords report is going to show you what keywords you should continue using in your AdWords ads, and which ones you should change.
3. Search Queries
The Search Queries report will give you the exact search terms that were entered into Google when one of your ads appeared and was clicked on by a user.
To see this information, find the Secondary dimension dropdown menu.

Then navigate to Advertising » Keyword and click on it.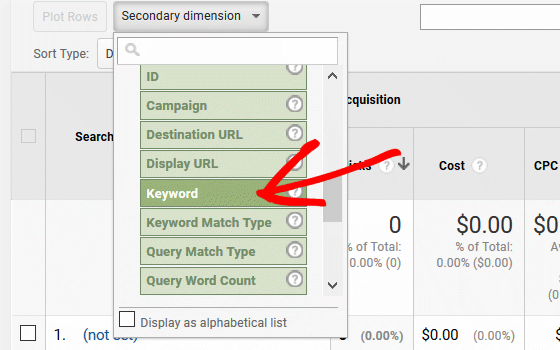 Now you can see each of your ad campaign's keywords in one column and the related search query site visitors entered into the Google search bar in the other.
Remember, these search terms ultimately led visitors to your ad and then your website.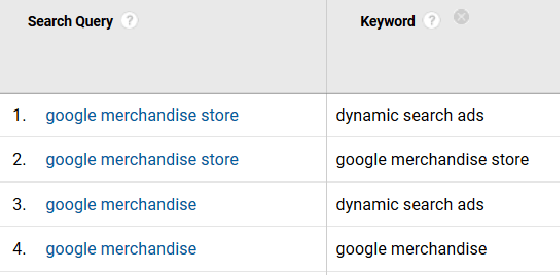 This type of data helps you optimize your AdWords keywords because you now have insight into exactly what people are typing into search bars that show your ads as relevant to their searches.
It will also show you the keywords that do not make sense, but cause your ads to appear anyways, so you can make improvements and work on appearing in relevant search results instead.
4. Final URLs
This simple report lets you know the last known URL a site visitor was on before they converted on your website.
Click on the Ad Distribution Network link to see whether a Google search or your site's content led your site visitor to the point of conversion.

You can now see whether your content or Google searches are the most effective at converting your site visitors and make adjustments.
For example, if Google is leading site visitors right to the point of conversion, you might want to work on the navigation of your website and makes things easier for visitors looking around your site to subscribe or buy.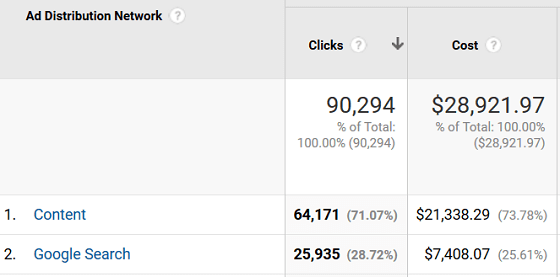 You can also use MonsterInsights' enhanced link attribution feature to find out exactly which links within your content are leading site visitors to subscribe or buy. This is really good if your site's content is leading site visitors to the point of conversion more than Google search results.
Display Targeting
The Display Targeting report shows you how well your AdWords campaigns are working in relation to the Google Display Network, which is a tool that allows you to display your ads to the right people at the right time.
This report includes data from two specific campaign types:
Display Network Only. Campaigns for times you want to show AdWords ads on websites and apps that have content related to your ad's keywords.
Search Network with Display Select. Campaigns aiming to reach as many people as possible across the internet while they use Google search or visit websites.
You can target things like display keywords, ad placements, topics, interests and remarketing of site visitors, age, and gender.
When viewing your data in Google Analytics, you can choose which target you want to analyze by clicking the corresponding tab.
For instance, we are going to check out Interests and Remarketing.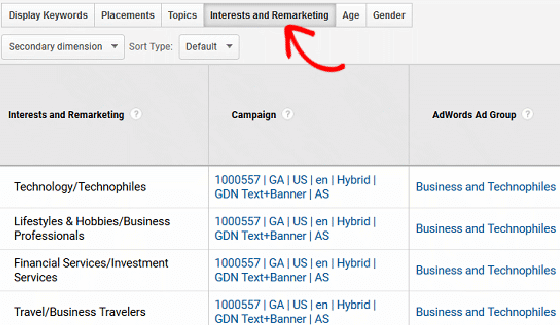 Here you'll see the interests of those that click on your AdWords ads and land on your site, as well as their behavior afterwards.
To see if your ad campaigns are working for those with specific interests, focus on bounce rate, pages/session, and revenue that is generated.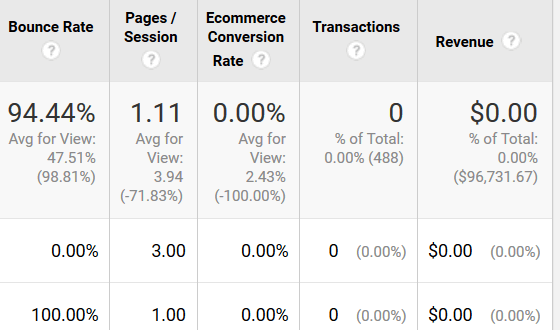 One of the best things about this report is that it gives you insight into whether you might be receiving accidental clicks by those that are not actually interested in what you have to offer. If this is the case, you now have the chance to make changes so that you run more efficient and result-driven ad campaigns.
And there you have it! The top 5 best AdWords reports in Google Analytics and how to find them in your Google Analytics account.
We hope this article helped you navigate the complex world of Google Analytics so that you can create better AdWords ad campaigns and increase your conversion rates. If you're looking for additional ways to drive traffic to your website, check out our helpful guide and learn proven ways to generate more traffic and leads.
And don't forget to follow us on Twitter and Facebook for more Google Analytics tutorials.