Do you want to view Google Ads reports in Google Analytics? By linking your Ads account to Google Analytics, you'll be able to better measure how your advertising campaigns are doing and make decisions that'll grow your business.
Don't make the mistake of thinking that you are reaching your goal of more subscribers or sales just because people are clicking on your ads.
Instead, use Google Ads reports in Google Analytics to see:
Which of your ad campaigns are resulting in conversions
Which ad campaigns are resulting in bounces and need to be tweaked
What your return on investment (ROI) is for your ads
Which ad groups are performing the best
In this article, we'll show you how to find Google Ads reports in Google Analytics so you can see what's happening on your site after someone clicks on your ads.
Bonus: We'll go over how to track Google Ads conversions in WordPress and show you how to find the stats that matter if you're using WordPress. Show me now!
First, Link Your Accounts
Before you can see Google Ads reports in Analytics, you'll need to link the two accounts.
Sign in to your Google Analytics account, and select the right website from your list.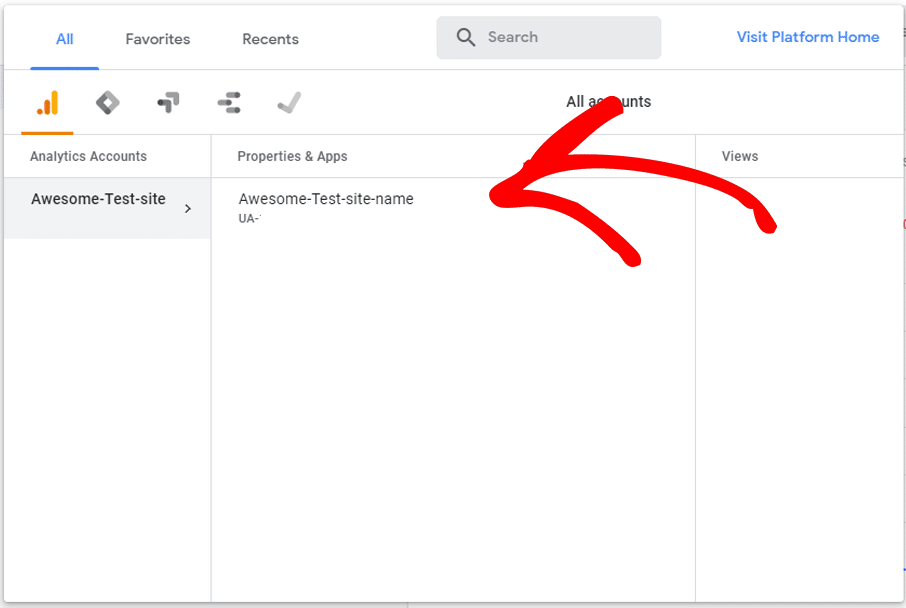 Click Admin in the left taskbar.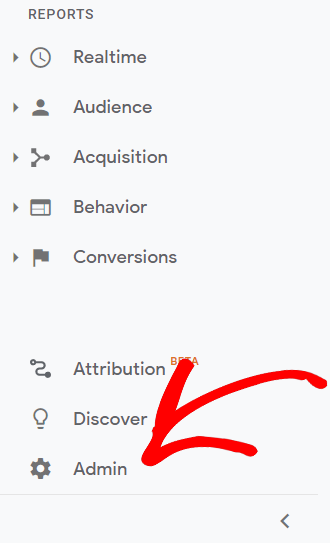 In the middle column, click Google Ads Linking. Or in Google Analytics 4, it's called Google Ads Links.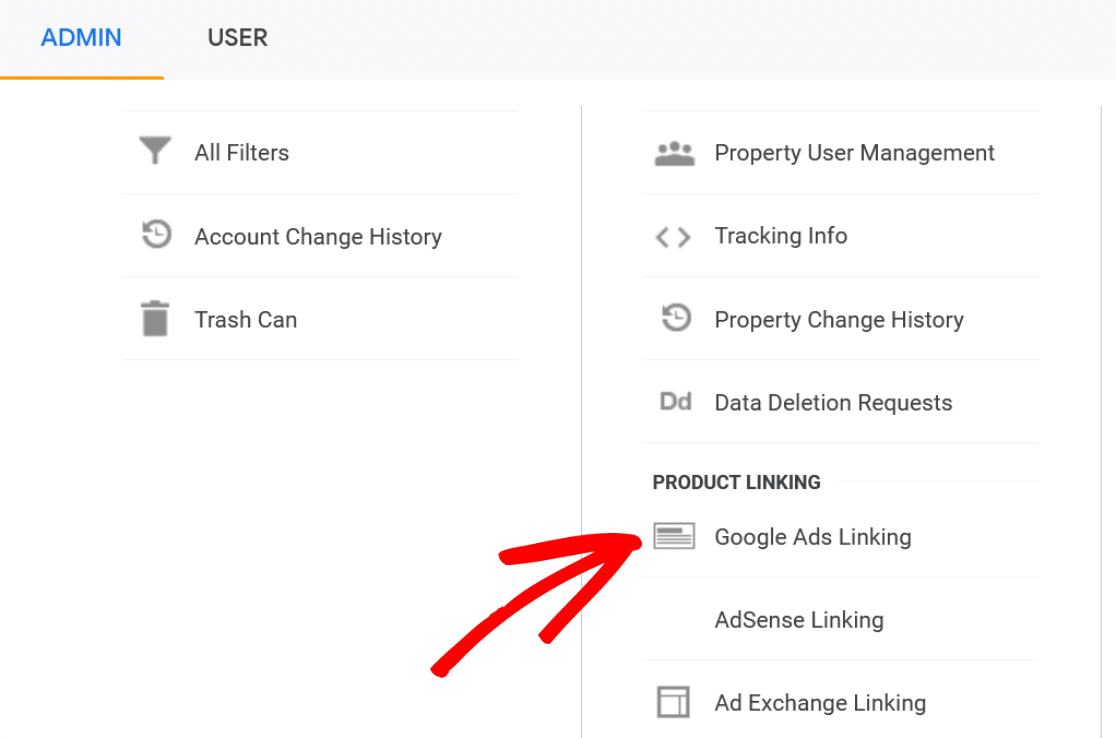 Select the right Google Ads account and click Continue. Or, in Google Analytics 4, click the blue Link button first, then select the right account.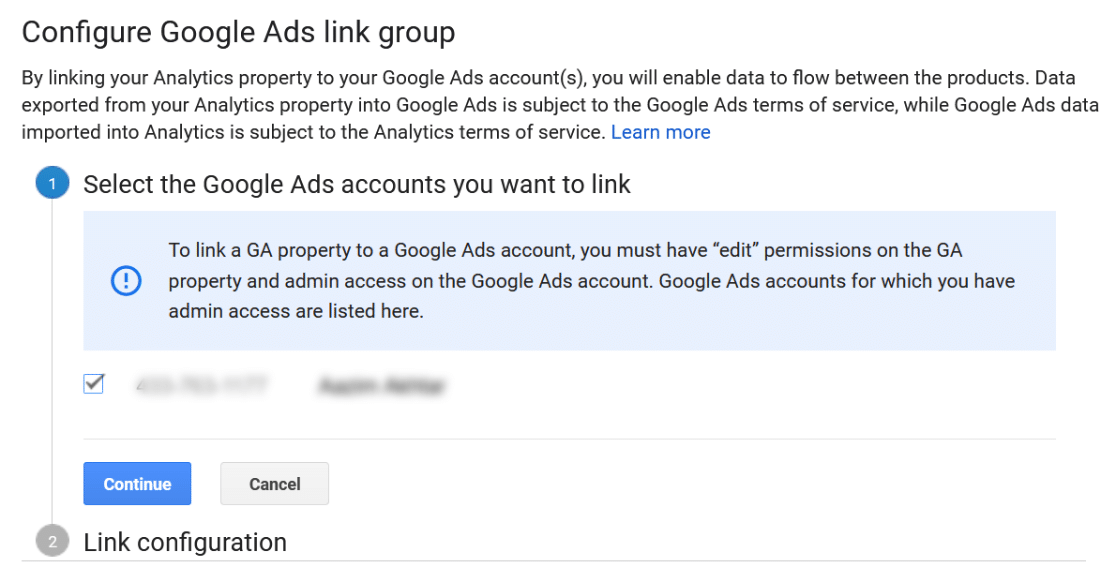 Next, in Universal Analytics, specify an appropriate title for the link group and toggle On the link for the right view. Once that's done, click the Link accounts button.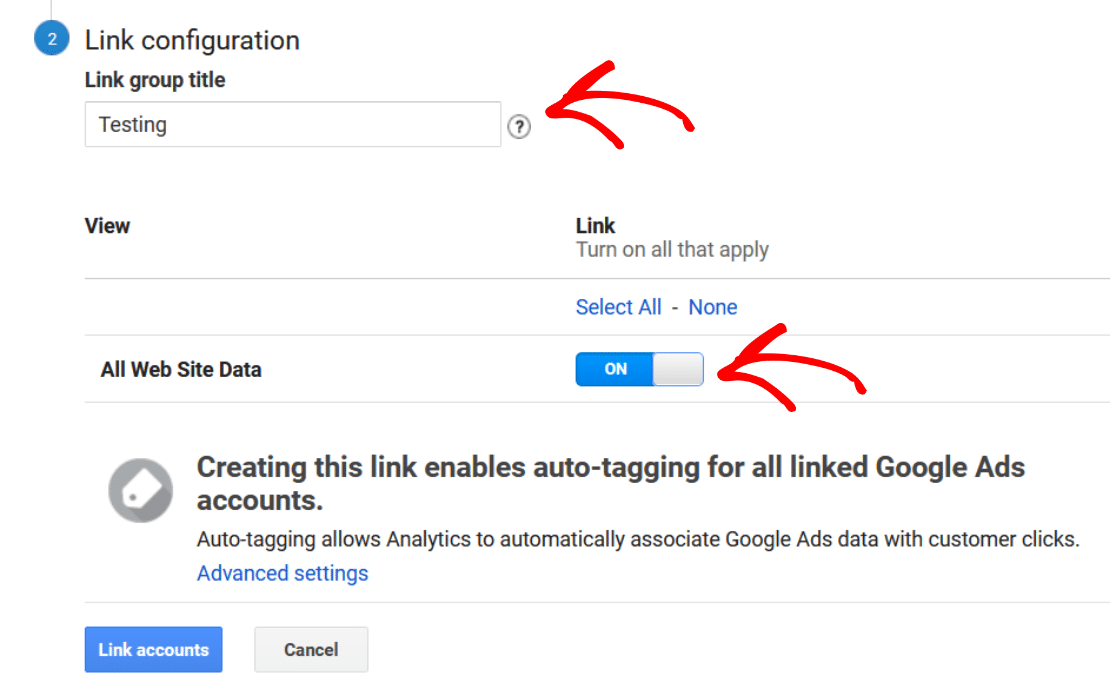 In Google Analytics 4, you'll be asked if you want to leave personalized advertising on. This can be changed any time after setup.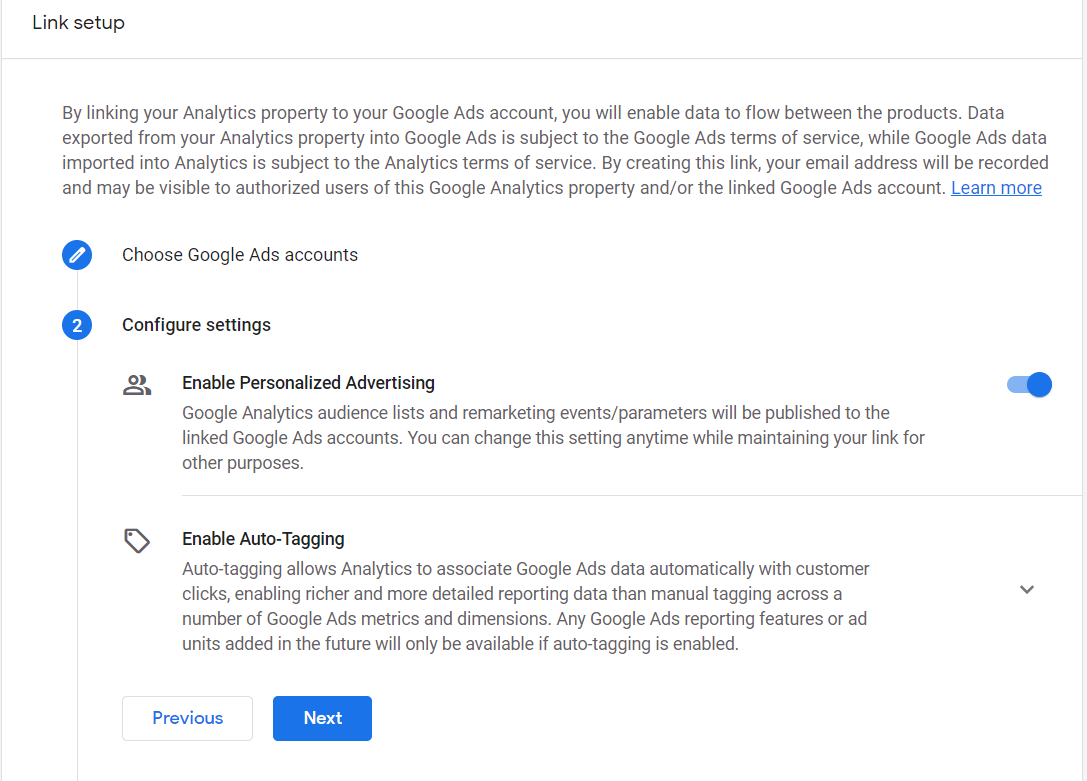 Click Next, then Submit.
Congrats! Your accounts are now linked.
Finding Google Ads Reports in Google Analytics
Once your accounts are linked, log into your Google Analytics account.
When logged in, you'll see the Google Analytics homepage, which gives you a good overview of what is going on with your website.
Now, the instructions vary based on whether you use Universal Analytics or Google Analytics 4. We'll go over Universal first, or you can jump to the Google Analytics 4 instructions.
In Universal Analytics, to navigate to your Ads reports, click on Acquisition » Google Ads.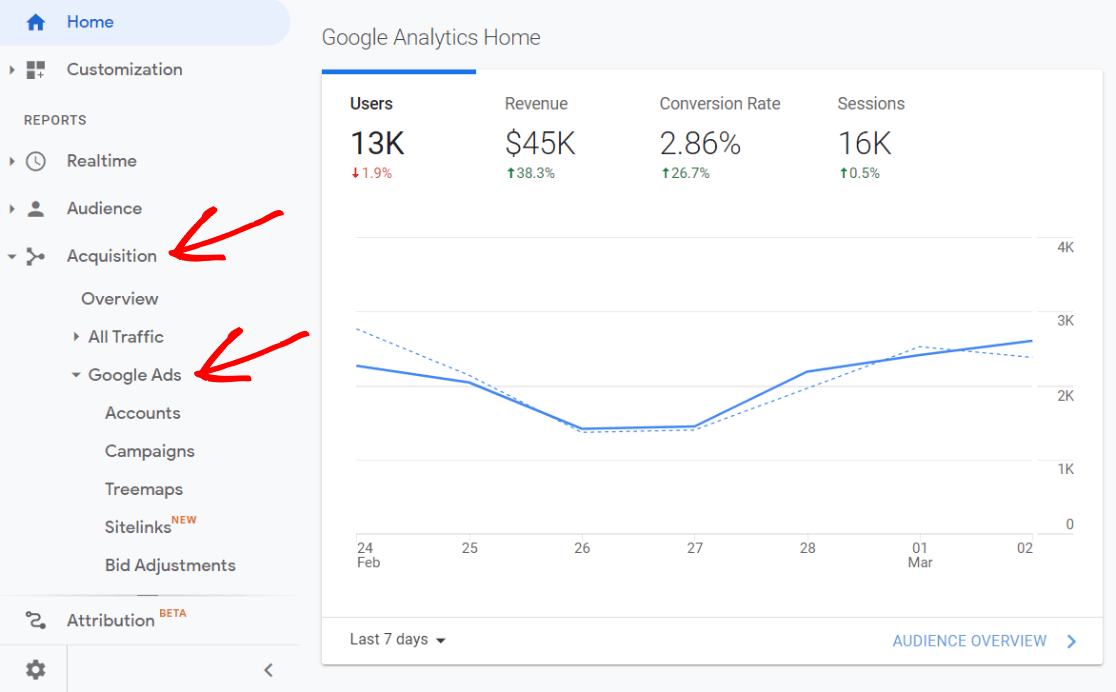 In this section, you'll find a whole list of Google Ads reports:
Accounts
Campaigns
Treemaps
Sitelinks
Bid Adjustments
Keywords
Search Queries
Hour of Day
Final URLs
Display Targeting
Video Campaigns
Shopping Campaigns
Whew! That's a lot of reports. You can explore all of them, but we'll go over the best Google Ads reports next.
In Google Analytics 4, head to Reports » Acquisition » Traffic acquisition. On that page, scroll down to the table and you'll find Paid Search for your ad traffic.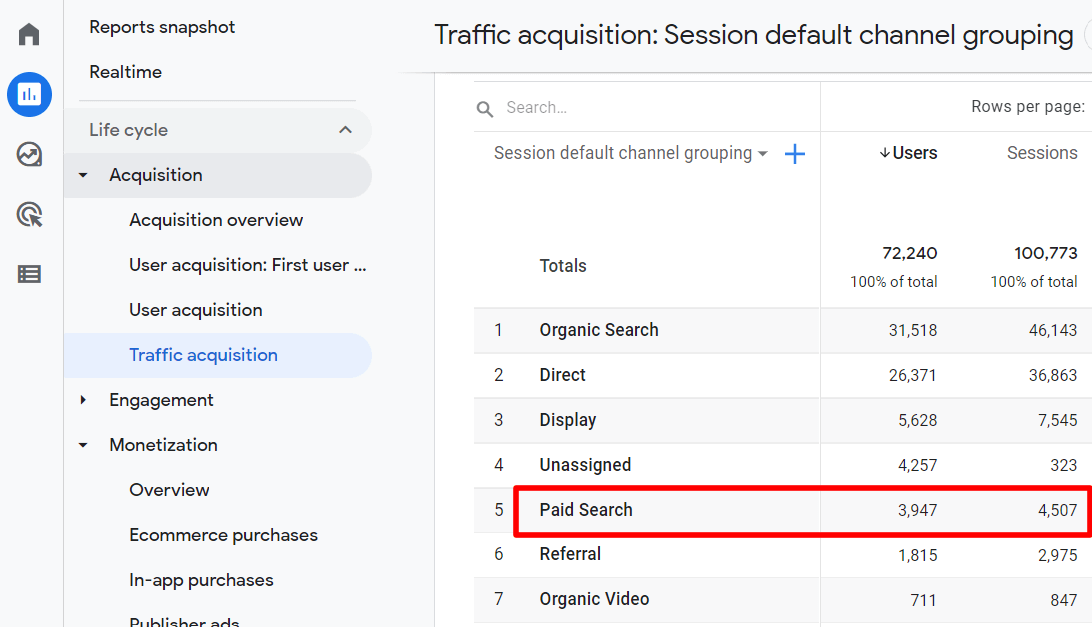 The Best Google Ads Reports in Analytics
Now that you know how to find your Ads reports, let's take a look at the best ones to analyze.
Important note: We highly recommend using Universal Analytics to view Ads reports, unless you're experienced with using Google Analytics. While we'll show you how to find some of your data in GA4, it's easier to navigate your reports and find the data that matters in Universal Analytics. If you do not have a Universal Analytics account set up, go ahead and set one up in addition to GA4.
1. Campaigns
The Campaigns report in Universal Analytics is great for seeing how each campaign you have is doing. You can see things like how many times ads in that campaign have been clicked, the total amount you have paid for them, and even the cost per click for the ads in that campaign.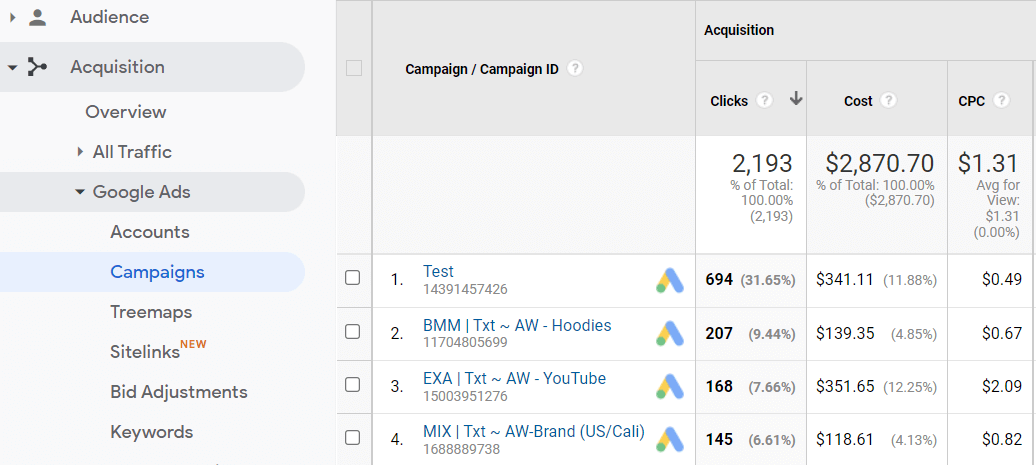 To keep drilling down, click on a campaign to see the ad groups within that campaign. Click on an ad group to see metrics by individual keywords targeted by that ad group.
You can also view other helpful information like:
The number of users and sessions initiated
The bounce rate once a visitor clicks your ad and enters your site
The average number of pages/sessions
How many sessions resulted in eCommerce activity
How many transactions occurred after clicking on your ad
The total revenue generated from ad clicks
The best part about this report is that you can quickly see which ad campaigns and groups are doing well, and which ones are costing you more money than you want to spend.
To see a campaigns report in Google Analytics 4, navigate to Acquisition » Acquisition overview. Then, scroll down until you see the Sessions by Session Google Ads Campaign card and click on View Google Ads campaigns.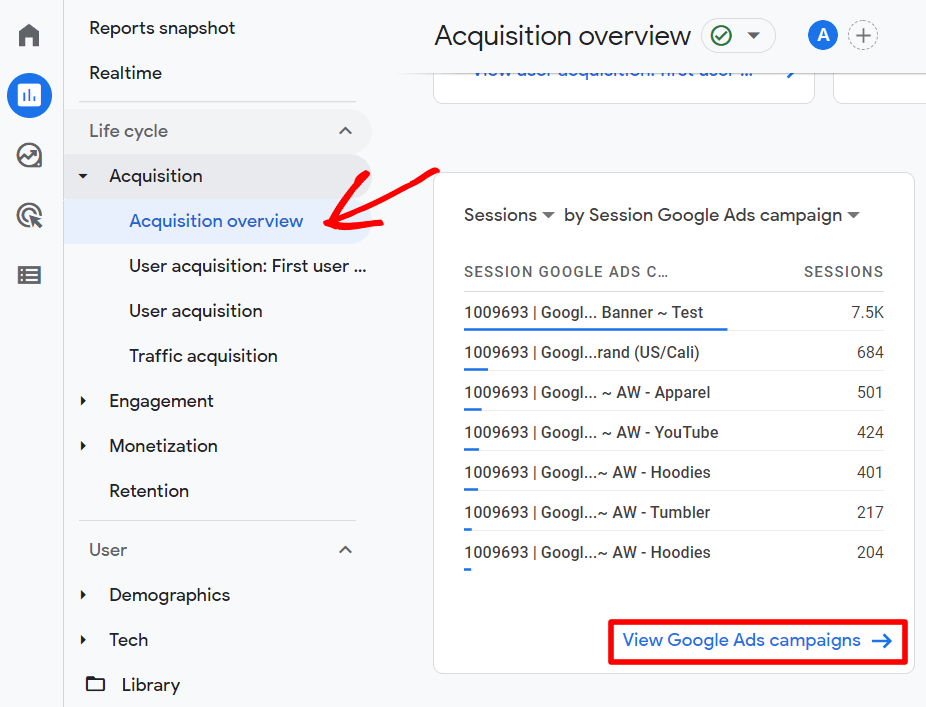 Now, scroll down to the table to find all sorts of data for your Ads campaigns, such as ad clicks, ad cost, cost per click, conversions, revenue, and more.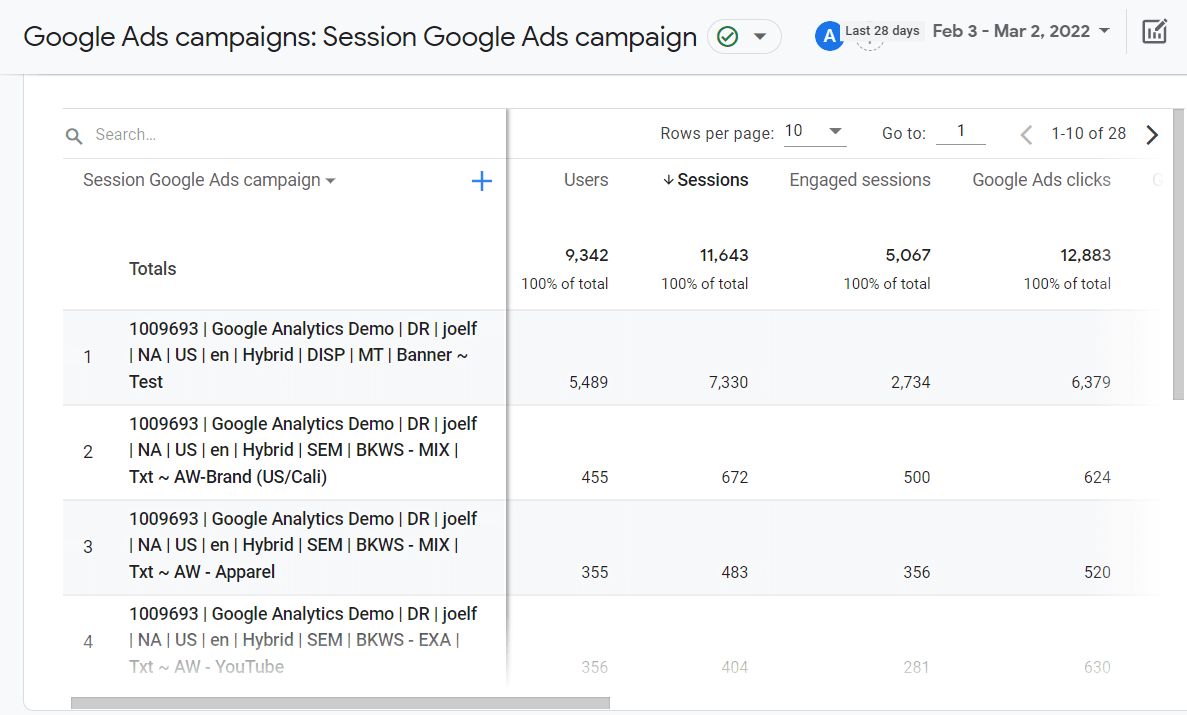 2. Keywords
The Keywords report shows you how your targeted keywords are doing. (Note, this is different from the queries users are searching when they see your ads – we'll talk about those next).
There are many ways to analyze your keywords. We will share some of the best ways.
For this report, we're going to use Universal Analytics only.
To start, find out how your ads are performing based on which keywords they're showing up for. Learn how many clicks each keyword sends, the cost of those keyword-specific clicks, and the price you are paying each time someone clicks on an ad with that keyword.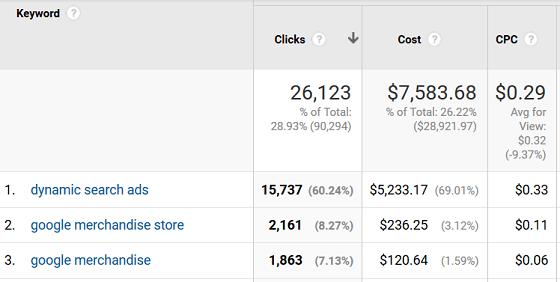 Next, take a look at different metrics available in that table at the keyword level and what they mean for your conversion rates:
Bounce Rate: A high bounce rate means your keyword may not relate to what searchers are looking for, or your landing page isn't compelling.
Pages/Session: If there are a high number of pages/session, your visitors might either be lost navigating your website, or find themselves fully engaged with your content. It's up to you to decide which and make adjustments from there.
eCommerce Conversion Rate and Transactions: This number will let you know how much eCommerce activity is occurring as a result of ad clicks. You can also enable WooCommerce conversion tracking in your WooCommerce store using MonsterInsights to make sure you fully understand what your customers are doing once on your website.
Revenue: How much revenue you can contribute to each keyword.
If you want to look at your data in a more visual way, click on the percentage icon.

Here you can pick which metric you would like to view.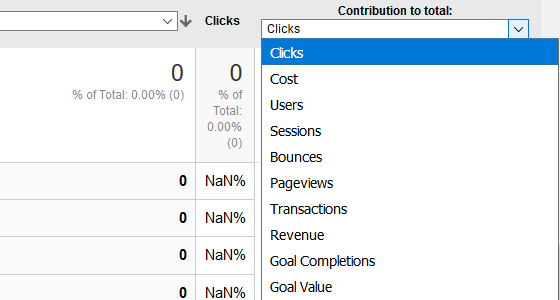 You'll then see the metric data you chose in one column, without all of the other data crowding it.
It's nice because you can compare all of your keywords against each other. You'll also see a pie chart representing the data in a more visual way.

Looking at the Keywords report is going to show you what keywords you should continue using in your AdWords ads, and which ones you should change.
3. Search Queries
The Search Queries report will give you the exact search terms that were entered into Google when one of your ads appeared and was clicked on by a user.
We'll also be using Universal Analytics for this report.
To see this information, find the Secondary dimension dropdown menu.

Then navigate to Advertising » Keyword and click on it.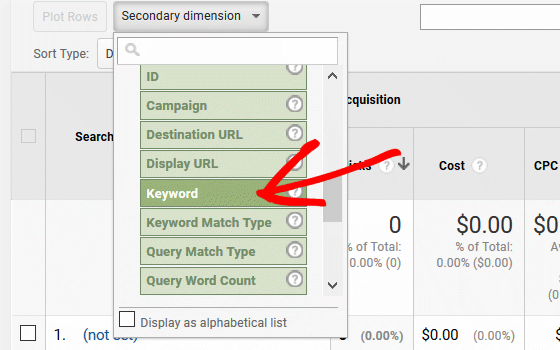 Now you can see each of your ad campaign's keywords in one column and the related search query site visitors entered into the Google search bar in the other.
Remember, these search terms ultimately led visitors to your ad and then your website.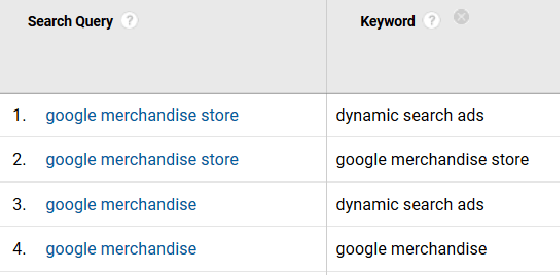 This type of data helps you optimize your Ads keywords because you now have insight into exactly what people are typing into their search bars that bring up your ads as relevant to their searches.
It will also show you the keywords that do not make sense, but cause your ads to appear anyway, so you can make adjustments to your negative keywords list and work on appearing in relevant search results instead.
4. Final URLs
This report is similar to a landing pages report. It shows you the URLs that your ads are sending visitors to. The difference between this report and viewing the Landing Pages report is this one gives you different metrics, such as cost per click (CPC). It's nice to see how much you're spending for your clicks by landing page.
Click on the Ad Distribution Network link to see which ad distribution networks (Google search vs. their content network, for instance) sent the traffic to your site.

Click on a distribution network to see the Final URLs report for just that network.
5. Sitelinks
If you're using sitelinks in your ads, this report will show you which ones are getting clicked on. This can show you what other pages on your site searchers are interested in, helping you to promote the right pages and the right pieces of content.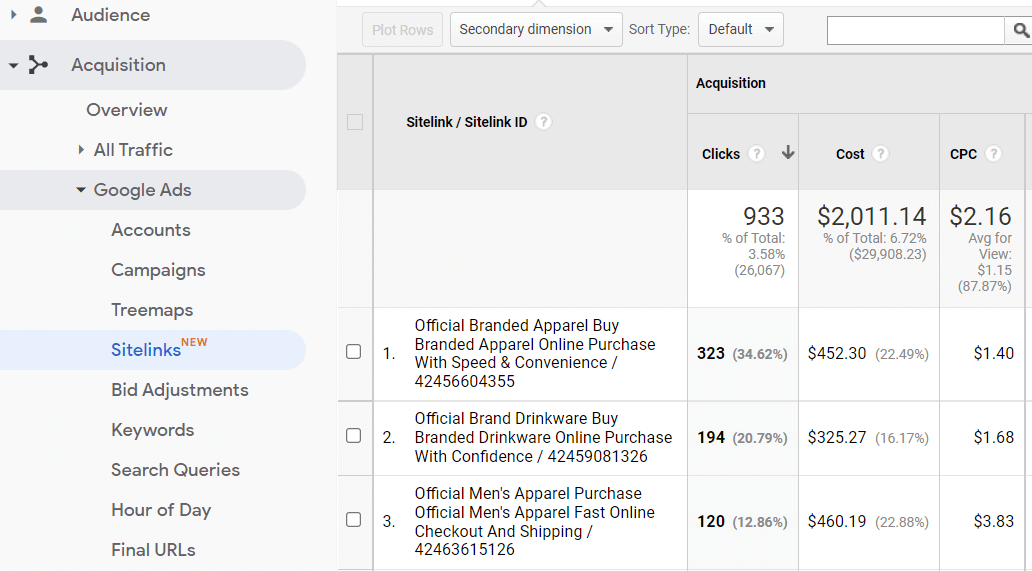 And there you have it, our top 5 Ads reports in Google Analytics and how to find them in your Google Analytics account.
BONUS: Tracking is Easier for WordPress Users
Are you use Google Ads to bring more traffic to your WooCommerce, Easy Digital Downloads, or MemberPress store? If so, we have good news for you.
If you use MonsterInsights, you can easily install your Ads conversion tracking snippet on your site with just a couple clicks.
To learn how, visit How to Set Up WooCommerce Google Ads Conversion Tracking.
The best part is, there's a lot more to MonsterInsights than setting up conversion tracking!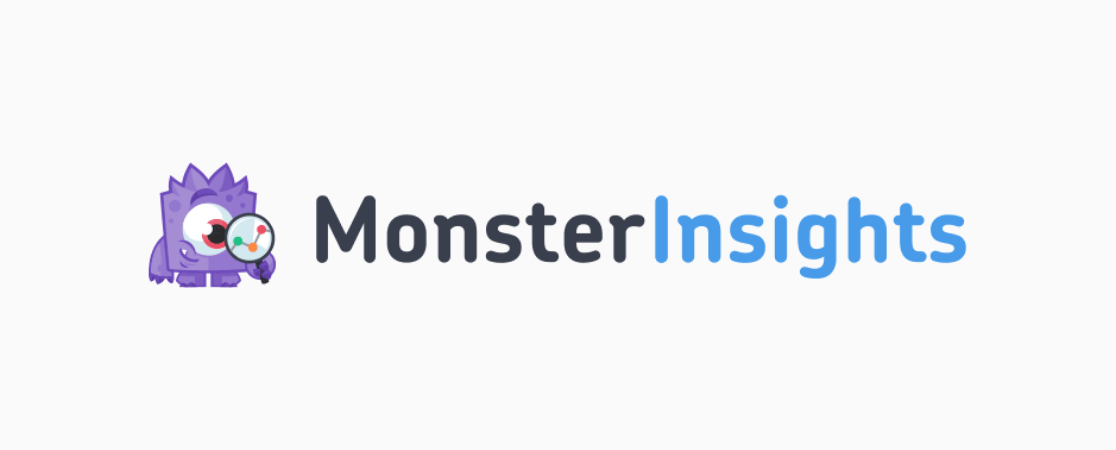 MonsterInsights is the best Google Analytics plugin for WordPress. It allows you to easily connect your WordPress site with Google Analytics (both Universal Analytics and GA4), so you can view all the data that matters most right in your WordPress dashboard.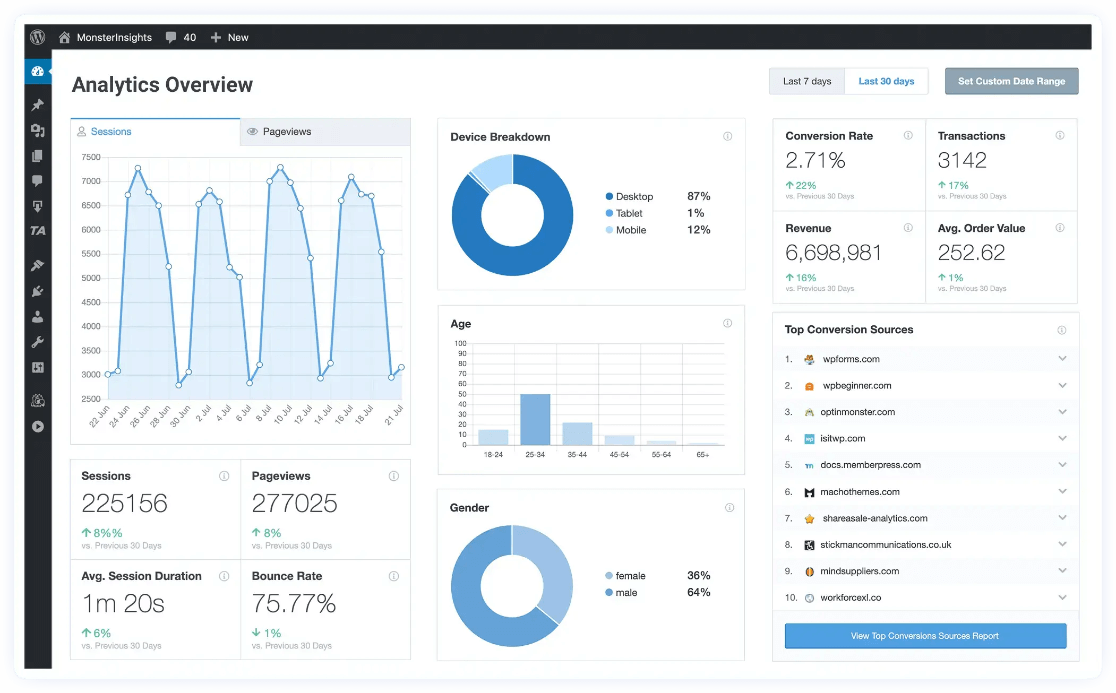 Plus, with the click of a button, you can set up sophisticated tracking features such as event tracking, eCommerce tracking, form tracking, custom dimension tracking, outbound link tracking, and more.
Learn about all of our features and get started with MonsterInsights today!
We hope this article helped you navigate the complex world of Google Analytics so that you can create better Ads ad campaigns and increase your conversion rates. If you're looking for additional ways to drive traffic to your website, check out our helpful guide and learn proven ways to generate more traffic and leads.
And don't forget to follow us on Twitter, Facebook and YouTube for more helpful Google Analytics tips.