Have a blog and want to learn some blog post SEO best practices?
SEO is incredibly important to think about for any website, including those with blog posts and articles. If you want your posts to show up in Google's search results and you want visitors to spend longer on your site, following SEO best practices is the way to go.
In this article, we'll look at all the different aspects of SEO you'll want to know about if you're creating blog posts. We'll go over best practices and recommend some great tools for WordPress.org users.
How to Optimize Blog Posts for SEO
The best way to optimize your blog posts for SEO is to follow SEO best practices for each post. To do that, follow this SEO checklist:
Let's go over each best practice so you can get a good handle on all of them.
1. Keyword/Topic Research
Before you begin drafting your post, it's important to understand your audience's needs and interests. To do that, it's time for some keyword and topic research.
Start by determining your main keyword or keyphrase. What is this post going to be about? Then, take that word or phrase and run it through a keyword research tool to find out if your audience is searching for it as much as you think they are, and what related terms they're searching.
For instance, this article that you're reading right now is about optimizing blog posts for SEO, right? When we searched "blog post SEO" in Semrush, we found this list: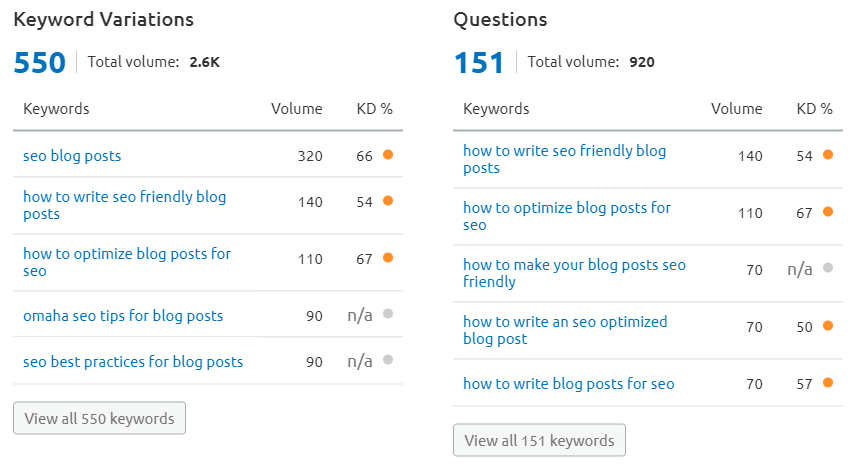 So, it looks like "SEO blog posts" should be our main keyword, and "how to write SEO friendly blog posts" and "how to optimize blog posts for SEO" should be questions we answer in our post.
Keyword research always brings out important ideas like that. Now, we use Semrush, but you could also try a free tool like Ubersuggest or WordStream if you're just starting out.
For more on keyword research, read How to Do Keyword Research for SEO: Quick-Start Guide.
2. An Optimized Headline That Draws Readers In
The headline of your blog post should not only contain your focus keyphrase, but it should also make readers want to click on it.
Before you write your headline, research the headlines of other posts that are ranking for your focus keyphrase. You'll want to write a headline that's unique, so make sure not to use the same headline as someone else in that space.
One great tactic to use is power words. Power words are words that elicit some sort of psychological or emotional reaction from the reader, like:
Instantly
Ultimate
Stunning
Forgotten
Instant
Painless
For more examples, check out 700+ Power Words That Will Boost Your Conversions.
For a more complete tutorial on headline writing, read How to Write a Headline: 7 Best Practices. Once you've got a headline in mind, use our free Headline Analyzer tool.
3. An Optimized Meta Title and Meta Description
Your meta title and description are incredibly important when writing an SEO friendly blog post. These are what Google draws from when populating your search result. It will often rewrite them based on what the searcher's query is, but it's still really important to make these awesome to show Google and searchers what your content is about.
The title should be a 60-character-or-less version of your headline, and the meta description should be a compelling 155 characters or less description of your post. Here's what ours looks like here at MonsterInsights for our home page:

For the blog post you're reading right now, it'll be:
Title: Blog Post SEO Checklist: How to Write & Optimize Blog Posts
Meta Description: Have a blog and want to learn some blog post SEO best practices? Follow our checklist to learn how to write SEO friendly blog posts and optimize them.
4. Descriptive, Keyword-Rich Content Headings
The headings within your content (h1, h2, h3, h4 and so on) should also be keyword-rich. Not only that, but they should be used to break up your content in a logical way that helps readers scan your content for the sections that interest them.
Just remember not to use your keyword so much that you over-optimize and keyword stuff your article. You want your keyword usage to be natural and logical. While content headings are really optimal places to put your top keywords, never let it get to be too much so that the article reads in an unnatural way.
Take a quick look at our article on headline writing as an example: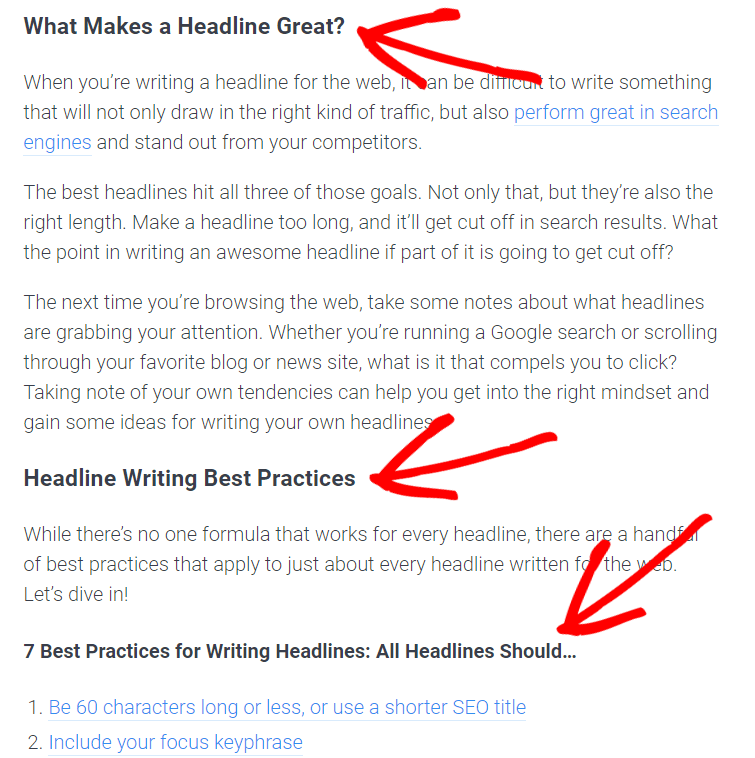 5. Focus Keyword Appears in Your Introduction
Right off the bat, your focus keyphrase should appear in your introduction (in your first paragraph). Then it's clear to Google and other search engines what your content is about, and a reader gets the intent of your article right away.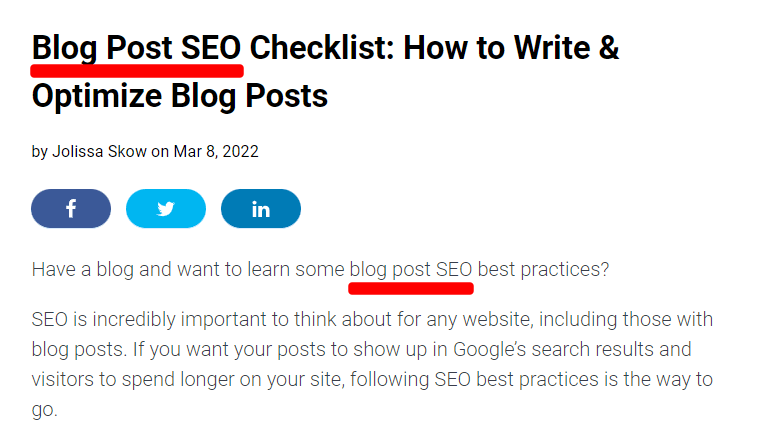 6. Include Your Keyword(s) Throughout Your Content
This is the obvious one that everyone knows, right? Sure. But did you know that you can use your keywords too many times, causing your article to not get listed in search engine results? It really is possible!
Using your keywords too many times is called keyword stuffing, and it can cause Google to push you down in results. For a general rule of thumb, read your article out loud. Does it sound unnatural, saying your keywords over and over? Then you've probably used them too many times.
For a more precise measurement, make sure you're not using your keyword more than once or twice per 100 words.
7. Use Internal Links to Link to Related Content
Internal links are an awesome way to not only send relevant traffic to more pages on your site, but it can also really help your SEO. Especially if you have a couple articles that are doing really well in search, linking to other pages on your site from those articles can help those pages rank a little better.
Plus, if visitors are following those links and visiting those pages, that extra traffic can also help your rankings. So, make sure you're reading through an article before it's published, adding internal links to other content on your site wherever it makes sense.
If you're using WordPress and All in One SEO, you're in luck! You can get help with adding those internal links with AIOSEO's link assistant tool.
For more on building internal links, check out How to Add WordPress Internal Links to Improve Your SEO.
8. Optimized Images
Each of your images is another opportunity for optimization. When you're naming your image, instead of calling it "23675464.png" or something that doesn't have any meaning, call it "blog-post-seo-example" so that Google can see that it relates to your topic.
Then, once it's uploaded, give it a title and alt text that's also descriptive and includes any possible keywords or keyphrases.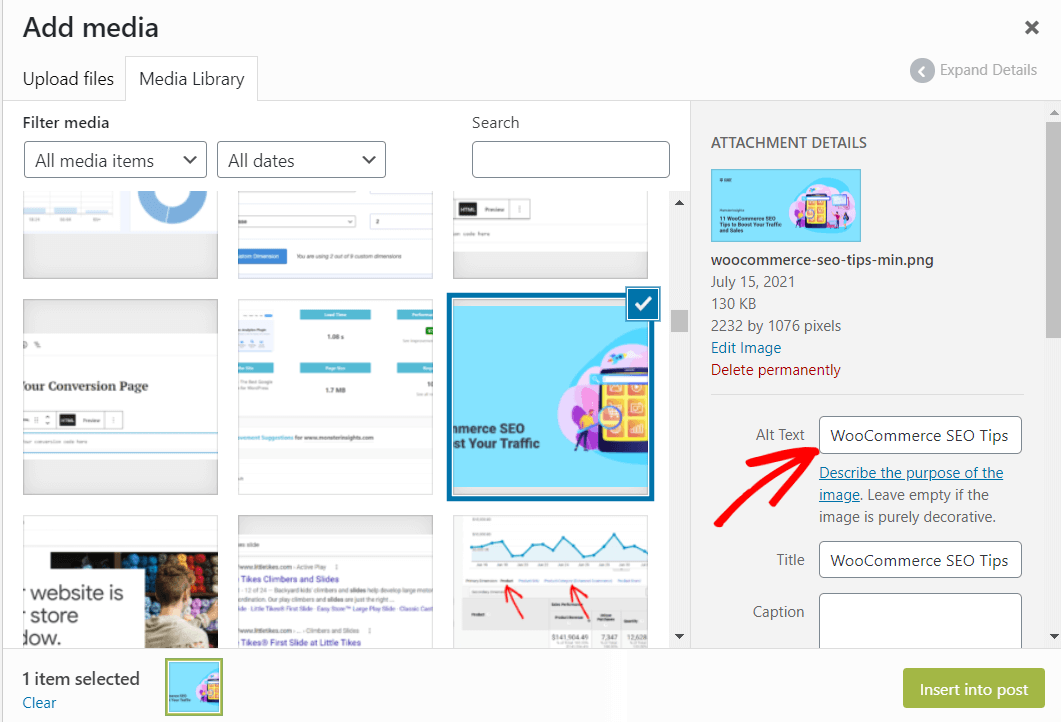 For more on optimizing images, read Image SEO: How To Best Optimize Your Images In WordPress (17 Tips).
Blog Post SEO Tools for WordPress.org
If you're a WordPress.org user, you're in luck. Here are two plugins you can install now to really amp up your blog post SEO!
With the All in One SEO (AIOSEO) WordPress plugin, you can easily accomplish all of the blog post SEO best practices we just went over. Not only can you accomplish them, but AIOSEO guides you with powerful features that tell you exactly what you need to do to optimize your content as much as possible.
All in One SEO will actually scan your article for you as you write and and when you're done, and give you a score based on how optimized your content is. The best part, though, is that it gives you instructions on how to improve it!
For instance, let's say we're writing an article on how to reduce shopping cart abandonment. After you fill in what your article's Focus Keyphrase is ("shopping cart abandonment" in our case), All in One SEO actually scans the article and tells you how to improve your usage of your Keyphrase: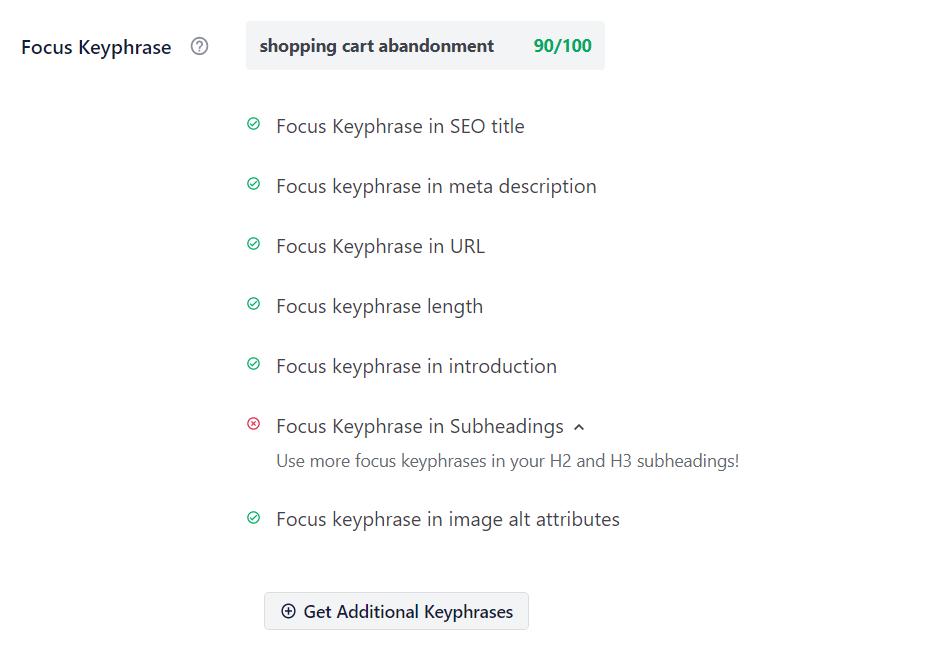 Then, you can scroll down further for even more SEO suggestions in the Page Analysis section. Use the tabs on the top to see all of the suggestions: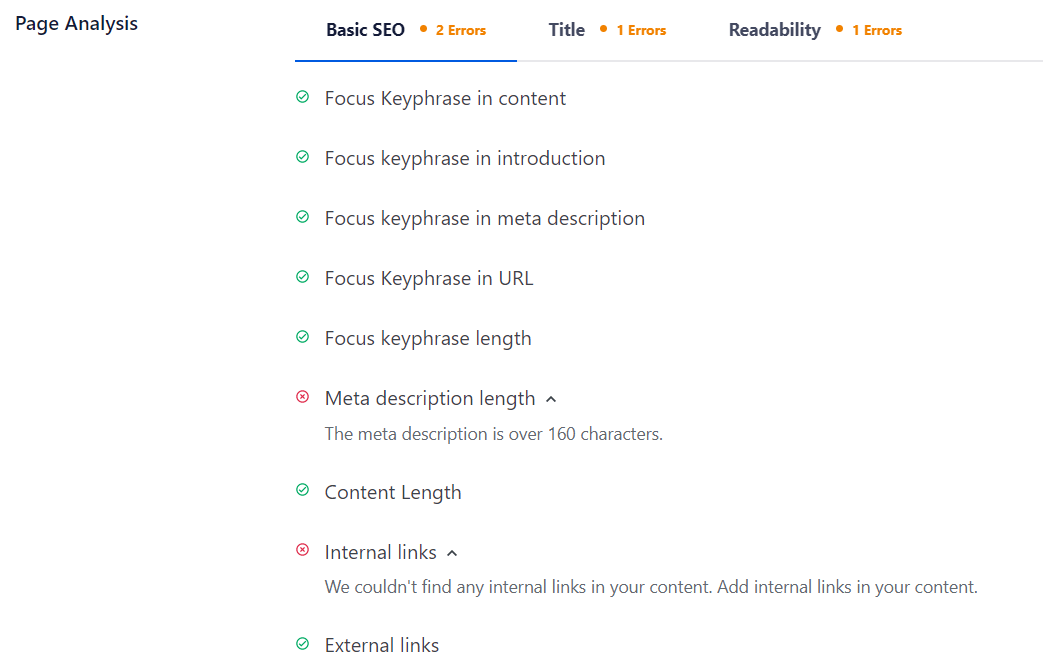 Plus, All in One SEO will give each post and page on your site a TruSEO score, so you can see at a glance how optimized everything is. When you have a post or page open to edit, you can click the score to see your recommendations right in your sidebar: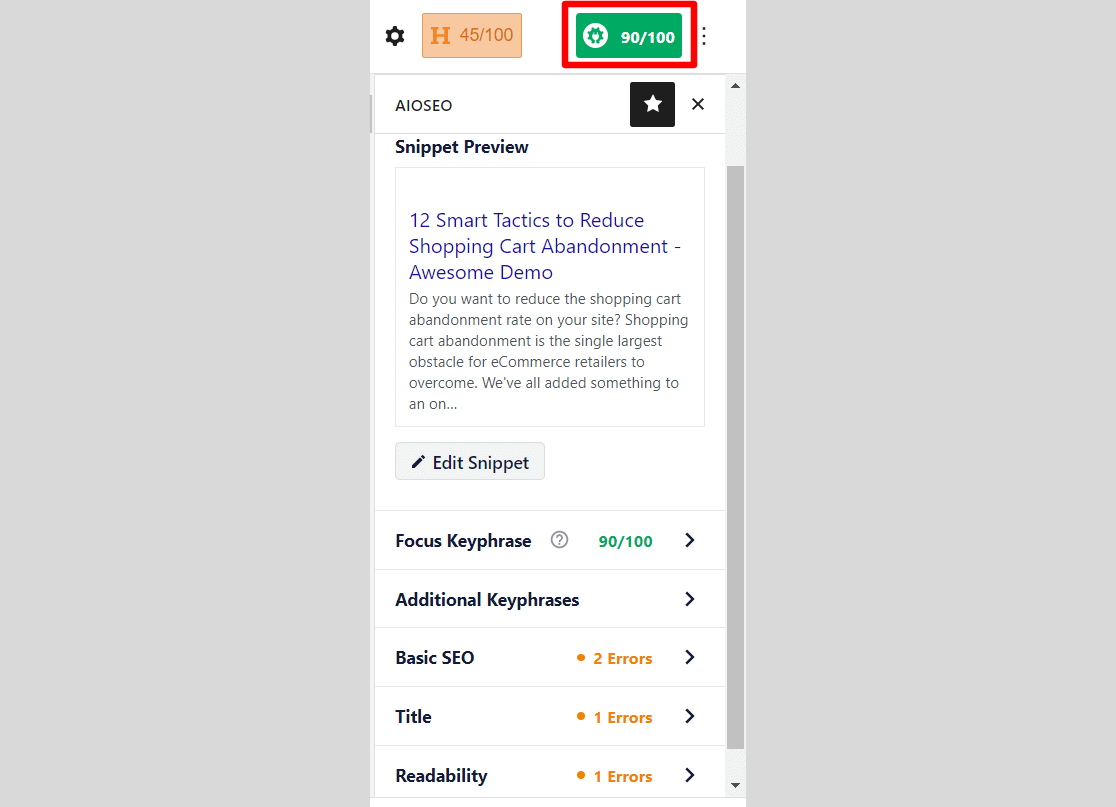 Get started with All in One SEO now!
MonsterInsights
MonsterInsights is the best Google Analytics plugin for WordPress. It allows you to easily connect your WordPress site with Google Analytics so you can view all the data that matters most right in your WordPress dashboard.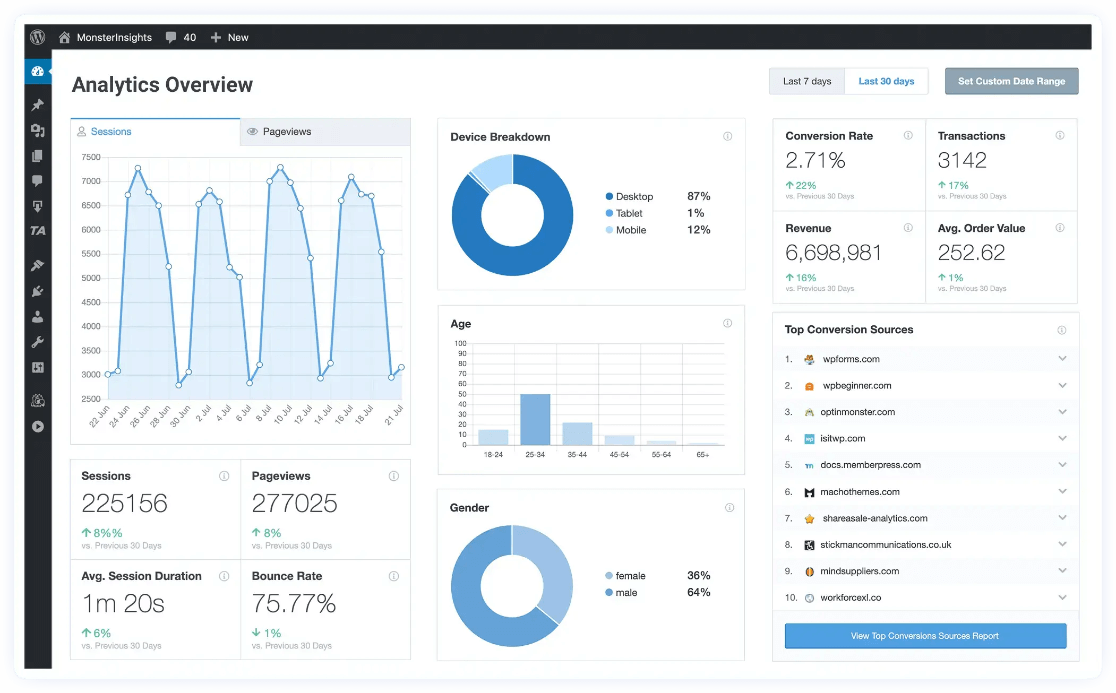 Plus, with the click of a button, you can set up sophisticated tracking features such as event tracking, eCommerce tracking, form tracking, custom dimension tracking, outbound link tracking, and more.
MonsterInsights also integrates with All in One SEO to bring your Focus Keyphrase and TruSEO Score data right into Google Analytics, so that you can use it to improve your blog post SEO (and whole website SEO) even more.
Get started with MonsterInsights now!
That's it! We hope you found some great tips to help you rock your blog post SEO. Now, you'll be able to write SEO friendly blog posts by following our easy checklist.
Now that you know how to optimize your posts, we bet you'd also like to know how to track them. Check out How to Track SEO Rankings with Google Analytics (10 Ways).
And don't forget to follow us on Twitter, Facebook and YouTube for more helpful Google Analytics tips.