What is Google Analytics 4?
Should I use it?
These are the two most popular questions right now about GA4 (Google Analytics 4). Google has really been pushing GA4 to both new and existing users. If you're setting up a new property, they've made the Universal Analytics (Google Analytics 3) option hard to find. If you're a Universal Analytics user, you've probably gotten multiple emails from Google about setting up a GA4 property.
So, should you use Google Analytics 4? What is GA4?
We'll answer both of those questions in this article.
Table of Contents
What is Google Analytics 4 (GA4)?
GA4 is Google's newest version of their wildly popular analytics platform. It can track a website and an app in the same account. It also comes with several new reporting features and gives you more detailed insights into how people interact with your website.
Behind the scenes, the way data is stored and processed (data architecture) is completely different from past versions of Analytics, which will provide all of us completely new ways to measure and analyze traffic usage for years to come.
Google Analytics 4 looks different from Universal Analytics, and the navigation changed, too. If you're a Universal Analytics user who created a new GA4 property, you might have a hard time finding some of the reports you've enjoyed looking at in the past.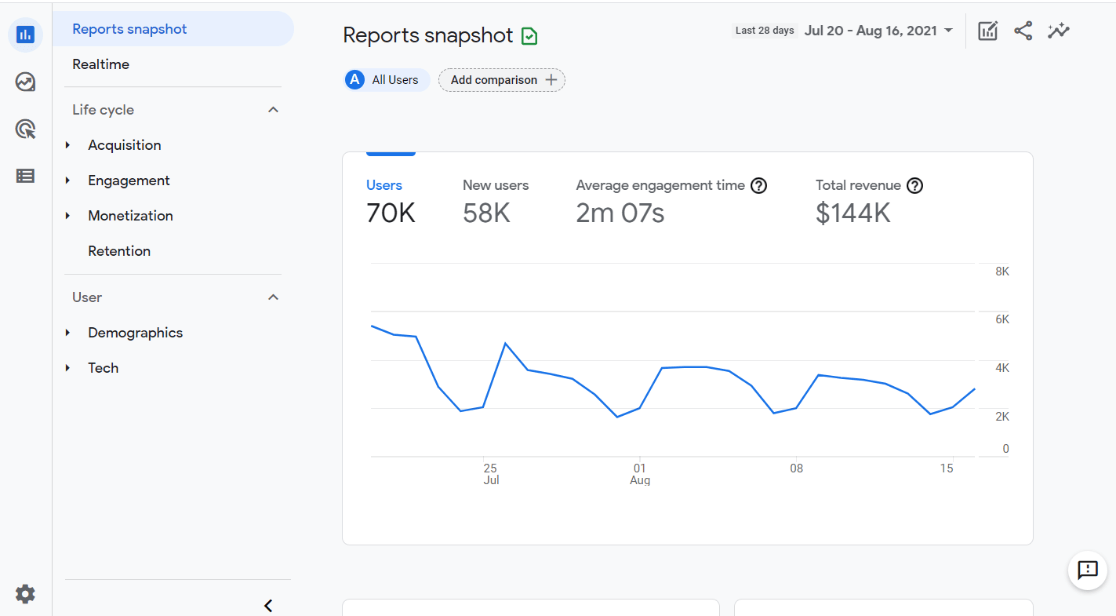 It's Google's goal to get everyone using the new platform as soon as possible, because it's the future of Analytics. Any new features they create will only be released there, not in Universal Analytics.
Differences Between Google Analytics 4 and Universal Analytics
While Google Analytics 4 is similar to Universal Analytics (Google Analytics 3), it does have some pretty big differences. If you've used Universal Analytics, you'll notice a lot of changes right away in how it looks and how the navigation works.
Besides the look and navigation, there are some other key differences. Google is constantly working on adding more reports and functionality to GA4, but as of right now, here are some of the major differences:
GA4 is missing bounce rate. The team at Google replaced the concept of bounce rate with "engaged sessions." So, instead of seeing the percentage of people who leave without interacting further on your site, you'll see data on the people who did. The new metric Google wants you to focus on is Engagement Rate.
GA4 uses events instead of Goals. Instead of goals, Google Analytics now only tracks events and conversions. You can choose which events count as a conversion by toggling a switch. It'll also track some events for you, without having to modify the code of your website:

While that seems awesome, turning these events on will leave you with information like this:

As you can see from the event report example, the reporting part of GA4 has a pretty big learning curve and is not beginner-friendly.
GA4 is missing your historical data. If you've been a Universal Analytics user and you create a GA4 property, all of your historical data does NOT move over to that property. You start with a clean slate. Your data stays safe in your Universal Analytics property, but you have to switch between the two to see it.
Thankfully, there's a way to work around these major differences that we'll talk about in a minute.
Should I Use Google Analytics 4?
In short, yes, you should set up a Google Analytics 4 property. Do you actually have to use it? No, you don't have to if you don't want to. As long as you have it set up and gathering data, you're prepared for any updates or new features Google releases.
While it might be intimidating and hard to use, it's clear that GA4 is the future of Analytics, and you should be prepared for that.
That said, there's no reason you can't run a Universal Analytics property at the same time to get all the benefits of both. In fact, we recommend running both!
Google Analytics 4 Missing Reports Workaround
Like we said earlier, Google Analytics 4 is missing bounce rate, goals, and historical data. If you're using these aspects of Universal Analytics, you might not be too excited about switching to GA4.
Luckily, for WordPress users, there's a way to get the best of both Universal Analytics AND GA4: MonsterInsights Dual Tracking.
MonsterInsights is the best Google Analytics plugin for WordPress. It allows you to easily connect your WordPress site with Google Analytics (both Universal Analytics and GA4), so you can view all the data that matters most right in your WordPress dashboard.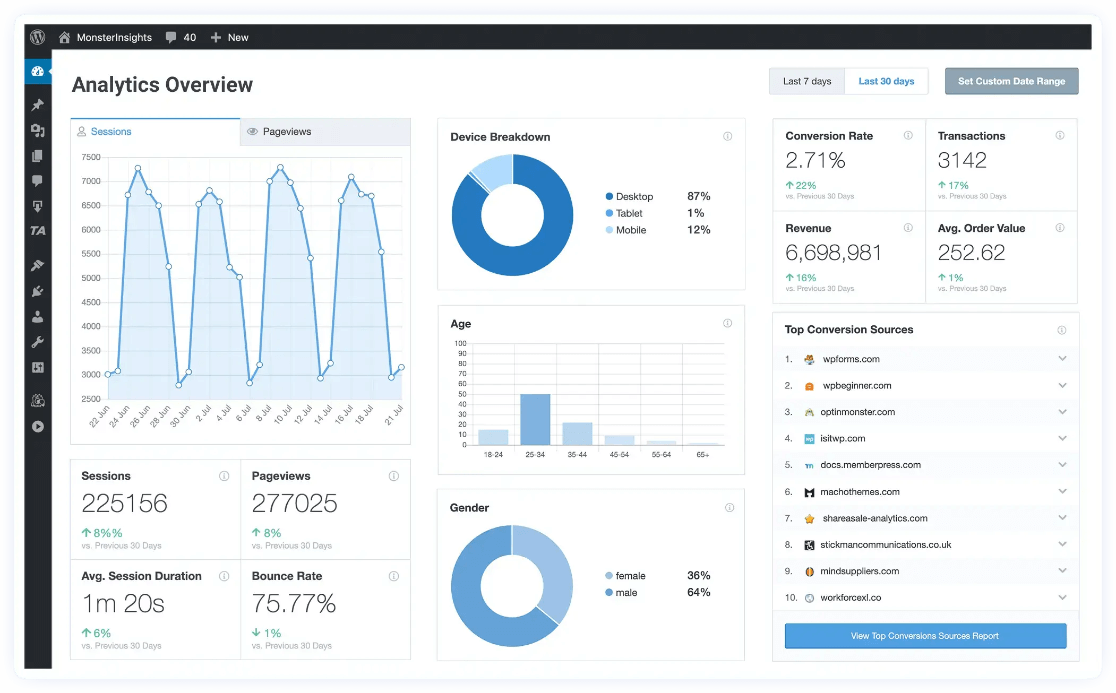 With our new Dual Tracking feature, you can connect BOTH your Universal Analytics and GA4 properties to your WordPress site: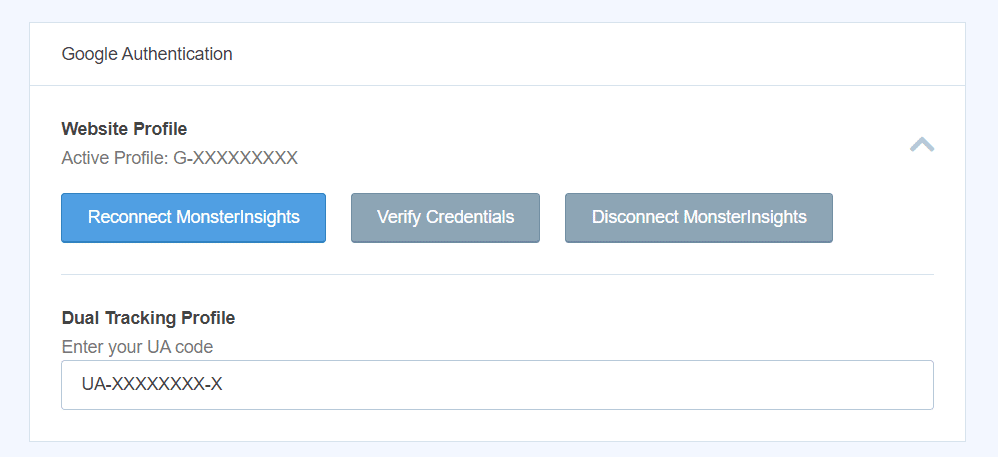 If you use both Google Analytics properties at the same time, you get to keep all of your historical data and the bounce rate metric, but also have GA4 running on your site. Then, you'll have all your same reports, but you'll also be ready for new features or reports that Google releases in GA4.
Plus, with MonsterInsights, you can set up sophisticated tracking features such as event tracking, eCommerce tracking, form tracking, custom dimension tracking, outbound link tracking, and more with a few clicks.
How to Keep Bounce Rate in GA4
Not ready to give up your bounce rate metric? Neither are we! That's why we made sure WordPress users can keep seeing their bounce rate, while also using GA4.
Just follow these quick steps to keep bounce rate and use Google Analytics 4:
Make sure you have both a Universal Analytics property and a GA4 property set up in Google Analytics
When you get to the Connect Google Analytics to Your Website screen in the MonsterInsights setup wizard, choose your UA property
After completing the setup wizard, add your GA4 property as your Dual Tracking Profile:

That's it! You now have Google Analytics 4 connected to WordPress, but you're also still able to see bounce rate: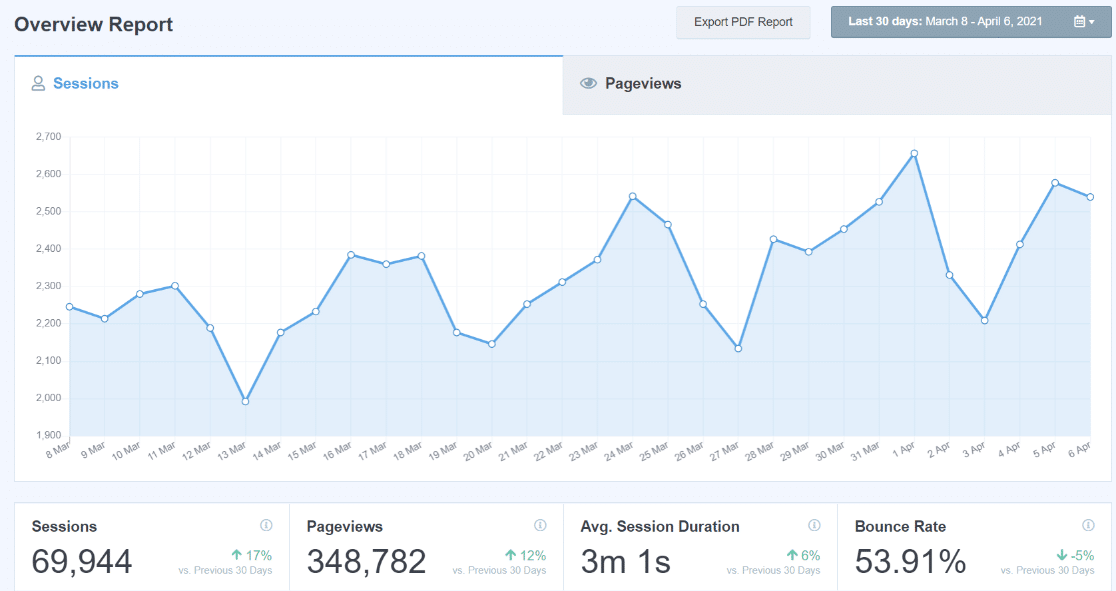 For a full, step-by-step tutorial on connecting Google Analytics 4 and WordPress, read How to Add Google Analytics 4 to WordPress.
Looking for recommendations about what metrics to track in Google Analytics? Check out What Can You Measure with Google Analytics? Top 11 Metrics.
And don't forget to follow us on Twitter, Facebook and YouTube for more helpful Google Analytics tips.