Are you looking for a way to see how much traffic a website gets? Website traffic checkers are awesome and can give you a way to see an estimate of how much traffic a website gets.
While traffic checker tools that show you how much traffic your competitors get aren't going to give you exact numbers, they can definitely help you understand how a website is doing in general, and what keywords it's ranking for.
In this article, we'll not only go over the best website traffic checker tools, but we'll also talk about what insights you can gather and use in your own marketing campaigns from those tools, and how to very easily find insights about your own traffic if you're using WordPress.
Let's dive in.
Why Check How Much Traffic a Website Gets?
By estimating the website traffic of your competitors, you can get great marketing insights. Website traffic checker tools can shed some light on the strategies those competitors are using to attract visitors, and how well their content is performing.
You can learn:
Which traffic channels are sending the most traffic to your competitors
Which keywords your competitors are ranking for
Which keywords your competitors are losing or have lost
Which pages or posts are getting the most traffic on your competitors' sites
When you discover the keywords that drive traffic to your competitors, you can replicate those topics and create better content for your site to outrank and outperform them! We like to refer to this strategy as spying on your competitors and ethically stealing their traffic.
Plus, when you have a benchmark for how much traffic your top competitors get, you can work toward that. Look beyond website traffic checker tools, too, at their social media channels, email newsletters, and any other marketing channels they use.
Now, let's jump into our list of traffic checkers!
7 Best Website Traffic Checkers
Semrush is one of the leading tools to check website traffic. Beyond that, it offers a ton of powerful features that can help you boost your site's SEO. With Semrush, you can:
Find out which keywords your competitors are ranking for
Get an idea of how much traffic your competitors get
Track keyword rankings for your own website
Mine your competitors' backlinks to find opportunities for your site
And more
All you have to do is enter the URL of a website and Semrush will give you information about its traffic, top organic keywords, top landing pages, backlinks, and more.
It even gives you a feature called Traffic Analytics. Using this feature, you can see the total number of visits, traffic sources, countries that send traffic, and more.
Plus, their Keyword Magic Tool can help you find the exact keywords that are going to be the best ones for your site to rank for. Just type in a keyword to find related keywords, volume, search trend, how hard it'll be to rank for, and more.
Semrush is our favorite website traffic checker tool because it offers so much more than just checking website traffic.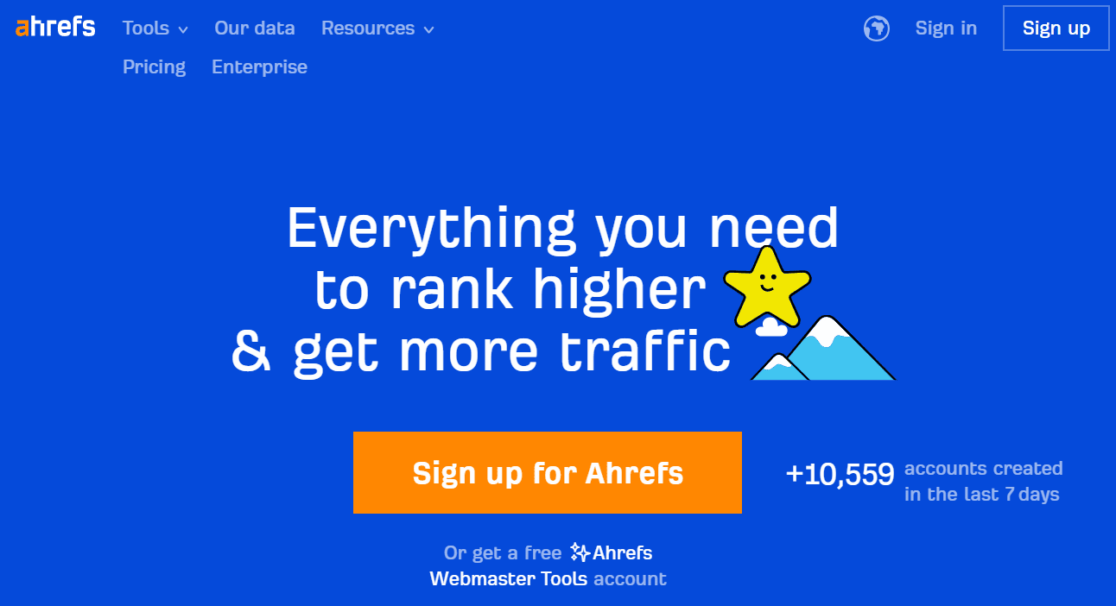 Ahrefs is another popular SEO tool and website traffic checker that provides in-depth information about the website traffic of your competitors. Like Semrush, it also includes a whole suite of other SEO tools beyond competitor research.
If you want to check on the organic traffic of a competitor, just paste in their URL to see estimated monthly visitors, organic keywords, traffic value, competing domains, and more.
Using the organic keywords report, you can perform your own keyword research and see which search terms others are ranking for. Then use those keywords to create better content and optimize your pages.
Not only that, but you can use it to perform a technical SEO analysis on your site. Find broken links and referring domains, see anchor distribution of your competitors or your own site, identify content gaps, and more.
SimilarWeb is another popular website traffic checker in the SEO industry. The also have a platform with multiple tools for SEO and marketing professionals. What sets SimilarWeb apart, though, is their Chrome extension.
Once you install the extension, you can click it to learn basic traffic metrics for any website, then click into it for even more data. You can find out:
The global ranking of a website
Top traffic countries
Visits over time
Traffic sources
Keyword ranking
Organic traffic estimate
You can unlock more features in its premium version. But if you're just starting out, then its free website traffic checker extension is definitely helpful.
Besides the Chrome extension, SimilarWeb also provides a whole suite of tools for marketing teams. Their Competitive Research tool will show you your market share compared with competitors you choose, plus many of the same metrics as Semrush and Ahrefs.
Website Traffic Checker is a free website traffic checker tool by Neil Patel. It's simpler than the other tools we've reviewed so far, but still has some nice features. It's actually not a standalone tool – it's part of Patel's Ubersuggest keyword/SEO tool.
When you input a URL, you'll see estimates for:
Organic traffic
Organic keywords
Top pages
Domain authority
Backlinks
The free version is limited to the past 4 months. If you want to see more historical data, you'll have to upgrade to the paid version of Ubersuggest.
Try Website Traffic Checker now!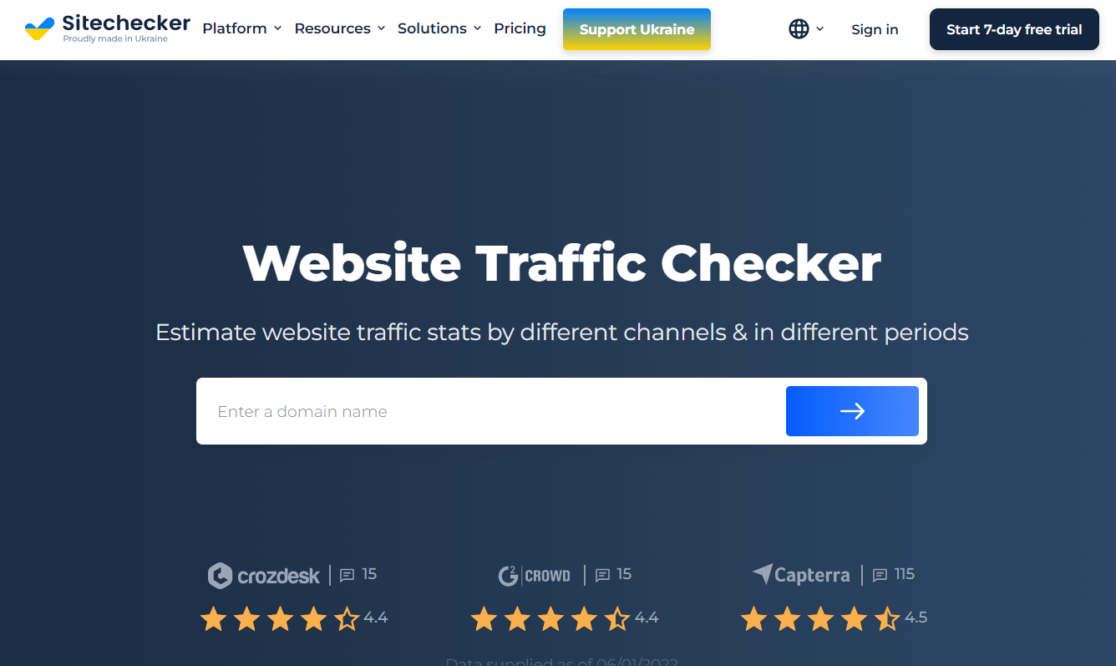 The Website Traffic Checker tool inside of Sitechecker is another tool that you can use in a limited capacity for free. This tool is also located within a dashboard with a whole set of tools, much like the others on our list.
When you input a website into their tool, you get:
3 months of traffic overview
Engagement metrics
Traffic by country
Traffic by source
Top 5 organic keywords
Competitors
This is a great tool that can help you understand a competitor's traffic on a basic level. If you need more in-depth data, you can grab a paid plan.
SERanking's Competitor Analysis Tool is another tool that lives within a whole dashboard suite of SEO and marketing tools. Submitting a URL brings you into their dashboard with multiple tools, and gives you a lot of insights into the competitor you're researching.
You'll be able to see:
Domain & page trust
Estimated organic traffic
Referring domains & backlinks
Total keywords
Organic keywords
Organic competitors
SERP features
And more
This is a very comprehensive tool and you get a pretty decent amount of data in the free version. If you need more or want to track your own keywords, you can buy a monthly plan.
Serpstat is another all-in-one SEO platform with a bunch of tools, including a website traffic checker. Just put in a domain and provide your email address to access data about your competitor.
You'll get access to metrics like:
Estimated monthly traffic
Organic keywords
Paid keywords
Keyword position distribution
Visibility, keyword & traffic trend
Top pages
Competitors
And more
You'll get the basics with a free account, and can access more with a paid plan.
How to Check Your Own Website Traffic on WordPress
Once you've estimated the traffic of other websites in your niche, you can now compare it with your own site's traffic.
To see how many people visited your website, you can use Google Analytics. However, configuring it and navigating your way to the right report can be tricky, especially for beginners.
This is where you can use MonsterInsights to help you out. It lets you properly set up Google Analytics on your website and provides detailed reports in your WordPress dashboard.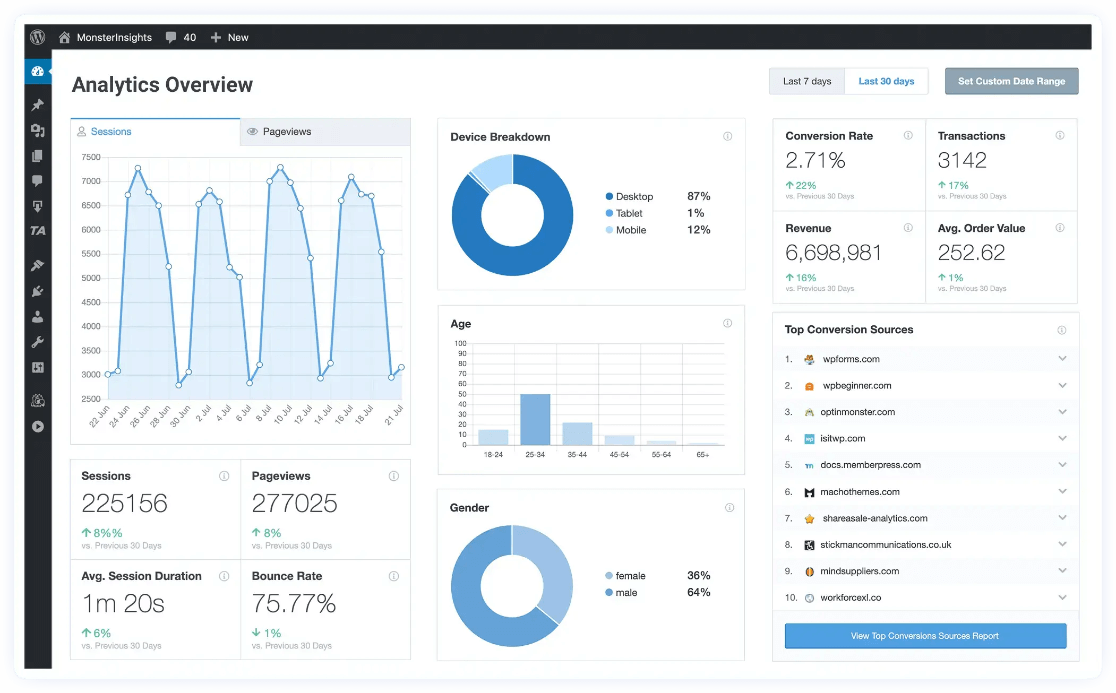 After installing the plugin and connecting your Google Analytics, you can view traffic stats in your dashboard home.
Using MonsterInsights, you can view the top posts/pages of your site that get the most traffic, your top referral sources, average session duration, a device breakdown, and much, much more.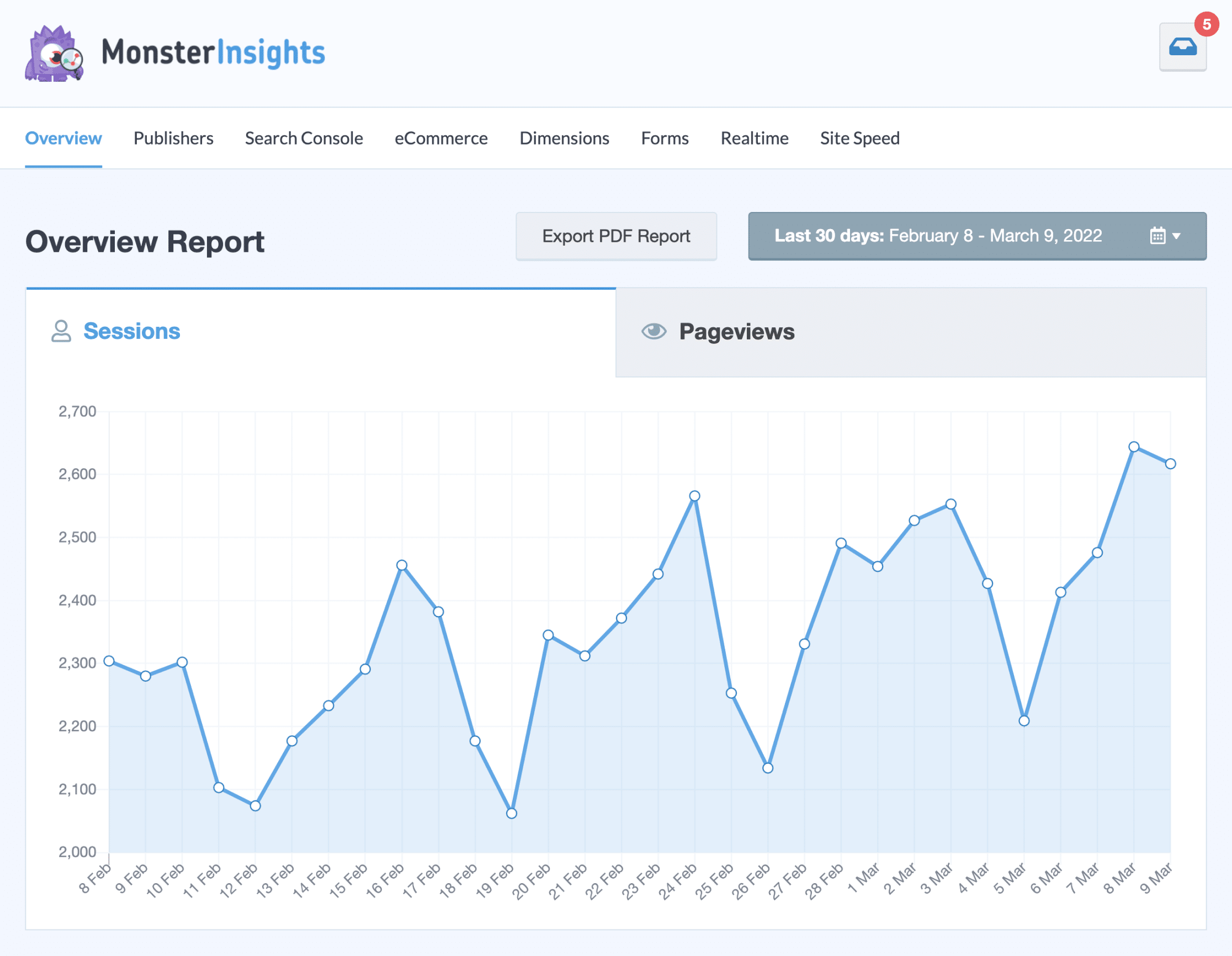 What else can MonsterInsights tell you about your site? Check out our Ultimate Guide to MonsterInsights Dashboard Reports.
That's it!
Using the methods in this post, you can easily estimate the traffic of any website. Semrush is our favorite of all the traffic checker tools. We hope you found the best one for you!
We think you might also like to check out Top 11 Important Google Analytics Metrics to Track.
Not using MonsterInsights yet? What are you waiting for?
And don't forget to follow us on Twitter, Facebook and YouTube for more helpful Google Analytics tips.