Are you looking for a way to know how much traffic a website generates? If yes, then you've come to the right place.
By estimating the website traffic of your competitors, you can get great insights. For starters, it helps in finding strategies they are using to attract visitors. You can also see how well their content is performing and how much engagement they are generating.
On the other hand, you can see how competitive your niche is and what type of topics you'll need to create to get traffic.
In this article, we'll show you effortless ways to uncover how much traffic does a website get. Let's kick things off with a look at…
What is Meant by Website Traffic?
In simple words, website traffic is the number of people visiting your site. Website traffic is an important measure as it shows how well your site is doing.
Higher the number of visitors, the higher the chance of getting them to take action on your site. This could anything like signing up for an email newsletter, downloading a file, or buying a product.
Why is it Important to Find Out Website Traffic?
If you can find out how much traffic does a website gets in your industry, you'll open a whole new box of information.
For instance, you can discover content topics that bring traffic to your competitors. You can then replicate those topics and create better content for your site.
And like we mentioned at the start, by analyzing website traffic of your competitors, you can get details about your industry, how other websites are able to attract users, what strategies they're using, and how competitive is your niche.
But finding out how much traffic a site gets is easier said than done. That's because no website will openly disclose their traffic.
This is where you can follow these ways…
1. Use Website Traffic Checker Tools
There are many tools that will let you check the website traffic of other websites. They include free and paid tools, and they estimate the number of visitors a site would be getting over a period of time.
So, which website traffic estimator should you use? Well, here are a few:
SEMrush is one of the leading tools to check website traffic. It offers powerful features that can help you boost your site's SEO.
The tool is popular among many SEO professionals because you can use to spy on your competitors and ethically steal their traffic.
All you have to do is enter the URL of a website and SEMrush will give information about its traffic, top organic keywords, top landing pages, backlinks, and more.
It even gives you a feature called Traffic Analytics. Using this feature, you can see the total number of visits, device breakdown, traffic sources, and countries that send traffic.
Ahrefs is another famous SEO tool that provides in-depth information about the website traffic of your competitors.
When you go to its Organic search report (located in the Overview tab), you'll total monthly visitors, organic keywords, traffic value, high traffic regions, and more.
Using the organic keywords report, you can perform your own keyword research and see which search terms others are ranking on. Then use those keywords to create better content and optimize your pages.
Not only that, but you can use it to perform technical SEO analysis like find broken links, referring domains, see anchor distribution of your competitors, identify content gaps, and more.
Alexa Ranking is a tool by Amazon, and you can use it to estimate website traffic of your competitors. It isn't the most accurate tool out there, mainly because it only uses the data it gets from users who have installed the toolbar.
That said, the toolbar is free to use and provides you data inside your browser with a click of a button. You can use it for a rough estimate of the attractiveness of a website.
SimilarWeb is a popular website traffic checker in the industry. It provides better traffic estimates than Alexa and it also offers a free browser extension.
Using SimilarWeb's browser extension, you can see the global ranking of a website, top traffic countries, visits over time, traffic sources, and other metrics like bounce rate and average visit duration.
You can unlock more features in its premium version. But if you're just starting out, then its free extension is the best option to go for.
However, do note that SimilarWeb won't give you any data about small or recently launched websites. That's because it uses a small sample of online users to estimate traffic. So, if those users haven't visited those websites, SimilarWeb won't show you data.
2. Look at the Total Number of Social Shares
Now that you know which tools to use, you can also go through the number of social shares a website gets.
To do this, open any of your competitors' websites and head over to their blog section. Next, open recent articles and see how many users shared the post on social media.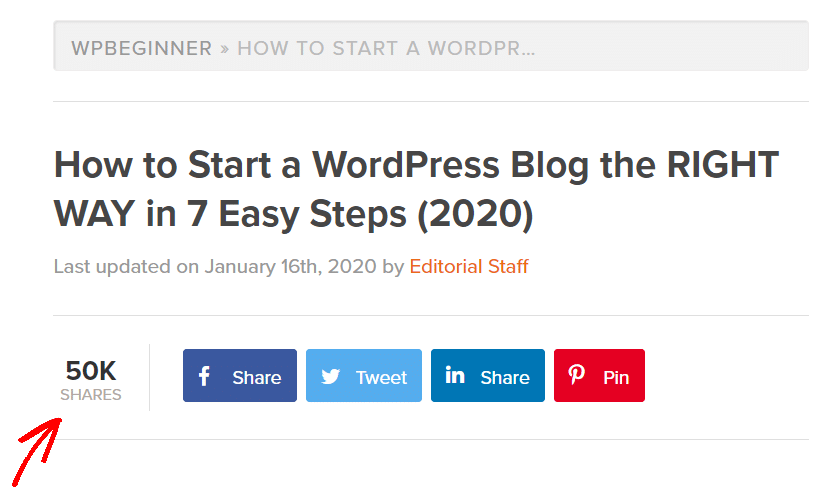 Once you go through a few blogs, you'll start to see a pattern. To make it simple, you can note down the numbers and then take out an average to see how well a website did.
A basic rule of thumb is that a greater number of shares mean more engagement and traffic. Therefore, you can get a general view of how much traffic does a website gets.
3. Check Total Blog Comments
Along with social shares, another simple way of estimating website traffic on your own is by checking the number of comments a website gets.
You can repeat the same process as you did for finding average social shares. Just go through blogs and see how many comments people post.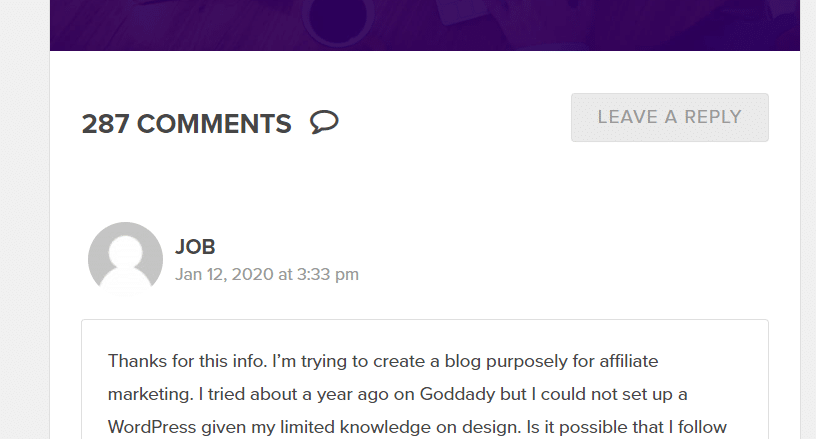 More comments mean that the website is popular and is getting traffic that people are leaving behind their suggestions and questions.
4. See YouTube Views and Subscribers
If your competitors have YouTube videos on their website or post new videos regularly on their channel, then you can use the number of views and subscribers to estimate website traffic.
It's like looking at comments and social shares, but for YouTube. For instance, WPBeginner has over 160K subscribers, which shows that the channel is attractive.
However, it doesn't mean that it would be getting 160K traffic each day, but the data does give you an idea of the website traffic it would be generating.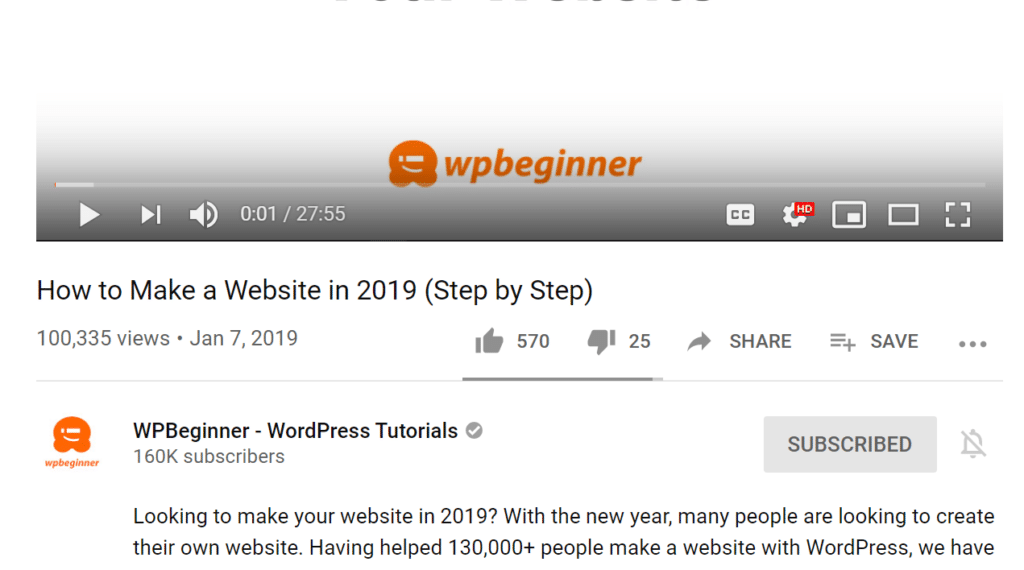 5. Search for Advertising Pages
Another simple way of estimating website traffic is by looking for pages that show details about advertising.
Many websites display data about their site, including traffic, to make it appealing to advertisers. You can search for such pages and find out website traffic.
To search for websites that show this information, you can try entering the following search queries in search engines:
Advertise with us + [your niche]
Advertise with + [your niche]
For example, here's a website the discloses its monthly website traffic when we entered advertise with us + healthcare:

You can do the same for your industry and easily find out the traffic statistics of your competitors.
How to View Your Website Traffic?
Once you've estimated traffic of other websites in your niche, you can now compare it with your site's traffic.
To see how many people visited your website, you can use Google Analytics. However, configuring it and navigating your way to the right report can be tricky, especially for beginners.
This is where you can use MonsterInsights to help you out. It lets you properly set up Google Analytics on your website and provides detailed reports in your WordPress dashboard.
After installing the plugin and connecting your Google Analytics, you can view traffic stats in your dashboard home.
Using MonsterInsights, you can view the top posts/pages of your site the get the most visitors, new vs returning visitors and device breakdown for your website traffic.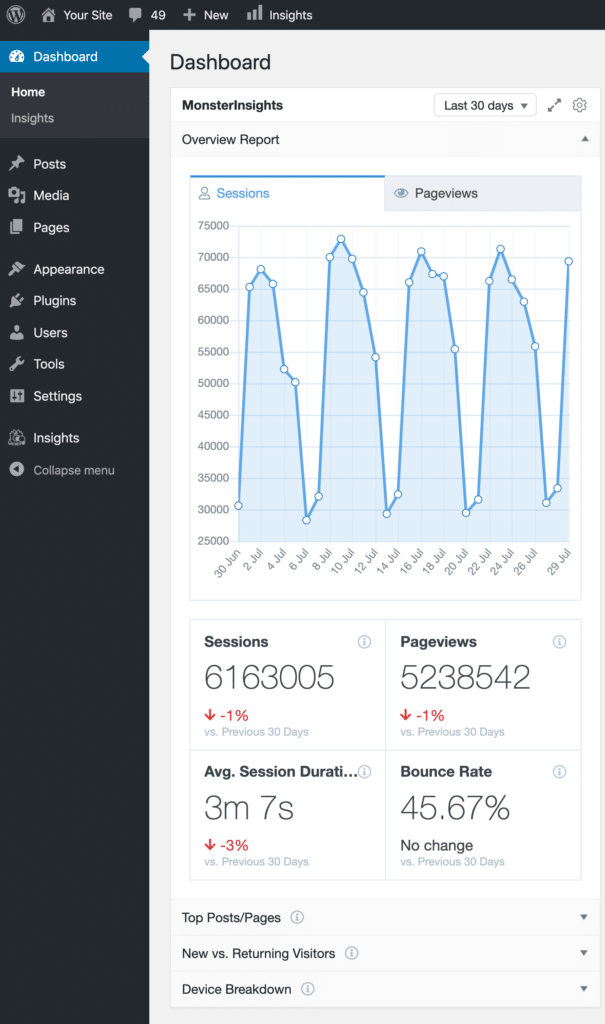 You can also follow our ultimate guide to MonsterInsights dashboard reports for more information.
And that's it for this post!
Using the methods in this post, you can easily estimate the traffic of any website.
We hope you liked our article on uncover how much traffic does a website get. You can also go through our guide on WooCommerce conversion tracking.
Don't forget to follow us on Twitter and Facebook for more WordPress and Google Analytics tutorials.