WordPress SEO optimization is a crucial step to take to grow your business. Are you wondering what the best, most effective SEO tips are?
You're in the right place. In this article, we'll go over the top WordPress SEO tips and tricks that will make the most impact on your site.
An Introduction to WordPress SEO
You might have heard that WordPress is a really SEO-friendly platform. Maybe that's even one of the reasons why you chose it!
While it's true that WordPress can set you up for SEO success, that doesn't mean that you don't have to put some effort into optimizing your website. WordPress provides the structure, but you provide all the details.
To make optimizing as easy as possible, we definitely recommend using an SEO plugin. A top WordPress SEO plugin like All in One SEO will provide you with all the tools you need to rock your optimization.
Top 10 WordPress SEO Optimization Tips & Tactics
Alright, let's dive into our optimization tips. It might feel overwhelming if you read all of the tips below and try to do everything right away. Instead, read through, but then bookmark this article and tackle one or two of these tips at a time!
1. Search Engine Visibility
Can search engines access your website? Can they "see" your content? If Google can't find your site, you're definitely not going to be ranking in search!
To make sure your site is visible to the search engine bots that crawl it, check your Search Engine Visibility setting in WordPress. Head to Settings » Reading and make sure the Search engine visibility box is not checked.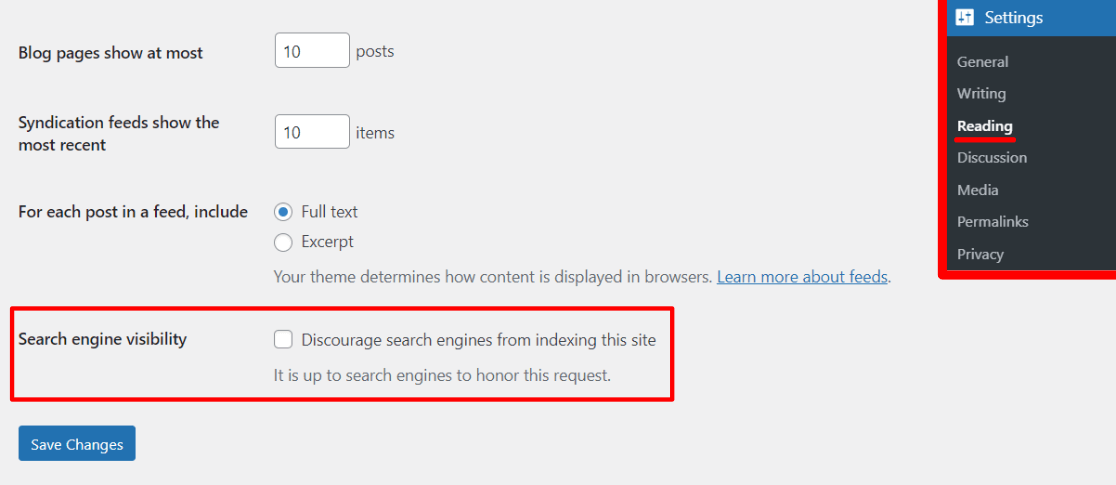 2. Permalinks
Your permalinks are, in simpler terms, the URLs of your pages. If you have a blog post on your site called "Beginner's Guide to Blogging," it might be at yoursite.com/beginners-guide-to-blogging, or yoursite.com/2021/08/beginners-guide-to-blogging. You can choose how you want those links to look.
To find your Permalink settings, navigate to Settings » Permalinks.
Although WordPress gives you several different choices for how to structure your links, we highly suggest the Post name option for most websites. It's the most SEO-friendly URL structure.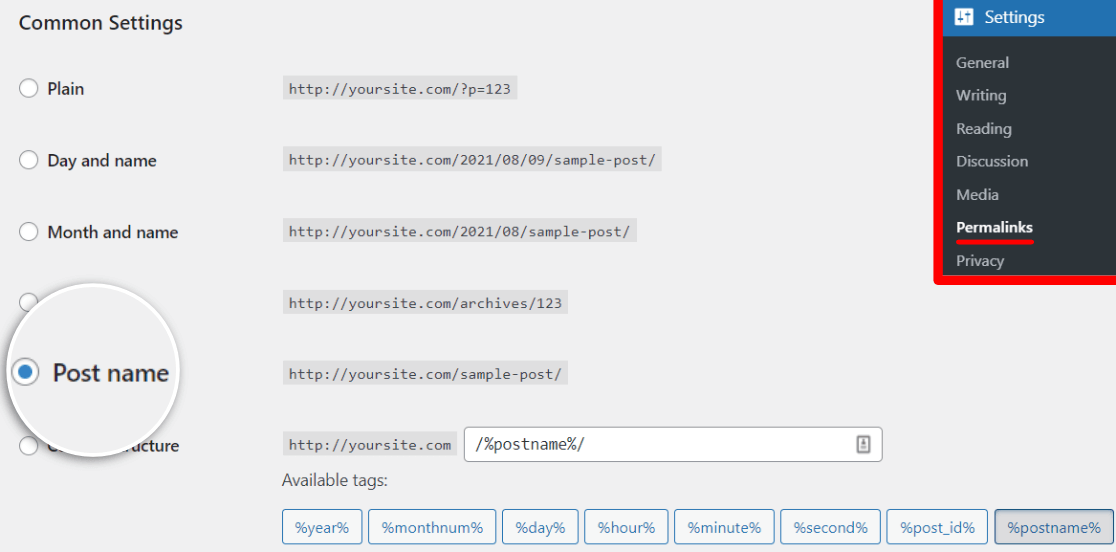 There are some cases where it makes sense to have the date in your permalink, like if you're a news site, for instance.
No matter what your site is, you do not want your permalinks to be on the "Plain" setting. This is very poor for SEO as it doesn't contain any keywords.
**Note: If your site has already been published, be very careful with this setting. Changing your permalinks when your website is already live will result in broken links. If you want to change your permalink structure on a site that's already published, you'll need to redirect the old links to the new ones.
3. XML Sitemap
An XML sitemap is like a road map for search engine bots. In simple terms, it's just a list of links to all the pages, posts, categories, images, and any other content you have on your site. It helps Google's crawlers navigate your site and index all your content.
There are several different ways to make an XML sitemap and upload it to your site. The easiest way is to use a plugin like All in One SEO. The plugin can generate the sitemap for you, and you won't have to do anything to upload it to your site. Just choose some options in their tool and you're done!
4. Keyword Research
You can guess what people are searching for, but without performing keyword research, you really have no idea what the top keywords and keyword phrases are that make the most sense to target with your content. If you want to have an SEO-optimized WordPress website that brings in organic traffic, you have to do some research.
There are multiple different methods of performing keyword research, but it almost always begins with the right tool. For a list of keyword research tools we recommend, read 6 Best Keyword Research Tools to Skyrocket Your SEO.
Create a master spreadsheet of keywords to target, along with their search volume. Make sure to also search a keyword before you decide to target it to see what kind of content is currently out there.
The other big keyword research tactic you'll want to try is looking at what you already rank for and expanding on those topics. For a guide on finding those keywords and new opportunities, read How to See the Google Analytics Keywords for Your Website.
For a deeper look into keyword research, read Keyword Research 101: How to Choose the Right Keywords for SEO.
5. Titles and Meta Descriptions
Each of your pages and posts should have a descriptive, optimized title and meta description. The title and meta description are what show in search results, and they're an important part of SEO.

Even though it's pretty common for Google to grab content from your page instead of using the meta description you've written, you still want to have one set up.
When writing titles and meta descriptions, it's important to keep in mind:
Use your focus keyword or phrase but do not keyword stuff.
Write it like an ad for your content. Compel a searcher to click.
Keep titles under 60 characters
Keep meta descriptions under 160 characters
To add a title and meta description to each piece of content on your site, you'll once again need an SEO plugin. Here's what the title and meta description fields look like in All in One SEO:
6. Focus Keyphrase
If you're using the All in One SEO plugin, there's a spot for you to input the keyword phrase you want to rank for. The plugin will then review your content instantly and let you know if it's optimized.
For example, if you're writing an article called "The Top 10 Cell Phones for Teens," you'd probably be trying to rank for the keyphrase "best phones for teens" which has a search volume of 150. So, you'd input that keyphrase into the AIOSEO plugin and it would tell you if you need more optimization.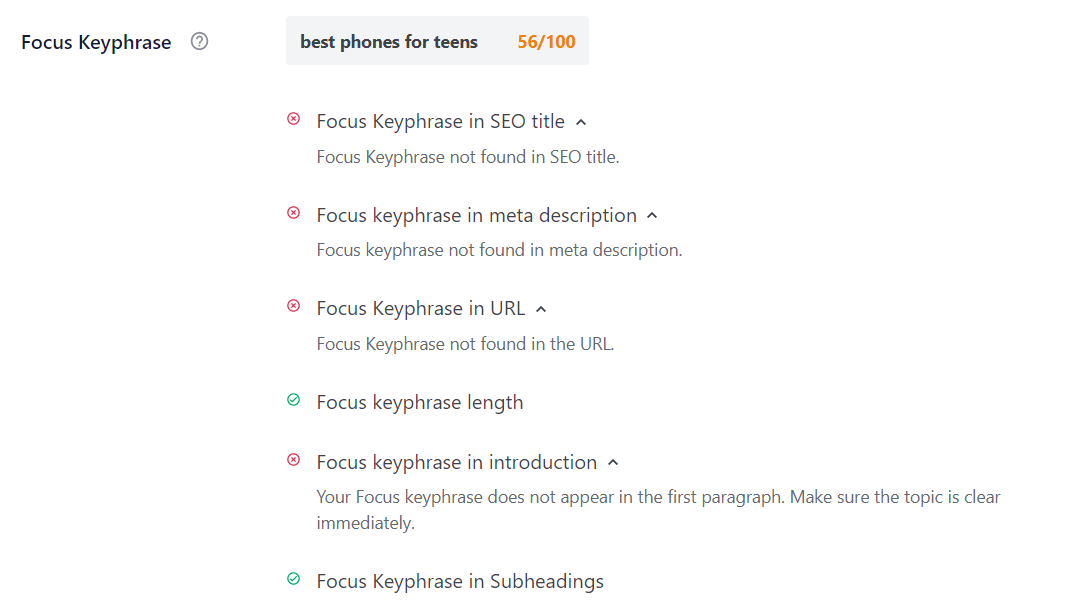 For more on how the Focus Keyphrase works, read Using the Focus Keyphrase to Analyze Your Content.
7. Categories and Tags
Using WordPress categories and tags to organize your content can help with SEO. They give Google another structure to crawl that makes sense, and they can help readers find your content.
Use categories for broad topics, and tags for more focused keywords.
For instance, let's say you run a social media strategy blog. You might make each separate network a category, like Instagram or Pinterest. Within those categories, you might have tags like advertising, best times to post, or video.
How you organize your content is up to you, but remember to try not to over-optimize things. You don't need an entire list of tags for every post because you're trying to get all the keywords in there. Use the ones that are the most relevant and focused.
Have more questions about categories and tags? Read WordPress Categories vs. Tags + How to Track Them in GA4.
8. Links
Links are an important part of SEO. There are a few different kinds of links to think about: internal, external, and backlinks.
Internal links are links to your own content. These are great for SEO because they lead Google (and your readers) on a path through your content that makes sense. Every time you write something new, make sure to add links throughout it to your own other posts and pages where they make sense. These are also called "contextual links."
To improve your internal linking strategy, AIOSEO has a Link Assistant addon that automatically generates an internal links report and helps you find new linking opportunities.
External links are links to other pages on the internet that are not on your site. Try not to use a ton of these, as you don't really want to lead your users away from your site or provide links and their SEO benefits to sites that aren't your own. When you do use them, make sure they open in a new window.
Backlinks are links from other sites that lead to yours. You want as many backlinks as possible from reputable websites across the internet. They help your SEO by counting as "votes" for your website.
9. Image Optimization
The images that you use on your site can help your SEO. WordPress makes image optimization pretty easy! Every time you upload an image to use on your site, make sure it has a descriptive alternative text tag and title:
Besides alt text and a title, make sure that your image is the correct size. Uploading huge image sizes to your site instead of the size you need can really slow down your website, making for a poor user experience and a poor core web vitals score.
10. Core Web Vitals
Core Web Vitals is Google's newest ranking requirement. For great SEO, your site needs to be fast. Core Web Vitals are, in a nutshell, measurements of how fast your website loads and works.
While WordPress is built to be fast, you can definitely slow it down by using unoptimized themes, uploading huge images, using unoptimized plugins, and more.
Want to test your website's speed? Read How to Check Website Speed in WordPress in 2 Minutes or Less.
For a deeper look at Core Web Vitals, read How to Optimize Core Web Vitals for WordPress (Ultimate Guide).
That's it! Now you have the basics down for how to SEO optimize your WordPress site.
We think you might also like How to Measure SEO Performance With Google Analytics in WordPress. Or, to avoid SEO mistakes, check out The Biggest WordPress SEO Mistakes + How to Avoid Them.
And don't forget to follow us on Twitter, Facebook and YouTube for more helpful SEO and WordPress tips.