Are you looking for a headline analyzer tool for WordPress to create attention-grabbing titles and improve your SEO?
Headlines aren't only the first thing people will read in your blog posts, but they're also responsible for making readers want to click on your article from search results. By creating engaging, stand-out titles, you can hook your visitors into clicking on your post, subscribing to your email list, or even making a purchase.
Plus, getting more clicks in the search results can help improve your search rankings. If Google records more people clicking on your result, you may get a boost up in the results.
In this article, we'll show you some of the best headline analyzer tools for WordPress.
Our Favorite Headline Analyzers for WordPress
MonsterInsights is the best headline analyzer tool and Google Analytics plugin you can use for your WordPress website. It helps you rate your headline copy on a scale of 1 – 100 and get suggestions on how to improve the title.
But the best part about using the MonsterInsights headline analyzer is that you can get instant feedback in your WordPress editor, so you don't have to leave your website at all.
Simply click the headline analyzer button, and the tool will show you an overall score for your title.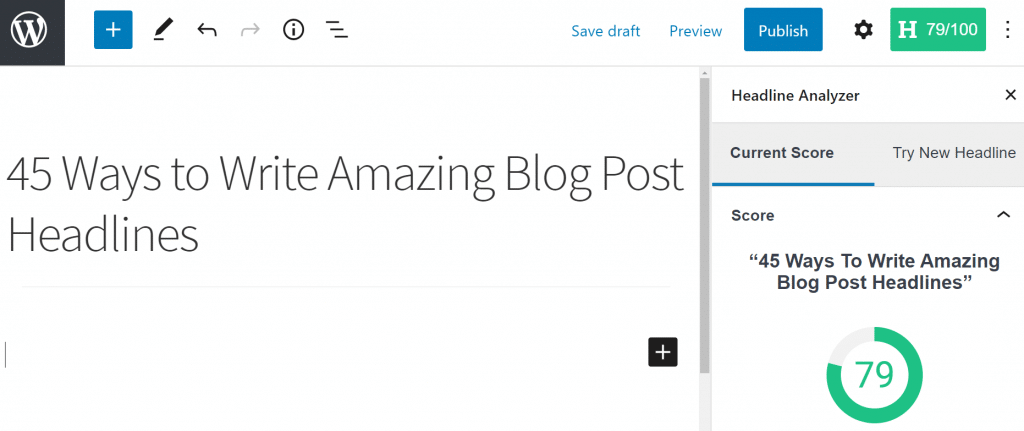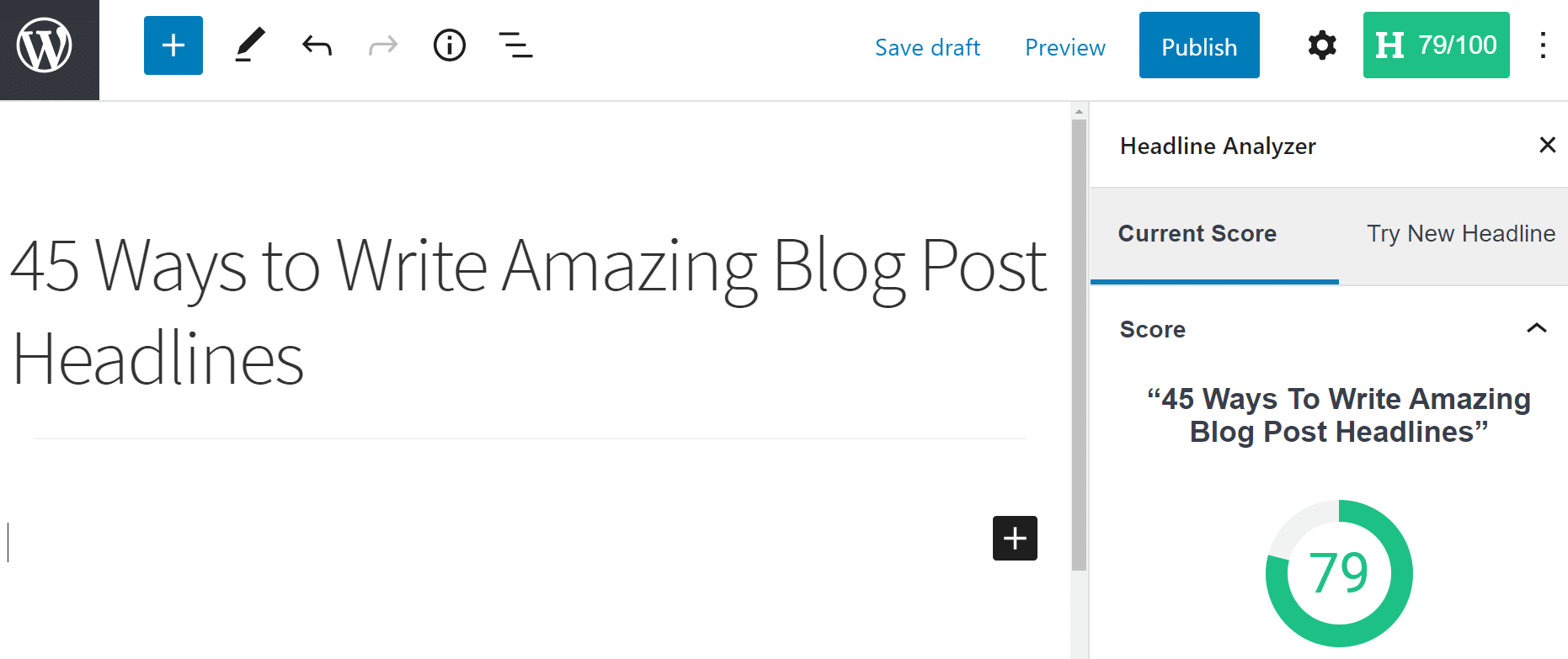 The tool reviews the word balance in your title and looks for common, uncommon, emotional, and power words.
Using such words in the headline can make them more impactful, and MonsterInsights provides suggestions on including them in the copy.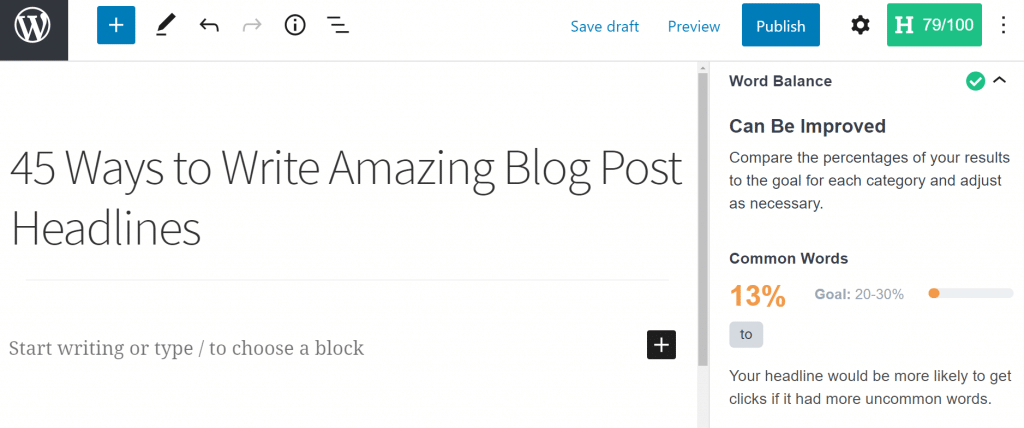 Besides that, you can see your headline's sentiment, whether it's positive, negative, or neutral, and find out the headline type.
Another advantage of using MonsterInsights is that it measures the character and word count of your title. This way, you can make sure that the copy isn't too long for search engines, and it won't get cut off at the end.
You can even see a search preview of how your headline would appear on the Google search results page.
OptinMonster Headline Analyzer makes it easier than ever to write irresistible titles. OptinMonster is also the best lead generation and conversion optimization plugin for WordPress. You can grow your email list, increase sales, and capture more leads using the plugin.
Enter your headline in the tool and hit the Analyzer Headline button. It will then show a score for your title and highlights the first and last 3 words.
And if you scroll down, OptinMonster will see if you're using power words or emotional words to spark curiosity in your headlines. It will also show the length of your title and displays a preview of how it would appear in search results.
IsItWP Headline Analyzer is the next tool on our list. It's very easy to use, and you can find out if your headlines are engaging or not within a few seconds. And the best part is, it's completely free.
All you have to do is enter the title and click the Analyze button. The tool will evaluate your SEO title tag and provide an overall score. It also looks at the word balance and shows suggestions on how to improve the copy of your headline.
And if you scroll down the page, you'll find more information on how to write compelling SEO headlines for your website. For instance, the tool shows examples of power words that you can use in your headlines and boost clicks.
Headline Studio by CoSchedule is another popular tool on our list. It was formerly known as the CoSchedule Headline Analyzer tool, and now the company has rebranded it as Headline Studio.
Under the headline score, you can see suggestions for improving the headline, like using emotional and common words. Or review the reading grade level and find out if it's easy to understand and conversational for your readers.
The tool also shows a revision history, so you can keep track of the changes and view their scores. You can also refer to its thesaurus and word banks to include attention-grabbing words in your headlines.
As for the SEO score, the tool shows a search preview, analyzes your headline against the competition, and shows your top competition scores in search results. It also suggests different keyword variations and related questions to widen your audience and improve your SEO score.
However, the downside is that most of these features are available only in the paid version. The free version offers only the headline score and access to the thesaurus. The premium plans start from $9 per month (billed annually), and you can analyze 5 headlines per month.
Sharethrough is the simple and yet powerful headline analyzer tool for your WordPress site. When you enter your title, the tool shows a Headline Quality Score, lists the strengths, and provides suggestions for improvement.
It uses over 300 different variables to measure your headlines, such as electroencephalography (EEG) and Natural Language Processing (NLP). The tool also uses Sharethrough's neuroscience and advertising research and Behavior Model Theory to build the Headline Quality Score algorithm.
With Sharethrough, you also get 2 more scores for your headlines, including engagement score and impression score.
The tool also provides suggestions on improving these scores, like using words to increase engagement or mentioning your brand to build trust get more impressions.
Emotional Marketing Value Headline Analyzer by Advanced Marketing Institute is a tool that uses research by Dr. Hakim Chishti to evaluate your headlines. It will measure the total number of emotional marketing value (EMV) words about your headline's total word count.
The percentage score of your headline shows the emotional impact it will have on readers. A rating of 0 has no words containing emotional impact, while a rating of 100 has all words creating an emotional impact.
Aside from the EMV score, the tool also highlights which type of emotion your convey impact the most. It breaks them into 3 categories: intellectual, empathetic, and spiritual.
Charcounter is a minimalistic and free headline analyzer tool you can use to measure the total number of words and characters in your titles. The tool also measures characters without white space and the number of paragraphs.
Charcounter is excellent for making sure your headlines are within the character limits for different search engines (usually under 60 characters). It helps to shorten your lengthy titles and ensure that search engines don't cut them off at the end.
Which is the Best Headline Analyzer?
After going through multiple tools on our list, you must be wondering which is the best headline analyzer.
If you want to quickly analyze your headlines without having to leave your WordPress site, then MonsterInsights is the best tool. It offers detailed suggestions on how to improve your title, shows character and word count, and a search engine preview right inside your WordPress editor.
Besides, MonsterInsights also offers other advanced tracking features that will help you better understand your audience. For instance, you can set up outbound link tracking, affiliate link click tracking, eCommerce tracking, file download tracking, and much more in just a few clicks, no coding is needed.
And that's it!
We hope our article helped you pick the best headline analyzer tool for WordPress. For more about what MonsterInsights can do, you can also check out our post on MonsterInsights vs. Google Analytics.
And don't forget to follow us on Twitter, Facebook and YouTube for more helpful reviews, tutorials and Google Analytics tips.