Want to learn what Google Analytics vanity metrics are so you can focus on more actionable metrics instead? Knowing the metrics that'll help you make data-driven decisions is the best way to take your business to the next level.
In this article, we'll show you what data to be aware of so you can make better business growing decisions.
What Are Vanity Metrics?
Vanity metrics are the numbers in Google Analytics that look really good on paper.
However, despite their good looks, they don't help you grow your business.
Now, this isn't to say these numbers don't mean anything. Of course, they're still important.
For example, they tell you that people are interested in your content. Or that your emails seem enticing. Or that whatever content upgrade you've offered was worth giving up an email address for.
In other words, vanity metrics show you that your content is optimized for the right target audience.
But what they don't do is help you make better decisions moving forward to get more conversions or sales.
So, let's take a look at the most common Google Analytics vanity metrics to watch for. And, while we're at it, let's look at some actionable metrics that matter too.
1. Page Views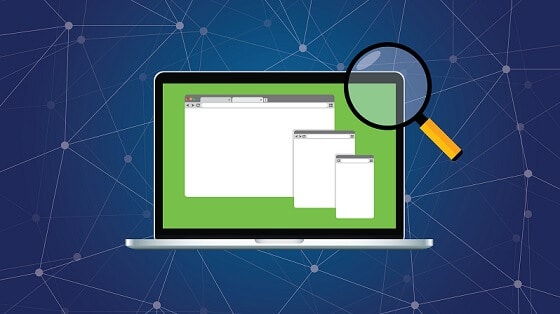 If your site's page views have increased: congratulations! You've established yourself as an authority and now know that, when people come to your website, it's because they think you have something to offer them.
This is good if you're trying to make your mark in a competitive niche.
But what page views don't tell you is where your converting site visitors are coming from, if you're answering your reader's questions, or if you're selling what people want to buy.
It also doesn't tell you whether visitors stay engaged once on your site. And that's why page views, when looked at alone, are considered a vanity metric.
The metrics that matter are the ones that can tell you how effective your optimized content is. For example, if your site's bounce rate is high, it doesn't matter how many page views your blog has. There is something clearly wrong.
Luckily, when you use MonsterInsights, the most powerful Google Analytics plugin on the market today, you can see both page views and bounce rate together in the Overview Report, right from your WordPress dashboard.
This gives you a look at the bigger picture when it comes to engagement on your website.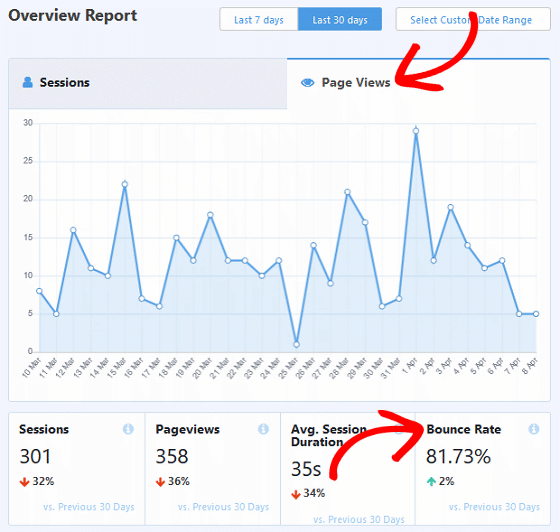 If you measure your bounce rate over a period of time, and notice it declining, you know that not only are people initially interested in seeing what you have to offer, they stay interested once they visit your site.
2. Email Open Rate
This may seem a little surprising because we're always talking about the importance of email marketing.
And yes, email marketing is important.
If people are opening your emails that means you're targeting the right audience and have a strong email headline.
However, it doesn't matter how many people open your emails if they don't convert.
That's why tracking your email marketing campaigns in Google Analytics is better than following just your email open rate.
Make sure that people are clicking on your call to action button in your emails, after they've opened the actual email. This will give you better insight into whether you're offering people what they want.
In fact, a high click-through rate shows you that your emails have lead generating power. It also means you should keep doing what you're doing to grow your business.
For help finding out which email campaigns are not only encouraging people to open, but convert too, check out our helpful guide on how to find your most profitable email campaigns in Google Analytics.
3. Number of Subscribers
Lots of people are willing to subscribe to your newsletter. And tracking form views, submissions, and conversion rates in Google Analytics is easy using the MonsterInsights Forms Addon.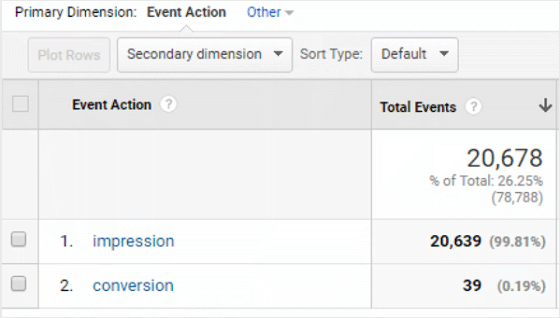 But there is more to it than just the number of form conversions you receive. And that's why the simple number of subscribers you have is a vanity metric.
After all, if your subscribers aren't buying your products, it doesn't matter if you have 10 subscribers or 1 million. And though seeing a large number of subscribers is cool, it doesn't help you achieve any of your business goals such as generating more revenue.
A more actionable metric to measure would be the paths that subscribers take to convert as customers. In Google Analytics, you can see your customers' journey through your website and even measure the ROI of your content marketing or social media marketing campaigns.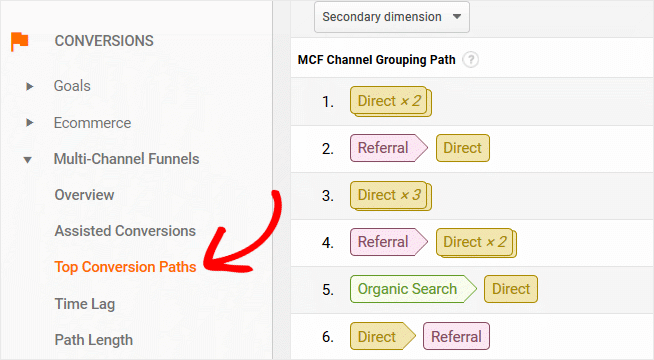 For help finding your customers' path through your website, check out our step-by-step tutorial on revealing your path to conversion in Google Analytics.
And there you have it! Three common Google Analytics vanity metrics that you should be aware of the when you check your Google Analytics data.
Though these numbers are still important, and often impressive, they don't give you the information you need to make data-driven decisions. If you want to build your business, these vanity metrics should be looked at alongside other, more actionable metrics.
If you run an eCommerce shop and want to know where to find more Google Analytics data that'll help you boost sales, check out our eCommerce metrics designed to boost revenue.
And don't forget to follow us on Twitter and Facebook for more helpful Google Analytics tips.