Did you know that 95% of your website visitors will never convert on their first visit to your website? Studies show that on average, it takes 3-4 visits for your visitors to actually think of doing business with you.
That means if you're analyzing the contribution of a specific channel while overlooking the conversion paths, you're not getting the whole picture of how your visitors convert into leads and customers.
To better understand the customer journey, you'll need to look at customers' conversion paths in Google Analytics. In this article, we'll show you how to analyze the path to conversion in Google Analytics.
Understanding the Path to Conversions in Google Analytics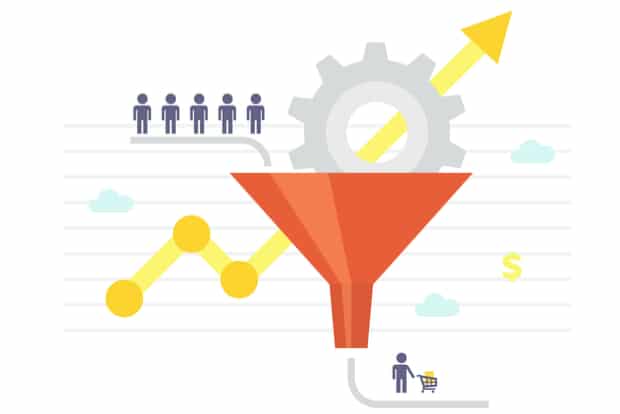 The best thing about Google Analytics is that you can track any type of user interactions or conversions on your site. Tracking conversions that happen during a single session can be a great strategy if you're expecting immediate conversions from a marketing campaign, such as a flash sale PPC campaign.
By looking at how your prospects interact with your site during a single session, you can measure the ROI of your PPC campaigns and figure out if it is worth the investment.
That being said, not every marketing campaign is that linear.
Just like the above example of a flash sale PPC campaign, you can't analyze the contribution of all your marketing campaigns by simply analyzing a single session or a single channel. For example, if you want to measure the ROI of your content marketing or social media marketing campaigns, you'll have to look at the entire conversion paths with multiple sessions, as opposed to the contribution of a single channel with a single session.
For instance, imagine that your visitor discovered your blog post while in the researching phase and bookmarked it for later use. After a few days, they returned to your site and purchased merchandise from your store.
In this example, the blog post has actually assisted the conversion, and it takes more than a single visit for your visitor to make a purchase. Unless the conversion path is analyzed, you might miss which content actually contributes the conversion.
To find top conversion paths, you can navigate to Conversions » Multi-Channel Funnels » Top Conversion Paths.
For better analysis, you can choose from many different primary dimensions that you can find at the top of your report.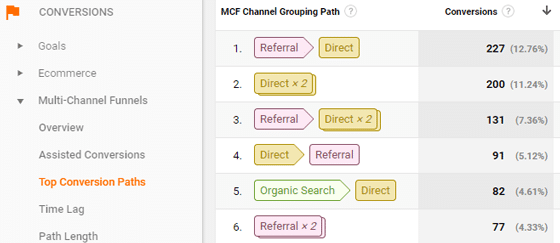 Alongside, you can review a few other reports such as:
Assisted conversions
Time Lag
Path Length
What Are Assisted Conversions in Google Analytics?
Assisted conversions are the number of conversions for which a particular channel or source appeared on the conversion path, but wasn't the final conversion interaction.
In other words, an assisted conversion is when a visitor left your site after interacting with your campaign, then came back through another channel and converted.
If you're investing in brand awareness campaigns, tracking assisted conversions is essential to analyze if your efforts are boosting the bottom line.
To find assisted conversions report, visit Conversions » Multi-Channel Funnels » Assisted Conversions.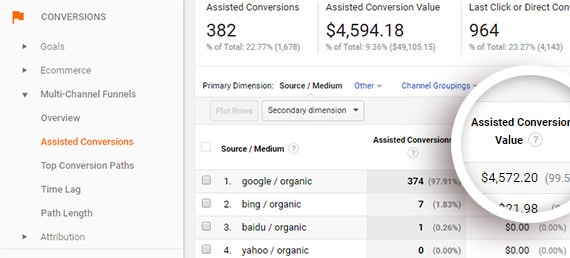 What Is Time Lag and Path Length in Google Analytics?
Time lag in Google Analytics tells you the number of days it takes for your visitors to complete the final conversion after their first interaction.
The path length report in Google Analytics shows how many times a user interacted on your site to complete a final conversion. Generally speaking, the path length report follows the trend of the time lag report.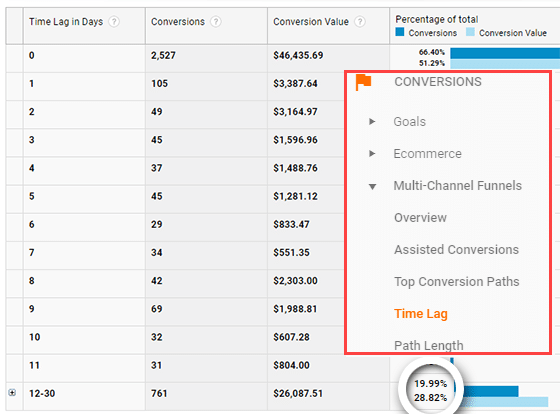 In the above screenshot, it is evident that it takes almost 12-30 days for nearly 20 percent of your customers to complete the final conversion. Since people have your brand on top of their mind even after 2 weeks from their first interaction, you can target those people by setting up a remarketing campaign and enticing them to complete the conversion sooner.
Similarly, you can also display onsite retargeting messages to persuade your return visitors to complete a conversion.
We hope this guide helped you reveal your path to conversion in Google Analytics.
If you enjoyed this article, you might also read how to conduct a user flow analysis in Google Analytics.
And don't forget to follow us on Twitter and Facebook for more Google Analytics tutorials.