Are you having trouble driving traffic and clicks to your website? If yes, then one of the reasons could be because of low CTR (click-through rate). Want to know how to improve CTR in 5 minutes or less? You're in the right place!
When users don't click on your link in organic search results (like on Google), you won't generate traffic. This results in fewer leads and lower sales, and might even affect your search rankings. If your results are getting seen but not clicked on, Google may see that as a signal that your site isn't as desirable as the other results.
That's why it's important to get as many people as possible to click on your link. In this article, we'll show you simple ways to improve your CTR in 5 minutes or less.
How to Find Keywords and Pages with Low CTR
The first step towards improving your website's CTR is monitoring how your pages and keywords are performing. By looking at the CTR of your keywords and pages, you can identify the ones that need work.
The best way to monitor your CTR is with Google Search Console. Search Console is a free tool from Google that tells you what terms you're ranking for, which pages are ranking, what your CTR is, and more.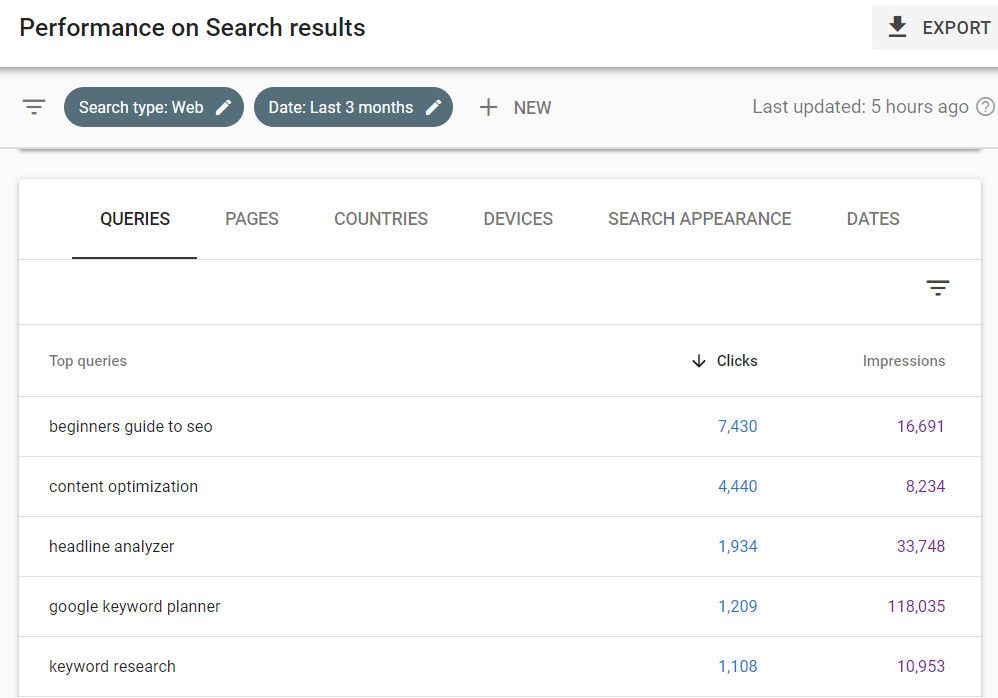 If you're not using Google Search Console yet, check out our guide on How to Connect Search Console and Google Analytics.
Or, if you're a WordPress user, you can bring your Search Console data right into your WordPress dashboard with MonsterInsights.
MonsterInsights is the best Google Analytics plugin for WordPress. It allows you to easily connect your WordPress site with Google Analytics so you can view all the data that matters most right in your WordPress dashboard.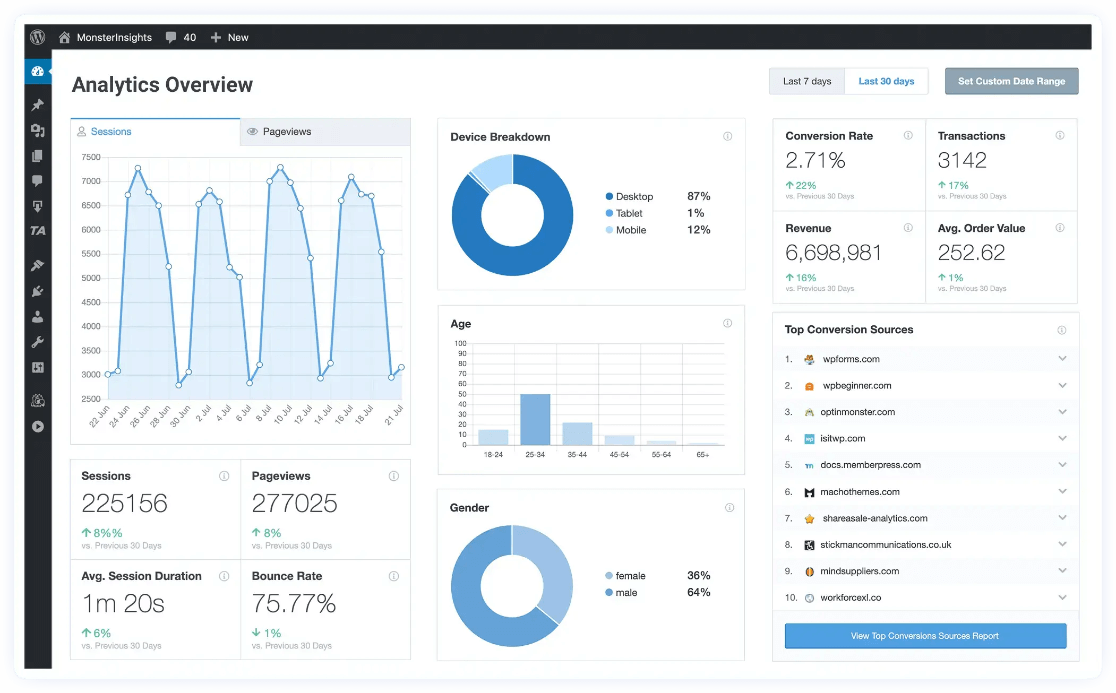 Plus, with the click of a button, you can set up sophisticated tracking features such as event tracking, eCommerce tracking, form tracking, custom dimension tracking, outbound link tracking, and more.
To view the search console report, navigate to Insights » Reports and then select Search Console from the top menu.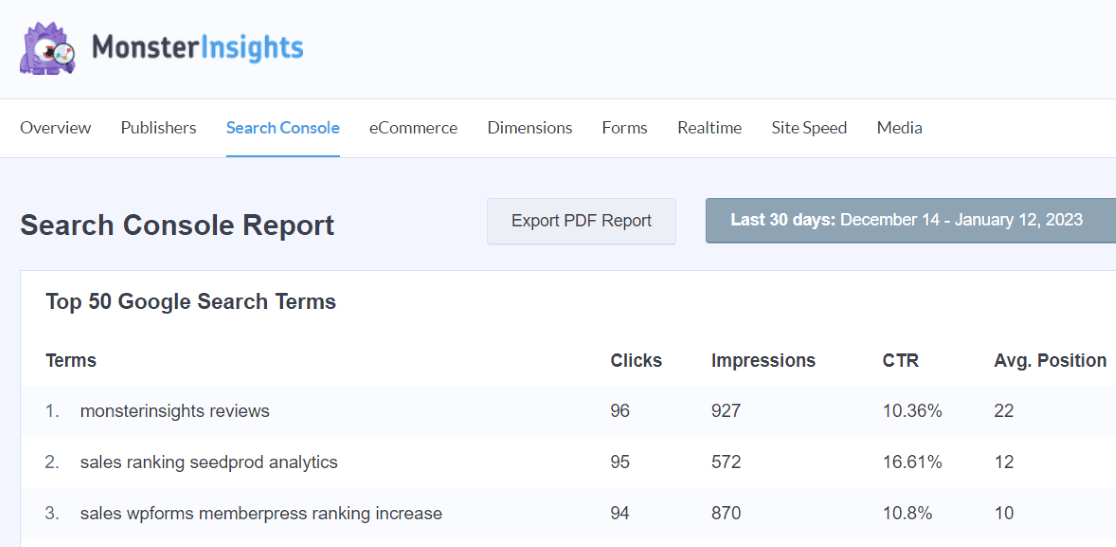 From the report, you can see your site's top Google search terms and their clicks, impressions, CTR, and average position.
To pick the best ones to work on, look for keywords that have an average position in the top 10 Google search results (or really close to it) but have a low CTR. These are your "low-hanging fruit" keywords, and they have a lot of potential to start bringing in more traffic!
Ready to find out how to improve CTR for the search terms you've picked out? Let's look at some quick and simple tricks.
Improve Your Title to Increase Click-Through Rate
When a user performs a search on the web, the first thing they'll read in search results is your title. Getting your headlines right can give you an instant surge in CTR! Here's what you can do:
1. Use Power Words in Titles to Spark Emotions
Titles that bring about an emotional response have a higher chance of getting clicks. You can use different power words to capture emotions like greed, anger, curiosity, or fear in your titles to boost your CTR.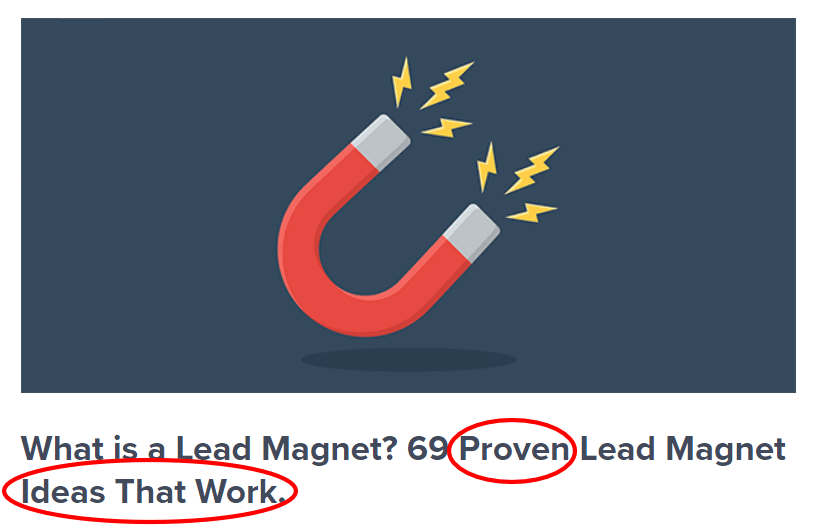 2. Add a Year
Adding the current year in your title shows that your content is up to date and will help the searcher right now.
3. Use Numbers to Create an Impact
Numbers are great at grabbing your users' attention and improving CTR, as they can help your website stand out from the rest. You can use numbers in different ways, for instance by showing the number of items in a list post, by adding percentages, by displaying the number of steps in a tutorial, and more.
4. Create Multiple Headlines
Come up with 3 to 5 titles for your post and then select the one that fits the best, or combine the best parts of several of them. You can also check these viral headline examples to help come up with CTR boosting titles.
5. Test Your Headlines
If you're a WordPress user, after coming up with a few titles, you can test each headline using the MonsterInsights Headline Analyzer in your WordPress editor.
It gives you an overall score and points out areas of improvement, like headline length, emotional words, sentiment, and more.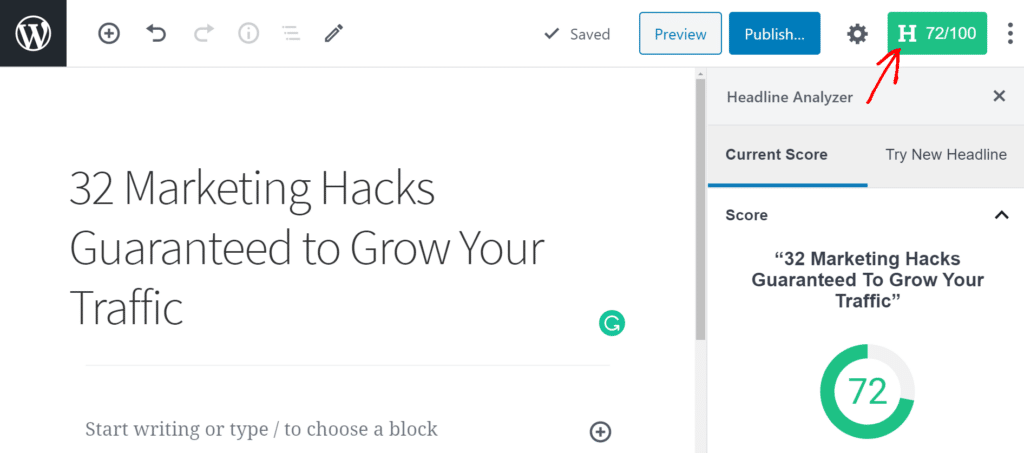 For more headline writing tips, check out How to Write a Headline: 7 Best Practices.
6. Keep Your Title Lengths Under 65 Characters
If your titles exceed the character limit (65 characters), search engines will cut them off at the end. Incomplete titles fail to capture users' attention and result in low CTR. So, make sure your headlines are within the limit.
7. Use Keywords in Titles to Create Relevance
By adding your focus keyword, your title becomes relevant to the searcher. Not only does it help in ranking, but you have a better chance of getting more clicks.
8. Try Adding Bracket/Parentheses Clarifications in Your Title
You can add bracket clarifications at the end of your title to show things like the type of content visitors can expect when they click on the link. For instance, you can specify that the link contains an infographic, tutorial, video, etc.

Improve Your Site's Description and URL for Better CTR
While titles play a big part in boosting your CTR, there are other things you should also take care of. Let's take a look at a few ways on how you can improve the way your website looks on the web, so people click on it more often.
9. Optimize Your Meta Descriptions
Your meta descriptions explain to users why they should click on your link. Just like for your titles, you should use an emotional hook and your keyword in your meta description, and stay within the character limits (about 150 – 160 characters).
10. Make URLs Descriptive and Easy to Read
When you have symbols, numbers, and special characters in your URL, it can be a negative experience for searchers and decrease your CTR. That's why it's important to make your URLs easy to read, short, and descriptive so people know what's in store for them and they click on your link.
Here's what a bad URL looks like:

Instead, try creating one that explains the purpose of the page:

11. Use an SEO Plugin to Preview Your Snippet
You can also use the help of an SEO plugin like All in One SEO to create and preview your title, description, and URL. The plugin shows how your website will look like in search results. It also displays a counter below your SEO title and meta description to indicate you're within the character limits.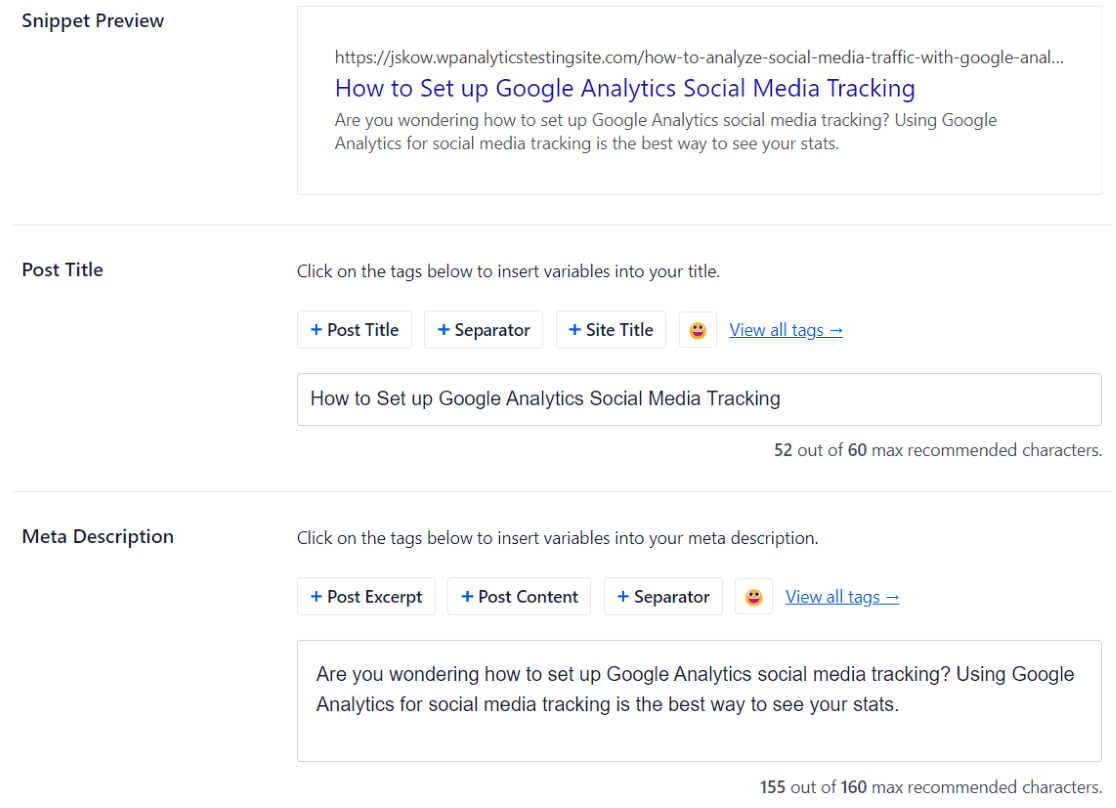 Optimize Your Content for Featured Snippets
With search engines like Google showing different info boxes and featured snippets, taking up space in the results is important.
If you can make your website appear in featured snippets, you'll see a spike in CTR and traffic. Let's see how you can capture these snippets to improve your CTR.
12. Identify Featured Snippet Opportunities
Using different SEO tools like Ahrefs (or just by running searches in an incognito or private window), you can enter the keywords you handpicked using the MonsterInsights Search Console report.
Then you can see which keywords have a featured snippet in the search results. For instance, if you enter the keyword best WordPress SEO plugins, Ahrefs will show you a preview of the top 10 results, including any snippets.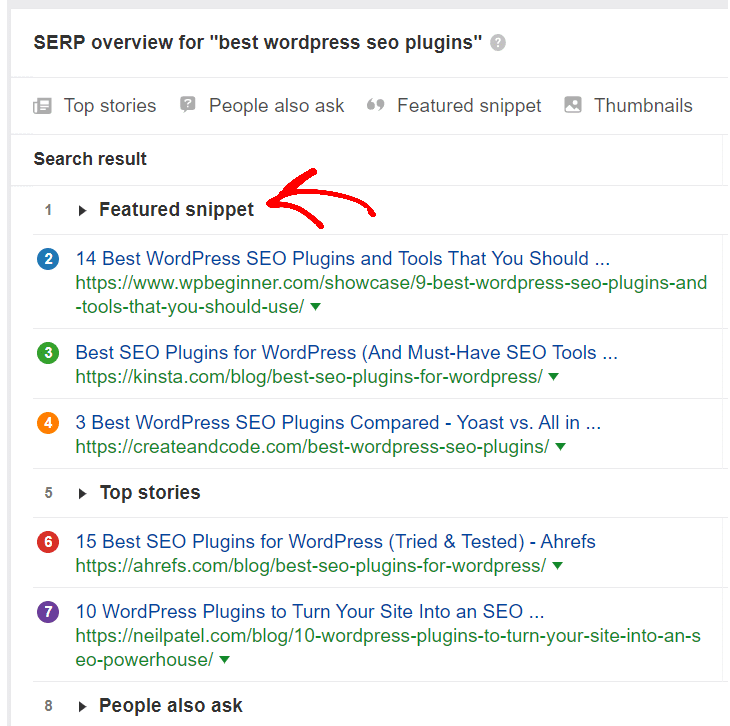 13. Create Content Type That's Showing in the Snippets
Search engines show multiple types of snippets, such as paragraphs, lists, tables, and videos. After finding which type of content is shown, you can optimize your content for featured snippets. For instance, if a list is displayed, you should also add a list to your post.
14. Add Short Summaries of Your Posts
Adding a summary of 40 – 50 words to your article or listing items as bullets help search engines use your content for featured snippets. You can also try inserting a table of contents.
15. Include the Keyword and Questions as Headings
Another way of capturing featured snippets is to use the main keyword or question as a heading and then create a recap of your post.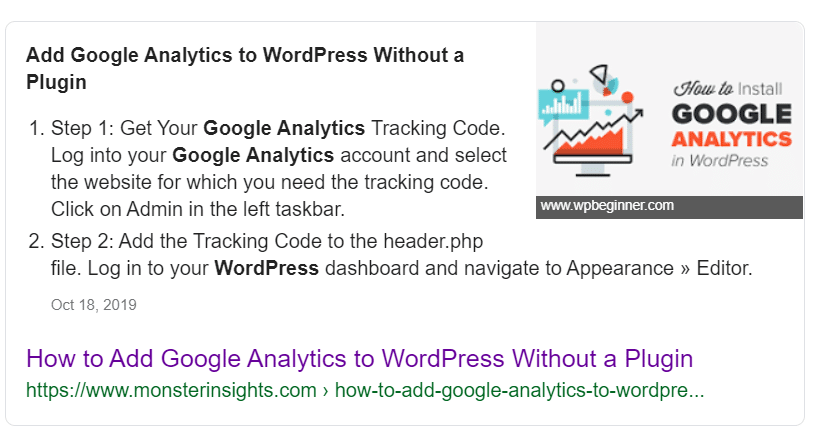 16. Use People Also Ask to Answer Common Questions
Google displays a list of questions under the People Also Ask section for different search terms. If your content can answer these questions, you can improve the CTR of your site.
To capture these boxes, write short 40 to 50 words answers and include the questions as headings.

17. Add Long-Tail Keywords for Video Snippets
You'll find video snippets in many how-to queries. To optimize your videos for featured snippets, you can add long-tail keywords in the descriptions so they have a better chance of being picked by search engines.
18. Format Your Content Using Relevant Tags
If your content is well-structured and formatted, search engines like Google will be able to easily use them as featured snippets. To organize your content, use tags like <table>, <ol>, <ul>, and <li>.
19. Use HTML Tags for Featured Snippets
Google has HTML tags that you can use to control the part of the content you want to display in featured snippets. These include:
"nosnippet" – this meta tag will specify that you don't want any textual snippet
"max-snippet:[number]" – it tells the search engine the maximum character length of the text you want to show
"max-video-preview:[number]" – if you have a video and want to display it in a snippet, then using this tag you can specify the maximum duration in seconds to preview the video
"max-image-preview:[setting]" – you can also display images in the snippet preview by specifying the size of the image as either none, standard, or large
Use Schema to Boost Your Site's CTR
Schema (or structured data) is something that you can add to your site's pages and content to try to get more space in the search results. When your result has extra content included in it, it's likely to stand out from the other results on the page and get more clicks.
An example that you've probably seen a lot of is a recipe. When you search for recipes, you'll likely see extra information in the search results, such as a picture, rating, ingredients, the time it takes to make the recipe, and more.

Besides recipes, there are other schema types that you can use no matter what kind of website you have! Let's take a look at a few of them.
20. Include a Table of Contents
By adding a table of contents in your posts, you're helping Google's algorithm to understand the different sections of your page, and possibly display them as sitelinks. While this can happen without using a table of contents, it does seem to increase your chances of seeing those extra blue links to your page's section.
A table of contents can also help improve your page's user experience by giving visitors an easy way to navigate your content.

To find out how to create an easy table of contents, check out How to Create a Table of Contents in WordPress (Plugin or Not).
21. Add FAQ and FAQ Schema
Another way to gain more space in search results is to add FAQ schema to your post. If you're ranking on the first page of results and you have FAQ set up, it's possible for your result to feature those FAQ right on the search results page:

For more on setting this up, check out How to Add FAQ and FAQ Schema in WordPress.
22. Explore More Schema Types
Depending on what type of website you have, there are other schema types that might be useful for you to improve your CTR. It can be used for products, courses, how-to tutorials, job postings, events, and more. For a WordPress schema tutorial, check out How to Implement Structured Data in WordPress (The Super Easy Way).
Additional Ways to Improve CTR
Now, let's look at some additional tips and tricks you can use to improve the CTR of your pages and keywords.
23. Move Your Site to HTTPS
To gain the trust of visitors and increase your CTR, you definitely set up a SSL (secure socket layer) certificate and move your site to HTTPS.
Old HTTP websites are no longer secure and can lower your CTR as users won't trust clicking them. You can get SSL certificates from different authorities or even from your hosting provider.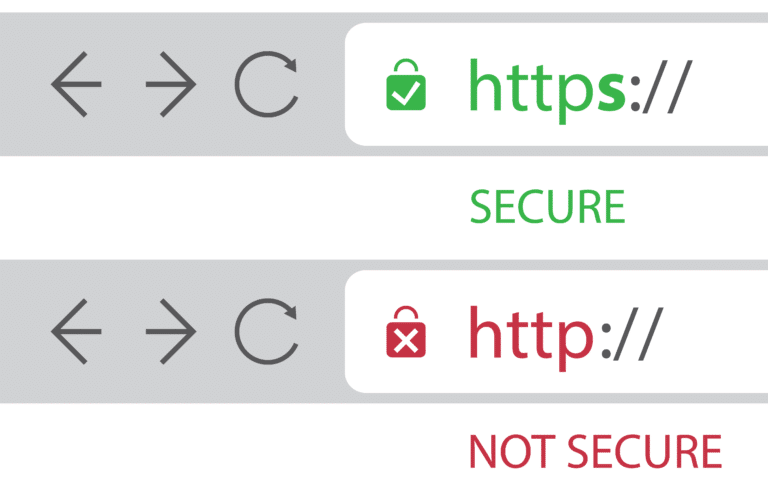 24. Run Retargeting Ads to Increase Awareness
Users that are familiar with your website or brand are more likely to click through. To increase awareness, you can run retargeting ads to visitors and boost your CTR. You can use Google Ads, Facebook, and other social media platforms to run retargeting ads.
25. Optimize for Mobile
With 63% of all organic searches in the US coming from mobile devices, it's important that your website is mobile optimized. If your site doesn't function properly on mobile, visitors will hit the back button and you'll risk the chance of low CTR.
26. Localize Your Site
By localizing your content, you can increase your site's exposure and relevance. Check out where your website's traffic is coming from, then create pages just for them.
You could incorporate the city or country name in the keywords, title, heading, or within the content of your website to make it more relevant to your visitors while boosting your CTR. (Pictured: the MonsterInsights Realtime report)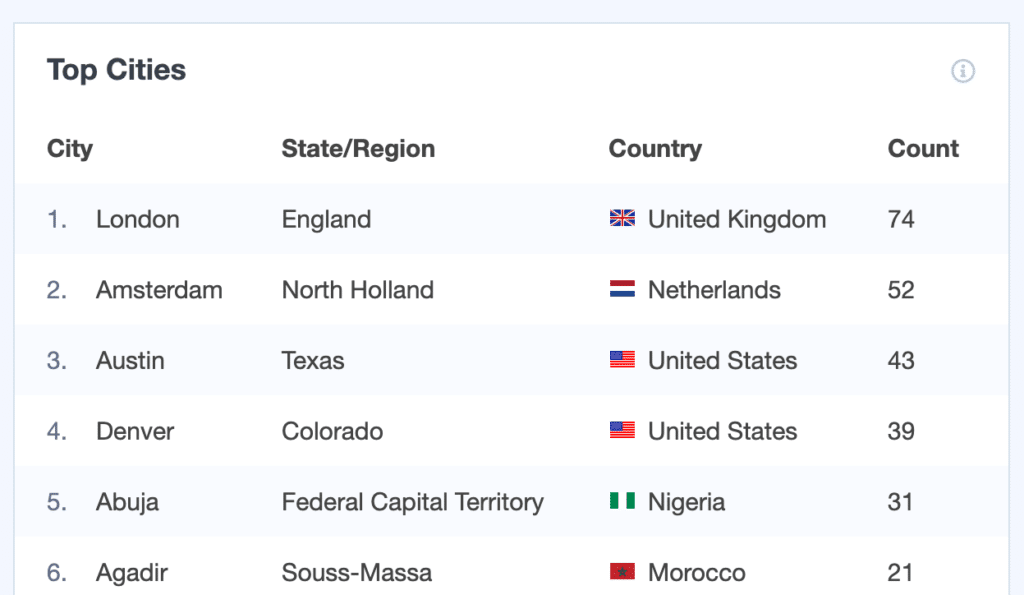 27. Improve Website Loading Speed
Let's face it, no one likes a slow loading website. If your website doesn't load in time and a visitor goes back to the search results, the click doesn't count.
Plus, Google takes your site's speed into account when ranking it in search results.
By improving your website's loading speed, you are providing a quick user experience to your visitors, which can result in boosting your click-through rate.
After you've implemented some of our 27 quick tips, keep an eye on your Search Console report.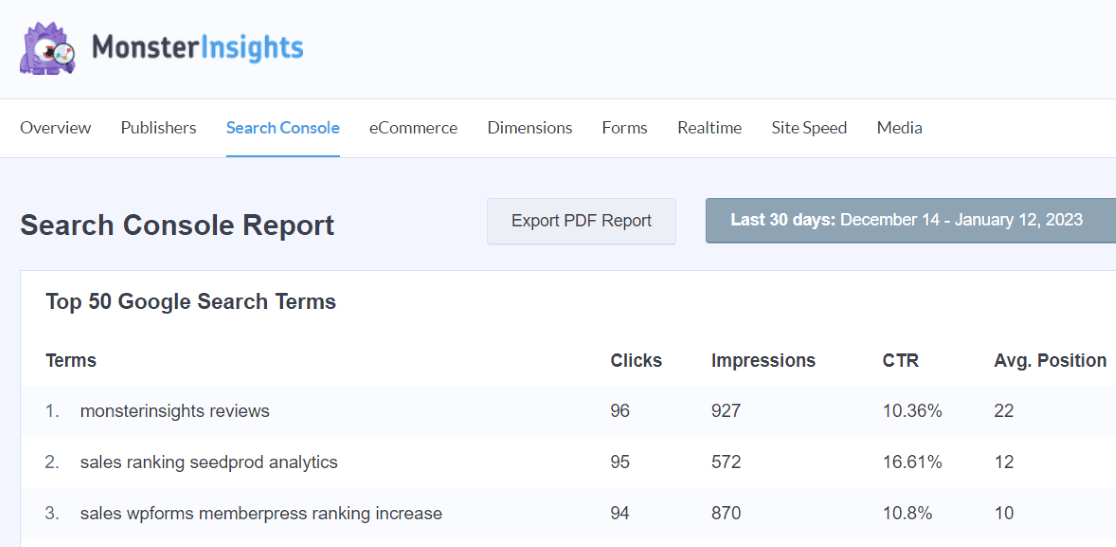 You can use the report to compare your click-through rates before you made any changes and a few weeks after. It will also help you shortlist the pages and keywords that improved and that need further attention. You can then try out different tricks listed above to better their click-through.
That's it!
We hope you liked our guide on ways to improve CTR in 5 minutes or less. You can also look at our guide on the 32 Marketing Hacks Guaranteed to Grow Your Traffic.
And don't forget to follow us on Twitter, Facebook and YouTube for more helpful reviews, tutorials, and Google Analytics tips.