Do you want to track your Contact Form 7 conversions and see how well your contact forms are doing?
By tracking your form views, conversions, and conversion rates, you can identify exactly which forms perform better and gain insights to optimize all your forms for more conversions.
In this article, we'll show you how to easily track your Contact Form 7 conversions with Google Analytics.
Video Tutorial
You can skip ahead and also view the written steps for tracking Contact Form 7 in Google Analytics.
How to Set Up Contact Form 7 Tracking in Google Analytics
When it comes to setting up Contact Form 7 conversions, the easiest way is by using MonsterInsights. It automatically tracks all kinds of forms on your website, including Contact Form 7.
You can do the entire setup process in just a few clicks. And view your reports from within your WordPress dashboard without having to leave your website.
The issue with setting up form tracking through event goals in Google Analytics is that it can time consuming and complicated for beginners.
You'll have to create goals for each form and navigating through the Google Analytics interface, which can be tricky if new users.
With that, let's look at the steps for setting up Contact Form 7 conversion tracking using MonsterInsights.
Step 1: Install MonsterInsights WordPress Plugin
MonsterInsights is the best Google Analytics plugin for WordPress. It is simple and beginner-friendly to use, and you can easily set up and configure Google Analytics without requiring any technical knowledge or editing code.
It comes with many handy addons that automatically handle setting up and tracking advanced events, including form conversions, eCommerce transactions, downloads, ad conversions, etc.
For tracking Contact Form 7 conversions, all you need to do is install the MonsterInsights Forms addon, and the plugin will take care of the rest. Do remember that you'll need MonsterInsights Pro to access the addon.
Here are a few benefits of using MonsterInsights:
Easily set up and track form conversions without touching any code. You would need to hire a developer for setting up forms tracking otherwise.
Configure form tracking options and view reports within your WordPress dashboard – way more convenient than using Google Analytics' platform by itself.
Get the real-time report of your contact form views, conversions, and conversion rates in the most comprehensive and beautiful interface.
Identify which forms trigger the most conversions and optimize low-converting forms.
Supports all the major WordPress form plugins, including Contact Form 7, Gravity Forms, and WPForms.
Step 2: Connect Google Analytics with Your Site
Once MonsterInsights is installed and active on your website, the next thing to do is connect Google Analytics with your WordPress site.
Conventionally, you'd have to edit the website code and enter a tracking code. But with MonsterInsights, there's no need to touch a single line of code.
Using its setup wizard, adding Google Analytics to a WordPress site very easy. Just follow the steps, and you'll be ready to track Contact Form 7 conversions in no time.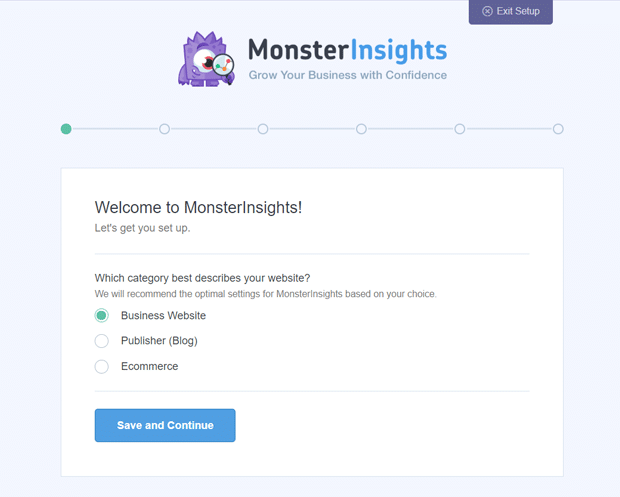 Follow our step by step guide on how to properly add Google Analytics to WordPress.
Step 3: Install MonsterInsights Forms Addon
After the Google Analytics authentication is complete, you'll now have to install the MonsterInsights Forms addon.
Simply go to Insights » Addons and find Forms Addon. Then, click the Install button.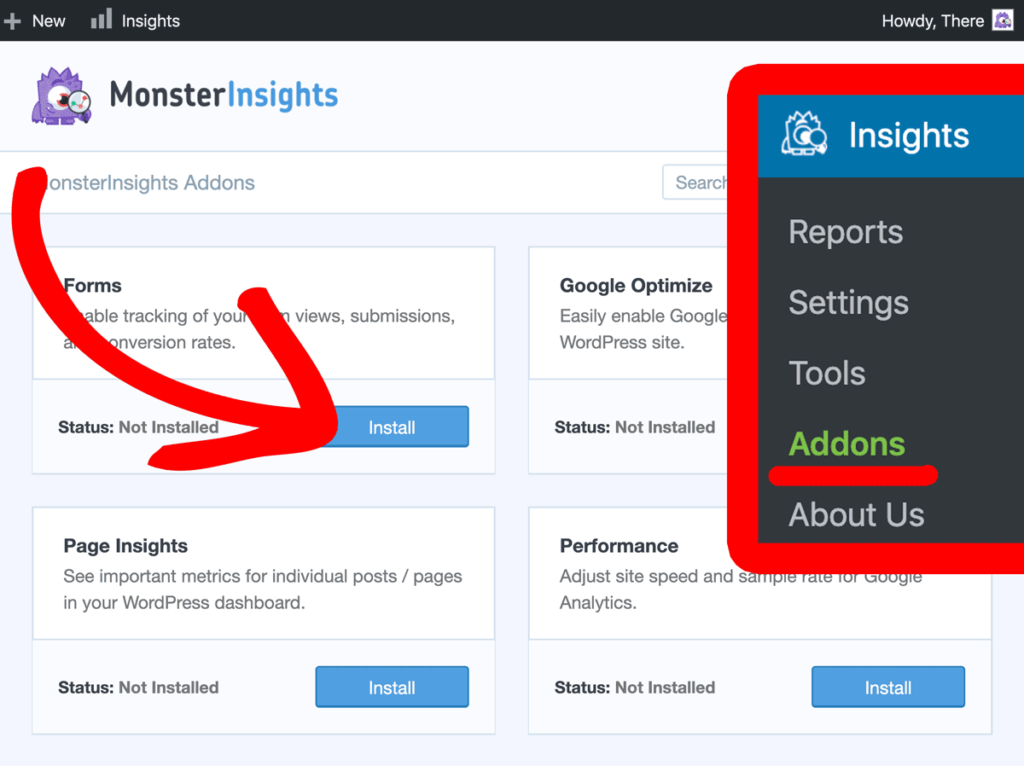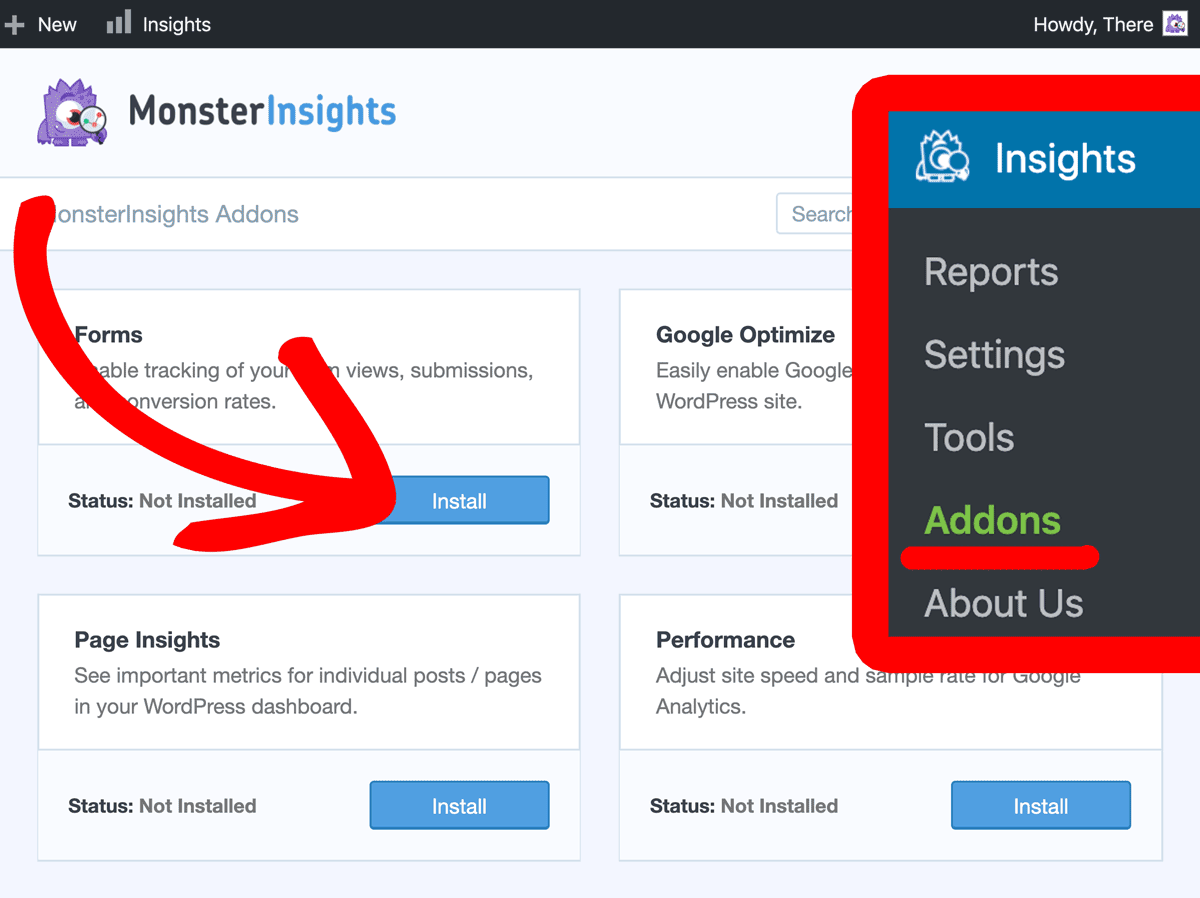 After the addon is installed, it will automatically activate and you'll see the status change to Active.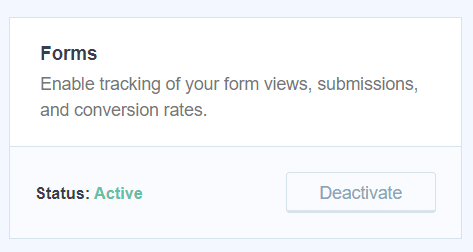 That's it! You don't need any further configuration. MonsterInsights automatically starts tracking your Contact Form 7 form conversions.
But it will take some time before your form conversion reports appear in MonsterInsights.
Note: Google Analytics normally takes 24 to 48 hours to track an event like form submission, so it may take some time to prepare your first form report. But, once configured properly, it prepares real-time reports every time it's refreshed.
How to View Contact Form 7 Conversions
After you've installed and activated the Forms addon, you can now view your Contact Form 7 conversion reports in your MonsterInsights Reports interface directly from your WordPress dashboard.
To view the reports, all you need to do is to navigate to Insights » Reports. To view form reports, go to the Forms link and click it. Then, you'll see your Contact Form 7 reports, just as shown in the screenshot below.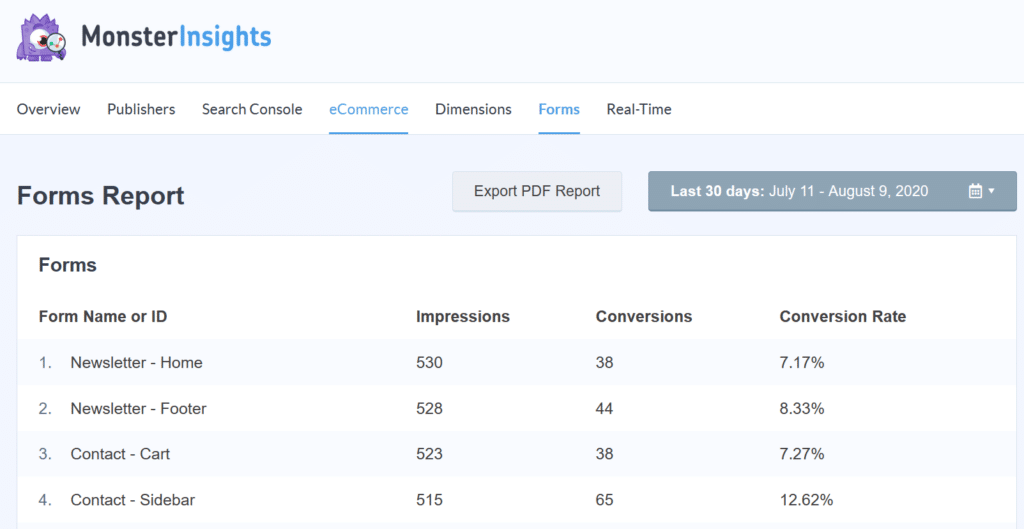 There, you can view the number of impressions, conversions, and conversion rates for each of your forms.
If you want to view further details regarding your form conversions, click the View Full Forms Report button at the report's bottom.
This will redirect you to Google Analytics » Behavior » Events » Top Events.
Now, you can view the total impressions and conversions triggered by your forms on this page.
If you want to view the impressions for each of your forms individually, then you'll need to click on the Event Label link in your Forms report Primary Dimension.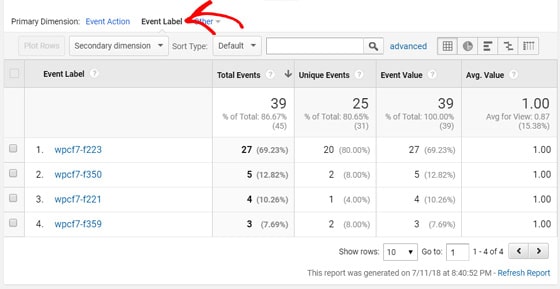 As you can see in the above screenshot, you'll be able to view the total events for each of your Contact Form 7 forms individually. "Events" here refers to both the impressions and conversions.
So, that's how you can set up form tracking for your Contact Form 7 conversions and view reports in Google Analytics.
That's it!
We hope this article helped you learn how to set up form tracking for your Contact Form 7 forms. If you found MonsterInsights useful for form tracking, download it today!
You can also go through our article on MonsterInsights vs. Google Analytics and the best WordPress contact form plugins.
Also, don't forget to follow us on Twitter and Facebook for more Google Analytics tutorials.