Do you want to learn the differences between Google Tag Manager vs. Google Analytics? Wondering if you need to use both of these tools on your website? Well, you're about to find out.
Google Tag Manager and Google Analytics are tools created by Google to help website owners understand their site performance and implement digital marketing strategies. Although they may seem similar at first glance, they serve distinct purposes.
In this article, we'll explore both Google products to give you a better understanding of their differences and uses. So, buckle up for a beginner-friendly dive into Google Tag Manager vs. Google Analytics.
Is Google Tag Manager the Same as Google Analytics?
No, Google Tag Manager and Google Analytics are not the same. They are two unique tools with different abilities and different purposes. Google Tag Manager and Google Analytics can be used separately or in combination with each other, but neither one is a replacement for the other.
With that, let's figure out the differences between Google Analytics and Google Tag Manager.
Google Tag Manager vs. Google Analytics
The Simple Version: Google Analytics & GTM
First, let's use a simple analogy to understand the fundamentals of how Google Tag Manager works in relation to Google Analytics…
Think of your website as a library where site tags are the books. Your Google Analytics tag is one particular book that provides information on your website traffic and visitors.
Now, if you only ever have one book in the library, it's pretty easy to keep tabs on it. You probably wouldn't even think about creating a catalog. But, what if you realize you need more books? For example, you might add a new "book" on form conversions, another one for Google Ads, and so on.
You could just continue tossing them in there without a second thought, but eventually, you'll be spending a lot of time sifting through the whole library (your website) anytime you need to locate a specific book (tag).
So, that's where a tag management system comes into play. Google Tag Manager can act as the librarian's catalog. It's an optional tool that provides a system for adding, removing, editing, and finding your tags in the future.
Just remember, having a catalog doesn't mean you automatically have books. Similarly, GTM doesn't determine what tags are on your website, it just helps you organize and use the ones you create.
Not so complicated, right? Since you've got the basic idea now, we'll dive into the more technical stuff next.
What Does Google Analytics Do?
Google Analytics is a free web analytics service offered by Google that helps collect, process, and analyze visitor data on your website.
Using this data, Google Analytics can show you where your traffic is coming from, the web pages users visit, how long they stick around on your site, and more.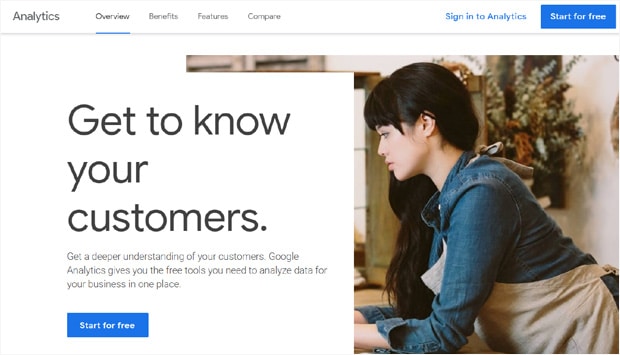 Google Analytics 4 is an incredibly powerful tool for business growth and site optimization. Plus, it can be integrated with other tools like Google Ads and Google Search Console for SEO to offer a more streamlined workspace.
Google Analytics uses a code snippet, placed on all web pages, to track basic user interactions (events) such as page views and link clicks. This is an example of what the code looks like.

This tracking code enables Analytics to provide your site metrics, in the form of Google Analytics reports. That said, some of the most important interactions don't get tracked with the regular Google Analytics tracking code.
To track things like form submissions and eCommerce, you need to create custom events and add additional code to your website, which often means hiring a developer.
What Does Google Tag Manager Do?
Google Tag Manager (GTM) is a free solution, provided by Google, to effectively handle tags on your website or mobile app that transmit data to third parties, including Google Analytics.
Essentially, Google Tag Manager provides a central location to add, edit, or remove tags without meddling in your site code.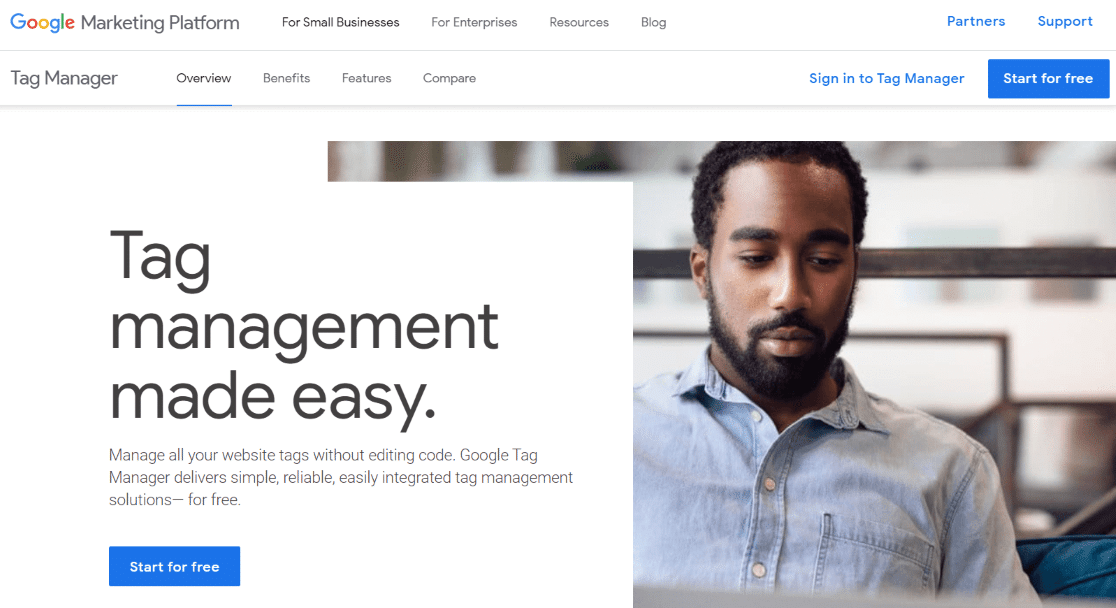 Google Tag Manager can also help non-developers add slightly more advanced tracking to their website using pre-made tag templates, rule-based triggers, and built-in variables.
For example, you might want to create custom tags to track things that your Google Analytics tag (gtag.js) doesn't track automatically, such as call-to-action buttons or a click-to-call link.
A GTM container is placed in your site's data layer and works like a middleman. It observes site interactions and then fires tags (HTML and JavaScript code snippets) based on your configurations.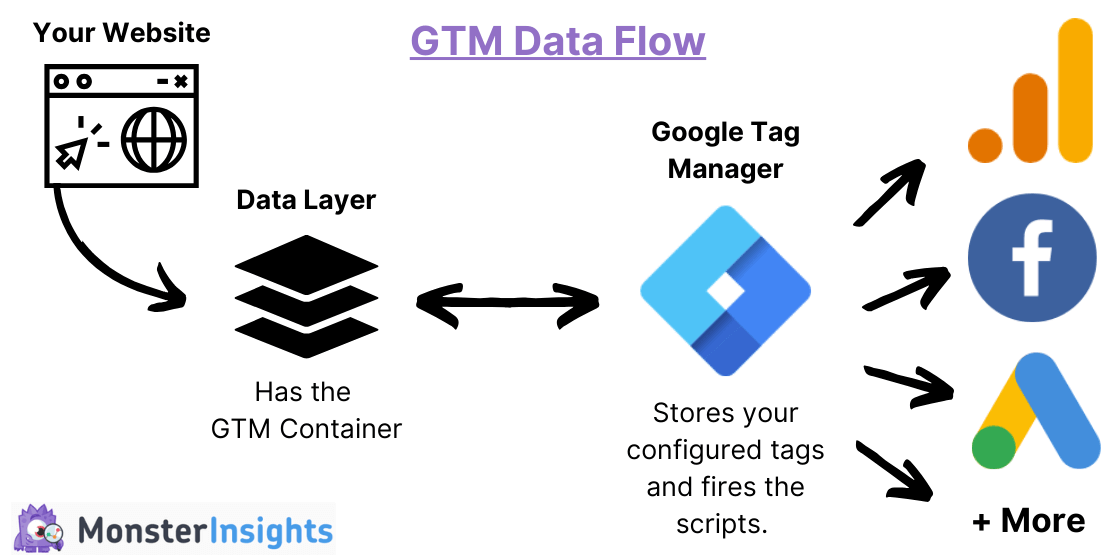 For instance, a Google Tag (which replaced the GA4 Configuration Tag) will route information to Google Analytics and various other Google services.
You can also use the Tag Manager interface to control tags that send data to other analytics tools and marketing platforms like Hotjar or LinkedIn. Using GTM to implement a Facebook pixel for your social media ads and remarketing is a common example of this.
Should I Use Google Tag Manager?
Understanding how Google Tag Manager differs from Google Analytics is one thing, but deciding whether or not to use it on your site is a whole other dilemma. So, let's unpack the logistics to see if it's a good fit for you.
As you've learned, GTM is a tool that allows you to manage and deploy marketing tags (snippets of code and tracking pixels) without having to modify your website's source code. These are a few popular tags that people use in Google Tag Manager:
However, for many, it can be a double-edged sword; while Google Tag Manager presents powerful flexibility, it also comes with potential challenges. Even though you don't have to add individual snippets to your website code, GTM's user interface isn't very intuitive.
The learning curve is quite steep, and it can take a long time to set up and get working properly, especially for beginners or non-technical users. And, if tags are not correctly configured, they might not fire or track as expected, which can lead to flawed data.
So, is there an easier alternative to Google Tag Manager?
If you're a WordPress user, you're in luck!
Best Google Tag Manager Alternative for WordPress
MonsterInsights is the most powerful and user-friendly Google Analytics plugin for WordPress. It's designed to make setting up Google Analytics as easy as a few clicks. There's no need to configure tags in GTM or manually add code snippets to your site. You get to get advanced GA4 tracking, right out of the box.
In fact, you don't even need to open your Google Analytics account. MonsterInsights brings all your important Google Analytics reports straight to your WordPress dashboard.
If you're a WordPress user wondering about Google Tag Manager vs. Google Analytics, MonsterInsights can save you a ton of time.
Take a look at a few of the common GTM tracking needs that MonsterInsights handles in a matter of minutes.
| | Google Tag Manager | MonsterInsights |
| --- | --- | --- |
| Initial Setup | Manually insert GTM container code on your website. | No-code setup wizard |
| eCommerce | Multiple manual configurations. | 1-click set up |
| Form Submissions | Multiple complicated methods depending on the form type, may not work for every form without hiring a developer. | Automatic |
| Ad Conversions | Create new tags and set up triggers. | Easy tracking for Google, Facebook, and Bing Ads |
| Scroll Depth | Manual configuration. | Automatic |
| YouTube Videos | Manually set up tags, triggers, and variables. | Automatic |
That's just scratching the surface of everything MonsterInsights can do!
So, if you're a WordPress user looking for a simpler, reliable, and time-efficient alternative to Google Tag Manager, MonsterInsights is the solution.
FAQs – Google Tag Manager vs. Google Analytics
1. Does GA4 Replace GTM?
No, GA4 (previously Universal Analytics) does not replace GTM. While sometimes used interchangeably, these tracking tools operate quite differently. Google Analytics processes and presents data from tracking tags in a comprehensive, understandable format. Meanwhile, Google Tag Manager helps website owners manage and implement different types of tags on their sites.
2. What is the main difference between Google Tag Manager and Google Analytics?
The main difference between Google Tag Manager and Google Analytics is their primary functions. At the fundamental level, Google Analytics is all about data collection and analysis. On the other hand, Google Tag Manager is all about tracking management.
3. Can I use GA4 without Google Tag Manager?
Yes, you can use Google Analytics without Google Tag Manager. The two tools perform different but complementary tasks. GA4 enables you to analyze visitor data on your site while GTM simplifies the process of implementing tracking codes on your site without the need for hard coding.
4. Can I use Google Tag Manager with MonsterInsights?
Yes, you can absolutely combine MonsterInsights with Google Tag Manager. Doing so gives you all of the awesome features of MonsterInsights along with the flexibility to set up very specific custom events. If you do decide to use GTM alongside the plugin, make sure to check out this article. There are a few precautions to ensure none of your data ends up being double-tracked.
Well, that's all for this post. We hope this article helped you better understand Google Tag Manager vs. Google Analytics.
Want to do more with your online business and Google? Learn step-by-step How to Embed Google Business Reviews on Your Website.
Not using MonsterInsights yet? What are you waiting for?
Don't forget to follow us on Twitter, Facebook, and YouTube for the best WordPress tutorials and Google Analytics updates.