Are you wondering what the difference is between WordPress categories vs. tags, and how you can track them in Google Analytics to see which are the most popular?
You're in luck! There's a super easy way to track them, along with a lot of other important stats about your WordPress website.
In this article, we'll fist take a look at the differences are between WordPress categories vs. tags. Then, we'll go over the easiest way to track them in Google Analytics.
Start Tracking Your WordPress Categories Today!
WordPress Categories vs. Tags
When you're first starting out with WordPress, categories and tags can be confusing, and it might be a little hard to decide how you want to organize your content. We'll help you figure out what to do!
WordPress categories are used as the primary way to group and sort content on your website. They can sort your content into groups that make sense.
For example, on a news site, categories might be world news, local news, opinion, business, and sports.
Keep in mind, if you have a particularly big website with a lot of topics, you can create sub-categories as well. An example of this would be a site that publishes book reviews and other book-related content. Book reviews might be a category, and each genre of review would be a sub-category.
WordPress tags also help you sort and organize your content, but on a smaller scale than categories. While categories are a broad range of topics, you can think of tags as specific keywords to describe the content.
For example, on the same news site, tags might include specific towns in the local news section, politics in the opinion section, and high school football in the sports section.
In short, both categories and tags help with WordPress content grouping.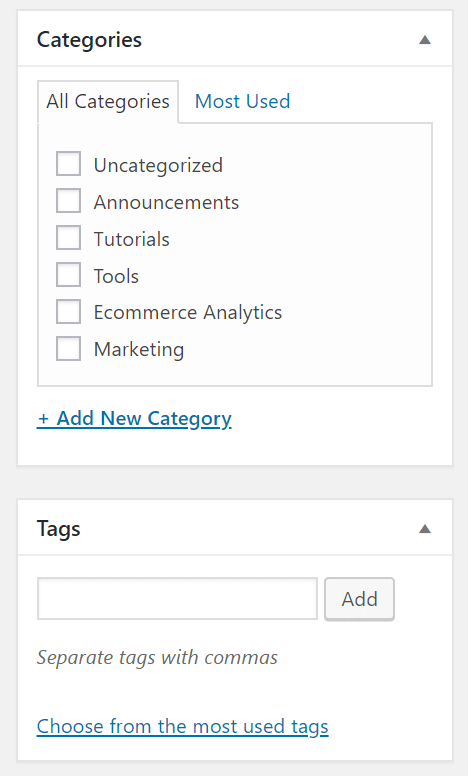 For more information and a tutorial on creating categories and tags, you can check out this guide on how to set up categories in WordPress.
Now, we can check out how to track your categories and tags in WordPress and Google Analytics to see which ones are the most popular.
How to Track WordPress Categories and Tags
Want to know which categories and tags on your site are the most popular with your visitors? If you know which ones are popular, you can shift your focus there to bring in as much traffic as possible.
To set up tracking, we're going to use MonsterInsights.
MonsterInsights is the best Google Analytics plugin for WordPress. It allows you to easily connect your WordPress site with Google Analytics so you can view all the data that matters most right in your WordPress dashboard.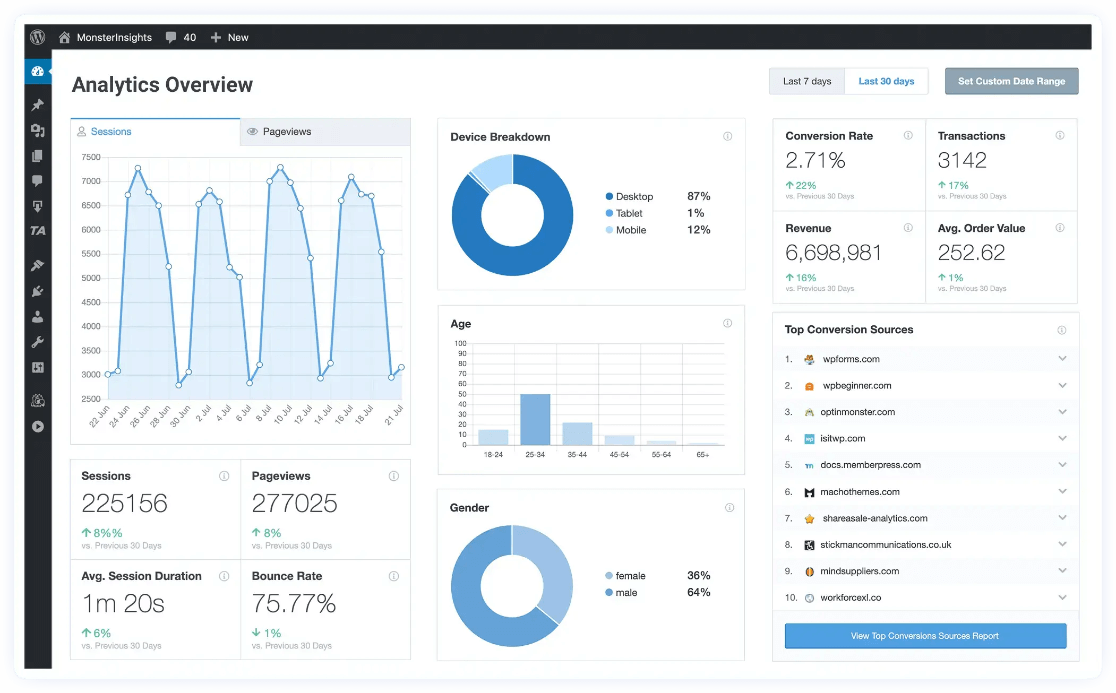 Plus, with the click of a button, you can set up sophisticated tracking features such as event tracking, eCommerce tracking, form tracking, custom dimension tracking, outbound link tracking, and more.
Specifically, we're going to use the MonsterInsights custom dimension tracking feature.
What are Custom Dimensions?
Custom dimensions allow you to collect and analyze data that matter to your website that Google Analytics doesn't automatically track out of the box, like Categories, Tags, Author, logged-in users, and more.
Custom dimensions are just like the default dimensions that you can find in Google Analytics (regions, pages, traffic sources, etc.), except you create them yourself by clicking a couple buttons inside MonsterInsights.
For more details, you can read the beginners guide to custom dimensions.
Setting Up Custom Dimensions to Track Categories and Tags
Setting up custom dimensions on your website can be a hassle, especially if you're not an Analytics expert, since you have to modify your tracking code.
But with MonsterInsights, you can easily set them up without having to touch a single line of code. All you need to do is to install the Custom Dimensions addon to set up category and tag tracking.
Follow the steps below to start tracking WordPress categories and tags on your website!
Step 1: Install MonsterInsights
The first thing you need to do is to install MonsterInsights on your site and properly connect it with Google Analytics.
For custom dimension tracking, you'll need the Pro license of MonsterInsights. Once you get it downloaded and installed, you can move on to the next step.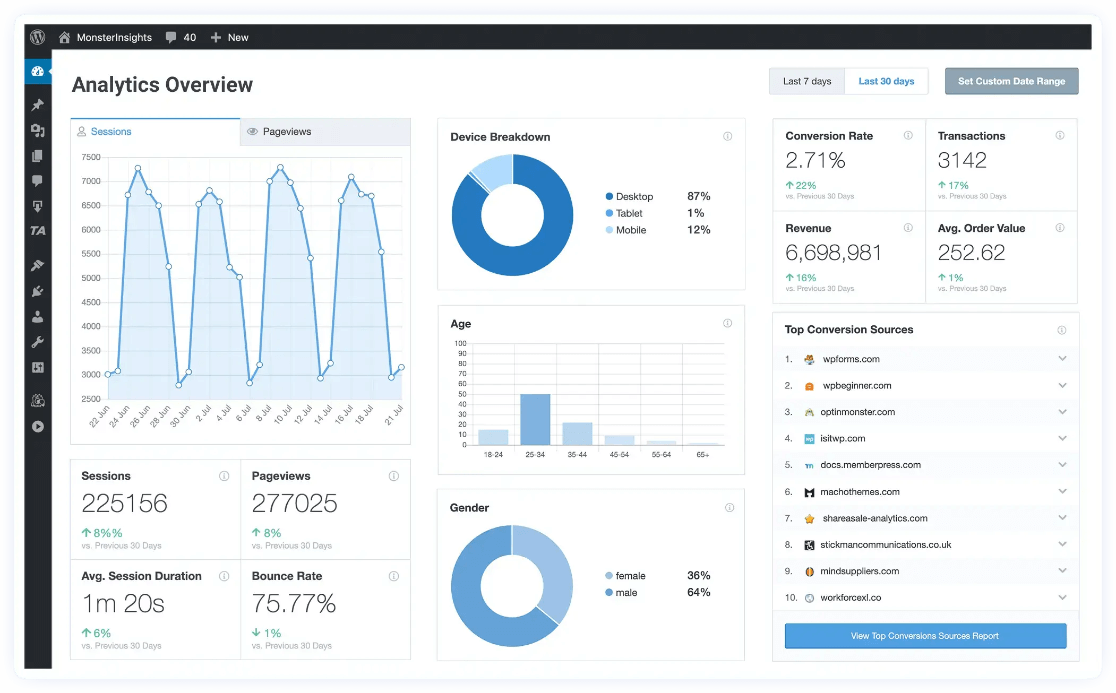 For a step by step tutorial on setting up MonsterInsights, check out how to properly set up Google Analytics with MonsterInsights.
Step 2: Set Up Categories And Tags Tracking
To track WordPress categories and tags, you need to install the Custom Dimensions addon.
To install the addon, go to Insights » Addons and click Install under Dimensions.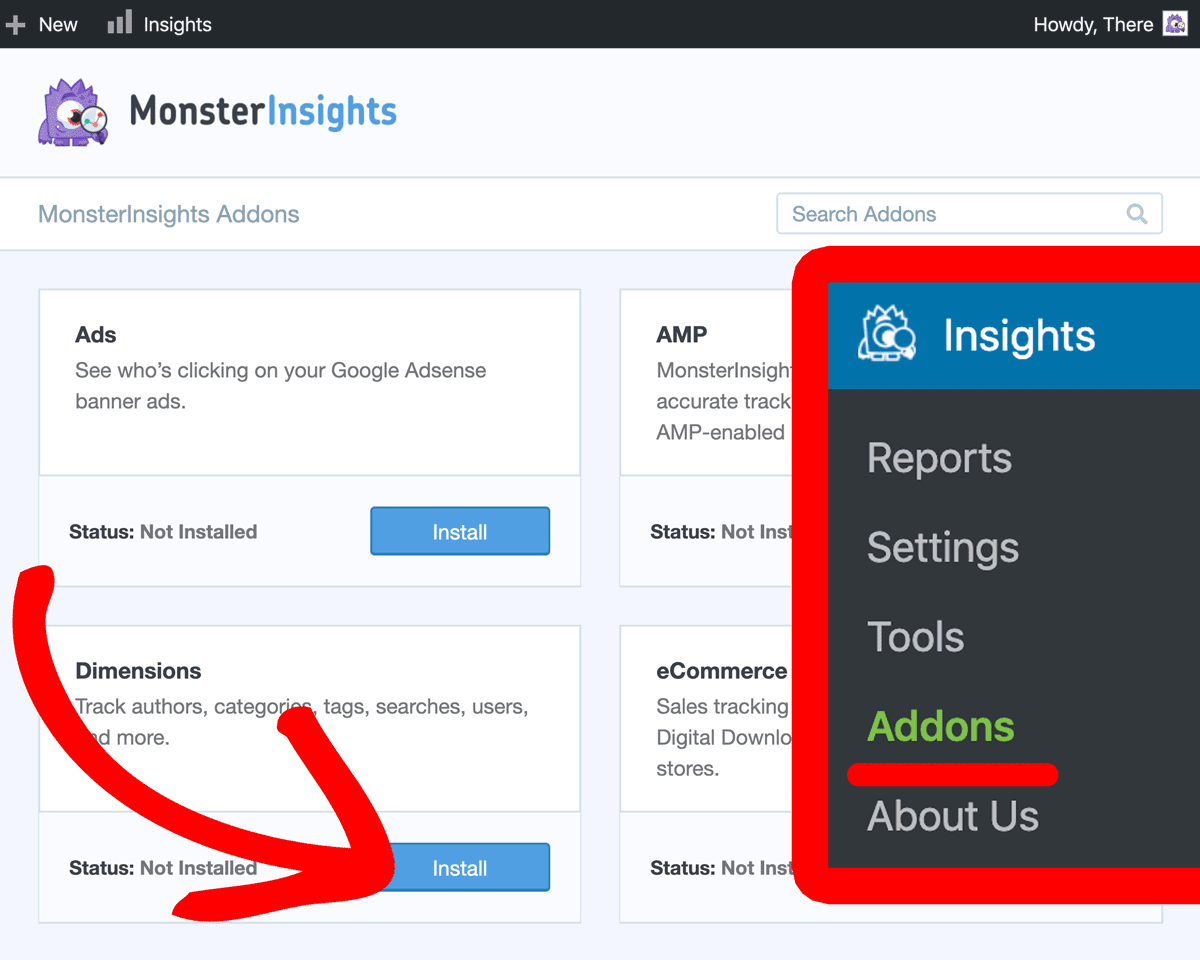 Then go to Insights » Settings. Once there, you can click on the Conversions tab on the upper tab row, and then navigate to the Custom Dimensions. Click the Add New Custom Dimension button.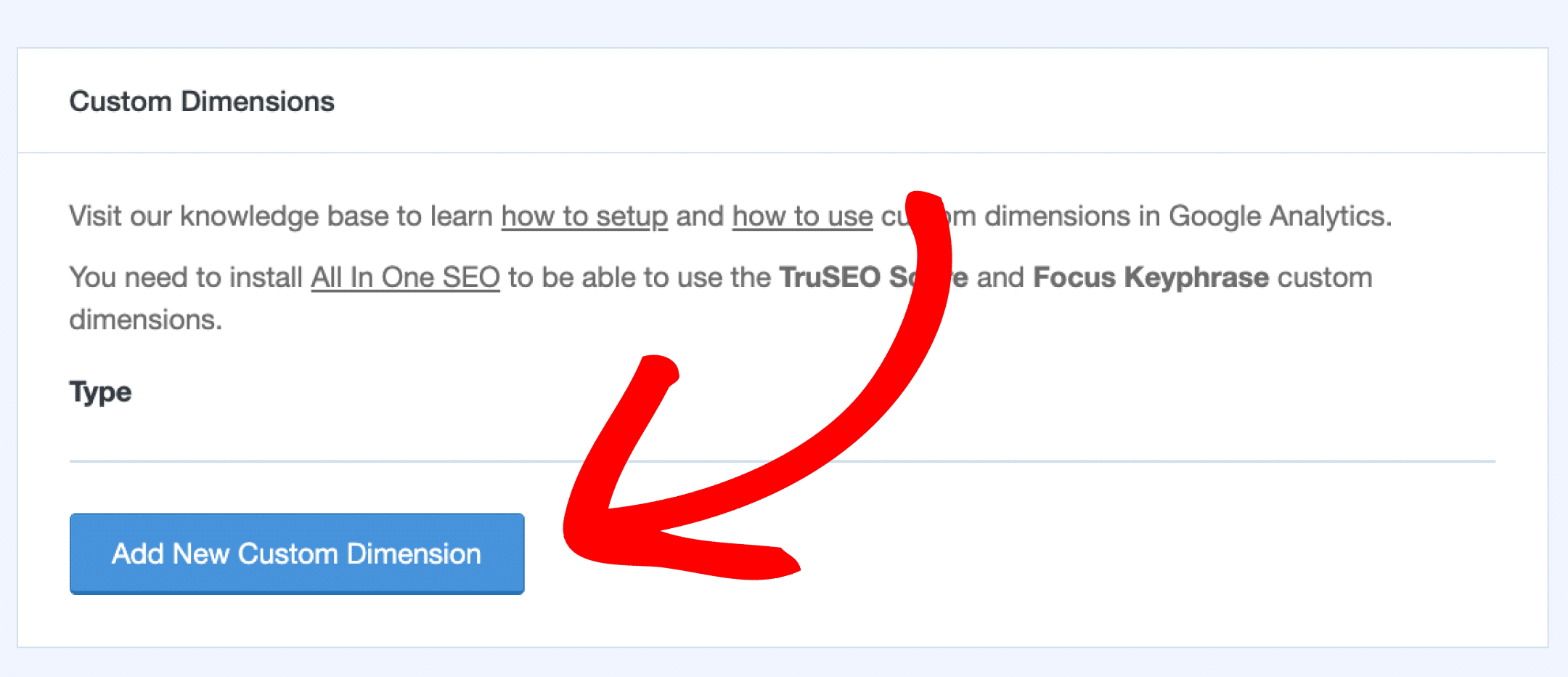 You can now select the Type from the dropdown menu for tracking. Select whether you want to track category or tags. To set up both categories and tags, pick one first, then the other.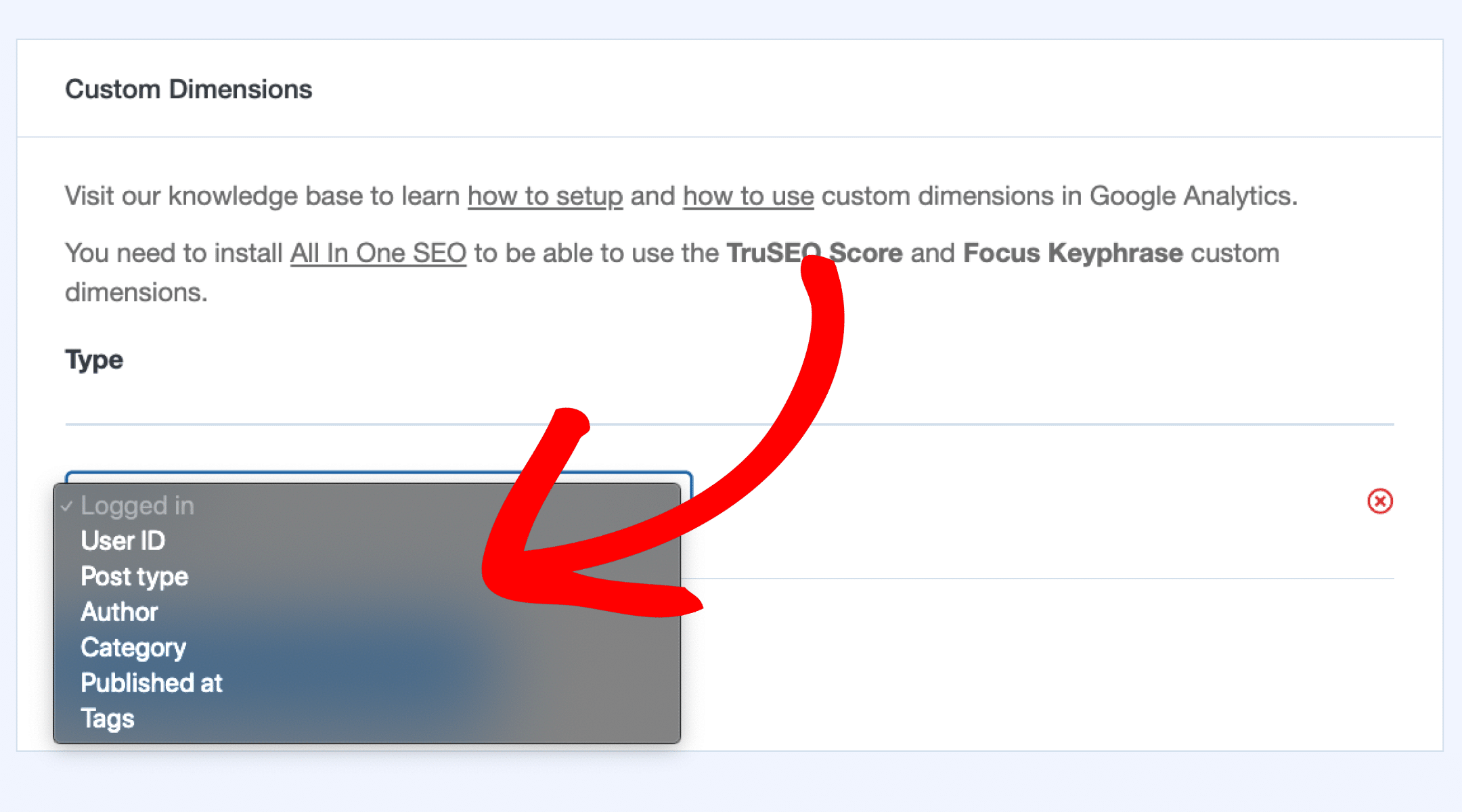 After data is collected, you can go to Insights » Reports and click on the Dimensions tab to view your new custom dimension reports.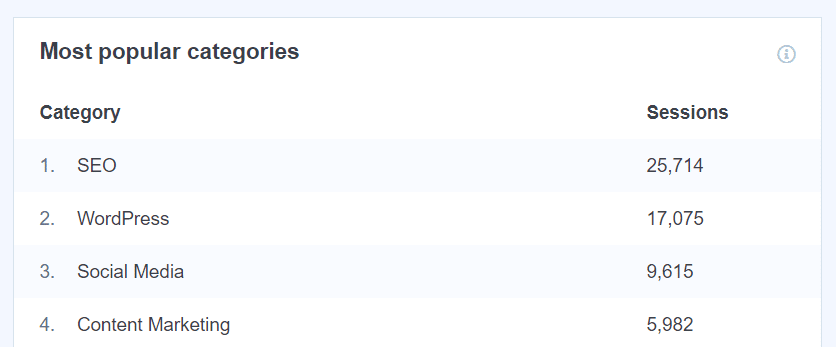 How to View WordPress Categories in Google Analytics
To find custom dimensions reports in Google Analytics 4, head to a report that you want to add a dimension to.
For the sake of this example, let's add a custom dimension as a secondary dimension to your Pages and screens report. Navigate to Reports » Engagement » Pages and screens: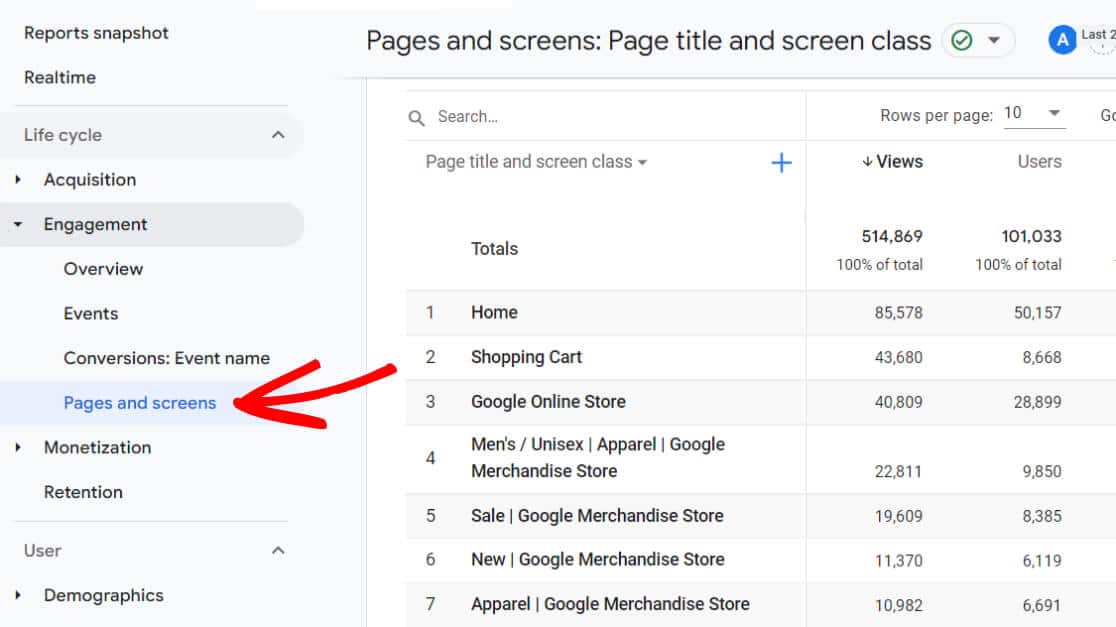 Now, click the blue plus sign next to page title and screen class in the table:
Now, you can choose the dimension you want to add. For Author, click Custom (Event-scoped) » Author: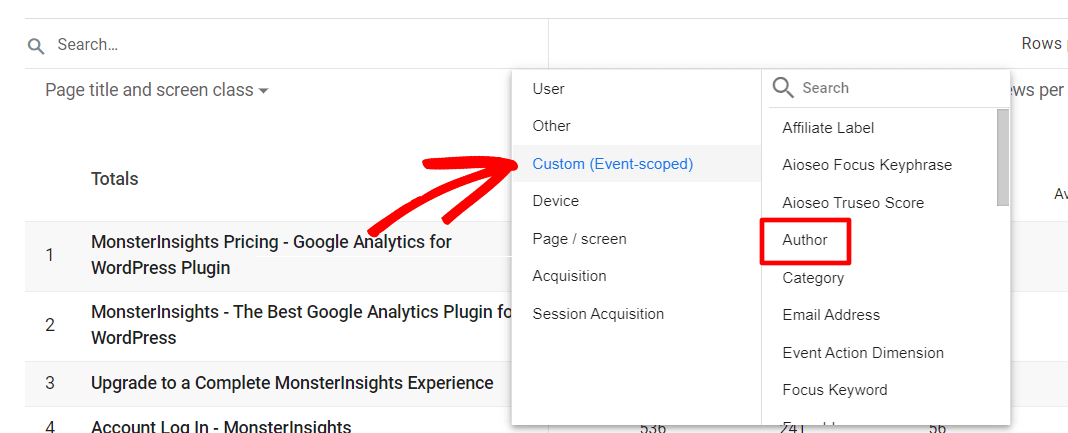 Now, if you have the Author dimension set up, you'll see your page views with the author included:

For more details, check out The Beginner's Guide to Google Analytics Custom Dimensions.
Start Tracking Your WordPress Categories Today!
We hope this article helped you set up WordPress categories and tags tracking in Google Analytics.
Do you want to filter out your own traffic in Google Analytics? Then find out how to stop Google Analytics from tracking logged-in users in WordPress.
Please follow us on Twitter, Facebook and YouTube for more tutorials and Google Analytics tips.