Are you looking to enhance your website's credibility? Would you like to showcase what customers or clients have to say about your brand? If so, learning how to embed Google business reviews on your site is the perfect first step.
It may seem like a time-consuming task at first, but displaying Google Reviews on a website is actually pretty quick and painless, even for non-tech-savvy users. So, are you ready to give your site that extra boost?
In this article, we'll show you the best and easiest way to embed Google business reviews on a WordPress website. Let's jump right in…
Can You Add Google Reviews to Your Website?
Yes! Not only is it possible to add Google Reviews to your website, it's pretty straightforward. With the right tool for the job, you can embed reviews on your website in a matter of minutes.
Then, visitors will be able to see what customers think of your brand right on your site, which brings immense value to your business. In fact, displaying reviews from trustworthy sites can boost sales by a whopping 270%!
What's the Best Google Reviews Tool for WordPress?
Reviews Feed Pro is a review aggregator plugin by Smash Balloon that makes embedding business reviews on WordPress an absolute breeze.
With nearly 2 million users including major brands like Coca-Cola and Indeed, Smash Balloon is well-loved for its easy and effective social feed plugins, allowing users to integrate content from social media platforms like Instagram, YouTube, and Twitter into their WordPress websites.
Similarly, the Reviews Feed Pro plugin lets users seamlessly embed business reviews from Google, Yelp, Trustpilot, Trip Advisor, Facebook, and WordPress.org on a website.
The best part? You won't have to spend tons of time manually finding and embedding reviews. Instead, the plugin automatically collects and displays reviews from multiple sources in one cohesive layout.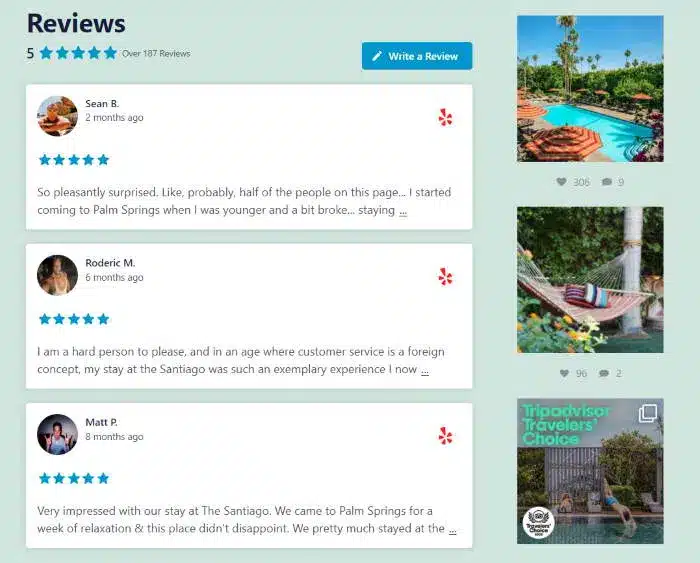 It offers plenty of customization and moderation features, and you won't need to use any code.
So with that, let's see exactly how to embed Google Reviews on WordPress.
How to Embed Google Reviews: Video Tutorial
How to Add Google Reviews to a Website
Just follow the 5 easy steps below to embed Google business reviews on your WordPress website in no time.
Step 1: Install Reviews Feed Pro
The first step is to install Reviews Feed Pro on your site. Head to the SmashBalloon pricing page and grab the license that works best for you.
If you plan to embed other types of social content on your site, like Instagram feeds, Twitter feeds, and YouTube video feeds, we recommend the All Access Bundle.
The bundle includes all 5 of Smash Balloon's Pro plugins as well as the Social Wall, which lets you combine content from different feeds into one aesthetically pleasing design.
Only embedding reviews? No problem, you can purchase Reviews Feed Pro by itself or try out the free version with limited features.
After purchase, download the plugin's ZIP file and install and activate it on your website. If you're not familiar with installing plugins, check out this beginner-friendly guide on how to install and activate WordPress plugins.
After that, you'll need to enter your license key, which can be found in your purchase confirmation email or in your account area of the Smash Balloon website, under the Downloads tab.

Press Activate after you've pasted your license key.
Step 2: Create a New Reviews Feed
To begin creating a feed for your Google Business reviews, click Reviews Feed in your WordPress menu. Click on the Add New button.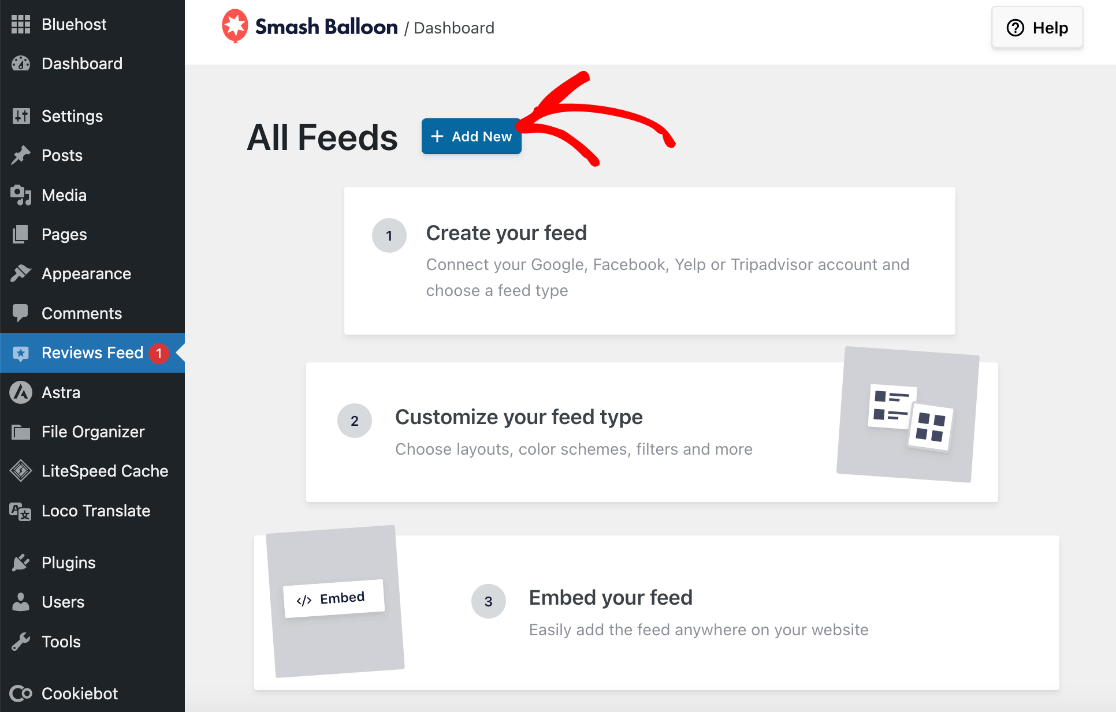 On the next screen, you'll need to select a source for your reviews. Click the button that says + Add Source.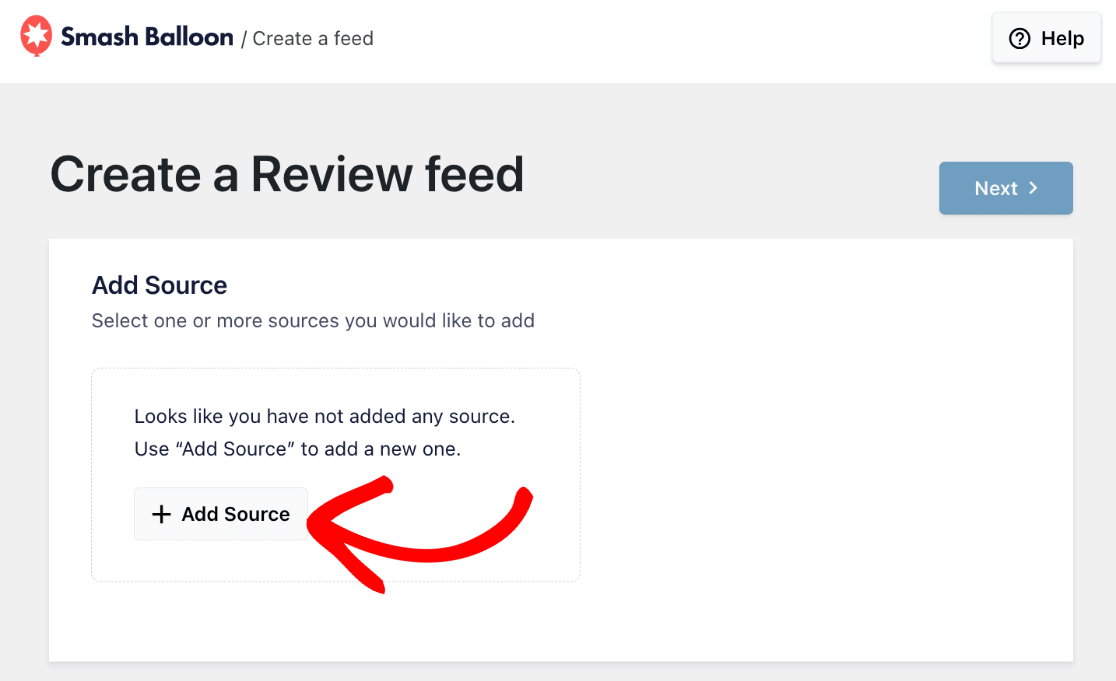 A popup will appear asking you to choose which source to use. Reviews can be sourced from various platforms, but for the purpose of this tutorial, click Google.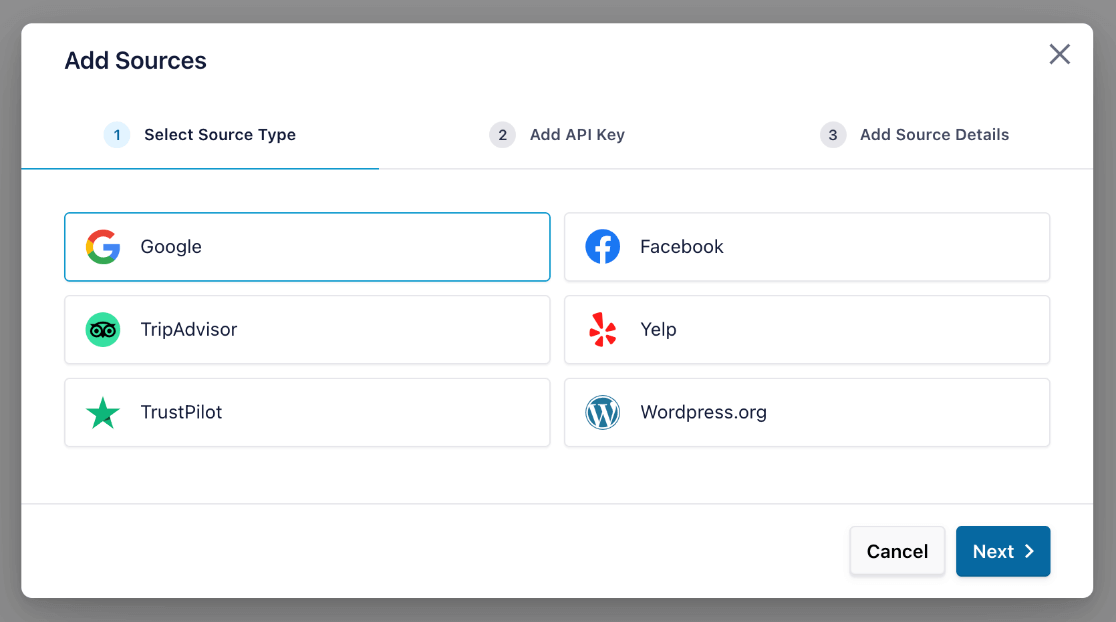 Hit Next. Now, we'll show you how to link Google Reviews to your website by connecting your Google Business Profile (formerly called Google my Business or GMB).
Step 3: Link Your Google Business Reviews
On the next screen in the popup, you'll be asked to provide your Google API Key. This lets Reviews Feed Pro automatically fetch new reviews and allows you to use this source in other feeds.
If you don't have one yet, follow this tutorial to create a Google API key.
Once you have your API key, paste it into the popup, and click Next. Or, you can click Skip if you prefer to add it later.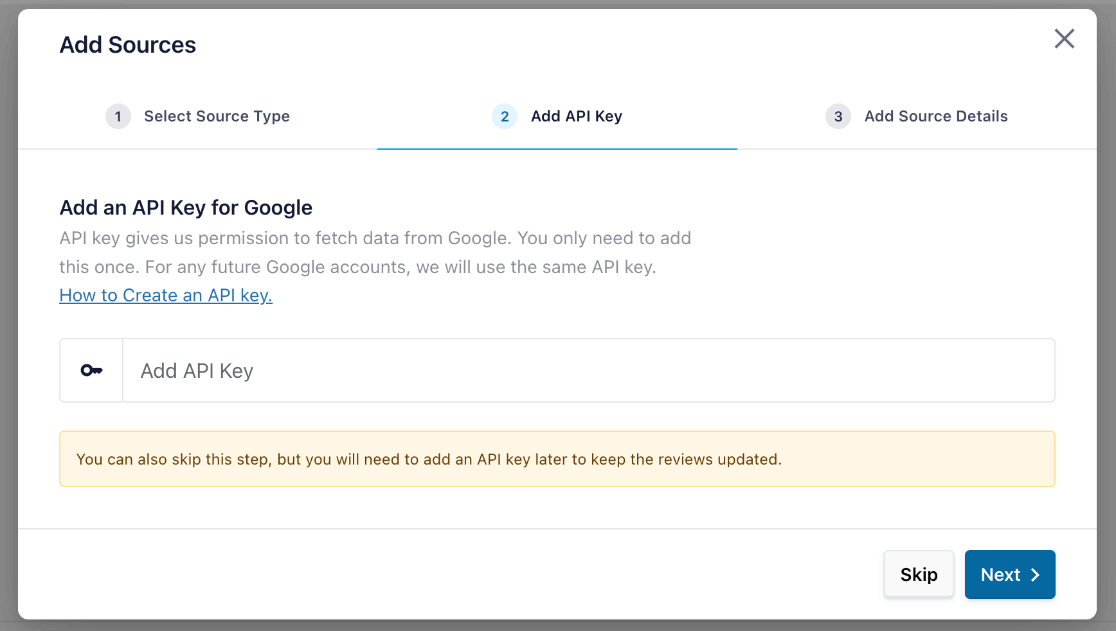 Now, you'll be asked to provide your Place ID. This tells the plugin which page to fetch reviews from. If you don't know what the ID is for your business, go to Google's Place ID Finder.
Using the Google map on this page, search for your business and click it when it comes up in the dropdown list. You'll then see your Place ID next to the marker on the map.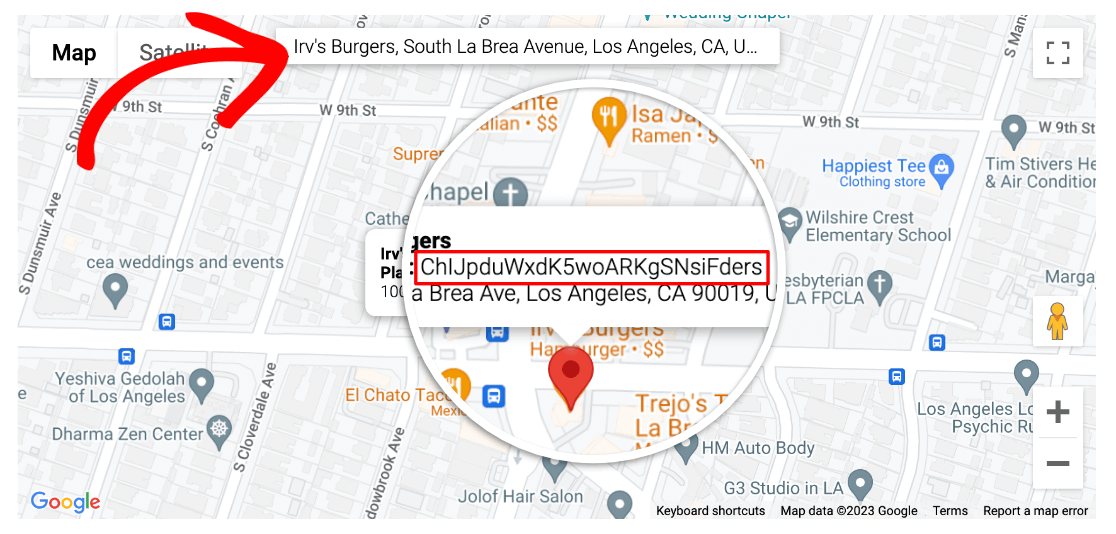 After copying your Place ID, go back to your WordPress tab and paste it into the popup. Click Finish when you're done.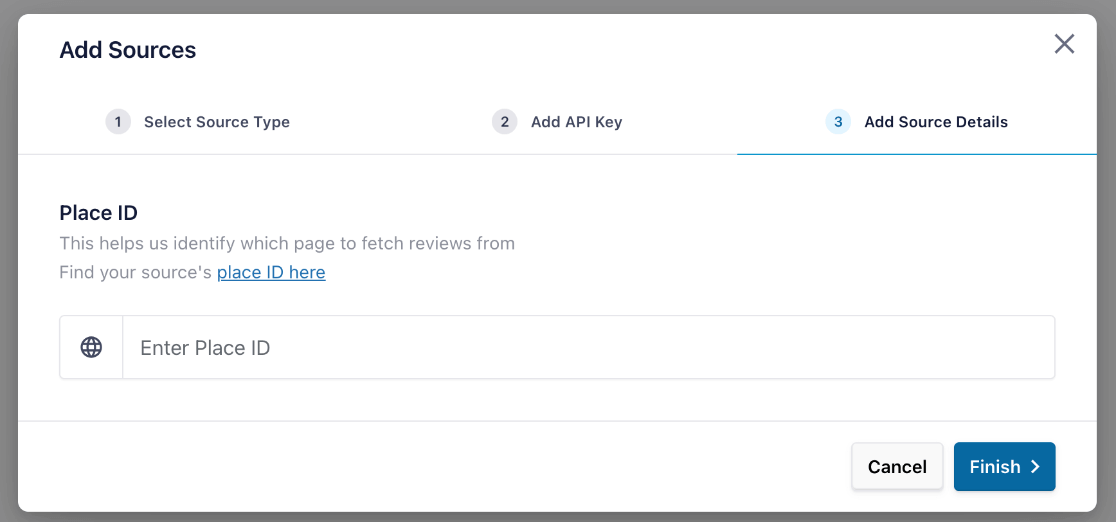 You'll now see your business's Google Reviews listed as a source. You can go ahead and add additional sources to use in your feed like Yelp or Facebook Reviews if you'd like.
When you're ready, select the Google Reviews source and any additional sources you've added, and click Next.

Next up, it's on to the fun part where you'll get to customize how your reviews are displayed.
Step 4: Customize Your Google Reviews Feed
First, you'll be asked which template you'd like to use. You can choose between:
Default: Reviews are shown in a list, similar to how they look on Google.
Simple cards: Reviews are shown in a list, but each review is on its own card.
Masonry: Reviews are shown on cards in a gallery format.
Single review: Shows one single review. This can be helpful if you want to insert a specific review somewhere on your site, like on a landing page.
Showcase Carousel: Carousel displaying one review at a time.
Carousel: Carousel with one row of reviews at a time.
Grid carousel: Carousel with multiple rows and columns of reviews.
It's easy to change templates in the next step, so don't worry if you're not sure which one to choose. Plus, all of the templates can be customized to specify things like the number of rows or columns, pagination, autoplay, and more.
After selecting your template, hit Next.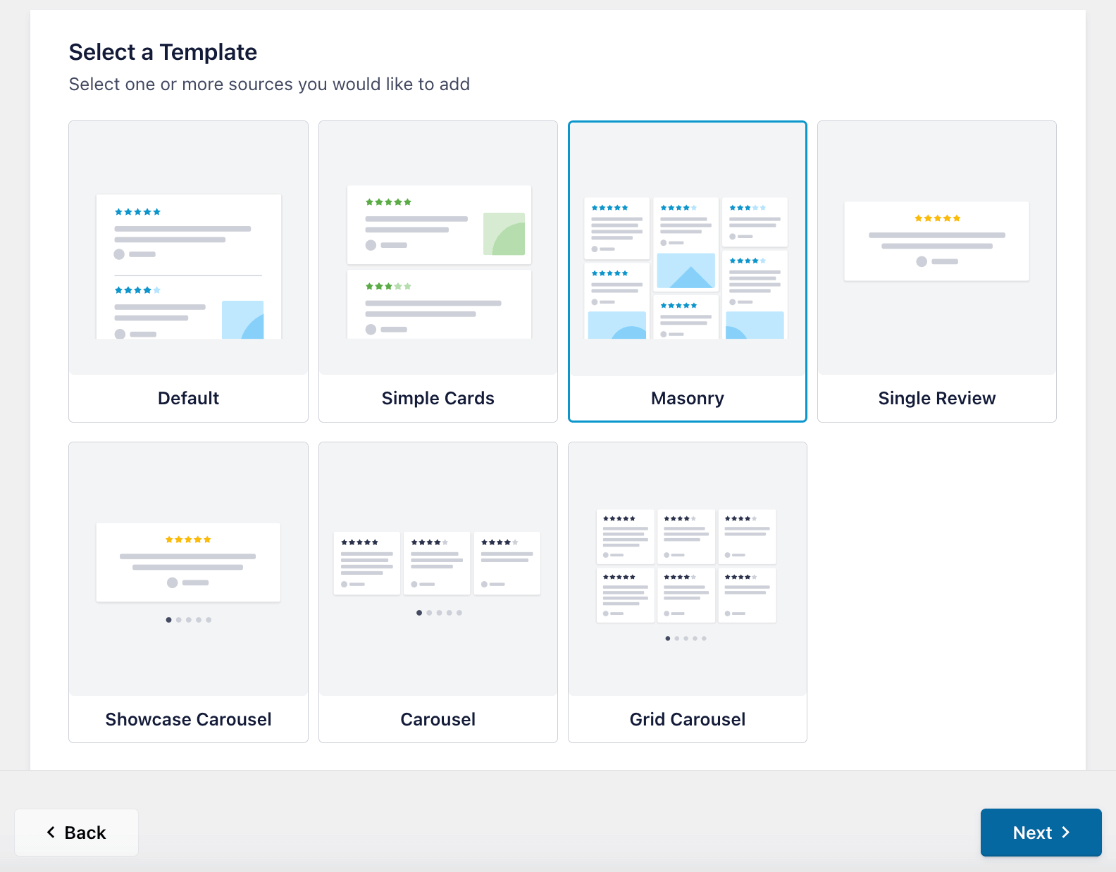 You'll now be taken to the editor, which shows a live preview of your Google Reviews feed, so you can see how your design looks as you make changes. Let's go ahead and customize your feed's display and settings.
1. Customize Your Reviews Feed Display
The the editor, you can further customize how your reviews will look on your website.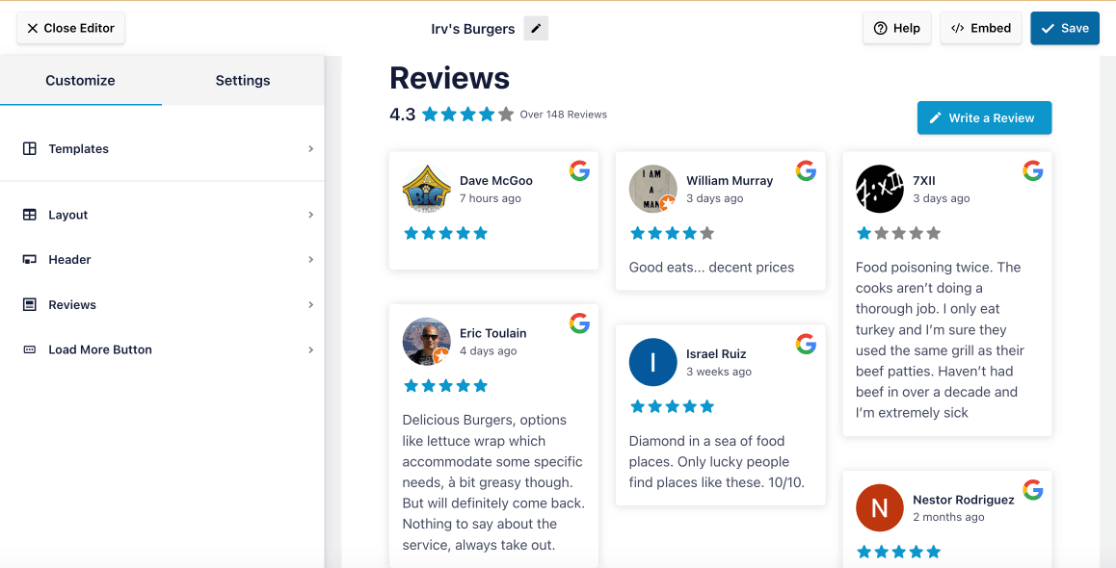 Using the sidebar on the left, you can change the template, try different layouts, edit the color and design of buttons and other elements, customize the header, and more.
You'll notice a Write a Review button on your feed, which is an awesome feature. By default, the link will take visitors to write a new Google Review for your business. However, you can exclude the button it or change it to a custom link if you'd like.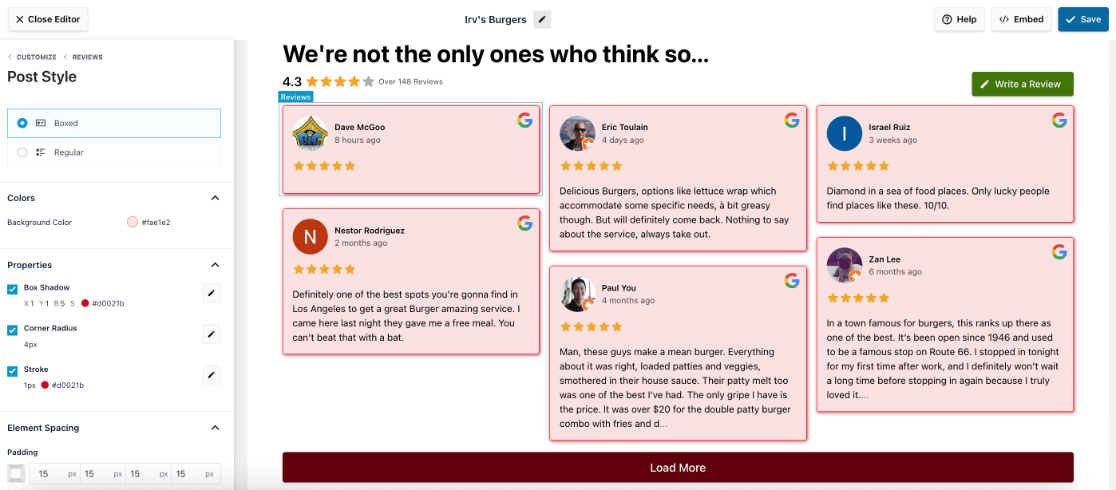 Go ahead and play around in the customizer until your business reviews feed looks exactly the way you want it to. Then, we'll show you how to edit the settings.
2. Customize Your Review Feed Settings
While in the customizer, click the Settings tab in the sidebar to filter and moderate which reviews are shown on your website.

From this tab, you can manage which Google business reviews you want displayed on your site. Here's a breakdown of what you can do in each of the sections under Settings:
Sources: Add additional platforms to pull business reviews from and show in your feed.
Sort: Determine if reviews are sorted randomly, by date, or by star rating.
Filters: Exclude/include reviews based on their star rating and/or certain keywords found in them. For example, you could filter out all reviews below 3 stars or all reviews that have the word "bad."
Moderation: If enabled, this feature allows you to hide all reviews by default until you select them to be shown. Or, you can display all reviews by default and select specific ones to exclude.

Languages: The language of your Google Reviews will be set to default, but you can specify which language they should be translated to if you'd like.
When you're finished customizing the layout and editing the settings of your feed, click Save in the top right corner. Next, let's find out how to embed Google business reviews on your site.
Step 5: Embed Your Google Reviews Feed on WordPress
Now that you've learned how to link Google Reviews to your website, customize the display, and manage which reviews are shown, it's time to embed them.
After pressing Save, click the Embed button at the top of the feed customizer.

Now, a popup will appear. You can copy the shortcode to embed Google Reviews anywhere on your site. Or, choose from 1 of the 2 options below:
Add to a Page: Show Google Reviews on your web page.
Add to a Widget: Show Google Reviews in your website's sidebar, footer, or another widget location.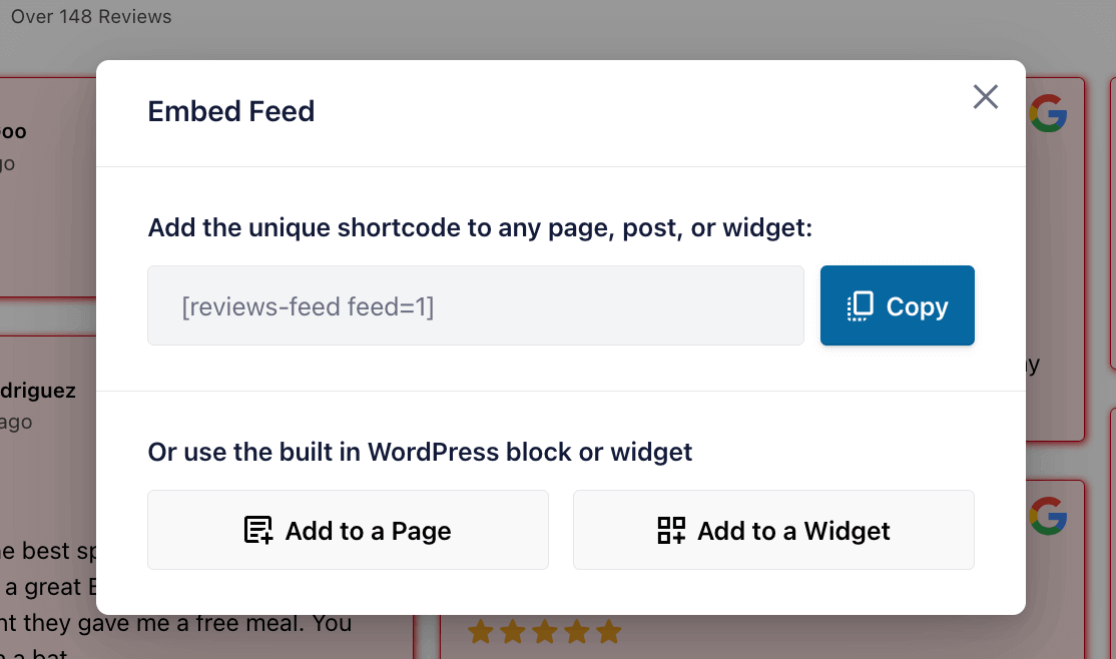 Let's go over how to embed Google Reviews using both options.
1. Embed Google Reviews on a Web Page
To embed your Google Reviews on a page, click the button Add to a Page. The popup will then show you a list of your available website pages to choose from. Select the one you want and click Add.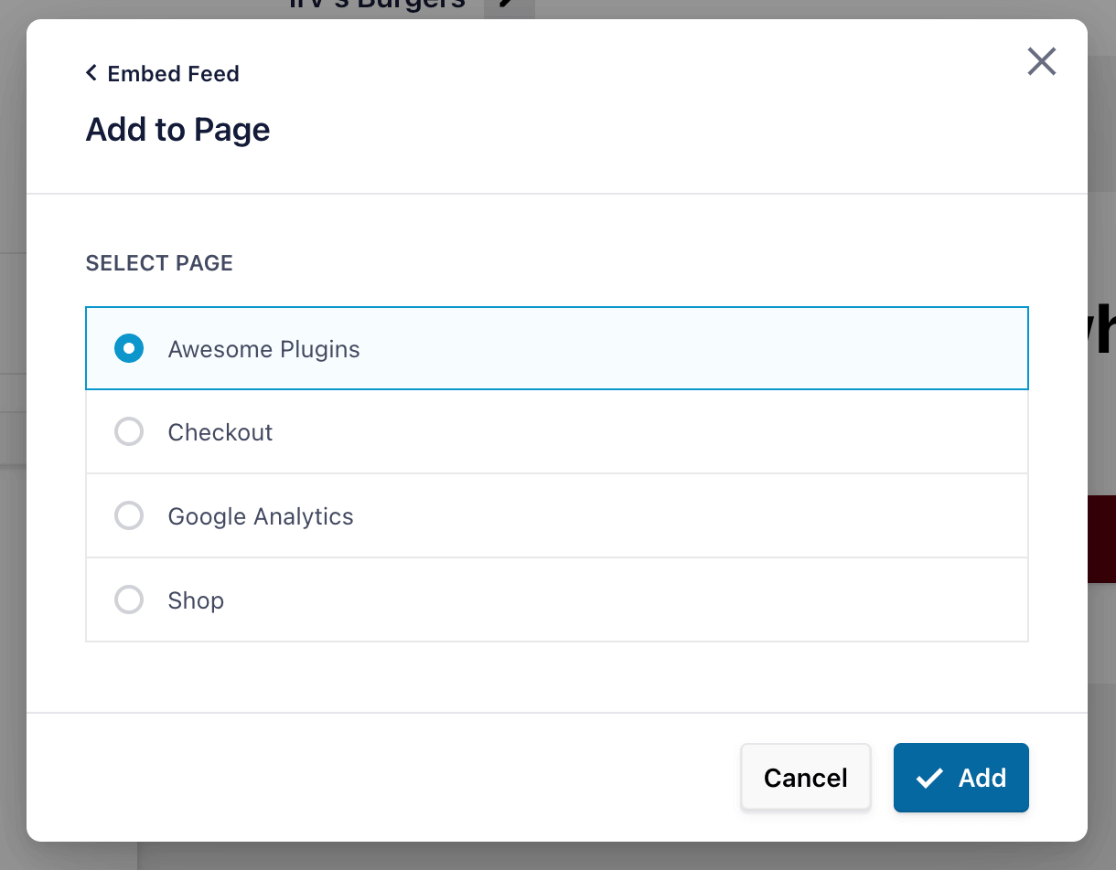 It will take you to the WordPress editor for your chosen page where you can click the + sign to add a new block.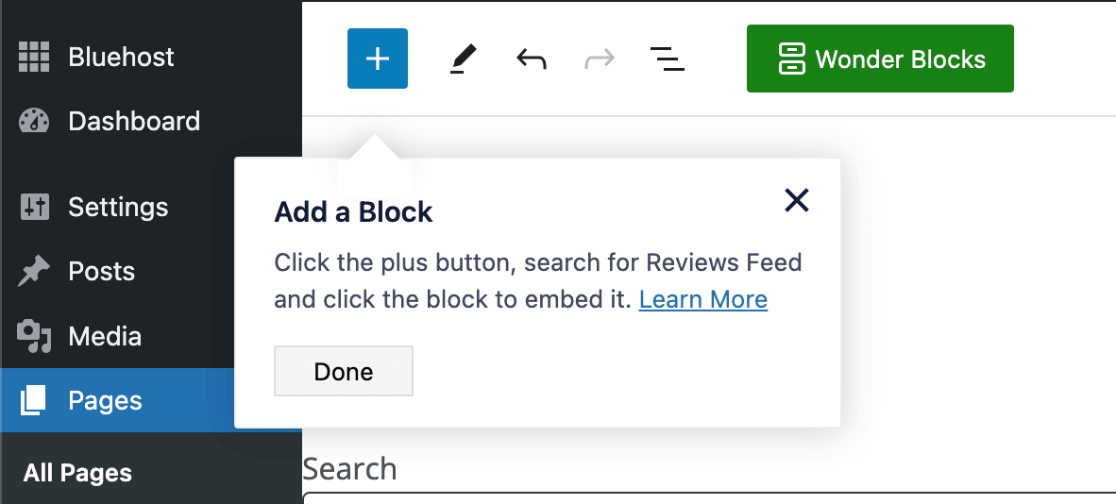 To embed your feed on the page, just search for Reviews Feed and select the block when you see it.

Once you update the page, open it in a new tab to see your embedded Google Reviews feed beautifully displayed on your site.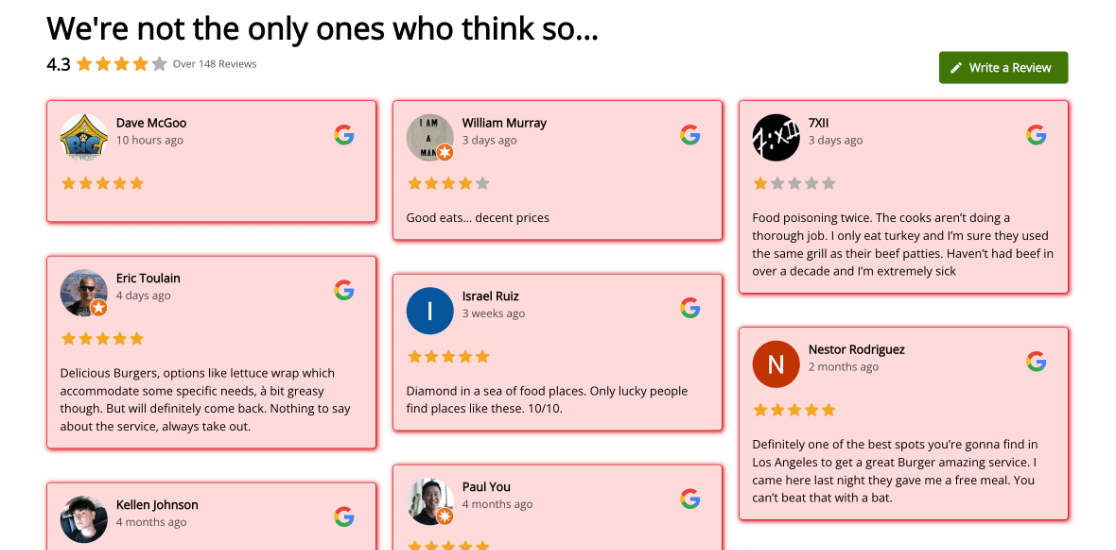 2. Embed Google Reviews in a Widget
Now, let's take a look at how to embed a Google Review widget.
After clicking the Embed button in the feed customizer, click the Add to a Widget option.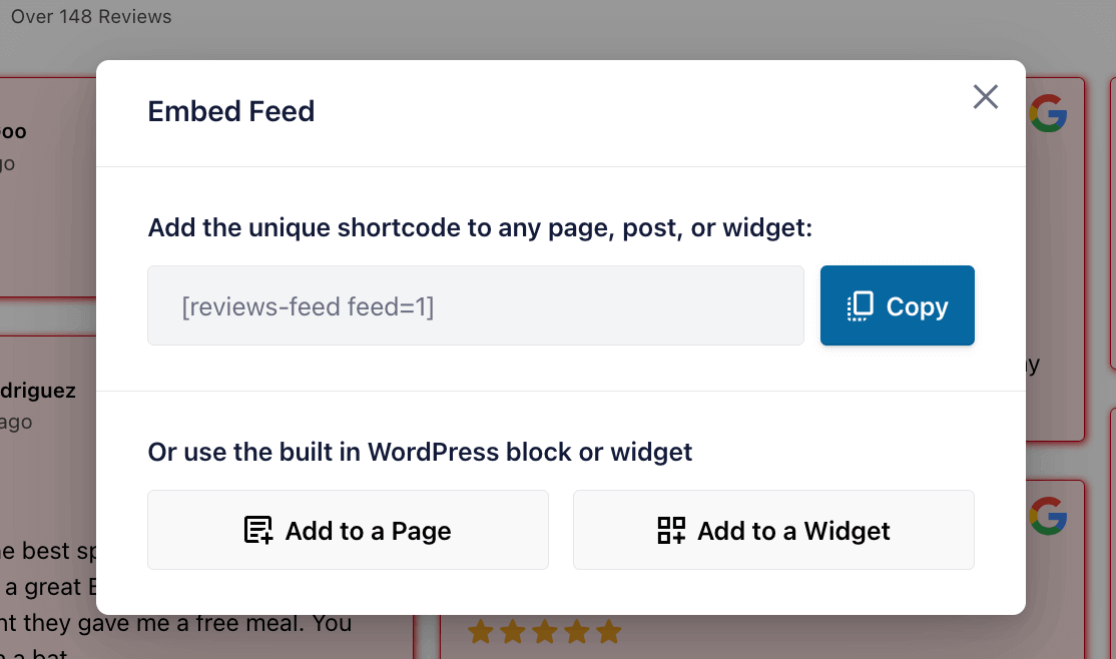 This will take you to your website's widget customization area. Do note that the available widget areas will vary depending on your WordPress theme.
Click the + sign under the area where you want to place your widget. Then, just search for Reviews Feed and add the block when you see it.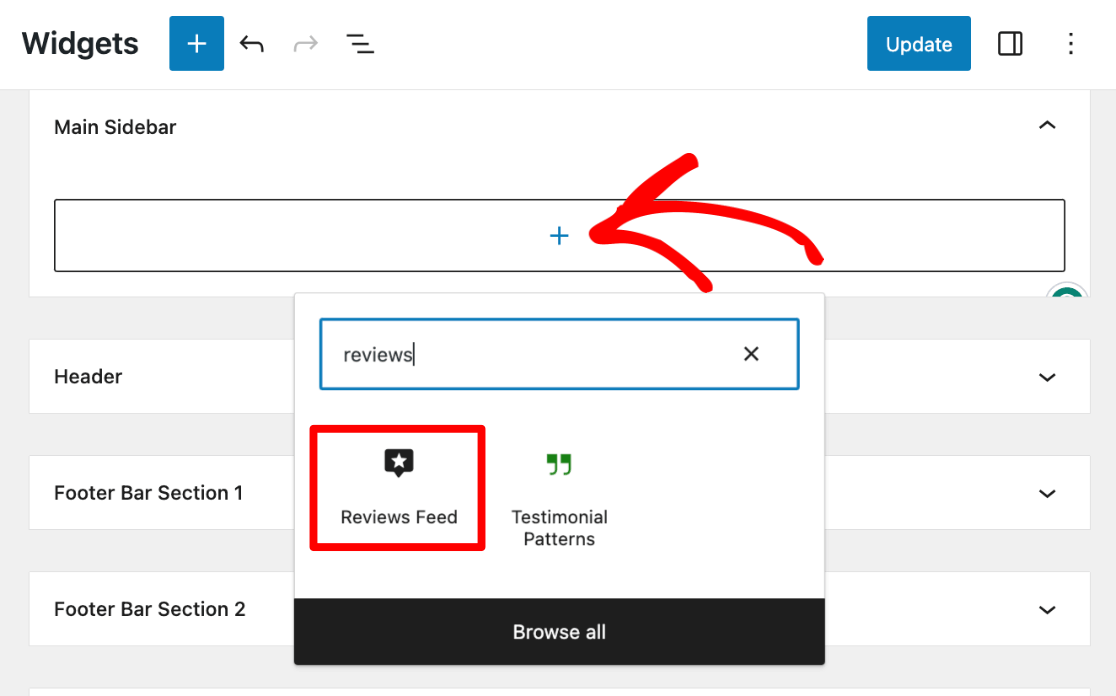 Make sure to click Update after you're done. Now, you can view your Google Reviews in the widget area of your site.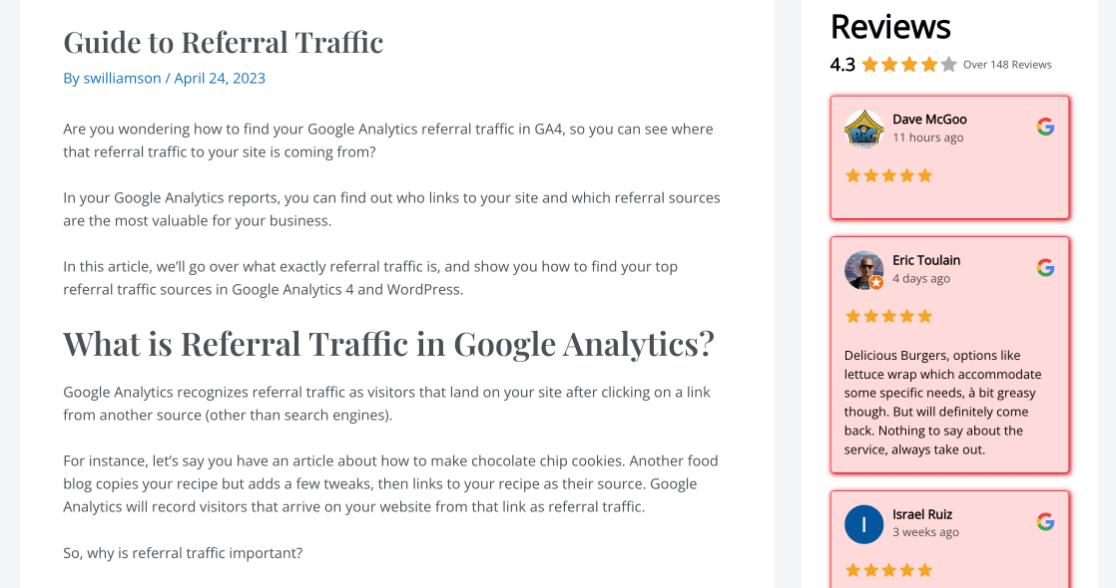 And that's it! As you can see, Reviews Feed Pro is a game-changer for showing Google Reviews on your website. It's a simple and powerful tool that's perfect for streamlining the process of building credibility on your site.
We hope this article helped you embed Google business reviews on your website. You may also want to check out our article on 44 Customer Survey Questions + Guide to Meaningful Feedback.
Not using MonsterInsights yet? What are you waiting for?
Don't forget to follow us on Twitter, Facebook, and YouTube for the best WordPress tutorials and Google Analytics updates.