Don't know which analytical tool to use for your WordPress site? Are you confused between Google Analytics and Mixpanel?
Both of these are powerful analytics tools that help you better understand your audience, measure your campaign's performance, and get you insights to grow your business.
But which tool should you select?
In this article, we'll compare Google Analytics vs. Mixpanel. We'll also show you how MonsterInsights makes it even easier to get the data you need inside your WordPress dashboard to make decisions.
Let's jump right in…
Google Analytics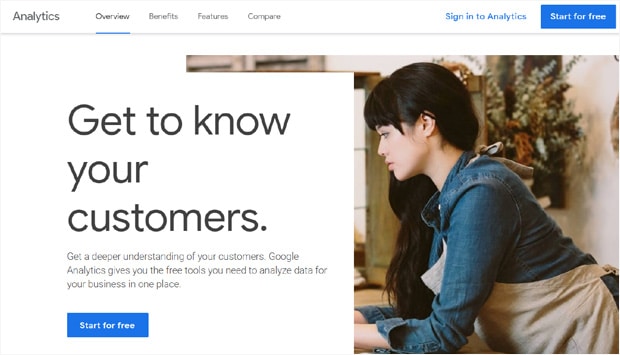 Google Analytics is one of the most popular web analytics tools. It helps you track your visitors, provide insights about how they interact with your website, which pages they view, and how long they spend on your site.
Aside from that, Google Analytics is excellent for tracking your traffic source. It shows which channel people use to find your website. And if you combine it with Search Console, you can even see the keywords users use in search engines.
While Google Analytics is a powerful tool, it's tricky to set up for beginners. That's because you'll have to enter a tracking code on your WordPress website. If you're not familiar with editing code, then any mistake can break your website or your tracking won't work properly.
A much simpler method of using Google Analytics is with a WordPress plugin, like MonsterInsights (we'll cover that in the next section). Let's look at the features offered by Google Analytics.
Features
Here are some powerful features you can use in Google Analytics:
Detailed reporting to understand your visitors
Set up advanced filters and content grouping
Analyze the path customers take before buying through funnels
Segment visitors based on city, country, etc.
Create custom dashboards, reports, and alerts
Use different visualization options to view your data
Set up events tracking to track link and button clicks
Reporting
When it comes to reporting, Google Analytics divides its reports into 5 different categories. The Real-Time report shows the number of people that are currently active on your site. And in the Audience report, you can see your user's demographics, device, interests, and much more.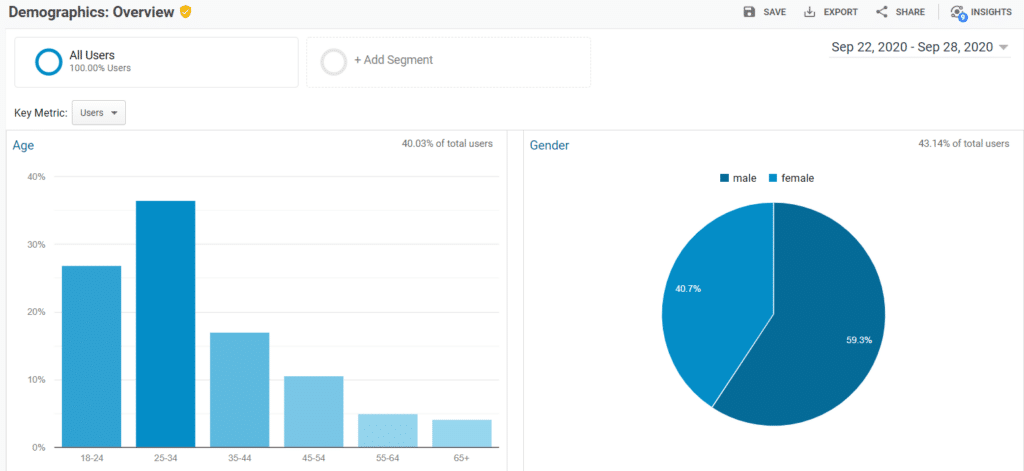 Other reports include Acquisition that lets you see your traffic sources and data from other Google services like Google Ads and Search Console.
Now, if you want to see how your content is performing or which pages people visit the most, then you'll have to look at the Behavior Report. And the last report is of Conversions, which shows data about eCommerce data and goals.
However, navigating around Google Analytics reports can be tricky. You'll need to know how the reports work and go through each one to find the data you need. This can be time-consuming, and it's very easy to get lost.
Integration
As for integration, Google Analytics works seamlessly with different Google services such as Google Ads, Google AdSense, Google Search Console, and Data Studio.
And if you have the paid version of Google Analytics (Analytics 360), then you get more integrations with services like Salesforce and Search Ads 360.
MonsterInsights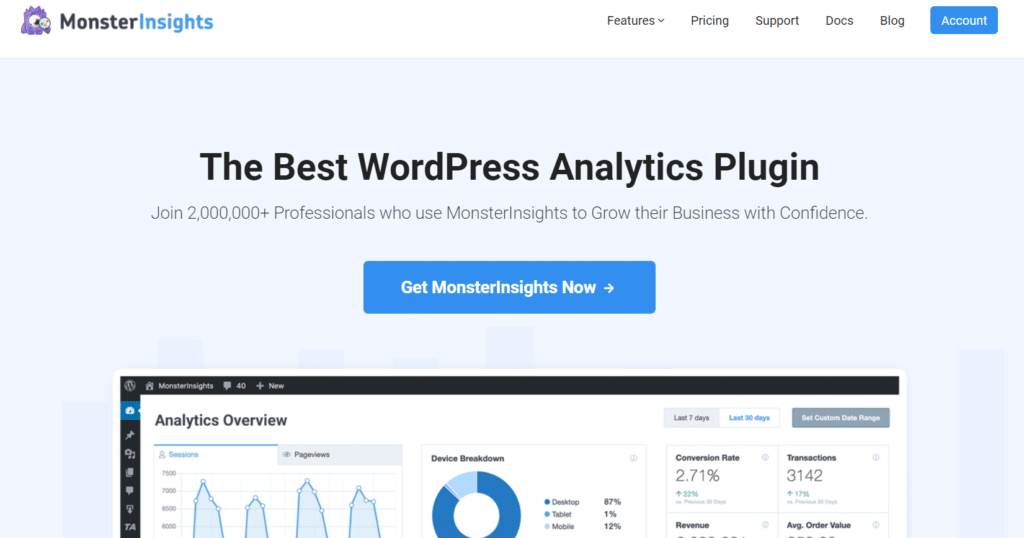 MonsterInsights is the best WordPress plugin for Google Analytics. It makes using Google Analytics very easy. With MonsterInsights, you don't have to hire a developer to set it up on your WordPress site.
Its step-by-step wizard will help you set up analytics without editing code. Plus, you get advanced tracking right out of the box, and there's no need to set up event tracking manually. For instance, you can track outbound links, affiliate link clicks, and more.
And the best part, MonsterInsights brings your important Google Analytics reports inside your WordPress dashboard. Each report is easy to understand, and you won't have to navigate through the complex maze of Google Analytics to find the data you require for decision making.
MonsterInsights also offers different addons that allow you to track additional data about your visitors and get insights. For example, with the Forms addon, the plugin automatically tracks all your forms on WordPress and shows you data about how they're performing.
Features
Here's a closer look at some of the features offered by MonsterInsights:
Simple and clean dashboard reports
Universal website tracking across devices and campaigns
Set up eCommerce tracking in just a few clicks
Track form conversions automatically
Enable scroll depth tracking with a single click
Track file downloads across your site
Exclude certain user roles from tracking like admins
Automatically track outbound links, affiliate links, telephone links
Get weekly email summaries of your site's performance
Export any report as PDF and share it with others
Find out how fast your website loads
Reporting
MonsterInsights makes it effortless to find the data you need to grow your business. It offers different reports that are easy to understand, and you can see in an instant how people interact with your site.
Let's look at each MonsterInsights report…
1. Overview 
When you first install the plugin, the first report you'll see will be the Overview report. Here you get all the important stats to see how your site performs, such as the number of sessions, pageviews, average session duration, and bounce rate.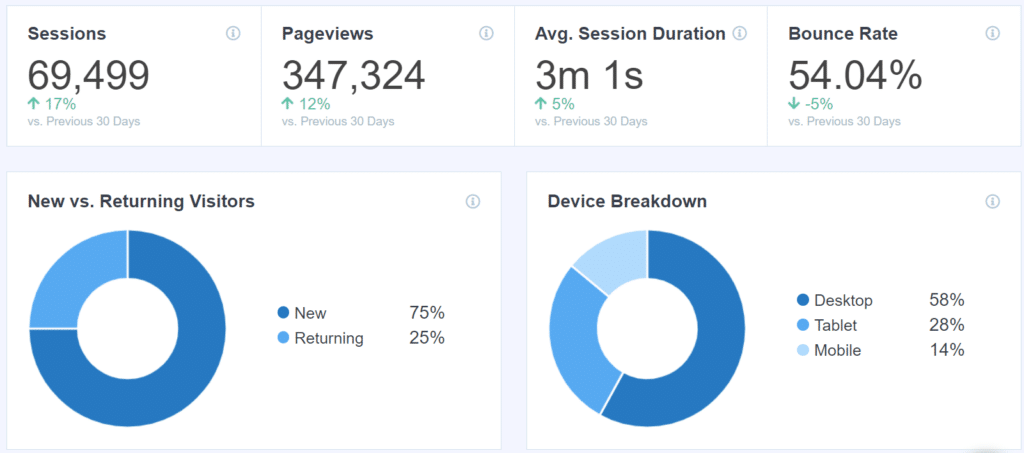 You can also see new vs. returning visitors, device breakdown, top countries, top referrals, and top posts/pages.
2. Publishers 
If you want to see how people interact with your content, then head over to the Publishers report. Remember that you'll need MonsterInsights Plus or a higher plan to view the report.
In the Publishers report, you get to identify your top landing pages and the total visits they get, average duration people spend on the page, and bounce rate. Using these stats, you can cover similar topics on your site and find out which content isn't performing to improve it.
And if you scroll down, you can view Top Exit Pages and see which page your visitors leave the website. This report's information helps you plug the gaps if people are exiting from your homepage or product page without checking out.

Other reports under the Publishers tab include top outbound links, top affiliate links, top download links, demographics, and interest reports. Using the information from these reports, you can better understand your audience.
3. Search Console
And if you wish to see which keywords your users enter in Google to find your website, you can check out the Search Console report. But do note that you'll have to connect Google Analytics with Google Search Console.
Once you've done that, please find your top 50 search terms on Google, their clicks, impressions, click-through rate (CTR), and average position.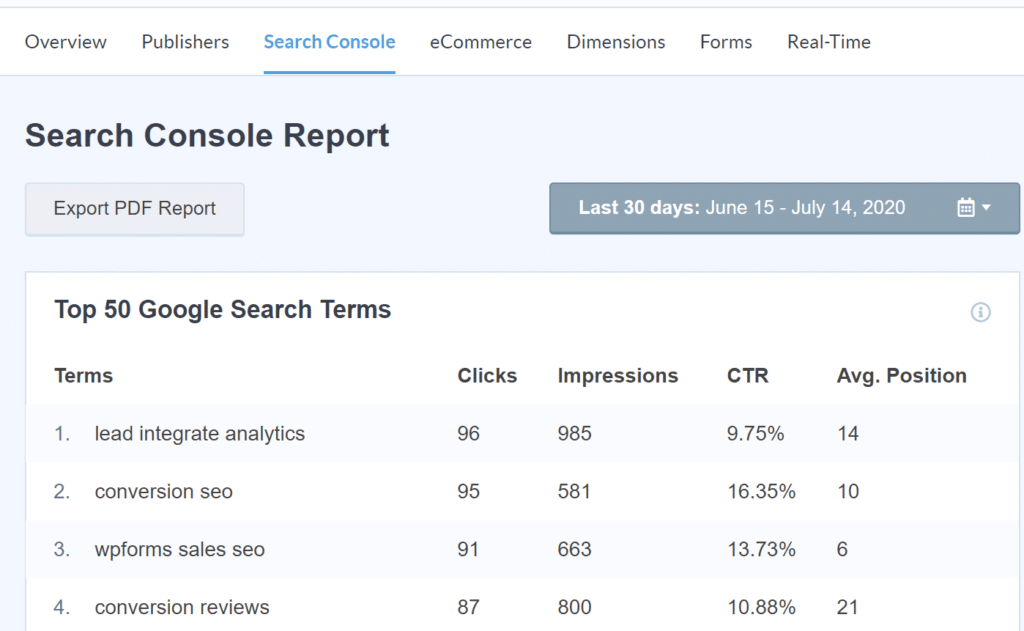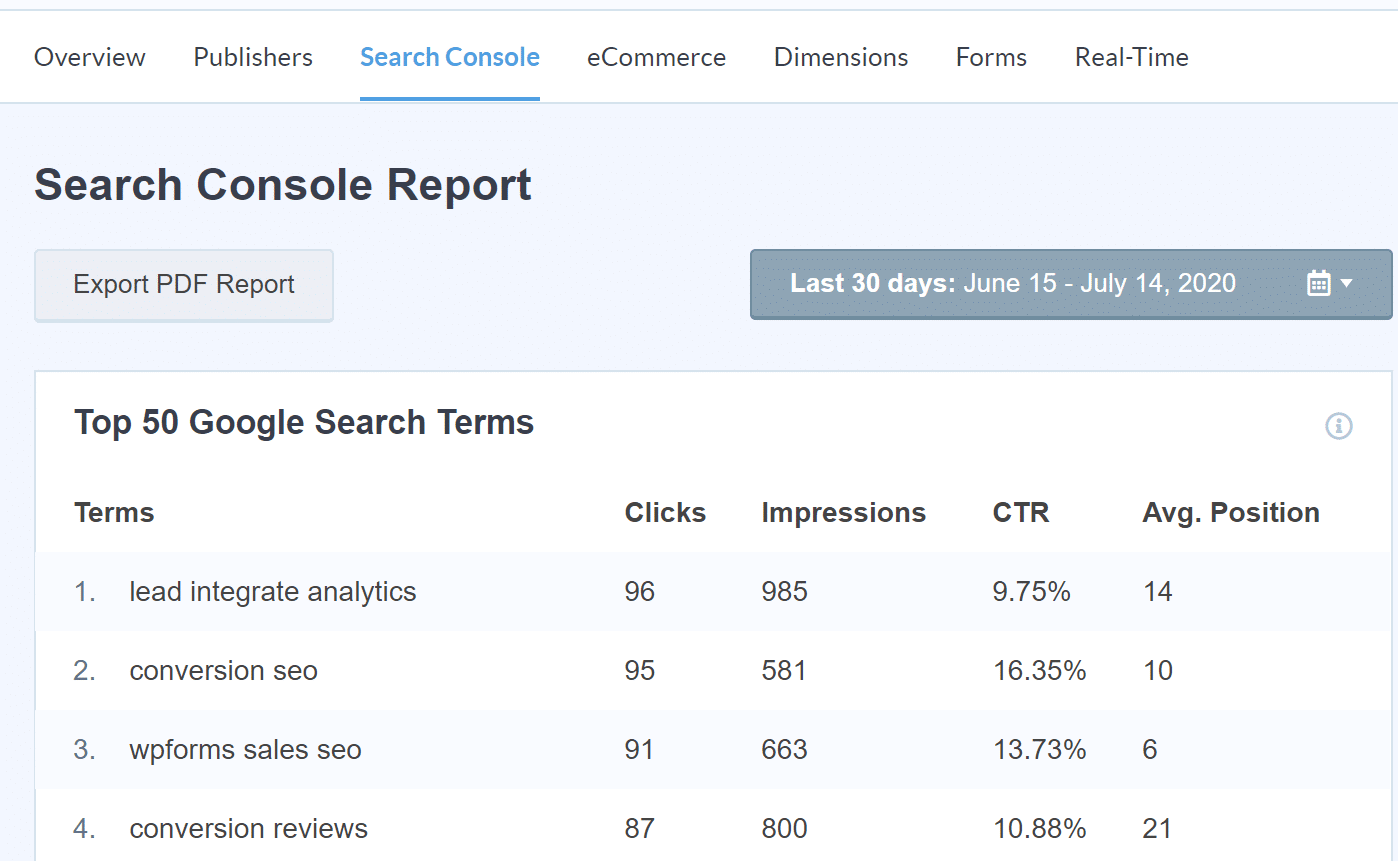 4. eCommerce 
Monsterinsights also helps you track your online store's performance through Enhanced eCommerce. And in the eCommerce report, you can see important stats like conversion rate, number of transactions, revenue, and average order value.

That's not all, you can also view your most popular products. This way, you can see which type of products convert the best to promote them more and find similar items.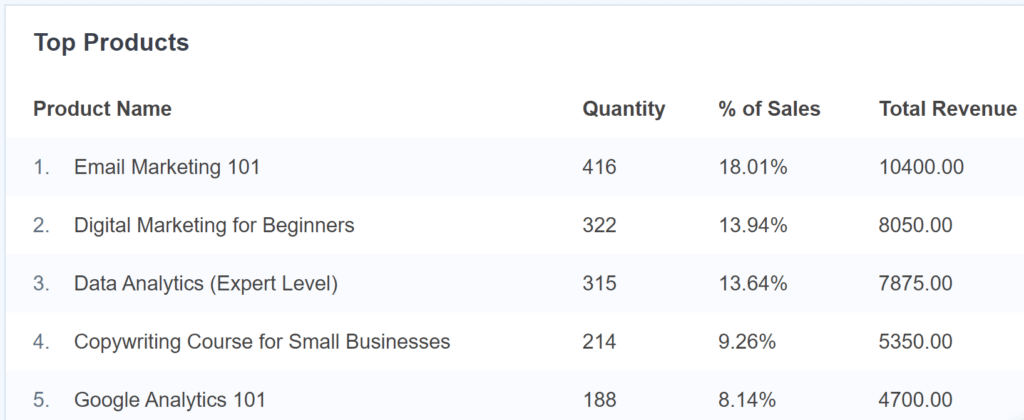 Aside from that, you can view conversion sources, total add to carts, total removed from cart, time to purchase, and sessions to purchase under the eCommerce tab in MonsterInsights.
5. Dimensions 
Now, do you want to track additional information about your visitors that isn't tracked in Google Analytics by default?
If yes, then you'll need to set up custom dimensions. MonsterInsights helps you configure them with a click of a button. You can see your popular authors, post types, categories, tags, best publish time, and much more.

6. Forms
Like we mentioned earlier, MonsterInsights helps you track all kinds of forms on your WordPress site with its forms addon. And you can view their performance under the Forms report.
Get insights about which form is performing the best and how many impressions and conversions it's getting. Then use the data to tweak poor-performing forms or replicate your best forms across your website.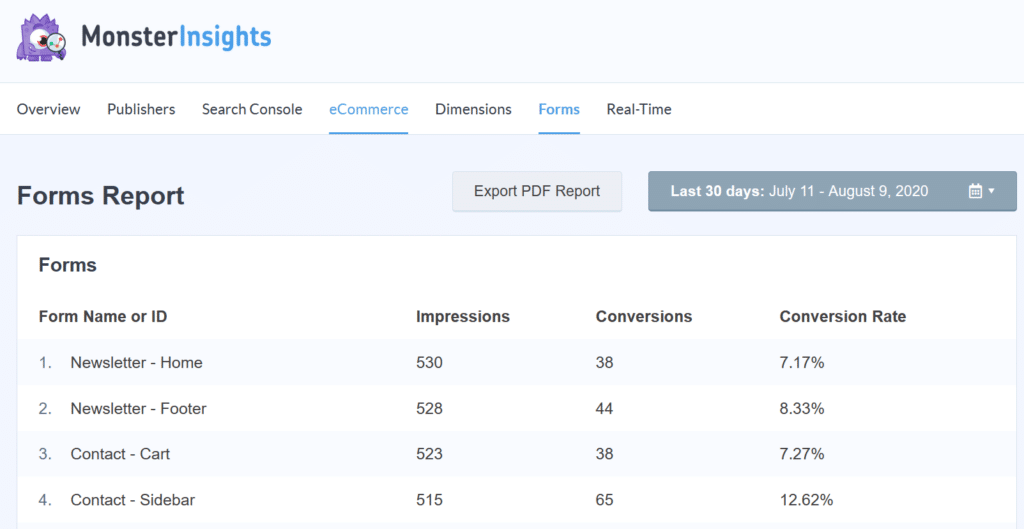 7. Real-Time
Want to know how many people are currently on your website? Then you can use the Real-Time report.
The report's data is beneficial if you've just launched a new campaign, product, or blog post. It shows your results in real-time so that you can make changes on-the-go.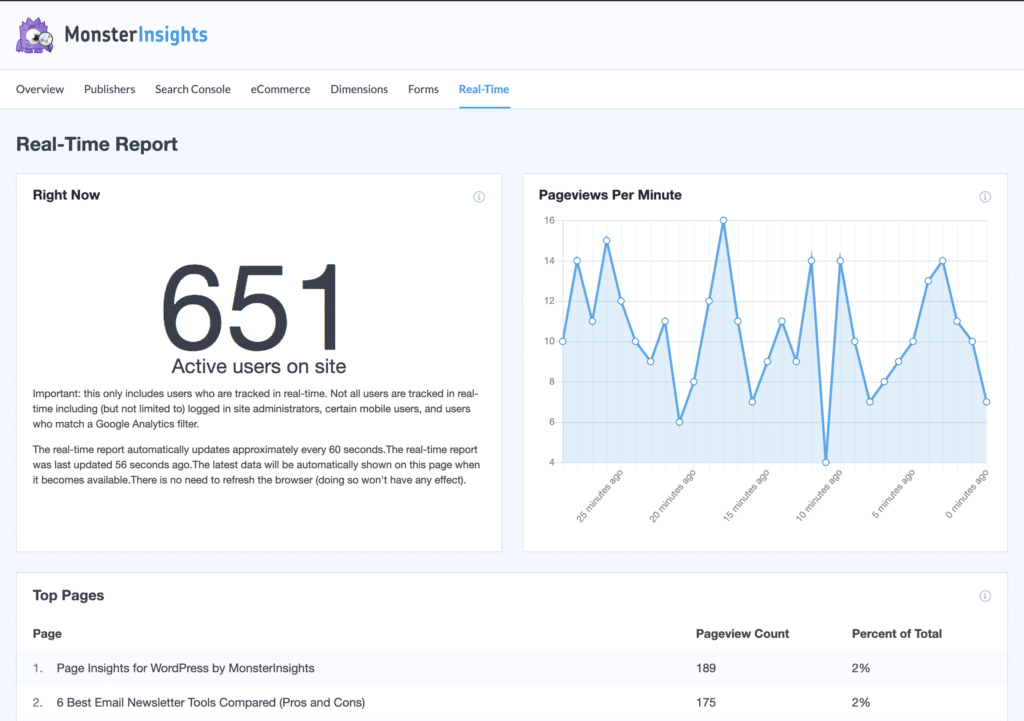 8. Site Speed 
The last report you'll see in MonsterInsights is the Site Speed report. The report helps you measure your website's loading speed. And you also get other important metrics that show how quickly your site responds to user interaction.
Besides that, you get simple and actionable recommendations on improving each metric and speeding up your loading speed. This way, you can ensure a smooth user experience and send a position signal to search engines, boosting your site's rankings.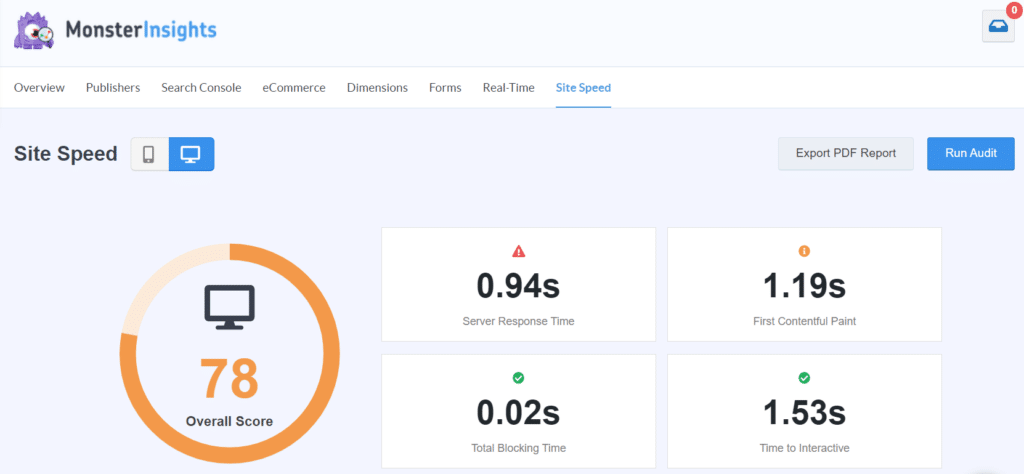 Integration
As for integration, then MonsterInsights works seamlessly with some of the best WordPress plugins and Google services.
You can automatically track eCommerce performance for your WooCommerce store, Easy Digital Downloads, LifterLMS, and MemberPress. And it works with ThristyAffiliates and Pretty Links to track affiliate links.
Other integrations include Google Optimize, Facebook Instant Articles, CookieBot, WPForms, and all other types of WordPress form plugins.
Mixpanel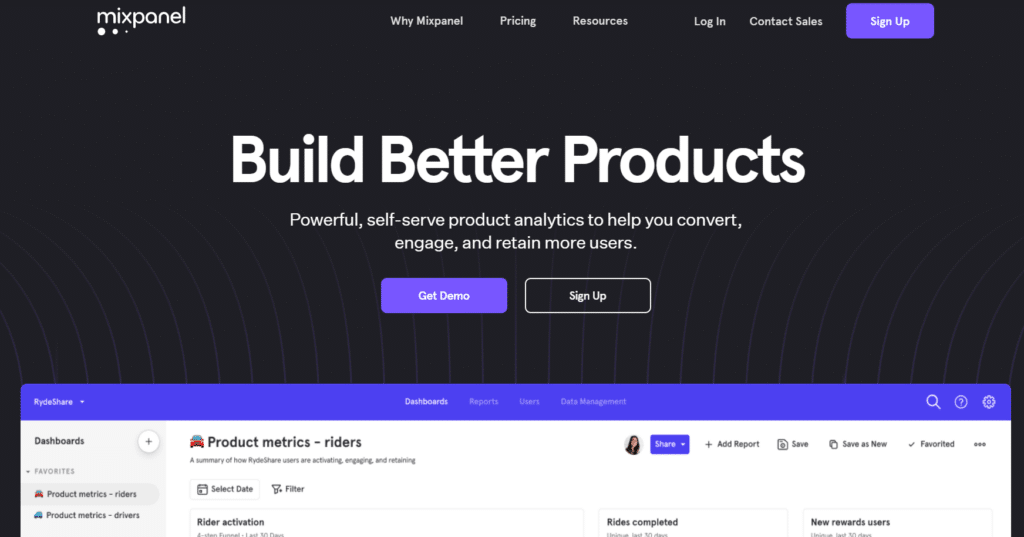 Mixpanel is a famous analytics tool for many SaaS companies around the world. It offers powerful features that help you better understand your visitors and improve customer experience.
On paper, Mixpanel offers similar features to Google Analytics. But the tool works differently as it uses event-based tracking to track the specific actions users perform. This offers more insights about how people use your website, app, or products.
In Mixpanel, you also have the option to send targeted messages to the same users you're tracking. The tool lets you set up emails, push notifications, popup messages, and text messages for marketing.
That said, using Mixpanel has a high learning curve. You'll have to spend several hours learning how to use and set up tracking for your website. This can be a hurdle for anyone who wants to focus on growing their business instead of learning how to use the analytics tool.
Features
In terms of features, Mixpanel offers loads of them such as:
Create interactive reports through visualizations
Slice and dice your data to uncover insights
Set up funnels and add filters
Build custom dashboards and share them with others
Get alerts for changes in metrics
Create segments to group users
Track product adoption, active usage, and more with Group Analytics
Clean, merge, transform, and manage data with ease
Connect Mixpanel to different data storages
Secure customer data
Reporting
Mixpanel offers different types of reports that you can use to see how people use your products and consume content. Under the Insights report, you can analyze your visitor's actions, while the Flows report shows the path they took on your site.
With the Funnels report, you can pinpoint where they drop off. And if you want to see whether users come back to your site over time, then you can view the Retention report.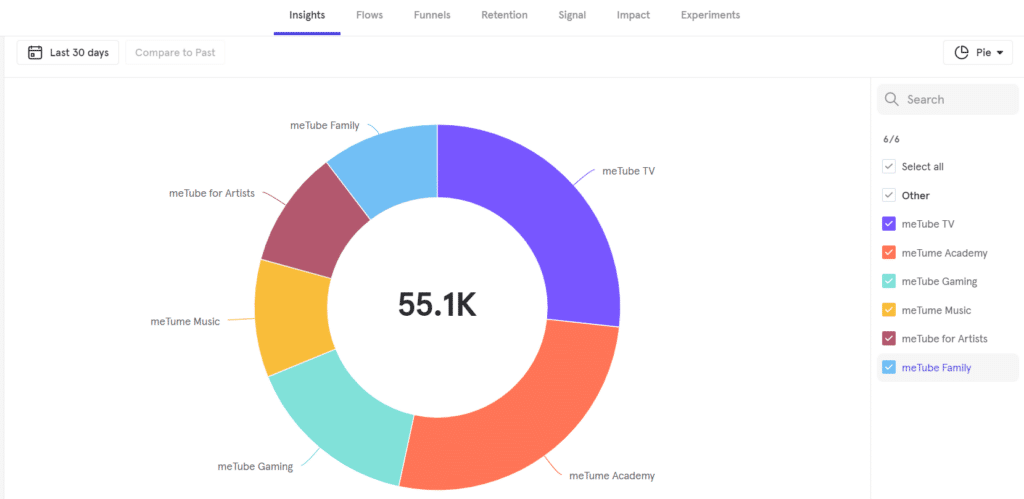 Other Mixpanel reports include Singal, which helps to identify actions that drive conversions. You can even measure the performance of your campaigns and new product features through the Impact report.
And if you A/B test different variants of your content or product, you can view the results under Experiments. Aside from that, Mixpanel lets you create amazing dashboards for your business. You can add multiple reports and change their visualization as per your need.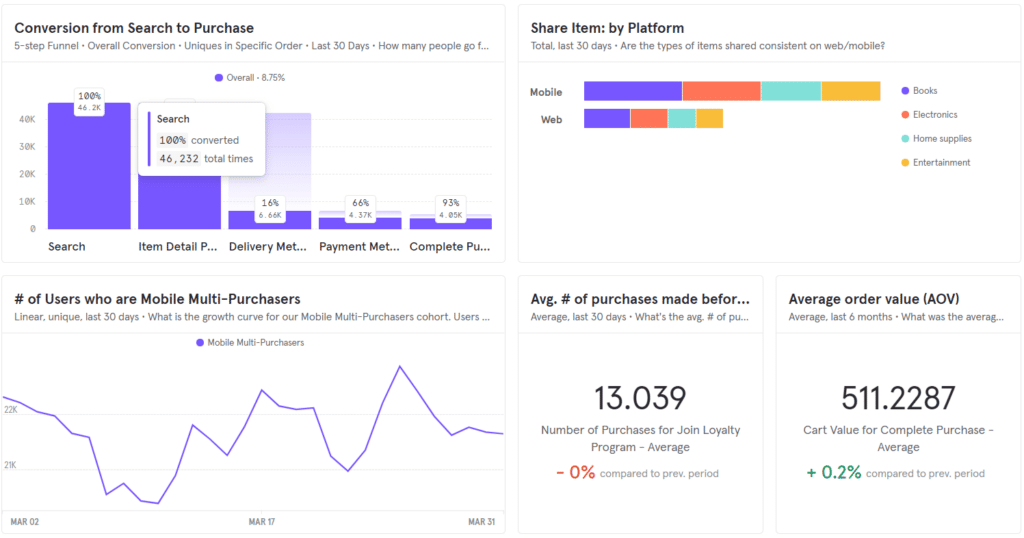 Integration
Mixpanel offers more than 50 integrations with popular SaaS software such as data warehouses, A/B testing tools, messaging services, CRMs, and more.
For instance, you can connect Mixpanel with Google Cloud Platform, Amazon Web Services (AWS), and Microsoft Azure. And if you want to send push notifications, then you can integrate Mixpanel with One Signal.
That said, adding Mixpanel to your WordPress site can be tricky. The tool doesn't offer any official plugin for WordPress, and you'll have to use third-party plugins to connect it with your site.
Another way of implementing Mixpanel on WordPress is through JavaScript API integration. But this requires editing code, and you'll have to hire a developer to set up Mixpanel.
Which Analytics Tool Should You Select?
Now that we've gone through all 3 analytics tools, you might be wondering which one to choose? The choice depends on your business needs.
If you want to track website performance and see how people interact with your content, which pages they view, where they click, and where they come from, then you should use Google Analytics.
And if you combine it with MonsterInsights, then you can enhance your Google Analytics experience. Not only does the plugin makes it simple to use Analytics, but it also helps you get detailed insights by setting up advanced tracking.
But if you're looking at tracking customer interaction within your product or apps, then using Mixpanel makes more sense.
And that's it!
We hope you liked our article on Google Analytics vs. Mixpanel vs. MonsterInsights. If you want, you can also go through our post on MonsterInsights vs. Google Analytics – what's the real difference.
Don't forget to follow us on Twitter and Facebook for more Google Analytics tutorials.